Home » Destination Guides » 10 Best places to travel in the month of January
If you're wondering where to travel in January, keep reading.
January, the first month of the New Year, has always been a perfect time to start all over again. An opportunity to desert the old moods, change energies- and begin anew with fresh beginnings and bright attitude.
It's also a great time to travel and let your soul wander. Nature is at its bountiful best, the weather is not a harsh chill and the sun shines happily with a cheer.  Plus the bonus is- it's cheap everywhere.  Post-Christmas, pre-Valentine's Day is a slow season an opens up deals everywhere from relaxed islands to the sunny neighborhoods.
So if you are in a mood for a fun January vacation, but not sure which places to go, fret not!
Here we bring you some of the best places to travel in January that will not only inspire your first trip of the year but also set a perfect tone of Wanderlust for the year ahead
Enjoy! Happy Travels!
1) Sydney, Australia
It is summer in Australia in the month of January. The summer months here are the best time to enjoy the gorgeous beaches of the city (as Bondi beach). It's awesome to go sightseeing, pursue outdoor activities and water sports. Also, it's a great place to enjoy with children.
The beach weather is just perfect. There are harborside cruises and celebrations, outdoor movie screenings and concerts, professional surfing, tennis, cricket, and rugby competitions throughout the season.
Don't forget to visit the Opera House, Harbour Bridge, Royal botanic gardens (with 1800 varieties of roses on display), the Taronga zoo (for witnessing Aussie native wildlife) and the Art gallery of New South Wales.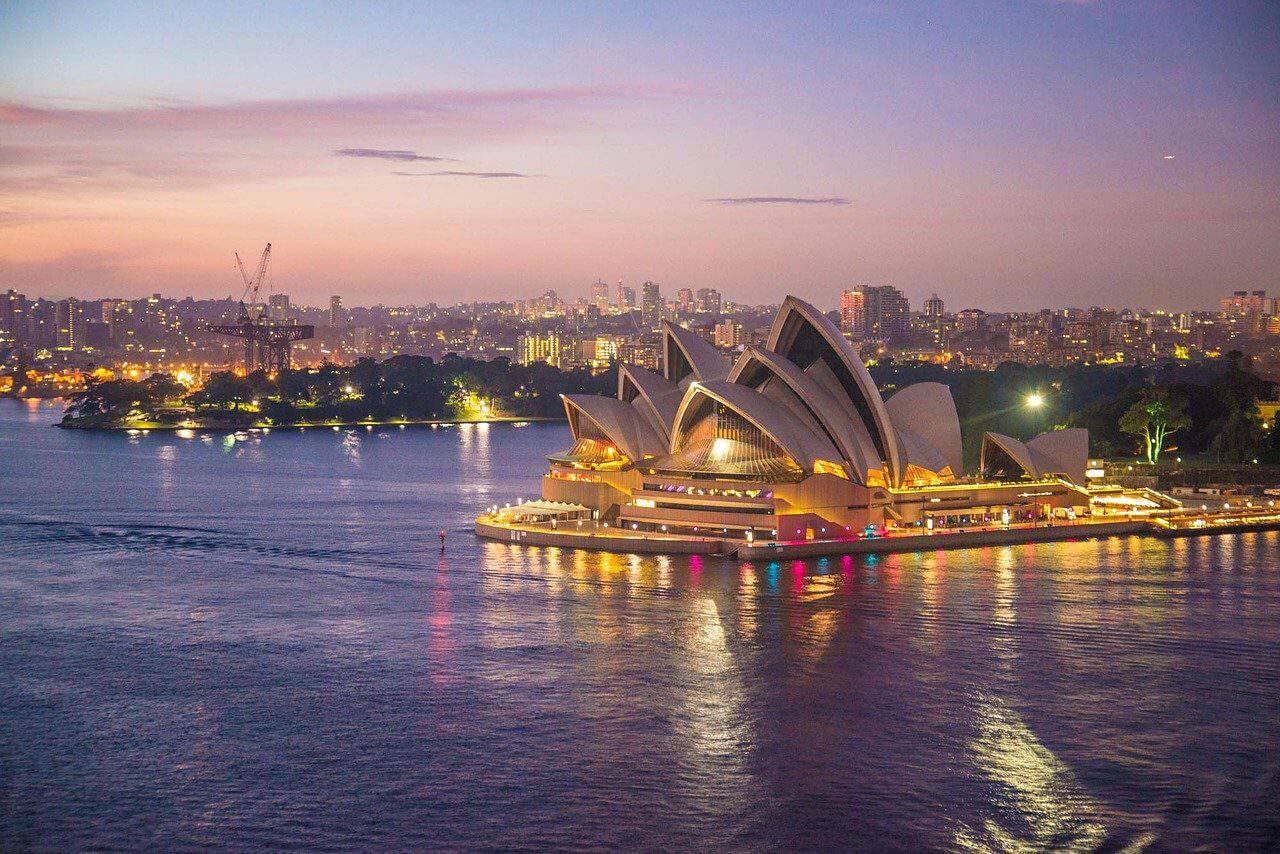 Apart from this, the 'Sydney Festival' takes place in the month of January. It is Australia's largest annual cultural celebration based on critical ideas and cutting-edge art and performance. The carnival features international artists, some of the world's great companies (as Wayne McGregor's Random Dance, Cheek by Jowl, etc) along with native artists and fun performances.
Also, the country celebrates 'Australia Day' on the 26th of January. Many exciting series of activities take place on this day from the Wugulora morning ceremony to harbor parade, concerts, and street parties.
Lunar New Year celebration (Chinese) with traditional performances and augmented reality (AR) shows will take place World square on January 13th, 2020.
Sydney Lunar Festival, produced by the City of Sydney will take place from 25 Jan 2020 to 9 Feb 2020 at Alfred square. The vibrant arts festival will be bursting with cultural events, markets, tours, exhibitions and entertainment, most of them free.
So be sure to visit and enjoy this fascinating beautiful city… one of the best places to travel in January!
2) Praia, Cape Verde
Cape Verde is an island country spanning an archipelago of 10 volcanic islands in the central Atlantic Ocean. Lying 350 miles off the coast of Senegal it is known for its exquisite white-sand beaches, impossibly pure surf, diving, and beautiful landscape. The place resembles a peaceful paradise.
From Sal's red deserts and salt pans to São Vicente and its colorful Afro-Portuguese culture, it is a traveler's delight in every sense. January here is mostly sunny and bright refreshed by the sea breezes. There are no wet days during this month.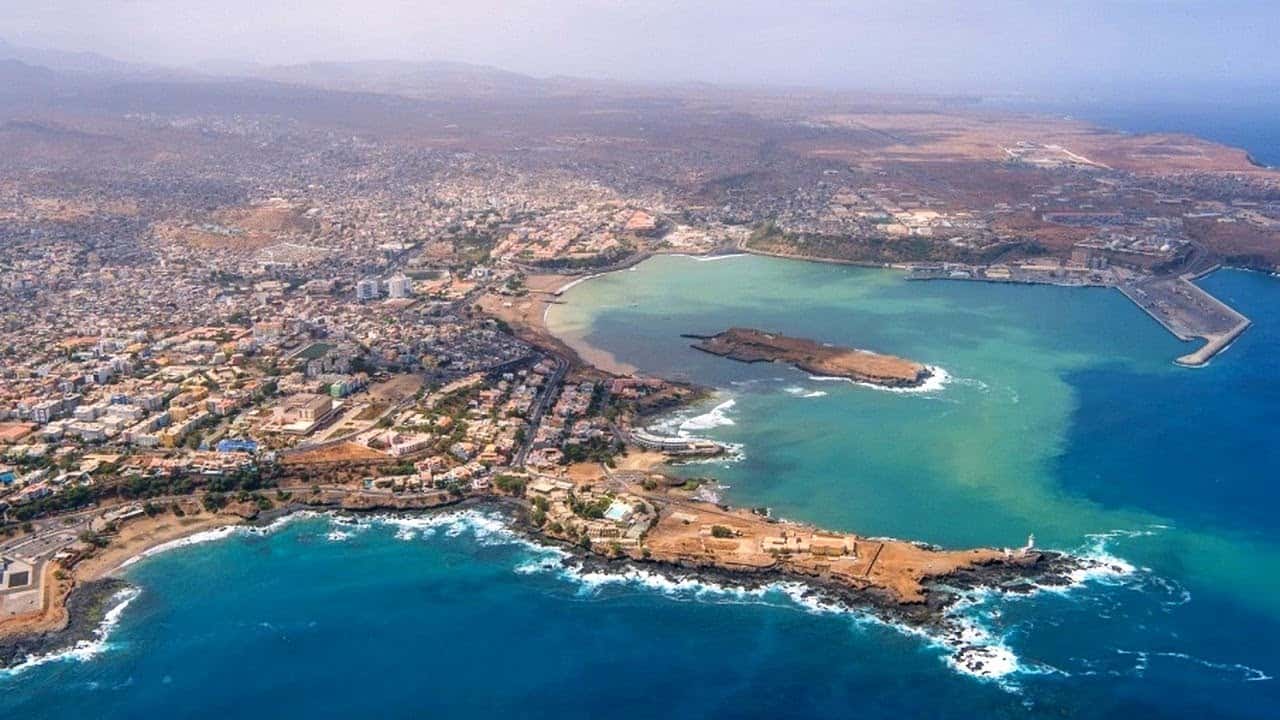 The town of Nova Sintra on the small island of Brava is considered to be the most beautiful in the entire archipelago. Hence this is a must-go. Fogo, the island of the great volcano, also makes for an obligatory visit here. A worthy outing, this one.
3) Lanzarote, Canary Islands
Lanzarote, one of the Canary Islands off the coast of West Africa is known for its year-round warm weather, beaches, and scenic volcanic landscape. Set up your base at Costa Teguise, since it is the best location from which to explore entire Lanzarote. For coastal charm and quiet visit Punta Mujeres, it's awesome because it's not crowded. For beautiful scenic views head over to Famara beach. There are many options, which make this destination one of the best places to travel in January.
Don't forget to taste Malvasia wine and visit the Wine Museum in La Geria. Here visitors can also discover the art of César Manrique, a local artist, and his metal sculptures.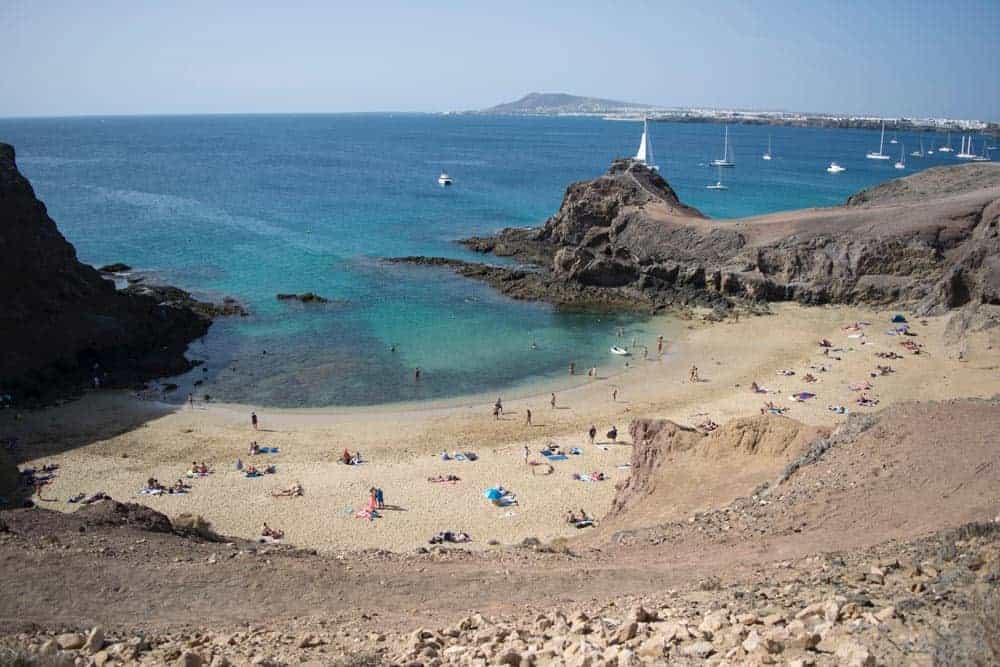 Timanfaya National Park makes for a fascinating visit as well. Its rocky landscape was created by volcanic eruptions in the 1730s. Cueva de Los Verdes has caverns formed by an underground river of lava.
For outdoor enthusiasts, there are many choices in the Canary Islands. Surfing at El Quemao is particularly popular. El Quemao is a reef with famous waves and enormous rollers. You can also climb the summit Alto de Garajonay in La Gomera. It's 1487 meters high! Go diving into El Hierro and enjoy its warm water. You might be able to see some amazing marine creatures, too!
Alternatively, visitors can take a cruise to observe whales and dolphins in the channel between Tenerife and La Gomera.
Apparently the Canary Islands are also said to have the best climate in the world, all the year-round, making them a must-visit destination.
4) Phuket, Thailand
Though it's the peak season, Thailand is a heavenly bliss in January. January falls during Thailand's dry season, making it a particularly idyllic time to visit the country.
Phuket, a rainforested, mountainous island on the south-western, Andaman Coast, features some of Thailand's most popular beaches.
There are blue lagoons, crystal clear waters, and many hidden wonders inland as-waterfalls, hiking trails, wildlife, forested hills, mountains and cliffs, pearl culture farms, etc.  Koh Phi Phi, Phang Nga Bay, and Patong beach are some of the popular spots. Diving, snorkeling, windsurfing, and sailings are few of the adventurous options among many others.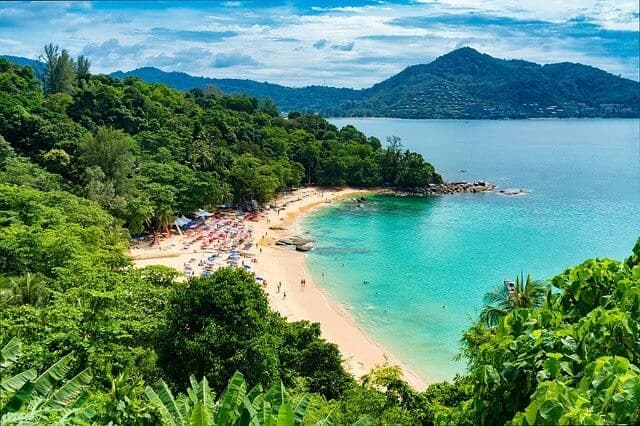 The island is also home to many high-end seaside resorts, active nightlife, spas and restaurants offering delectable Thai cuisine.
Additionally, the legendary friendliness and hospitality of Thais and their amazing cultural identity make the country (also known as Land of Smiles) a truly exotic must-go destination. Definitely a must-see among the best places to travel in January.
5) Barbados, Caribbean
Barbados is an island country in the south-eastern Caribbean Sea, situated about 100 miles east of Saint Vincent and the Grenadines. It is an ideal holiday destination in January, given the month here is the start of a warm dry season with temperatures remaining between 26 and 28°C.
The Caribbean is full of fun and adventure during this time with its white powdery beaches along with a blue-green sea, lush flora, rich marine life and of course, the rambunctious rum bars.
Bathsheba beach on the west coast is a surfer and photographer paradise while Carlisle Bay is famous for its marine bay park and the lighthouse. Payne's Bay features clear waters with turtles and fishes that wash ashore and at Hunte's Garden visitors can take in the untamed beauty of Caribbean flora and fauna.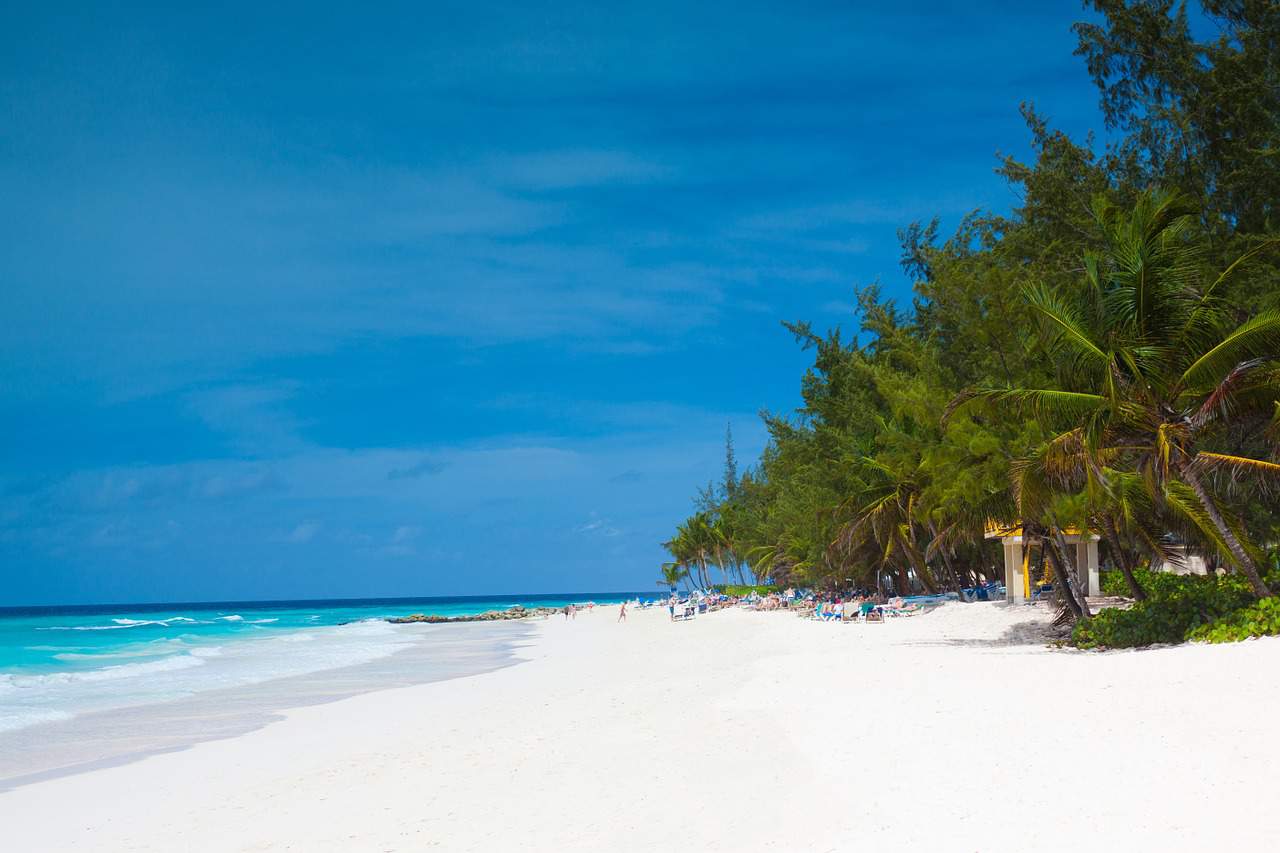 There is also the Animal Flower Cave (named after sea anemones), the island's only accessible cave, situated in St. Lucy parish. Coral reefs fringe coast providing excellent snorkeling and Scuba Diving opportunities.
It is also home to the world's oldest rum brand, Mount Gay rum distilleries. The Harrison's cave has limestone formations with unique stalactite and stalagmite structures coupled with breathtaking waterfalls that form deep emerald pools.
So to have the best of the Caribbean in January, this one is a definite go.
6) Colombo, Sri Lanka
Sri Lanka, also known as the resplendent island, is an enchanting place to visit during January. The climate is dry in the west and south of the country from December to March. The temperature of around 30°C prevails with loads of sunshine and minimal rain, making for a pleasant visit during these times.
Colombo, the commercial capital and the largest city is often the gateway to the country for travelers.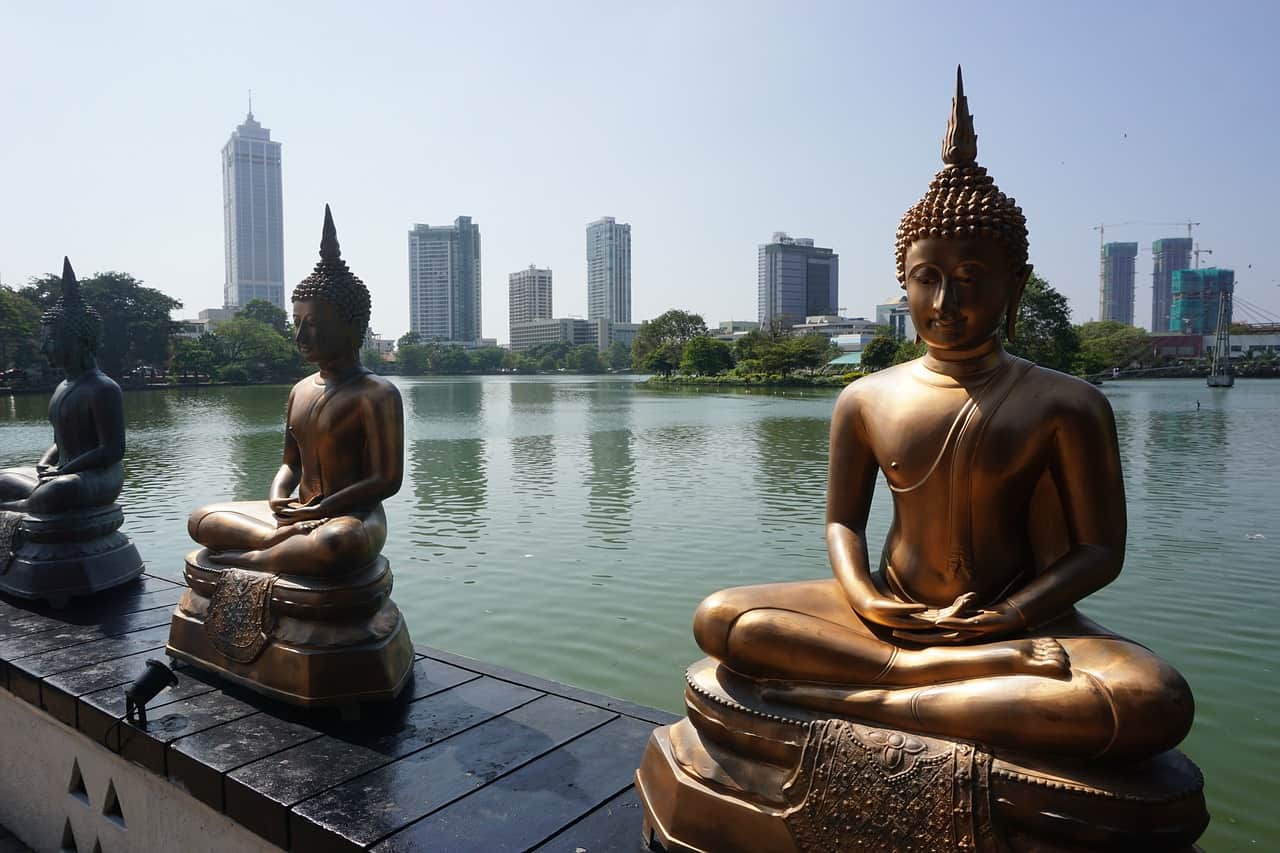 Discover this destination on foot. Visit the Pettah bazaar, the Viharamahadevi Park with its splendid trees and giant Buddha, the luxurious residences of Cinnamon Gardens and the Fort neighborhood.
You can also take a train ride along the coast to Mount Lavinia, a popular beach, or explore the Talangama Wetland, to get a breather from the bustling city.
7) Cancun, Mexico
Between October and April is the dry season in Mexico. It is also the best time to visit this country when it is dry and hot but not scorching. The temperatures are cooler in January with near-perfect weather for an outing.
It is a great month to get out and explore the ruins and jungle inland. You can visit downtown Cancun and the beaches as well. The ocean temperatures are comfortable for swimming and visibility is excellent for snorkeling or diving. Numerous water activities ranging from swimming, ocean diving, kayaking, and kiteboarding are available here.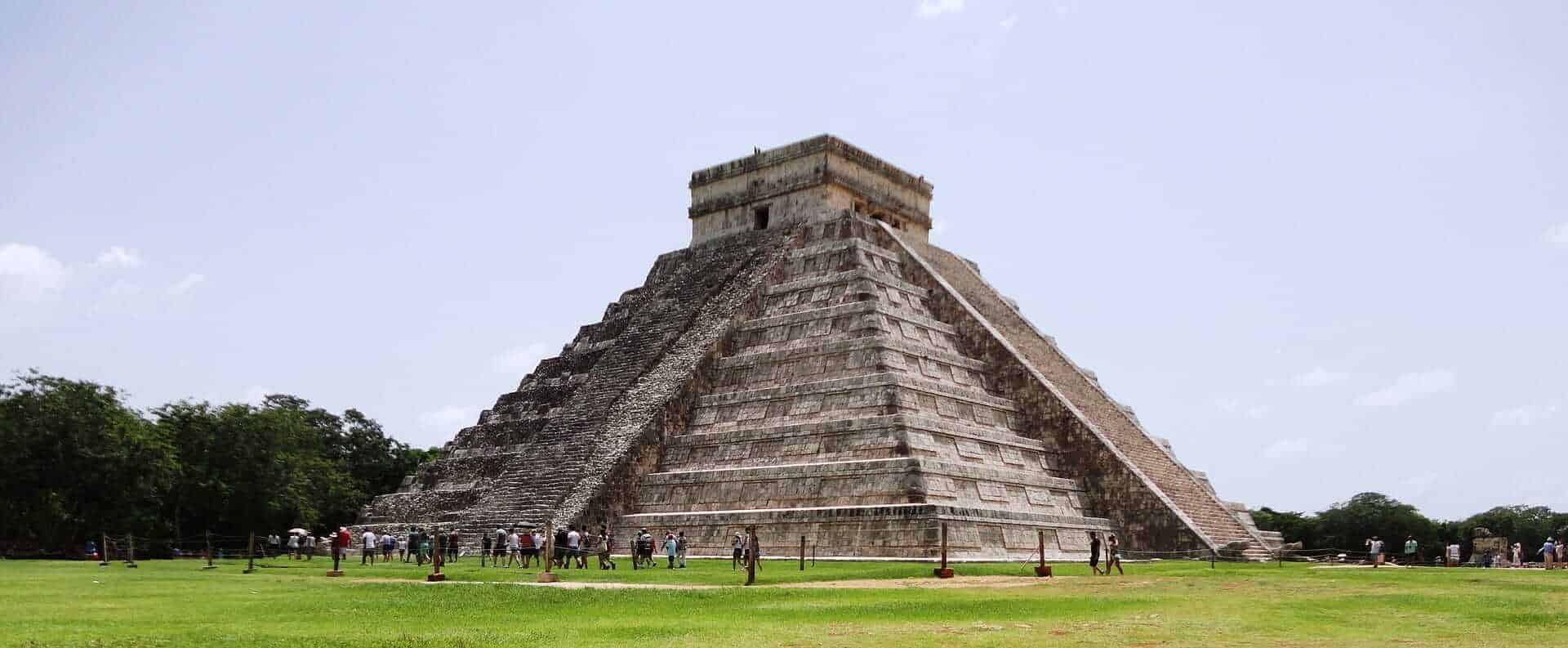 Head over to powdery white-sand beaches in the Zona Hotelera for some beach-fun, take in the beauty of the ocean at underwater sculpture museum or hike away to explore the limestone sinkholes/ cenotes.
Visitors can also soak up in Mayan culture at Museo Maya de Cancún and visit the various archaeological ruins. However the season is also the peak-time of travelers visiting the place, so expect a fair amount of crowds.
Also, read our full guide of the Riviera Maya in Mexico to know more about this place.
It is summer in South Africa from November until February, and January is the optimal time to visit the Mother City- Cape Town. The scenery is sensational, heat is not oppressive and there are 11-14 hours of daylight.
Cape Town has a Mediterranean climate (rainfall in the winter months), so January is mostly dry. Long, warm days with blue skies and loads of summer events are a regular feature in the first months of the year.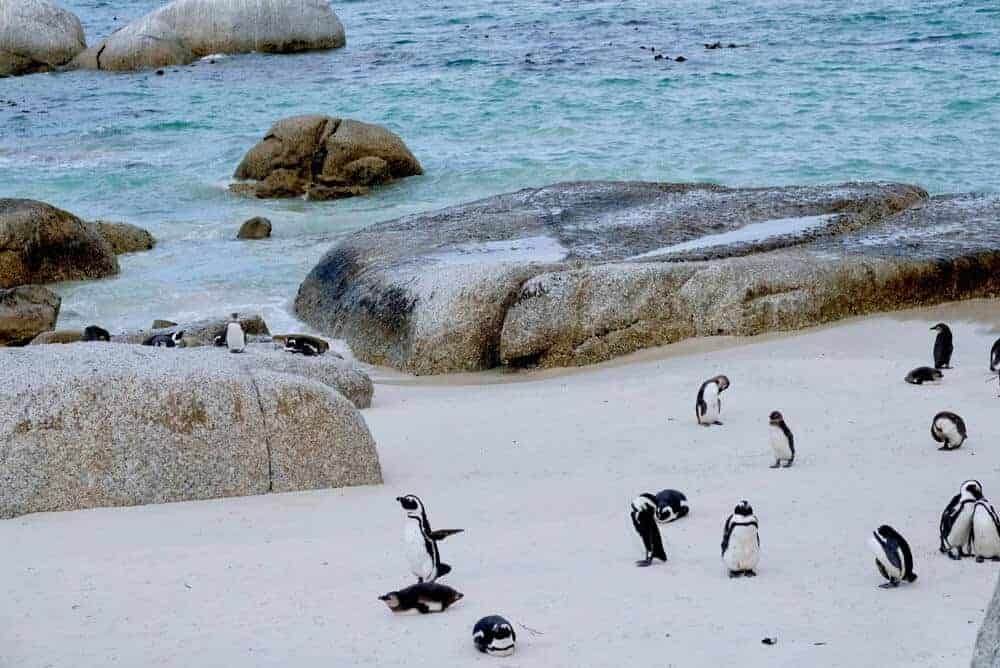 It is also windy at times making Cape Town a fantastic windsurfing destination in January and February.
Must-do activities include- water sports, outdoor activities, visiting Boulders beach populated with African penguins, hiking atop Table mountains, a photo opportunity at the Cape of Good Hope, a drive along Chapman's Peak (world's most beautiful road), and a leisurely day spent wine-tasting at nearby Franschhoek.
Make reservations in advance, as this is one of the best places to travel in January. This month is also the peak season of travel for the beautiful city.
Ah! And don't forget to check our guide to kid-friendly activities in Cape Town and the best vegan restaurants in Cape Town.
9) Belize City, Belize
Located on the northeastern coast of Central America, Belize is nature's best-kept secret. The petite country is packed with islands, adventures, and culture. January is a dry season in the country and the best time to visit the place. Continuous sunshine with pleasantly warm temperatures and clear skies prevail, with easy access to the country's top attractions.
The highlight is visiting the Belize Barrier Reef which is the second largest in the world, after Australia's, with more than 100 types of coral and some 500 species of tropical fish. It is heaven for scuba diving and snorkeling.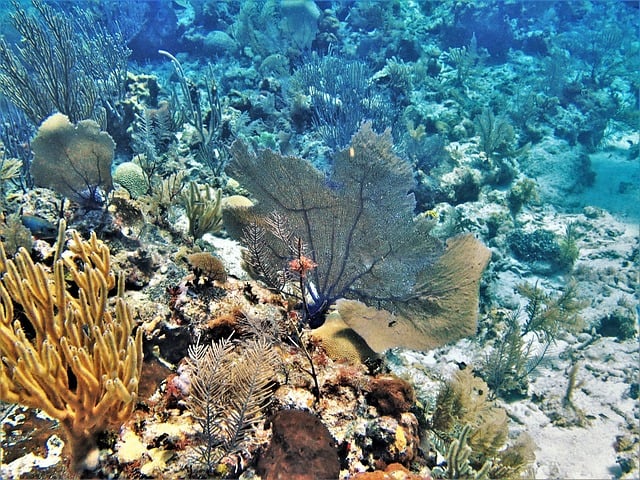 Visitors can spend days on end kayaking, windsurfing, stand-up paddleboarding, swimming, fishing or just lazing around in a hammock.
Alternatively, you can hike through the vast lush jungles, bird-watch some 570 species that roost along the rivers and lagoons and in the broadleaf forest or explore the ancient tombs, natural caves, and hieroglyphs of the Mayan civilization. So head out to this beautiful place for having a perfect tropical vacation.
It is winter starting October until March in India and the desert state of Rajasthan can best be visited during this time. The desert sun is not as intense and the days are pleasant. This makes it one of the best places to travel in January!
Most of the festivals held in winter are planned as tourist attractions, with visitors coming in from different parts of the world.
Don't miss the Pink city of Jaipur, decked with palaces, turquoise-hued Jodhpur, and the golden Udaipur. Wherever you go the place is steeped in culture, heritage, and nature with its fair share of adventure activities as well. You can ride on the back of a camel for a desert safari in Jaisalmer and get to sleep under the splendid stars of the clear skies.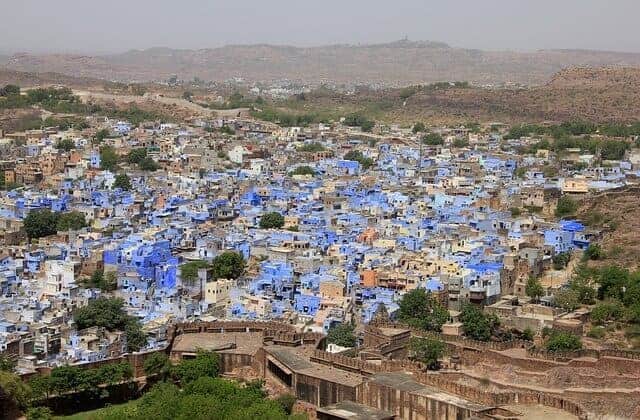 Shop to your heart's content at the many colorful bazaars or indulge in mouth-watering local delicacies. Whatever you decide to do, fun and rich travel experience is guaranteed here.
However November to February is also the peak season for travel here, so expect crowds and book well in advance.
So which of these fascinating best places to travel in January made it to your bucket list? Do share your experiences in the comments below 🙂