Home » Destination Guides » 10 best Christmas markets in Europe
The most wonderful time of the year is just around the corner. Yes, it's Christmas time- the season of joyful cheer, wonderful gifts, and heartfelt wishes.
So while you catch up with some classic Christmas movies during the holidays bake delicious desserts, and decorate the Christmas tree, we have got you covered for the yuletide shopping spree.
In the following lowdown we bring to you, the best Christmas markets in Europe. Here you can combine some travel too along with present-buying
Needless to add every stop comes with an unbeatable festive cheer replete with traditional gifts and glasses of glühwein. Enjoy and choose between the best Christmas markets in Europe!
1) Strasbourg, France
The Christmas market in Strasbourg is one of the oldest in Europe, beginning in 1570. It boasts of 300 wooden chalets at about 11 different locations.
Known as Christkindelsmärik, the Christmas market is held annually near Grand Île, the city's historic center. Each of the 11 different markets has its specialty. The best Christmas markets are at Place de la Cathédrale and Place Kléber.
Every year Place Gutenberg dedicates the Christmas village to a different country, Place Broglie boasts of the biggest market in Strasbourg while Place du Marché aux Poisson loads up on local wine, beer and tasty food from the region. At Place du Temple Neuf you will find handicraft items. Place Saint Thomas and Place Benjamin-Zix are markets for festive decorations.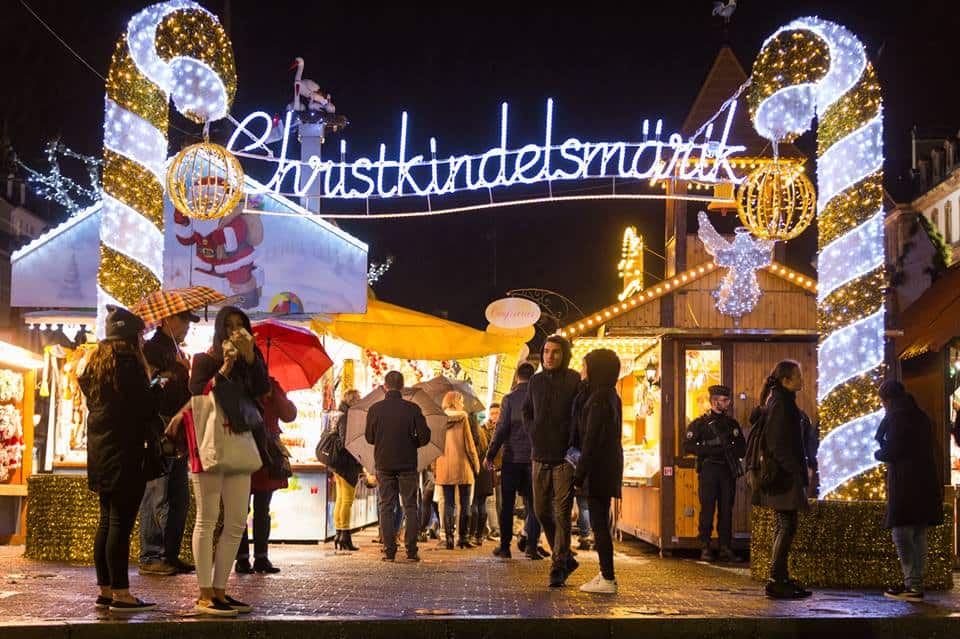 Don't forget to bring some cash with you, as most of the stalls accept only that.
There is much to look around too besides shopping. For example, you can delight in a big Nativity scene set inside the Strasbourg Cathedral, indulge in a bite or two of the famous cheesecake at Salon de thé Grand'Rue or visit the House of Bears just around the corner at Place du Château.
Whatever you choose to do, fun and festive cheer is guaranteed at this place.
The Strasbourg Christmas markets for the year will start from 22 November 2019 and end on 24 December 2019.
2) Nuremberg, Germany
Germans pretty much invented the Christmas markets, so to say. The tradition began in the German-speaking parts of Europe way back in the middle Ages.
In contemporary times, the markets feature festive stands selling regional treats and crafts; exuding all sorts of Christmas-y cheer. Nuremberg is unarguably Germany's biggest and best-loved Christmas market.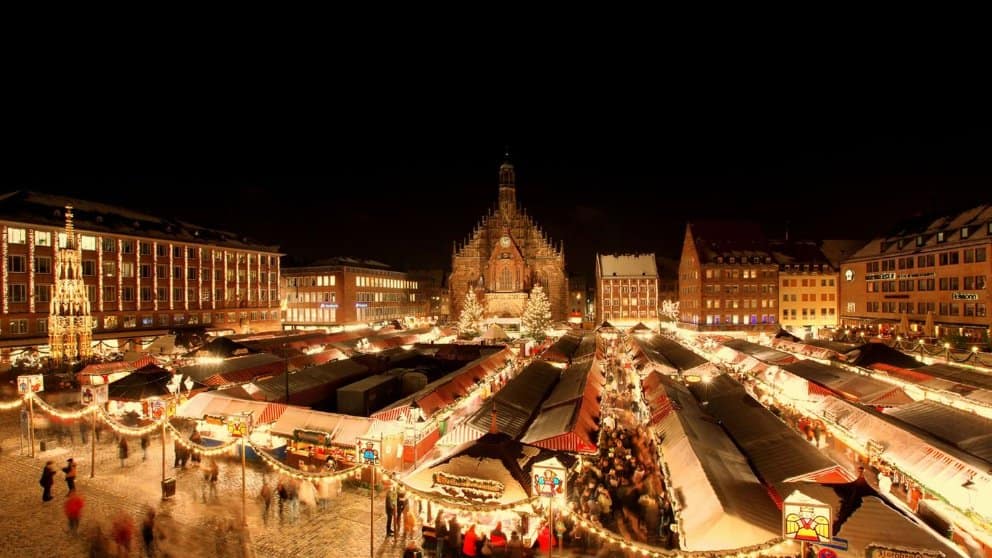 At Nuremberg Christkindlesmarkt in the Hauptplatz square, about 180 odd wooden huts sell various items, all produced regionally. In fact, they go by the special name of 'Original Nuremberger'. The item can only be named as such if they are produced within the city limits and weigh precisely 23 grams.
If you visit here don't forget to try the famed Gerstacker blueberry glühwein. Do also look out for things like gold foil angels, carved wooden candle stands, Springerle (intricately designed anise-flavored biscuits), and the quirky local specialty of Zwetschgenmännle – little figures with prunes for bodies and walnuts for heads.
As Nuremberg was once considered the unofficial capital of the Holy Roman Empire, there is a wide range of historic buildings and museums to visit in the city as well.
Nuremberg Christmas market dates from 29 November to 24 December 2019.
3) London, U.K
The capital city comes alive at Yule with jolly festivities, traditional markets, ice rinks, and Christmas shows dotted all over the place.
London's spectacular Christmas destination – Hyde Park Winter Wonderland is a delight for everyone- young and old. At Southbank Centre's Winter Market you can shop for gorgeous gifts while sipping on mulled wine. Explore unusual crafts replete with seasonal treats at Christmas by the River- London Bridge City.
At Winterville in Clapham Common, one can enjoy roller parties, Mexican wrestling, the Backyard Cinema and hundreds of stalls.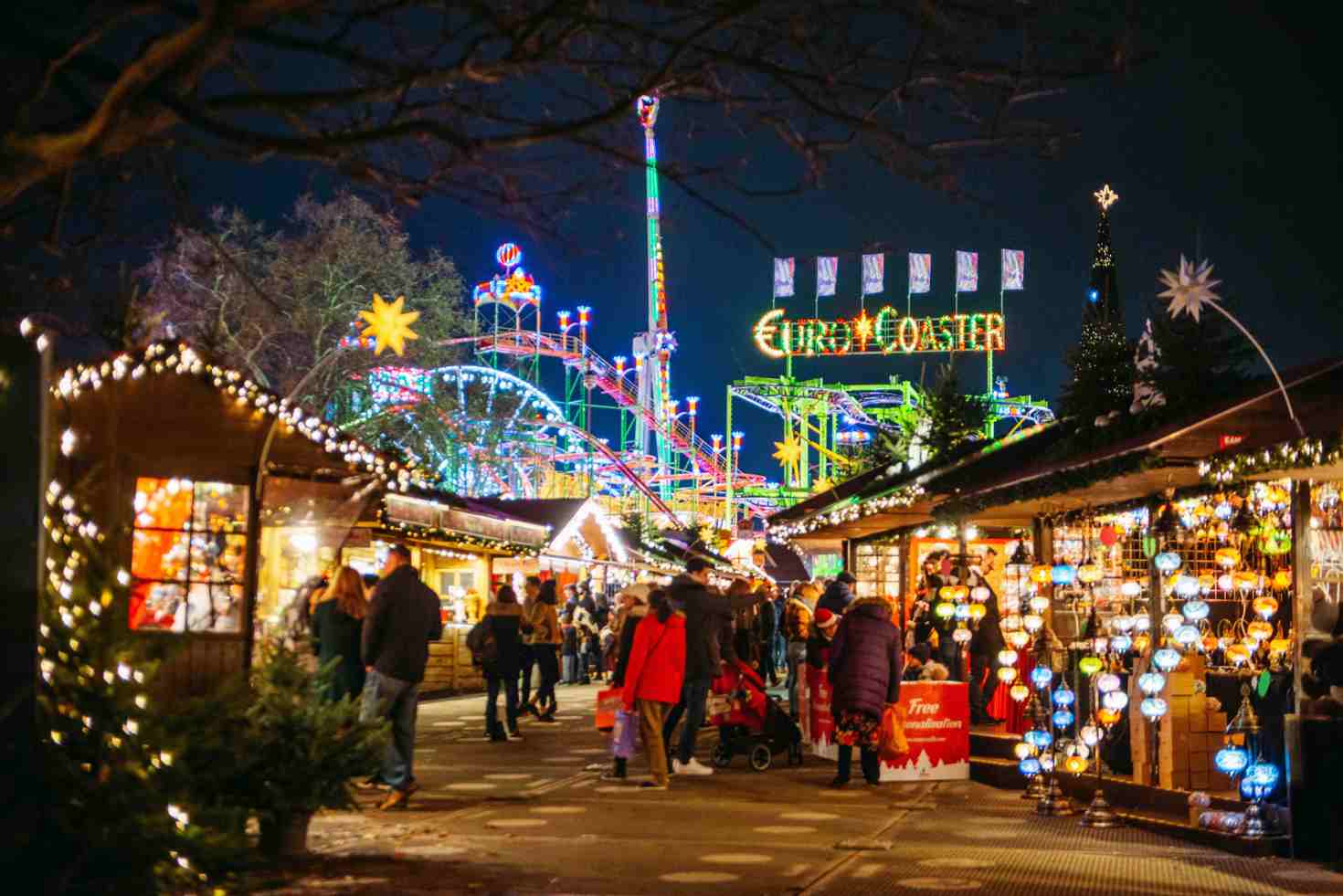 Visitors get to indulge in a glitzy affair at the Christmas market stalls in Leicester Square and amble around Kingston's Christmas market for foodie treats, lovely decorations, and handmade crafts.
Zero Waste Christmas market offers an opportunity to go green and join in the festive workshops.
If you don't happen to be in central London during the festive rush, worry not. You can visit Kingston-Upon-Thames Christmas markets, perched in Southwest London.
Most London Christmas markets will be operational from 21st November 2019 until 5th January 2020. 
4)Vienna, Austria
The Austrian capital has had a rich legacy of celebrating the Christmas cheer since Vienna's first Christmas Market was held in 1298. Today the city boasts of more than 20 events to choose from. Viennese Dream Christmas Market takes place in front of City Hall (Rathaus) featuring around 151 stalls.
These provide everything from huge ice rinks to a vast array of seasonal gifts and mouth-watering treats. The seasonal joy with a unique backdrop gives this market a charm of its own.
Inside the City Hall-ground floor, an area is especially dedicated to children, where they can learn to make Christmas cookies or candles.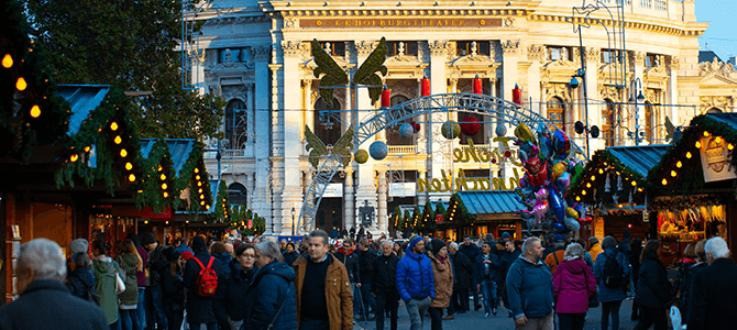 The other Christmas markets in Vienna worth a visit include- Christmas Village Belvedere Palace for baroque style and handicrafts, Christmas Village Maria-Theresien Platz for culinary delights, Christmas and New Year's Market at Schönbrunn Palace, Christmas Market at Spittelberg and many others.
Viennese Christmas fair might well turn out to be your most traditional Xmas market going. Don't forget to try curling at the huge ice rinks here.
Viennese Dream Christmas Market (in front of City Hall) dates from 15th November – 26th December 2019.
5) Tallinn, Estonia
For the year 2019 more than 208,000 global travelers from 106 countries have voted Tallinn as the best Christmas Market in Europe. Rightfully so the market held in the Town Hall square enthralls all with its coziness, historical location, wonderfully preserved medieval old buildings, and rich traditional vibe.
The star of the market is the Christmas tree, which is set up in Town Hall Square since 1441, making it the first Christmas tree ever to be put on display in Europe.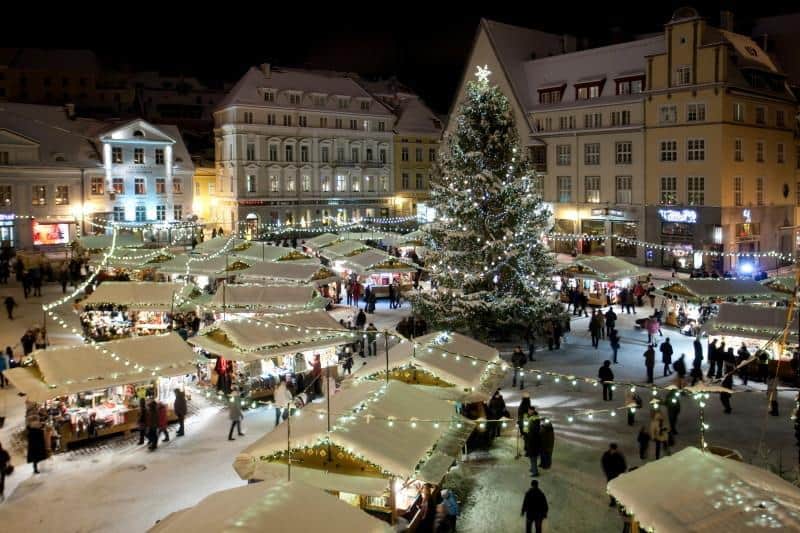 High-quality handicrafts, practical winter accessories, festive decorations and savory delicacies of black pudding, sour cabbage, and gingerbread with hearty Christmas drinks are all present aplenty here.
Santa in his house gifts candies to the little ones who excel at reciting verses. All in all, this destination is a must-visit for the Christmas fair this year, and we assure you won't be disappointed.
Tallinn Christmas Market begins on 15 November and ends on 7 January 2020.
6) Poznań, Poland
Often considered to be the best in Poland and one of the best Christmas markets in Europe. Poznań Christmas market is truly an enchanted wonderland. Taking place annually at Wolności Square and the Old Market Square, the market features various stalls of handicrafts, decorations, Christmas equipment, delicacies, hot wine, etc.
The aroma of burned wood sounds of carols and laughter with a beautifully lighted Christmas tree all make for a joyous ambiance. For children, there's a little amusement park featuring a big wheel that gives an amazing, elegant panoramic view on Poznań.
An Ice Festival is also hosted here, where sculptors from all around the world try their best to create the most spectacular ice sculpture, right in front of the visitors.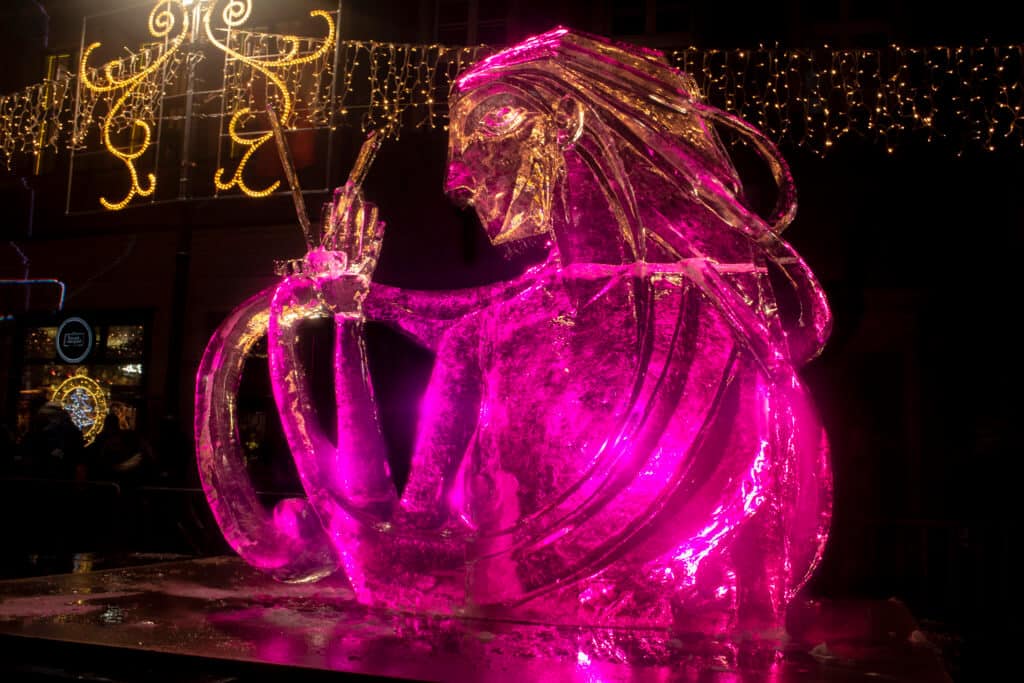 Additionally, you can indulge in a private traditional Polish food tour or a craft beer and food walking tour. So don't miss this one.
Poznań Bethlehem Christmas market will take place from 16th November to 22nd December 2019.
7) Budapest, Hungary
Christmas Fair at the spacious Szt. István Square in front of St. Stephen's Basilica gives way to the best Advent festival and Christmas market in Budapest. Considered as among the top three Christmas markets in Europe the fair offers plenty of entertainment for all with artisan gifts, handicrafts, jewelry, gastronomical delights, and ice skating rinks.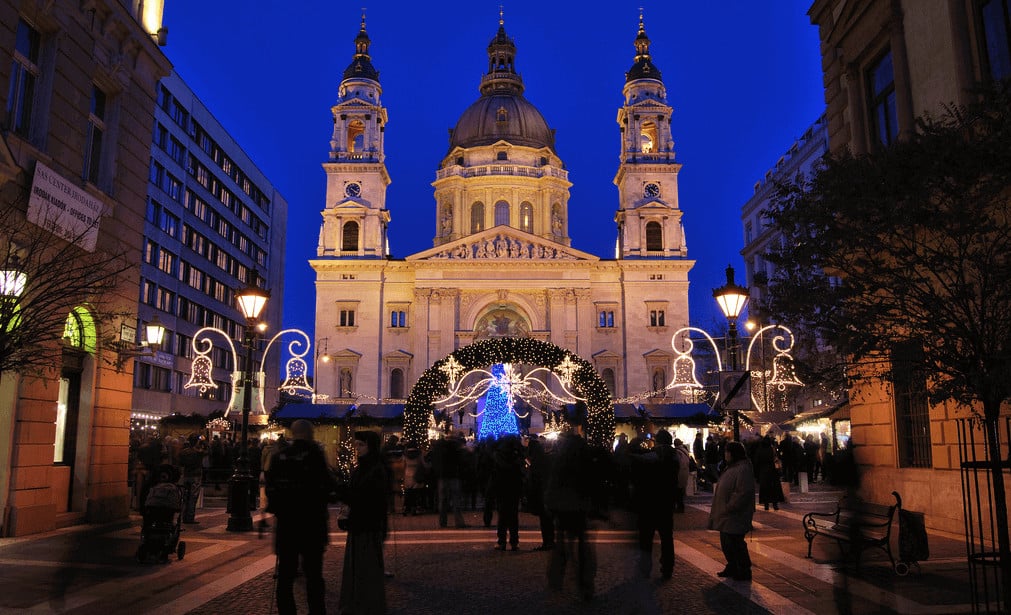 A spectacular 3D Light Painting show also takes place on the facade of the Basilica in the evenings. This beautiful visual experience is the largest in Central Europe and can be seen from all points of the square. Folk dance performances are also organized here.
Advent Feast at the Basilica Christmas Market will be held from 22nd November 2019 to 1st January 2020.
8) Basel, Switzerland
Basel is a well-known world over as Switzerland's prettiest and largest Christmas city. The Basel Christmas Market takes place at Barfüsserplatz and Münsterplatz squares, at the heart of the festively decorated Old Town. Over 160 traders and artisans offer their goods for sale in small, rustic wooden chalets decorated for Christmas.
Here there is something for every age from regional delicacies to handmade toys, jewelry with a wide array of gifts and decorations.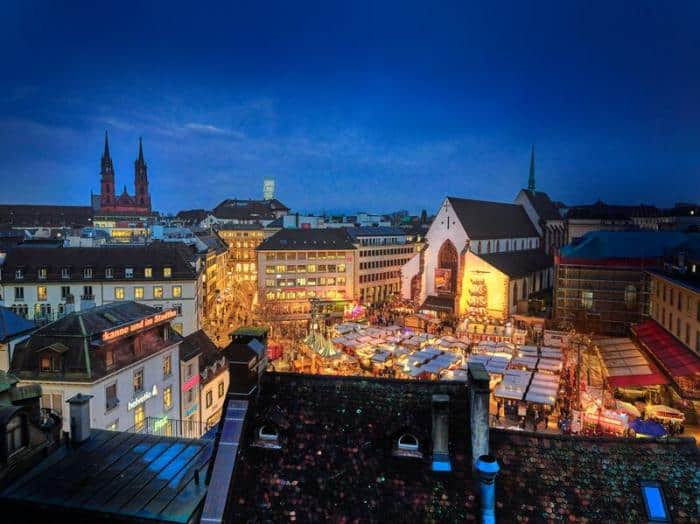 A magnificent Christmas tree stands on the Münsterplatz. While on Claraplatz, the 'Sennenhütte' opens its doors to guests for a fun fondue dinner. The splendid illuminations adorning the numerous Pine trees bordering the streets are truly a sight to behold (real fairy tale feel).
Don't forget to savor the genuine Basel Läckerli (a kind of gingerbread), delicious Swiss raclette or the popular grilled sausages, while here.
Basel Christmas market will take place from 28 November to 23 December 2019.
9) Seville, Spain
Different Christmas markets of Seville are considered to be the best sunny Advent markets in Europe. The Sevilla Capital Christmas market- Nervion takes place along Avenida.
Cabins of the market sport traditional decoration offering different types of unique handicrafts, handmade jewelry, clothing, and art on sale. Creativity is the buzzword here and it is the perfect place to shop for all your gifts.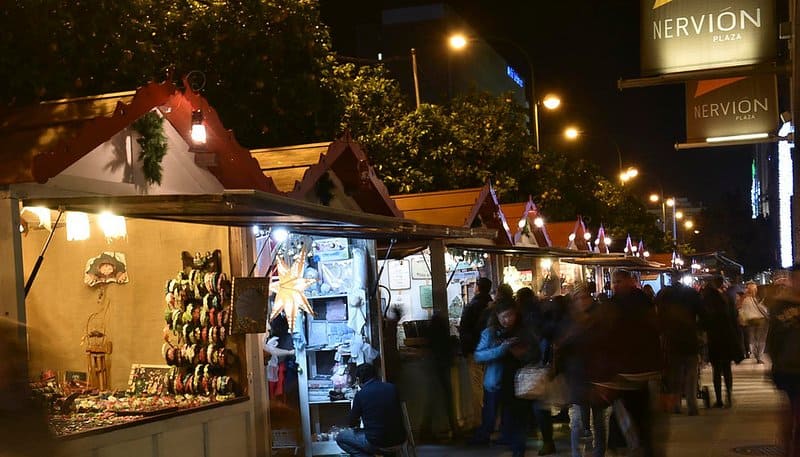 For one of a kind, purchases visit Feria de Belen (Fair of Cribs) market. For traditional Andalusian artsy gifts head over to Feria de Artesania market. Stop by at San Pablo Christmas Market for some retail therapy and get to see Seville's best sites whilst shopping at Mercados de Navideno Christmas market.
Regardless of where you choose to go authenticity, tradition and festive cheer are evident at all surroundings.
Seville Christmas markets date from 9th December 2019 until 6th January 2020.
10) Brussels, Belgium
Winter Wonders Christmas market in Brussels is visited by about 2.5 million visitors annually. That speaks a lot about the appeal of this fair.
The magnificent Advent fair takes place at the Grand-Place in Brussels and around the Bourse, the Place de la Monnaie, the Place Sainte-Catherine, the Place de Brouckère and the Marché aux Poissons.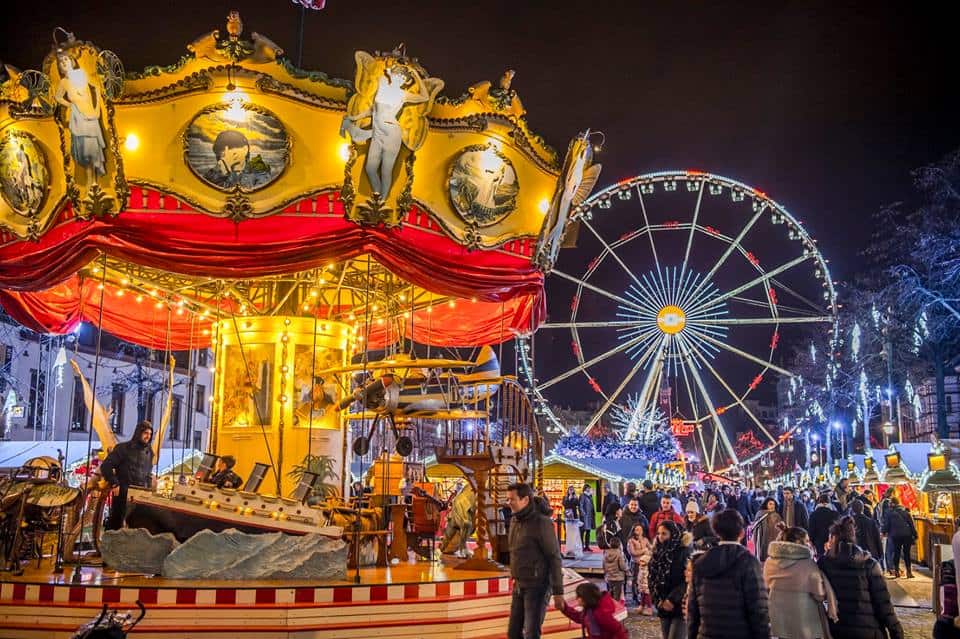 Winter Wonders Christmas market is a perfect mix of tradition and modernity. There are over 250 wooden chalets offering unique gifts, arts, and crafts, special artisan wares, mouth-watering delicacies, hot drinks, legendary poutine along with various other items.
After dark, fairytale lights, colorful decorations with a welcoming atmosphere help create magical moments. The fair provides an ideal opportunity to rediscover the beautiful capital anew in winter. A must-do.
Winter Wonder Christmas market, Brussels will be held from 29 November 2019 till 5 January 2020. 
So to which of these best Christmas markets in Europe are you heading over for the holidays?! Do share your experiences in the comments below 🙂