Home » Destination Guides » Phuket
Pristine beaches, rich cultural heritage, thriving nightlife, bustling markets, and mouthwatering food is what awaits you at Phuket. Thailand's most favorite island destination has all the elements to make your vacation the most memorable one. Read this Phuket travel guide for all the information you need for a great time.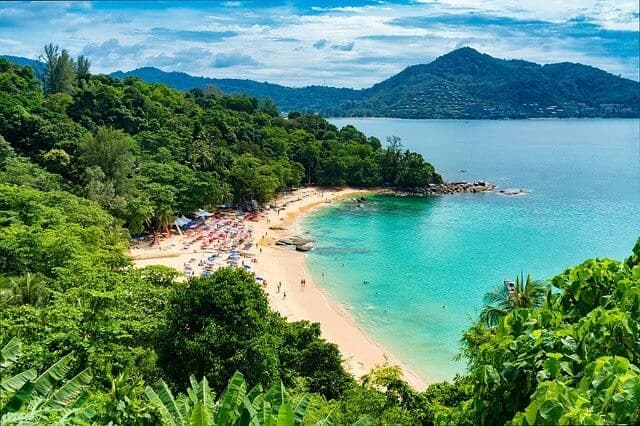 Best time to visit Phuket
Phuket is a year-round destination. The island has a tropical climate and basks in sunshine throughout the year.
Season
Temperature
Comments

Summer (March-May)

30° C and above

Hot but there are a good number of tourists on the island

Monsoon (May-Oct)

28 °C-29 °C

Off-season. Best time to get travel deals.

It doesn't rain continuously for days together during monsoons. You can still have a great time.

Winter (Nov-Feb)

varies between 23°C and 30°C

Peak season especially during New Year's Eve.

November is relatively less crowded as tourists start pouring in from December onwards.
Phuket travel guide to reach the island
By flight
You can reach Phuket directly at the Phuket International Airport. If you have traveled to Bangkok and other places in Thailand then you can fly from Suvarnabhumi (Bangkok) Airport to reach Phuket. There are a lot of low-cost airlines flying to Phuket from Asian destinations like Air Asia.
By road
Hitting the road seems fun as you will get to see the landscape as you peep outside the window but remember that the journey can be exhausting.
To travel from Bangkok to Phuket, there are overnight vans that can cost around 700 baht (USD 21). An overnight bus with AC costs 1000 baht (USD 30) for a journey of 12 – 14 hours. The driver will give two stops along the way to eat and to stretch your legs.
Phuket travel guide to travel within the island
There are plenty of options to travel within the island.
Airport bus
Airport Bus Phuket is a Government official bus which ferries tourists from the airport to any beach resort of their choice. Depending on your drop location, ticket prices range between 30 – 100 baht (USD 1 – 3).
By local buses called the Songtaew
These are like pick up trucks transformed into buses. They are painted bright blue and function from 7:00 am to 6:00 pm. The name of the destination is written in English at the front of the bus.
Pic courtesy: kitti_j
There are no designated bus stops to get down here. You just have to request the driver and he will stop the Songtaew for you.
To catch a Songtaew from Phuket town, head to Ranong Road to go to any seaside resort on the island. Prices for a one-way ride costs between 15 – 20 baht (USD 1).
By tuk-tuks
Tuk-tuks in Thailand is a popular way to travel within the island. Though it is a basic mode of transportation, they charge a lot for a one-way trip.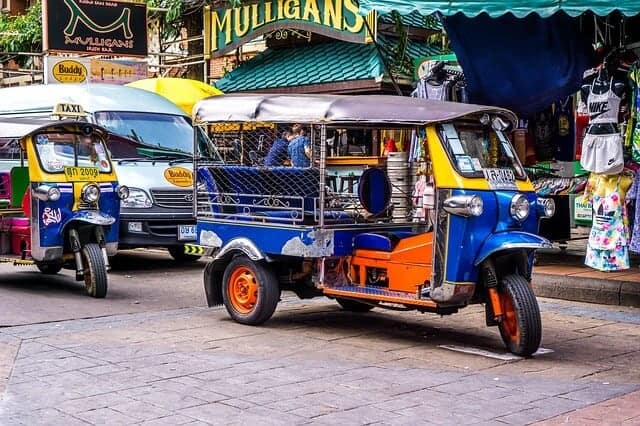 To go to popular beach resort towns in Phuket like Patong they will charge a minimum of 100 baht (USD 3). If you have to go any further then the price is around 400 baht (USD 12). You need to bargain a lot in advance before boarding the tuk-tuk.
By taxi
Metred taxis are a good option. They charge 50 Baht for the first two kilometers and 7 Baht per additional kilometer, though for longer distances flat rates may be charged.
Airport taxis tend to charge a lot to the tune of 500 baht (USD 15). This cannot be negotiated as they claim this to be a fixed price.
Renting bikes
Riding a bike with the sea breeze in your hair on an exotic island sounds like a perfect holiday. But if you do not have a driving license, do not risk yourself on this adventure.
There are two types of bikes that can be rented. One is a scooter of 50 cc or a bike. You will find many rental shops in Phuket town and also at Patong beach.
The downside to renting a bike is the quality of the roads and most locals do not follow traffic rules. You need to be very careful while you are riding through crowded stretches.
Bike taxis
A unique mode of transport where you will ride pillion on a bike. The owner of the bike wears a bright red or green vest who will ferry you on the island and drop you at the location of your choice. Your safety depends on the driving skills of this guy riding the bike.
Phuket travel guide suggestions for places to visit
Old Phuket Town
The historical side of Phuket is well-preserved in this part of the town.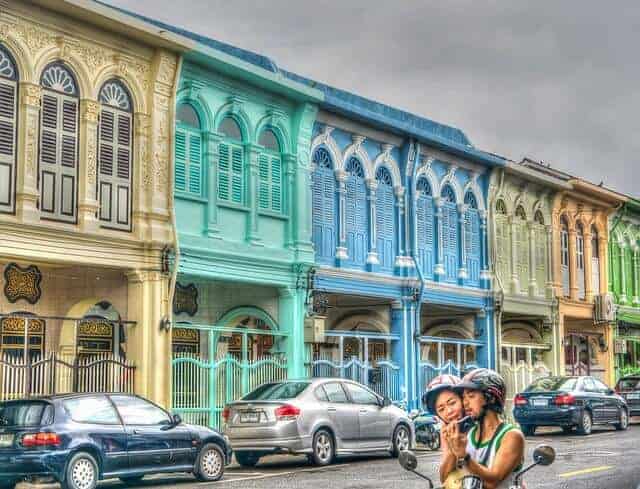 You will find Buddhist temples, colonial-style buildings, mansions belonging to business barons 100 years ago who reaped riches from tin mining, bars, cafes, restaurants, and shops. Best explored at the beginning of the day or during dusk.
Patong
It is a beach resort which is the most happening in Phuket. You will find the beach filled with colorful umbrellas, people sunbathing and indulging in sports.
Pic courtesy: Ian Christopher
This crescent-shaped flat beach is lined with coconut trees and shacks having bars, pubs, restaurants, and cafes. You can easily have a sea-facing hotel room in Patong.
Bangla Road
Pic courtesy: Simon Long
If you are a party animal, then you need to hang out on this street after sunset when vehicular traffic disappears. All that you find here are clubs with blaring music inviting you for a drink. There are a lot of beer bars and discos in this stretch.
Surf house Patong
This place is an indoor surf center where you can practice surfing in a controlled environment. It is a really good place where you can just sit and enjoy, try surfing, and have a beer.
It costs up to 800 baht (USD 24) for an hour of surfing and there is a queue ahead of you until you get your turn. Good time to go is on Sunday mornings when you can surf longer for less money. Check out their website for more info.
Freedom beach
This secluded beach can be reached by paying anywhere between 1,100 – 1,500 baht (USD 33 – 45) for a round trip on a jetty from Patong. Just go to the southern end of Patong beach to hitch a ride to Freedom beach.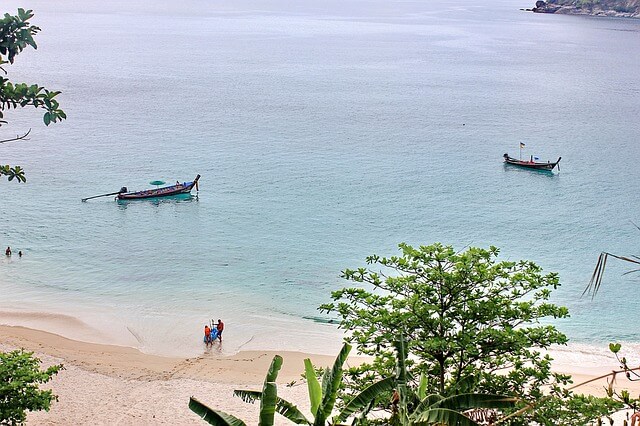 If you are physically fit, then you can take your bike from the southern end of Patong beach, through narrow roads, park your vehicle and hike up a little to reach this sandy paradise. Food and drinks on this beach are expensive, so it is better to come to enjoy the serenity and maybe, play some beach volleyball.
Shopping in Patong
Banzaan Market
Banzaan Market is a Thai fresh market where you can buy tropical fruits like coconut, guava, mango or papaya. Or you can even buy a juice and relish its taste. You can buy cheap clothes to wear on your holiday here.
There are seafood stalls offering a variety of marine life and relish local cuisine. But when you are purchasing something, always bargain as they might quote 30 – 40% higher than the actual price.
Malin Plaza
It is a huge night market selling good quality clothes at cheap prices. There are innumerable stalls selling a variety of dishes from Thai cuisine, halal dishes, and some delicacies from Italian fare. The best place to buy souvenirs.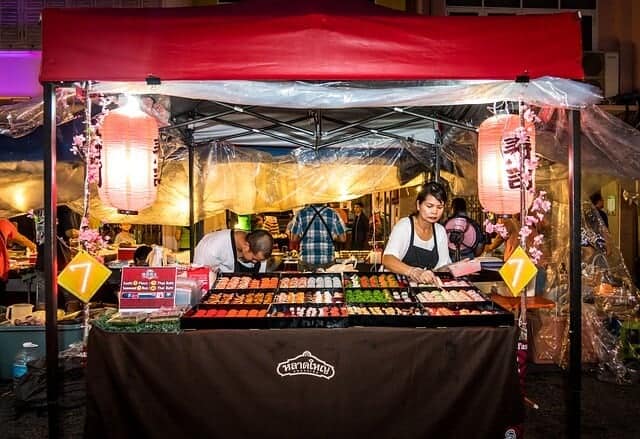 Jungceylon Shopping mall
This is just another shopping mall selling western goods and has a bowling alley and a cinema. Nothing about it offers an authentic Thai experience. So, go there to buy your necessities at the Big C supermarket but not a must-visit.
Kata Beach
10 km away from Patong beach is another vast stretch of pristine beach called Kata beach. It is a surfers paradise in the months between May and November due to perfect weather and of course, the waves.
Pic courtesy: Elizabeth Saint
You can go shopping at Kata Plaza or Kata Night market. All the markets on this island sell more or less the same goods and street food. If you have the time you can visit every market to see if there is anything unique that you can buy.
Karon Beach
It is another crescent-shaped beach lined with bars and restaurants. The golden sandy beaches are full of sunbathers and beach umbrellas.
Pic courtesy: Victor Seryy
Go to the Karon temple market. Visit the Wat Suwan Khiri Khet Buddhist temple in the vicinity of the market. The market begins late afternoon and sells a variety of things that cater to tourists like jewelry, t-shirts, spices, toys, handbags, and more. There are locally made handicrafts which you can buy as souvenirs and copious amounts of seafood to be eaten.
Karon viewpoint
This viewpoint is at an elevation and hence makes for a good spot for panoramic views of the Andaman Sea on the west and the island to the east.
Pic courtesy: Avelino Rico Jr
Best visited in the dawn or during dusk to see the sunrise or sunset respectively. The view of the beach up north is always equally fascinating.
Big Buddha Phuket
Just a few meters away from Karon beach, on the Nakkerd Hills, is a giant marble statue of Buddha measuring 45 m. This Buddha statue can be seen from Karon viewpoint too.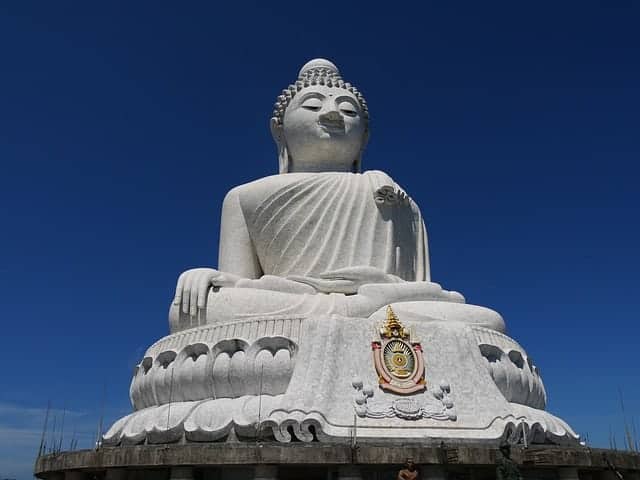 You can walk up the hill, but hiring a car to reach the top, at the base of the statue is better. You need to be dressed appropriately to enter the temple. Cover your legs and shoulders. If you did not wear the right clothes, there are free shawls, sarongs, and skirts for rent outside the temple.
Wat Chalong
A deeply venerated Buddhist temple in the southern part of the island of Phuket.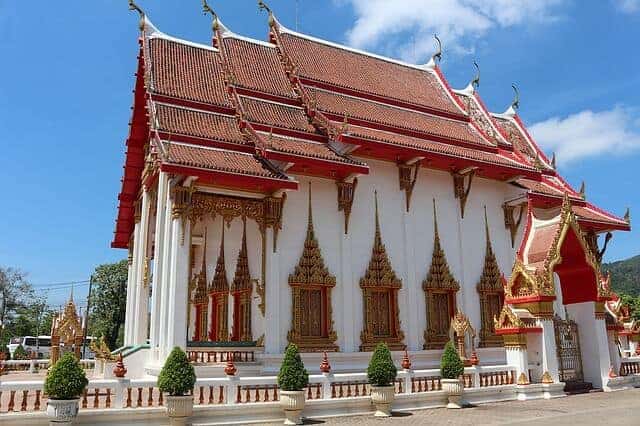 Go on a clear sunny day to see sunlight reflecting off the gold panels. Women should be mindful of their clothes. Please do not wear shorts or expose your bare shoulders if you are visiting the temple.
Beaches
There are beaches all around the perimeter of Phuket. The other prominent ones that you can visit are Kamala beach, Mai Khao, Nai Ham, Rawai, Bang Tao, and Layan Beach.
The offering for tourists is more or less the same. Fine sand beaches where you can rest under a tree and catch up on a book, take a dip in the sea, go snorkeling, indulge in water sports, go to a beach bar or dine on sumptuous seafood with fantastic views of the sea.
Phuket travel guide for activities to do on the island
Phuket is not just about snorkeling, canoeing, scuba diving, or jet skiing. There is a whole range of activities to indulge in like ATV tour of Phuket, witness a Thai boxing fight, ziplining, paramotoring, golfing, bungee jumping, go karting, rock climbing, and more.
Other places to visit near Phuket
Phang Nga Bay
Located between mainland Thailand and Phuket, it is a surreal looking place. There are mangrove forests, limestone cliffs, rock formations, and many tiny islands which look like they are floating in the sea.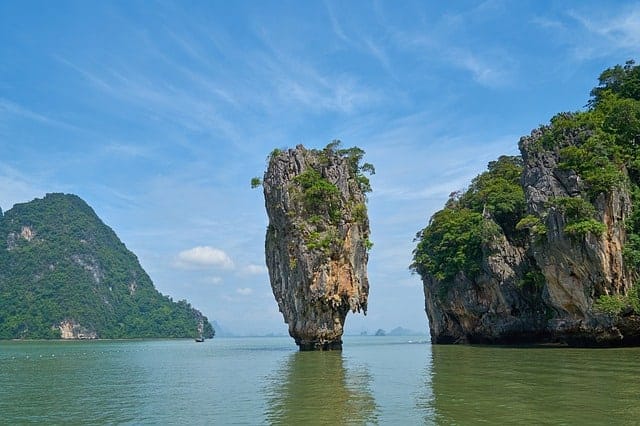 You can go canoeing in Phang Nag Bay through the limestone karsts which stand like pillars on emerald-green water. The view of the setting sun from this bay area is breathtaking and should not be missed.
Phi Phi Island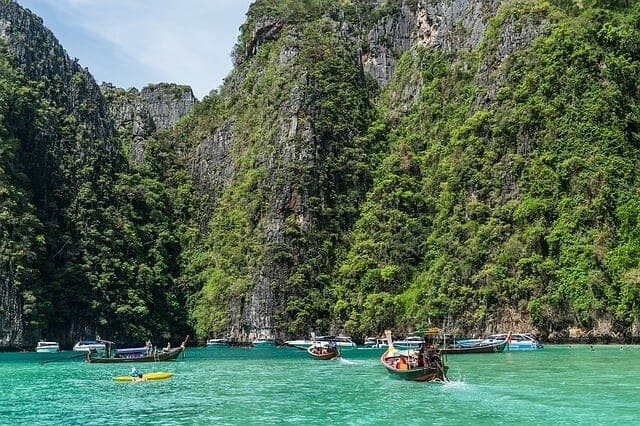 A lot of movies have been shot in this locale for a reason. It is beautiful and looks like the perfect beach vacation. You can have a good time snorkeling in this place.
Phuket travel guide to important events on the island
Songkran Festival
This festival in April is celebrated as the Thai New Year which marks the beginning of the solar calendar.
Pic courtesy: Zulfikar Aleksandri
It is celebrated throughout the island by splashing water at each other using water guns or even buckets of water being thrown at you.
Phuket Bike Week
The bike week coincides with the Songkran Festival dates. In this show, bikes from Thailand and neighboring countries come and gather near Patong as a show to display their mean machines.
Phuket Old Town festival
This occasion is to celebrate the Chinese New Year in the month of February. There are parades, dance performances, Chinese dragon dance on the streets and a whole lot of street food to be tasted.
Loy Krathong Festival
Celebrated in November, this is like the festival of lights where a krathong (floating lantern) is set afloat in a lake or beach. This floating lantern has candles, incense sticks, flowers and set afloat with a silent prayer hoping for good fortune.
Phuket Vegetarian Festival
Held in the month of October, locals abstain from eating meat in the belief that it will help them in achieving good health and peace of mind. If you are faint-hearted then this festival is not for you. People pierce their bodies and especially their face with sharp objects to impress the Gods.
Phuket travel guide for scams to avoid for a safe trip
Be careful with the tuk-tuk drivers. Pre-negotiate the price and pay just that. They might want to overcharge you and all the typical arguments over the fare but do not get into a fight. However, if you have any complaint, please go to the Tourist Police.

Before renting a jet ski or a motorbike, always take pictures of the vehicle. There have been incidents where the owner accuses tourists of damaging their vehicle though it was already damaged before the unsuspecting tourist rented it.

Do not get carried away by locals who promise you a good deal of anything. Be it a meal, round of drinks, or even a souvenir. Pick a place for yourself.

If you will mention the name of the hotel to a tuk-tuk or a taxi driver at the airport, the driver will misguide you by stating that the hotel is shut down or being renovated just so that they can take you to a different hotel for stay. Ignore such requests and hold your ground.
Phuket travel guide for female solo travelers
There are a lot of international travelers traversing through Thailand. Since Phuket is a popular beach destination, you will find a lot of female solo travelers like you. It is a friendly place, people are warm and you can befriend like-minded people when you are hanging out at the beach bar.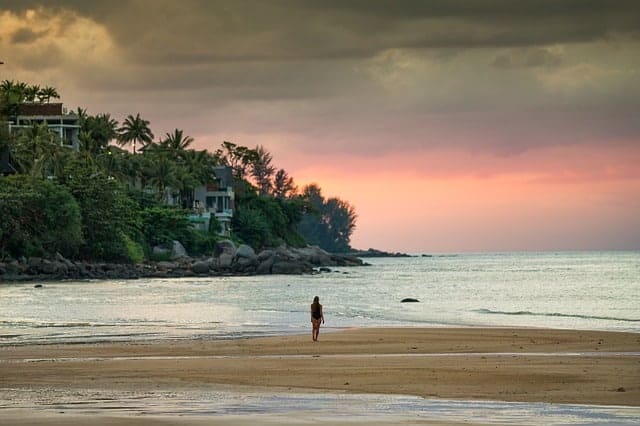 There are a few precautions to take as a female traveler:
Ensure you have an eye on your drink at the bar. This rule applies anywhere in the world.

Do not get drunk if you are alone and refuse to take a drop in a stranger's vehicle especially in the night.

Venturing out alone at night is best avoided. If you are with a group of friends, well and good. Instead, please stay in crowded places.

Phuket has some bad reviews with regard to local men misbehaving, assaulting, and snatching bags of lone female travelers in the night, so, please be careful.

You can wear a bikini on the beach, however, going topless is not recommended.

You need to cover your legs, shoulders and be neatly dressed when you enter any temple in Phuket. In other words, please respect local tradition.
All the above-mentioned instructions may sound a bit weary, but that should not stop you from having fun on the island. Check out this blog by Pamela about the fun she had in Phuket solo.
Phuket travel guide for parents vacationing with kids
It is safe to travel with kids. There are a lot of parents on internet forums going paranoid about their kids being kidnapped in Thailand which is unreasonable.
Phuket is just like any other destination. It is an amazing place to vacation. You can take your kids and have fun. Please have an eye on them when they are playing in the sea. Read this blog from Christine as she details her experience traveling in Phuket with her little daughter.
I hope this Phuket travel guide has provided all the necessary tips and suggestions for a hassle-free vacation on the island. If I have missed out on mentioning any fun activity or safety trip that will benefit other travelers, please feel free to comment below. I would be happy to include them in our Phuket travel guide.
Check also all of our destination guides to inspire your next travels. We wish you a safe and happy trip!