Home » Destination Guides »
You've probably seen photos already. The most pristine sea you've ever seen, white sand, archaeological sites, great food, cenotes… an amazing holiday! That's the Riviera Maya, a touristic zone in Mexico located in Quintana Roo. The Riviera Maya has everything you could ask from a place and more. It is the perfect place to chill, to explore, to have adventures, and to fall in love with Mexico. In this guide, we'll walk you through all the places you can see in the Riviera Maya. So read our guide and start packing because you'll want to get there in no time!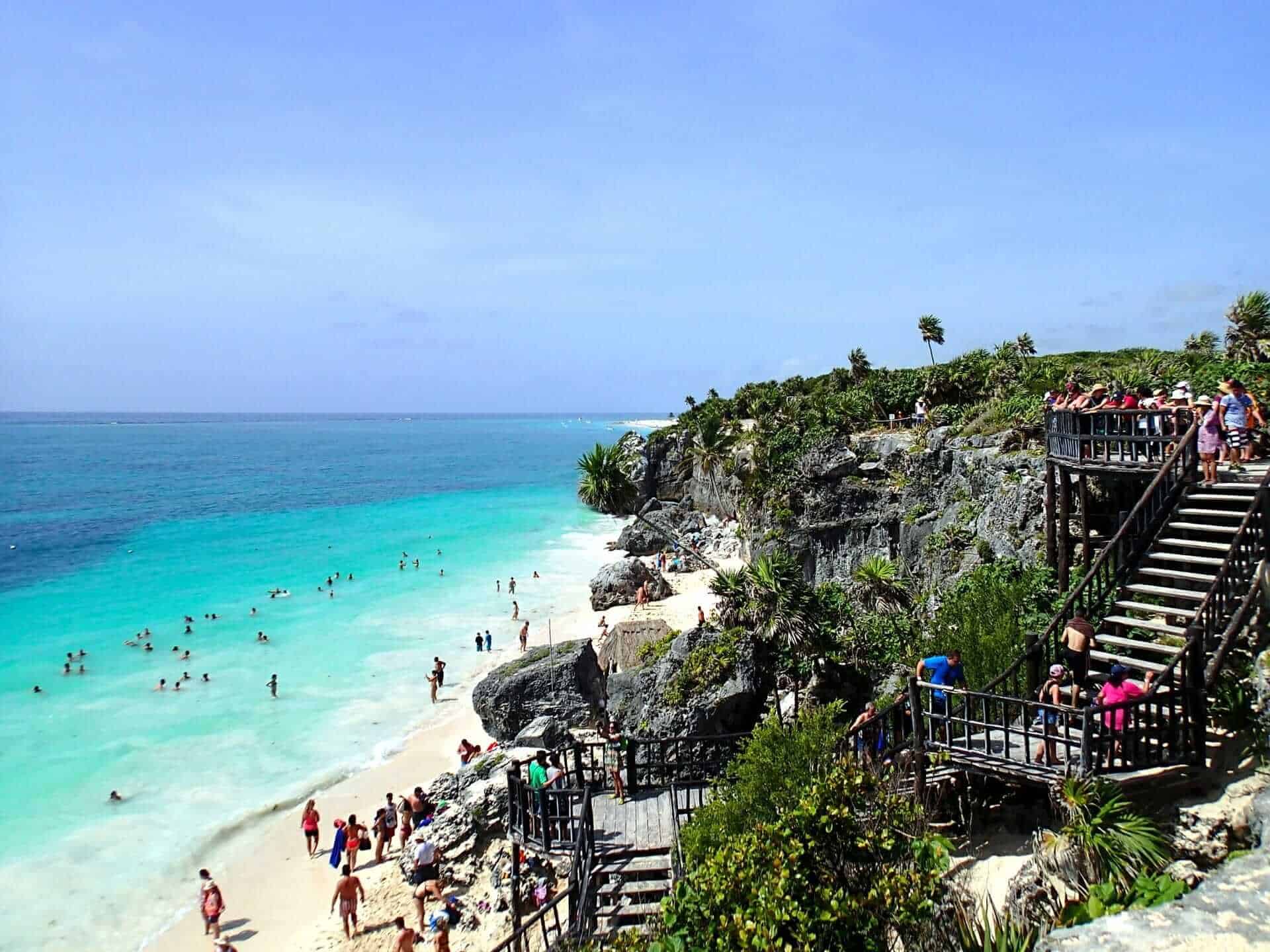 Where is the Riviera Maya?
As you've already read, the Riviera Maya is a zone that extends across the Caribean ocean. If you see it on the map, it's in the most eastern part of Mexico. The Riviera Maya comprehends a coastline of 140 km so there's many to see. In this zone, you'll find places like Tulum, Cancún, Akumal, and Playa del Carmen.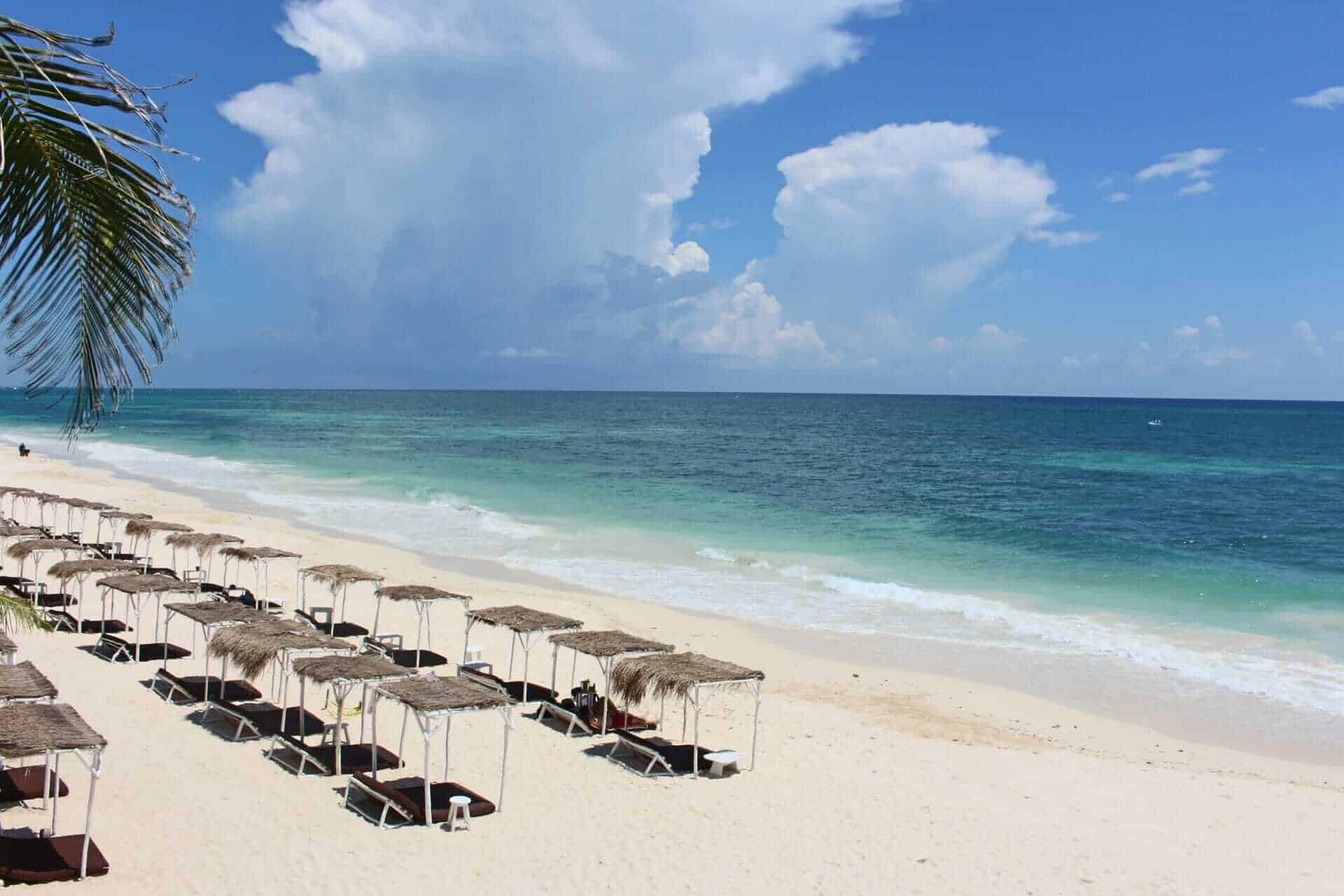 How to get there
Cancún is one of the most visited places in Mexico so it has an international airport. Sometimes, flights from Europe are cheaper to Cancún than to Mexico City, for example. So if you're planning on visiting Mexico and the Riviera Maya is in your plans, it's a great idea to get to Cancún and start your trip from there. There's also an international airport in Cozumel, but the easiest and cheapest is to get to Cancún.
Fun fact: Cancún's airport is the 4th busiest airport in Latin America ???
Best time to visit
You'll find rain from May to November but the temperature would be around the 24°C/75°F all year long. Avoid visiting during January and February since northerly winds are common (although you'd be surprised on how used to this people are there). The water in both the sea and the cenotes are pretty warm all year long.
Many young people travel to the Riviera Maya during Spring Break so if you're not into crowds, avoid that season.
Sargassum (sargazo in Spanish)
Before visiting, check if there's a presence of sargassum in the beaches. Sargassum is a seaweed that has been present in the beaches of the Riviera Maya since 2014. It's nothing to worry about but some beaches get full of it and it can be uncomfy to swim around. You can ask your accommodation host and if there's sargassum on one beach, you can always visit another one or go to cenotes.
Getting around
Since the Riviera Maya is very touristic, there are safe ways to move around:
Colectivos: these are vans that go from one city to another. These are reliable and safe to take, also, they're super cheap (around 2 USD/30 Mexican pesos). There are no official stops so you must go outside your hotel (if you're in the highway) and stop them by waving. You have to know where you'll get off and the price of the trip will depend on that.
Taxis: if you're in a group, a taxi is a good option. There are no fixed prices and haggling is accepted. Depending on the distance you can pay up to 20 USD/400 Mexican pesos. If you're staying at a hotel, they can get you one and it's easier (although more expensive sometimes).
Buses: there are several bus companies that can drive you to the most popular cities like Tulum and Playa del Carmen. ADO is the company you should use for reliable schedules.
Renting a car: this is a good option if you have the budget and you want flexibility (and also are in a group of at least 4 so it's not that expensive). You can choose any rental from the airport and start your trip from there. Remember the person that'll be driving needs a driver's license and a credit card.
Places to visit
Cancún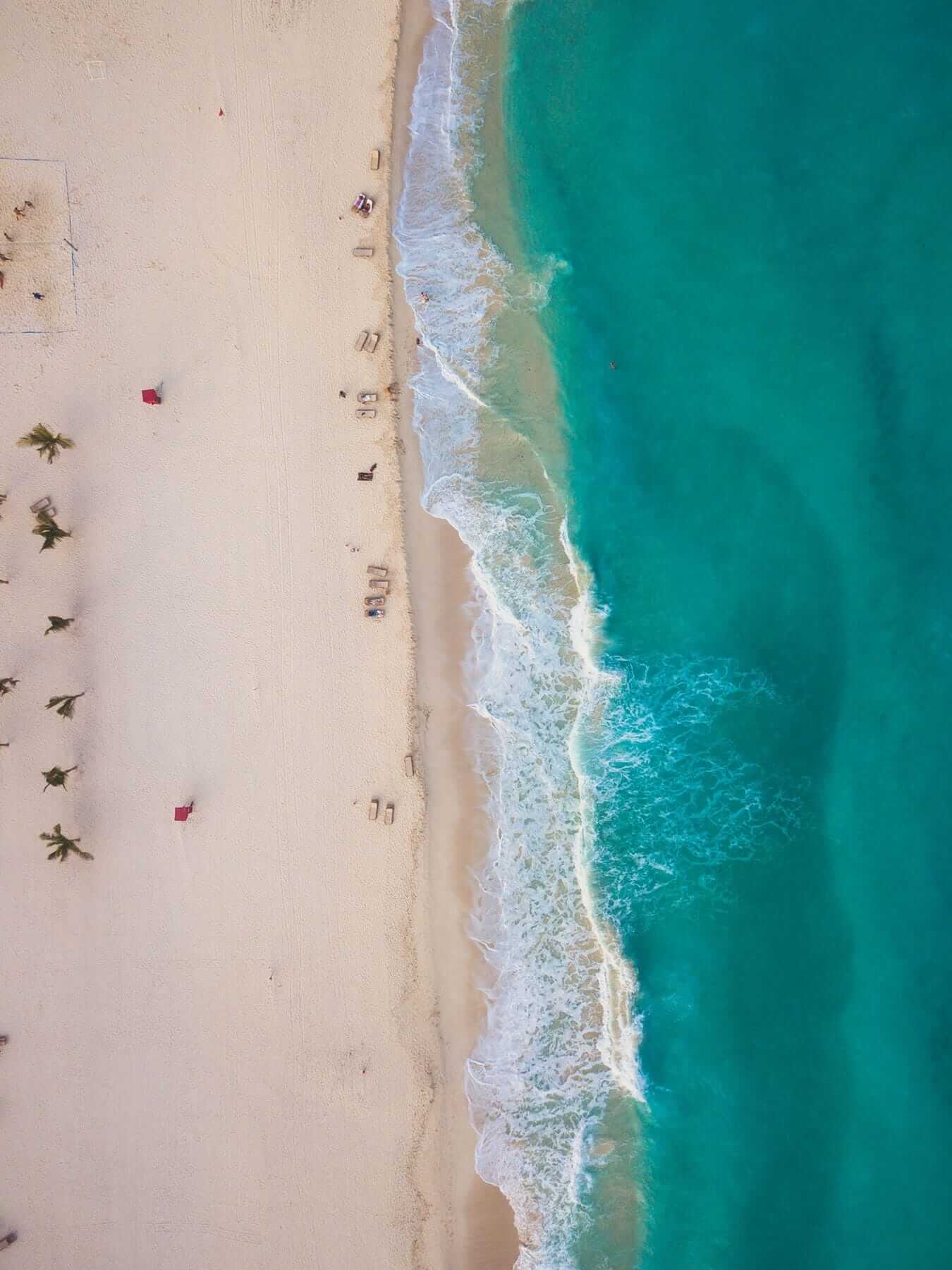 You can start your trip in Cancún. Cancún is for you if you're looking for great nightlife and shopping. The city is basically hotels, restaurants, bars, and clubs so it'll be easy to find something that suits you. Playa Mujeres is an island very close to Cancún, so you can also visit it if you're there.
Puerto Morelos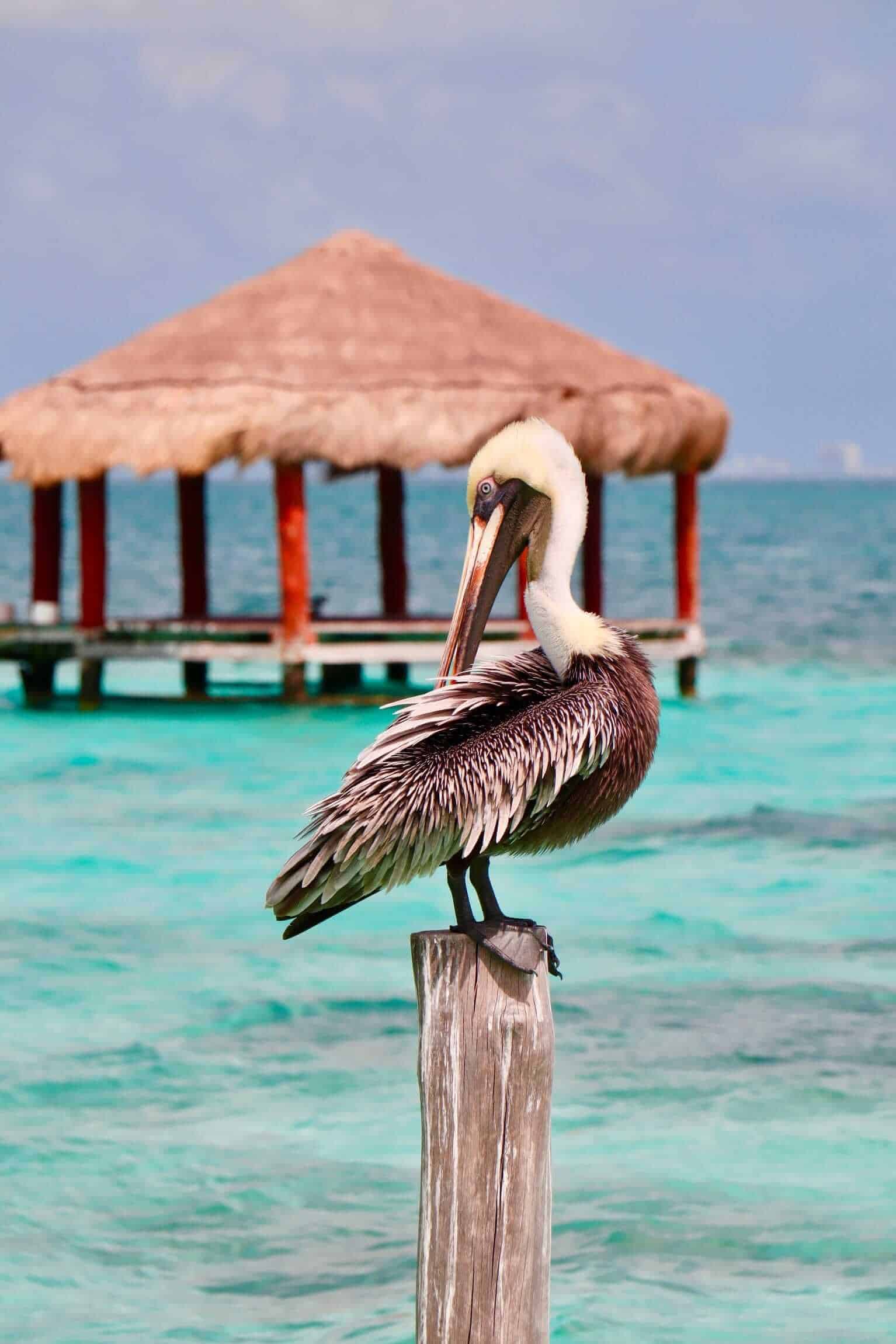 Puerto Morelos might not be as popular as Cancun or Playa del Carmen but it's a great place for adventures! Scuba diving is something you'll love doing here and there are parks and zoos you'll enjoy with your whole family. Check all the attractions of this place here.
Playa del Carmen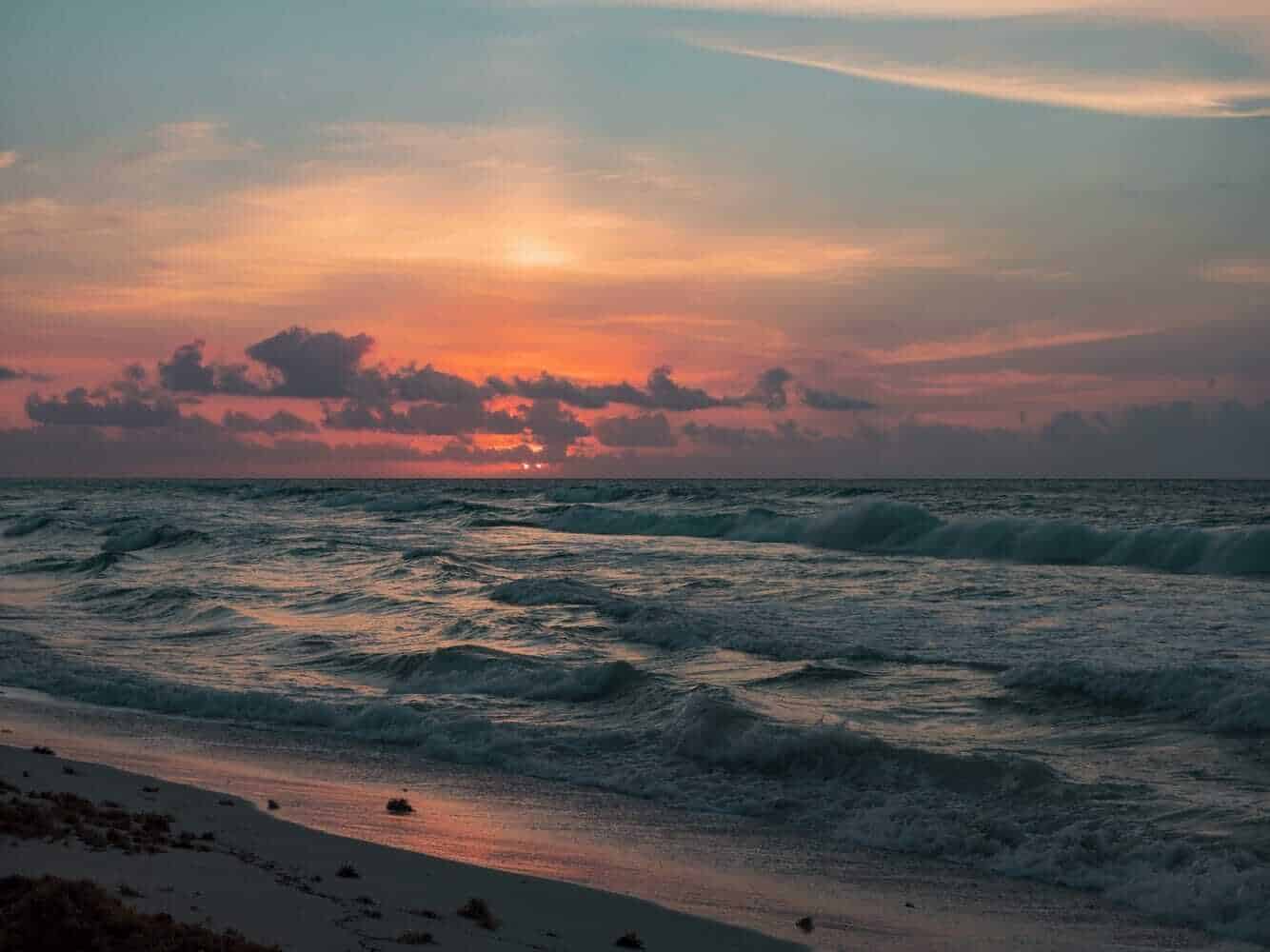 With a laid-back vibe and a lot of activities to do, Playa del Carmen is a tourist favorite. Head down to the Quinta Avenida, where you'll find bars, restaurants, clubs, and even people dancing in the streets. For a relaxed day, go to Playa Mamitas, get a drink and enjoy the view of the blue ocean. From Playa del Carmen you can also take a ferry to Cozumel, a small island full of cenotes and places to snorkel.
Xcaret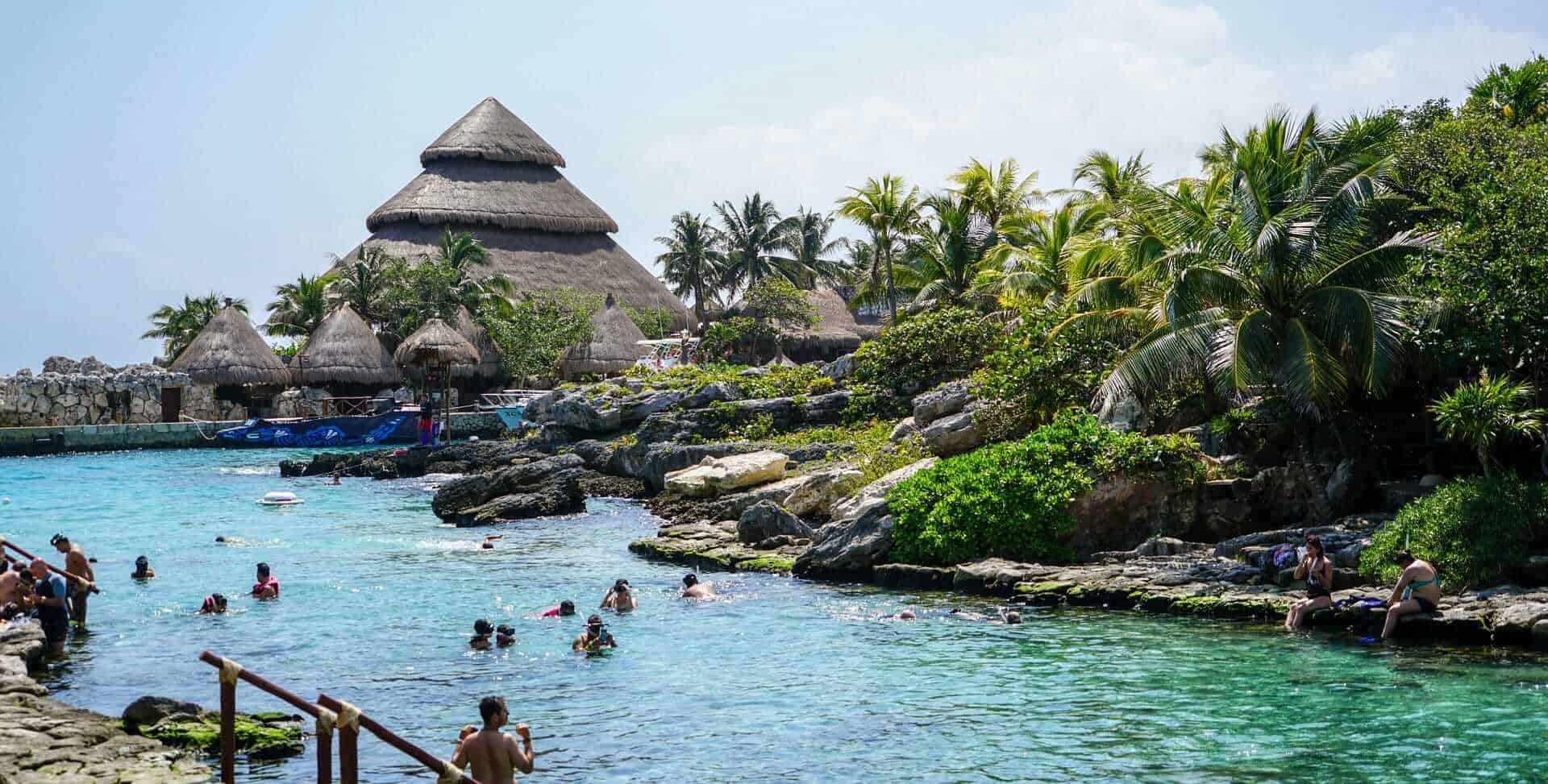 Originally, this was a major Mayan city. Now, it's a private theme park. If you have the budget (entry to the park starts at around 100 USD/2000 Mexican Pesos) this is a great place to enjoy with the family. The park is packed with activities like snorkeling, swimming with dolphins, and live shows all among Mayan ruins.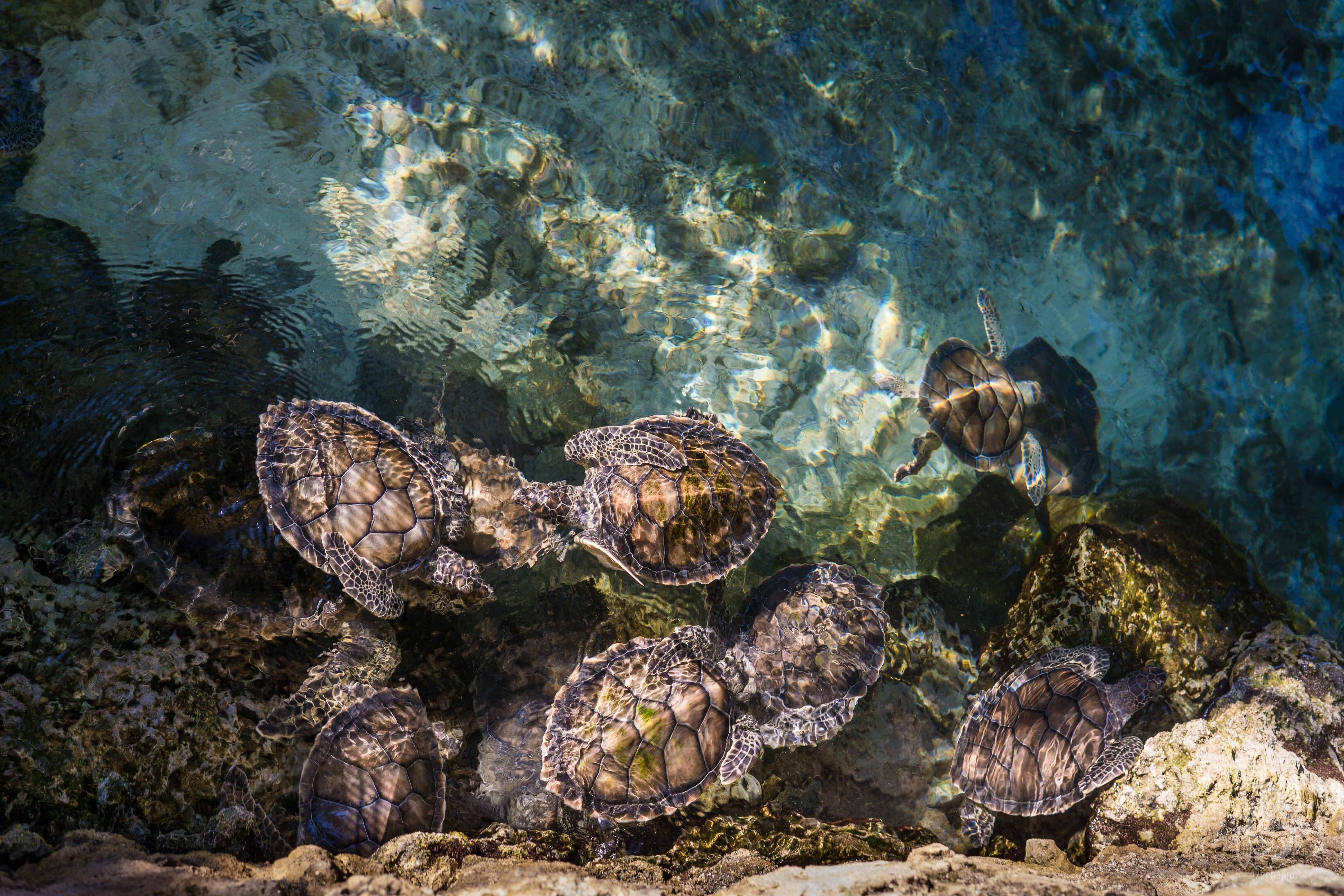 Akumal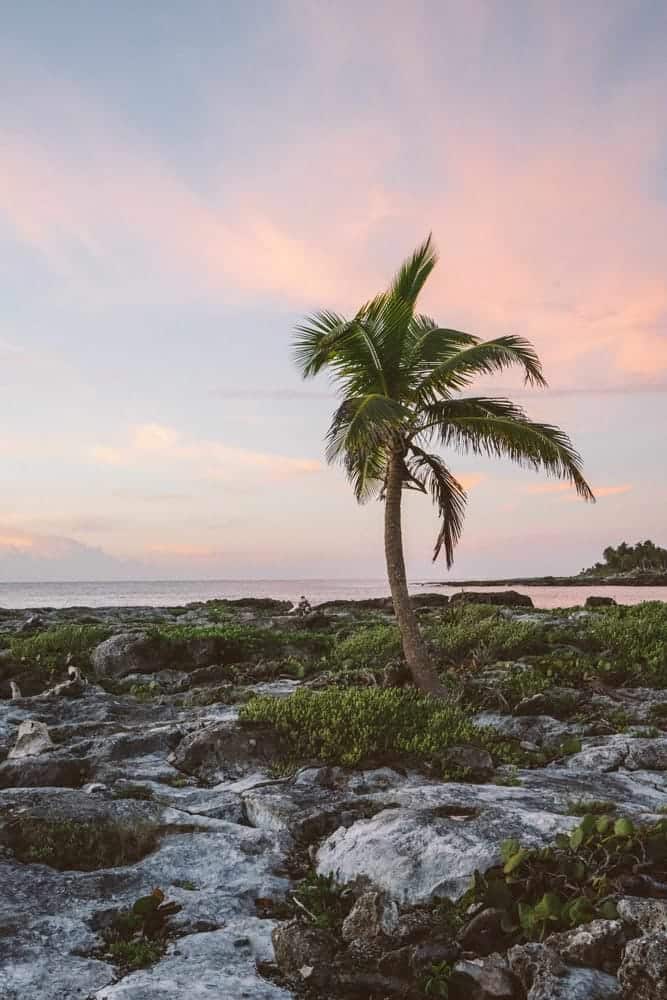 This is a small town you can visit on your way to Tulum -assuming you'll go there-. The beaches in Akumal are beautiful. The water is pristine and the sand is white. There is a coral reef and also a lagoon full of marine life. Also visit Aktun Chen, a park where you'll find cenotes, caves and even a subterranean river.
Xel-Há
Another park you can visit that's among Mayan ruins, it's managed by the same Xcaret group so the price of entries also starts around the 100 USD/2000 Mexican pesos. The main attractions of Xel-Há are a coven, a lagoon, and a natural inlet. Xel-Há is also considered a natural aquarium where more than 70 marine species live.
Tulum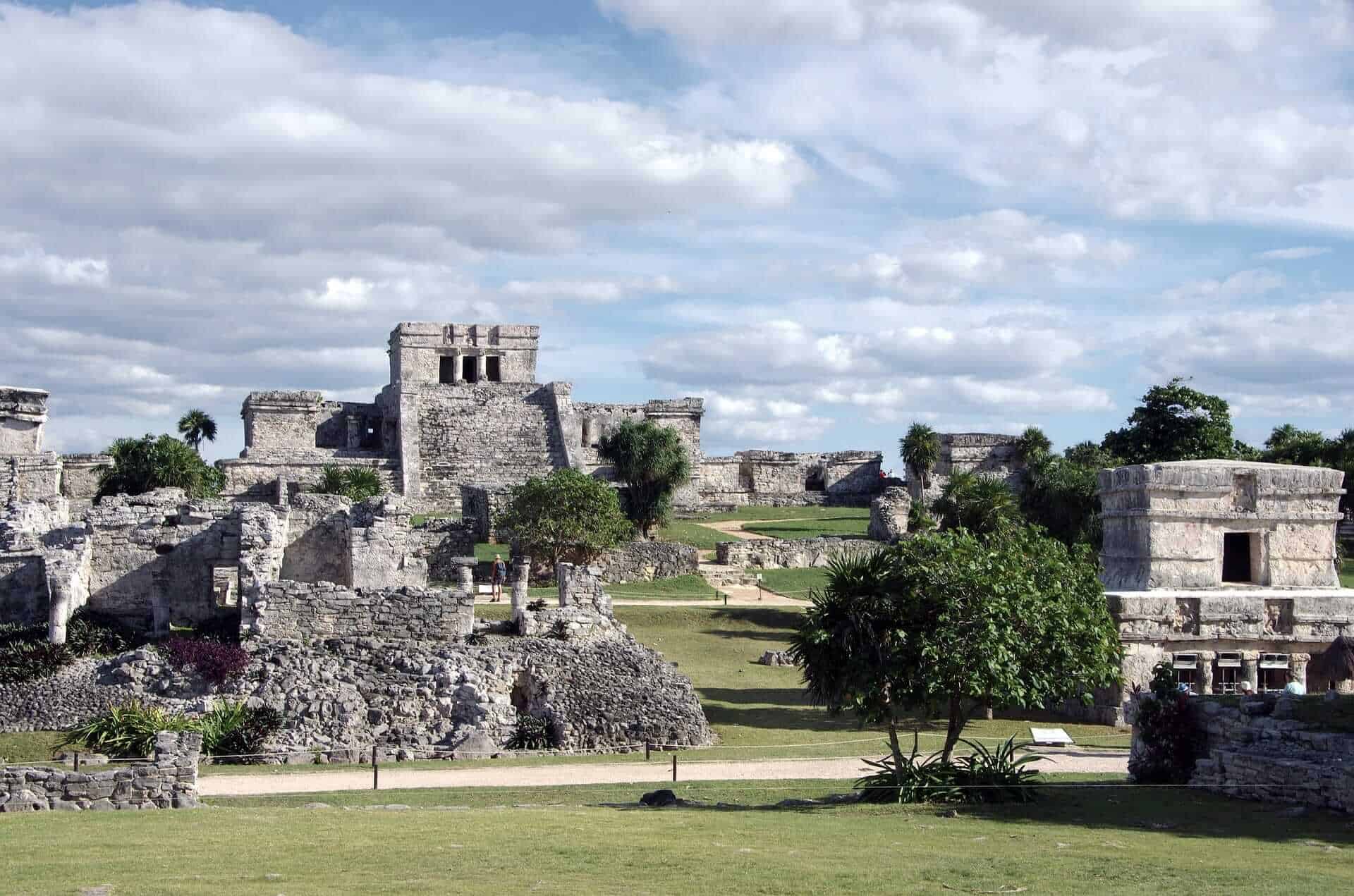 The magic of Tulum is that you can enjoy the view of the turquoise Mexican sea from its Mayan ruins. These ruins are very well preserved and you have probably seen its most famous edification, el Castillo (the Castle), that's constructed in a rocky cliff. From there, you can also see the white sand beach. Close to this site is the National Tulum Park, with mangroves and cenotes.
Accommodation
Since it's a very touristy zone, the Riviera Maya has options for everybody. If you're a luxurious traveler, you can find 5-star hotels anywhere in the zone. There are also a lot of hostels, Airbnb's on rent, and mid-range hotels. If you wanna be smart about your budget, we would recommend staying at Playa del Carmen and from there, making short day trips to any of the places we've mentioned before. Most of the places we listed before you can visit in one day and see the important things.
Female solo travel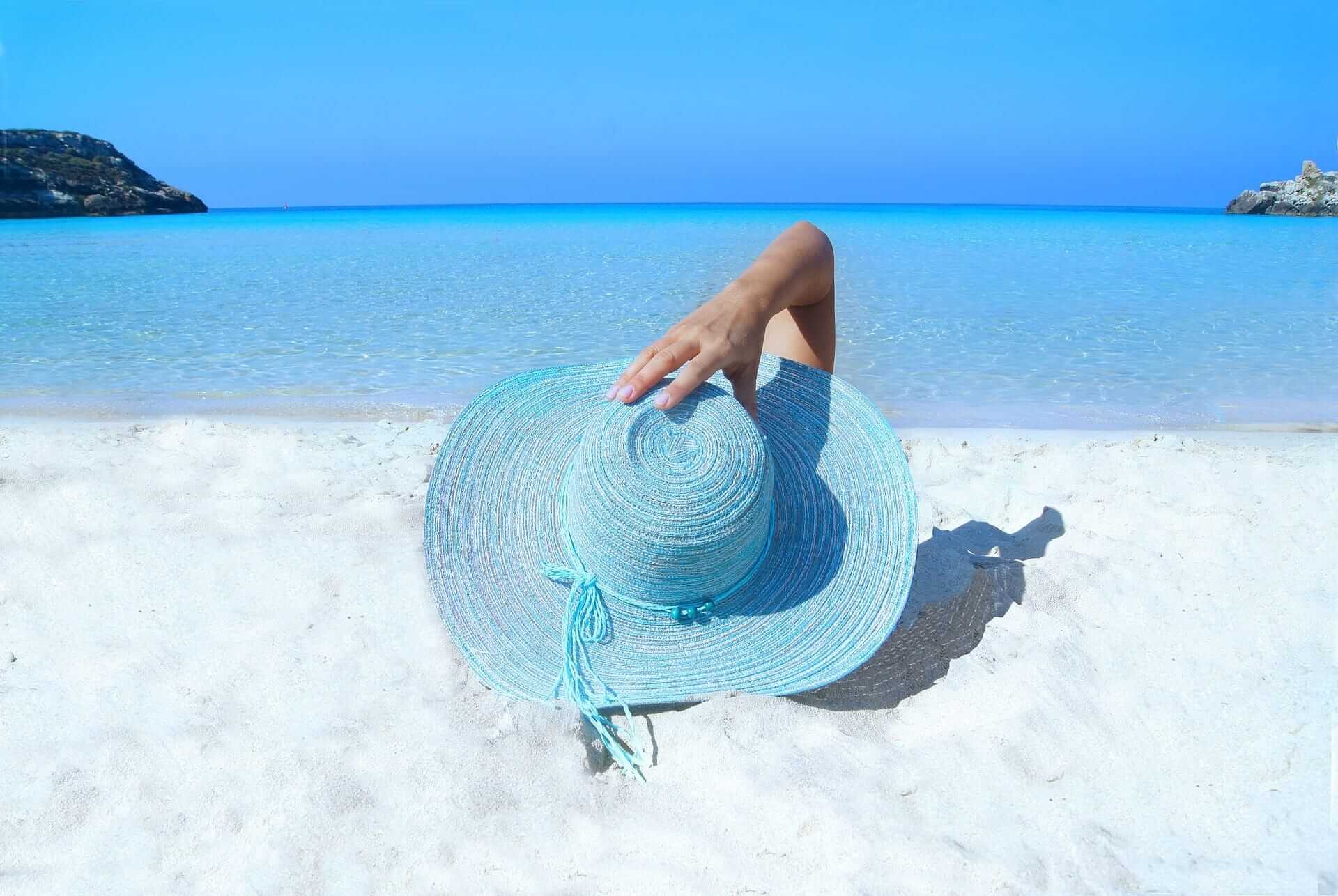 For the last years, Mexico has had a reputation of not being completely safe. It is true there are some dangerous places but the Riviera Maya is safe if you're smart and aware of your surroundings.
The Riviera Maya is especially popular for spring break. It's common to find a lot of students (nationals and foreigners) getting wasted during this time, maybe avoid it if you're not into getting drunk just for the sake of it.
There are a lot of tourists so there's a very international vibe, you can meet people from everywhere! To be safe as a female solo traveler in the Riviera Maya, follow these tips:
Ask your hosts or reliable people where is unsafe to go as a woman
Walking alone during the night is not very recommended although Cancún and Playa del Carmen are cities that never sleep, so you'll find people out and about at any time of the day
Mexicans are very touchy and are used to hugging and kissing even if they're meeting you for the first time. Most of the times there are good intentions behind this effusiveness but if you're not comfortable with it, say it
Going out for a drink is something you have to do in the Riviera Maya, be sure to know where your drink is at all times
Also, visit our section with tips for women traveling solo for more ideas.
Traveling with children
The Riviera Maya is perfect for a family trip. All the places listed above are child-friendly and kids will have a great time! For a full list of activities, you can enjoy with your children check this post.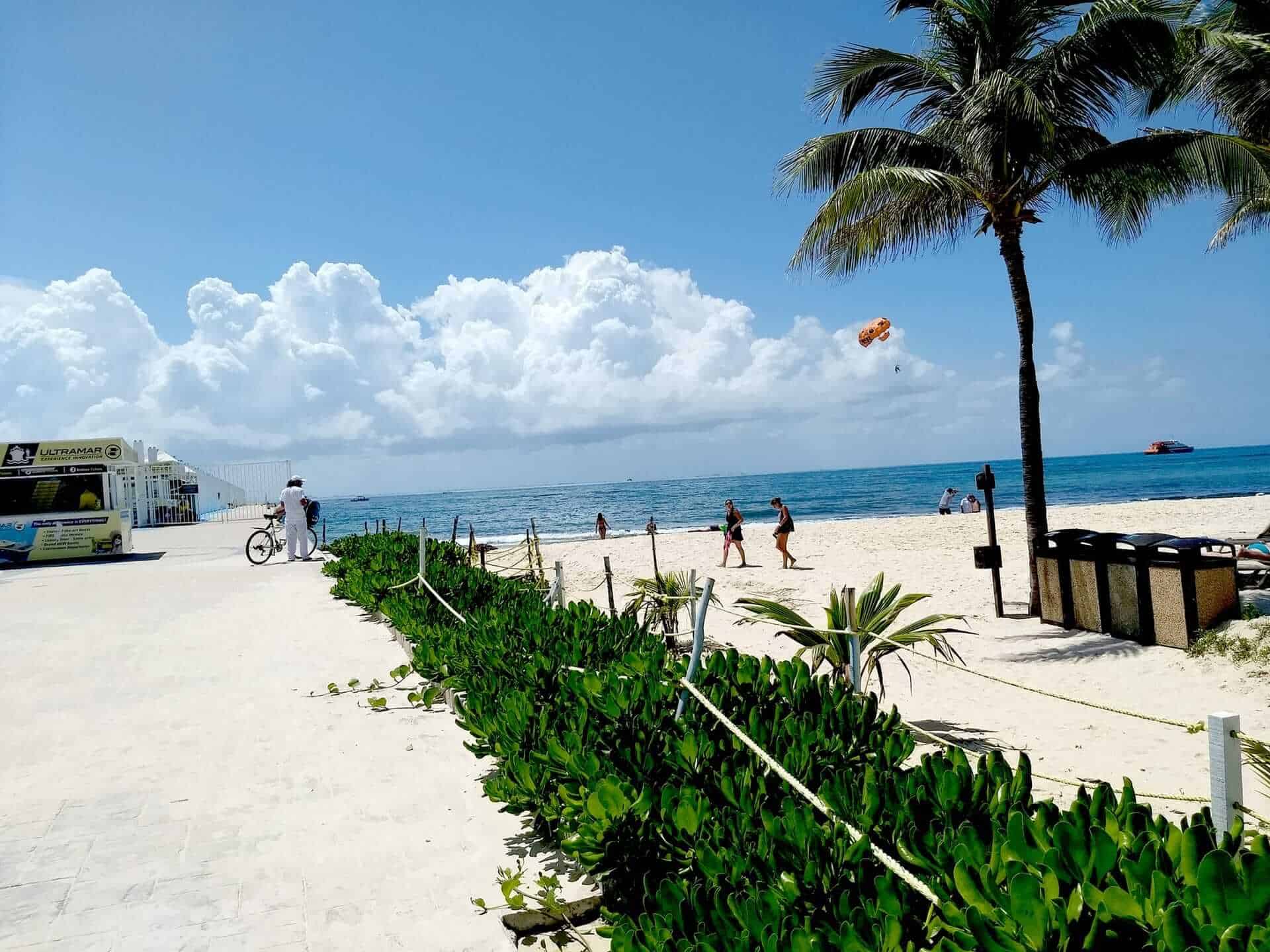 The Riviera Maya is a beautiful, magical place… enjoy your visit! And if you're looking for more inspiration for your next trip, visit our destination guides page.