Home » Kids » 10 places to go to in Cape Town with kids
Cape town, South Africa's port city overlooked by imposing Table Mountain, is truly one of the world's most beautiful cities.
It is also an excellent destination to travel with family, as the place provides many kid friendly activities to indulge in
So whether its adventure, arts, science or outdoor nature, the city has got all, come rain or shine! Even great vegetarian-friendly restaurants! Just pack your bags and head out for this adventure vacay with your loved ones. Here's a list of the best activities if you're in Cape Town with kids!
Here the kids can immerse themselves in the wonders of the ocean. With over 8000 creatures and 288 species, both the little ones and adults have an opportunity to come face-to-face with parts of the ecosystems found in the Atlantic and the Indian Ocean. Rare ones, as Hagfish, rockhopper penguins are only found here at the aquarium. Perfect if you're in Cape Town with children.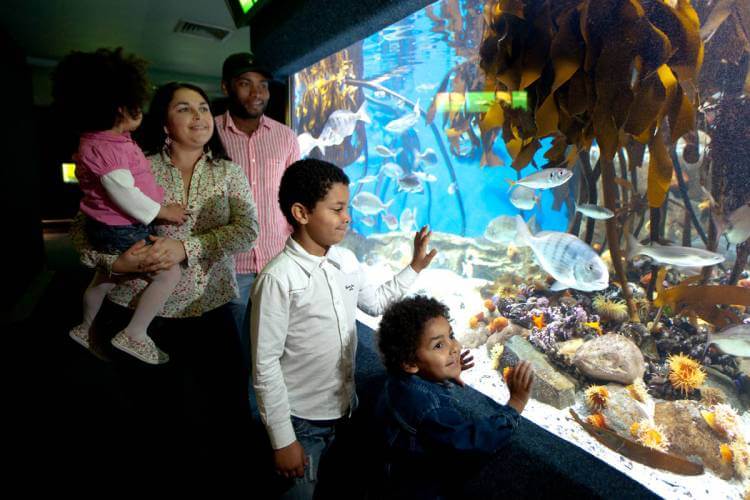 Additionally, the aquarium's interactive Touch Pool invites both adults and children to get up close with microscopic life and handle kelp, starfish, anemones and hermit crabs. Remember, one of the cardinal rules of traveling with children is to pick activities they'll enjoy.
A visit to Jelly gallery, exhibit tunnel, and watching the animals fed are few of the must-do things here. At I&J children's play centre the kids are entertained and informed through puppet shows. These have an important environmental message, as well as arts and crafts activities, games, books and a sandpit. There's also an on-site Ocean Cafe here.
Address: Dock Rd, V & A Waterfront, Cape Town, 8002.
Hours: Everyday 9.30- 18.00.
For tickets see Two Oceans aquarium website.
2) Live the Jungle at World of Birds Wildlife sanctuary and Monkey park
Cape Town and kids are a perfect combination especially in places like this one. World of Birds is the largest bird park in Africa with over 3000 birds (& small animals) of 400 different species. Visitors can get up close to most of these birds while walking through the landscaped path within the enclosures. Photos are allowed throughout one's stay inside the park.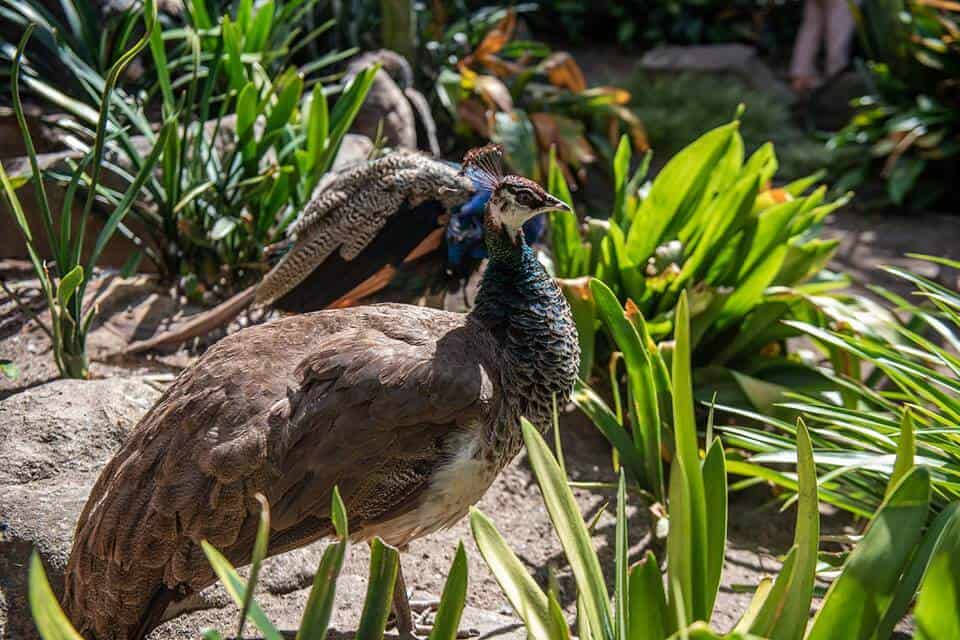 Along with birds there are reptiles as blue tongued skinks, green iguanas, rock monitors and tortoises in the park. While the mammals here include baboons, porcupines, meerkats and about thirty-eight new world monkeys at Monkey Jungle. The monkeys live in a large walk-through enclosure, which allows visitors to enjoy direct contact with them (especially during feeding times).
Address: Hout Bay, Cape Town, 7806.
Hours: Everyday 9.00- 17.00.
Southern Africa is often considered the gemstone capital of the world, as almost half of the world's gemstones are found in this part of the world. So what better activity to indulge in than to sink hands into a pit of small, polished gemstones and fill a bag with your favorites.
The tumble-polished gemstones quite literally cover the floor. They comprise of Southern African stones such as Tiger's eye, rose quartz, amethyst, jasper, agates, and crystals. If kids are lucky, they might find virtually anything including Lapis lazuli, blue lace agate, and some really exotic stones.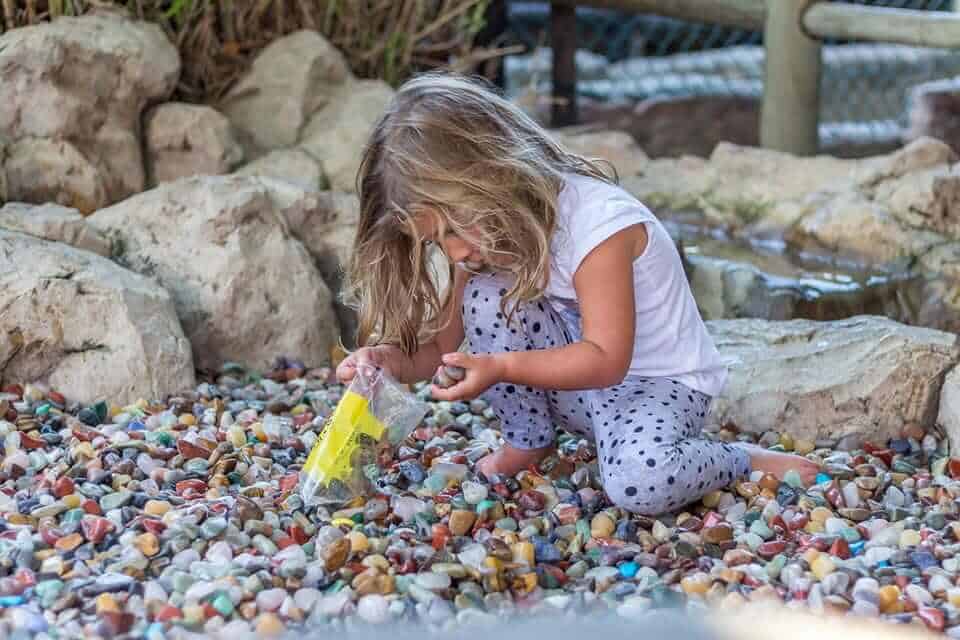 The indoor Cave Golf is an 18-hole mini-golf layout in cave-like settings. It is well-designed, fun to play, and challenging enough to be enjoyed even by regular golfers. Definitely, one of the fun things to do with kids in Cape Town!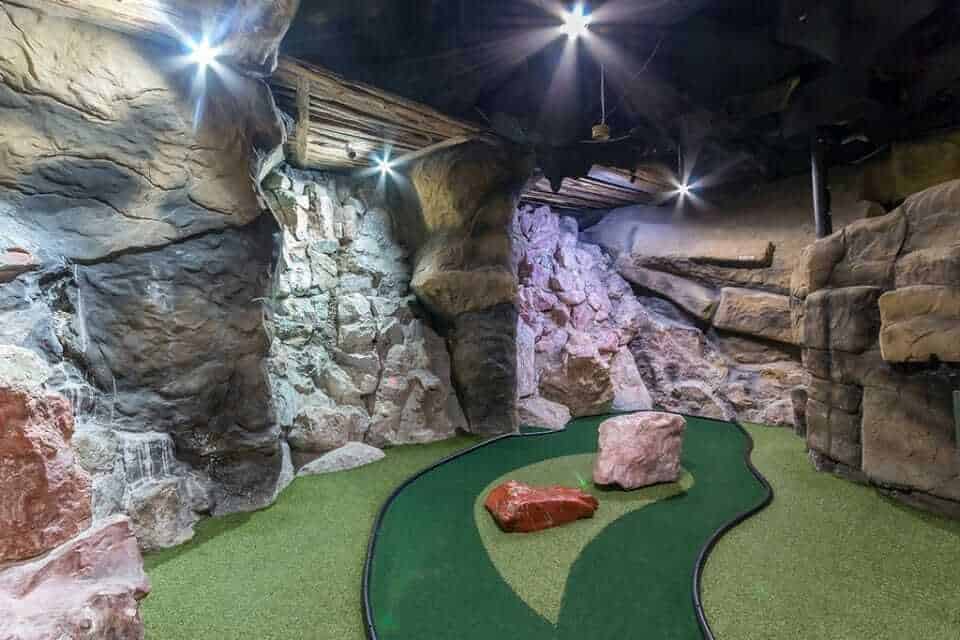 There's also a Mineral world shop where you can purchase other varieties of rounded stones, carved sculptures and jewellery.
Address: See Scratch patch official website.
Hours: 9.00- 17.00.
4) Get Ceramic creative at Clay Cafe
You and children can have a calming creative time at Clay Cafe where you can create crockery that is personal and unique. Paint masterpieces on unfired bisques (already made pottery pieces) choosing from a wide selection of colourful paints and tools.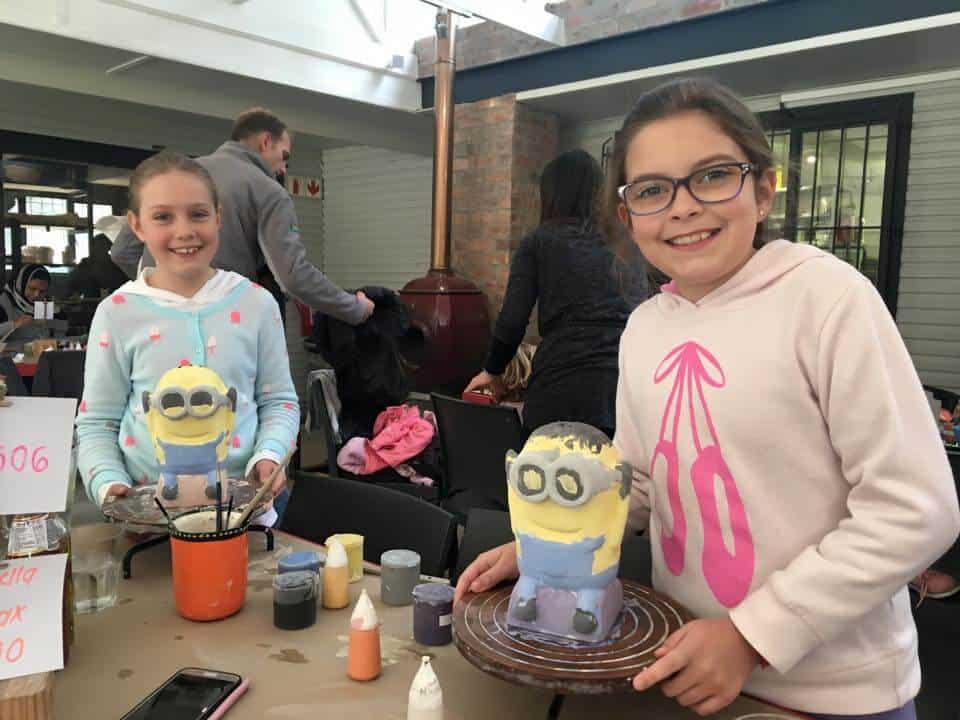 After designing you can leave it to be fired and glazed and then take the finished item home. Staff is at hand to assist at all times. There are a small playground and restaurant on-site as well. This is a great activity in Cape Town for kids.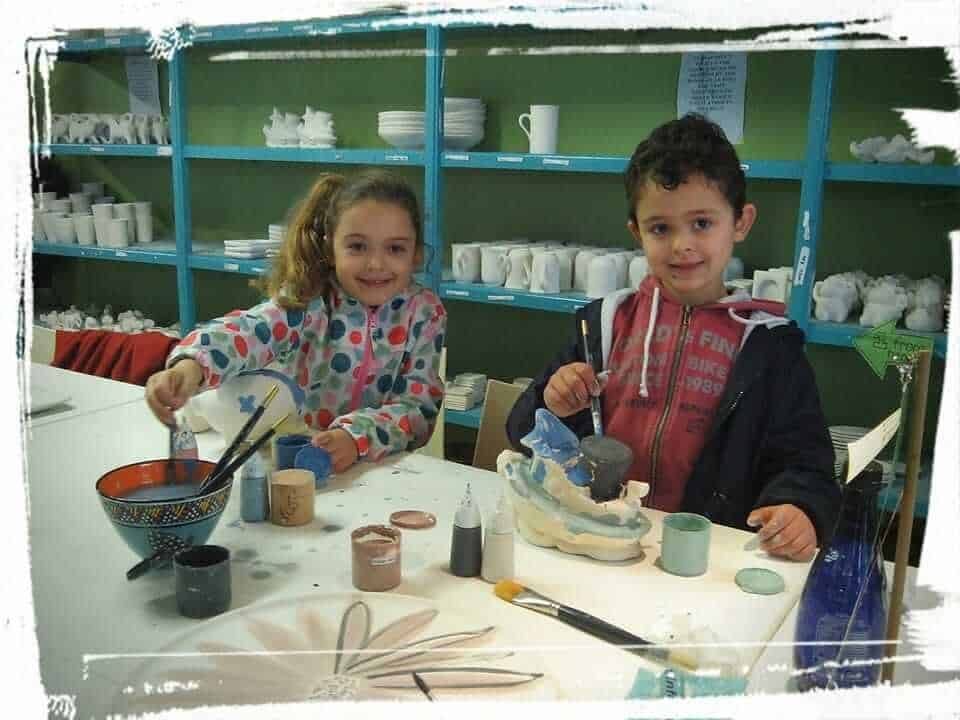 Address: Clay Cafe, 4080 Main Road Opposite Bokkemanskloof Estate, Hout Bay, Cape Town.
For bookings see Clay Cafe website.
Noordhoek Farm Village is a 30-min drive from Cape Town's city centre. At Noordhoek, the simple farm-style living combines with beach scenery and there are upmarket shopping, dining, and entertainment destination centres in the area. A perfect complement on your Cape Town family vacation.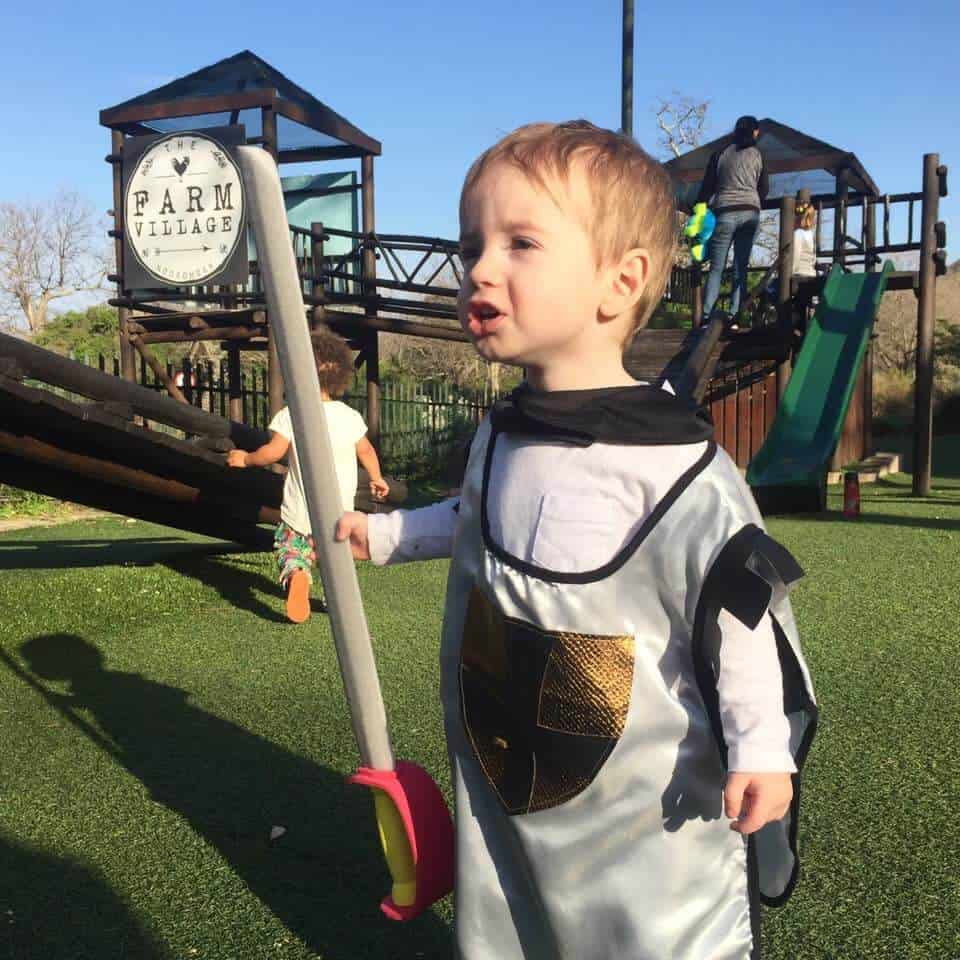 The place has a barnyard feel, welcoming families and dogs. Children can play in the large playground or run around happily with sandy feet. Face painting, craft tables, puppet, and magic shows are hosted every Saturday for kiddies amusement. So a visit here is a win-win for both parents and kids alike.
Address: Corner of Village Lane &, Noordhoek Main Rd, Noordhoek, Cape Town, 7979.
Hours: Everyday 9.00- 17.00.
For more see Noordhoek farm village website.
Cape Town Science Centre is a world of discovery under one roof with more than 250 interactive science exhibits, hands-on displays, an inflatable planetarium, and mind-boggling puzzle.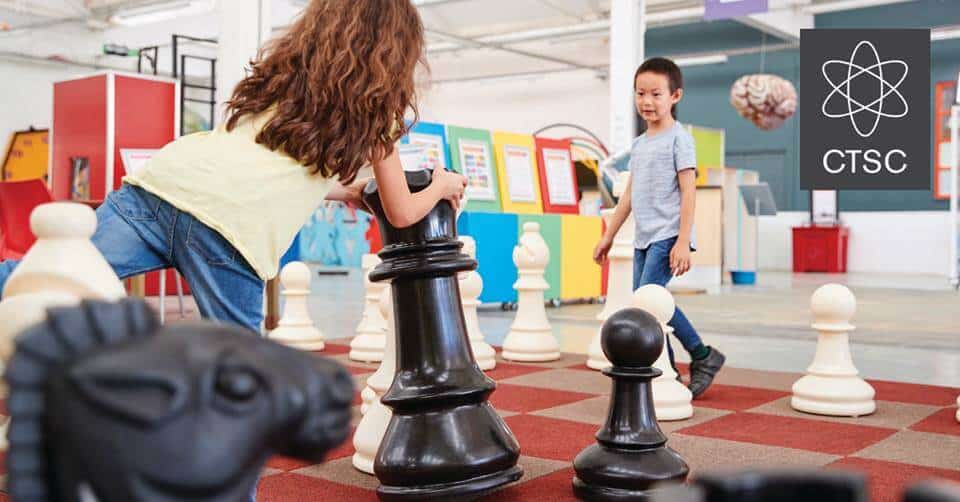 Additionally, the centre also offers science shows, hands-on workshops and experiments, holiday programs, science theater, travelling exhibitions, and various experiential driven programmes. A visit here will be an entertaining learning treat for the little ones.
Address: 370B Main Rd, Observatory, 7925, Cape Town.
Hours: Monday to Saturday 9:00 – 16:30 | Sundays & Public Holidays 10:00 – 16:30.
For bookings see Cape Town science centre website.
7) Experience the city like never before with Scootours
Scootours offer a two-hour family-friendly way to experience Cape Town's Table Mountain and enjoy the breathtaking views of the harbour, ocean and the city from different angles. Visitors can freewheel their way with non-motorised push bikes down the slopes of Signal Hills and the mountain.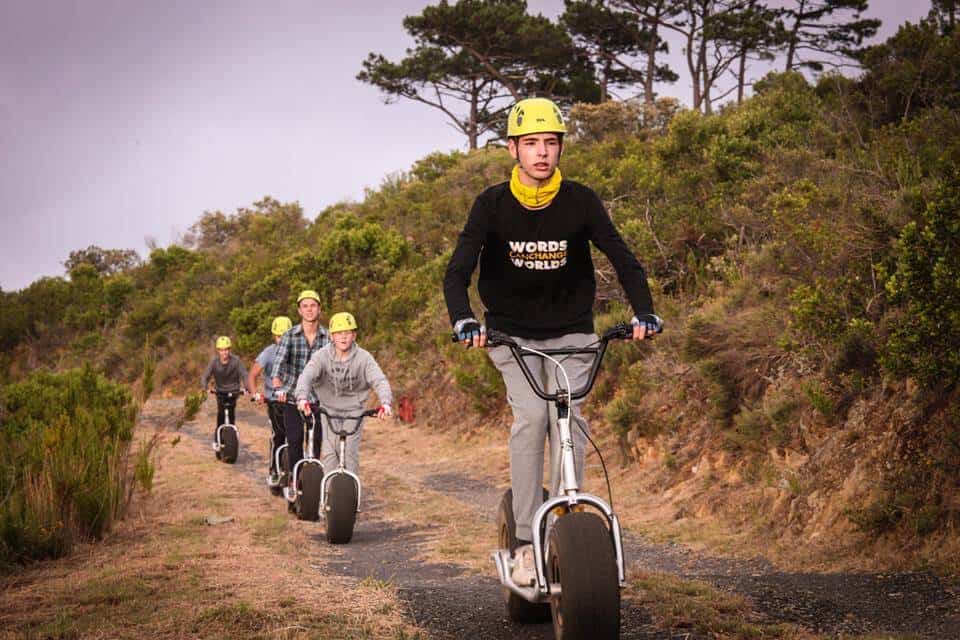 The bikes are easy and safe to ride for kids as they don't have engines and are propelled by gravity. All tours are accompanied by expert professional guides. Kids will enjoy this one for sure.
Address: 209 Tafelberg Rd, Table Mountain (Nature Reserve), Cape Town.
For bookings see Scootours website.
At Cheetah outreach you and kids can have an adult/cub cheetah encounters, public and private runs of the animals along with getting to touch and stroke the animals. Other animals at the place include bat-eared fox, meerkats, black-backed jackals, caracals, and servals. They can usually be seen on tours of the facility.
Cheetah encounters take place every day of the year from 10h00 to 13h00 and from 14h00 to 17h00. Encounters at the facility cannot be booked in advance. Tickets have to be purchased at the entrance, in cash only.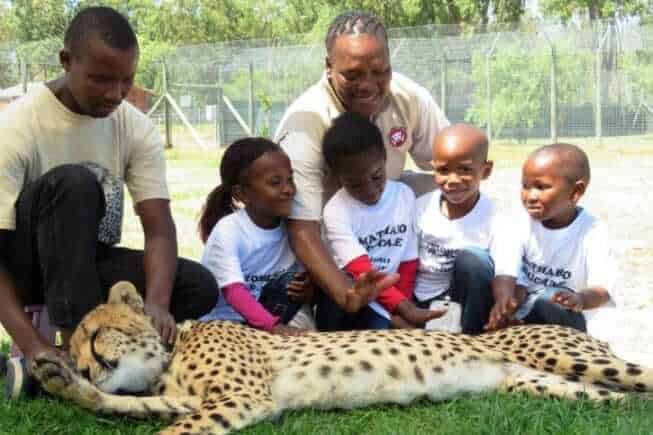 The primary goal of Cheetah Outreach is to raise awareness about the plight of the cheetah and to raise funds to conserve them in the wild, so visiting here you would also be helping a cause.
Address: De Beers Avenue, Firgrove, Cape Town, 7110.
For more see Cheetah outreach website.
9) Have a fun adventure at Be Up Park
This indoor adventure fun park features a wide range of activities for the kids as- trampolines, AltiGames (with elevated climbing net and suspended swing steps), climbing walls, slides, and the biggest indoor kids maze in South Africa.
With its brightly colored tubes, tunnels, ball ponds, the little ones are sure to have fun at this one. It includes a dedicated soft play area for the little ones.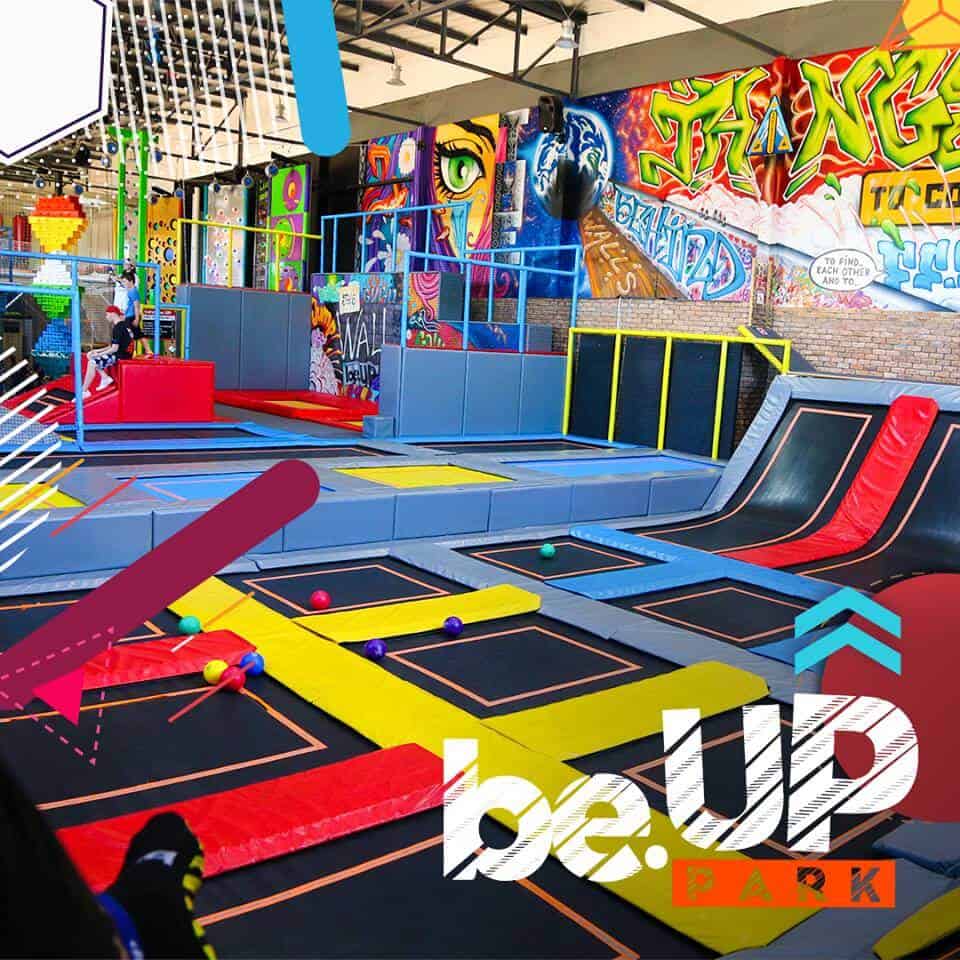 Parents can dive in or watch the kids from afar while sipping coffee at the Cafe upstairs. The cafe has panoramic views of the entire activity area below. So visit here for an all-out adventure fun under one roof.
Address: Gardener place, Rose Innes St, Pinelands, Cape Town, 7430.
For bookings see Be Up website.
The planetarium offers a great family getaway to the world of astronomy, skies, galaxies, and planets. It is the most advanced digital planetarium on the African continent making virtual voyages of the universe possible with 360◦ cinema experience. There are daily shows at the facility.
The kids content ranges from Davy Dragon discovering the planets of the solar system to a little toy Lion, Michael and his friend Bertie Bug learning together about star constellations.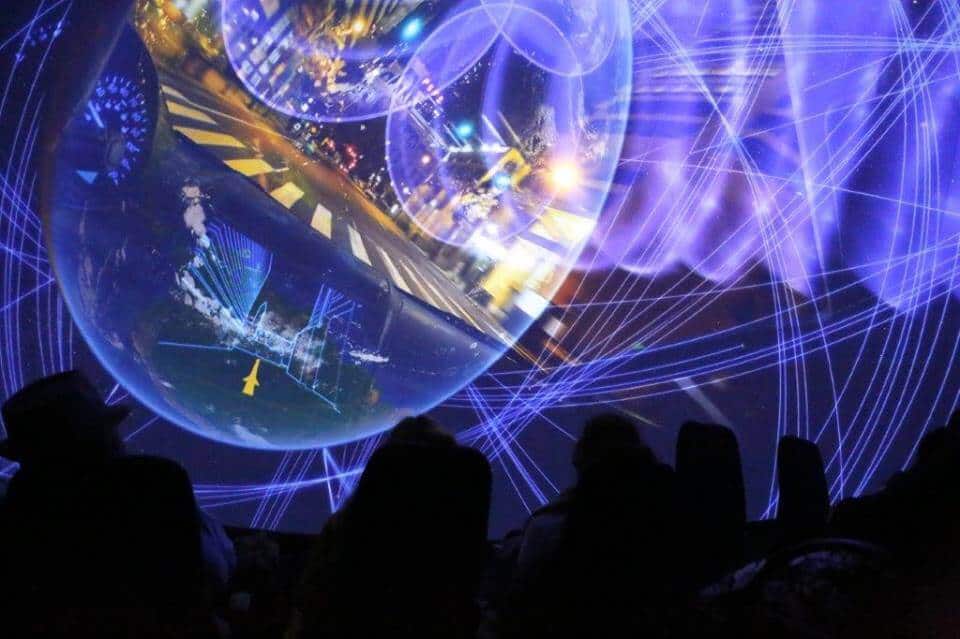 At the Sky Tonight programme an interesting live lecture on the current night sky is presented every Saturday and Sunday.  A permanent exhibition along with educational workshops for children is also featured here.
Address: Iziko South African Museum, 25 Queen Victoria Street, Gardens, Cape Town.
For more see Iziko Planetarium website.
Ready for your time in Cape Town with kids? Tell us where you'll go in the comments!
And, if you're looking for more activities to enjoy with the kids, read all of our kid-friendly guides.