Home » Spain » 20 things to do in Barcelona for a great holiday
The coastal city of Barcelona offers every kind of traveler a range of experiences. This city is a heady mix of history, culture, architecture, landscape, sea, cuisine, shopping, parties and more. There is so much to do in Barcelona that a week doesn't suffice. Read this Talk Travel guide to know all about the things to do in Barcelona.
Barcelona
Barcelona is the capital of Catalonia in the northeast of Spain. The city has a long coastline which makes it a popular beach destination. The city is famous for its port as it receives many cruise and container ships day in and day out. The beaches and the huge port which makes the city so famous are man-made! You need to visit this great city to see this architectural achievement.
Things to do in Barcelona
The beaches
The beach is the largest crowd puller for obvious reasons. There are many beaches in the city but to get a pleasant experience it is strongly suggested that you take a train and go north of Barcelona. Catalonia is blessed with a lot of picturesque beaches like Costa Brava, Lloret de Mar, Tossa de Mar, Badalona, Blanes and more. If you do not have the time to go outside Barcelona, then here are a few places to chill:
Barceloneta
Easiest to reach via metro, bus, walking or cycling. You have awesome views of 5-star hotels lining the beach. You can cycle on the promenade, play beach volleyball and take a dip. 
Pic courtesy: Heiko Rosinski
Mar Bella beach
It is slightly far off from Barceloneta. There are late night rave parties during summer. There is nudity on this beach sometimes.
Castelldefels Beach
This is 15 mins south of Barcelona. Mostly residents head to this beach as tourists might not come to this part of the city.
Sitges
This town outside Barcelona is a gay-friendly beach. There are a lot of locals who live here and hence won't be as crowded as the ones in Barcelona.
Shopping
While Paris and Rome steal the limelight for shopping, Barcelona is also equally famous for its shopping scene. This city has a dedicated 5 km stretch exclusively for shopping. this stretch that starts from Avenida Diagonal, through Passeig de Gracia, continuing through Plaça Catalunya until the end of La Rambla. There are the fashion industry's greatest luxury labels, international brands and local boutiques which is great for all budgets.
Pic courtesy: m m
As you walk down further, La Rambla is full of cafes, souvenir shops, pubs, and theater. If you walk towards the left and enter Barri Gotic, this maze-like cobblestoned neighborhood has a lot of boutique shops where you can shop till you drop.
Antoni Gaudi's masterpieces
Sagrada Familia
Pic courtesy: Kostas Trovas
This famous Gothic-inspired church was designed by Antoni Gaudi. The basilica is being constructed even to this day since 1882. The construction is anticipated to end in 2026.
If you have a chance please go inside and marvel at the architecture as the interiors are as outstanding as the exterior facade. The pillars inside look like the ribs of a human from within. The tinted windows light up the floor of the basilica in various colors.
Every detail in this basilica has a story behind it. The entry might be expensive at €15 and above depending on the type of tour you desire, but it is worth every cent.
Park Guell
Another of Antonio Gaudi's masterpieces in architecture. This is also the spot where a scene was shot in the movie Vicky Cristina Barcelona. There is a famous point at which you get panoramic views of Barcelona. The exteriors of this place is extremely beautiful as it is decorated with Gaudi's typical mosaic tile artwork.
Pic courtesy: bagaskara raditya
Casa Batlao
Passeig de Gracia is a street you must visit whether you want to shop there or not. The streets are so wide and lined with streets. A perfect place to spend the evening. While you are here, you must visit Casa Batlao, another of Antoni Gaudi's excellent masterpiece. 
Plaça d'Espanya
This landmark is famous because the Vila Olimpica that is next to it. The large building that you see in the center is the Museum Nacional d' Art de Catalunya (National Art Museum of Catalonia). Besides this place was the arena for the 1992 Barcelona Olympics.
Pic courtesy: Federico Martínez
Take a bus from the stop in front of the museum and go to Fort Montjuic which is on top of a hill called Montjuic. It is up to you if you want to enter the fort as there is nothing much to do inside. As a tip, walk towards the edge of the cliff where the sea is. That is the Barcelona port. You can see a lot of ships coming and docking. Try to go during sunset as the sun goes down, the port lights up and the transformation in the landscape is a delight to see.
Magic Fountain of Montjuïc
After you finish observing the port and when you come down the bus again to Plaça d'Espanya, you can witness the musical fountain show. Timings for the show for 2018 is as mentioned below. Show timings might vary in 2019 depending on the circular that they issue.
| | | |
| --- | --- | --- |
| 1 June – 30 September | Wednesday – Sunday | 21:30 – 22:30 |
| 01 October – 31 October | Thursday, Friday and Saturday | 21:00 – 22:00 |
| 01 November – 31 December | Thursday, Friday and Saturday | 20:00 – 21:00 |
Barcelona Cathedral 
This Gothic styled cathedral is a crowd puller. There are scores of youngsters and tourists who hang out here. The cathedral was constructed from the 13th to 15th centuries. The facade is beautifully decorated and the ambiance inside the cathedral is amazing. The best part is the view of the surrounding Gotic Quarter area from the roof.
La Rambla
Walk down from Plaça Catalunya until the pillar of Christopher Colombus at Port Vell. This stretch of road is iconic to Barcelona and it is teeming with people all the time. There are many restaurants, cafes, souvenir shops, retail shops and more to see here. 
Pic courtesy: valguz488
When you walk down La Rambla, ensure you visit La Boqueria which is to the right when you walk down from Plaça Catalunya. This market is brimming with people, locals and tourists alike. You can purchase a tropic fruit drink for just one euro. Walk around and be amazed at the meat, dry fruit, eggs, seafood, and vegetable shops. Also, head to Plaça Reial, which is a large courtyard with open-air cafes and a famous street lantern which is designed by Barcelona's famous architect Antoni Gaudi.
Pic courtesy: mymilkfish
Columbus Monument
At the end of the La Rambla is the Columbus Monument which celebrates Christopher Columbus' first voyage to the Americas. To the left is Port Vell which was previously full of empty warehouses, railroad yards, and factories. But today, there is a huge mall and also the Aquarium of Barcelona. There are a huge variety of species on display here and should not be missed. The souvenirs to buy here are aplenty but on the higher side.
Museums
There is no dearth for art in this great city. Go to Museo de Picasso in the Gothic Quarters. As always, please buy the ticket beforehand instead of standing in the queue outside. Some of the best museums in Spain are in Barcelona.
If surrealism is your thing, then take a train to Figueres and head to Salvador Dalí's museum. A to and fro ticket on the train will cost you around €25 and it is well worth the visit.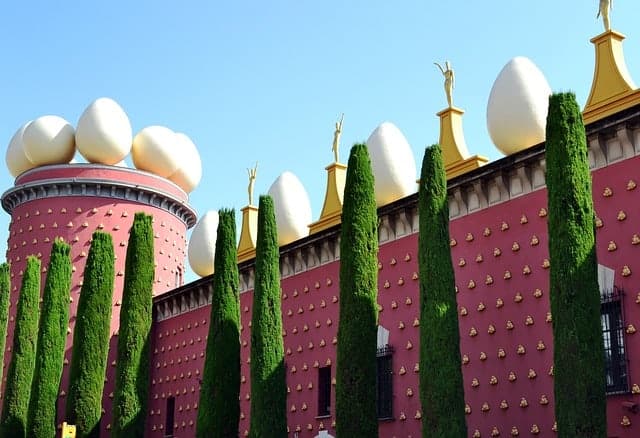 If you would like to know more about museums, then check out this list of museums in Barcelona.
Torre Agbar / Torre Glòries
Best visited after 8 or 9 pm in the night. This 38 storeyed skyscraper is famous for its nocturnal illumination. The tower has more than 4,500 luminous devices using LED technology that enables the generation of images on the outside of the tower. It is a delight to watch the shape and color changing in a quick span with all the lights working in a grand unison.
One of the fun things to do in Barcelona is to scream into a sensor, which based on the noise intensity, the light installation on the floor change its color and patterns. You will find a lot of people indulging in this offbeat experience and an interesting thing to participate in. It is called BruumRuum!
Tibidabo
If you pay attention to the hills behind Barcelona during the evenings, you can notice a glittering structure on top of the hill. That is the Sagrat Cor church having a smaller version of Christ the Redeemer. It is a gigantic structure of Jesus Christ with his arms wide open perched precariously on top of this church. It is a sight to behold. Take a bus up to reach here. Pack a sandwich and something to drink here as the food is expensive and not really tasty on this hill.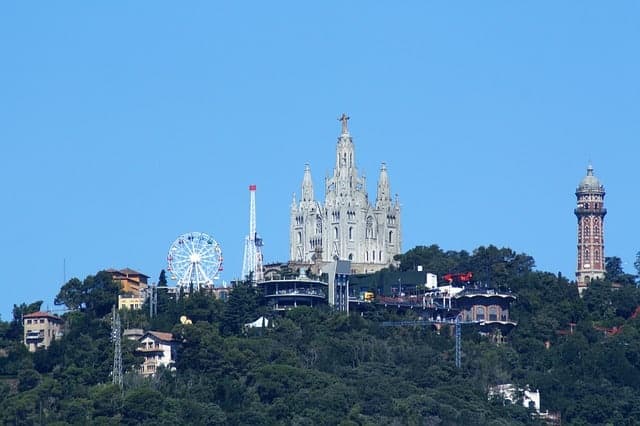 There is the Tibidabo Amusement Park which has some really cool rides. Just shell out €28 and have fun on all the rides. But the best thing about being here are the brilliant views of Barcelona and the Mediterranean Sea. 
Arc de Triomf
Just like the Arc de Triomphe in Paris, Barcelona too has an arch near Parc de la Ciutadella. This iconic red gateway as the main access gate for the 1888 Barcelona World Fair. A lot of fairs, celebrations, protests, marathons are conducted in this place. 
Pic courtesy: Jessie Leong
On any casual day, you will find locals learning to skate, musicians, puppeteers and dance artists performing. You will always find someone blowing giant soap bubbles and little kids playing with them.
Parc de la Ciutadella
As you walk further away from the Arc de Triomf, you will find Parc de la Ciutadella which is the largest green space in Barcelona. It has a very beautiful man-made waterfall and fountains around it. There is a small pond with emerald green water where you can go boating. The pond is shallow and has a lot of swans to accompany you when you row.
Walking in this park is a pleasant experience. You will see people tightrope walking, practicing yoga, jogging, painting, and bands practicing music. Don't be surprised if there is a crowd around a reggaeton performance.
Further ahead from the park is the Barcelona Zoo. If you continue walking then you get Barceloneta beach. The two skyscrapers that you see which welcome you to the beach are Torre Mapfre and the white steel skeleton on the skyscraper is the luxury Hotel Arts Barcelona.
Neighborhoods in Barcelona
Barri Gotic
As you walk down Plaça Catalunya, the neighborhood on the left is Barri Gotic. Also called the Gothic Quarter, this area has narrow medieval streets filled with trendy bars, restaurants, open-air cafes and boutique shops.
Pic courtesy: Andrey Omelyanchuk
It has a very laid back atmosphere, perfect for an evening walk and end the day with some drinks in any of the multiple bars here, partying or karaoke singing.
El Raval
To the left of La Rambla is El Raval. This hip neighborhood is famous for laid-back streets with a lot of graffiti art, bars, and design shops.
There are a lot of fun activities that go on here. It is highly recommended that you go visit Shortcut Cine Barcelona in El Raval. A very unique experience apart from the obvious things to do in Barcelona like pubbing or partying. They showcase some of the best curated short movies, documentaries, and short animations. The crowd that gathers is classy and you even get to drink a bit of Jägermeister here for free since they are one of the sponsors of the show here.
El Poblenou
While Barri Gotic transports you back to the medieval times, El Raval is full of old buildings which are at least a century old. In contrast, El Poblenou will show you the modern and sophisticated side of Barcelona. There is no dearth for cafes, tapas bars and pubs here as usual but the neighborhood has recent settlements from locals.
This is the area where Torre Agbar is situated. Right next to is the Els Encants flea market. Go here on weekends to see the sea of people flocking here to buy cheap goods. When you are busy looking at things to buy, spare a moment to look up at the roof. It has reflective mirrors and the reflection of the bustling market on the roof is a great sight that cannot be missed.
Nightlife in Barcelona
One of the things to do in Barcelona is to party. You cannot exit this city without having a party stamp on your wrist. There are a lot of international artists performing in one venue or the other in Barcelona. To keep track of the artists and the venue, refer to Time Out Barcelona. They have a list of concerts, gigs, and festivals always compiled real-time. Check out this list of clubs which you can visit for a great time.
On most Sundays in Barcelona, starting from noon is a party called VenTú! Check out their FB page for the date, timings and location. They are international DJs mixing the finest music for an enthusiastic crowd.
Spend a night watching Flamenco as trained artists sweat it out on stage with a passionate performance. Find out more information about the venue, timings, and cost on Flamenco Tickets.
Football
Goes without saying, it is customary to watch a match where FCB plays in their home ground. There are frequent matches held here but try to book tickets for a league match as they are more thrilling.

The energy in the stadium is palpable and the chants from football fans can be heard from streets away. The tickets are expensive for an important game no doubt but I can assure you of the everlasting memory you will make from the stands of Camp Nou.
Guided tour of Barcelona
Barcelona has a lot of its history hidden in all the landmarks and medieval streets. You have to unravel them to understand and get understand this great city. 
There are a lot of tours that you can take when you are. Here is a list of recommendations from The Guardian suggesting a variety of guided tours focussing on different aspects of Barcelona.
Ferrari World
It is not just Abu Dhabi which boasts of a Ferrari World. Barcelona has its own in Tarragona since 2017.
There is also an amazing amusement park called Port Aventura where you can go on exhilarating rides.
We hope this guide gave you a brief idea about the things to do in Barcelona. I would personally suggest that you give yourself a two-week vacation in this great city to be able to relish everything that Barcelona has to offer. Also, include in your plans these offbeat places near to Barcelona.
Do write to us, in case you have any questions and we at Talk Travel are happy to help. If you need any help in building a travel itinerary or you have any other query, download our free TalkTravel App. It is available for download on your Android or iOS device. You can download the TalkTravel App for free and reach out to the local expert without any additional cost. You are free to ask any doubt before or during your travel and our local expert will be ready to assist you.
We wish you a safe and happy travel!