Home » Destination Guides » Ciao tutti, Enjoy your days in Rome
Once the host of the most powerful monarchs of the world, the 21st century Rome is a city of charm, passion, and culture. If you are not used to loud neighborhoods you should take some time to get ready for this bustling city of countless churches, historical landmarks, and museums. 
It has every blend of joy to offer with a spicy twist at every turn. Make sure to plan your itinerary way ahead and do not populate the list with every other historical piece you see in the corner. Rome's filled with significant ruins and my advice to you would be to explore them slowly. If you are looking for a Rome travel guide, bookmark this page!
Rome is a very busy city and probably one of the most cherished destinations among travel enthusiasts. If you are in the vicinity of one of the hotspots try to take care of your belongings as tourists often report a theft of items like purses, cameras, passports, and money.
Also, remember to catch some Italian phrases as a little gesture in Roman can go a long way. There's hearsay that Romans are often emotional and will expect the same amount of emotion from you. If you are interested to make some Roman friends, try to socialize first on sites such as Meetup.com or get enrolled in Tandem language exchange. 
If you are ready to soak in the smell of Rome and get lost in its history, this is your chance to virtually experience it with this Rome travel guide. Rest assured, you will be getting a long length of information but more importantly, valuable links.  If you have any question don't hesitate to write in the comments sections below or put comments on our Facebook, Twitter, Instagram, or email at [email protected]

1) Rome travel guide: takeaway points
1.1) The official currency of Italy is the Euro. Learn to count all the 8 denominations. Need information on Euro banknotes too? Wiki can help you the most.
1.2) Avoid tourist times, choose either April to June and late September to October timeline.
1.3) Save money on transportation by taking public buses. Tourist buses are unnecessarily costly and taxis are costlier. If you are a student, save more via ISIC card. Find out the benefits available in Rome for ISIC users. Not a student but under the age of 30? Buy yourself an IYTC card.
1.4) Free Internet zones. Walking around in Rome is now easy with its public WiFi named RomaWireless WiFi service. Currently, it connects 1300 busy spots spread across the city and is a part of the public project called Free Italia WiFi.
1.5) Don't buy a water bottle. Instead, choose the free option. Tap water is very safe to drink in Italy.
1.6) Look for "coperto" or "servizio" charges in your bill. Always ask them your total bill before you tip.
1.7) Before you fall for a Romeo of Rome you met on your trip, make sure he is not a scam artist.
1.8) The voltage and frequency rating of Italy 220 Volts/ 50 Hz. If this is not the same as your country, you need to carry a travel adaptor. If your equipment does not support dual voltage, you may have to buy a power converter as well.
1.9) 12 PM – 4 PM is extremely hot in Rome in the summertime so try to have some light clothes, sunglasses, and sunscreen in your daypack.
1.10) If you are visiting churches then you need to wear something that covers your body especially legs and shoulders.
2) Buckle up for Rome: Currency and daily budget info!
2.1) Finance and Currency information
The currency used in Rome is the Euro. To be precise, the sole currency of 19 European Union member states (including Italy) is Euro. So when it comes to a long Europe tour you can be completely worry-free especially about exchanging currency in every corner. Since we are disintegrating the finance jargon for convenient travel, let me give you a clear picture of Euro coins. There are a total of 8 coin denominations where the euro is divided into a hundred cents plus one for a 2€ coin.
| | | | | | | | | |
| --- | --- | --- | --- | --- | --- | --- | --- | --- |
| Coin Image | | | | | | | | |
| Value | €0.01 | €0.02 | €0.05 | €0.10 | €0.20 | €0.50 | €1.00 | €2.00 |
2.2) Best methods for exchanging money?
There's a key rule that you must remember at all cost. Airport exchange kiosks never offer the best rates. So if you are in a hurry and you have forgotten to exchange your money into Euro don't go to the first place you see in the foreign land i.e. Airport exchange kiosks. Instead, choose something more lenient to your pocket. There are multiple options available for you and I will come to that just now.
ATMs:

Yes, ATMs are the greatest saviors and will be the cheapest to your pocket especially in any European country such as Italy. There are multiple ATMs available even at the airport. Use your debit card to cash out money from an ATM. (Do not use a credit card since it will be treated as a "cash advance" and you will likely hit an unprecedented fee as it is known as one of the most expensive transactions. More on this is available

here

.)

Your banks:

The next best option can be your local banks. Get a hassle-free exchange from your home country. You may incur a very low exchange rate plus you will be already loaded with some cash before your trip.

Foreign Exchange Bureaus:

Not the airport ones, but there are a ton of independent Foreign Exchange Bureaus that definitely offer you much better rates than airport exchange services. Location wise,

Casa del Turista, Cambio Termini, Ria  – Macao branch, Forexchange – Termini Forum Branch in Roma Termini,

Money exchangers in

Piazza Vittorio Emanuele II such as

Orbit Money Exchange, Forexchange – Rome Santa Maria Maggiore Branch, National Exchange Company, Road to China

, money changers in near Trevi Fountain and Pantheon Temple such as

Ria – Rotonda branch, Forexchange – Trevi branch, Exchange Tosi Danilo, Forexchange Pantheon and Caravita branch.
2.3) The daily budget checklist
Budget Option (USD) – up to
Mid Range (USD)
High Range Option – More

(USD)

Living

$25

$30

$100

Dining

Breakfast = $0 (free food in hostels)

Lunch = $6 (

ethnic street food, takeaway shop fare, or similar)

Dinner = $6 (cheap shops or hostel food)

Beer = $2

Breakfast = $3

Lunch = $10 (cheap restaurants

)

Dinner = $15 (cheap shops or street food)

Beer/dessert = $5

Breakfast = $ 15

Lunch = $30

Dinner = $50

Wine/dessert = $10

Transport

$2 (use public transport)

$25 (tour buses)

$35 (private cars)

Attractions

$5 (free sights, walking tours)

$16 (free sights, paid attractions)

$50 (more paid sights)

Total

$46

$104

$290
The budget is an estimate of cost per daily (CPD). Use XE converter for an accurate conversion
3) Language: English works but throw some Italians for a better response
Italian is undoubtedly one of the most melodious languages of all. If you are traveling to Rome and you wish to feel homely, you may as well catch some basic phrases. While you will find plenty of English speaking people, your effort in learning their tongue can literally add the extra mile you wouldn't expect. Pronto? Ready? We will draw out a simple chart that contains some of the easiest yet useful words and phrases for you. If you wish to learn its correct pronunciation, needless to say, you simply need to put them in Google Translate.  
3.1) Greetings
Hello: Ciao (informal), Salve (formal)

Goodbye: Ciao (informal), Arrivederci (formal)
Good morning: Buongiorno
Goodnight: Buonanotte (use this when you're going to bed)
Please: Per favore
Thank you: Grazie
You're welcome: Prego, Di niente
Good: Buono (masculine); Buona (feminine)
Excuse me: Mi scusi
Excuse me (passing through a crowd): Permesso
3.2) Shopping
Where is the bathroom?: Dov'è il bagno?

Do you speak English?: Parla Inglese?
I don't speak Italian: Non parlo Italiano
How much does it cost?: Quanto costa?
3.3) Numbers
| | | | | |
| --- | --- | --- | --- | --- |
| One – Uno | Two – Due | Three – Tre | Four – Quatro | Five – Cinque |
| Six – Sei | Seven – Sette | Eight – Otto | Nine – Nove | Ten – Dieci |
4) Movies and Books to see before arriving in Rome 
The best way to know about a place is by strengthening your own imagination. And how do you strengthen that? You read books and you see movies. There are plenty of such creations to open your gates to the beauty of Rome however none matches the real experience. Nonetheless, they are always good for an introduction and background history. The following provides a good resource for your brain.
4.1) Movies
4.2) Books
5) Best time to visit
April to June and late September to October are the best months for traveling in Italy in general. The weather will not torture you and you will be avoiding the peak tourist season. Also, December can be a good choice if you can buy yourself a jacket. From mid-June, the summer becomes unbearably hot. From July to mid-September, you can expect the city to be filled with tourists. However, make sure you avoid August at all cost. Not only the weather is unforgiving, but you will also be stuck in a crowded Rome.
| | | | | |
| --- | --- | --- | --- | --- |
| Months | Min. Temp in °C | Max. Temp in °C | Avg. Rainfall in mm | Avg. Sunshine in hrs. |
| Summer (May, June, July) | 13 | 32 | 16 | 10 |
| Fall (August, September) | 16 | 30 | 21 | 9 |
| Autumn (October, November) | 8 | 23 | 43.5 | 5 |
| Winter (December, January, February) | 3 | 15 | 47 | 4 |
| Spring (March, April) | 6 | 20 | 18.5 | 14.5 |
6) Getting there and Getting around
Exploring the city can be a little tricky if you are not accustomed to busy roads. The airport is around 30 km. away from the heart of the city. You can take Leonardo Express Airport Train to Termini Station or choose one from the regional options to save some cost. Availability of public transport is satisfactory, however, you must purchase a ticket and validate it before you ride a bus. Try to avoid driving as city lanes can be very messy if you are not accustomed to Rome's touristy traffic and excited drivers.  The following options will take you to your destinations.
6.1) Metro
The Roman metro is the smallest in Europe, only covering a small area of 60 km. Currently, it has 3 lines and another one is rumored to start soon. Out of all three, Line A (Orange) runs from the northwest to southeast, from Battistini to Anagnina. The most important stops include Cipro, Musei Vaticani that can take you to the Vatican Museums and to the Sistine Chapel, Ottaviano, San Pietro is the closest to St. Peter's Square and St. Peter's Basilica, You have to get down in Spagna if you wish to visit Piazza di Spagna and Villa Borghese, Barberini – Fontana di Trevi is for people who want to visit the Trevi Fountain. The station is also close to the Piazza Navona and the Pantheon. Line B (Blue) can be used if you wish to make an entrance to the Colosseum.
6.2) Buses
Since the Roman metro has restricted access to the city, the best mode of running through it will be catching a bus that goes to your destination. Rome has a total of 338 bus lines that run throughout the day, 22-night buses and 8260 bus stops. You can get a bus ticket from either a metro station, newsstand or a convenience store. Use ATAC for official information on bus timings, stations, and tickets. There are multiple types of ticket services available including BIT, BIG, BTI, CSI, Rome pass, etc. To know more about each service, you may take help of Rome.net. Also, please note that you have to validate your bus ticket every time you hop on a bus otherwise you may get a fine.
6.3) Tram
Roman tram service is well known for offering a cleaner service than the public buses. However, it will not take you to the center of the city. The tram service has a total of 6 lines spread across the city including Line 2: Piazza Mancini – Piazzale Flaminio, Line 3: Piazza Thorwaldsen – Trastevere, Line 5: Giovanni Amendola – Piazza dei Gerani, Line 8: Torre Argentina – Trastevere, Line 14: Giovanni Amendola – Palmiro Togliatti,  Line 19: Piazza Risorgimento – Piazza dei Gerani (inline number: starting station – ending station format). Out of all these lines, line 8 is the most famous among the tourists.
6.4) Urban railways
There are three lines that connect the city including Rome-Lido, Rome-Viterbo, and Rome – Giardinetti. From a tourist point of view, Rome-Lido will be an important connection for you as the train stops at Ostia Antica, a large archaeological site near to the town of Ostia.
6.5) Private cabs and Taxis
Don't take a taxi unless you are stuck in a dead end. Taxis are very expensive and they are ready to rip off the last penny out of your pocket. Better option? Go with an Uber cab. You will at least know the tentative amount before the ride with other convenient features to help you get a safe journey. If you are looking for other private car options you may choose Rome Chauffeur Service by mydriver.
7) Important things to know about Rome
7.1) Visa Information
Check your VISA requirement through this website. If you need one and you are going there only for traveling purposes then you will need to get yourself a short term visa – Shengen "C" type VISA.
7.2) Items prohibited in Rome
The list is not a defined one and it completely depends on the authority of the place. However, Colosseum has a reputation of not allowing people with big backpacks. If you are thinking about taking your tourist backpack, make sure you bring in a day pack for your own convenience.
7.3) Get a SIM card
An international sim card is always an apt option especially if you are traveling to a zone, out of wifi services. If you wish to avail a country-specific SIM then go with Italy Travel SIM Cards. Also, you may choose a SIM card valid throughout the European continent and SIMCORNER gives a range of options for that.
7.4) Use the postage service
If you always pack your bags with souvenirs for family and friends, replacing the load with a postcard might be of great help. What's better? You can even ditch the old idea of paper postcard; simply send them a piece of electronic postcard through Romanhomes.
7.5) Will my electrical equipment work in Rome?
The standard voltage and frequency rating of Italy is the same as of the rest of European countries ie. 220 Volts/ 50 Hz. The round Italian prong plug is mostly in use. To counter the situation you should go with any standard international plug adapters.
Caution: Make sure your equipment supports dual voltage before plugging it in. If it doesn't support (things like hair dryers and water heaters don't), you will need a power converter that meets the required voltage conversion. My best advice to you will be, leave unnecessary products that your hotel service can provide you.
8) Stay here
On a budget? There's no better alternative to Couchsurfing. Meet and stay with locals without paying a cent. That said, it will be generous of them to host you so you may wish to return the favor with a souvenir from your home country. However, if you are looking for something cheap, moderate or extravagant, the following can offer you a handful of options for your travel to the mecca of archaeology.
8.1) Have money to spend on a luxurious stay? You may go with our handpicked options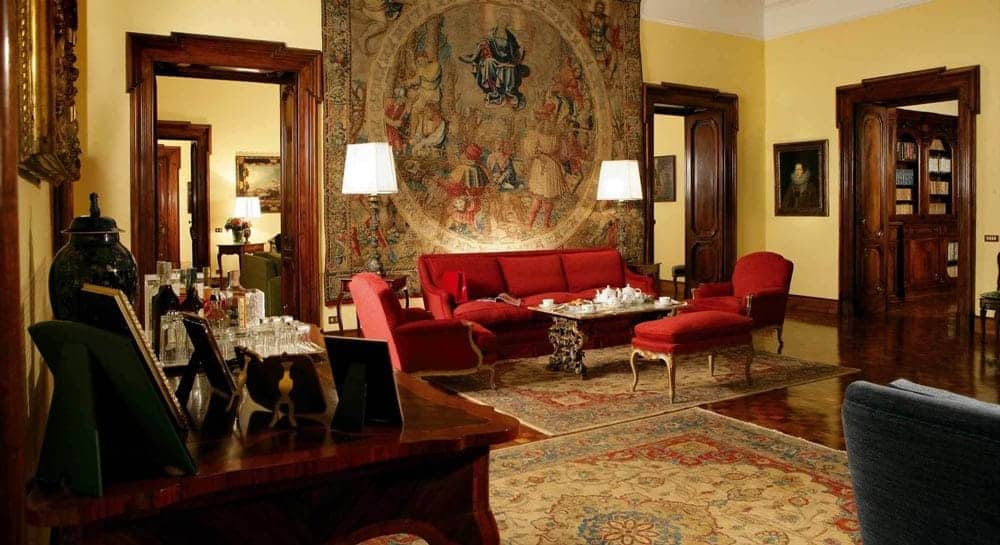 Imagine a night in a room full of antiques and opulent furniture straight from the wrinkled yellow pages of a Roman history book. This villa-style hotel is one of a kind experience that will take you to your palace of dreams. Rooms are very large with access to a beautiful wellness center and even more stunning, rooftop garden. This hotel truly knows how to serve your regal choices with some of the modern amenities such as parking facilities, steam room, Spa and WiFi. Connectivity wise, it is very near to the train station, the Colosseum and Trevi Fountain and some of Rome's finest restaurants. However, this hotel is not suitable for guests with disabilities. You can expect an estimated cost of $380 per night for two adults.

If you need your stay to be classy yet modern, you may opt for this one. This is one of the finest places you will ever get in Rome and yet it has a true charm that speaks of contemporary decoration. This hotel is placed in a 5-minute walking distance from the Spanish Steps and is also well-placed for the Vatican and the northern reaches of the Centro Storico. Parking, laundry, and complimentary WiFi facilities are also available. What's more? Guests with disabilities are more than welcome as it possesses two rooms for special needs. Room charge is $525 for two adults.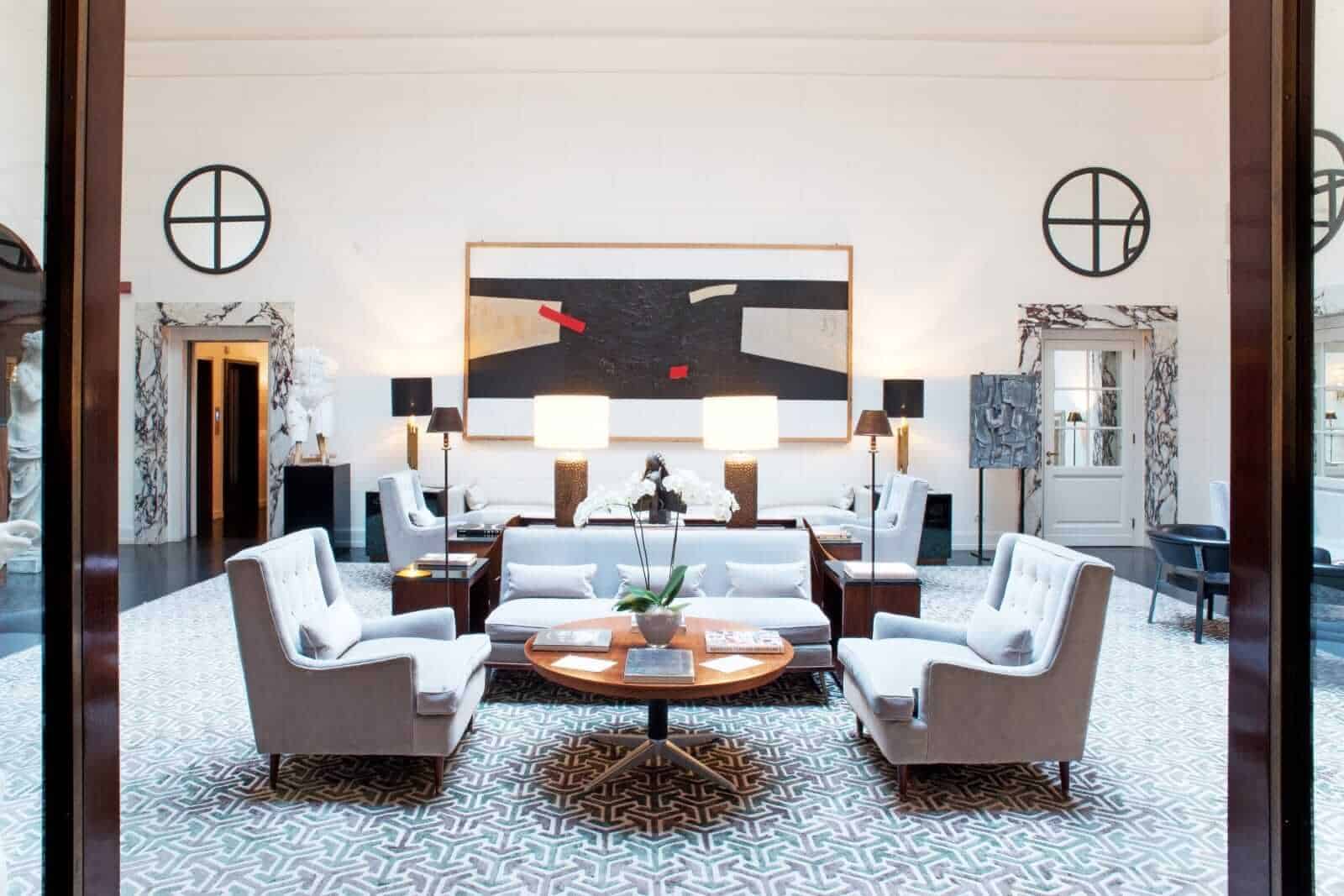 Packed with modern features, Hotel De Russie is quite new in the family of extravagant hotels. The customer service facility of this hotel is often referred to as the best one with a lovely spa with six treatment rooms and Massimo Serini hair salon. The hotel is situated between the Spanish Steps and Piazza del Popolo. Designed by Olga Polizzi and architect Tommaso Ziffer, the room touches the pinnacle of grandeur. Most importantly, they have special rooms for guests with disabilities with even special design for allergy sufferers.
8.2) Mid-range options
A little expensive in terms of mid-range but offers a stack of features that you would probably not expect from a 5-star hotel. Both the pros and cons of this hotel is the location in which it is situated. Confused? Well, the hotel is placed far from everything you want to experience and personally, I will never choose this option even if I get ready to spend the crazy amount because of its distance from tourist spots. However, in exchange, it offers you a panoramic view of the entire city. A plus, this hotel is, fortunately, pet-friendly. Feature-wise, it offers a spa, a fitness room, a tennis court, and enough dining and entertainment options with huge greenery surrounding the main building. The rooms are very spacious, you will get a complimentary breakfast and the services are excellent.
Very close to the Colosseum and Trevi fountain, this hotel was established in a vintage building. You would get free access to WiFi with other contemporary features such as flat-screen TVs and minibars. They also come with marble bathrooms and designer fixtures. However, many complain that the rooms are not spacious enough. The cost per day is nearly half of what you pay for Rome Cavalieri and yet you would have a convenient experience.
8.3) Budget Option
If you are planning to crash in for a long time or wish to spend less on your accommodation, you can definitely choose this one. It has its own outdoor pool, hot tub, a poolside bar, and the most important of all, access to free WiFi and free parking. You will get a copious amount of foods and drinks all day long from the Ciao Bella poolside bar, which is open until 02:00. This inn is close to the Vatican city but possesses well-connected routes to the important spots. 
Other cheap accommodation options include hostel accommodation options such as Funny Palace Rome, Legends, Free Hostels Roma, Hotel Trastevere, etc. If you need to make a selection out of many choices make Hostelworld.com your buddy.
9) Buon Appetito!
9.1) Foods to gobble
Do not miss the opportunity to gobble the actual Roman dishes if you do not want to regret later. Although Italy is famous for Pasta and Pizza, there are some specific dishes you must try in Rome. Supplì and Fiori di Zucca, are the fried-favorites of Romans. Also try Carbonara, a pasta variant in Roscioli. For deserts, you should take Tiramisu, Sweet Salami, and Gelato. Note that, do not order a latte if you are not happy with a glass of milk. The only way you can have your coffee is by choosing an espresso, cappuccino or a decaf. A list of foods you must try has been prepared for you just below this section.
Rigatoni Carbonara
If you are a non-vegetarian, do not miss this option. It's a classic and delicious food that you must try in Rome. Filled with cream, this Rigatoni version has  Raw eggs, Pecorino Romano and Parmigiano Reggiano cheese, and guanciale (Italian cured pork cheek). It can be also be served with Pancetta (cured pork belly).
Tonnarelli Cacio a pepe
This one has been recently developed by the Romans and it's a type of Pasta you will see in almost every food joint. Yet, this is an extremely hard preparation with simple ingredients. With local Cacio cheese (a sheep's milk cheese from the countryside of Rome), a bit of the starchy pasta water from boiling the pasta, and black pepper, the entire dish is made, making simplicity the hardest part to achieve.
Gelato
Without having a scoop of this you can not end your trip. It's not an ice-cream, it's gelato with custard, cream, milk and no eggs. Low in fat compared to an ice-cream, I have never tasted a yummy treat such as this! Have it every day or try at least once in your lifetime.
Maritozzi
An Italian yeasted bun that tastes sweet and you can take it with as much cream as you want. A Choco-chips-filled variant is also available. It's a side dish that you must take with an espresso.
Supplì
Feeling voracious? You must try this delicious snack made with creamy rice mixed with a meat and tomato sauce and mozzarella cheese in the center. From outside it's beaded and munchy.
Rigatoni Carbonara, Spaghetti Cacio e Pepe, Gelato, Maritozzi, Supplì
9.2) Restaurants for veggies
If you are a vegetarian like me, you might have this constant fear of tasting something meat-ish. Chances are, if you do not know about an item, you might even eat ('cause they are equally ravishing) something that comes from things you don't consider under your food habit. So what to do? Know about restaurants that are equipped to serve you a vegan meal. Below is an in-kind list.
Known for their experiments with food, you will get plenty of options if you are a vegan. However, they do justice to the Roman style. Even according to them, the motto is to use meat in lesser quantity than vegetables and fruits. Be assured to experience a true vegan dish but you can still take your non-veg friend for meat made dish with loads of vegetables on it.
"You are a vegan. So what?" This is exactly what the owners of this restaurant wants to portray. Plus, this is a 100% vegan restaurant with more than a touch of creativity. Try it, if you want to head home with a dining experience so intuitive.
They are motivated to offer you fruit and vegetable made juices, smoothies, green salads, yogurts, and soups. You can customize your own bowl with seeds, dried fruit, nuts, natural vegetarian sauces, and grains. They are not only tasty but yummy and healthy for your tummy. Definitely, a must try!
For a full list read our post on the best vegetarian restaurants in Rome.
9.3) Restaurants
If you are looking for a restaurant with a mission and vision, Altrove is a true gem that you should try. Surprisingly, the stuff-body is truly international and it offers a variety of international dishes with an Italian Twist. It's home to immigrants, refugees and all economically crippled. Fantasizing a different taste? You can try dishes such as a buffet plate at lunch or dishes like tempura, ceviche, couscous and kofta à la carte at dinner. It has a cafe, a pasticceria, and a restaurant.
A restaurant that offers comparatively cheap, yet healthy food. According to Michelin guide inspectors,  "This restaurant boasts the attractive, informal decor of a bistro combined with surprisingly creative and imaginative cuisine. Courteous and attentive service." Add to your list if you have a plan to experience this.
Situated in the storied Hotel Hassler at the top of the Spanish Steps, this restaurant was one of the first rooftop restaurants to open in the 1950s. Currently, not only for its stunning view but it is known for its creative meal options. The Neapolitan-born chef Francesco Apreda fuses British or Japanese style with the Roman classic menu to derive hybrid recipes. Must try? Capellini Aglio, Olio e peperoncino, with smoked eel.
Serving baked food to an international clientele, this one has earned huge fame for its Scandinavian dishes with a pinch of Rome. As they say, it's a restaurant and a micro-bakery. Good for a breakfast or brunch and also dinner at weekends. Try a cinnamon swirls, avocado toast with poached eggs and one from a multitude of coffee options.
This is the Trattoria (an Italian restaurant) responsible for creating a huge buzz after its opening last year. Specifically for people with a carnivorous appetite, you should book your spot well in advance to secure a place. It serves classic Italian dishes with a different preparation technique.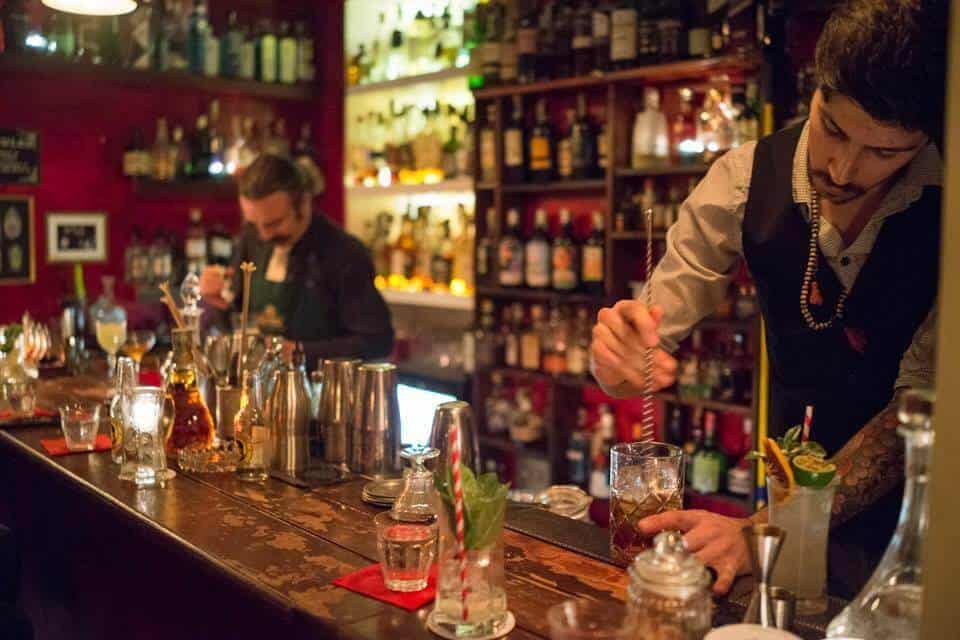 9.4) Where to go for drinks?
If you are are an oenophile, your next adventure is awaiting you in Rimessa Roscioli, a wine tasting service with full-fledged restaurant and expert sommeliers. However, if you are a hard drinker and need a bar-like environment, The Jerry Thomas Project is the right place for you. It is known as the mecca to all alcohol lovers. The only problem? It's a private membership bar with strict rules and no vodka. My suggestion for other bar options includes Ma Che Siete Venuti a Fa, Bar Del Fico, Litro, Bar San Calisto, Black Market Monti, etc. In general, if you wish to visit a hub of cheap restaurants and bars then you may walk into the Trastevere area, 6 km away from the heart of the city. Apart from Ma Che Siete Venuti a Fa and Bar San Calisto, you will find Frini e Frizioni, Niji, Big Star, etc.
10) Festivities:
There is no better way to know one culture than experiencing an indigenous festival. No matter what season you land in this city, you will always find something happening. One of the craziest and most wanted summer festivals include Villa Ada Roma Incontra Il Mondo, a multi-ethnic and multi-cultural music show that invites musicians from across the world. You will also enjoy Festival delle letterature, an ensemble of international writers, Festa De Noantri', a procession based Roman festival, Notte di San Lorenzo, a festival to catch a glimpse of a shooting star. There is also a group of festivals available during Autumn, Spring, and Winter. If you need a list of recommended festivals to attend, read the following.
Villa Ada is a park in Rome which gets transformed into a dazzling dream for the most famous music show you can ever attend in Rome. This wild affair of entertainment is a summer event that you must attend if you wish to experience a variety of concerts, debates, workshops, talks, presentations. They also have a free and open access small stage for people with no money to spare.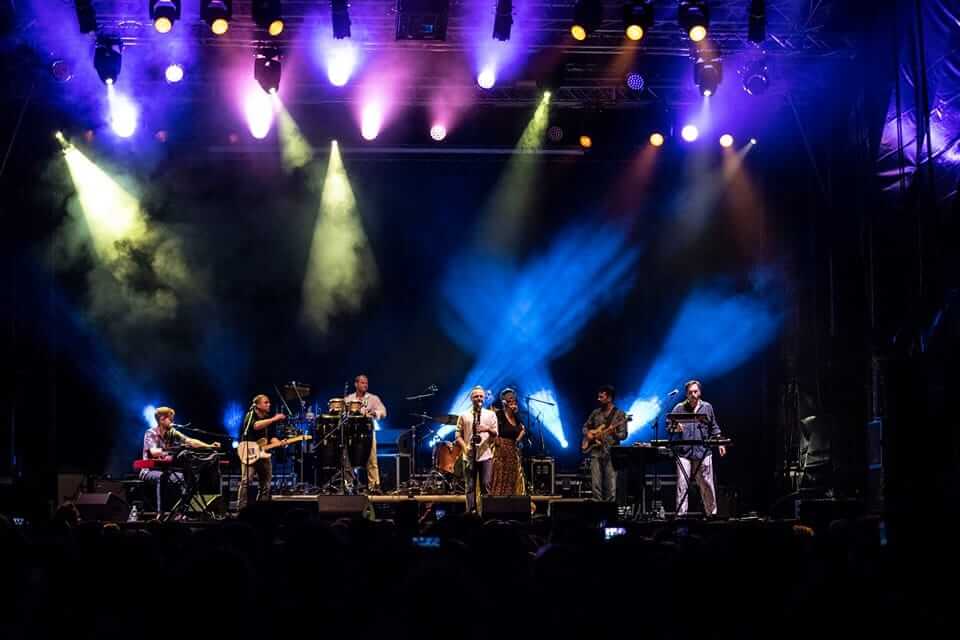 Festa Dei Noantri
The last two weeks of July are dedicated to celebrating Festa Dei Noantri that is built around the Feast of Santa Maria del Carmine. In short, the very own festival of Romans includes a journey of the statue of Santa Maria from one church to another with a group of bands and religious pilgrims.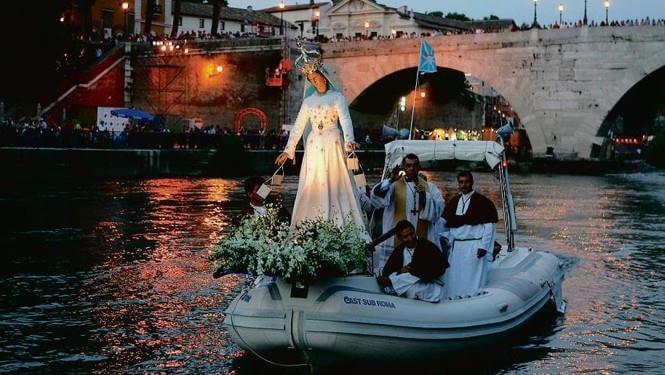 A literature festival for writers and readers alike, this one is a month-long festival celebrated at Basilica of Maxentius in the Roman Forums. You will get to see some big names, national and international and will learn a great deal about their literary work. What's more? This can be your perfect opportunity to know about books in the less explored genres and meet some great persona.
Parentalia
This one can be called as the Roman version of the Dia De Muertos (day of the dead). A February born event honors the dead ancestors following a week of sacrifices (flower garlands, wheat, salt, wine-soaked bread, violets) to the shades of the dead. At the end of the week, the senior male of the family exorcizes the ghosts, and the following day every member gives a speech similar to an obituary and have lunch together.
Floralia
This one happens in April-May and it's all about flowers. Oh! And yes about colorful clothes, milk, and honey as well. It is dedicated to the goddess Flora. This also serves as the origin of the May Day celebration with ribbons and dancers.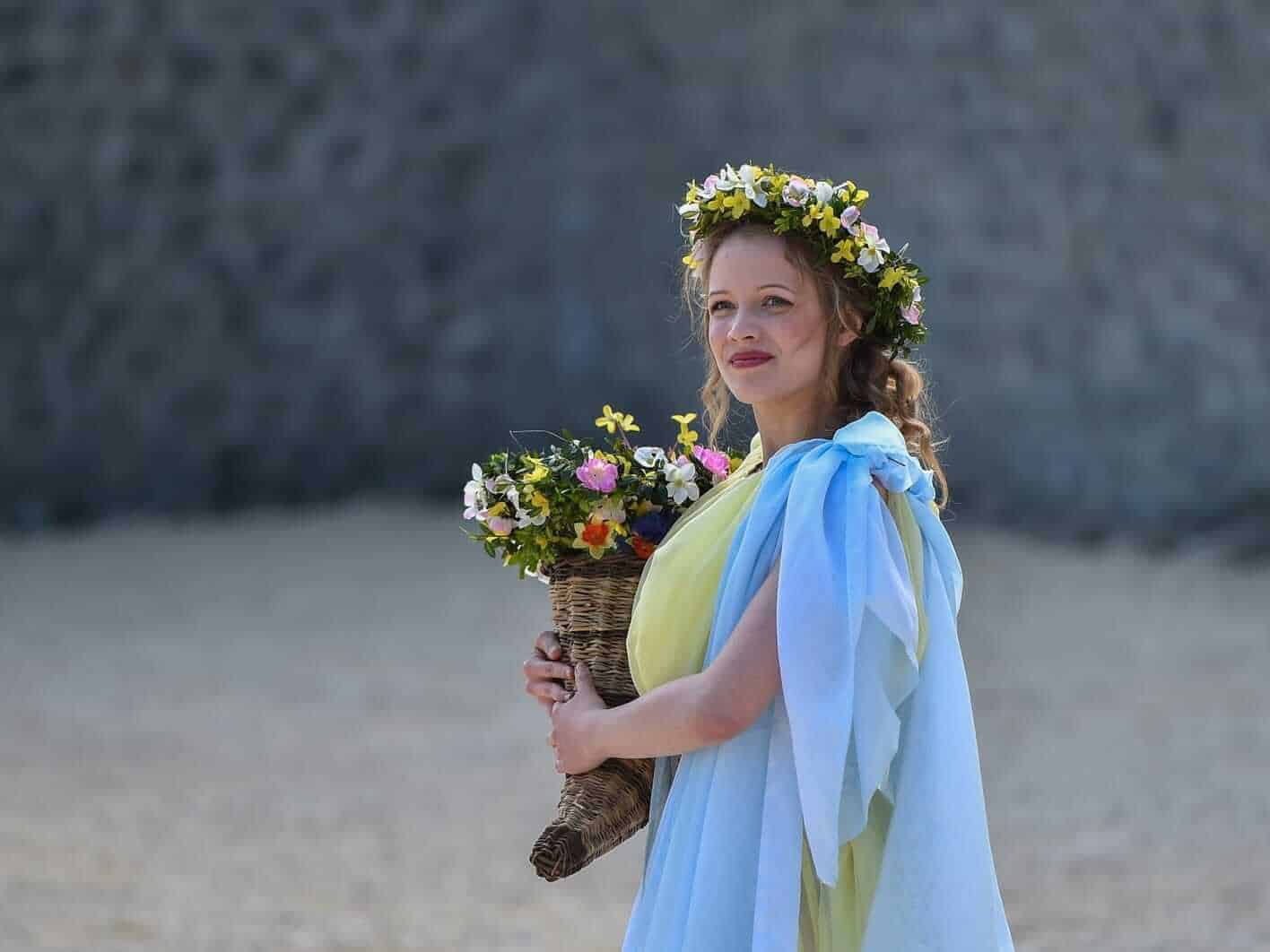 11) Carpe Diem with the following places
11.1) Colosseum
This world-famous oval shaped Amphitheatre in the heart of Rome was established in the Flavian dynasty. Having a capacity of 50,000 to 80,000 spectators, the monument is the immortal witness of blood-bathed gladiatorial contests, mock sea battles, animal hunts, executions, and other public spectacles. It is always a good practice to buy a skip-the-line ticket to avoid unending queues in scorching weather. There are a number of tour packages available such as a four-hour underground tour which can unveil mysteries lying beneath the arena, connecting several passageways and chambers, once made for wild animals. You can also grab a night tour for some extra adventurous moments and supposedly haunted experiences.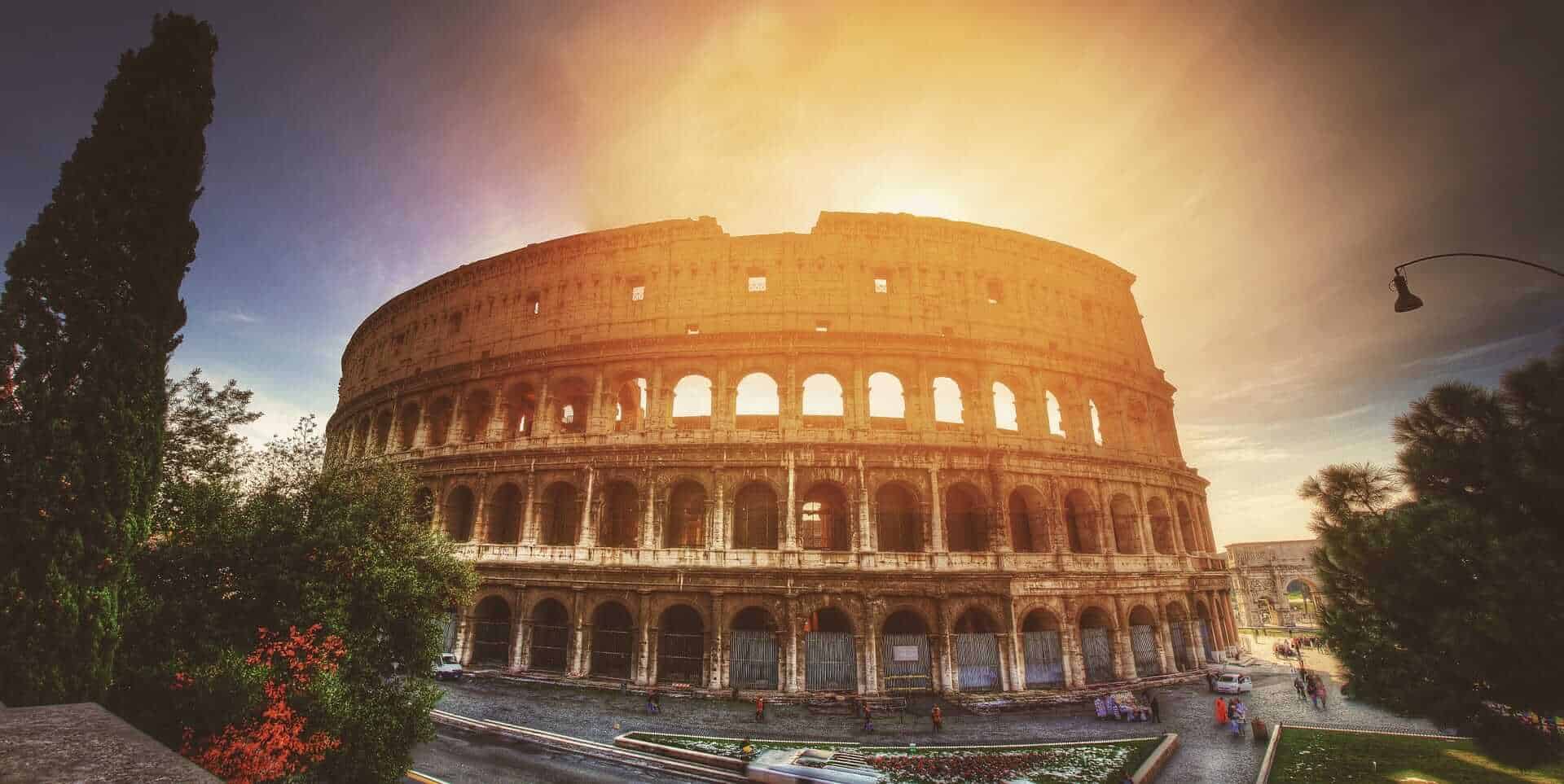 11.2) St. Peter's Square, Vatican City
Containing the womb of Roman Catholicism and the official residence of the pope, the city is legally the smallest country in the world. St. Peter's square is one of the most noticeable places, basically a mountainous plaza, within this country which has a large enough space to hold 400,000 people. The plaza is gheraoed by 284 columns and 88 pilasters. In the middle, you would be able to see an Egyptian obelisk with two beautiful fountains.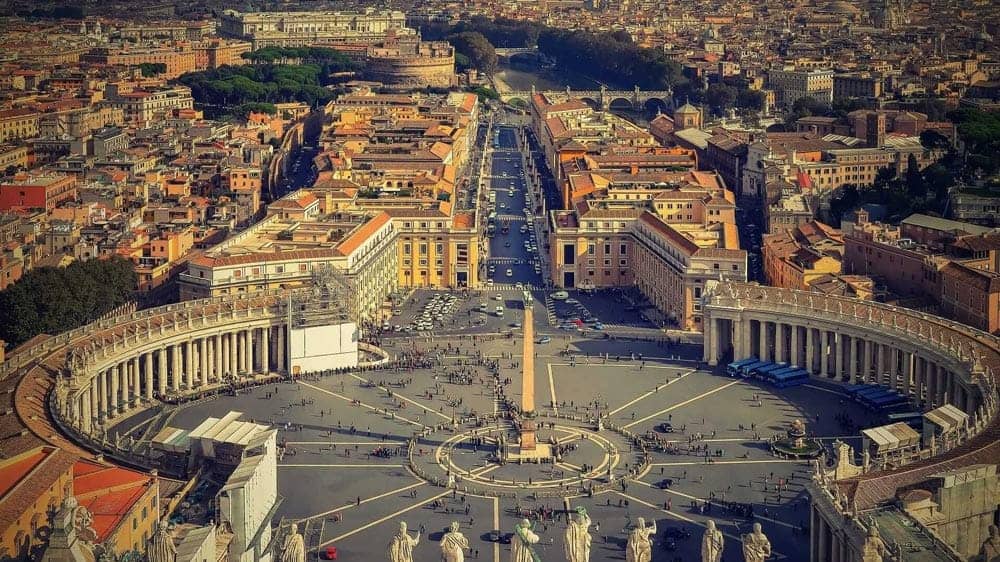 11.3) St. Peters Basilica
Not only to appreciate its history, art, and culture, people often come here to make confessions. St. Peters Basilica, protected by the plaza, is the largest Catholic church in the world, housing a myriad of sculptures including the Pietà, a sculpture by Michelangelo and the statue of St Peter on his throne. Also, it is famous for its artistically crafted Dome. Home to many Catholic practitioners, this place is considered to be the Mecca of Catholicism.
11.4) Vatican Museum
Located in the city boundaries of Vatican City, the Museum has a building full of art and architectures. It exhibits some of the alluring figures from the period of early Roman civilization to the Renaissance. The museum has a beautiful ceiling-etched gallery of maps and a Bramante spiral staircase. Interestingly, on the last Sunday of each month, the Vatican Museum opens its door to the public for free.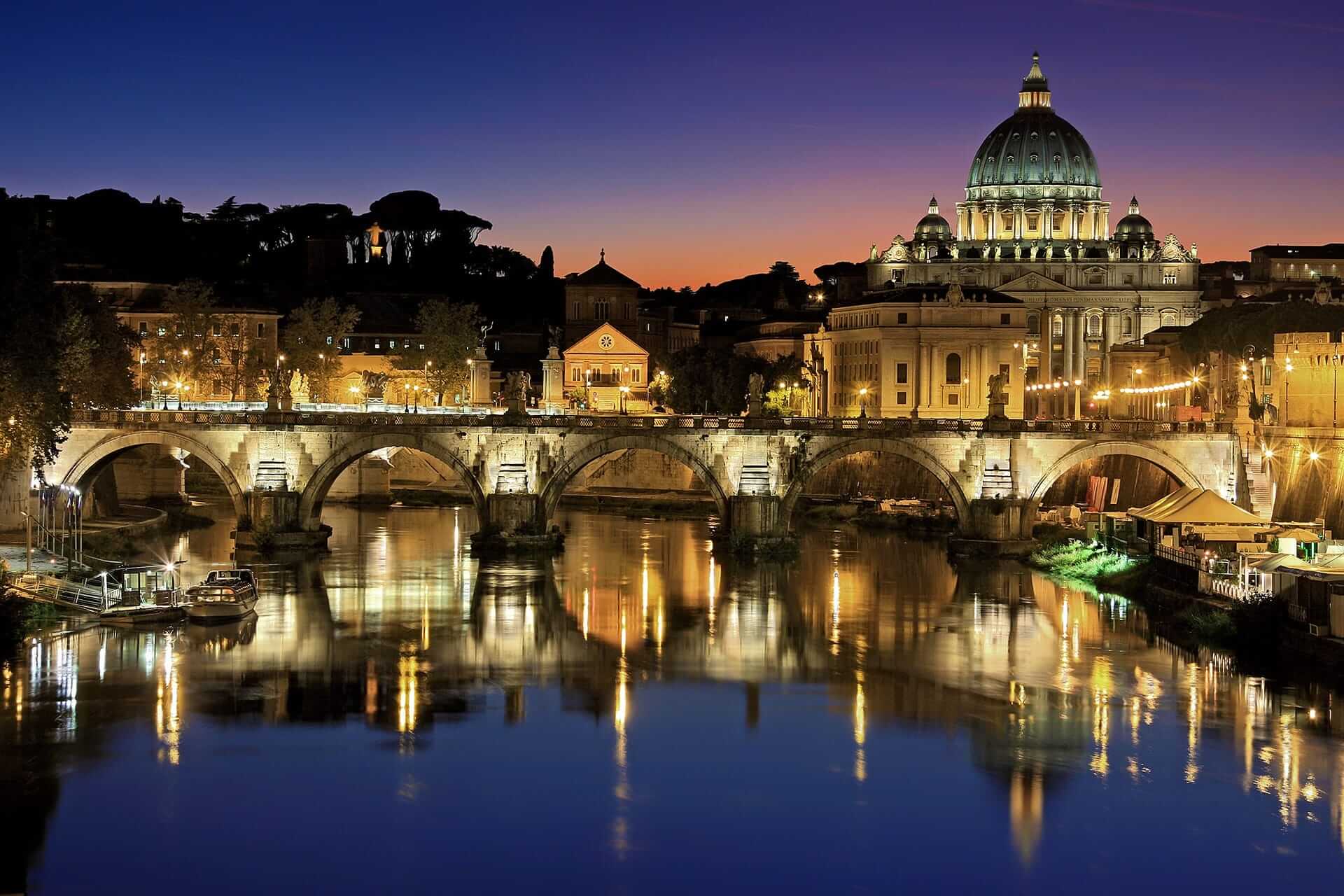 11.5) Victor Emmanuel II Monument
This monument was made in honor of  Victor Emmanuel II, the first king of unified Italy. Due to its finesse and a glaring texture, the building attracts many visitors from around the world. Situated between Capitoline Hill and Piazza Venezia, the monument consists of some significant statues, columns, and stairways. Among all, the horseman in the middle of the monument represents Victor Emmanuel II.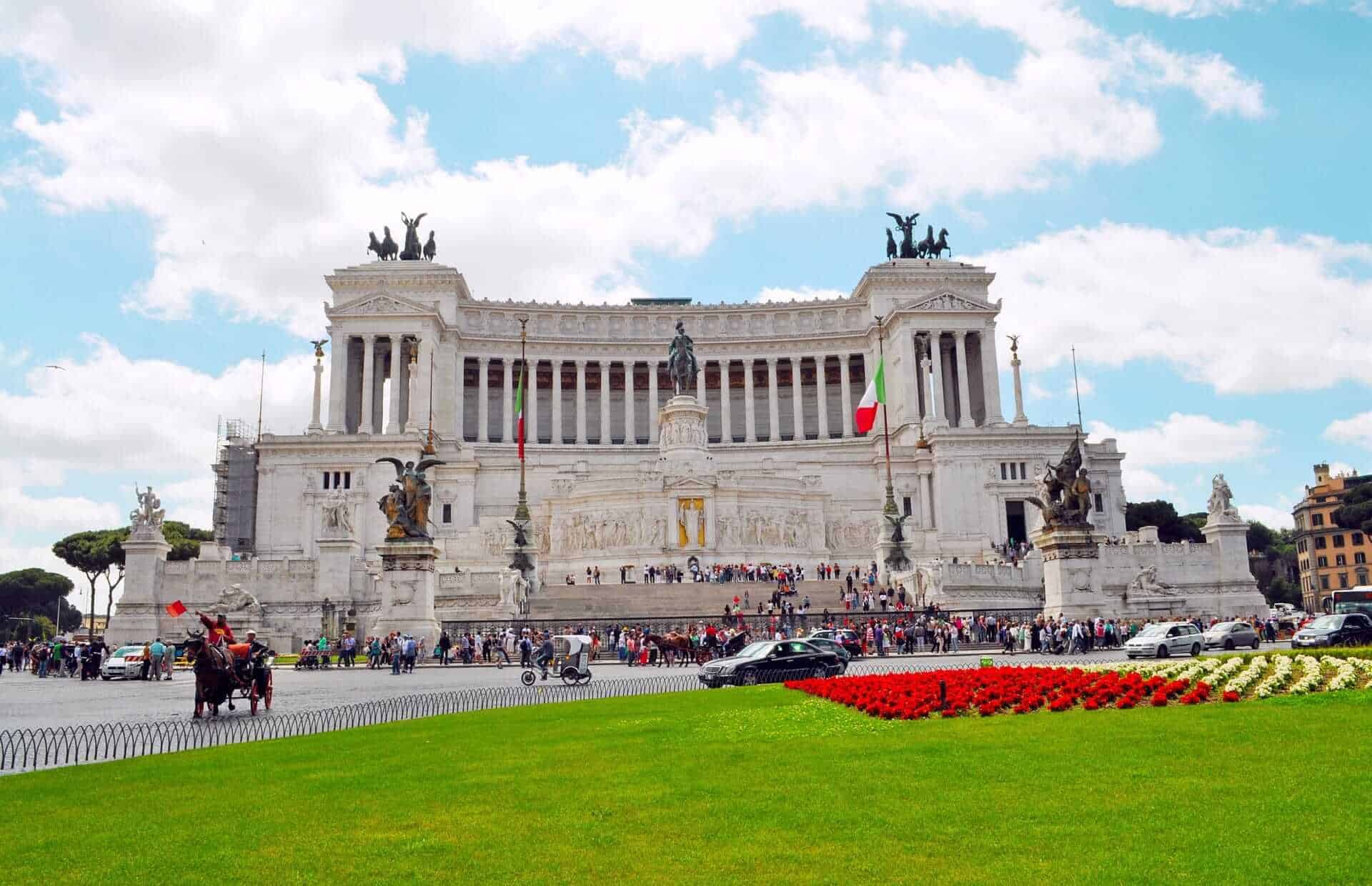 11.6) Piazza Navona
Piazza Navona is one of the significant plazas situated near to the stadium of Domitian. Although it is famous for bearing  Baroque Roman architecture, once it was a crowded marketplace which was later transferred to Campo' de Fiori. Currently, it bears the well-known Fountain of the Four Rivers. There are two other fountains in northern and southern side named Fountain of Neptune and Fontana de Moro respectively.
11.7) Roman Forum
At the center of the city, you would find a plaza with ruins of several ancient government buildings. According to historians, the site used to be an important place for triumphal processions, elections, the venue for public speeches, criminal trials, and gladiatorial matches. This place was also used for establishing commercial deals.
11.8) Trevi Fountain
Another marvelous site of Baroque architecture can be seen in the beautiful structures sculpted on the source of this fountain. Rumor has it, if visitors throw a coin in the mountain, they will surely get back to Rome again. If you're thinking of proposing to your special one, this might be the best place to do that.
11.9) Pantheon
Constructed as a Roman temple, the building now represents a church. This also has the best preserved ancient architectures. The building is circular in shape with a porch made of large granite Corinthian columns. Like many other architectures, this too has a fountain in the front of the building named as Fontana del Pantheon.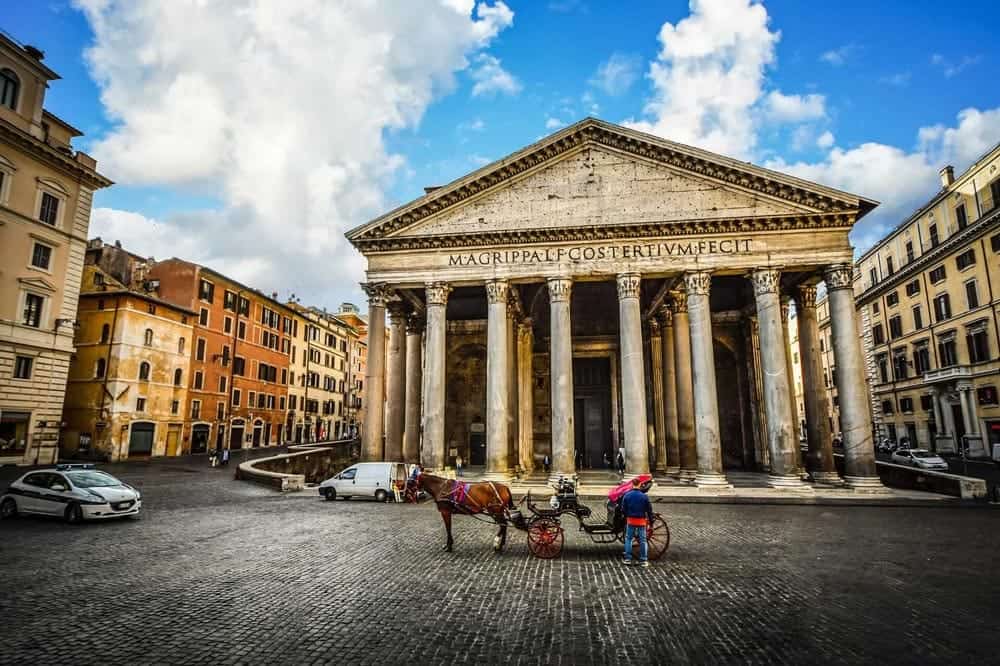 11.10) Palatine Hill
With one of the most intriguing structures, the Palatine Hill is one of Rome's seven celebrated hills. This is also known as the most ancient part of Rome where Romulus and Remus were saved by the she-wolf Lupa, as per Roman mythology. If you plan to visit the place, you would notice ruins from the past spread across the area.
Other places that you should visit in Rome include Campo de Fiori, St. Clement Basilica, Galleria Borghese, etc.
12) Where to set foot after Rome?
12.1) Naples and Pompeii
You can cover both of them on a day trip from Rome but we wouldn't recommend this. Take at least two days in hand and visit these two ruins of Roman ancestors. Pompeii, the ancient Roman city which was once destroyed by the volcanic eruptions of Mt. Vesuvius is now a touristy ruin whereas Naples is still home to century-old art and architecture.
To get to your destination, you need to take a Frecciarossa train from Termini to Napoli Centrale and then a Circumvesuviana train to Pompei-Scavi-Villa dei Misteri. If you haven't already, you can read the classic novel The last days of Pompeii written by Edward Lytton. The city is huge and you need at least 6-8 hours to complete everything including the Forum, Lupanare (an ancient brothel) and amphitheater. Once you get back to Naples, pay a visit to Museo Archeologico Nazionale that exhibits classical art and the baroque Cappella Sansevero, home to Giuseppe Sanmartino's incredible Cristo velato (Veiled Christ) sculpture.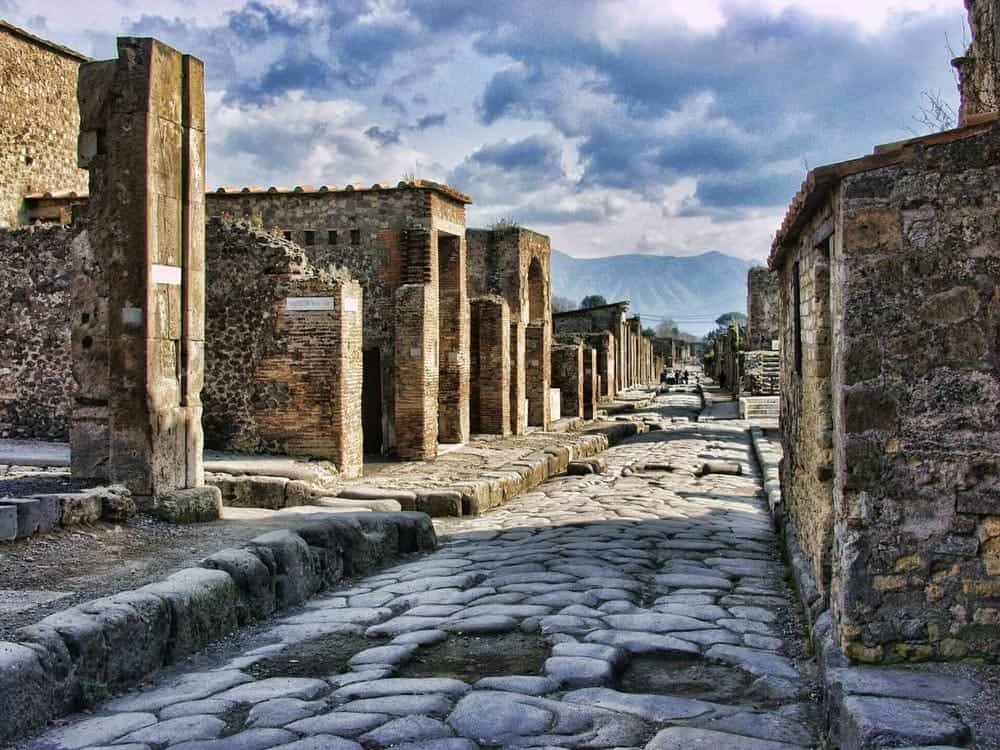 12.2) Florence
You can make a trip to Florence, the heart of the Renaissance and come back in a day, but it is not recommended. The must visit places includes the Duomo, a cathedral with a terracotta-tiled dome engineered by Brunelleschi and a bell tower by Giotto. The Galleria dell'Accademia displays Michelangelo's "David" sculpture. The Uffizi Gallery exhibits Botticelli's "The Birth of Venus" and da Vinci's "Annunciation." Keep some time in hand to visit the newest spot in Florence, The Oltrarno. There is another set of beautiful art collection housed in the Pitti Palace. Already had enough with art? Head outside and spend your time at the Boboli Gardens or climb the hill to the church of San Miniato al Monte to enjoy the view of Florence.
12.3) Venice
The farthest in our short-list outside of Rome includes Venice. The dream city of many, this one has no roads but just canals including the Grand Canal thoroughfare. This city sits atop a lagoon and attracts international visitors due to its architectural grandeur. Needless to say, it has many great places to see but Basilica di San Marco is a true treasure with its domes and over 8000 sq meters of luminous mosaic. Also pay your visit to other important monuments such as Palazzo Ducale, the Ghetto – served as the Jewish quarter in 16th to 19th centuries, Museo Correr – a redesigned museum with Venice's reclaimed treasures from France.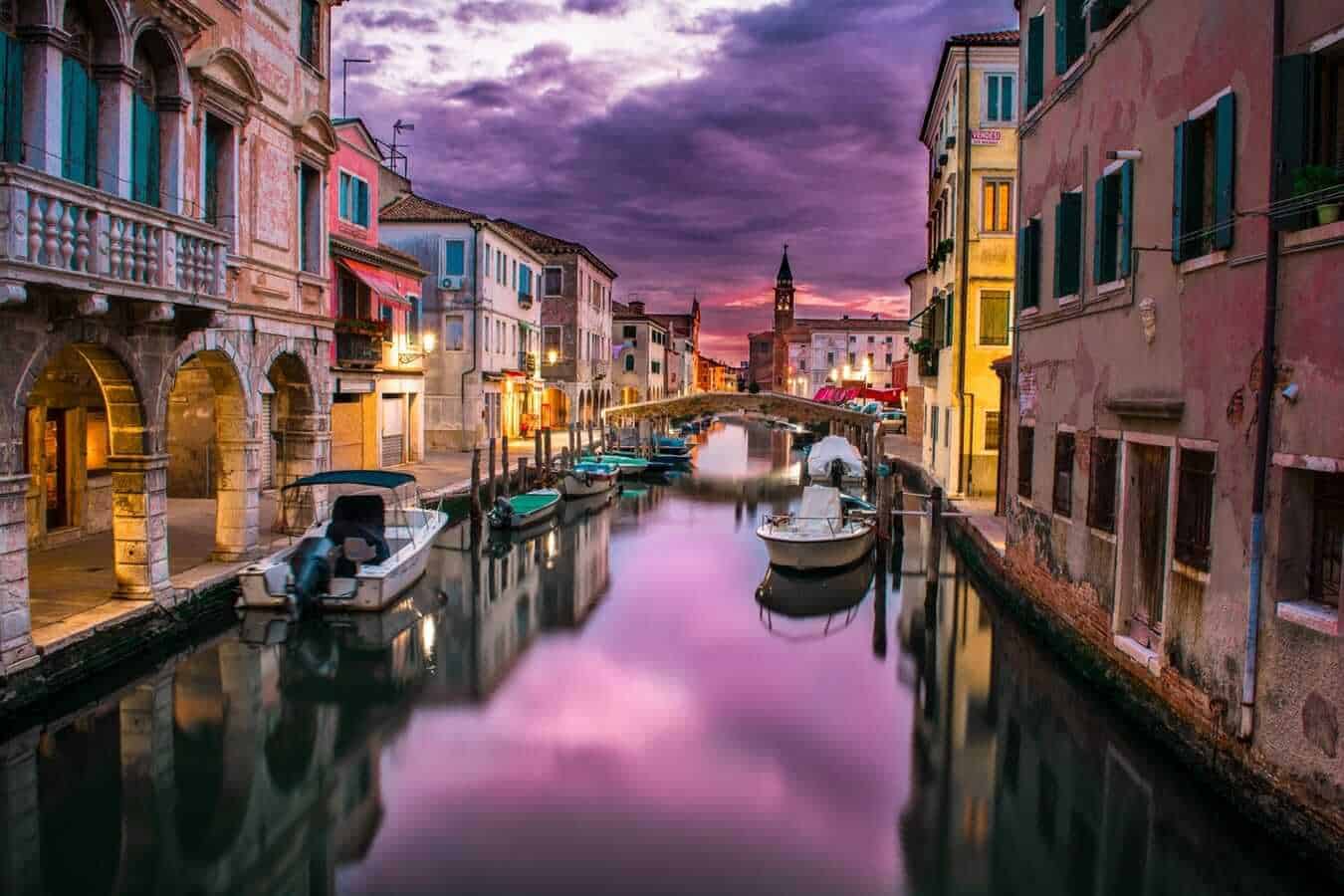 13) Rome Sample Itinerary: (3 days and 5-day plan)
7:30 am – 9:00 am
10:00 am – 12:00 pm
1:00 pm – 3:00 pm
3:30 pm – 5:00 pm
6:00 pm – 9:30 pm
10:00 pm – 11:00 pm

Day 1

Transfer to hotel

Go to visit Pantheon

Make a stop at Piazza Navona

Have lunch at a local eatery

Head to Campo Dei Fiori

Enjoy dinner at a restaurant

Day 2

Enjoy a serene visit to Trevi Fountain

Head to Piazza Venezia

Make a trip to the

National-Monument to Victor Emmanuel II

Journey to The Roman Forum + Lunch

Visit Colosseum

Have your dinner and take a night walk if you are in a group

Day 3

Visit the Palatine Hill

Tour de Villa Borghese and Galleria Borghese

Catch a trip to Piazza De Spagna and Spanish Steps

Trip to Rome's Botanical Garden + Lunch

Shopping at Via Veneto and Via Del Corso

A good night's sleep or Transfer to Airport

Day 4

The great excursion to the Vatican city

Visit the Vatican Museum and Sistine Chapel

A holy voyage to St. Peter's Basilica

Enter through the Stone Ramp of Castel San Angelo

Dinner + Sleep

Day 5

A day trip to either Naples or Pompeii. Don't miss the amphitheater of Pompeii and Museo Archeologico Nazionale of Naples.

Last night in Rome with a special dinner or Transfer to Airport
14) Traveling with Kids
I get it. This can be a weird, uncomfortable and brain-frying experience or a blissful one depending on the choices you make, especially about a place you visit next. Your little ones might not want to tag along if you are going to attend Festival Delle Letterature but find the spiral stairs of the Vatican Museum quite amusing in nature! I believe the following activities will serve your bundle of joy the right way.
14.1) Investigate the Catacombs: Roman Catacombs are surprisingly eerie and is more complicated than a maze. They are full of skeletons and were used formerly by early Christians to bury dead bodies. Covering an area up to 300km this subterranean passageways can be an exciting experience for your kid. However, make sure to take a guided tour and definitely visit the open ones such as Catacombs of San Sebastiano, Catacombs of San Callisto, Catacombs of Priscilla, etc.
14.2) Take a Trip to Ostia Antica: This archaeological site is well preserved and speaks of the deads as it came to buried in river silt. You will get to see a theatre and a bathing complex, the Terme di Nettuno, adorned with mosaics. There are also some interesting monuments such as an ancient café with a menu frescoed on the wall and a public toilet with open latrines set in a stone bench.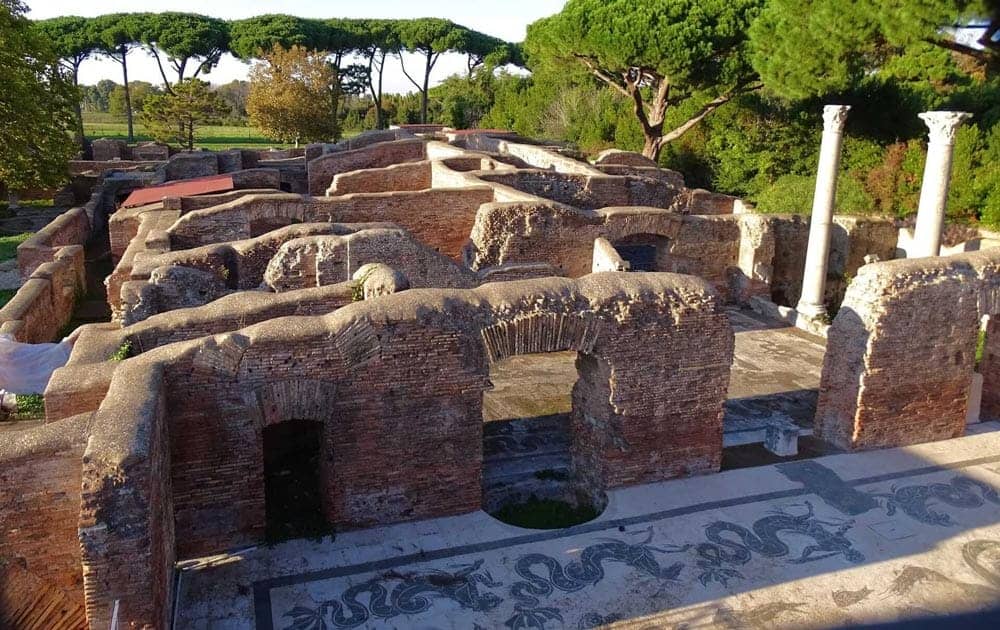 14.3) Tain your kid to be a gladiator: Enrol your little one at Rome's Gladiator School for a 2-hour training. Here the Gruppo Storico Romano (Historic Group of Rome) will prep your kid with tunics and training swords and teach them a series of basic combat techniques. After two hours they will also be rewarded with a participation certificate. Make them experience it before your tour to the Colosseum.
For more ideas, read our post on the best kid-friendly activities in Rome.
15) Traveling for disabled people
Wheelchair accessible travel is a bit inconvenient due to opulent availability of ruins spread throughout the city. The cobblestone roads may restrict you from your destiny but the following tips may help you get around the city.
15.1) Use the Rome accessible bus tour to get around the city: There are a few bus routes that offer accessible tour options to travel destinations. For 25 euro per person per day, these buses run between top tourists spots. Be sure to stay at an inn near to their bus stops. You can even get a voucher at your hotel reception.
15.2) Tour the Vatican via the special way: Unfortunately, the conventional route to the Sistine Chapel is extremely arduous for disabled travelers. Therefore a special route is allowed to people with disabilities. This is easy to cross and more enjoyable too.
15.3) Use elevators to Colosseum: There's a small stretch of cobblestone in the interior however it offers a step-free entrance that leads past the ticket window to the elevator. Rest of the journey should not be much bothersome for tourists. If you wish to discover more on Rome's take on accessibility, you may head to romewise.com
16) Shopping:
Who doesn't like taking a piece of the memory back home (apart from photographs)? Souvenirs are a great gift for your loved ones but you may get some useful stuff from the streets as well. The following places can serve as some of the great destinations for your shopping needs.
16.1) Via Dei Condotti: The most famous shopping street in Italy, look around for your favorite stuff. This street houses a ton of outlets of the known names such as Gucci, Dior, Dolce & Gabbana, etc.
16.2) Via Del Crosso: The longest of all shopping street is a great place for dress shopping. International brands such as H&M, Zara and more appear in this place. A must visit place for all fashionistas.
16.3) La Rinascente: This shopping mall serves as the luxurious hub for all who want to spend extra on brand names. Whether you are looking for some cosmetics or home decor, you will find expensive answers to your need in this multi-storied mall. Even if you are not buying, you can enjoy window shopping.
16.4) Via Dei Coronarri: One of the oldest yet most beautiful streets, this one is a must-visit shopping destination for many, especially if you are looking for antiques. Moreover, if you are on a budget, you won't find a better alternative.
16.5) Castel Romano: If you are looking for the best outlet shopping experience, Castel Romano can be a pretty good option for you. You will get the best brands available here but with at least 30% – 70% sale, all year round.
17) Keep an eye open for travel scams
Travels scams are pretty common everywhere. Rome is also not an exception. Interestingly you will find various kinds of scams and scammers. It's so dynamic that it needs to be discussed in detail over a cup of coffee. Well, for your sake and everybody else's these are the most typical one you will find in Rome.
17.1) The glamorous man
Please note that you will not understand from his dress whether he is a scam artist or not. However, it goes like this. A well suited local will appear from nowhere and ask you for direction to his destination. Somehow their calculation matches and most of the time you know about that place. After you help him, he offers you a nice coat/jacket ( claim it as a designer one ) and asks for money to buy petrol. You feel honored and compelled to help him with some euros. Don't. Stop right there, even before accepting the coat. That's no designer work and he is simply fooling you for a big exchange.
17.2) Pickpocketing in Bus 64
An extremely popular route that goes to many tourist attraction has a bad reputation of being home to pickpockets. Don't be distracted, otherwise, you might be the next victim.
17.3) Romeo Rats
This one is particularly very interesting. There are troops of men available near the tourist spots named as pappagallo which means 'parrot'. This is because these men are seen in the same tourist spots, feeding the same lines to ladies either alone or in pair with another lady. They will ask you some casual questions and before you even realize you are already tangled with him for a dinner date. They will make you feel the most wanted and only woman in the world but only for a day/night. If you want to enjoy it do so, but remember, it's not going to end like a fairy tale. You will never hear back from them and they will be back at the same spots, finding their new preys. How to handle them? You already know the answer to that.
17.4) The beauty appreciator
A very charming way for scam artists to fool you, this one can be easily avoided if you can firmly decline any unsolicited appreciation of beauty with roses. There is no harm in smiling at the stranger with a bouquet of roses, meant for you but remember once they are given to you, you will be forced to pay. How to save yourself? Firmly say no to the stranger.
17.5) The greedy jeweler
Call him anything but the fact is there are some scam artists who will use your greed for a product in favor of his shady business. If you see someone approaching with a gorgeous bracelet in one hand and convinces you to wear it, make sure you do not fall into the trap. They will rob you of your money,  once you say yes.
18) Knowledge Zone
18.1) If you are a fan of video games
Let's start this section with a treat to your brain. Do you know Rome has a beautifully decorated video game museum? What a delight! Vigamus, the video game museum, in fact, offers guided tours to the lost souls.
The museum exposition has more than 440 pieces, accompanied by more than 100 panels illustrating the historical context and background, in store for you. Items on display include software, games, hardware, vintage consoles with a selection of promotional merchandise and vintage toys.
15 video retrospectives, for a length of more than 200 minutes, allow visitors to get equipped with the knowledge of ancient and modern video games. What's more? If you are into VR, you will also be able to test Oculus Rift DK2, the new version of the revolutionary virtual reality device created by Oculus VR.
Apart from the museum, there are many other arcades including Game Point, Fatamorgna Ludotega, Fantastic Land, Joy Village, etc.
18.2) If you are a book person
Your place is Pocket 2000 Libreria. This is the spot where you can find vintage comics of the 70s, 80s, and 90s and also a great collection of sci-fi books. It's okay if you don't understand the language, but hey, we are talking about comics here. Pictures are more than words and you can always take them in your collection.
There are other shops for comics fans including Forbidden planet, Starshop Roma, Casa Del Fumetto, etc. If you are into more traditional reading then you need to add Open Door Bookshop in your list. With a variety of second-hand books to choose from, you may find the first edition of the book you always wanted to read. Other great stops at bookstores may include Arion Esposizioni, The Anglo American Book Co., Ottimomasimo (a traveling bookshop with a permanent store at the heart of Rome).
19) What if you are thinking long term
19.1) Rome for higher education: Fancy a degree in Rome? Well, you are not the only one. It is noted by QS to be the 66th best city for obtaining a higher education degree. It's filled with good schools and if you are sure about the city, all you need to do is shortlist schools and send your application as per the university requirements. Top 3 internationally acclaimed universities include Sapienza – Università di Roma, Universitá degli Studi di Roma – Tor Vergata, Università degli Studi Roma Tre. If you are interested in the country as well, Times World University Ranking can give you a detailed account of universities in Italy.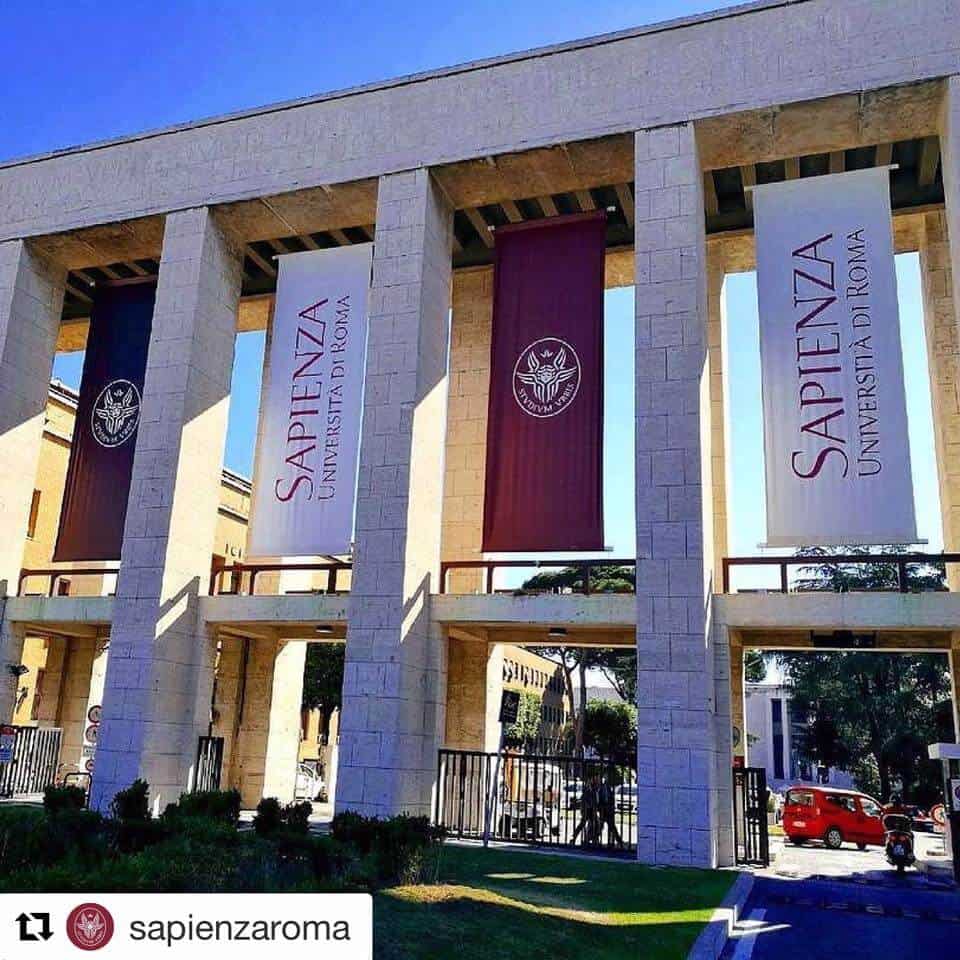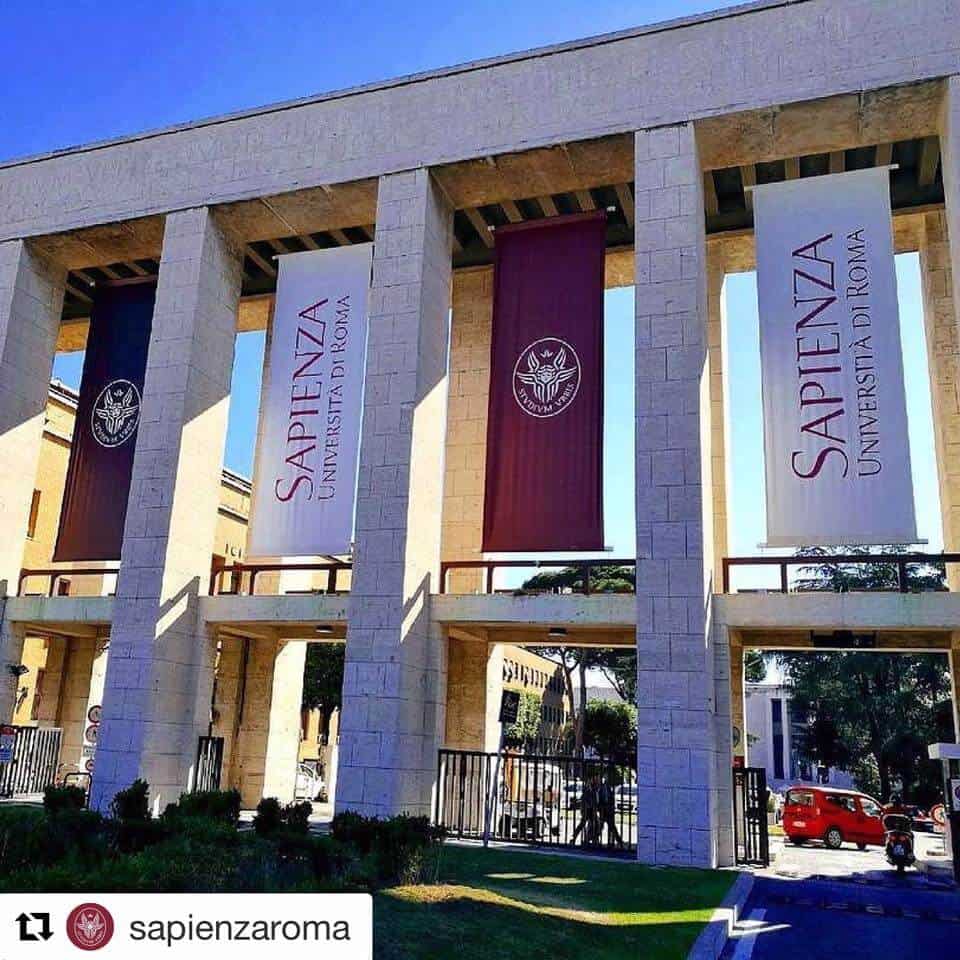 19.2) Rome for Business or Jobs: Interested in doing business in Rome? You have to follow certain rules but they are not too complicated. If you are representing a non-EU country, you can do business in Rome (in entire Italy) in two ways. First, you can open a secondary office with a permanent representation of your business. Second, you can open a representative office of your business. Sounds confusing? This article by international law firm Damiani and Damiani can make you understand it. What if you are interested in a job in Italy? Well, for starters it's not that easy to get a job in Italy. As you may understand one of the biggest restrictions can be the language. However, if you wish to know in detail this forum can tell you more.
20) Short on money? Read this
20.1) Cheap food/free food: Join the herd in "Happy Hours" or as they say in Italian, "Aperitivo". The concept is not their own but it now has a real Italian flavor in it. You buy your drinks and the food buffet is what you get for free. The drinks are kind of expensive but once you have a ticket, you can eat as much as you want. It's mainly prevalent in cities like Milan but restaurants in Rome are also copying the same methods to promote their brands. So, with the cost of a beer you are getting a free basket of pretzels, potato chips and bite-sized cuts of pizza or focaccia to a huge spread including pastas, finger sandwiches, vegetables, salads and even desserts later in the night. Take advantage of this offering while it lasts.
20.2) Save in Transportation:  Avoid Taxis and choose public transportation instead. Trains can be your cheapest solution if you are traveling far. Instead of the luxury of a private trip, you can enjoy traveling the country with Romans. One more tip, avoid tourist buses and choose public transport that actually does more justice to your trip. The only comfort you might be paying for is the exact location you would have wanted your tourist bus to stop. However, if you are willing to compromise a bit, you can complete your trip in €1.50 for a 90-minute tour.
21) Emergency?
21.1) Hospitals
I dearly wish you will not have to refer to this section. However, in need, I want to make sure you know we are here to help you. Tip of the century – refrain from such activities that can lead to an unwanted accident. The good part is unlike many other countries, Italy allows foreign citizens to attain healthcare in Italy. This service is provided by the National Healthcare Services and getting registered with this system can provide you a TEAM card allowing you to receive the same treatment as Italian citizens. Now if you don't have one, you can still receive medical care for emergencies and services such as pregnancy and maternity, children's health, vaccinations.
Some of the known names for international travelers include Rome American Hospital, Concordia Hospital, Salvator Mundi International Hospital. Here you will find English speaking doctors however the treatment quality is almost same as of native public hospitals.
21.2) Drug Policies
The best practice is to carry your own medicine. However, make sure to have a prescription that lists all the medicine you are carrying with yourself. If you need to buy medicines in Italy try finding stores called "farmacia" with a cross sign. They generally serve over the counter and prescription medicines but all of them are not open for 24-hrs. Major cities including Rome has some limited stores including Pharmacy Gellini No stop H24, Farmacia Trastevere, etc. For more details, check out this website.  
21.3) Women Solo Travel and Safety
How safe is Rome for you? Rome ranks 71st in a list of the world's safest cities, with a safety index of 63.9 out of 100. Given that, It's a great place to travel solo if you know how to enjoy with an alert mind. Do some research about the neighborhood you would likely to choose in your tour. Make sure that it allows you to get some noise-free rest after a hefty day. You would feel immersed in Rome's warmth and enjoy the entire trip if you plan ahead of your schedule.
Will you walk through a dark alleyway and accept lifts from strangers? The answer is no to anything that can possibly invite you into a grim situation. Keep your wallet, phone, and other valuable items in a hidden pocket (out of view). Don't let your drink get spiked and try to blend in so that you don't look like a tourist. Catch some easy Italian phrases and drape yourself in the Italian culture. We also wrote tips for women safety while traveling to France, India, and Spain. You are very welcome to read them. If you are in a distress, do not hesitate to contact the women's rights and abuse number 800 00 11 22.
21.4) Embassy Houses
If things do not go as it was planned, you should know where to go and take shelter. At present Rome hosts 138 embassies for Italy. This wiki article can tell you more about your country's presence in Rome.
21.5) Important Numbers
118

– Medical Emergencies

116

–

Contact

A.C.I. (Italian Automobile Club) Road Assistance

113

– Emergency police help

112

– Pan-European Emergency

19696

– Child Abuse
22) LGBTQ+ Friendly Rome
Rome is very open to the LGBTQ+ community as it boasts one of the most gay-friendly areas. In fact, the world famous Gay street is proudly located in the center of the city on Via San Giovanni in Laterano. A 300-meter long shopping street and bar area is the most colorful neighborhood which was first designated in 2007 following a ceremony attended by celebrities, national and municipal politicians. This can also be called as an achievement of the work done by the Italian community named Arcigay. Overall, the city is quite open to same-sex relations. Apart from Gay street, you will get plenty of gay bars dispersed in different locations within the city including Coming Out, Europa Multiclub, Beige, Lola, Hippie Hour, etc.
23) Helpful Apps
23.1) Viaggia Con Atac: This is the public mobility app used by Italians to save them from daily traffic hurly-burly. As you can guess this offers real-time information which means you would already know the best route to your destination.
23.2) MAPS.ME: Known to be the tourist guide for smartphone users, this works very well for Italy.  With offline maps availability, the app offers popular places and the quickest ways of reaching them. From lodging to dining, you will get information according to your needs.
23.3) Mic Roma Musei: Want to know about the inside stories of  20 museums belonging to the Rome Borough Museums network? You should download this application. This single application can empower you with a whole lot of information on museums, exhibitions, events, gallery and its corresponding maps belonging to the same museum network.
23.4) Villa Di Roma: This application allows you to venture into the virtual world of 26 Villas of historical value in Rome. Things that you will know include historical, scientific and naturalistic information about these places. The content is available in both Italian and English.
23.5) Street Art Roma: This is a guide for travelers to find the various Murales strewn around the Capital. The application will locate the nearest one to you and will calculate the distance between the places. Available in both English and Italian, this one covers  150 works in the urban area to be found using a tablet or smart-phone.
Enjoy your time in Rome, and let us know how it went. Arrivederci 🙂
Read about other destination and travel guides from the Talk Travel App team