Home » Spain » Visit these 7 offbeat places near Barcelona for a great time
Barcelona is a great city to explore in Spain. You can visit cathedrals, appreciate the architecture which is very unique, attend parties and concerts almost every day, feast on Catalan cuisine, take a dip in the beach, explore neighborhoods on foot, and what not.
All these activities are immense fun and a lot of people flock to Barcelona to experience this. If it feels too mainstream for you then there is more to this great city than what I just mentioned above. There are a lot of offbeat places near Barcelona which are like treasure troves waiting to be experienced by travelers like you.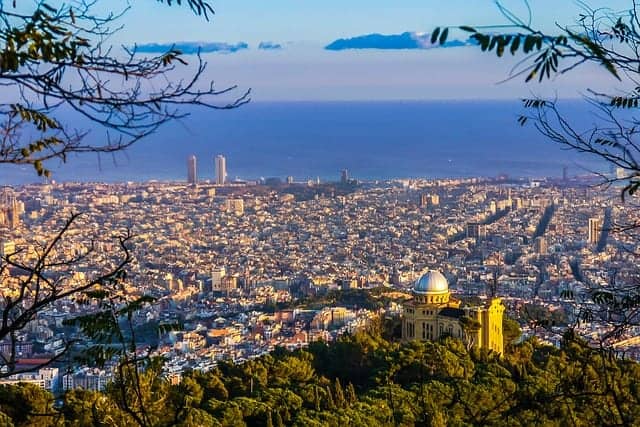 If you want to have an offbeat experience and interested to know how locals spend their weekends, then check out this list of places to visit. You might want to extend your holiday in Barcelona to make the most of this lovely city.
Offbeat places near Barcelona for the curious traveler
Bunkers del Carmel
Called as 'Bunkers' in short, this is a place where residents of Barcelona go to view the sun rise, sun set or to just soak in the brilliant views of the city and the sea. This place is at an elevation and gives a 360º view of the city. The best time to go here is before a sunset. As the sun goes down, you can see the city coming alive with lights. 
This place has its own dedicated website. You can take snacks and a chilled beer there to have a good time with your friends.
Pic courtesy: SBA73
The perfect grid of the streets and parallel roads are visible from this point. Landmarks which look exceptionally beautiful when lit up and seen from this height are the boat-shaped Hotel W Barcelona, Sagrada Familia, Torre Agbar, and the 'twin towers' of Barcelona – Hotel Arts and Torre Mapfre.
The spires of this Basilica of Sagrada Familia are lit up and looks enchanting from this spot. You can also see Torre Agbar to the left of Sagrada Familia. It is fun to see the building change colors after 8 pm every day. To your right, you can see Jesus Christ and the Sagrat Cor church illuminated on top of Mount Tibidabo. All in all, the city looks like a giant carnival from Bunkers del Carmen.
Sitges
Take a train from Passeig de Gracia to go to this quaint old town. A lot of people who live in Sitges work in Barcelona during the day. Sitges has cheaper rents and more tranquil than the bustling Barcelona.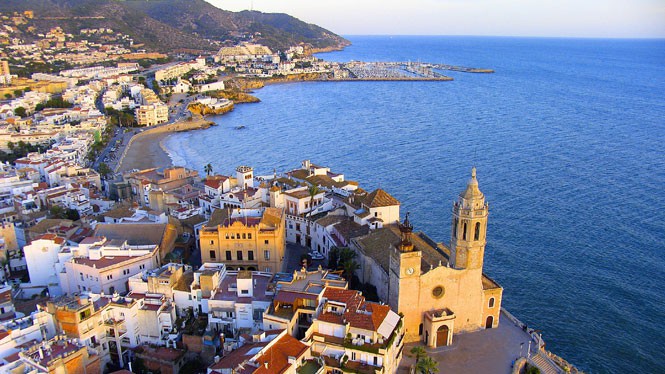 This beach town has a cathedral right on the beach. Sitges is famous for its nightlife and a great collection of restaurants. Surfing is a popular sport here. Sunbathing topless is a common sight if you are here during peak summer. 
Girona
I cannot stress how beautiful this town is. Famous for the narrow cobblestoned alleyways leading up to the cathedral on the top of the hill. This cathedral shot to fame when it appeared in Game of Thrones. The town is extremely gorgeous and pleasant to explore by foot.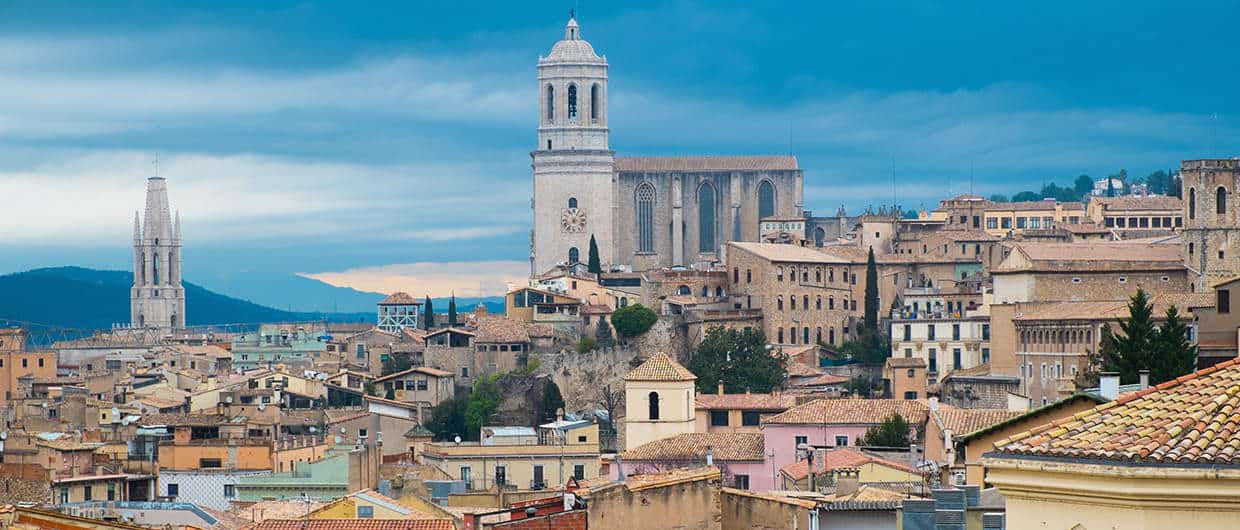 The Onyar river that cuts through Girona. There are bridges that connect from one part of the town to the other. The buildings that line both the sides of the river along with their reflection the river water makes for a good photo op!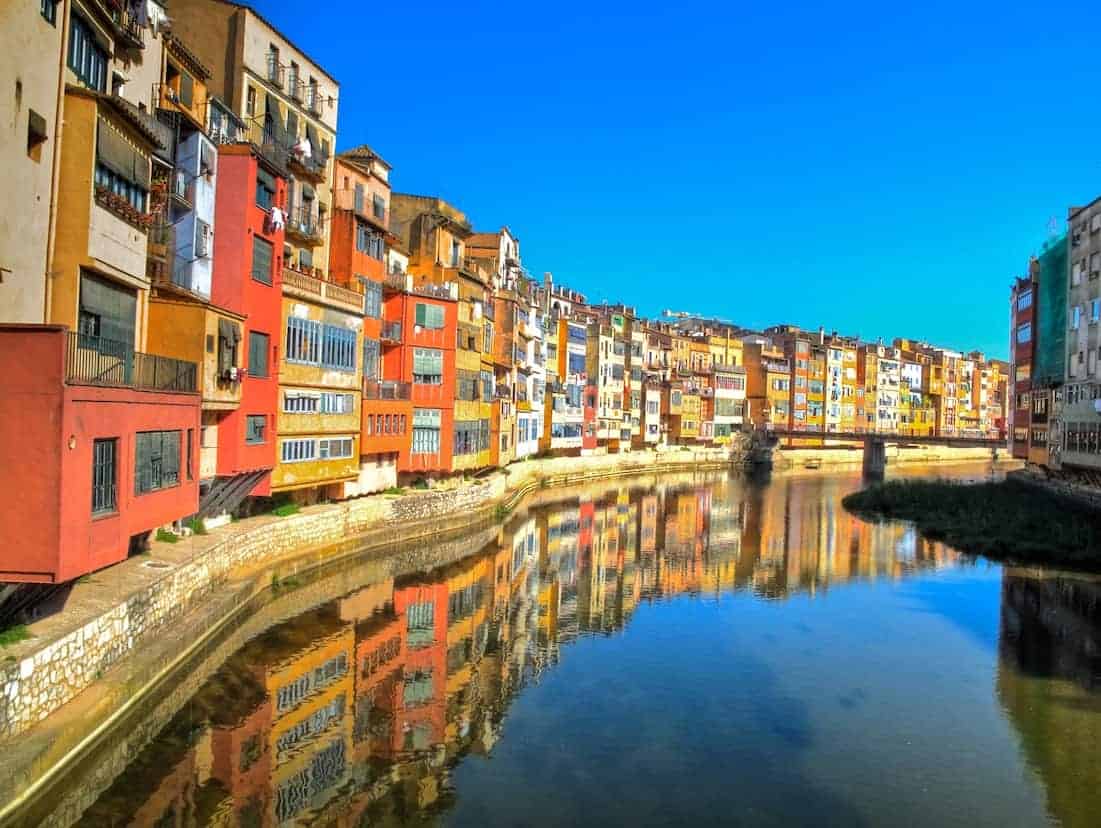 When you are here, go to this famous ice cream shop called Rocambolesc. The queue during summer to eat a scoop of artisanal ice cream is more than 20 meters long. I am not kidding! The best ice cream I have ever eaten is from this place. 
Tossa del Mar
This town looks like it was built after drawing inspiration from a fairy tale. There is a castle called Castillo d'en Plaja right on the beach which adds the whole charm to this place. I think it is the castle which makes Tossa de Mar so unique and the destination capitalizes on this fact.
The views of the sea from the walls of the castle is breath-taking. Turquoise blue waters splashing against the rock below the castle sending a gentle spray of water every now and then adds to the fun.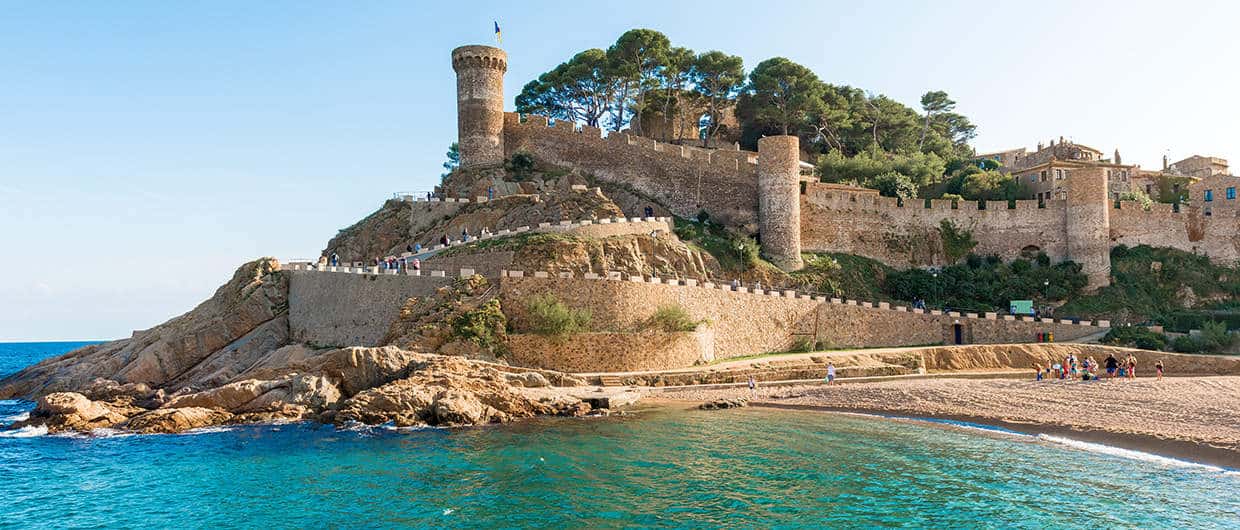 A bus ride to Tossa de Mar from Barcelona back and forth costs around 20 euros. The beach is lined with cafes, restaurants, street food vendors and food trucks. The best dish to try is the crepes freshly served hot from the pan sprinkled with toppings of your choice.
Choose a nice spot in the interiors of the town and read a good book. Or go exploring the winding cobblestoned streets around the castle.
Other beach towns to visit are Calella, Cadaques, and Lloret de Mar. If you love to explore more such towns in Catalunya, then check out this blog.
Rent a yacht/sailboat
This sounds like a preposterous idea for backpackers. But read further. You can actually rent a yacht for a few hours to half a day for good prices. Depending on the size of the boat, the price varies between 60 euros to 1000 euros for an hour on a boat. Go check Click&Boat who rent yachts and boats on behalf of their owners.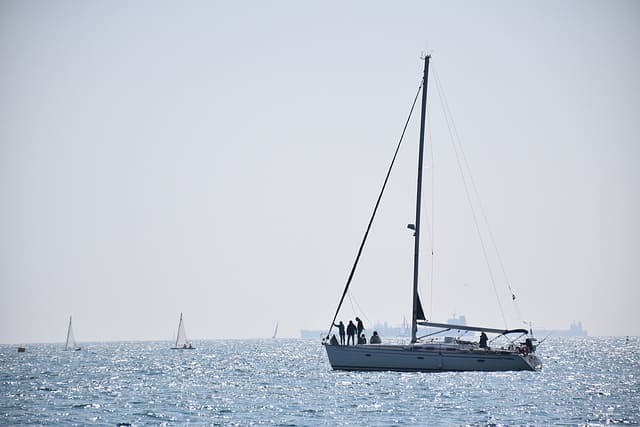 I can tell you it is well worth the money if you are celebrating a special occasion. The peace and tranquility away from the crowded beaches of Barcelona and sunbathing on a yacht is definitely a priceless experience.
Go for a helicopter ride
It costs 100 euros for 30 mins on Cathelicopters. If you have never experienced a joyride on a helicopter, then you should try this in Barcelona.
One aspect of Barcelona that is worth an applause is its town planning. Perfect square blocks and streets running parallel to each other has been designed scientifically. The Eixample neighborhood is famous for this perfect grid-like streets. While walking on the streets is one way to explore, imagine the sight of this perfection from a helicopter high up in the air.
Other things that you will see are the shoreline dotted with high rises, the scale of Camp Nou stadium, the Sagrada Familia basilica which is under construction, and more from the dizzying heights of a helicopter hovering above the city.
Hiking in and around Barcelona
Hiking is a favorite weekend activity for residents in Barcelona. A lot of them are fitness enthusiasts and participate in group or solo hiking adventures.
Montserrat just outside Barcelona, Valle de Nuria near the border of France, hiking in Costa Brava, and even on the hills that you see that surrounds the city are good places to explore. Check this list of places to hike around Barcelona which are best for travelers.
If you have a week or two in hand, there is so much that can be done around Barcelona. You can even go to the Balearic Islands off the coast of Spain. You can check out our Menorca guide where we have detailed all the activities that you can do. We hope these suggestions will help you go experience offbeat locations near Barcelona.
Do write to us, in case you have any questions and we at Talk Travel are happy to help. If you need any help in building a travel itinerary or you have any other query, download our free TalkTravel App. It is available for download on your Android or iOS device. You can download the TalkTravel App for free and reach out to the local expert without any additional cost. You are free to ask any doubt before or during your travel and our local expert will be ready to assist you.
We wish you a safe and happy travel!