Home » Kids » Rome with kids – 10 things to do
Rome, the capital of Italy with nearly 3,000 years of globally influential history, is indeed the 'eternal city' of the world. Its charismatic landscape is overflowing with world-class museums; Byzantine mosaics, Renaissance frescoes of famous churches and medieval piazzas. Rome with kids provides a new perspective to the city and offers plenty of fun-filled activities. Your find a lot of kid-friendly things to do in Rome (and great places to eat, too)!
In Rome, as they say what's not to love?! Kids will enjoy exploring the Catacombs and relishing pizzas, home-made gelatos on steps of various classical treasures
Ready for a Rome family vacation? Check this list of things to do in Rome with children!
1) Explore the famed Roman Colosseum with kids
Any trip to Rome would be incomplete without visiting this famous attraction. The Colosseum is an iconic amphitheater considered to be one of the seven wonders of the modern world. Here the exhibitions of exotic animals, executions of prisoners, recreations of battles and gladiator fights all took place in ancient times and kept the Roman people entertained for over 500 years. Its vast spectacular sights are likely to thrill both young and old alike.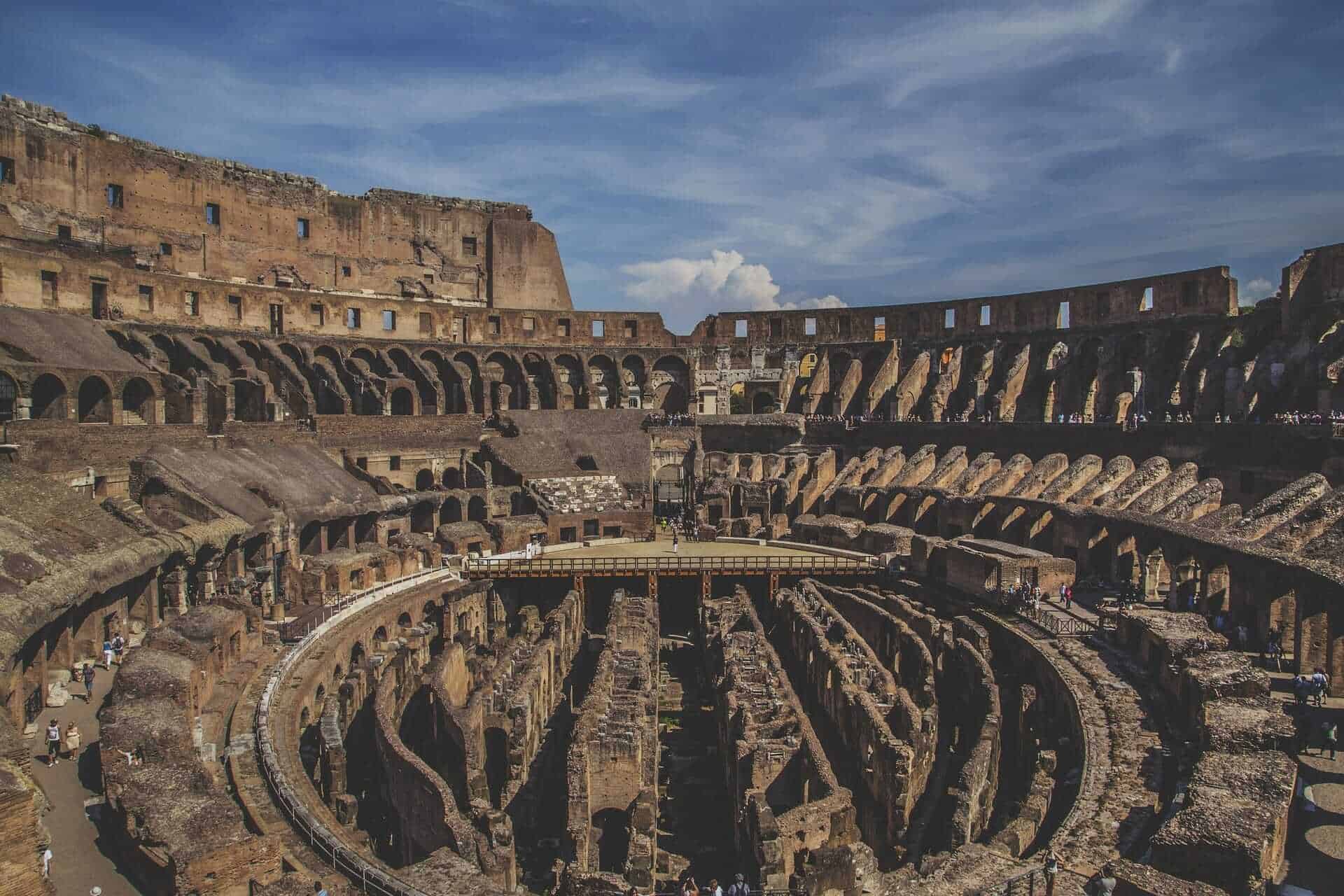 However there are massive queues of visitors at all times, so it is highly recommended you buy the skip-the-line passes online. Also, there are other kinds of combined tickets available for the place (combined with other major attractions), so book accordingly.
Opting for a guided tour for seeing the Gladiator tunnels and the underground of the Colosseum is advisable. Audio-Video guides are also available and are a good alternative to keep the kids engaged & help them learn a thing or two about Roman culture and history.
Strollers are not allowed inside, owing to many steep stairs. It is recommended to carry snacks, water bottles, and umbrellas for the sun (since nothing is sold inside the place), especially if you're doing Rome with children. Try visiting in afternoons when most tourist crowds would have dispersed and it's less of a hustle.
Address: Piazza del Colosseo, 1, 00184 Roma RM.
Hours: Everyday, 8.30- 19.00.
For tickets see the official website of Colosseum.
Roman Gladiators have always been a huge hit with kids. Rome offers the perfect opportunity for children to impersonate as gladiators with a two-hour lesson in basic swordsmanship, history and battle strategy. This is a perfect combination of Rome and kids.
Kids can relive the same emotions as two thousand years ago replete with gladiator clothing and armor. They can have an experience of entering into the story while discovering the secrets of Imperial Rome's gladiator games, getting hands-on with ancient Roman history and having the best fun one can imagine.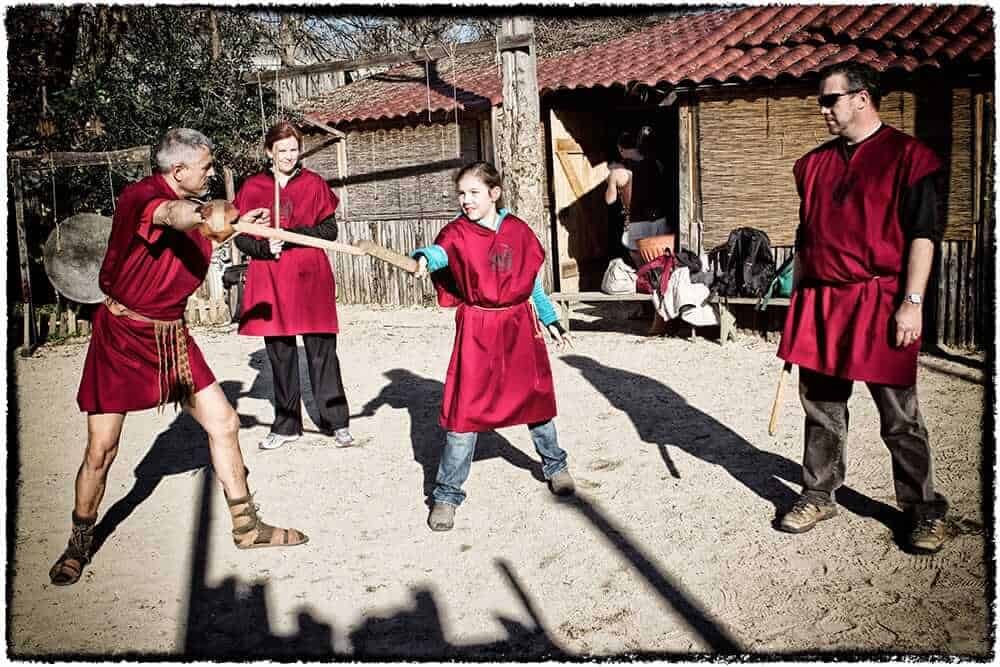 The bookings here include free entrance to the historical museum of Gruppo Storico Romano housing artifacts, uniforms and various replicas of armor. Take this experience as an add-on to your Colosseum tour.
Address: Associazione Culturale Gruppo Storico Romano Via Appia Antica 18 – 00179 Roma.
For bookings see Gruppo Storico Romano website.
The Borghese Gardens feature many kid-friendly activities and attractions from Bioparco, the Roman Zoological garden to beautiful vast green space, the water clock and an art gallery (Galleria Borghese). Don't forget to stop at this place if you're at Rome with kids.
From the entrance of Piazzale S. Paolo del Brasile, you enter the area dedicated to the entertainment of the little ones. This comprises of rides near the Casino delle Rose, the ponies, the bicycles and the little train for a panoramic tour.
At the Giardino del Lago you can hire rowing boats to paddle around a lake or catch a movie at the Cinema dei Piccoli, the world's smallest cinema situated just near the park entrance.
The Casina di Raffaello, located in Villa Borghese is a children's play-center housed in a building dating back to XVI century. This center offers a wide range of activities and workshops, suitable exclusively for children aged from 3 to 10 years, also featuring a library and a bookshop inside.
You can also head over to Pincio Terrace from where the most panoramic viewpoints of the city (can see the Vatican from above) are glimpsed. The terrace is connected to Borghese gardens by a pedestrian bridge that crosses Via del Muro Torto in the narrow cleft below.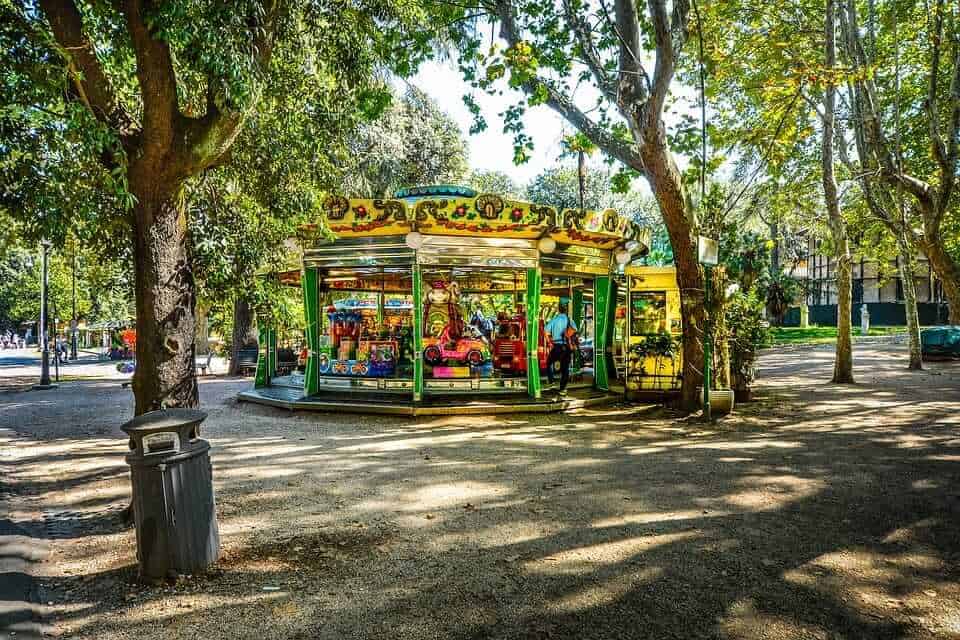 Also, do visit the San Carlino Puppet Theater while you are here with children. The various shows performed by clowns, actors, musicians, and puppets, are sure to be a fun experience and a great hit with the kids. The theater features hand-painted backdrops and props and is located in Viale dei Bambini. This is absolutely perfect in Rome for kids!
Address: Piazzale Napoleone I, 00197 Roma RM.
Entrance to Borghese gardens is free, for booking Borghese gallery tickets see this official website.
4) Explore the city's Catacombs
Mysterious and delightfully spooky, Rome's catacombs are sure to amaze kids and adults alike. The largest of them, Catacomb of St.Callisto located on the Appian Way is the most notable for containing the Crypt of the Popes from the 2nd to 4th centuries. These are also replete with ancient symbology, which children will have fun time learning and deciphering. Archaeologists have found the tombs of 16 popes, dozens of martyrs and thousands of other Christians in over a 20 km of tunnels explored till date.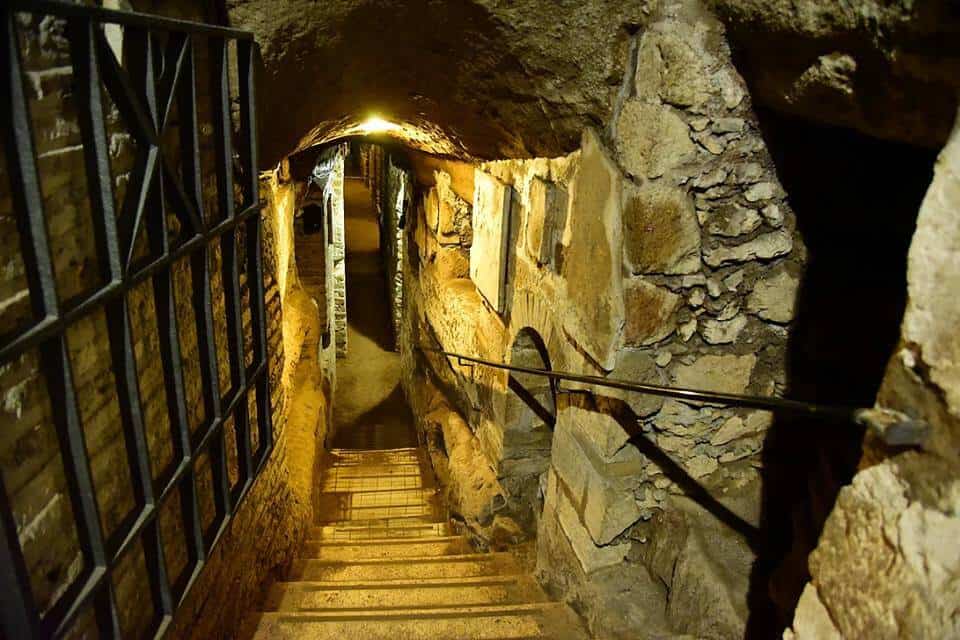 Just down the way, lies another one- the Catacomb of St. Sebastian, also considered to be one of the seven pilgrim churches of Rome. The martyred remains of San Sebastian, Saints Peter and Paul were buried at this site (now removed), and a basilica was erected over the grounds to worship saint Sebastian in the early 4th century. The place also possesses a set of marble footprints attributed to Lord Jesus, during his walk to Rome along the Via Appia. Guided tours are available for catacomb visits.
San Callisto Catacombs Address: Catacombe di San Callisto, Via Appia Antica, 110 00179 Roma.
For booking tickets see official website.
San Sebastian Catacombs Address: Catacombe di San Sebastiano, Via Appia Antica, 136, 00179 Roma RM.
For booking tickets see San Sebastian catacombs website.
5) Let kids go back in time with Time Elevator
With Time Elevator children can have a 3D multi-sensory experience of travelling back in time. Starting with the history of Rome right from the legend of Romulus and Remus laying the foundation of the city to its various victories and defeats, development and decline of the Roman Empire, the Middle Ages, the Renaissance until the Fascist period to all the way through present day. Kids can relive the past this way, to complete the city and its monuments tour from a totally unique perspective.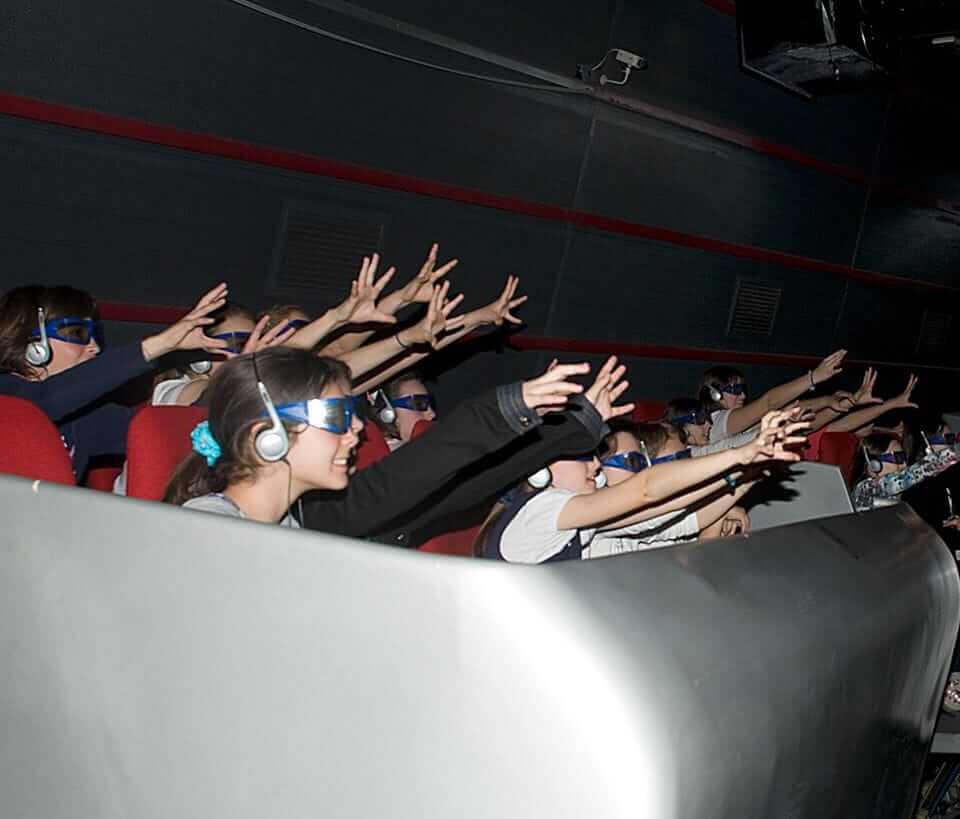 Children get to experience things in first person with a virtual contact with historical figures who have marked the main stages of the epic of Rome. The experience is complete with sounds, smells and an audio system available in 6 languages (Italian, English, French, German, Spanish, Russian).
Address: Via dei SS. Apostoli, 20 – 00187 Roma.
Tickets:
Vatican city is world's smallest state in the world and the headquarters of the Roman Catholic Church. It's home to the Pope and is a treasure trove of iconic art, architecture, museums and Christian literature.
However there are many things here that would interest children (and they aren't at all spiritual/religious). For instance- at St. Peter's Basilica, climb to the top of dome for an incredible view of Rome and spot the Swiss guards in their colorful uniforms.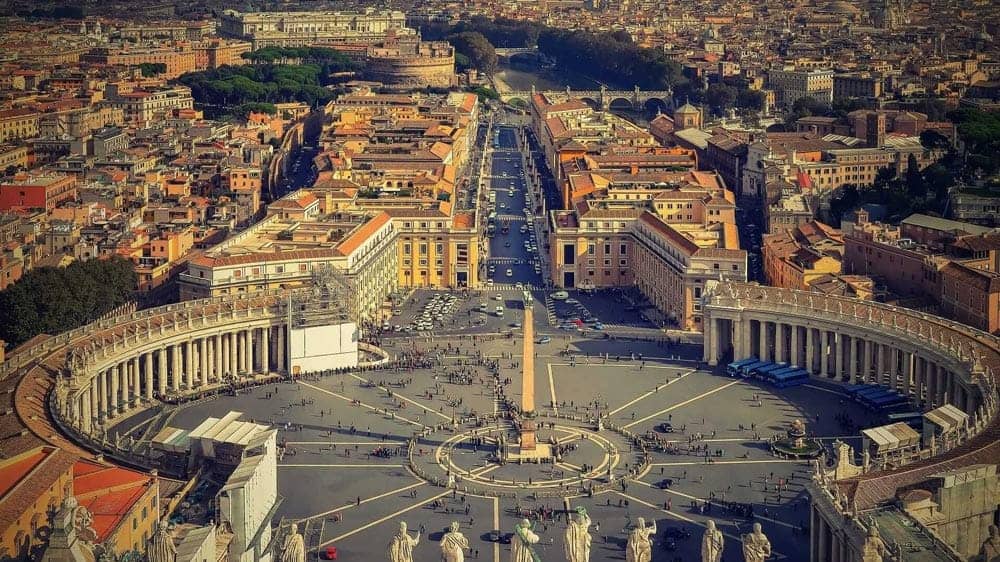 The city is an independent state, so visiting it you're literally crossing an international border (without passport). Plus the colonnade is built in such a way that from certain angles many of the columns seem to disappear (might be an interesting fact to note for children). You can also visit Sistine Chapel for glimpsing the famed Michelangelo's ceiling.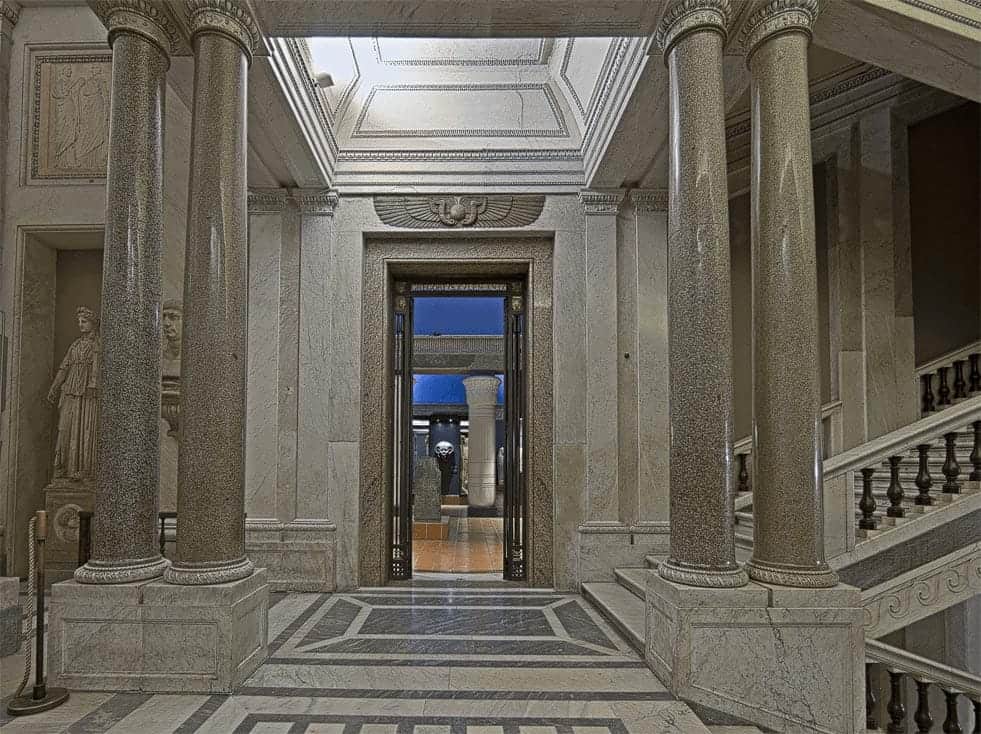 The Gregorian Egyptian museum located at the Cortile della Pigna, may keep children sufficiently interested with its sculptures of ancient Egyptian art of gods and pharaohs, basalt and painted wooden sarcophagi, hieroglyphic inscriptions, animal statues and of course the mummified heads.
When visiting Vatican Basilica and Chapel do take note of the dress code mandating covered shoulders and knees (if you're in Rome with kids, children also have to follow this rule). Guided tours/family tours for seeing Vatican attractions are available.
Admission: St. Peter's Basilica, St. Peter's Square are free.
Admission to The Vatican Museums and Sistine Chapel are combined, see the Vatican museums website.
7) Visit Explora, the children's museum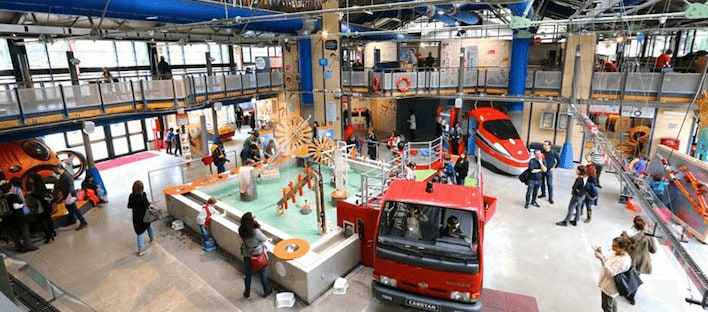 What can be more fun than visiting a museum dedicated entirely to kids? This museum that is one of the best Rome attractions for kids! A short walk from Flaminio metro station the museum is perfect for children under 12. This place features many hands-on displays, water things and an array of interactive exhibits.
There are elaborate machines teaching children about hydraulic principles, role play areas- a mini supermarket and kitchen. At the huge model of a train driver's booth, the little munchkins get to control Italy's fastest train: la freccia rossa.
Explora consists of an exhibition pavilion, a kitchen dedicated to food education laboratories, a bookstore, a shop, a restaurant and a green area with free access equipped with games and photographic exhibitions. The museum also conducts various workshops for children.
The visits are organized in 4 shifts of 1 hour and 45 minutes each to manage visitor flows and avoid overcrowding. Museum visits are not guided.
Address: Via Flaminia, 80/86 – 00196 Rome.
For booking tickets see Explora website.
What makes this tour to the ancient ruins of Baths of Caracalla special is its virtual reality experience. Kids seven and older will enjoy the reconstructed reality of VR used to picture the grandeur of the baths in its heyday. Just peer in through your VR goggles and the room you're standing in will be transformed into its former glory in a flash.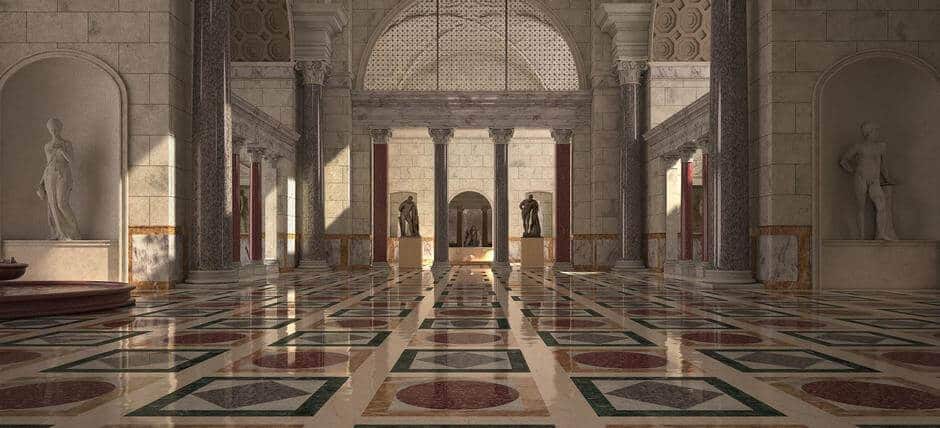 The shattered mosaics will look complete as you gently take in the history of the place and specifics of the concerned area. An unobtrusive commentary plays in the background. Many of the remnants of the place are still in a remarkably good condition, so you can fairly appreciate their rich glory and history even without the VR set.
However Farnese Bull from these Baths, the largest sculpture ever found from ancient times, really is easy to imagine in its full grandeur with the virtual reality goggles. Guided tours are available as well. A great activity if you're in Rome with kids.
Address: Viale delle Terme di Caracalla, 00153 Roma.
Hours: 9.00- 18.15.
For booking tickets see the official website here, booking VR goggles is an extra €7.
9) Go shopping for toys
In a digital world like ours where almost everything is a techno-rage, Bartolucci Italy stands out as a unique toy store where everything is made of wood. Kids will have an amazing experience here. They will especially love the beautifully carved Pinocchio line (all entirely made and hand-painted). The store has many unique, valuable and dense products from gifts and collectibles, to furnishing accessories and games, all strictly made in Italy. One of the best things to do with kids in Rome.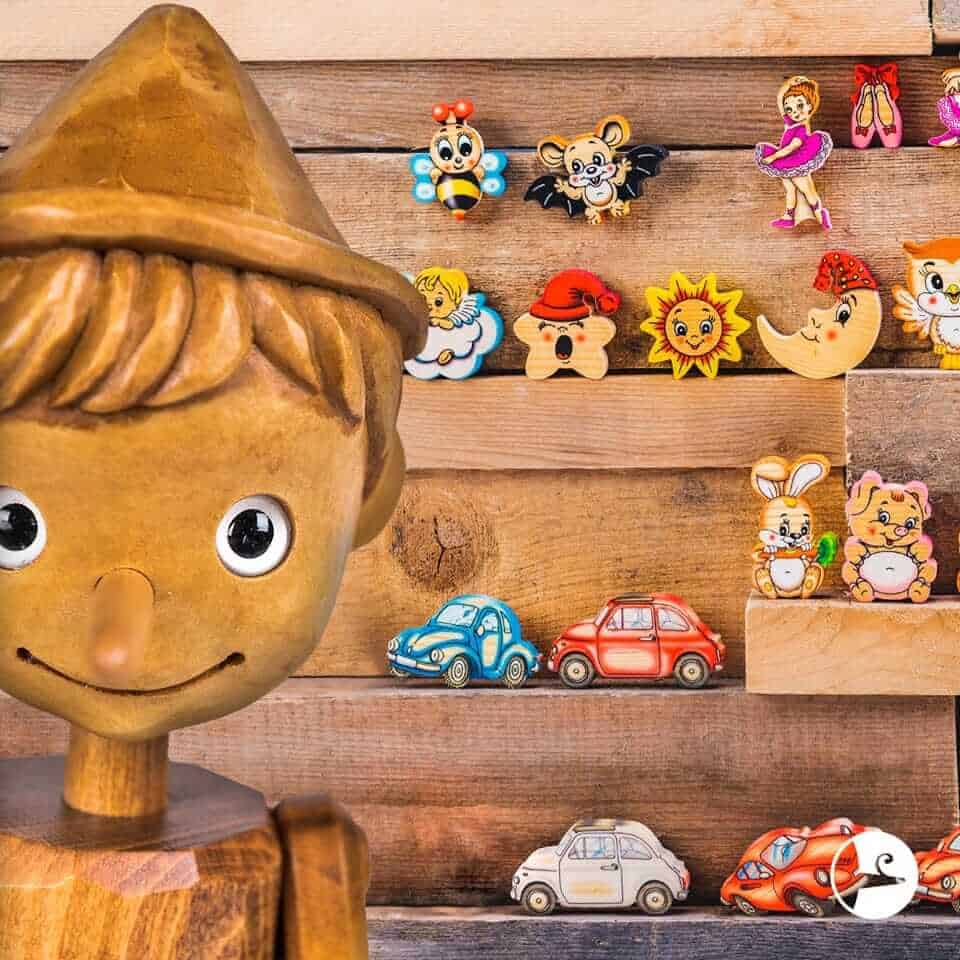 You can also pay a visit to another toy store- Al Sogno. It is a gift place with old-world style Italian toys, game boards, Italian souvenirs, classic kids' toys, and stuffed animals.
Bartolucci Italy Address: Via dei Pastini, 96-98, 00186 Roma.
Hours: Everyday 10.00- 22.30.
Al Sogno Address: Piazza Navona, 53, 00186 Roma.
Hours: Everyday 10.00- 20.00.
10) Toss a coin in Trevi fountain
Visit these historic, majestic and world-famous fountains, even if it is just for the sake of a story lore and crossing an item off your bucket list. The kids will definitely enjoy the idea of making their very own fountain wish by tossing a coin in the famous fountain. After all which one of us would want to miss the chance of returning to this beautiful city again before too long!
According to the legend by throwing a coin from the right hand over the left shoulder into the Fountain, you can return to Rome again. The second toss of the coin leads to a new romance. While the third will lead to marriage (no guarantees of course :D). One of the must-do family-friendly activities in Rome!
At 26.3 meters high, it is the largest Baroque fountain in the city dating back to 1762. There is an amphitheater of seats to relax and enjoy the place. So chill out with a slice of pizza and gelato here. To have the best experience and fewer crowds, visit the fountain at night. At this time it comes alive with its LED lights installed to improve nighttime illumination of the fountain.
Address: Piazza di Trevi, 00187 Roma.
No entry fees.
Ready to enjoy Rome with kids? We sure are! And, if you're looking for more children-related guides, check our kids' section.