Home » Kids » Barcelona with kids -10 things to do
The enchanting city of Barcelona sits drenched in the Iberian sun with a backdrop of deep-blue Mediterranean Sea. This cosmopolitan capital of Spain's Catalonia region is known for its art, architecture and bountiful natural beauty.
It also has numerous parks, play-areas, beaches, amusement parks and kid-friendly activities to indulge in
So if you are planning a family trip to Barcelona with kids in tow, we have you covered. Following low-down lists various amazing things you can do with children in Barcelona, without them getting bored. Hop on the adventure! Happy travels!
Also, if you want more guides for kids around different cities of the world, check all of our guides.
The zoo is located in Parc de la Ciutadella and is ranked amongst top zoos in Spain. One of the city's most popular family attractions features open enclosures with a wide selection of about 400 species.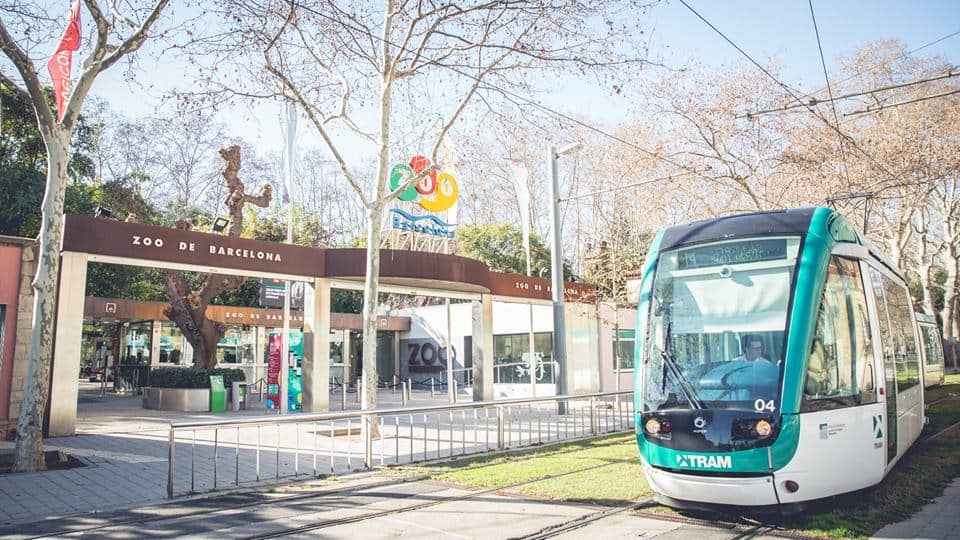 These encompass wild animals, birds with special displays of reptiles such as iguanas and chameleons. The zoo also boasts of a pod of dolphins and sea lions that perform acrobatic shows at specific times each day.
It is heavily involved in education, conservation, and research projects. A visit here can be great fun for the entire family.
Address: Parc de la Ciutadella, 08003 Barcelona
Tickets as of October 2019: Adults: € 19.25 | Children (3-12 y/o): € 11.65
The nightly show is spectacular featuring a water fountain dancing to lights and music. It looks much better later in summers when it gets pitch dark.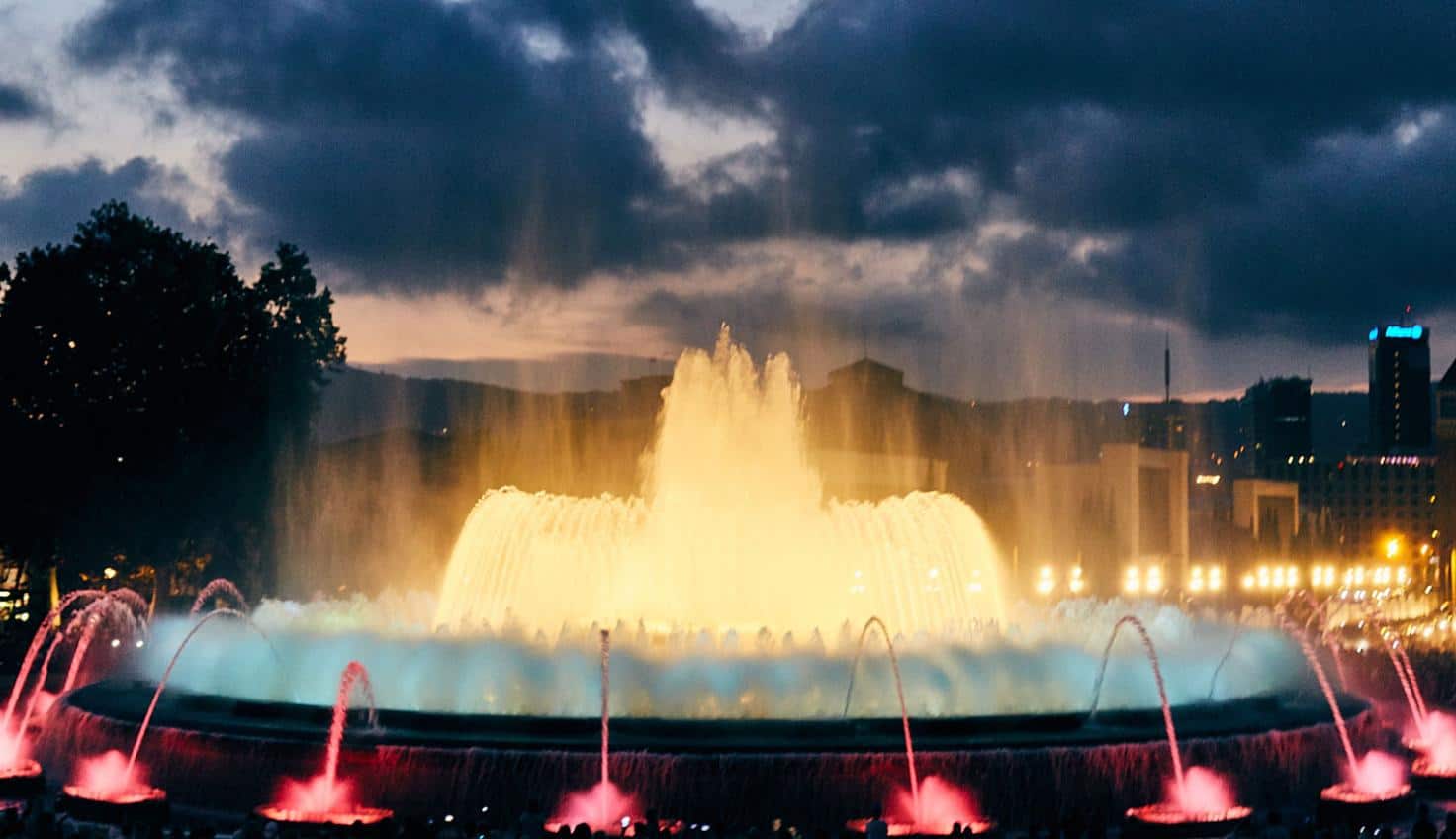 Its amazing display of color, light and water acrobatics with musical accompaniment is sure to delight the children and adults alike. The shows run every Wednesday to Sunday in the summer months and every Thursday to Saturday during winters.
Address: Plaça de Carles Buïgas, 1, 08038, El Poble-sec (Sants-Montjuïc), Barcelona
Admission free
One of the most fascinating kids' attractions of the city, Aquarium Barcelona can be a treat for all of the family. It is Europe's only Oceanarium, with over 11,000 animals and 450 different species. Visitors get to walk through an underwater tunnel and see live feedings and shark divers.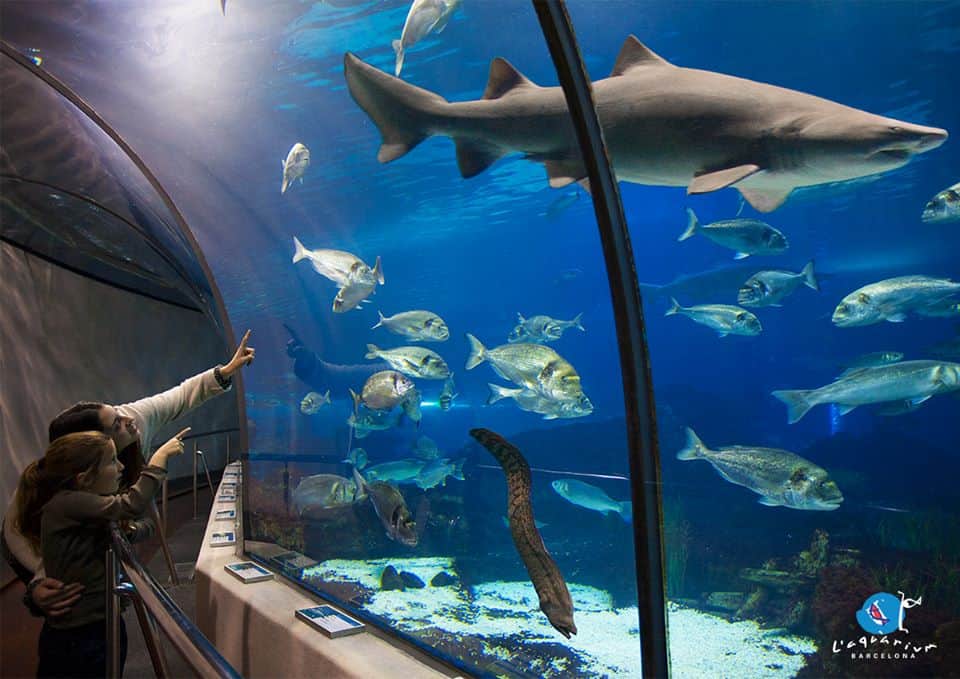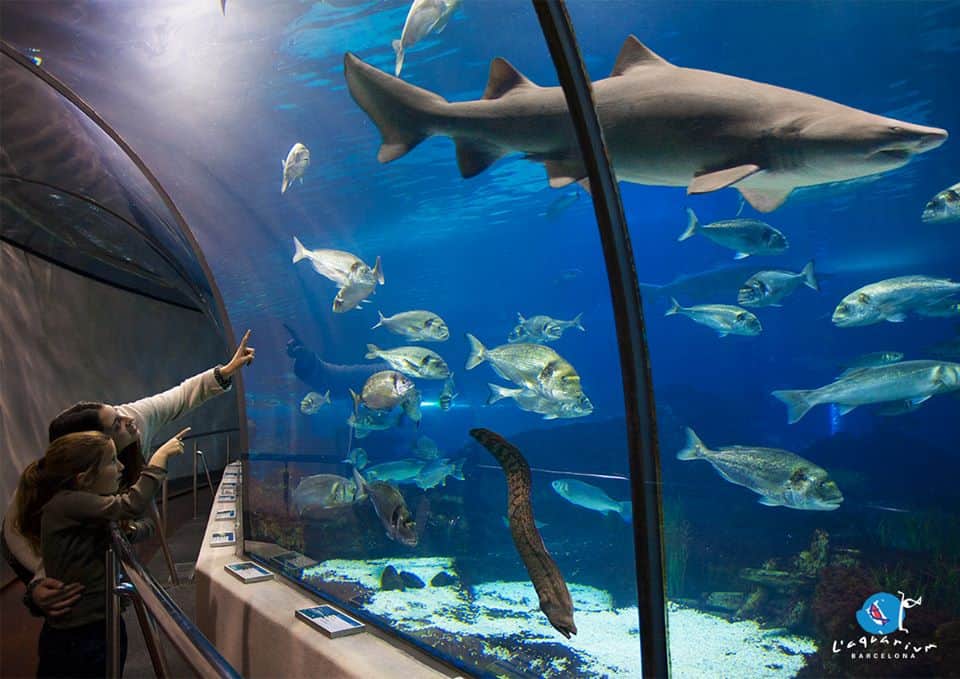 Diving and sleeping with sharks, shark immersions are some of the activities available for kids here. The aquarium is also the largest Mediterranean-themed aquarium in the world. It consists of 14 separate aquariums representing the different marine systems, from the Mediterranean to the Tropical Coral Reef.
There is a permanent 'Jewels of the Sea' exhibition here featuring mollusks and their exotic shells. All in all the place is a must-visit.
Address: Moll d'Espanya del Port Vell, s/n, 08039 Barcelona
Tickets as of October 2019: Adult: €21.00 | Child: €16.00
This amusement park is located on Tibidabo in the Collserola Ridge in Barcelona. It is Spain's longest-running amusement park and Europe's third-oldest. Reaching the park can be a bit of a trek since it is located at the top of a mountain. But for older kids, this might be fun. Also, one of those offbeat things you can do in Barcelona.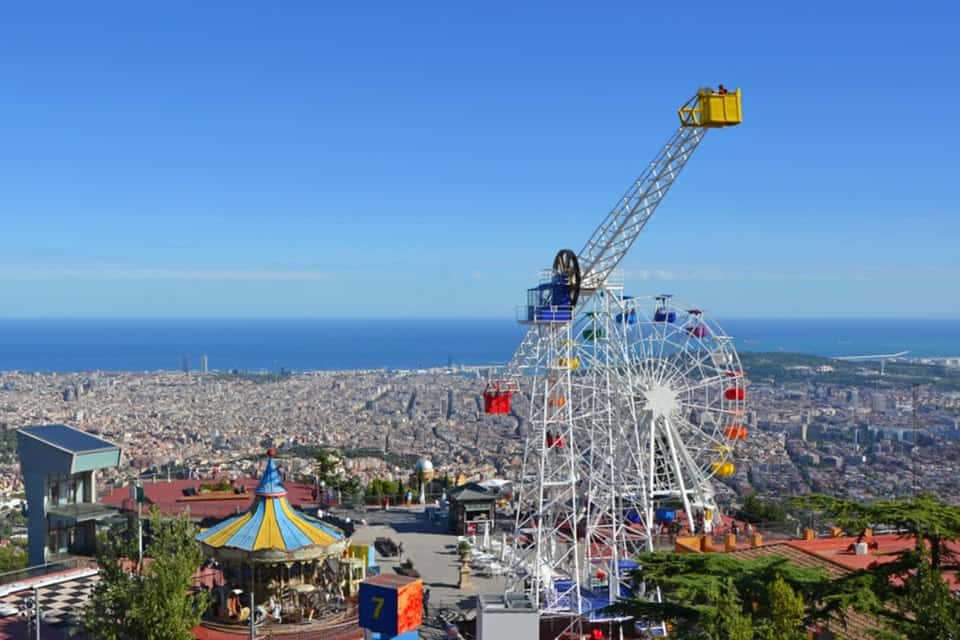 The park offers a stunning view of Barcelona from the top, with over 30 attractions and rides suited for kids, teenagers, and adults alike. Restaurants and cafes with incredible views, indoor dining, picnic areas, and museums are also present.
Don't miss the Muntanya Russa roller coaster, Giradabo Ferris wheel, and L'Avió Airplane ride when visiting here. A blast for the entire family is guaranteed at this one of a kind amusement park.
Address: Plaça del Tibidabo, 3, 4, 08035 Barcelona
Tickets as of October 2019: Adults: €28.50 | Kids (<120 cm): €10.30
5) Ride the Cable Cars
Barcelona is surrounded by two mountains, so cable cars are a sure-fire way for visitors to enjoy the most panoramic views of the city. Two cable cars are operational, the Montjuïc Cable Car and the Port Cable Car.
Both proffer sprawling views of the cityscape and its seaports in all their glory, covering a considerable stretch of the route.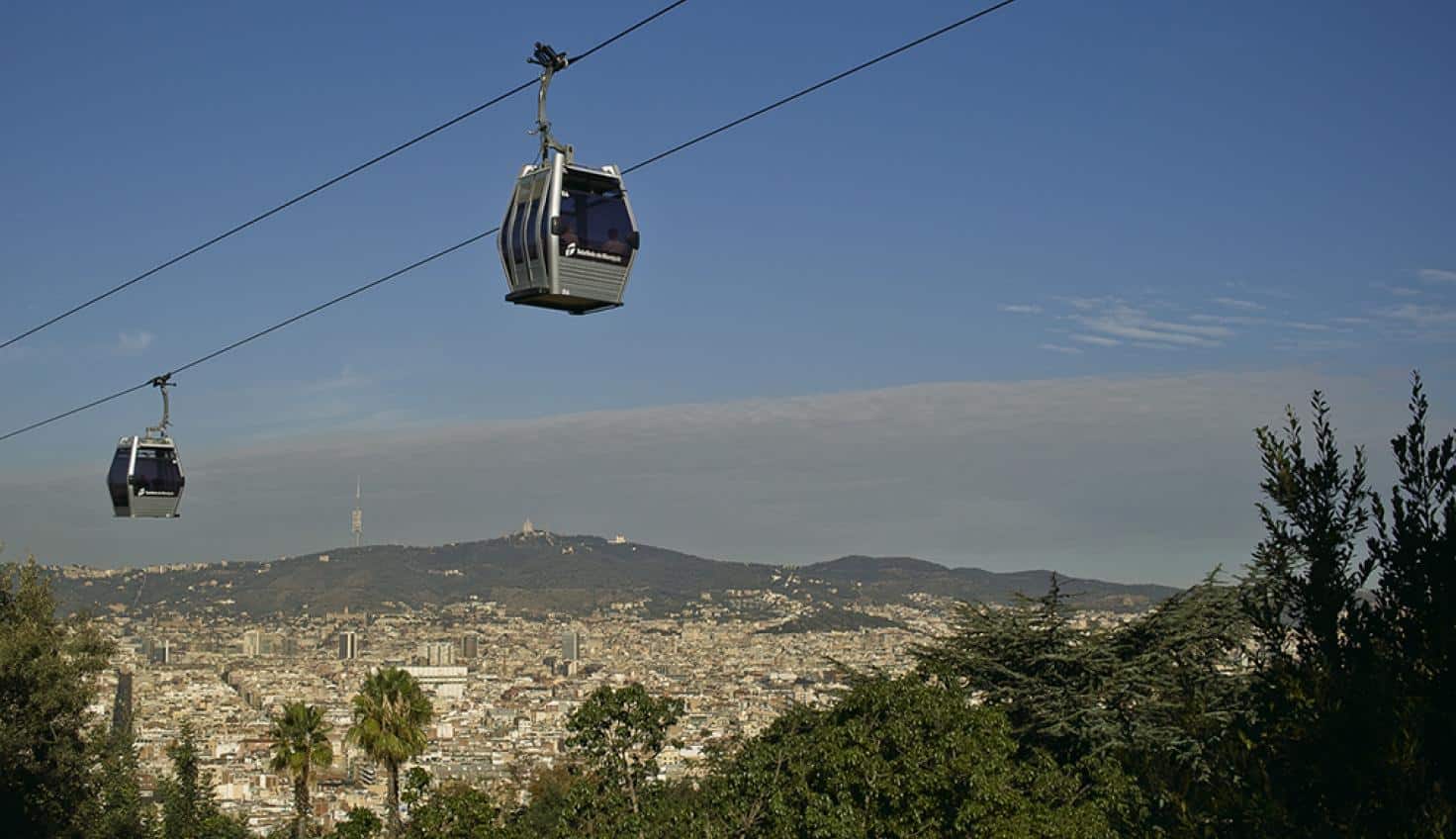 Port cable car (Telefèric del Port) crosses Barcelona's old harbor called Port Vell from Torre Sant Sebastià to the Miramar Gardens viewpoint in Mount Montjuïc. While the Montjuïc cable car (Telefèric de Montjuïc) rises a vertical distance of 100 meters to get to the Montjuïc Castle. The views from the top of Mount Montjuïc are breathtaking as well.
For schedules and tickets as of October 2019: Visit this website
A green oasis amidst the city bustle, Parc de la Ciutadella is located on the northeastern edge of Ciutat Vella. Oldest and largest in the city, the park is home to the Barcelona Zoo, museums, green open spaces, a lake, a fountain, sculptures and places for picnic and sports. It also houses Castell dels Tres Dragons, the Umbracle (plant house) and Hivernacle (glasshouse).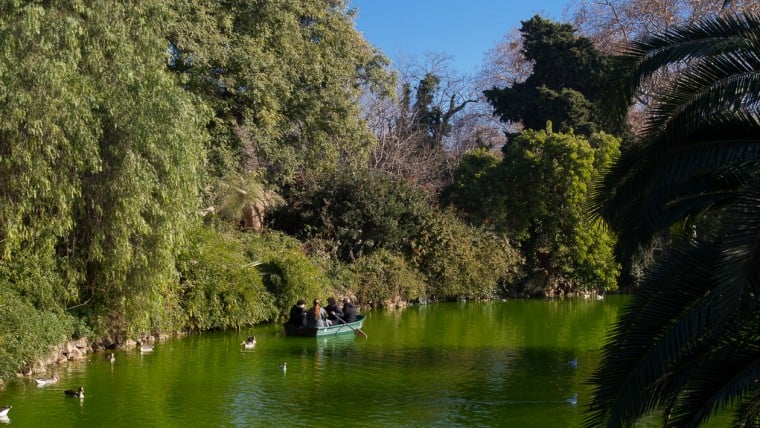 The space is perfect for spending an idyllic beautiful day away from the chaos of the busy city life. Children can have a fun time just playing around. Boating, cycling, jogging can all be done here and bikes and the boats are available for hire.
At Martorell Museum and the Laboratory of Nature visitors can take in the history of natural history itself along with many other natural collections on display. Additionally, kids will love climbing on the trunk of a large Stone Mammoth statue situated in the park. Admission entrance is free.
Address:  Passeig de Picasso 21, Ciutat Vella 080033 Barcelona
Entry is free
What kid in the world doesn't love chocolates?! A visit to a museum featuring famous artworks rendered in chocolate is sure to get the kids jumping up and down with joy. The displays here trace the origins of chocolate, its arrival in Europe and the many myths and imagery associated with it.
There are large sculptures made of chocolate with an explanation of the chocolate-making process. Guided tours are available. Visitors can also partake in chocolate-making and tasting sessions, especially at weekends. Just worry about how the rest of Barcelona with kids will be after all that energy!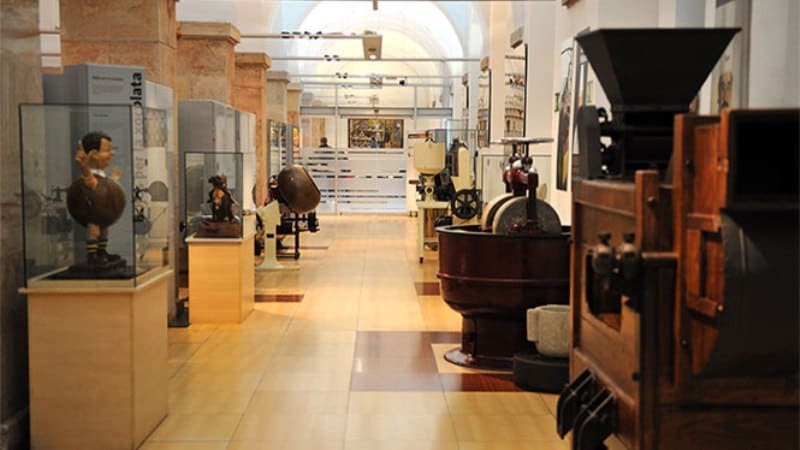 Best news- Everyone receives a piece of chocolate as their admission ticket. Chocolates can also be bought at the cafe near the exit.
Address: Carrer del Comerç, 36, 08003 Barcelona
Tickets as of October 2019: € 6 | Kids (under 7 y/o): free
8) Have fun at the City's Beaches
Barcelona is blessed with a fairly long stretch of coastline, so numerous beaches dot the city. These are certainly worth a try for spending quality time with the entire family. Barceloneta with its beautiful promenade and fairly clean golden sands is an obvious choice for most.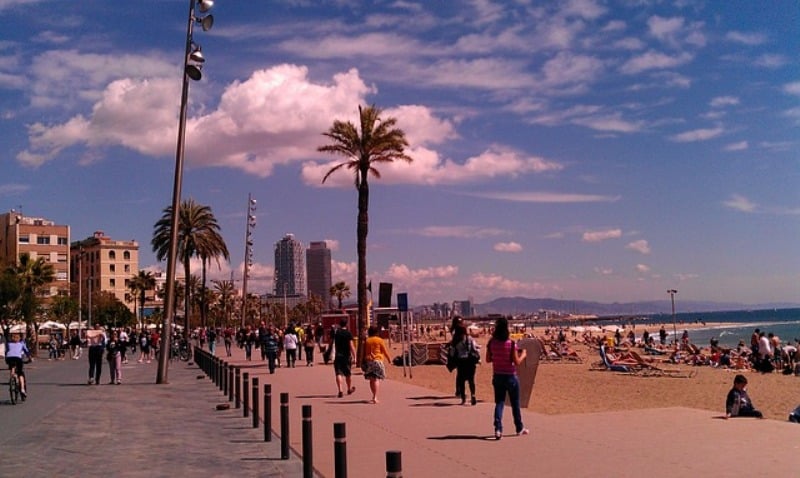 Here one can sunbathe, stroll, run, bike ride or just have some fun in the water. The beach and the surrounding area have something for everyone- outdoor gym areas, open-water swimming lanes & gourmet restaurants along with some remarkable landmarks.
Beaches at the Olympic Village are however a bit more kid-friendly featuring a spider's web climbing structure and a playground. So take your pick and brace for some fun time.
Entry is free
Poble Espanyol is an open-air architectural village museum (one of the best things to do if you're visiting Barcelona with kids). It recreates the diversity of Spain through a combination of architecture, contemporary art, traditional crafts, shops, and gastronomy. There are over 100 replicas of full-scale buildings from different parts of Spain.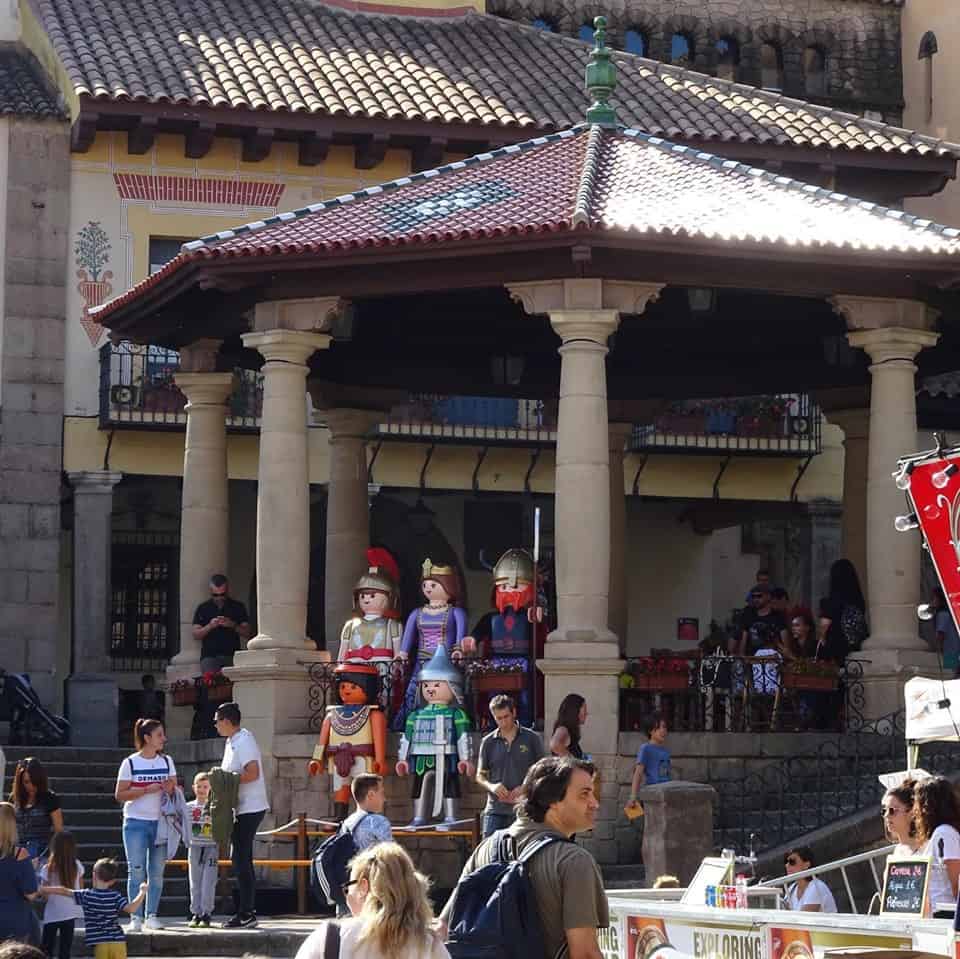 The good news is the area is free of traffic, so kids can run around freely and explore. There are lots of touristy shops and handicrafts to shop from and restaurants to indulge in a bite or two. It can be an instructive and fun experience for a bit older children, to observe the artisans at work in their workshops (example at the glass blowing craft).
Overall the region is enjoyable to explore with its vibrant squares, street shops, displays and alleyways making for a nice leisurely afternoon.
Address: Av. de Francesc Ferrer I Guàrdia, 13 08038 Barcelona
For Tickets as of October 2019: visit Poble Espanyol website
10) Visit La Sagrada Familia, the unfinished Roman Catholic Church
Any trip to the city would be incomplete without a visit to this world-famed unfinished basilica by Antoni Gaudí. The site is the best-known symbol of Barcelona. However, it is still in construction even after almost 100 years of Gaudí's death.
The interiors of this architecture are stunning with a very creative blend of color, space, and stonework. While the exterior has an expansive dimension and lush design. The church is devoted to the Holy Family: Jesus, Mary, and Joseph. It is very grand and unique; quite unlike any other building/church one has ever seen.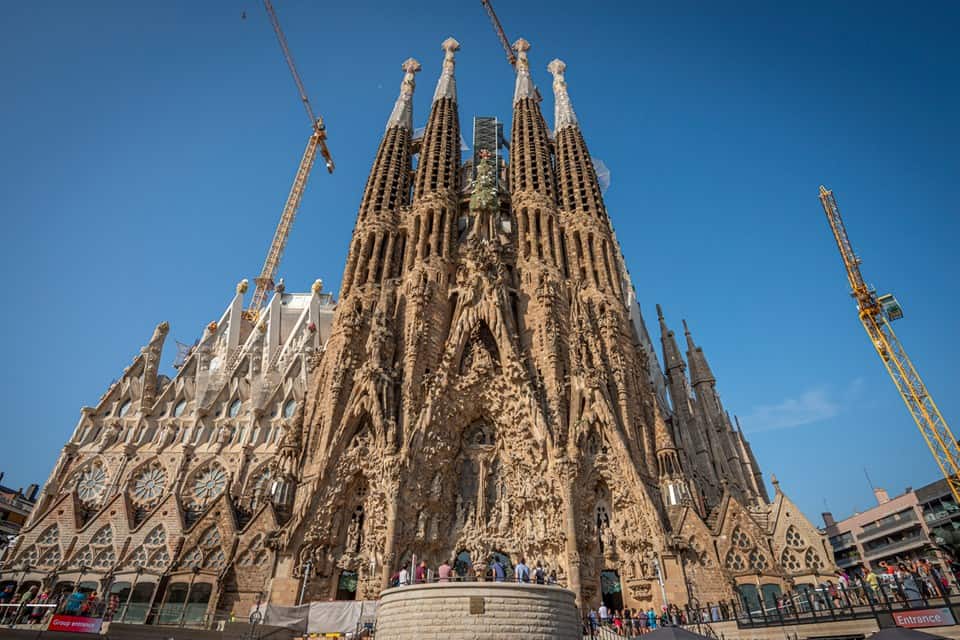 Audio guide tours are available and will keep the kids entertained. Going up one of the two towers (Nativity & Passion) of the church, for a spectacular view of the city can also be a cool experience. The queues here get quite large, so it is recommended to book tickets ahead online.
Address: Carrer de Mallorca, 401, 08013 Barcelona
For Tickets as of October 2019: Visit La Sagrada Familia website
So this was Barcelona with kids. Had fun at these amazing places?! How was your experience, let us know in the comments below 🙂
And, if you get hungry, don't forget to visit our list of the best vegetarian restaurants in Barcelona.