Home » India » Must try cuisines from South India | TalkTravel App Food Guide
Traveling across South India is a great experience. Besides that, there are a variety of landscapes to explore, like the mountains and along the coastline. To feel like a local, you need to immerse yourself in the local food culture. Cuisines from South India are famous for their simplicity in taste and for the ease in making them. 
Cuisines from South India consist of food from Karnataka, Andhra Pradesh, Telangana, Tamil Nadu and Kerala. The cuisines from South India are fairly uniform across all these five states.
For example, the South Indian meal is a famous type of food here. The great thing about this meal is that you can try several dishes since they serve you small quantities of them. Almost every restaurant in India sells this meal at very affordable prices.
Don't forget to also check our guide on the must-try cuisines in North India.
Rasam and rice is another popular combination commonly consumed for lunch or dinner.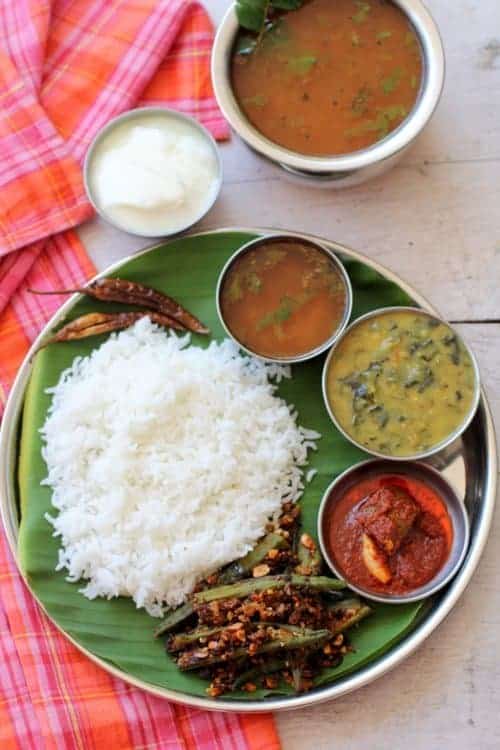 Cuisines from South India to try in your travels:
Karnataka Cuisine
People from the north of Karnataka have a sorghum or maize-based diet with little rice. They make a flat and circular bread called roti (made with dried and powdered corn) and you can eat it with onions, chilies or pickles. 
Karnataka has a long coastline so they consume a lot of seafood. Incidentally, this exact stretch of land also has a lot of vegetarians.
Most importantly, dosa and idli are the most important breakfast dishes among all the cuisines from South India. Dosa is a thin and crisp circular pancake roasted on a hot pan. The batter of the dosa is also used to make the idli. The difference is in the preparation: it's steamed in little amounts on a hollowed out plate. Idlis are very soft and fluffy.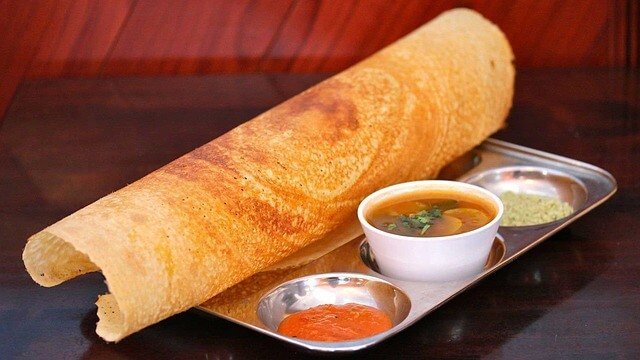 Accompany the dosa and idli with sambar or coconut chutney. Chutney is a mixture of coconut (grated), coriander leaves, and green chillies which are ground to a fine paste. Sambar is a watery curry made of lentils. Most of the times, people eat idli with a vada, which is a deep-fried donut made of ground lentils.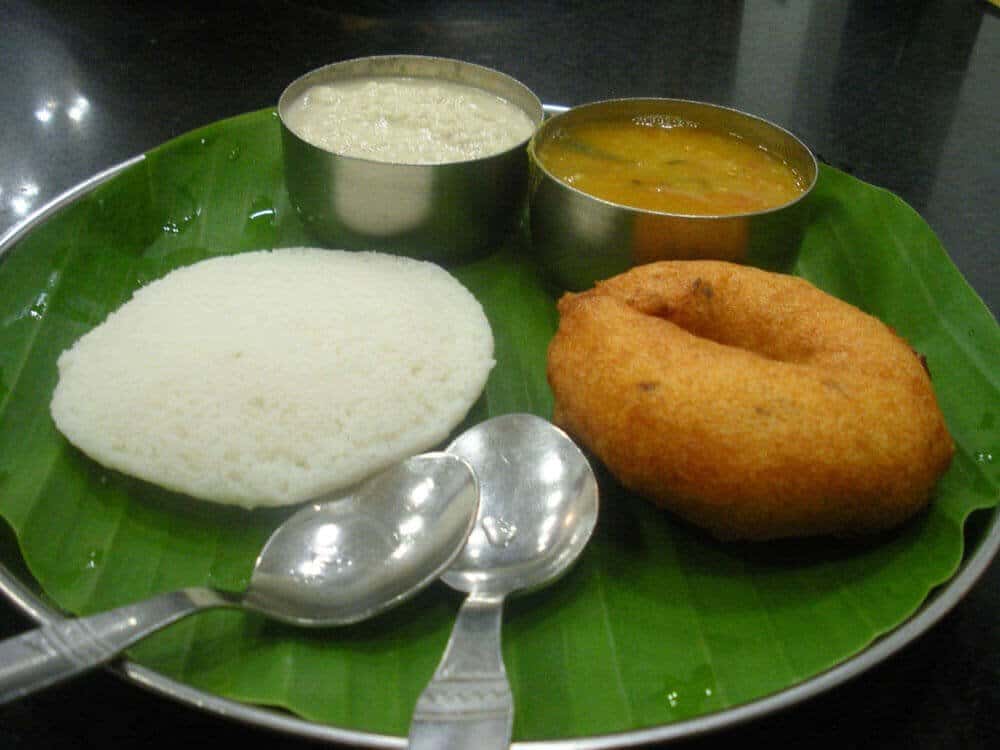 The south of Karnataka grows an important millet called ragi. For lunch or dinner, you can have ragi balls or ragi rotti (a pancake-like dosa). It is a very healthy meal and it's consumed frequently in rural areas.
A small region within Karnataka which has a distinct cuisine is Coorg. They mostly eat rice and have a deep love for pork. For example, spicy pork dishes are popular and a must-try dish for travelers who visit Coorg.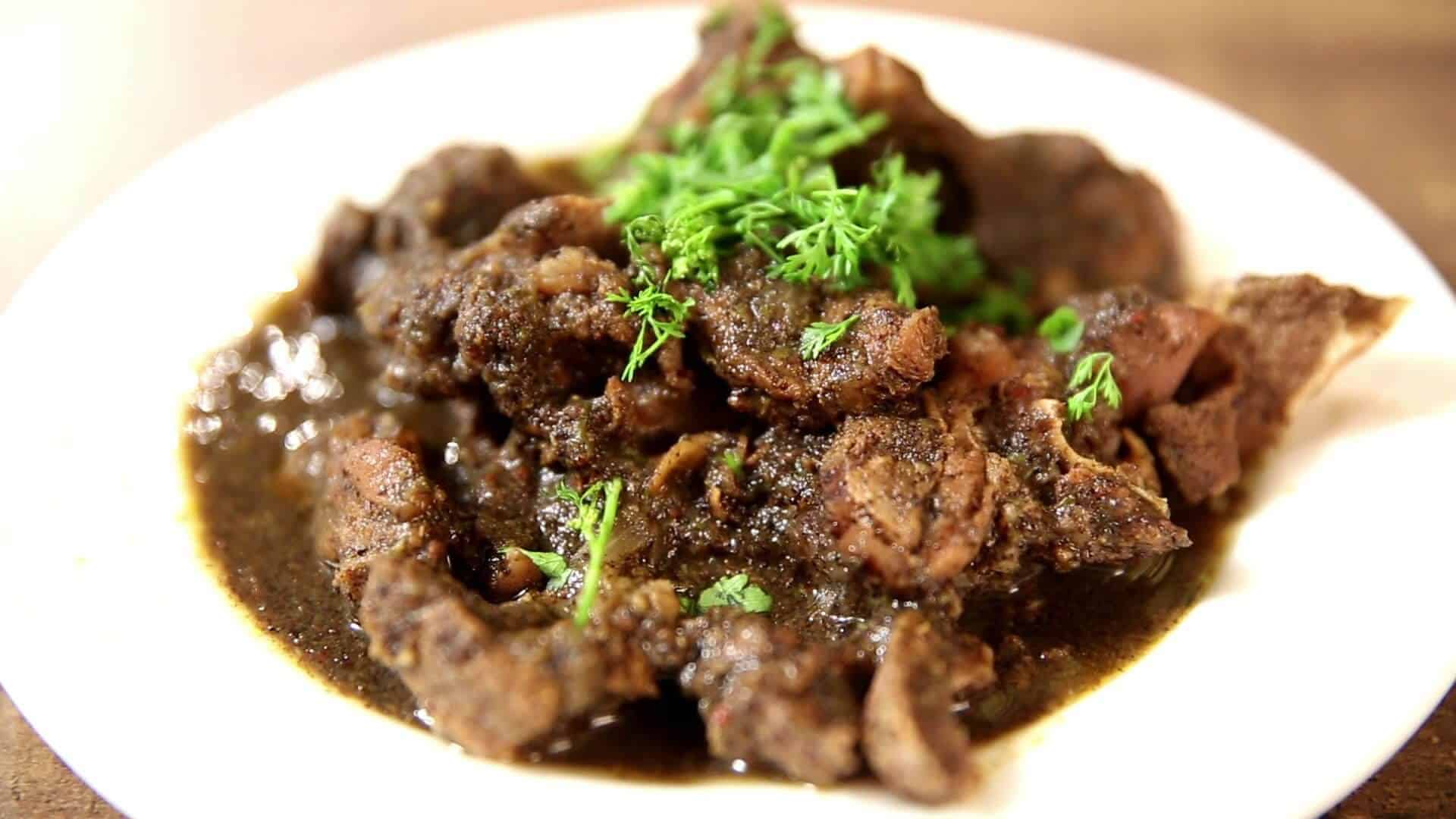 Popular restaurants in Bangalore are:
Andhra Cuisine
Andhra cuisine is the spiciest of all the cuisines from South India. The diet in this region consists of rice eaten along with sambar.
Andhra is famous for the Hyderabadi biriyani. There are scores of restaurants in South India which sell this popular dish. It is rich in flavor and very aromatic. The biriyani uses ingredients as pieces of meat, basmati rice, spices, lemon, coriander and fried onions.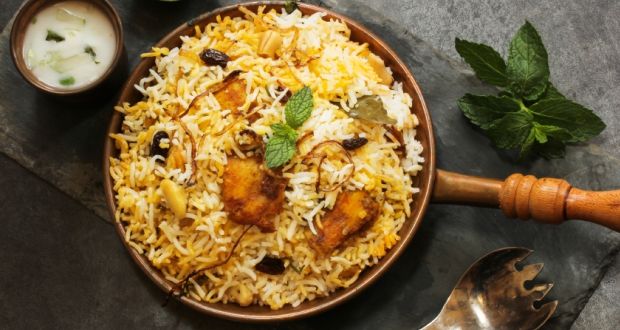 People from coastal Andhra primarily consume seafood whereas people from Rayalseema (central parts of Andhra Pradesh) mostly eat chicken-based dishes.
Locals from this region are one of the highest consumers of meat and they love their mutton, lamb, chicken, and seafood. It's not that common to consume pork and beef in this region.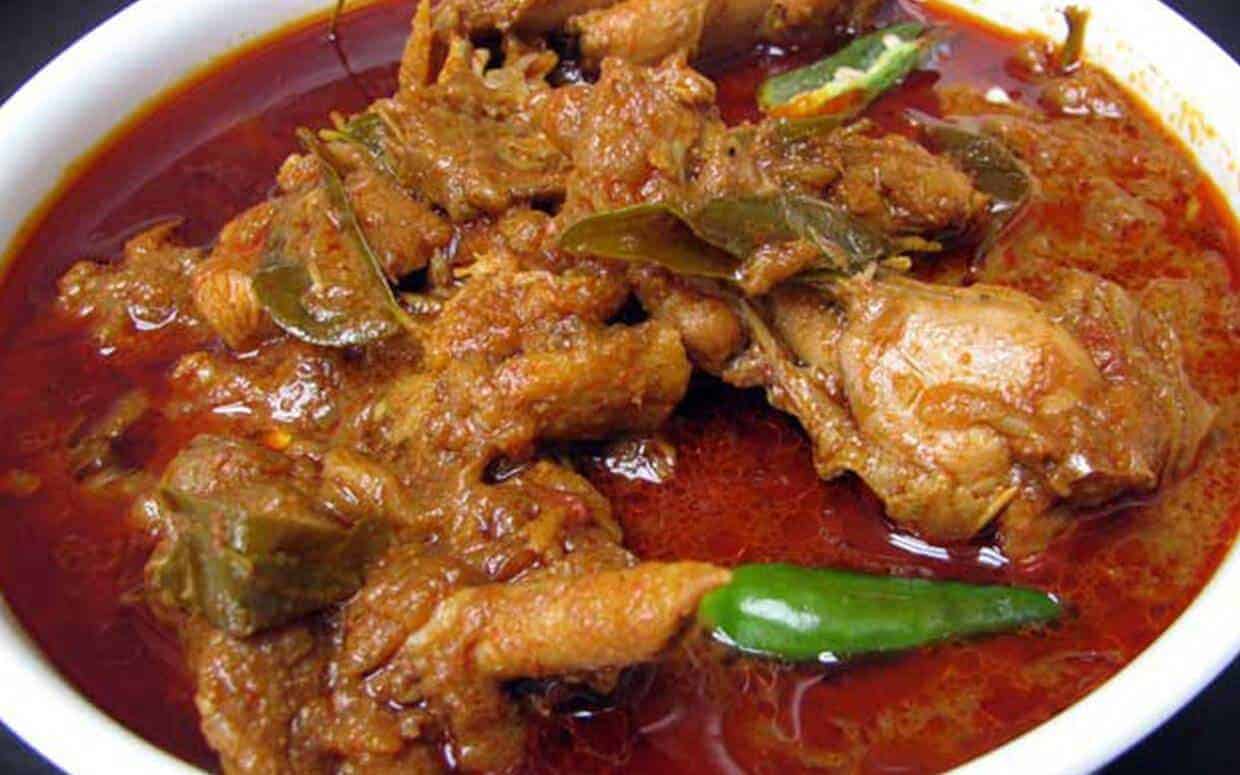 Best restaurants to try Andhra cuisine are:
Tamil Cuisine
Dishes like idli and dosa are synonymous with cuisines from South India. Tamil Nadu takes the pride of being the birthplace of the dosa and idli.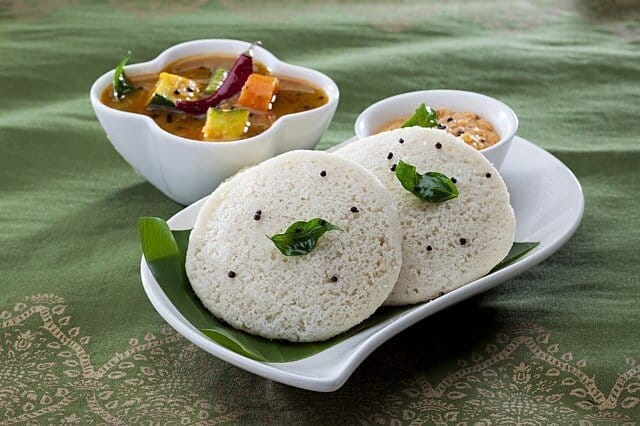 Chettinad cuisine from Tamil Nadu is a popular variety of cuisine from South India. Some dishes like the eral kuzhambu (prawn curry), nandu varuval (crab masala), chicken pepper fry and chettinad biriyani are common.
Pondicherry, a former French territory is a coastal town along the Bay of Bengal. It is common to find quiche and salad niçoise in many restaurants that dot the seaside promenade. Also, there are a plethora of bakeries selling French-style pastries and chocolates. 
Not to forget, Tamil Nadu is famous for the ambur biriyani. This biriyani is eaten with dhalcha, a sour brinjal curry and also with raitha which is curd with chopped vegetables. 
Must try restaurants to taste Tamil cuisine are:
Kerala Cuisine
Kerala has a long coastline along the Arabian Sea, so their diet consists of a lot of seafood. 
The cuisine here is slightly different in comparison to other cuisines from South India. Food is commonly cooked with coconut oil here. People in Kerala also eat a lot of pork and beef.
Puttu made from steamed rice flour is a breakfast specialty in Kerala. Appam is another popular breakfast dish, best eaten with fish or chicken stew.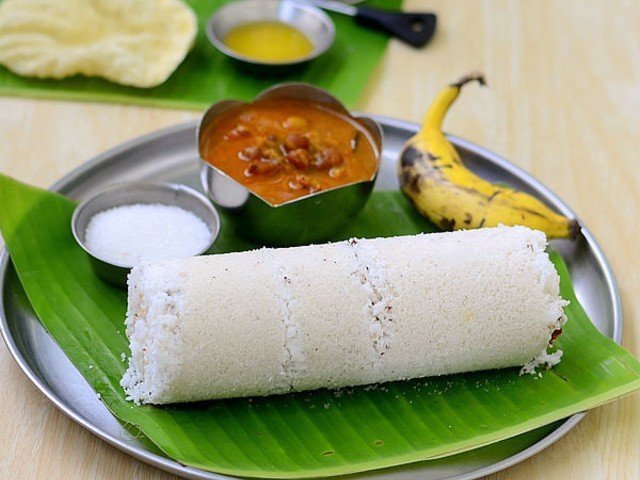 Kerala is famous for its Malabar cuisine. It is a mix of Arabian, Persian, Indian and European style of cooking, and also a result of its long history as a maritime trading port.
Since Kerala is a popular tourist destination, you will find many homestays who teach travelers the secrets of cooking local dishes. Dishes from Malabar cuisine like red-chili prawns peralan, fish molee and thoran are some of the dishes which are taught.
Onam is a grand festival in Kerala to celebrate rice harvests. The main meal that people eat during this festival is Onam Sadya: more than twenty different types of vegetarian dishes neatly served on a plantain leaf. The dishes include vegetable sides, papad, sambar, sweet, and salty savory dishes made of raw banana and more.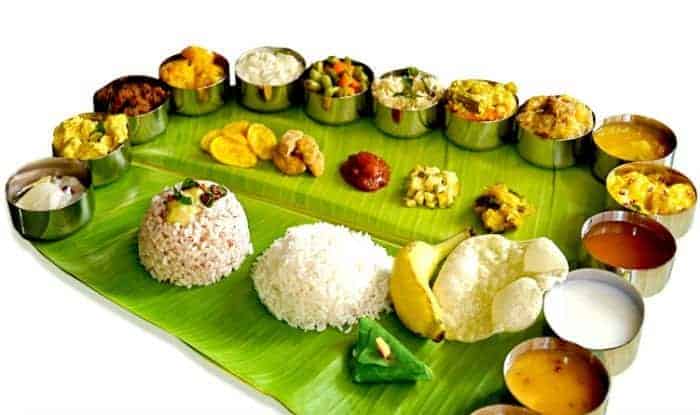 Kerala has its own version of the biriyani called the Thalassery Biriyani blended with spices and chicken. 
Great places to try Kerala cuisine are:
We hope this guide gives you a fair idea of the kind of food consumed by South Indians.
Do write to us, in case you have any questions. If you need any help in building a travel itinerary or you have any other query, download our free TalkTravel App on your Android or iOS device to talk to our local expert. You can download the TalkTravel App for free and reach out to the local expert without any additional cost. You are free to ask any doubt before or during your travel. Our local expert will be ready to assist you.
We wish you a safe and happy travel!
*All restaurants mentioned in this post is for the benefit of travelers. We do not promote any brand or business on our platform. We only suggest experiences which are popular keeping in mind the best intentions of our travelers. At Talk Travel, we're not responsible for any untoward incident which might occur during your travel.