Home » India »
Water rafting is truly fun and one of the best stimulating outdoor activities. At current times water rafting is not only exclusive to professionals but also suitable for every category of people irrespective of age and experience. But remember rafting is fun but not at the cost of your life. You should follow the guidelines and adheres to the safety measures before diving into the water for a thrilling experience beforehand.
Consider a licensed river rafting service provider or a rafting outfitter for a safe rafting. The licensed ones guarantee you a systematized way of rafting.
consider the proper use of personal flotation devices such as a life jacket. A life jacket may not save your life but show the professionals a way to save your life and time to think before saving you.
you should hold the paddle firmly and put the other hand at the base of the paddle as a safety measure. Always try to stay inside the boat, as at any time you could be out of your boat, so be conscious and watch out for the down streams.
Last but not the least, never lose your nerves and carefully heed to the safety talk for a smooth yet enlivening rafting.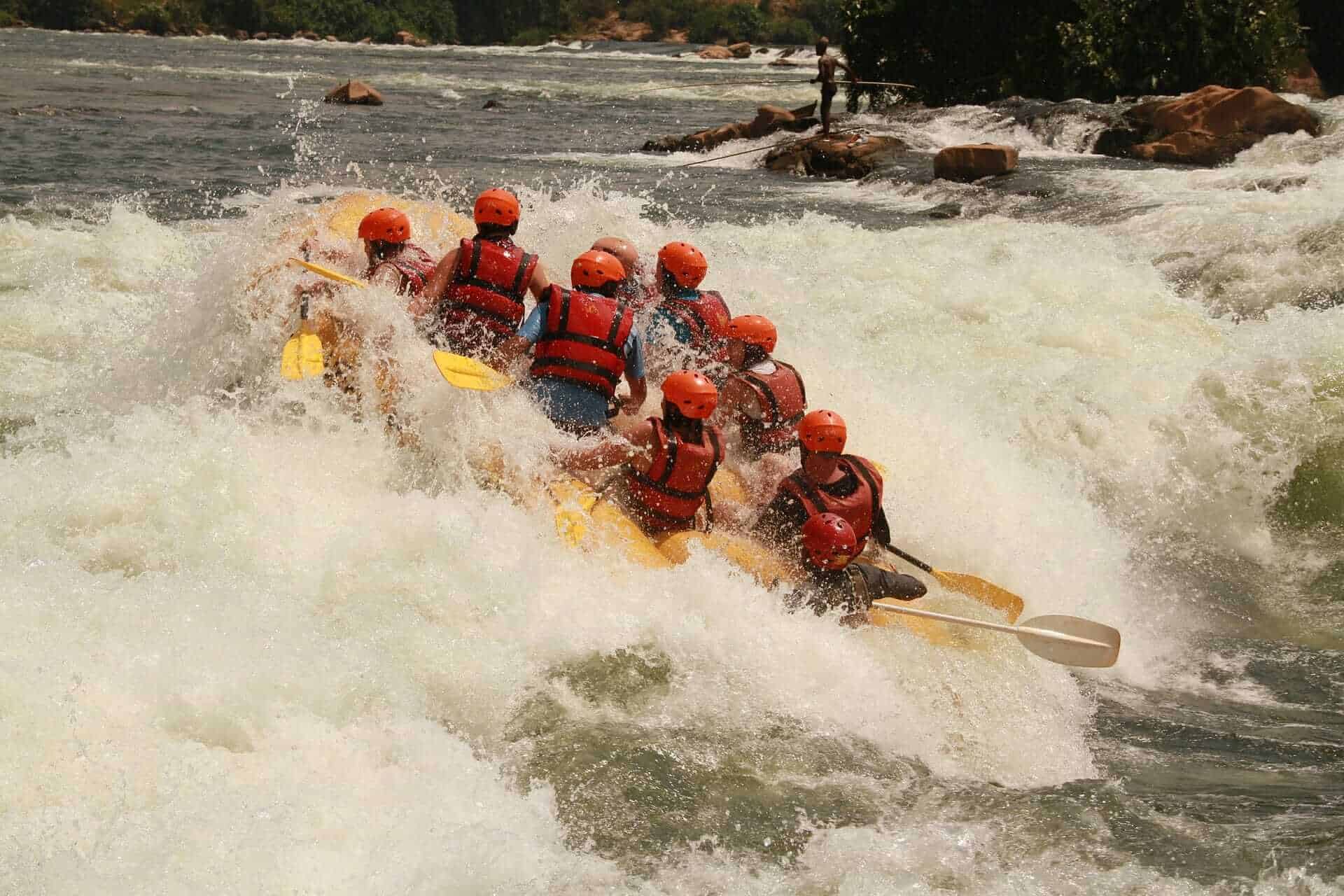 Various places in India for river rafting
If you ever wanted an awe-inspiring sight of gushing water all over you along with desolate water rapids to pump up your adrenaline then river rafting is just for you. India is gifted with resplendent rivers from the high-altitude mountains and treated as the best destination for river rafting.
Depending upon the difficulty level you can choose the places for river rafting. The difficulty level is categorized into Grade I- the basic level, Grade II- easy, Grade III- moderate and Grade IV- extremely challenging.
If you wish for an instant adrenaline rush on top of a thumping of heart then pack your bags and be ready to experience India uniquely this time. India is truly regarded as one of the best destinations for river rafting owing to the rivers like Ganges, Indus and Beas.
Let's dive into the river rafting destinations in India.
1) River Ganga, Rishikesh
Rishikesh is undoubtedly the most sacred place in India and offers a surreal experience to the visitors. Apart from trekking the adobe of sanctity, Rishikesh offers breath-taking views and one-of-a-kind river rafting experience through some of the electrifying rapids entices travellers across the globe.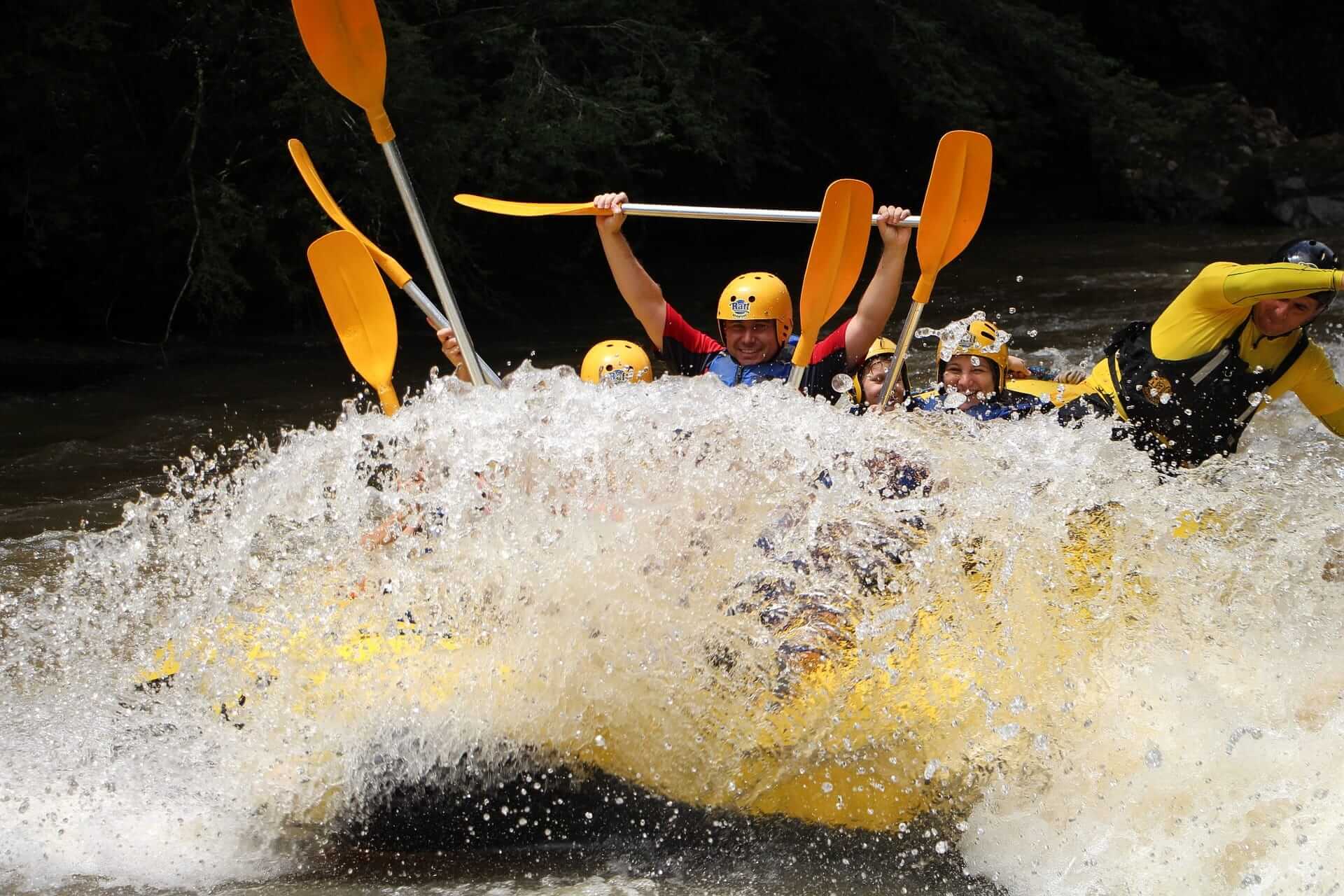 Rishikesh is also esteemed as the river rafting capital of India and a nice blend of the white-water river and stunning Kumaon Mountains. Rishikesh anchors a lot of river rafting activities and you will be crazy about river rafting in the Ganges for sure.
From Grade I to Grade V Rishikesh houses all kind of rapids to offer you a picture-perfect escapade on the white water. The Brhampuri to Rishikesh rafting is 9 Km stretch and features mostly Grade I and Grade II. It is suitable for the beginners and elders due to slow rapids.
The Shivpuri to Rishikesh is 16 Km stretch and suitable for people in between 15 years to 45 years and mostly houses Grade III rapids. You will get thrilled with the rapids the Cash Flow, Three Blind Mice and Return to Centre.
On the other hand, Byasi to Rishikesh features a stretch of 28 Km. the stretch houses some of the popular rapids like the Roller Coaster, Golf Course, Club House and The Blind Mice. Whereas the Kaudiyala is truly the wonderland for those who want to pump their heart by sailing through Grade IV plus rapids like The Wall and The Danies Dip.
Rishikesh accommodates a total of 13 rapids namely The Walls, the Roller Coaster, Three Blind Mice, Return to Sender, Golf Course, Double Trouble to name a few. Among the 13 rapids, The Wall is the most difficult of all. You should turn up to Rishikesh to enjoy the quietude of Garhwal Himalaya and the magnificence of white sand beaches all around the place.
Rafting in Rishikesh is suitable in between the months of September to November and March to May. Remember the Spring and Summer is the peak season for rafting in Rishikesh.
Common things to Know for river rafting in Rishikesh
River: Ganges
Total number of rapids: 13
Difficulty level: Grade I to Grade IV
Distance to cover: 9 Km to 36 Km
Best time for river rafting: September to November and March to May
Approximate cost: INR 450 to INR 1800 per person
Suitable for: the minimum age for this adventurous sport is 14 years and when the rapid is low or in Grade 1 children and non-swimmer, the family is allowed. So, it caters to both beginners and experts.
Famous service providers:
a) Outbound Adventure
b) White World Expeditions
c) Red Chilli Adventure
2) Beas River, Kullu & Manali
Here you will sail through Beas river and feel the thrill during an adventurous river rafting. Navigating through ice-cold water along with the enchanting panorama alongside will be a once-in-a-lifetime memory for sure.
You cannot deny the fact that Manali is one of the major tourist destinations in Himachal Pradesh. Nestled in the beautiful valley of Himalaya, Kullu & Manali allures the backpackers across the globe and open for river rafting all-round the year except from July to September. And here not exactly in Manali but in Kullu valley you will experience the white-water rafting and adore your adulation with full of thrills and adventures.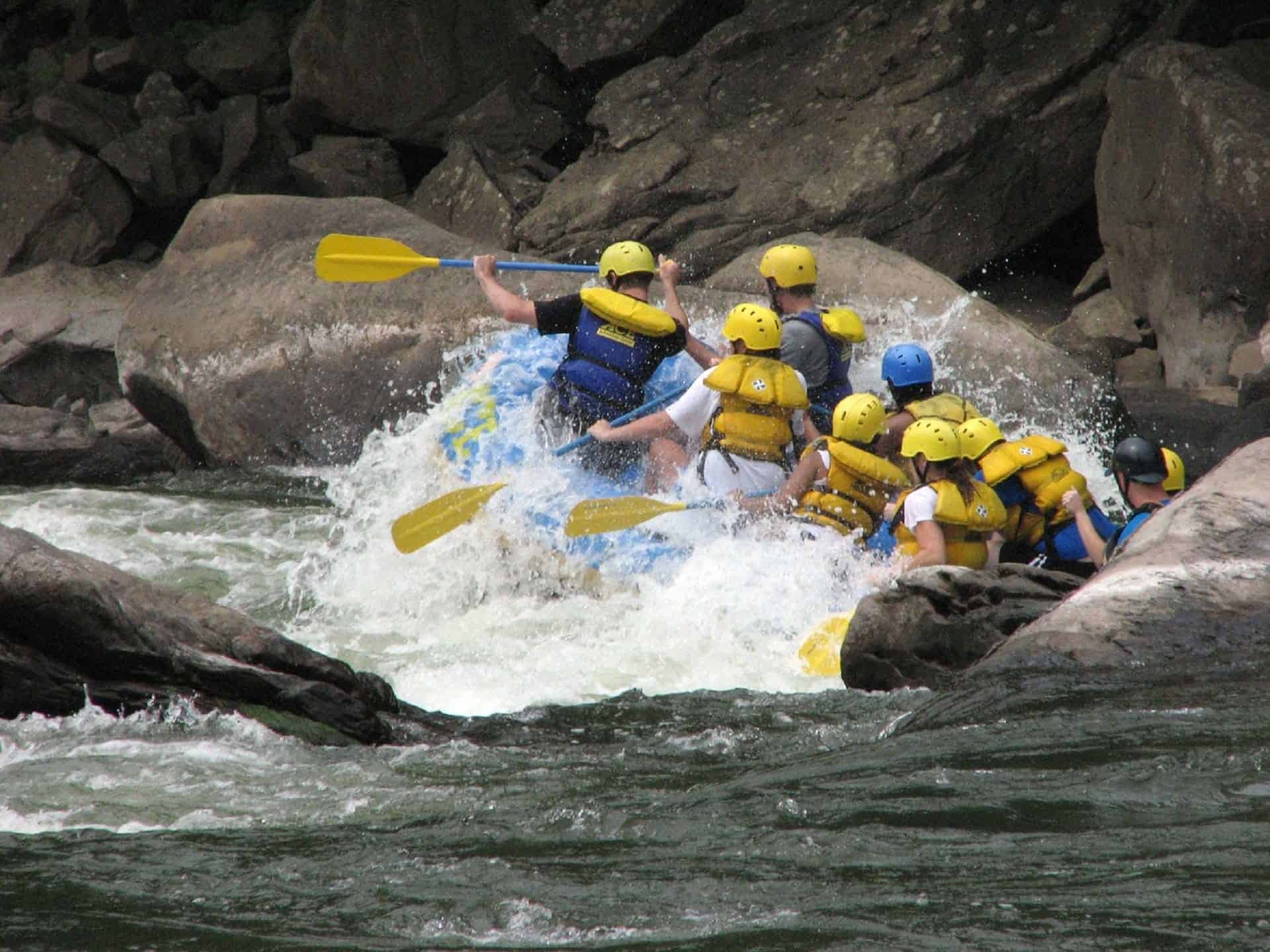 Under the beautiful valley of the Himalaya, your rafting commences from Pirdi and goes up to Jhiri which covers around 14 Km. during your rafting, you will come across one to four avalanches. Remember some of the slides will surely render you speechless but craft some stirring memories. The rafting in Beas may take some hours, but the view of Pir Panjal Range, impulsive rapids will surely fascinate you.
Common Things to Know about Beas River Rafting Kullu & Manali
River: Beas
Total number of rapids: one to four
Difficulty level: Grade II, Grade III
Distance to cover: 14 Km
Best time for river rafting: You can sail through Beas throughout the year except July to September & extreme winter months but the best season is from March to July
Approximate cost: INR 500 to INR 2000
Suitable for: novice as well as professionals
Famous Service Providers:
a) Oxygen Adventures
b) Himalayan Explorer- Himachal Trips
c) Traventure Guru
** Rafting is available in Kullu valley but not in Manali
3) Kundalika River, Kollad, Maharashtra
Kollad is one of the most popular destinations in the western region of India and especially in the Monsoon. It accommodates the Kundalika river which is popular as the fastest flowing river of South India. Kundalika river in Kollad is the only place in India that allows you to go for white water river rafting all through the year. It is situated on a beautiful hamlet on the Mumbai-Goa highway.
Kollad is also popular as a major tourist attraction in western India because of Sahyadri Mountain, abundant greenery and last but not the least appealing waterfalls. Being a vibrant location, it caters to all the adventurous sports and prominent as one of the most enchanting tourist destinations in current times.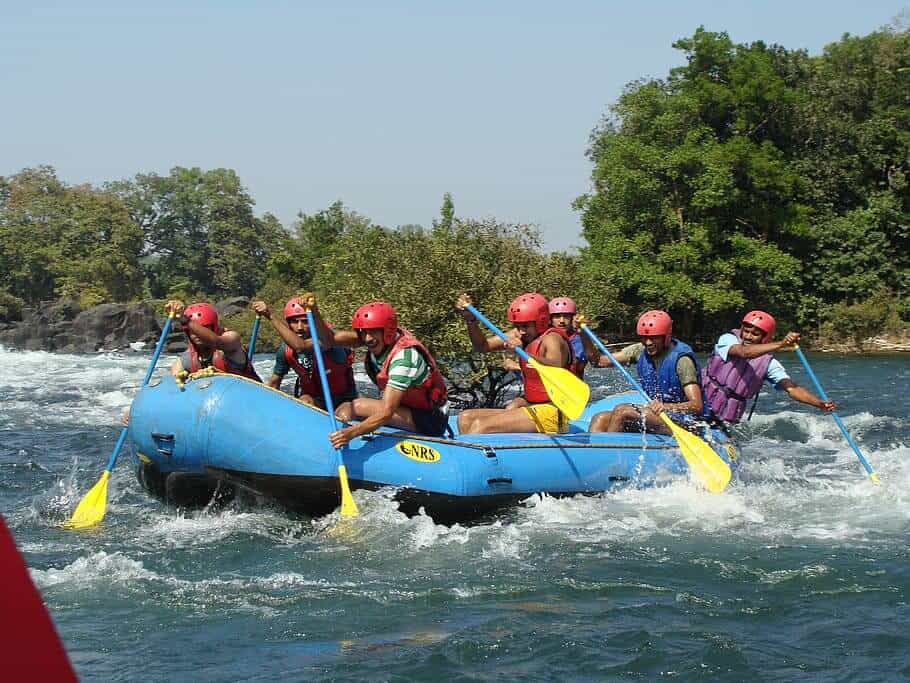 Rafting here is stretched around 15 km which satiate you with several rapids and its intensity level varies from Grade two to Grade three. Rafting on the Kundalika river offers you a great way to witness the scenic beauty around lush green flora.
Common things to know about Kundalika river rafting
River: Kundalika
Total number of rapids: 10
Difficulty level: Grade II & Grade III
Distance to cover: 12.5 Km
Best time for river rafting: June to September (Monsoon) else October to Mid-May
Approximate cost: INR 800 to INR 1500
Suitable for: starters and experts
Famous Service Providers:
a) Aqua Adventure, Kolad
b) River Rafting Kolad 
4) Barapole River Coorg
Barapole River, Coorg is the adobe to white water rafting in South India and one of the main rivers of Dakshina Kannada. The river is categorized into two parts based on the water level. The upper level of this river features 4 to 5 avalanches whereas the lower level features 6 to 7 rapids.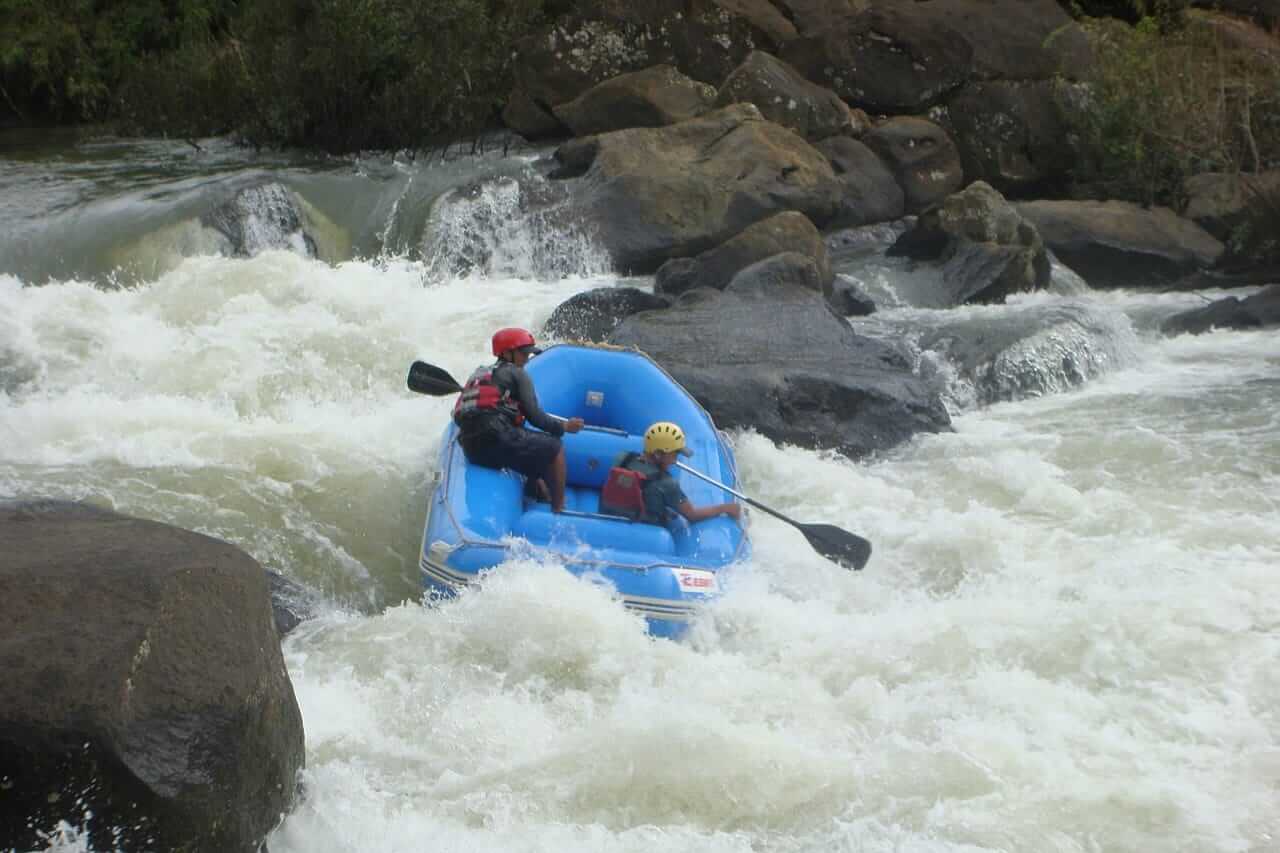 The avalanches come under the difficulty grades two to four depending upon the uphill water. There are some common rapid names such as The Ramba Sambha grade II, Milky Churn, Morning Coffee Grade II, grasshopper Grade III, and The Wicked Witch Grade III.
Common Things to Know about Barapole River Rafting
Total number of rapids: Nine
Difficulty level: Grade II to Grade IV
Distance to cover: 12 Km
Best time for river rafting: July to September
Approximate cost: INR 1200
Suitable for: moderate to expert
Famous Service Providers:
a) Coorg Whitewater Rafting Pvt Ltd
b) Kodagu White Water Rafting
How to Get the Best Experience from River Rafting?
In contrast to the existing belief, river rafting is not difficult but an adventurous sport if done properly. for the best experience from river rafting, you should pick the difficulty level and destination according to your proficiency.
On the other hand, remember river rafting categorized into different classes based on the difficulty. So while deciding the trip for river rafting keeps the class in your mind for an enhancing experience.
In river rafting, Grade I is solely for beginners as it houses smaller waves and rapids, whereas the Grade II is suitable for the learners and you will go through clear and wider frequencies. Class III houses irregular waves and to overcome this you should have good control over the large volume of waters.
Class IV and V are exclusively for the experts due to powerful and intense avalanches. In such cases you cannot avoid violent rapids and to overcome such rapids you should be fit and in good shape.
Hope you have a great time exploring white water rafting across the rivers in India. And on the same lines, if you want to experience Yoga, you might want to read our post on Yoga in India.