Home » India »
Planning a trip for Ladakh is both exciting and overwhelming. On one hand you are constantly thinking about a lifetime of memorable moments. On the other, you must be worried about how to go, when to go, what will be the cost and all that.
Well, that is why I am here. I have been to Ladakh and (spoiler alert) it will be one of the best vacations that you will have. So, be prepared to be amazed, excited, to feel great, to experience nature like never before.
I am going to talk about everything that you should do, places to visit, when to travel, how to go there, and the whole package.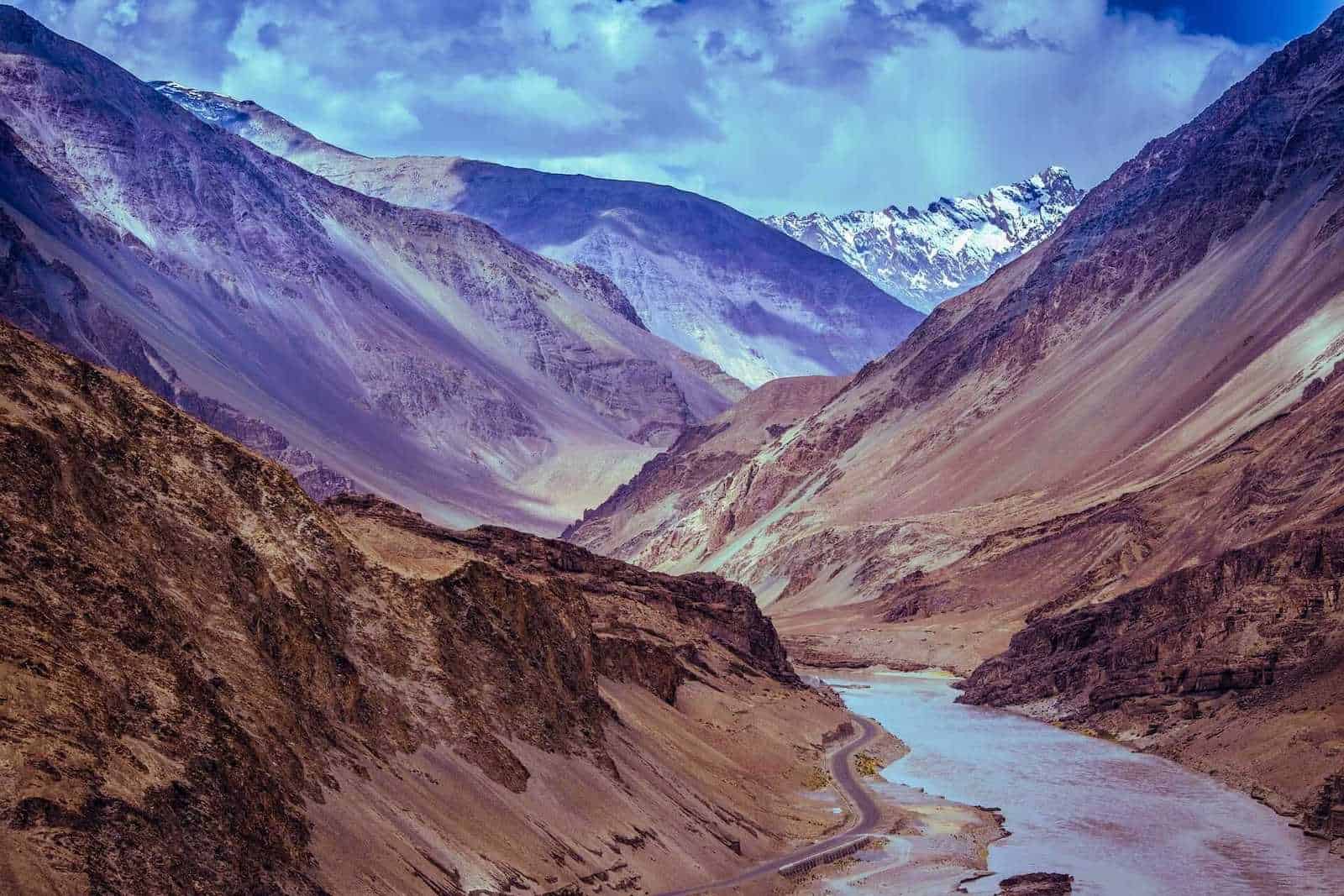 1) How to Reach There?
Well, the euphoria of going there by bike will plummet swiftly if you have not prepared well. So, if you want to take this route, then make sure of a few things:
You have a good bike that can handle long-distance riding in a stretch. (No, not necessarily a Royal Enfield. Any bike which has more than 350CC of power will do).
Pack yourself up, as if you take the Manali-Leh Highway, the winds will be teeth-shattering cold.
There are a lot of other considerations that you should know like hyperventilation, nausea, and others before going. There are steps to prepare yourself and your bike for such a trip. Consider them first.
Secondly, if you are going by car, take a taxi instead of your own car. The cab driver will guide you throughout the road. They know the precautionary measures, safe passages, and everything else.
If you have come here by a private taxi or by public transport, then you can also utilize the time to hire a bike for local travel. Indeed, travelling all throughout Ladakh and Leh on a bike is entirely different. However, this comes with an additional set of precautions and responsibilities.
Going to Ladakh by air-plane is one of the best options. It will give you more time to explore the so-called "Heaven on Earth" with more time in hand.
Passport and Registration:
Indian citizens and Foreign nationals need to get an Inner Line Permit to explore Ladakh. You can get it online or register yourself once you get there.
Safety is also a concern when you visit such a place. Mind you that if Ladakh is majestic it is also rough. Especially if you are travelling from a non-mountainous region.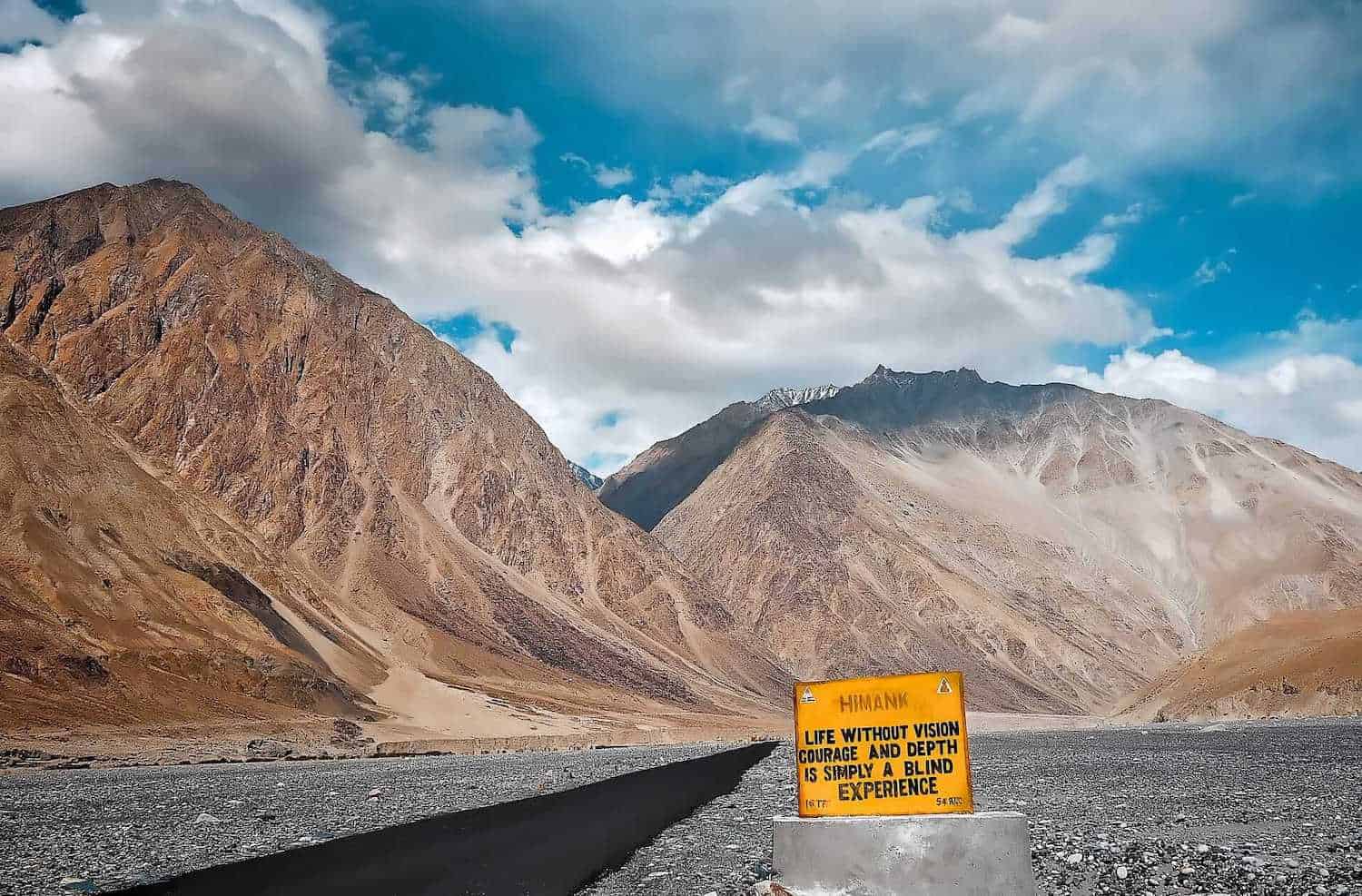 Precautions and Safety:
You will face some issues as the altitude increases. Altitude Sickness as we call it manifests as you climb. So, as a precaution it is best to take some rest after you climb 2000ft.
Carry medicines to help with headache, fever, and stomach ache.
Map out the ATMs, hospitals, and police stations before you start your journey.
Ladakh's climate does not favor any of the travelers. So, it is best to carry some woolen clothes even if you are visiting here in the months of June through September.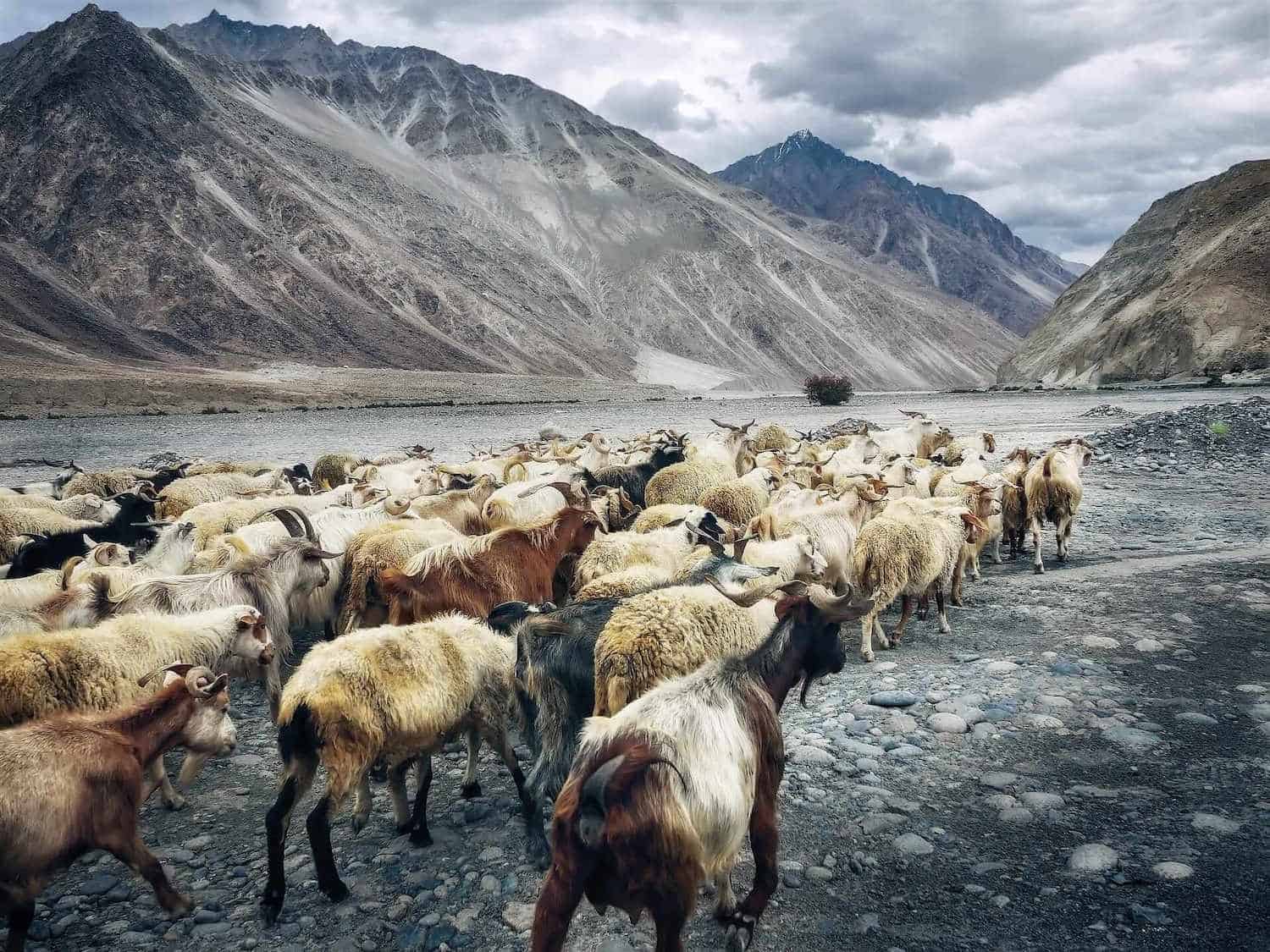 2) Cost of a Ladakh Trip
In any case, planning a trip to Ladakh means that you need to be prepared to spend somewhere around INR 25,000 to INR 40,000 per person for a 7 day trip.
| | | | |
| --- | --- | --- | --- |
| | Normal(per night) | 3-Star (per night) | 5-Star(per night) |
| Hotel | Guest House – INR 300-500 | INR 2000 | Maxes out at INR 11,000 |
| Food | Dhaba Meals at INR 100 | INR 500 – 600 | Depends on the place you eat at |
| | | | |
| --- | --- | --- | --- |
| | Hire a Taxi | Two-Wheelers | Car or Private Bus |
| Traveling to Ladakh | Outside Taxis are not allowed to enter Leh and Ladakh. So, you will have to hire a taxi till the outskirts of the State. The price will depend on the destination of your departure. | INR 5000 to 5500 for 7 days. | INR 12000 to 14000 for 7 days |
| Traveling within the city to different destinations | Taxis are costly here. For 7 days, you will end up paying somewhere between INR 15,000 to 18,000. | INR 5000 to 5500 for 7 days. | INR 12000 to 14000 for 7 days |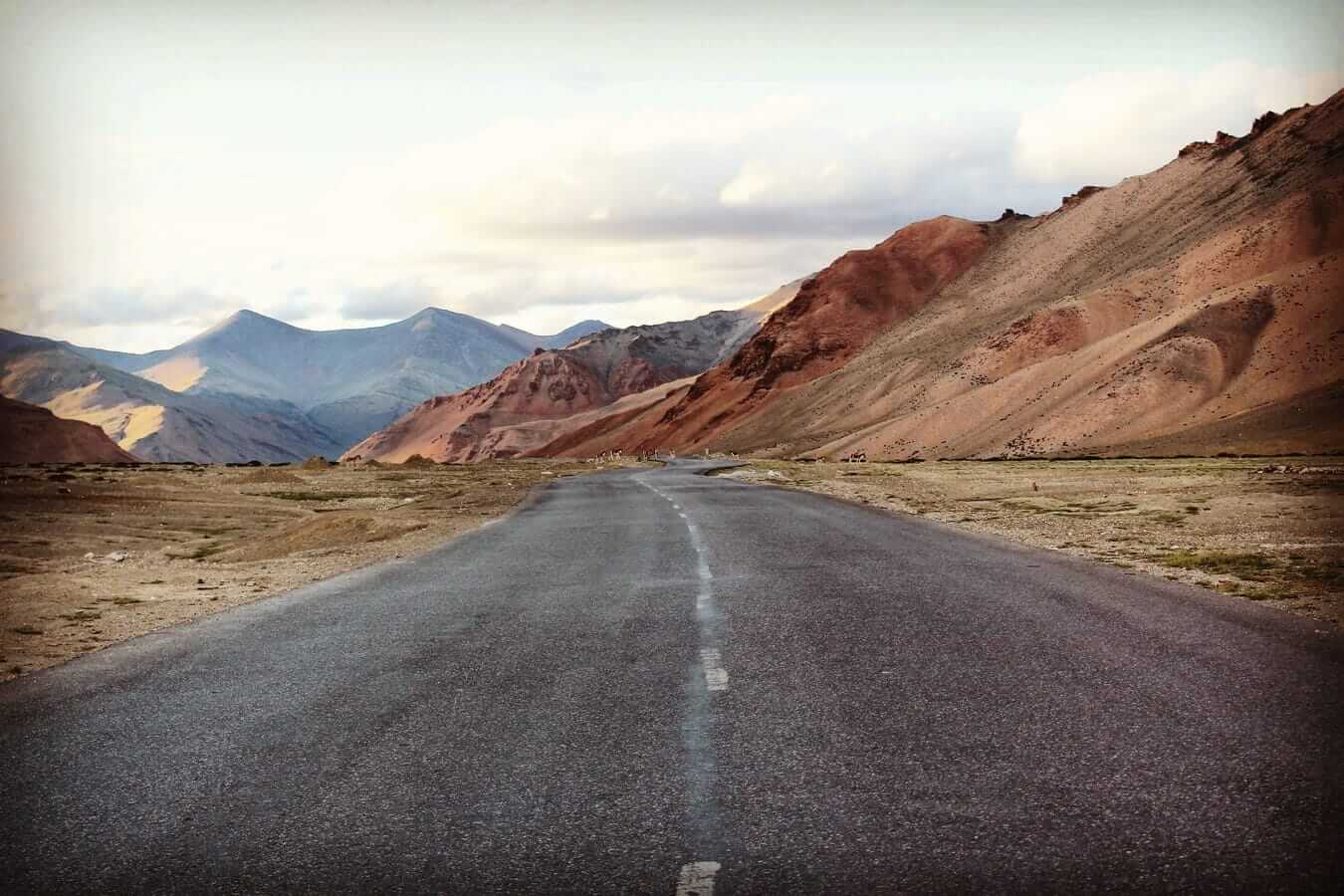 3) 7-Day Itinerary for Ladakh
We went during mid-September, which is considered as the best season to visit here. Other than this, if you like to visit in the peak season try going between April to May. Further, for an adventurous trip to Ladakh, March is the best time of year. However, it is entirely possible that the roads to Ladakh remain blocked from October till In the months of March, due to snow.
Even though the authorities are tasked with removing the snow and clearing the road, it depends on the conditions existing during that time. So, if you are planning an adventurous trip, confirm about the road conditions.
Since there are a lot of seasonal changes, the right time to travel depends. But from July till before the winters arrive, the roads are clear and running.
a) Day One
On the first day, let it settle in that you have finally come to your dream destination and that's another thing on your list of "things to do before I die".
Apart from this, on the first day, some people would also like to take rest and let their body acclimatise. It all depends on individual to individual. This is especially important if you have taken a flight to Srinagar and then came by a taxi till here.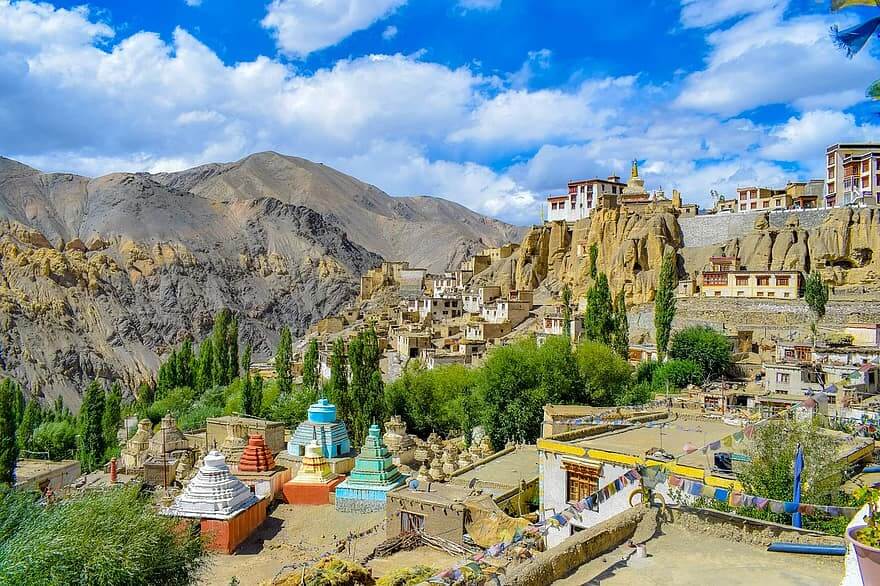 On bikes, the riders get enough time to acclimatise on the way. But, coming by a plane involves two things, a probable jet lag and not enough time to acclimatise. So, some people would also suggest that once you reach the hotel, call it a day and take rest.
I know the excitement and that eagerness to go out and explore outweighs the fatigue and body issues. But, it is good if you rest and let your body adapt to the climate changes.
However, if you have already acclimatised and are ready to go on an adventure, head out to explore Leh City.
Leh Palace is a great place to visit if you are a history buff. There are various artifacts inside that will take you to a journey of what ancient Ladakh was like. There are paintings, traditional attire, and ornaments worn by the royal family in the past. All in all, this seemed like a good place for us to start. It was not too hectic, we took our time to understand everything. This was all a bit refreshing too. If you want to go even higher, trek to the Tsemo Castle.
Tsemo means victory and this beautiful yet ruined palace is visible from the ground surface too. You can also visit Namgyal Gompa lying on the same hill as the castle. One of the most amazing things about this place was the three storey high gold statue of Lord Buddha. This massive statue was totally made of gold and its shine was lighting up the whole room. It was awesome.
In the evening we stumbled upon the Gesmo Restaurant. Let it be a surprise for you. You must eat here when you reach Leh on day one.
b) Day Two
Start early as you need to head to the Nubra Valley. It takes around 5 hours to reach there by car but that is if you don't stop anywhere. But we all know that it is not going to happen. On every corner, you will find an amazing view of the valley, the mountains flanking the majestic plains of Leh.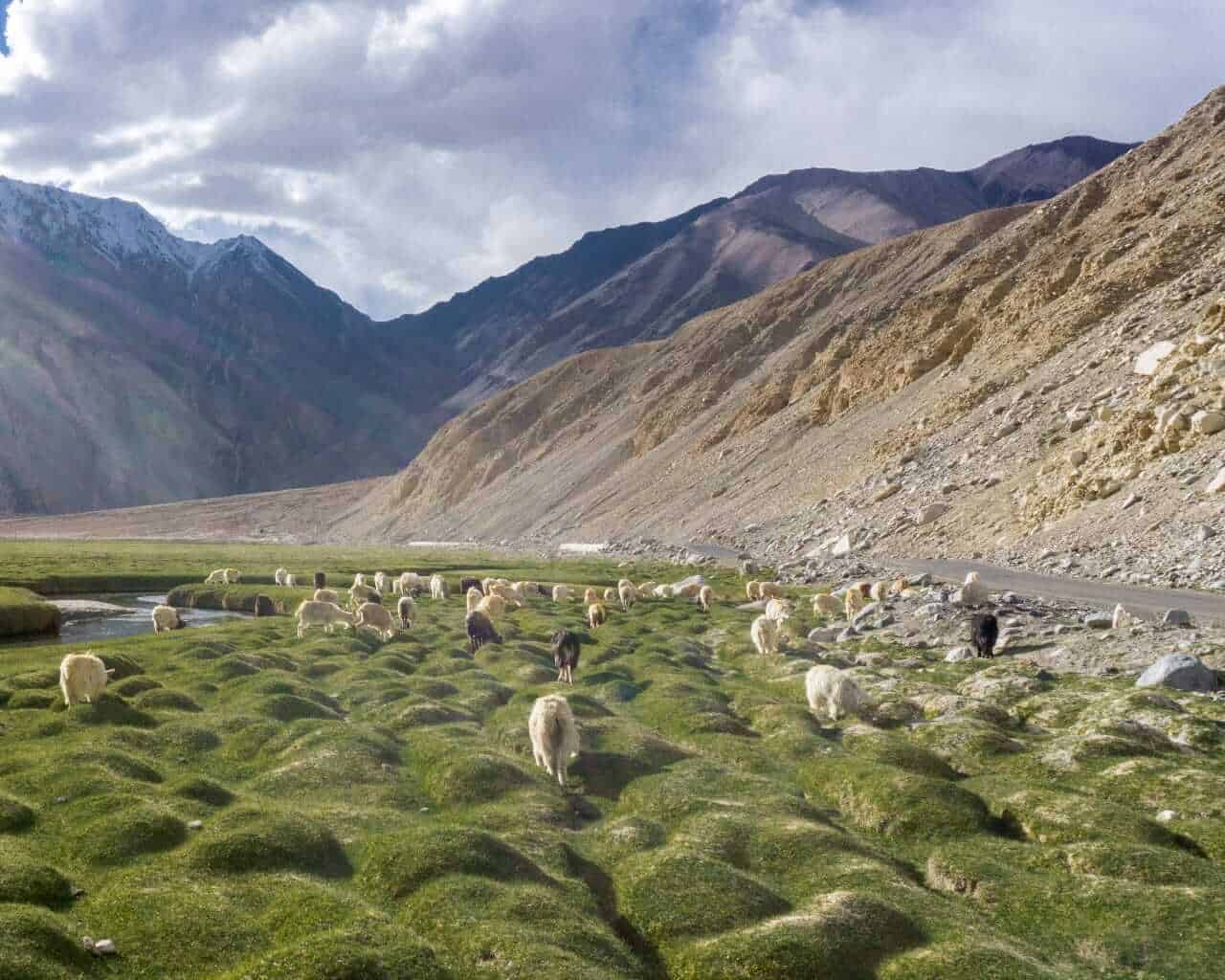 First head to the Sanchi Stupa. This is a dome-shaped stupa built on the hilltop in Changspa. On the way, your driver will also let you know about the best places to visit. However, if you would listen to me, go to the Wheel of Ladakh, visit a couple of monasteries on the way. Don't forget to click some pictures with the Bactrian Camels in the Nubra Valley.
More important is that you will be crossing the Khardungla Pass today. This is also the highest motorable road in the world, so this small excursion is like a whole new adventurous trip in itself. Don't come back on the same day, and stay in Hunder.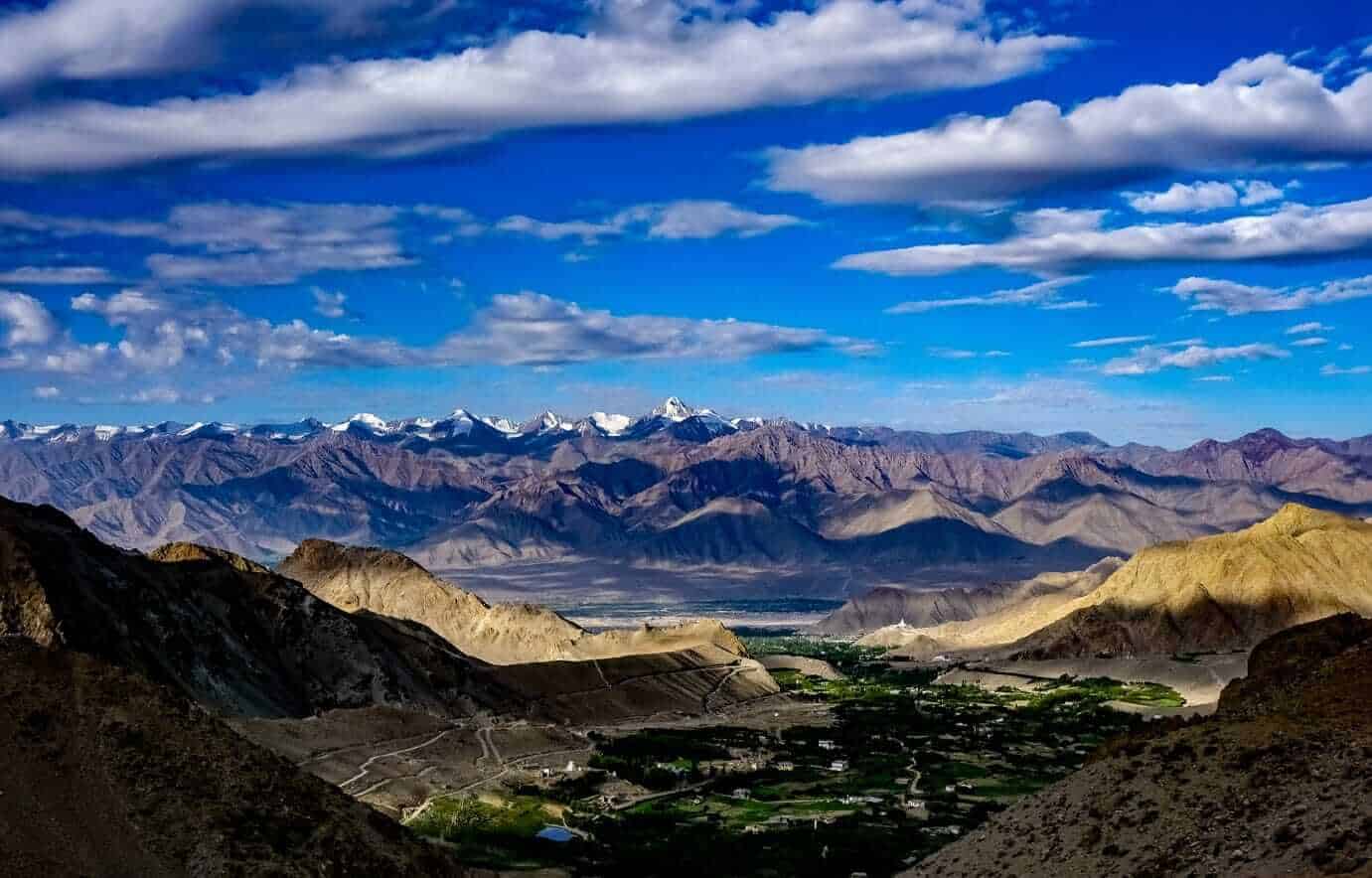 In total the Khardungla Pass extends for 39 kms. And this is one of the most splendid rides that I have taken in my life. The entire road is just a personification of utter beauty and magnificence. Up until South Pullu, where you will find a checkpoint, the road is smooth and paved.
But after this checkpoint, the road is rocks, dirt, and pebbles. So, if you are on bikes, tread carefully. Be ever vigilant on this road. Let the pillion take all the pictures and gaze upon the beautiful valley on both the sides.
And yes, how can I forget. At the world's highest cafeteria, you must have a hot cup of tea and maggi. This is mandatory. No matter how you are traveling, this thing is a must. Also, you are not allowed to stay here for more than 30 minutes. So, once you are there giddy up, have your tea, eat your maggi, click some pictures and move on to the next stop to the Nubra Valley.
You must not stay nearby to the Nubra Valley, a better choice would be to go to Hunder which is 85 kms away from the Nubra Valley. There are some good hotels in Hunder and even though Hunder is the coldest desert in India, you will get the required utilities to keep yourself warm enough in the hotels.
To reach Hunder, start your way back to Leh and after you cross the bridge on the Shyok River, turn right towards Diksit. On this turn, you will find a good resort and this would be an idle place to get some refreshments too.
c) Day Three
Hunder has sand dunes and here you will find the double humped camel. An endangered species, it is said that you are fortunate if you get to see a double humped camel here.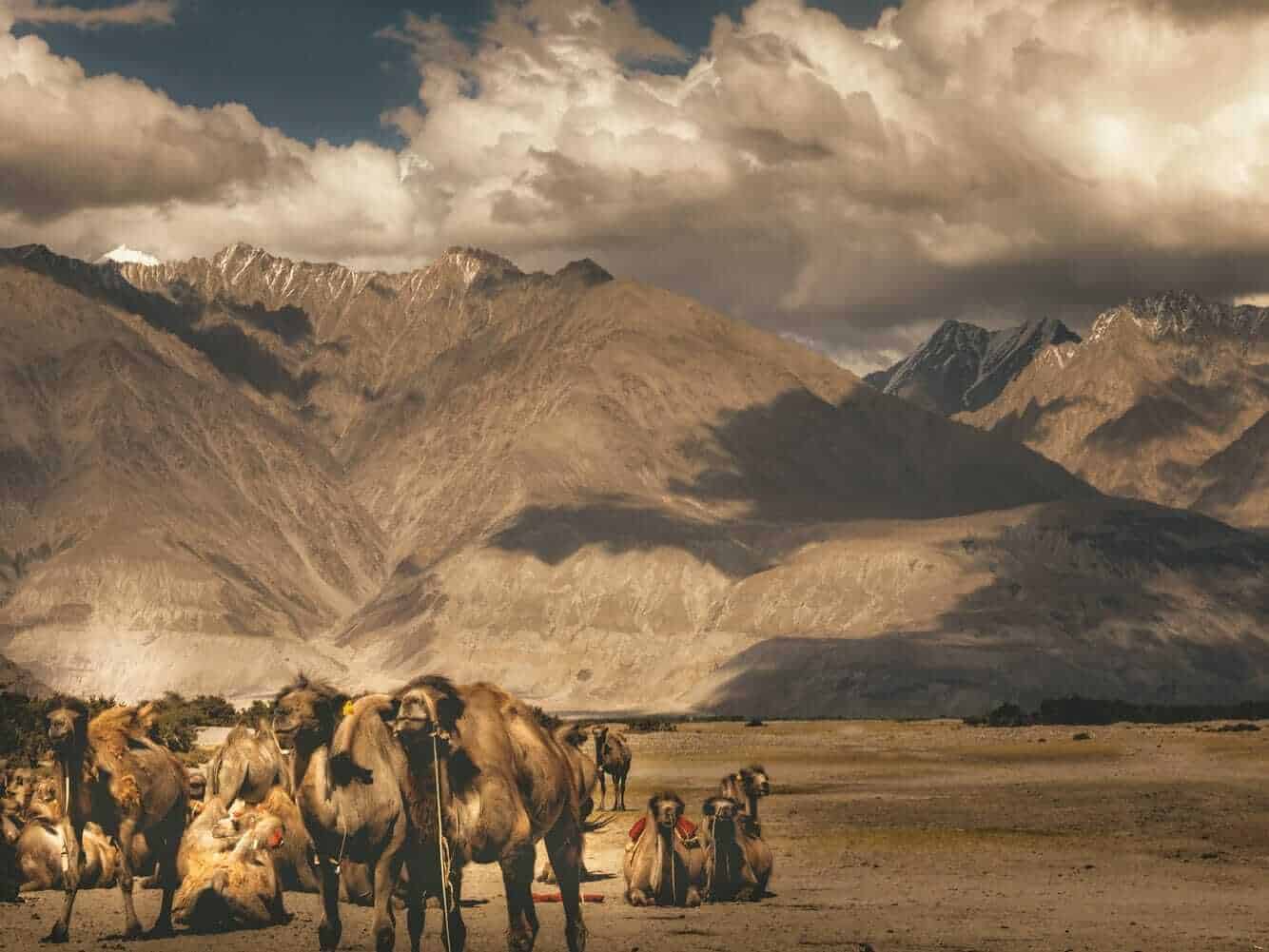 They are a rare sight in these areas, but the thing is that you will only find such species of camels in Hunder and nowhere else in India. But for that, you must pre-book the Hunder Sand dunes tour for convenient sightseeing.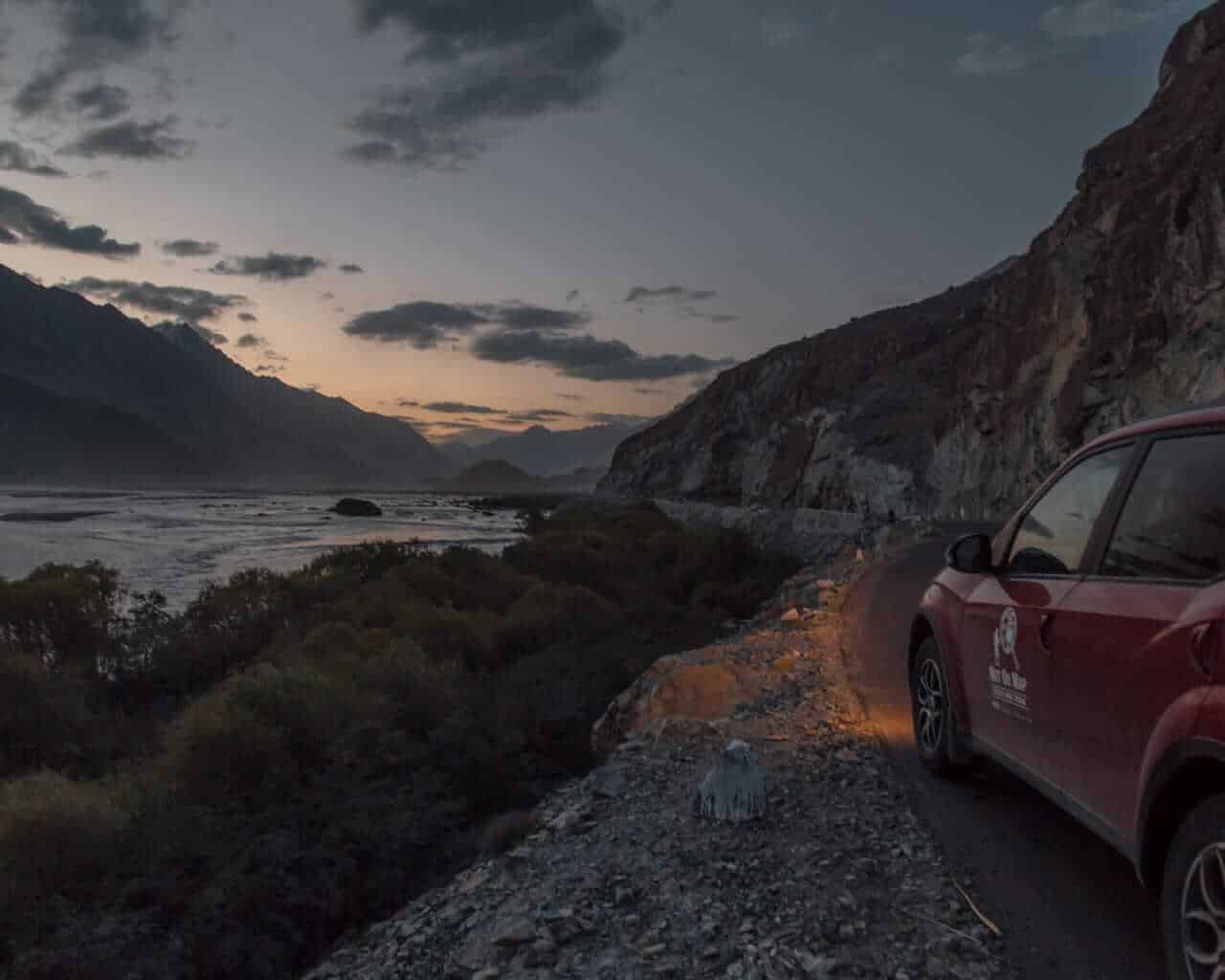 Today you must come back to Leh via Panamik. Take the same road back to Leh and turn towards Panamik. Down there, you will see a lot of hot water springs and visit Khalsar.
But before you start for Leh, take a detour towards Turtuk. There isn't much to see here, but you will get to see the village life, meet the soldiers, and be very close to the Pakistan Border. And don't worry, there is no firing in this region, it is safe and quiet.
d) Day Four:
The pride of Leh, Pangong Tso is the next destination on your trip. Tso means lake, so the name Pangong Lake is also fine. On this route too, there are a lot of monasteries and it will take around 7 hours to reach there.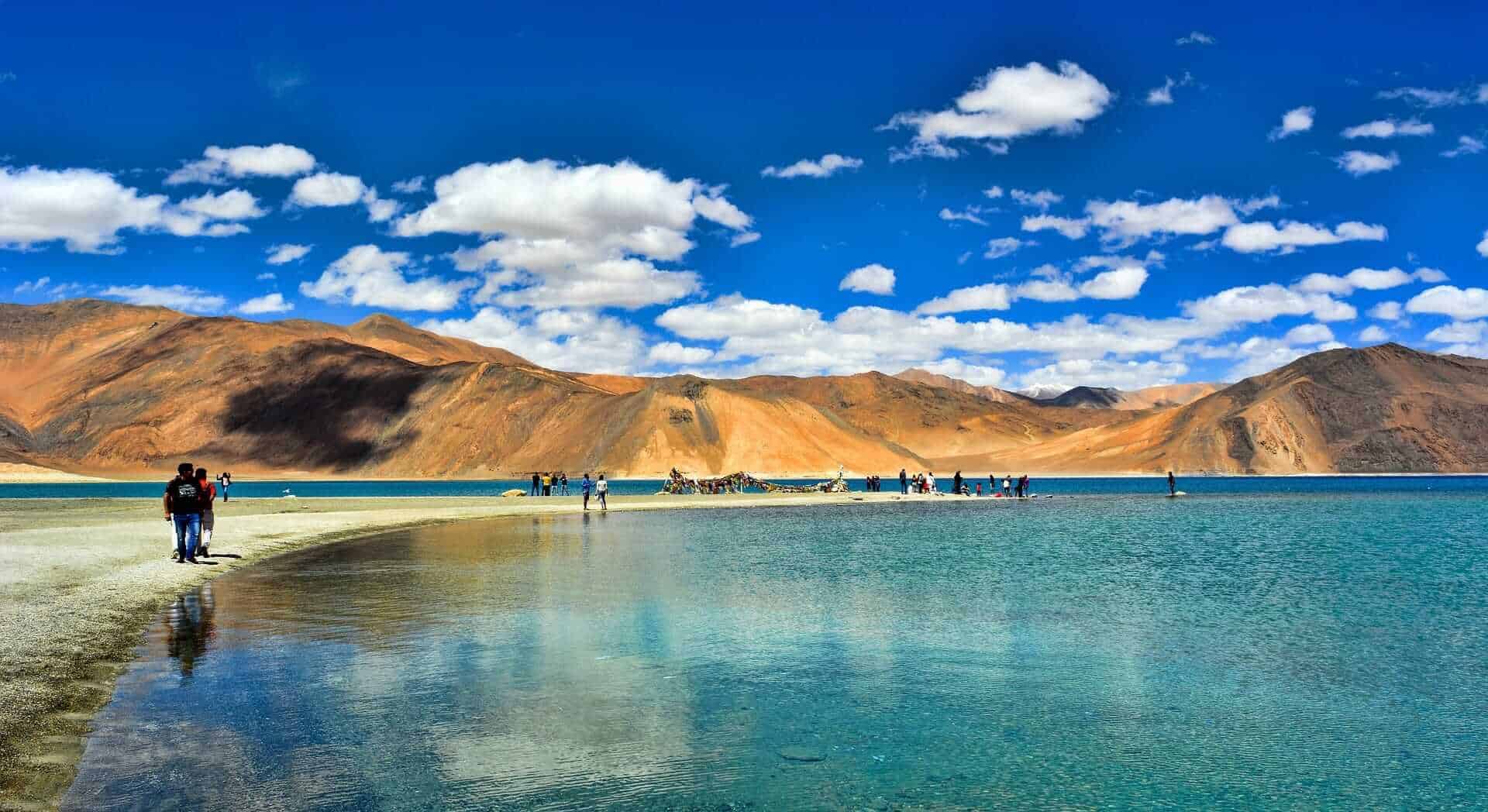 This is a tipsy turvy road. Although you will find many amazing spots to relax and get some fresh air, don't stop too often because you would want to reach the final destination on time.
On the way, you can stop at the Chang La Cafe. There are two points to stop here, one is where the road you are treading will be the closest to the lake. There you can stop and take some pictures.
But the real fun begins when you are in the middle of the lake. The pictures that you may have seen on the web, it is that mid of the lake point. Bikes and cars can travel there, but the road is a bit rough.
There are campsites, wooden huts, and chadar tents that you can rent out here. Focus on the journey till here, because there isn't much to see around here apart from the lake.
You can either rent the wooden huts or stay at the campsites. However, if that does not suit, there are various hotels nearby to the Pangong Tso lake.
e) Day Five:
On the way back, you are going to take the same road, so don't make many stops. Try to reach Leh on time if you want to take a short excursion to another destination. However, on the way back you can pay a visit to the Thiksey Monastery for some spiritual encounters.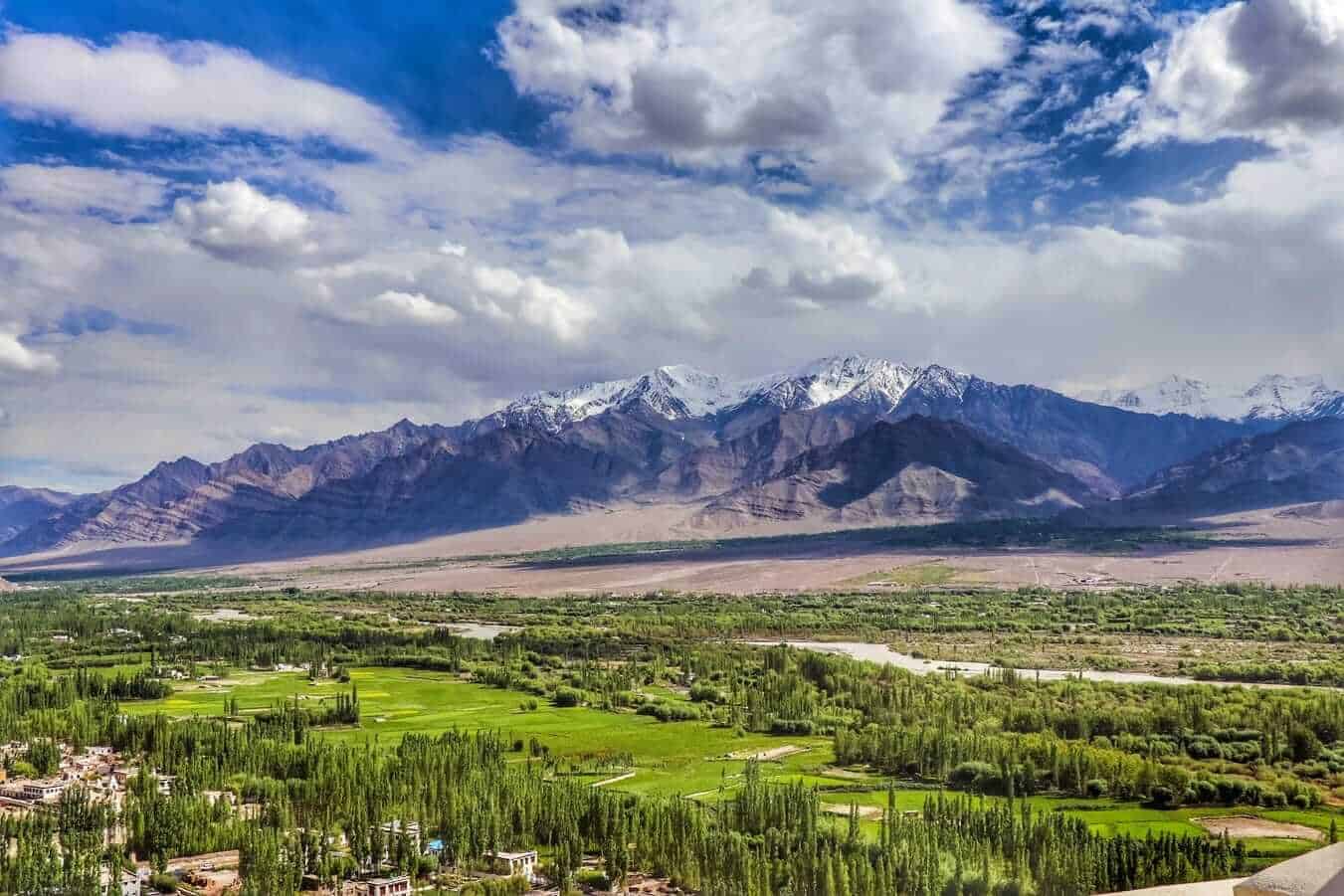 On the way to Thiksey, we stumbled upon Shey (not from GoT), but it is a small town near to Leh. Shey is basically a palace where the royal monarchs of Leh used to live. This is a super nice and calm place. The way their palace is carved inside the mountains is just amazing, a sight for the sore eyes.
Another magnificent thing about Shey is the three storey statue of Lord Buddha. We were stunned at the size. Another interesting thing happened here, inside there is a school named Rancho's School. Yes, you are guessing it right. The school shown in the movie was this one and after the movie, it was renamed to Rancho's School. And we also saw the wall where Mr. Chatur was electrocuted in the movie. Believe it or not this spot has its separate fanbase.
Once you are back in Leh, get something to eat and if you want, pay a visit to the Magnetic Hill. it is only 30 minutes away from the city, but the experience is worth it. Here, your car or bike will be pulled uphill without any engine power. Yeah, this is a natural phenomenon.
f) Day Six
Next destination is Tso Moriri Lake. Before going ahead, note that you cannot stay the night here. This is because some essential utilities like electricity and running water are still scarce here. So, you must visit the lake at an appropriate hour. So, start early.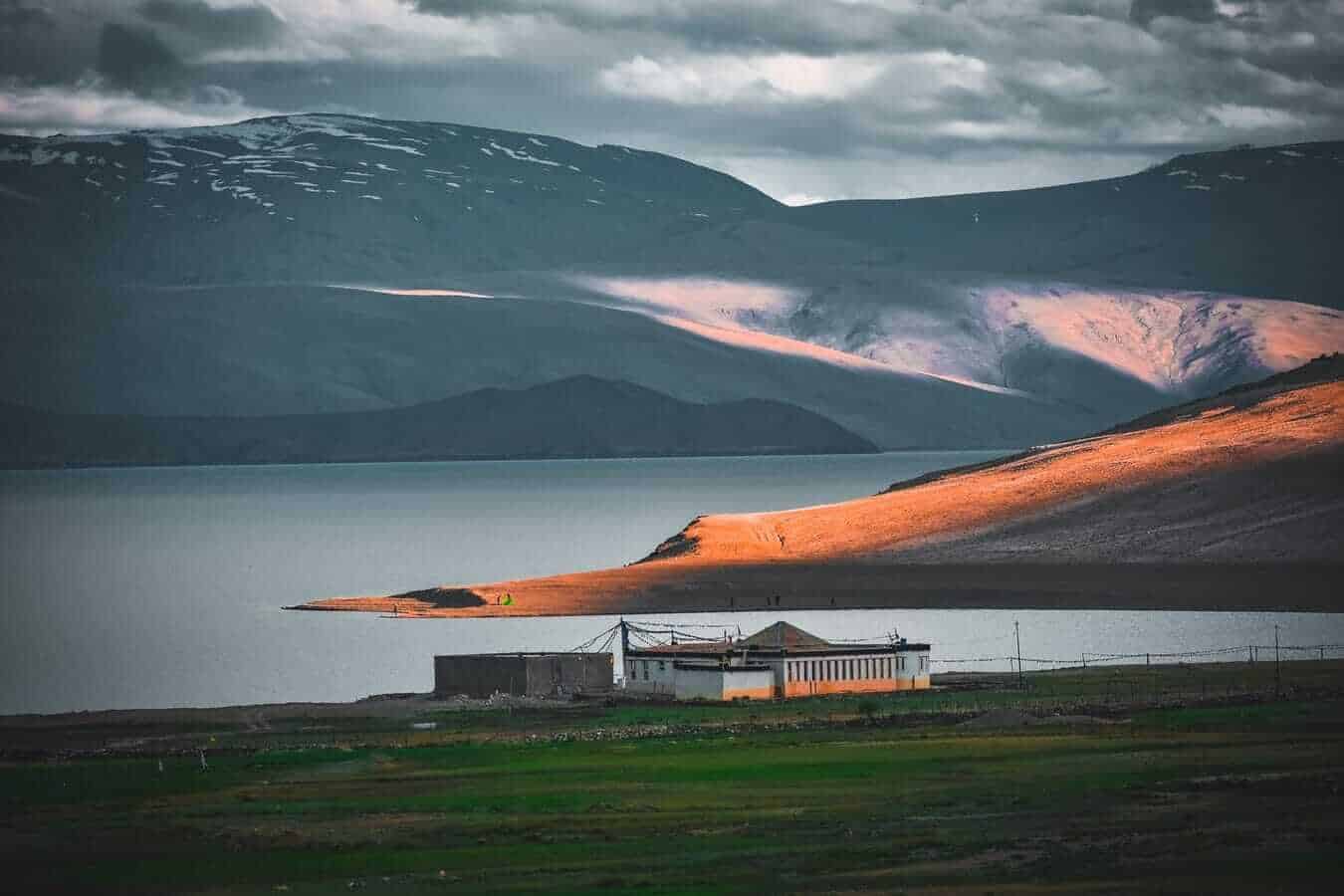 You can take any one of the three routes to reach Tso Moriri. I preferred to go from Chumathang. On your way you will come across a junction, one road goes towards Manali and the other towards Mahe. Once you reach Sumdo, the road ascends towards Namshang La. From here till Karzok, there is no concrete road, they are all dirt tracks. So, tread carefully.
Karzok is on the banks of the river. Tso Moriri is a freshwater lake, so you will find some wildlife around too. Overall, the journey to Tso Moriri will again be decorated with some of the most beautiful scenic views and mountains that you will ever see. It is said that the Tso Moriri lake showcases 7 shades of blue.
However, it is suggested that you come back to Leh before the night falls, if you want to stay there, you can stay in Karzok. There are a couple of good hotels in the area.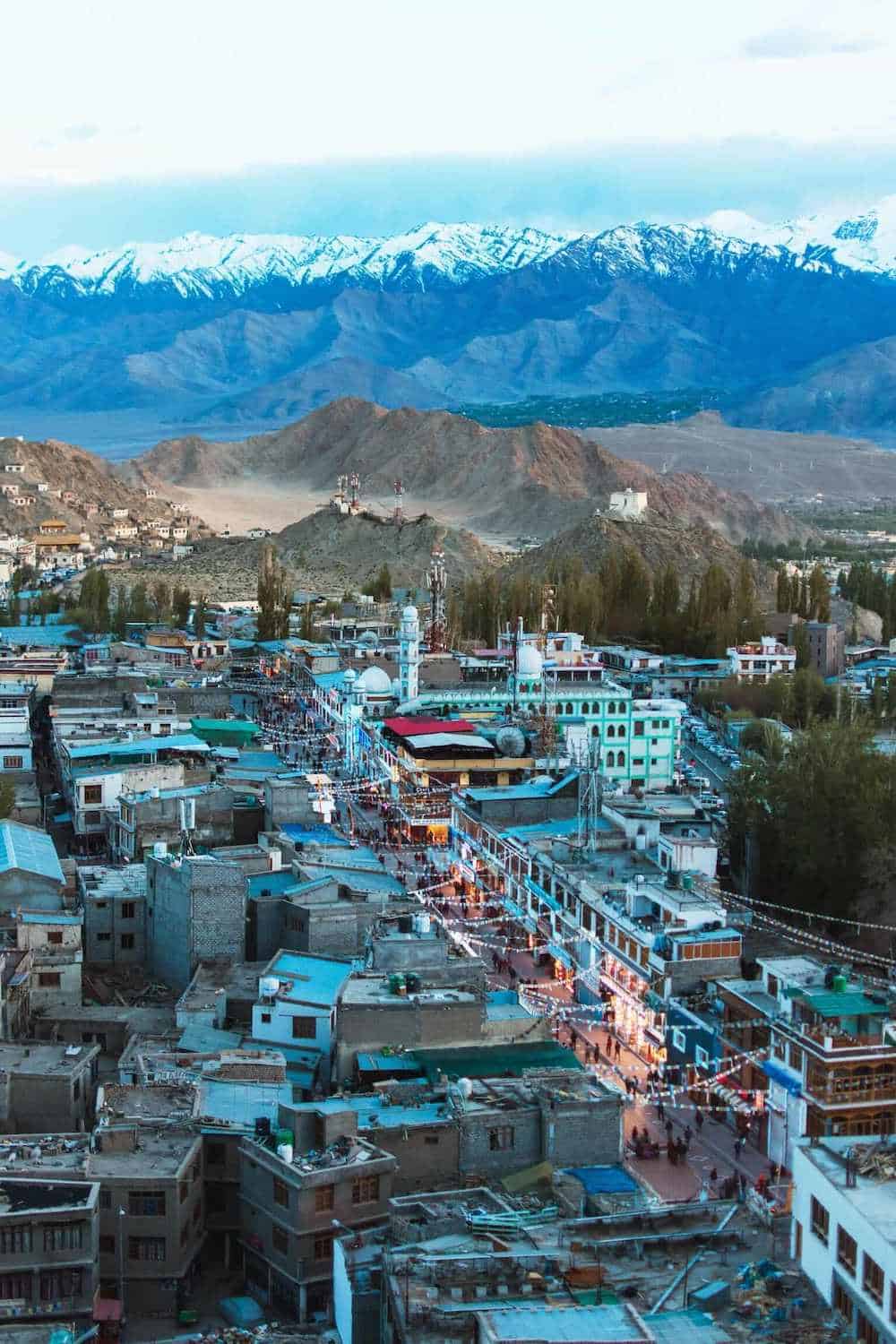 g) Day Seven:
On the last day of your trip, you may explore Leh City or give the market another run. I would recommend visiting the Hall of Fame first and heading towards Gurudwara Pathar Sahib. Take the road to the city from the Gurudwara and then divert towards Sindhu Ghat. After getting a serene and calm experience at the Ghat, head towards Mani Wall, which is the longest such wall in the world.
And that's hit. Come back to the hotel, get something to eat, and start your way back home.
So, this marks the end of your 7-day trip to Ladakh.
In the end, I would like to say that once you are here, be your own boss. Almost everyone who has visited here before will give their suggestions, it is like too many cooks in the kitchen. But, it is up to you to make your trip memorable.
So, don't be afraid to try out some new things. Go to places that nobody has even been to or eat at a place that has less footprint. What I mean to say is don't go after the herd. And this works best if you are traveling on a bike or a car.