Home » Food-Restaurants » Best vegetarian restaurants in Buenos Aires
Rich in cultural offerings and natural assets, Argentina is one of the most sought after tourist destinations in South America. Naturally, she is also rich in her cuisine, famous for indigenous dishes like empanadas, locro, humita, mate, asado, facturas, alfajores and many more. Although Argentina is the highest consumer of red meat in the world, the capital city, Buenos Aires, has a lot of good vegetarian food to offer (and btw, great kid-friendly activities if you're traveling with the family).
Following are the best vegetarian restaurants in Buenos Aires in no particular order.
1) El Cuartito
Address: Talcahuano 937
Established in 1934 and located in the heart of Buenos Aires, El Cuartito is one of the best pizza and empanada places in all of Argentina. Always bustling with people and flavourful smells of cheese, spices, and beer, its atmosphere is energetic, warm and lively. It has a traditional ambiance, having old sports posters and soccer shirts all over its walls.
The pizza has a lot of cheese and is light on the sauce, which is delightful for vegetarians. The place always has local crowds due to its fast service, good quality and inexpensive menu. The thing about El Cuartito is that it is not fancy at all, but is very appealing due to its energy and history. The business of the place and years of operation create an effect that attracts hundreds of people daily. The waiters are always busy, bringing food to eager customers. A true Argentinian experience!
Address: Montevideo 446
Famous for offering healthy and a balanced-diet oriented menu, Sattva promotes fair trade and commitment to the environment. It is known for its cozy ambiance and gluten-free options. Healthy and nutritious options like cereal casseroles, roasted pumpkins, grilled vegetables, caramelized carrots, homemade pasta, and bread are among the specialties.
Located near the theater district and in a non-tourist part of town, Sattva has a pleasant ambiance and staff that is friendly and speaks good English. The food here is truly fulfilling because it is made up of real food, not a lot of sauces and spices to make it tasty. It has an amazing variety of high-quality ingredients and an excellent selection of organic wines. There is also a back area if you need a quieter space. It is a great place for vegetarians who want fresh, healthy and nutritious food in a cozy and pleasant environment.
Address: Av. Córdoba 1147
Delhi Mahal, located in downtown Buenos Aires is famous for its North Indian cuisine. It serves a wide variety of spicy and mild vegetarian curries with a selection of bread and rice. The ambiance is Indian culture themed, walls are painted in warm colors, and adorned with tapestries. The service is excellent and the portion sizes are generous. This definitely makes it one of the best vegetarian restaurants in Buenos Aires.
This restaurant is perfect for a break from the usual steak and pizza. The atmosphere is casual and the staff makes great recommendations on the basis of taste and degree of spiciness. It is easily the best place to have Indian food in Buenos Aires and surprisingly spot on considering the fact that it is so far away from India. It is a perfect place for enjoying a lot of different tastes and flavors, and to have a wonderful, colorful and culture-rich experience.
Address: Gurruchaga 1630
Famous for its homemade food and charming ambiance, La Esquina de las Flores serves soy cheese based dishes, organic wine, fresh soup, whole wheat rolls, stuffed aubergine, and many other dishes. The ambiance of this place is reminiscent of the countryside. The atmosphere is very homely and the food is really fresh. Overall, you'll have a great and satisfying experience.
Since everything is made from scratch, the menu changes on a daily basis, which makes it very dynamic and a must visit place, especially for vegetarians and vegans. The food is inexpensive and high quality. It is a great place for a sit out as it has a couple of tables outside. Located less than a kilometer from Palermo, it is a perfect place to eat after a nature walk, cycling or a session of skating at Bosques de Palermo, the largest park in the city.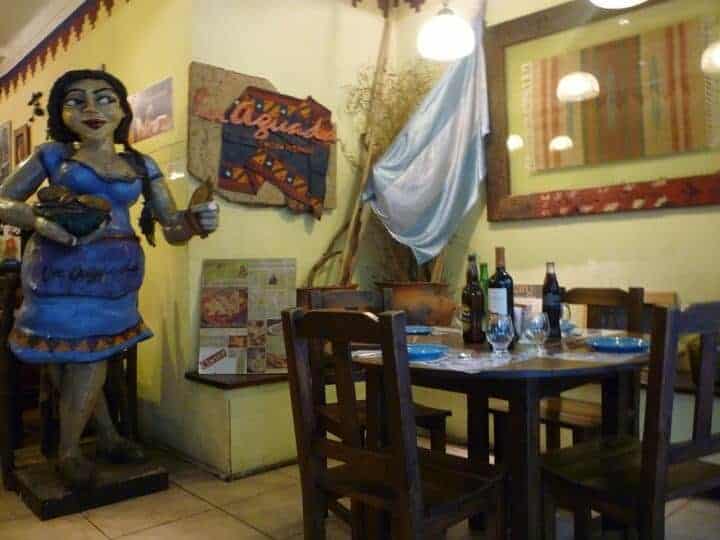 Address: Billinghurst 1862
Frequented by tourists and locals alike, La Aguada serves Latin and Argentinian cuisine and is famous for vegetarian, vegan and gluten-free options of regional dishes like empanadas, tamales, locro, agonda, flan, etc. Great for visiting with family, it serves fresh salads, has a full bar and serves house wine, it is one of the best vegetarian restaurants in Buenos Aires.
It is famous for regional home-cooked flavors and a wide variety of comfort food in the menu. The stews are excellent and the bittersweet stew is a big hit. La Aguada serves empanadas with a large variety of fillings. The ambiance is cozy and comfortable, with excellent table service and hospitality. It is a perfect antithesis of noisy restaurants, chains, and mass-produced food. Its informal but kind and warm service reminds some of grandma's kitchen. It is a great place for enjoying a wide variety of delicious vegetarian food.
Address: Costa Rica 5893 Esquina, Dr. Emilio Ravignani
Having a predominantly Argentinian menu, Artemisia Cocina Natural is a great place for brunch as well as for dinner. The dishes are predominantly vegetarian, amazingly creative and the presentation is excellent. The ambiance is trendy with beautiful décor and comforting air. The interior designing is remarkable, from tables, tableware, plates to other kinds of furniture and fixtures, the place is famous for its aesthetic appeal.
The food here is healthy, sumptuous and delicious, consisting of a variety of salads, entrees, appetizers, coffees, wines and many more. It is a must visit especially for vegetarians. All the details here aim to provide you with a natural and healthy experience. The selection of wines and desserts are wide and tempting. It doesn't matter if you go solo or with 20 people, this place will definitely satisfy all your gastronomical and aesthetic needs. The food is as appetizing as it looks due to the naturally colorful presentation.
Address: Lafinur 3368
Mishiguene is an Israeli restaurant famous for serving food which is full of Jewish recipes, aromas, and traditions. It serves vegetarian, vegan, kosher and gluten-free food, the proportions of which are large. The service is very friendly and the waiters make excellent recommendations. Famous for modern and innovative versions of classic immigrant food, Mishiguene has a very lively and intimate atmosphere with great music. It is supposedly reminiscent of a Jewish wedding except for the bride and the groom, which makes it a great place for celebrations.
The food is fresh and perfectly prepared with rich and complex flavors which is a delight to the senses. The bread basket is popular for its freshness and lightness. Mishiguene is known for its dimly lit ambiance and beautiful presentation of immigrant food. Surely a pleasant and memorable experience for vegetarians.
Address: San Martín 960
A Taiwanese Bistro, Bao Kitchen is famous for bao, homemade kimchi, potato meat, stir-fried vegetables, rice dishes, etc. The presentation of the food is beautiful and illustrious, which makes it appealing to the eyes. Bao Kitchen is an escape from the usual European food and is a delight for vegetarians as it serves a wide variety of Asian food which is aromatic and flavourful. The hot and steamy items on the menu are excellent and do justice to Asian cuisine.
The ambiance is austere, with friendly and attentive staff. They are not shy on spices and the flavors are very unlike those you can try in Argentina. Even the littlest of things like the red cabbage pickle, rice mounds, basic salads, and ice tea are impeccable. The owner, cooks and other staff are all devout Buddhists who want to spread its spirituality and the fact that it is not a religion, but a school of thought and a way of life. Its reviewers call it "food oasis" and it's definitely one of the best vegetarian restaurants in Buenos Aires!
Address: Costa Rica 5886
Boasting a 100% wood-fired brick oven, Siamo Nel Forno is the first choice of the Italian community in Buenos Aires. It uses high quality, selected Italian ingredients, the best quality of oils and garden fresh vegetables. This place always has crowds and you need to wait for at least 15-20 minutes if you decide to just walk in. Famous for its wide selection pizza, including arugula, prosciutto, buffalo mozzarella, the Neapolitan, New York, and Detroit style pizzas, it is also well known for its tiramisu.
Italian customers have supposedly admitted that the pizza at Siamo Nel Forno is as good as any they have had in Italy. The atmosphere is lovely and your pizza arrives straight from the oven, fresh and hot. The service is excellent and the ambiance is luxurious. There are no outside tables; you can see your pizza being prepared through a glass window. A side salad with a glass of wine or beer would make your meal even better. The place gives you a fine dining experience and culinary pleasure with its warm atmosphere fine ingredients.
Address: San Martín 1153
You can find it near the Park Tower Hotel. Chiuso Ristorante serves Italian and Mediterranean cuisine. It is famous for its variety and vegetarian options of pasta, ravioli, risotto, and wines. It is famous for its excellent selection of pasta, ravioli, risotto, salads, and desserts. Tomatoes, mushrooms, basil, garlic, olives, and other ingredients are fresh and high quality. The pesto sauce, bread, olive, and other oils are excellent. All these ingredients made it easy for us to add it to our list of best vegetarian restaurants in Buenos Aires!
Ordering is convenient as the menu is also available in English and the staff is polite and friendly. Also, they know English and take the time to explain the items to the very last detail. Half portions are also available which makes the restaurant unique. The rose wine and caramel ice cream are always in demand. Good for after hours, has a full bar and excellent table service. The place is small, cozy and comfortable. It is advised that you make a reservation in advance because the place is always full. Reserving a table is very easy, you can even make it using Facebook messenger. An enjoyable Italian experience is guaranteed.
Address: Fitz Roy 800
Known as one of the most romantic restaurants in Argentina, Toro 777 is famous for its overall dining experience. It serves a wide variety of vegetarian dishes which are best enjoyed with its delicious cocktails. You are welcomed with a delicious welcome drink after which you can enjoy a number of different kinds of bread with a variety of dips. It is a "behind closed doors" restaurant with excellent furnishing and an intimate setting, making it perfect for any kind of celebration.
The service is excellent, food is explained in detail in Spanish as well as in English. The owners make a great effort to welcome and greet all the guests and take care of their needs and preferences by providing excellent assistance in ordering. It has a great selection of wines to accompany your food. The beautiful rooftop ensures splendid evenings.
Address: Humboldt 1626
The Sunae Asian Cantina is famous for its successful recreation of the unique flavors of Southeast Asia by using local and seasonal products. This restaurant strikes a perfect balance between spicy, sweet, salty, acidic and bitter flavors to give you an unmatchable experience. Apart from its delicious pork, shrimp, prawn, and fish dishes, it has a wide variety of innovative and unique vegetarian dishes on its menu.
Some remarkable vegetarian dishes involve unique ingredients like shiso powder, coconut vinaigrette, and eggplant ash. Stew cooked in a clay pot is also a big hit. Including a full bar, the ambiance is stylish yet unpretentious, while the atmosphere is lively. The desserts offered are truly out of the box and very different in taste and texture. It is truly a hidden gem in Buenos Aires and one of the best places to get your spicy fix.
Ready to visit the best vegetarian restaurants in Buenos Aires? We surely are!