Home » India » Offbeat destinations in Rajasthan to visit
Rajasthan is the land of plenty. It is a state which boasts of elegant forts, pristine lakes and vast expanses of the Thar Desert. While all these elements make for a great holiday, there are offbeat destinations in Rajasthan which deserve equal attention. Read this guide from TalkTravel App to check out the list of offbeat destinations in Rajasthan which you can visit when you are here.
Offbeat destinations to watch out for in Rajasthan are:
Ranakpur
Sneak out of Udaipur in a private or hired taxi to visit Ranakpur which is 75km northwest of Udaipur. This charming little village will take you away from the din of Udaipur to witness some rustic village life of Rajasthan.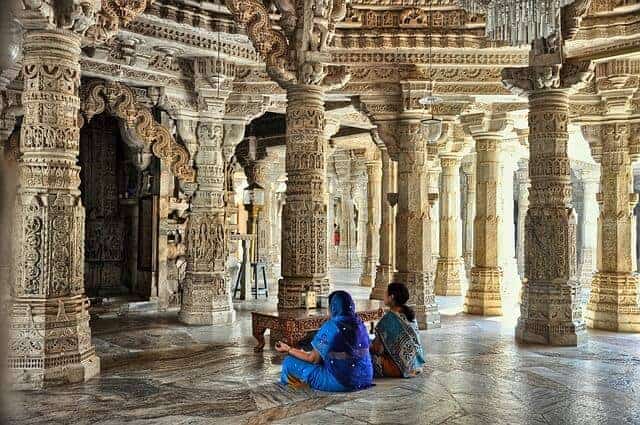 Most importantly, Ranakpur Jain temple is worth the visit as you will be in awe of the magnificent architecture and delicate carvings on marble. The most intriguing aspect of this temple is the 1,444 pillars and apparently, no two pillars have the same design!
The Ranakpur Jain Temple is open from 12 pm to 5 pm every day. There is no entry fee but a small fee of 100 INR is charged for cameras. The taxi or rented car will charge a maximum of 4000 INR (60 USD).
Kumbhalgarh
When you have driven this far to visit Ranakpur, take a slight detour on your way back to Udaipur to visit Kumbhalgarh. It is 34 km away from Ranakpur. You can visit the massive Kumbhalgarh Fort. Besides that, you can visit the Kumbhalgarh Wildlife Sanctuary. Drive through villages, enjoy the quiet countryside and appreciate beautiful landscapes on your way.
Kumbhalgarh Fort
Kumbhalgarh Fort is a Mewar fortress in the Aravalli mountain range. It was built by Rana Kumbha through the 15th century and it is a UNESCO World Heritage Site. Kumbhalgarh Fort was a military stronghold and has a wall that 38 km long which makes it the second longest wall in the world. The entry fee for domestic visitors is 15 INR while the entry fee for foreigners is 200 INR.
Watch this brilliantly captured video of the Kumbhalgarh Fort.
Kumbhalgarh Wildlife Sanctuary
You can either go on a hiking trail or a jungle jeep safari in this sanctuary. If you are lucky, you might encounter the elusive Indian leopard. Other wildlife creatures that you might get to witness are wolves, fowls, jackals, peacocks and more. Read this very informative travel guide from Outlook Traveller to arrange a safari at this sanctuary.
Chittor Fort
Offbeat destinations in Rajasthan are slightly away from central attractions. Like the Chittor Fort which is 120 km away from Udaipur. Chittor Fort has many thick gates which are carved, many temples, palaces and an emerald green lake all within the walls of the fort.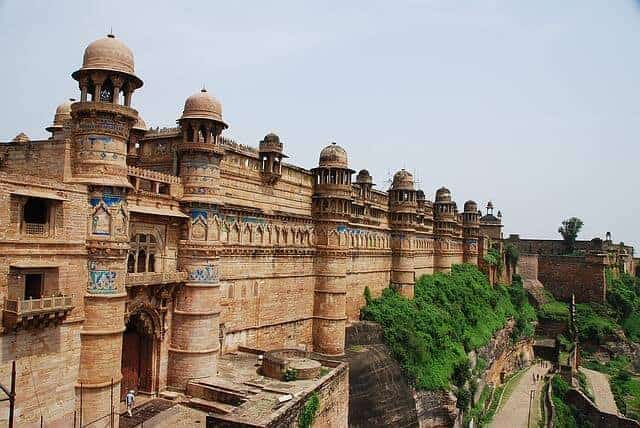 The fort is open all days except Mondays from 10 am to 5 pm. Watch the sound and light show every day from 7 pm to 8 pm. The entry fee is 10 INR for Indians and 100 INR for foreigners. You can visit this place in a cab for a one-day trip. If you take the train then you can stay back one night here and return to Udaipur the next day. The tickets cost a maximum of 1000 INR to and fro.
Mount Abu
Mount Abu is a hill station in the Aravalli hills. It is 215 km away from Udaipur and worth paying a visit. It is considered as one of the offbeat destinations in Rajasthan for the presence of rivers, lakes and a forest in a terrain full of the desert which is common in Rajasthan. There is no train connectivity to Mount Abu so book a cab or take a bus ride to visit this place from Udaipur. The cost of the journey is around INR 1000 to and fro.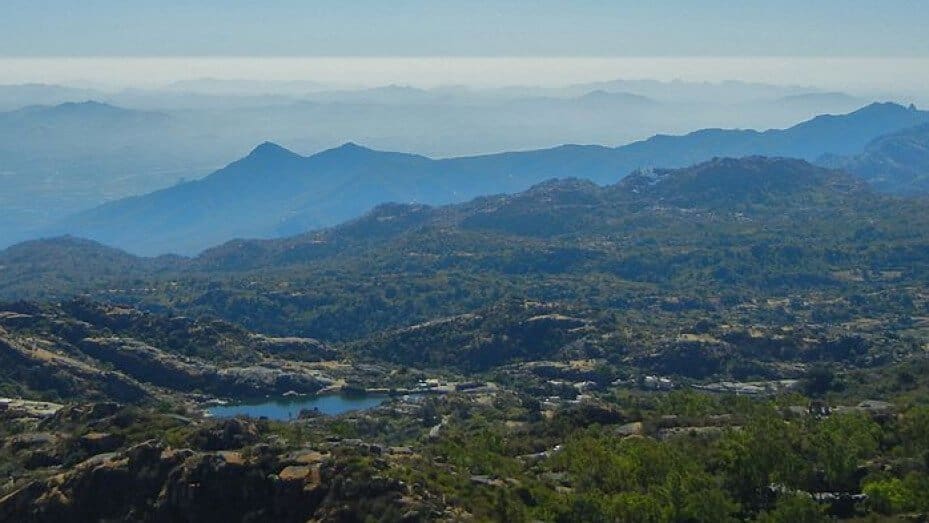 There are many temples here and hence a famous pilgrimage spot. Visit the Dilwara Jain Temple built in marble for its intricate architecture. Guru Shikar is the highest point in Mount Abu and a great place for panoramic views of the place.
Visit the ancient and sacred Nakki Lake. This lake is also famous because there is the Gandhi Ghat where Mahatma Gandhi's ashes were immersed. You can enjoy a pleasant boat ride in the lake for less than 300 INR. Check out this detailed guide to explore Mount Abu.
Nakki Lake in Mount Abu.
Pic courtesy: Outlook Traveler
Karni Mata Temple
If you have the fear of rats then this is not the place for you. The Karni Mata Temple, famously known as the Rat Temple houses thousands of rats within its walls. It is a Hindu temple dedicated to the goddess Karni Mata. The temple is in Deshnoke, 30 km from Bikaner and 200 km from Jodhpur. Catch a bus from Bikaner to visit this temple or hire a cab if you are visiting from Jodhpur. You can also visit the Junagarh Fort in Bikaner.
Watch this video to see how hundreds of rats scamper around the temple and people continue to worship without batting an eye!
This temple is one of the most offbeat destinations in Rajasthan as well as India. People who come to offer prayers in the temple generously feed these rats. The strangest part is that the food that is eaten by the rats is considered holy and is later served as 'prasad'! Visiting this place is nothing less than a hair-raising experience.
Bundi
Bundi is around 218 km from Jaipur. Taking the train is the most convenient option. The train ride can take anywhere between 3 hr to 8 hr to reach depending on which train you book.
Bundi is famous for the Taragarh Fort, a step well called Raniji ki Baori and the Garh Palace. The town is sparsely populated and not many tourists visit. Hence it is a delight to visit this place. The houses in Bundi are painted in blue just like in Jodhpur. 
The most prominent architectural landmark in Bundi is the Raniji ko Baori. This stepwell is a classic example of rainwater harvesting in a dry region like Rajasthan. The pillars made of marble have exquisite carvings and the steps are neatly laid out around the well.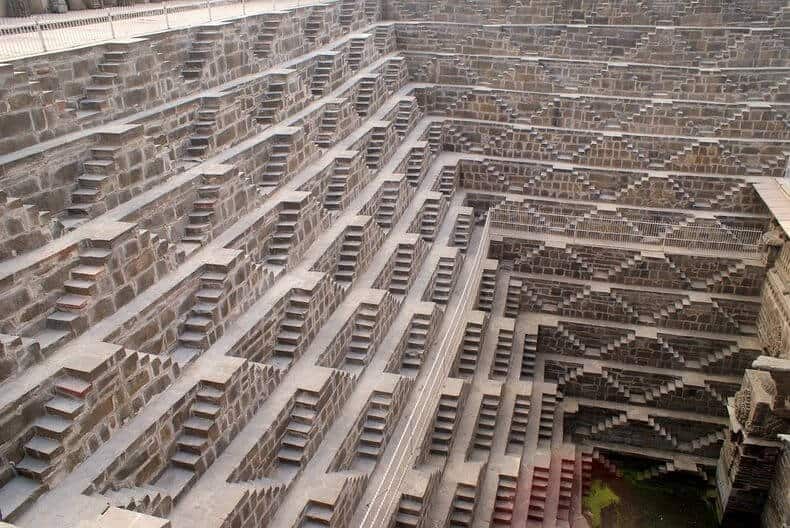 Ranthambore National Park
Ranthambore National Park is 155 km from Jaipur and it is convenient to take the train to Sawai Madhopur Railway from Jaipur. Visit this website for a more detailed information about the national park. The national park is closed from July to September so plan your visit accordingly.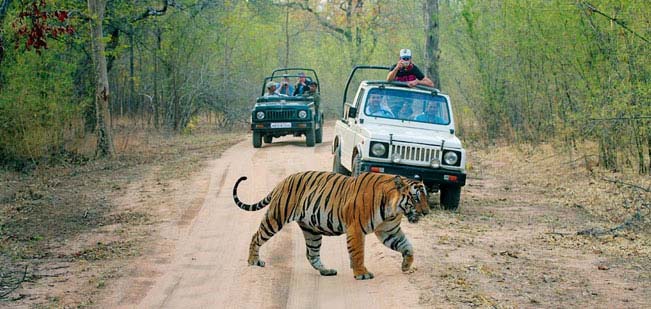 This national park is the best place to observe wild tigers in their natural habitat. Other wildlife you might get to encounter is the leopard, crocodile, wild boar, sambar, sloth bear, hyena, langur and more.
Sariska National Park
Just 100 km from Jaipur, Sariska National Park houses a number of tigers in its vast forests. There are two lakes called Siliserh Lake and the Jai Samand Lake. These lakes are home to many crocodiles and snakes. Read this detailed guide to plan your trip to Sariska National Park.
These national parks are considered as offbeat destinations in Rajasthan as a lot of tourists just visit the popular cities of Rajasthan skipping these parks. It adds great value to your trip if you include a visit to the forests in your travel itinerary to Rajasthan.
We hope this compilation of offbeat destinations in Rajasthan will help you plan your trip. You can dedicate more days to explore Rajasthan as there is so much to do which is worth the effort and time. Do let us know of any other offbeat destination which you uncover that deserves to be on this list. We hope it is equally enthralling as the ones mentioned above. 
Do write to us, in case you have any questions and we at TalkTravel App are happy to help. If you need any help in building a travel itinerary or you have any other query, download our free TalkTravel App. It is available for download on your Android or iOS device. You can download the TalkTravel App for free and reach out to the local expert without any additional cost. You are free to ask any doubt before or during your travel and our local expert will be ready to assist you.
We wish you a safe and happy travel!