Home » Food-Restaurants » 10 best vegetarian restaurants in Los Angeles
With a population of four million, Los Angeles is the second most populous city in the United States after New York City. LA is famous for being the center of the entertainment industry, for its ethnic diversity, its Mediterranean climate, and the beaches. It is one of the most attractive tourist destinations in the US, there's so much to visit!
The cuisine of LA is a mixed bag of many cultures and there are many restaurants and eating places. You can find American, Mexican, Latin, Cuban, Mediterranean, Middle Eastern, and almost any other kinds of food. Here are the 10 best vegetarian restaurants in LA (we also include some vegetarian-friendly!).
Address: 8000 Sunset Blvd
Located at the Sunset Plaza near the Sunset and Crescent Heights, the Veggie Grill restaurant is famous for offering a wide variety of fresh, healthy and delicious vegetarian food. The burgers, fries, tacos, salads, sandwiches, bowls, soups, stew, wraps, mac and cheese, hummus, fried tofu, black beans, and drinks are high quality, creative, fresh and well prepared. The Mediterranean salad is one of the restaurant's most popular dishes. Also, try the carrot cake, Caesar salad, and lentil soup.
There are some Asian fusion dishes and interesting flavors of ice tea and lemonade. They also serve wine and beer. The ambiance is modern and upbeat, the staff is polite and friendly and the food is healthy, delicious and wholesome. No matter what your preferences are, this place will surely satisfy you as it has something in its menu for everyone's taste. The transportation to this place is very easy and they have free parking for 90 mins. It is highly acclaimed for its innovation and made the list for 25 Most Innovative Consumer Brands of 2016 by Forbes.
Address: 807 Americana Way, Glendale
Granville opened with the purpose of making quality gourmet food accessible to the customers at affordable prices. They use fresh and high-quality ingredients to cook dishes that are very popular. At Granville, they consider cooking as an art and it shows in taste and presentation. It is a beautiful and comfortable restaurant having a large menu which has many options for vegetarians and vegans. For brunch, it has a separate menu. It contains dishes like chilaquiles, bagels with whole cream, mac and cheese, and many other options. There are a number of drinks on the menu that are fresh because they are made by hand without using standard mixes.
The ambiance is upscale yet unpretentious and there are many seating options- inside, outside, booth or at the bar. The atmosphere is laid back and relaxing and the bartender and other staff members are polite, friendly and knowledgeable. The artisan cheese is very popular and the soups and salads are fresh and filling. A must visit place in Glendale for having a delicious and satisfying meal in a comfortable and relaxing atmosphere.
Address: 1715 Pacific Ave, Venice
Tocaya in Venice is a modern restaurant with a sophisticated ambiance. This place serves excellent Mexican and Latin food like tacos, burritos, salads, bowls, and others. It is a great place for vegetarians and non-vegetarians alike. Tocaya has many vegan as well as gluten-free options in the menu. This place rightly claims that it was born out of a mission for better eating. One of its objectives is to redefine the health conscious dining experience with bold flavors. The service is excellent, they greet you with a bright smile, make great recommendations all the while giving you your space. There is parking space and outdoor seating available and they allow pets in the outdoor seating area.
Some of the creative and out-of-the-box dishes in the menu are the Guiltless gluten-free burrito, coconut churro bites, tostada salad, Baja tacos, shaved brussel sprouts, guacamole with pomegranate seeds, quinoa salad, etc. There are several drinks like hot and cold teas and coffees, frescas, and desserts like sweet corn tamales and burrito fruit bowl. The place has a sophisticated ambiance but the experience is very casual and relaxing, making it one of the best vegetarian restaurants in Los Angeles!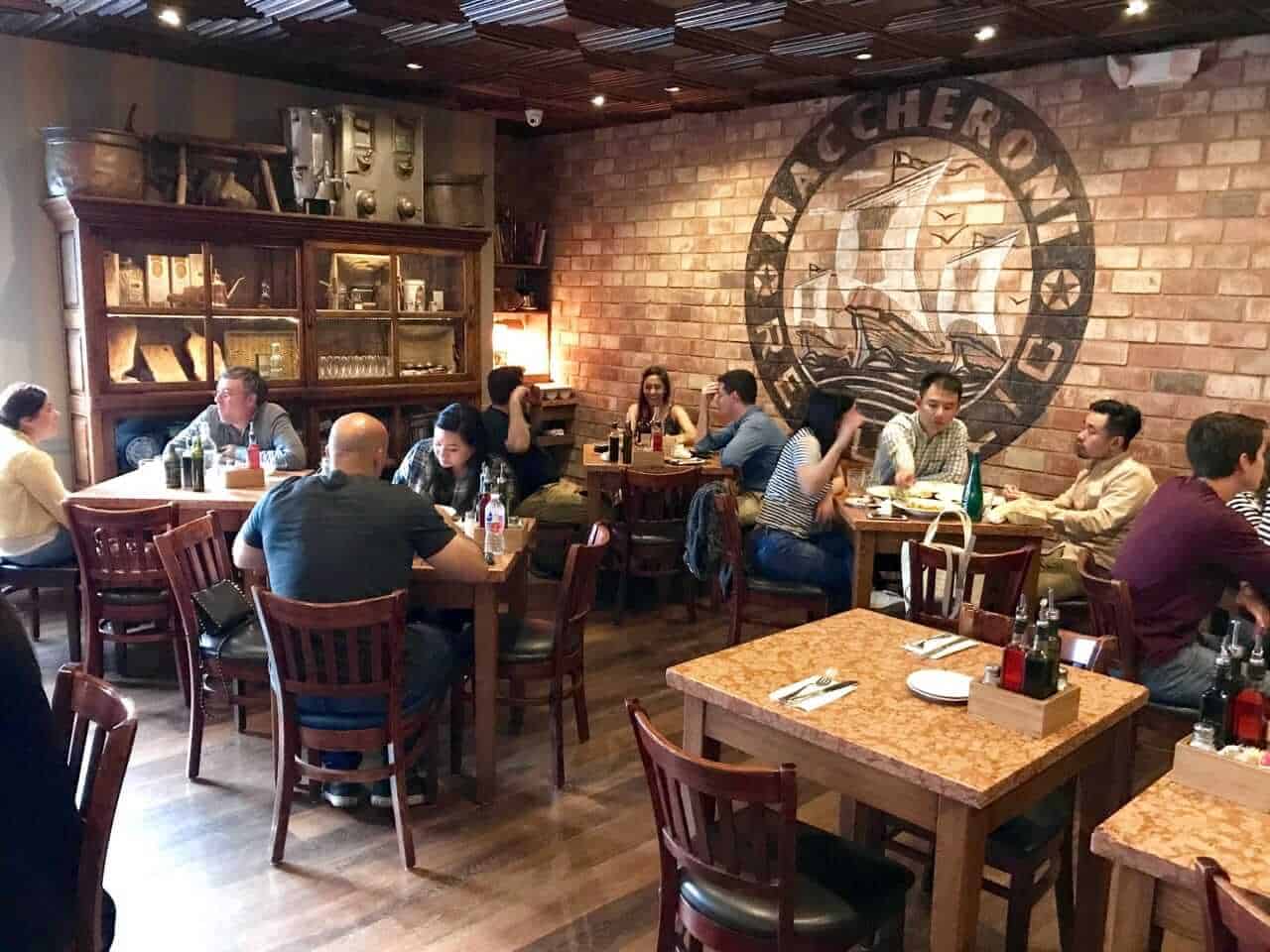 Address: 1715 Pacific Ave, Venice
Famous for its artisan handmade organic pasta, Maccheroni Republic serves a great selection of Italian, Mediterranean and Asian cuisine. Maccheroni Republic is a true Italian experience with real Italian food and excellent service. The restaurant has many loyal customers because of its consistency in quality and service. Definitely, it is one of the best restaurants in downtown LA and a hidden gem of sorts. It is always busy, which is apparent from the fact that it does not take reservations and allows seating on first-come-first-serve basis.
Prices are more than fair and the atmosphere is pleasant and comfortable. The staff is attentive, friendly and food is cooked with love and passion. The sauces used in the pasta are very well balanced and the ingredients used are perfect in proportion, with nothing overwhelming on the taste buds. The atmosphere is lovely and it is a great place both for a night out with friends or a nice time with the family due to its large courtyard seating and charming patio. We just had to put it in our list of best vegetarian restaurants in Los Angeles! The wine list is exceptional and reasonably priced. Among the desserts, the cannoli and tiramisu are truly authentic and wonderfully delicious.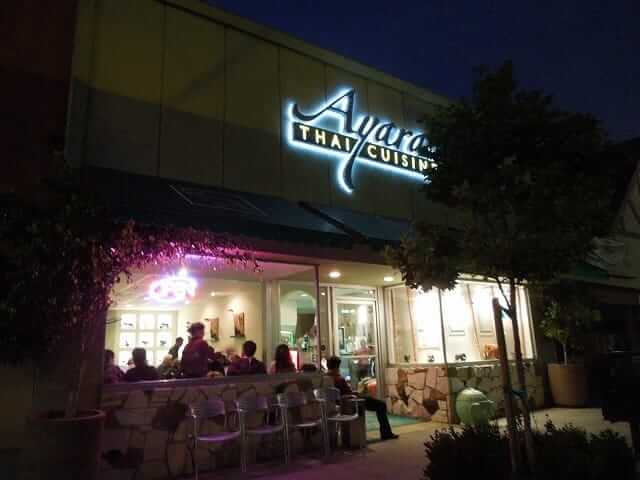 Address: 6245 W 87th St
Located near the LAX, Ayara Thai cuisine is dedicated towards the cause of bringing back old traditional Thai recipes that use locally grown fresh and flavorful ingredients. The recipes are inspired by royal cuisine and inspired by cooking styles passed down through generations. There are a lot of vegetarian and vegan-friendly options in the menu, for instance, the vegan pad thai, massaman curry with tofu, tofu drunken noodles, rad na, spring rolls with tofu, kra teim, etc.
The service is excellent and they ask you if you want all your food at once or in a particular order, which is very convenient and customer friendly. The atmosphere of this restaurant is relaxing and laid back, and the furniture, silverware and decorations are beautiful.  The soups and salads are fresh and delicious and the curries are sumptuous, straight from the old country. This place offers seasonal dishes, as it believes in using only the freshest ingredients that the season has to offer, drawing inspiration from traditional Thai style of family cooking, where it was a family value to cook food using home-grown and fresh ingredients.
Address: 8284 Melrose Ave
Crossroads Kitchen is not a regular vegan-friendly restaurant. With charming décor and creative lighting, it serves excellent American and Mediterranean cuisine. It proudly claims that it was the first plant-based restaurant in town to have a full bar with an inspired cocktail program. The owner of this place is a celebrated chef, a graduate from the National Gourmet Institute, an author of a New York Times best-selling cookbook, "The Conscious Cook" and famous for making his mark by catering high profile events like Ellen Degeneres' wedding.
The ambiance is fancy and soothing, while the service is excellent with staff that is friendly and knowledgeable. There are many creative and interesting dishes in the menu such as the impossible burger (in the picture above!). Classics like the Caesar salad, blueberry pancake, French toast, burrito, bagel, and lasagna are on point. There are some high protein dishes in the spring dinner menu like spiced chickpeas, butter beans and housemade lentil tempeh piccata. The late night menu starts at 10 pm which consists of dishes like grilled cheese broccoli bisque, chopped Romaine Caesar, buffalo maitake mushrooms, etc that greatly complement the full bar and the brilliant wine list. All in all, one of the best vegetarian restaurants in Los Angeles!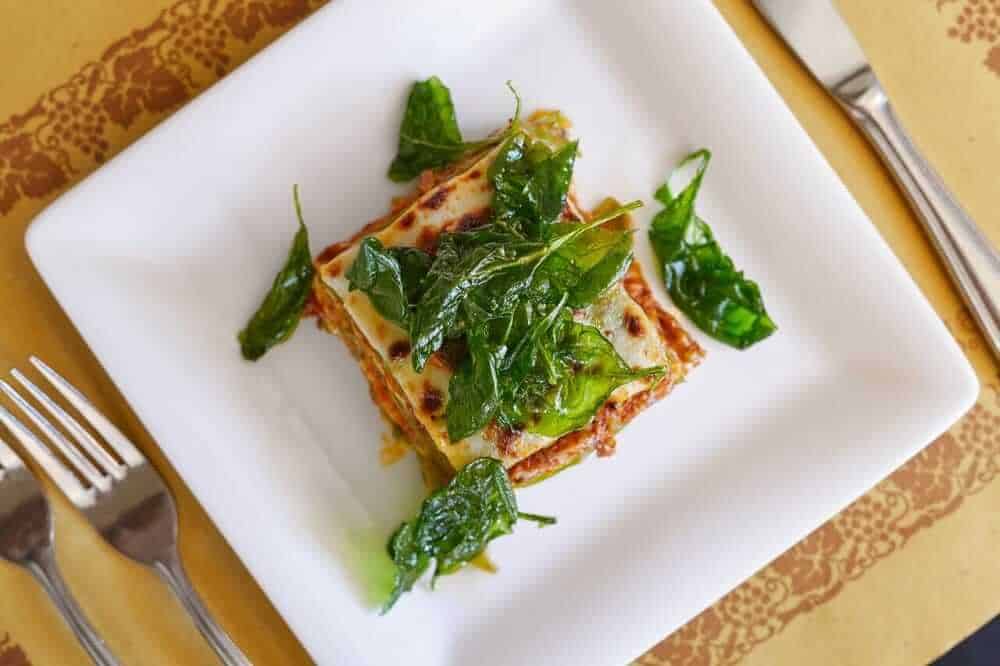 Address: 7313 Beverly Blvd
A popular and widely loved Italian Restaurant, Angelini Osteria was opened in 2001 and since then, it has become one of the most celebrated restaurants in Los Angeles. What makes it special is that even after so many years of operation and expansion, it is still entirely owned and controlled by a single family, which has many benefits. It also has its own full-scale catering service which is highly sought after. It is always super busy and it is recommended that you make a reservation in advance. The service is excellent, all the waiters are Italian, they are attentive, friendly and know the dishes to the last detail.
The salads are fresh and satisfying, the pasta is sumptuous and the desserts are delicious. There are several vegetarian and vegan-friendly options on the menu. The classics like Penne Arrabbiata, Burrata Arugula, Margherita pizza, etc are on point. The pizza has a crispy crust and the combinations of toppings are very creative and interesting. It is also a great place for celebrations with friends and family, they can easily manage a small crowd and take care of everybody's needs and preferences.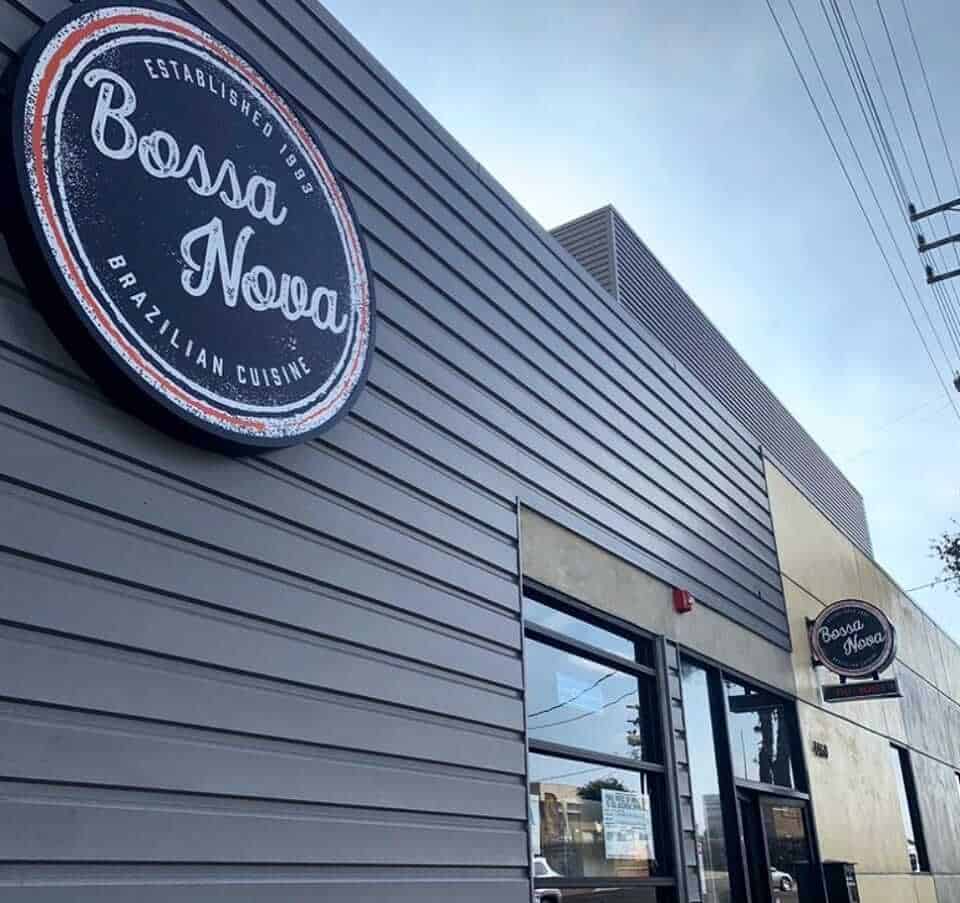 Address: 7181 Sunset Blvd
Bossa Nova is a Brazilian and Italian restaurant serving fresh and delicious food that is cooked with care and commitment. This place has a big menu and something for everyone. From sandwiches, pizza, and pasta to salads, grilled food, bowls, drinks, and desserts. This place has got it all covered for you. There are many basic and nutritious ingredients which form part of the dishes, like rice, beans, plantains, mashed potatoes, etc. Along with these basic ingredients, there are many creative dishes on the menu as well, such as passion fruit mimosas.
The ambiance is comfortable and outdoor seating and street parking is available. This place is always busy (even at 3 am) and so are the staff but they are very friendly, attentive and their first priority is your satisfaction. The menu adequately represents both healthy and hearty dishes. It is a great place to visit after visiting the famous walk of fame. The ingredients used are fresh and flavorful and the sauces have a very well balanced taste. The food arrives quickly and hot. They have Brazilian beer which is a must try and the wine list is great. All of these made this place get to our list of best vegetarian restaurants in Los Angeles.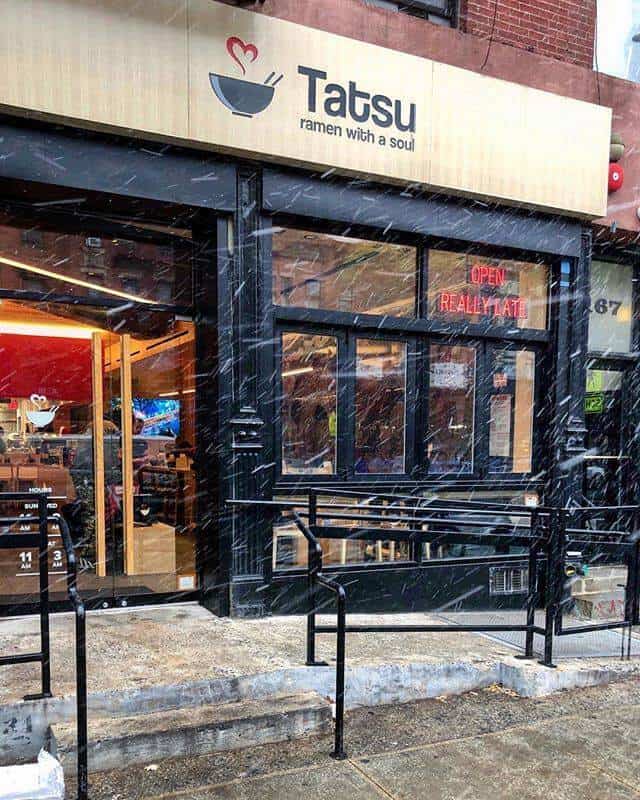 Address: 2123 Sawtelle Blvd
Tatsu Ramen serves steamy ramen bowls made with authentic ingredients and herbs, and in a broth that is made in-house every day from scratch and takes a long time of 14 hours to get ready. The ordering system is iPad based and very easy to use, but what makes this system special is that you can customize your own bowl of ramen by adding or removing ingredients to your liking. You can even customize the level of spiciness. 
There are vegetarian and vegan options for different kinds of ramen, that's why this place is in our list of best vegetarian restaurants in Los Angeles! They have a "Bold ramen" which is their spiciest, the "Hippie ramen" which is made in a vegan broth, the "Naked ramen" with no broth but containing ingredients like sweet sesame glaze and crunchy whole wheat breadcrumb, the "Soul ramen" made with black garlic oil and sweet umami sauce and all these have vegetarian options. Side dishes like the classic fried rice and the red rice topped with sweet corn and green onion are very popular. The ambiance is comforting and the presentation of the food is beautiful and appealing. Made in the house, the noodles are fresh and delicious. Also, the service is excellent and very convenient.
Address:  8611 Truxton Ave
Situated close to the LAX, Truxton's is a great place for having American and Mexican food. Its menu is large and has many options for vegetarians and the health-conscious. The menu includes a section of "small plates" which has small portions of tasty dishes like grilled artichoke, monkey bread, buffalo cauliflower, and charred broccoli. There are sandwiches, burgers, pastas, vegetarian dishes like the veggie wrap, veggie steak tacos, and chickpea stew, salads, soups, desserts, and drinks.
It is a great place for a comforting meal as well as for celebrations. They provide their own catering services which are fairly popular. They have a special weekend brunch menu which contains dishes like French toast, waffles, sandwiches, burritos, protein breakfast plate, avocado toast, and kale bowl. There is a full bar serving a variety of crafted and classic cocktails. There is plenty of parking space available and the service is outstanding. This place is busy and always bustling with travelers, tourists, and office goers. The ambiance is modern, upscale and comforting while the food is flavorful and delicious. The bar is outstanding and the bartender is hardworking and courteous enough to offer you samples of liquor to help you decide on the cocktails.
These are the best vegetarian restaurants in Los Angeles. Did we miss any? Tell us in the comments!