Home » Destination Guides » So glad to meet you, Los Angeles!
Welcome to La La Land
This is not a musical rom-com packed with unbelievable fairy tales, handsome men and low self-esteemed women, this is my exciting adventure to Los Angeles travel and short documentation on it. Yes, I am literally humming all those magnificent classics guys, but don't leave! I can't be wry while writing about Los Angeles travel but I am truly thrilled, excited to share the things that you should do and the way you might enjoy it the most. Whether you are planning for a 7-day trip or just a night stay, Los Angeles can be versatile for you. Love it the way you want. The moment you land on it, get ready to feel a very casual attitude coupled with an urban charm.
If you are simply transiting through LA you can still make an impact by playing in the Union Station. It houses a giant piano for passersby and anyone with music-in-fingers can play for the crowd. Don't miss the Vintage Hollywood which houses famous names such as TCL Chinese Theatre, the Hollywood Walk of Fame, and Paramount Pictures Studios, the only television, and film studio left in Hollywood. Saunter through Rodeo Drive, if you are keen on shopping ( though, way too costly with triple y) or have a lazy walk across coastal lines and visit some of the amazing beaches including Venice Beach, Zuma Beach and the Santa Monica Pier and Beach.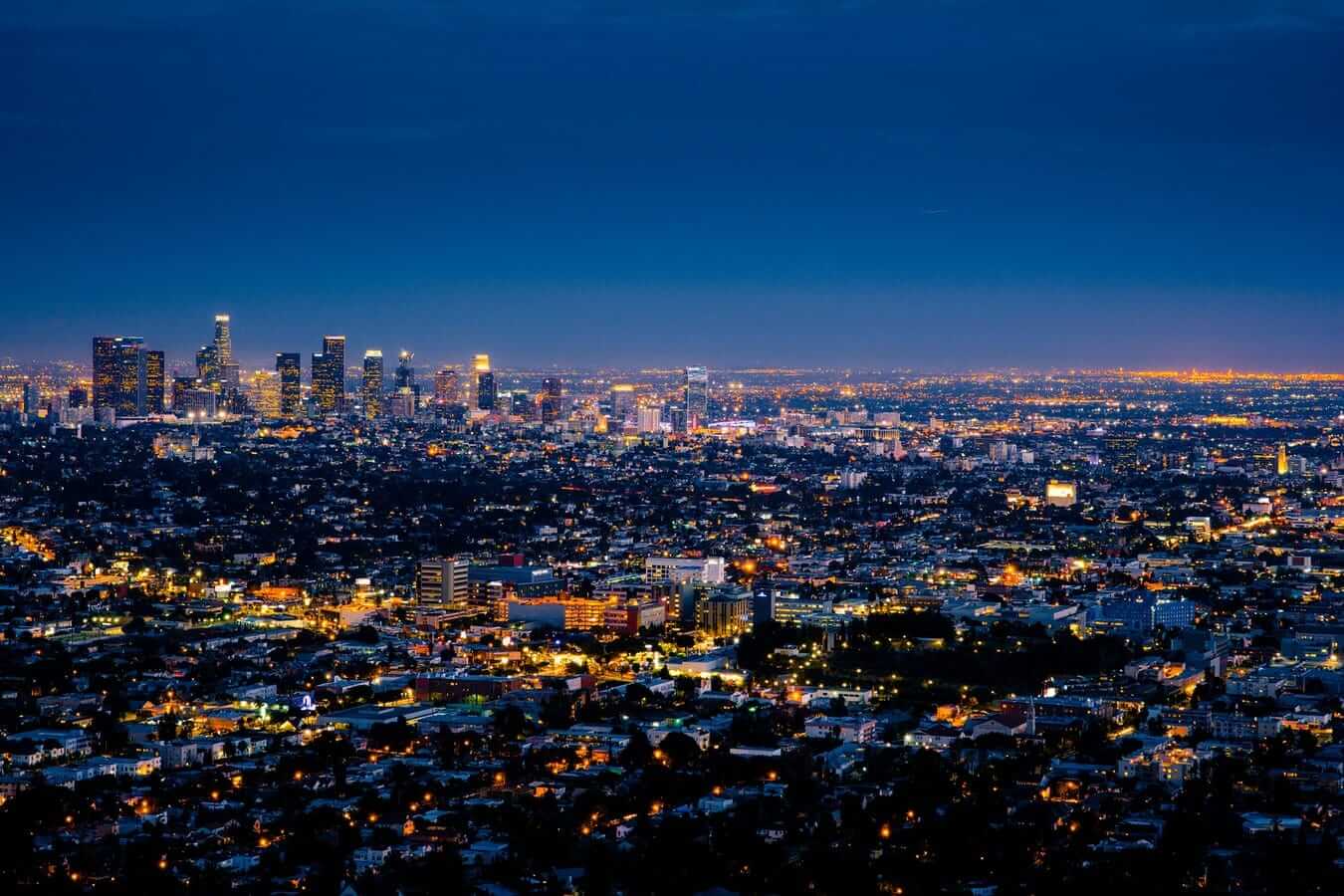 Ready to say Hi to the Holly Molly Hollywood-housing LA? Go through this guide. I have tried to squeeze in as much information ( relevant to a tour ) as possible. If you have any question don't hesitate to write in the comments sections below or put comments on our Facebook, Twitter, Instagram, or email at [email protected]
1) Takeaway points for Los Angeles travel

1.1) Know about American coins. How many pennies equal a dollar?
1.2) Learn about custom cash limit. Currently it's $10000. You are strongly advised to read this site.

1.3) Avoid tourist times (June-August), best visit means either fall or spring.
1.4) If you are traveling around LA, take a metro. If you are going out of the city take an Amtrak.
1.5) Tipping in LA (in the entire US) is mandatory. Don't give anything less than a $10.
1.6) Be cautious of travel scams. Firmly decline any unsolicited offer.
1.7) Free Internet: Sadly you won't get it everywhere apart from some spots including public libraries. Only Beverly Hills offers a free area-wide WiFi.
1.8) The standardized Electric power rating is set at 110 Volts and 60 Hz in the United States. If your device doesn't support dual voltage bring a voltage converter.

1.9) Emergency? Call 911. Remember 800-656-4673 is the National Sexual Assault Hotline.

1.10) Get an International SIM card. Possible options include OneSIM, WorldSIM, KeepGo,  etc.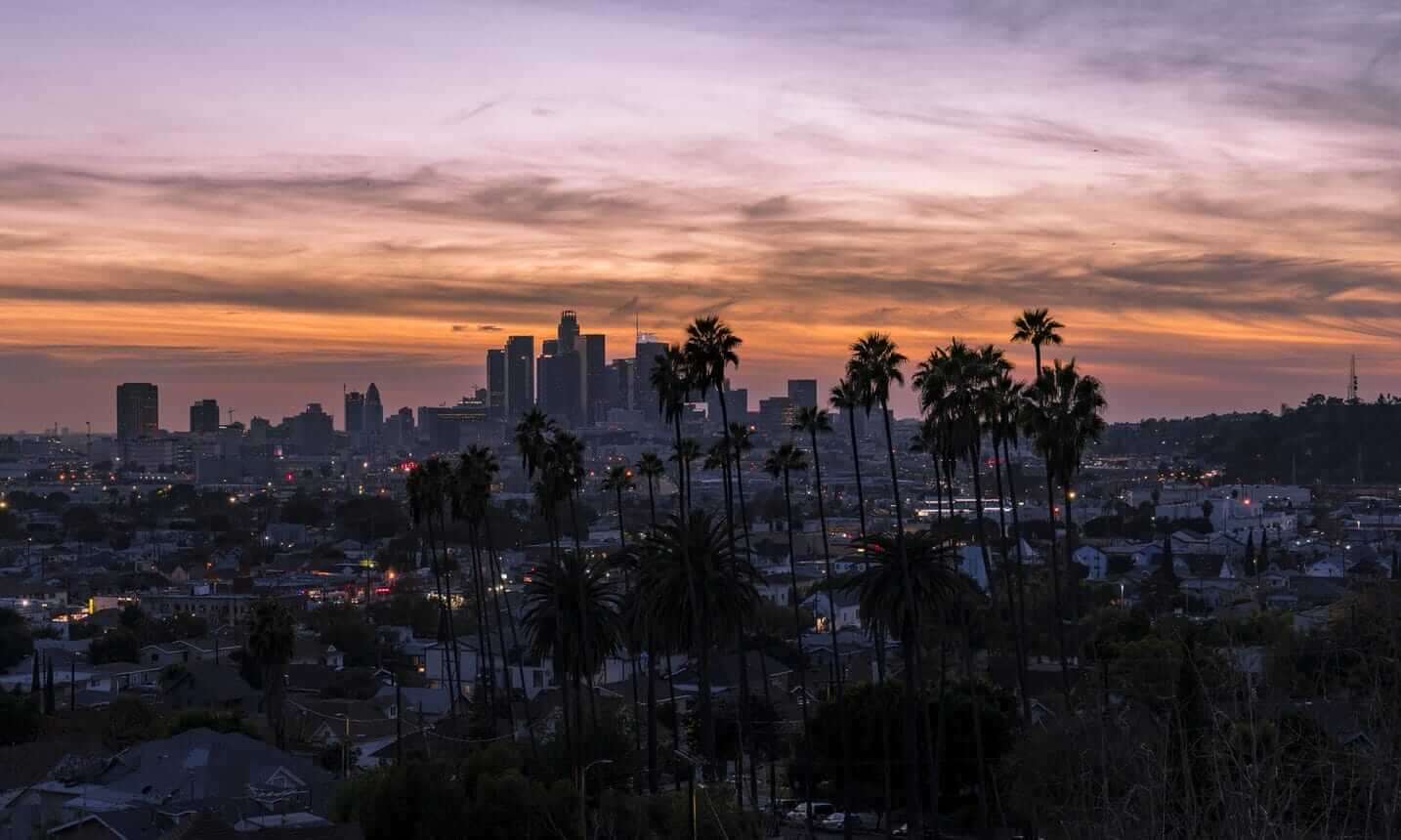 2) Preparing for Los Angeles travel: Currency and daily budget info!
2.1) Finance and Currency information
To everybody out there, the currency of Los Angeles (of the entire country actually) is US Dollars and everybody knows this. But can you differentiate among the US coins? If not, this piece of information might be very useful for you. Honestly, I had no idea what was lesser than a dollar, when I entered the country and I learned to differentiate among different coins from a store manager of Cousin's candy shop (San Diego, Downtown one). So it goes like this.
Coin name
Description
Image
The Penny
1 Penny

=

1 Cent

100 Pennies = 1 Dollar

The Nickel
1 Nickel

=

5 Cents

20 Nickels = 1 Dollar

The Dime
1 Dime

=

10 Cents

10 Dimes = 1 Dollar

The Quarter
1 Quarter

=

25 Cents

4 Quarters = 1 Dollar
Customs Cash Limit
Okay, so what the heck is this? If you are flying with cash, then there are certain things that you must know and that's the amount of cash you can fly with. In general, there is no strict rule for (bringing in/out) any amount. However, "if a person or persons traveling together and filing a joint declaration (CBP Form 6059-B) have more than $10,000 in currency or negotiable monetary instruments, they must fill out a "Report of International Transportation of Currency and Monetary Instruments" FinCEN 105 (former CF 4790)" as per the US Department of Homeland Security. While on Board, you will receive a form from the flight attendants (before you arrive/leave) that will have everything you need to know and accordingly, declare.
2.2) Best methods for exchanging money? 
Take it from someone who has experienced the worst and the best. Always, just always believe in your bank. They give the best rates out of all the options you may have. Good alternatives include ATMs and Private money exchangers. You will see a ton of money exchange kiosks at the airport but don't fall for the trap. They don't offer a good deal, at all.
Your banks:

If you want to avail the best rates, there is nothing better than your local bank branches. Sometimes there is zero or a minimal fee involved since they get access to the best rates. So, my best advice to you would be to stop by your local bank.

Overseas ATMs:

This is the second best method because its quick and the exchange rate is slightly lower than private money exchangers.

Independent foreign currency exchange businesses:

You will get tons of these in LA but I would recommend exchanging your money through

Travelex

. You can get their branches in different locations including

South Coast Plaza, Brea Mall and inside specific US Bank branches in Beverly Hills, Santa Monica, Glendale, Anaheim, Huntington Beach and more. If you want more options you can go for

Foreign Currency Express

and

LA Currency

in downtown LA,

AFEX

,

International Currency Express Inc.

in Beverly Hills,

Currency Exchange International in Santa Monica.

2.3) The Daily Budget Idea for Los Angeles travel

| | | | |
| --- | --- | --- | --- |
| | Budget option USD (up to) | Mid-range option USD | High-range options USD (more than) |
| Living | $40-60 if you stay in dorm rooms or Airbnb it. | Roughly $150-200 if you choose a budget hotel | Roughly $300 or more if you plan to enjoy a 3 star+ living |
| Dining | Get Take out meals that cost $6-15. Order Mexican food, it usually costs less | A full-fledged meal can be available at $30-40 from a budget restaurant | There are plenty of options where you can have your luncheon. Options start at $75 without drinks |
| Transport | Take a Metro day pass of $7 | Have faith in Uber rides. Minimum fare if you catch one is $5.80 | If you wish to make an impression, choose a Black SUV for 6 people and minimum fare is $25.75 |
| Total | Max. 82$ | 245$ and above | 400$ and above |
The budget is an estimate of cost per daily (CPD)
* Use XE converter for an accurate conversion
3) Language: Of course, you know English. But can you speak Spanish? 
Don't you get it from the city name? It's Spanish guys. "Los Angeles" simply means the city of Angels. Although English is the most common language, know that it incubates 224 different languages that are spoken across the city. Sounds weird? Well if you really dig deeper you will understand the true nature of its diversity. Nevermind, we are here to talk about the second most spoken language in LA and that's Spanish. Sí amigo, ¡vamos!(yes friend, let's get to it). Now it won't harm you if you do not know this language since everybody knows English but sometimes having a little vocabulary stock of a different language can only benefit you.
3.1) Greetings and Shopping
Thanks: gracias
Sorry: lo siento
Please: por favor
Foreigner: extranjero
Do you speak English?: ¿Habla Inglés?
How much: ¿Cuánto cuesta?
Too expensive:  Es muy caro
Can it be cheaper: ¿Puede ser más barato?
3.2) Numbers
| | | | | |
| --- | --- | --- | --- | --- |
| One: Uno | Two: Dos | Three: Tres | Four: Cuatro | Five: Cinco |
| Six: Seis | Seven: Siete | Eight: Ocho | Nine: Nueve | Ten: Diez |
If you wanna know more and how they sound make sure to tap on the tiny little speaker that appears on Google Translate. Always, just always download the specific language you wish to use. This will come handy if you are in an area with bad network reception.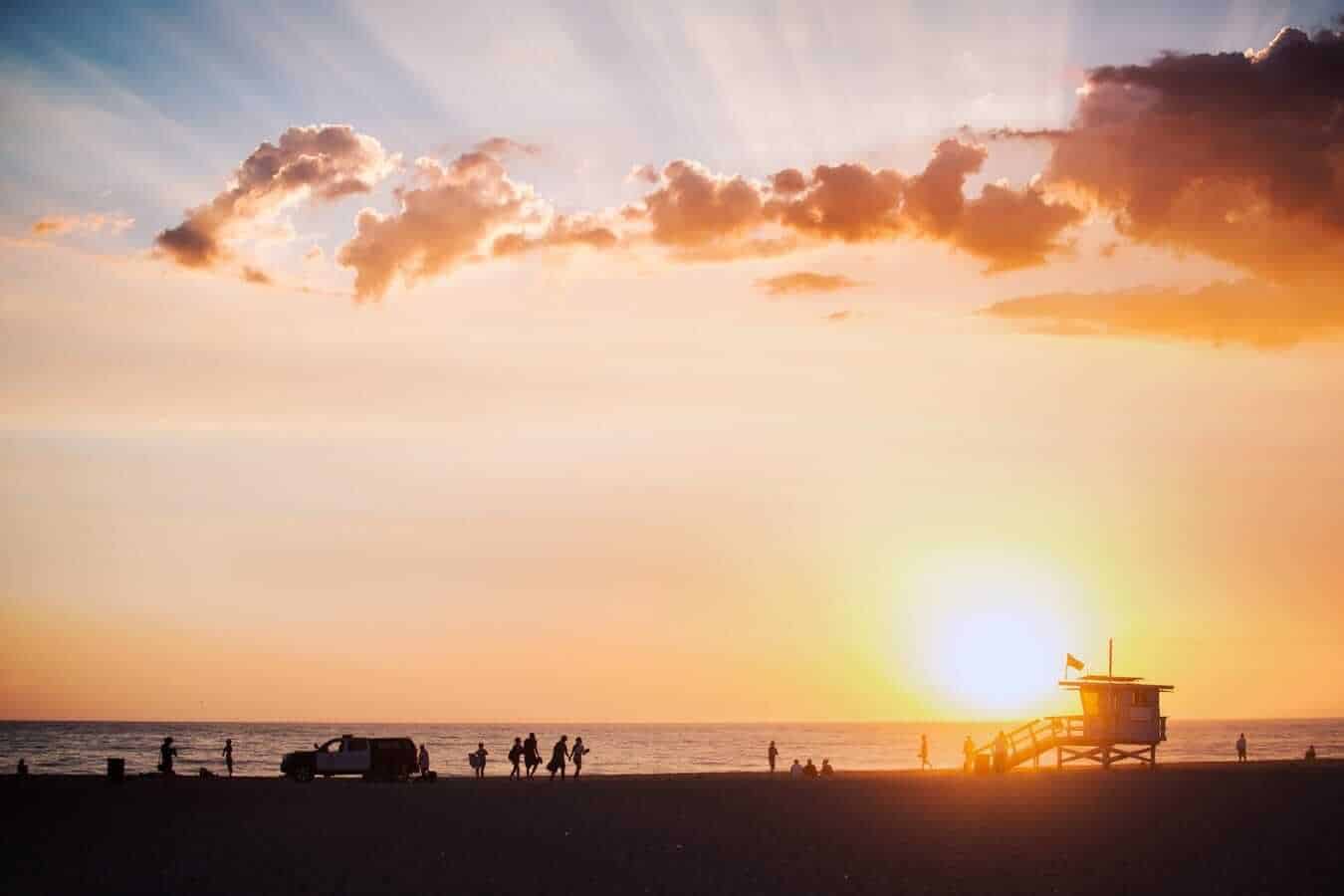 4) Movies and Books to see before Los Angeles travel

God! The list can be huge 'cause LA is the mother of movies but I am going to name five of those which can literally give you a vivid idea even before you arrive here. I am going to start out with the old ones.
4.1) Movies
4.2) Books
City of Quartz

: If you are a book person you should start with this one by

Mike Davis

which depicts the history of Los Angeles and unravels the deep roots of racism conflicts.

L.A. Confidential: If you are a crime thriller lover then go with the by James Ellroy. It's the kind of crime-writing that harbors a very powerful imagination and verbiage, which will make you question the authority alongside the convicts.
Holy land: A suburban memoir by D.J. Waldie offers a post-world war II depiction of the LA where the author grew as a child in Lakewood. According to Goodreads-introduction of this book, it describes what was "gained and lost when thousands of blue-collar families were thrown together in the suburbs of the 1950s."
Less than Zero: If you wanna time travel, you can allow by Bret Easton Ellis to take you to the "80s LA which once corrupted the teenhood with early exposure of sex, drugs, and disaffection.
Los Angeles: The Architecture of Four Ecologies by Reyner Banham opens rather a positive side of L.A., examining the beach, the freeways, the flatlands, and the foothills with a fresh outlook.
5) Best time for Los Angeles travel

Actually, you can pretty much come here whenever you think is good for you. However, you should avoid the peak seasons for tourists, which generally lasts from June to August. The weather also acts cruel and you will be facing an unbearably hot environment with pricey accommodation. My suggestion to you "Either choose March-May or September-November". The weather at that time is pretty bearable and you will be able to enjoy the most.
| | | | | |
| --- | --- | --- | --- | --- |
| Months | Min. temp in °C | Max. temp in °C | Avg. rainfall in mm | Avg. sunshine in hrs. |
| Summer (May, June, July) | 12 | 27 | 10 | 13 |
| Fall (August, September) | 14 | 28 | 5 | 12 |
| Autumn (October, November) | 10 | 24 | 31 | 10 |
| Winter (December, January, February) | 8 | 19 | 79 | 8 |
| Spring (March, April) | 9 | 21 | 48 | 11 |
6) Getting there and getting around 
Los Angeles is a huge city and it's the left Kidney of the United States after New York ( if it's the right one). So many airlines actually possess direct flights to the city however make sure you choose wisely from the myriad of airlines available at your disposal. Some are quite cheap while others can be a bit expensive. Los Angeles has a complex multimodal transportation infrastructure and this can really make you comfortable or sometimes get you confused since it offers plenty of options.
6.1) Use the Airport bus
Save money using the FlyAway bus service that offers you plenty of locations to go from the airport. The bus goes to five directions including Van Nuys, located in the Valley, Westwood, about halfway between Santa Monica and Beverly Hills and Union Station in downtown LA, Long Beach, the border of Los Angeles and Hollywood, the dreamland. You can get a bus from the FlyAway signpost placed outside the airport. Once you get out the door and land on the city you would be able to see a footpath-like stoppage. Wait there and let the bus come. Make sure you have a valid credit or debit card that you can use once you reach the "FlyAway" destination or if you like to organize things before the event you can book it online (this is what I did). One way fare ranges from $7-10 per person.

6.2) Ride the Metrolink train or Metro
Southern California is blessed by the Metrolink train services which cover six counties in Southern California. However, if you would like to roam around LA and visit Hollywood, you can take a Metro, operated by Los Angeles County Metropolitan Transportation Authority. It doesn't go everywhere but it can save a lot of time if it heads to your direction and you hop on it. So, all you have to do is get a TAP card and you can either choose a day pass or a week pass or just a one time pass. The price varies and you can get more information on rates here.  
6.3) Take the bus
Buses charge the same and they can be very convenient since they cover the entire city. However, the main issue is the routes are really confusing. They are also operated by Metro and they charge the same as of trains. If you are traveling away from the city to a nearby city and you want to spend the least on it, you can choose Greyhound bus service. The ticket price is very low ($14-$25/person, if say you are traveling from LA to San Diego). However, all the Greyhound bus locations are not situated in good localities. Unless you are really needy, try to find an alternative.

6.4) Amtrak train service (can be alternative to Greyhound)
Although they are infamous for vigorous delays I personally found the ride extremely enjoyable. I loved their announcements inside the train (it's not recorded) and the seating arrangement is really comfy. However, compared to Greyhound they are expensive. The same destination, San Diego from LA, could cost you $36 per person. I will definitely suggest everyone, go with Amtrak.
6.5) Via Car or Bicycle
You can take a Taxi or an Uber and both can be a little pricey option. However, sometimes it's easier to take an Uber, especially if you are living in a disjointed place. There are plenty of shuttle options too such as Prime Time Shuttle or SuperShuttle service. I wouldn't recommend them if you have public transport option at your disposal but my personal experience with Prime Time Shuttle was really good. You can always rent a bicycle, use the specific bike lanes and have a joyride instead.
7) Important things to know for Los Angeles travel

8) Places to stay during Los Angeles travel

It largely depends on your style of visiting the city. If you wish to enjoy the nightlife more than the beaches then your search would be a lot different. The best method will be to check with Priceline.com or Hotwire.com  to crack the best deals curated just for you. Also, the price goes up and down (like a merry-go-round!) depending on the time you choose to visit the city vs tourist seasons, rush hours, good haggling skills, neighborhood, etc.
8.1) If money is not a factor <Price range 800$+ per day>
Okay, we are talking about Hollywood which simply means that price is only a relative term. If you are looking for some luxurious option this city has a ton to offer you.
Situated on the penthouse level with views of the Hollywood Hills, The Griffith Observatory and Downtown Los Angeles, the suite (950 Sq. Ft.) offers a king bed and separate living room and bedroom area with balcony. You will be submerged in the state-of-the-art technology equipped room that includes Glass enclosed shower and Soaking tub, Two 42″ HDTVs, BOSE surround sound system with iPod dock and DVD, WiFi and wired internet and Hermes amenities. The presidential suite price starts from 899$ (this varies, but you get the idea).
Location wise this hotel is a star since it is situated in the heart of the city. The most premier room option offers the Royal suite which has amenities including two-bedrooms, two-and-a-half bathroom, a full kitchen, library, wet bar, and luxurious living area. The wraparound balcony offers exceptional views of Los Angeles and the entire area covers a gigantic 3300 sq. ft. You can expect an 8000$ stay in it.
This one is famous for offering a nice stay to celebrities and high-end executives. Capturing a 5000 sq. ft., the Penthouse suite is the most expensive options of all. This is meant for 6 adults since it possesses 3 bedrooms and 3 bathrooms. It can also be used for holding private parties (yeah, it's that big). They also have a media room exclusively for relaxing movie nights and it possesses a flat-screen television and Crestron technology that remotely controls the media and sound system, lighting and curtains. Funny thing is, this is the closest hotel to Rodeo drive, the most expensive shopping street ever. You can expect the price to be as high as $25000.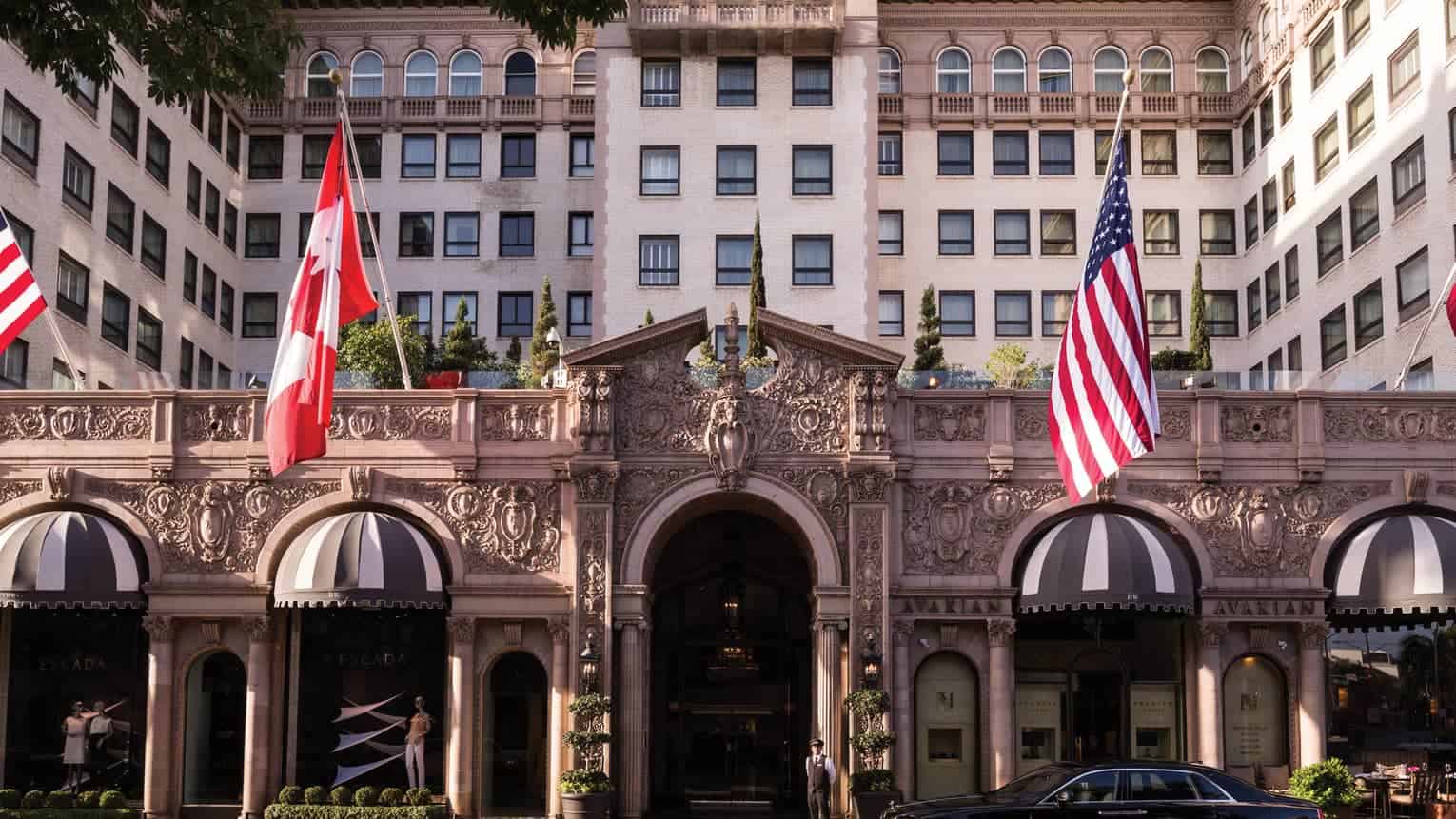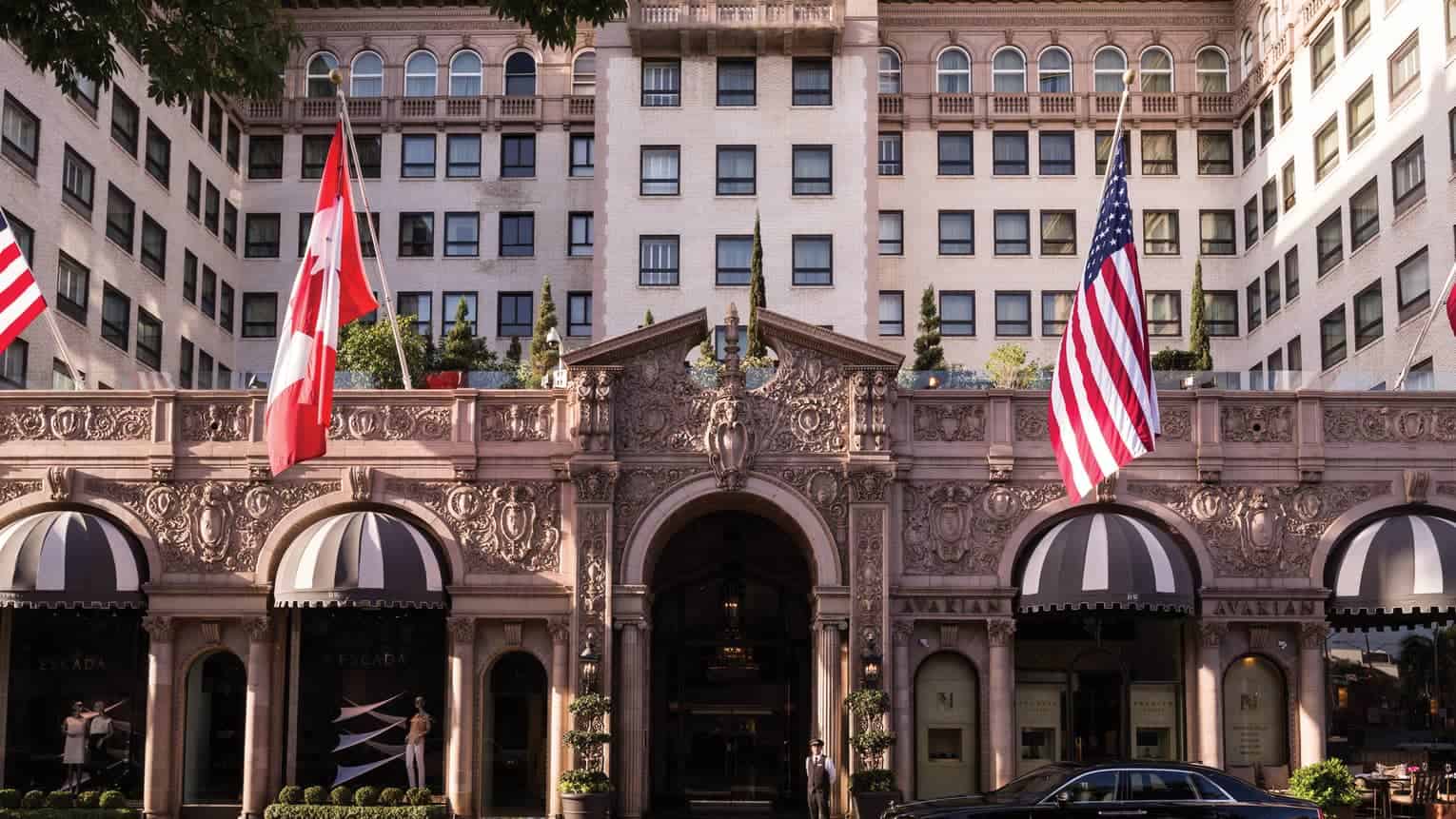 8.2) If you are looking for mid-range hotels
This is totally your option if you wish to explore the natural side of Los Angeles. Plus the rate is comparatively on the lower side. According to customers, this Inn gives everything you require at a very comfortable price. Amenities include free full breakfast, free WiFi, free parking, free toiletries. The cost per daily starts from 250$.
This is again a highly rated option available at an affordable price. This offers you a parking spot, access to Pool, Free WiFi and Airport transfer facilities. The cost can be as good as 220$ a day.
8.3) If you are looking for cheap options
If you wish to save on your accommodations then too Los Angeles can be your paradise. Like many other places, the hostel culture here is very friendly. This not only saves your money but also can help you spend on other things that may stand more valuable to you. This list by Tripsavvy gives a detailed account of all the good-named hostels. Price can go as low as 35$ per day. I would recommend Hostels.com, Hostelworld.com to run a more designated search for hostels.
9) What to see during Los Angeles travel? 
Finally, we are here and this is the primary part of your visit to LA. Since LA is quite big, it's always best to have a roadmap to follow. Instead of flying around from one place to another, make sure you take up one locality and finish it before you move on to the other one. Things and places are not crammed together but they are really far from one another. I am here to complete 50% of the hard work and the rest should come from you. Go through this wiki page if you want to customize your map as per the district locations. If you are wondering how I did my planning, you should know that I actually followed FlyAway bus locations and added some in it.
9.1) Inside Los Angeles

Locality: Los Angeles Downtown
Get a free ticket in advance to enter into the Broad Museum, a contemporary art museum. This isn't like other museums and possesses some huge peculiar stuff including the mirror rooms, the big tulips, the America sign. Across the street from the Broad, you will be able to see the Walt Disney Concert Hall. The architecture is mesmerizing, however, catching a show can be a totally different experience. LA also has its own Chinatown. A few blocks up from Olvera Street, this will take you to a different land, equipped with Chinese architecture and shopping streets.
Don't forget to stop at MOCA, another contemporary art museum filled with wonderful sculptures and pieces. The giant metal piece outside the building can be a strange wonder for you. If you have watched the Blade Runner you might want to visit the Bradbury building. The building has a very unique architecture and you can use the stairs to view the building from different angles. Other cool options include Angel's flight, Art's district, the Union station, LA live and the Grammy Museum, Little Tokyo, etc.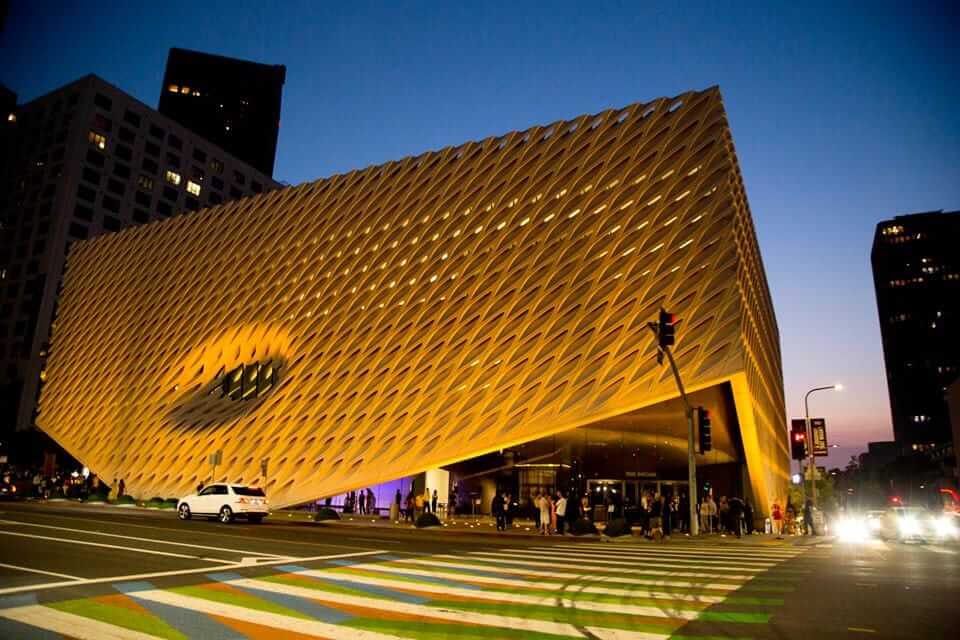 Locality: Hollywood
The walk of fame runs along Hollywood Boulevard and Vine Street and it is basically a tribute to Hollywood's favorite children, etched in the bronze-rimmed stars and laid in the sidewalk. Don't miss the iconic Hollywood sign and the best way to see it is on a hike or horseback ride through the Hollywood Hills.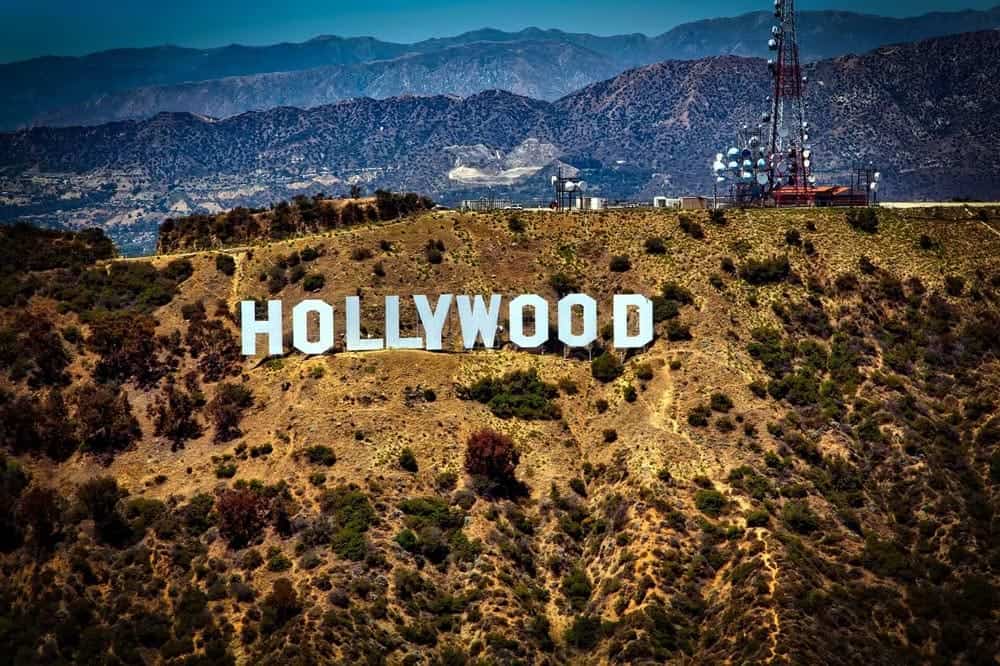 The biggest and most lucrative attraction of Hollywood is the Universal Studio which includes a theme park, a working studio, and the Universal City Walk. The park can be a very exciting experience for anyone. It has an extremely well made Wizarding world of Harry Potter consisting of Hogwarts, Diagon Alley, Hogsmeade, and many other significant things.
Two more important sites will include Griffith observatory and L.A. zoo with Masai giraffe, koalas, lemurs, and elephants. The experience in Griffith Observatory can be extremely overwhelming since it houses an array of telescopes, as well as a planetarium and exhibits. The USP of this place is Zeiss telescope, a historic 12-inch refracting telescope, which is open to use by the public. Visitors can use this to stargaze or borrow one of the observatory's portable telescopes to use on the lawn.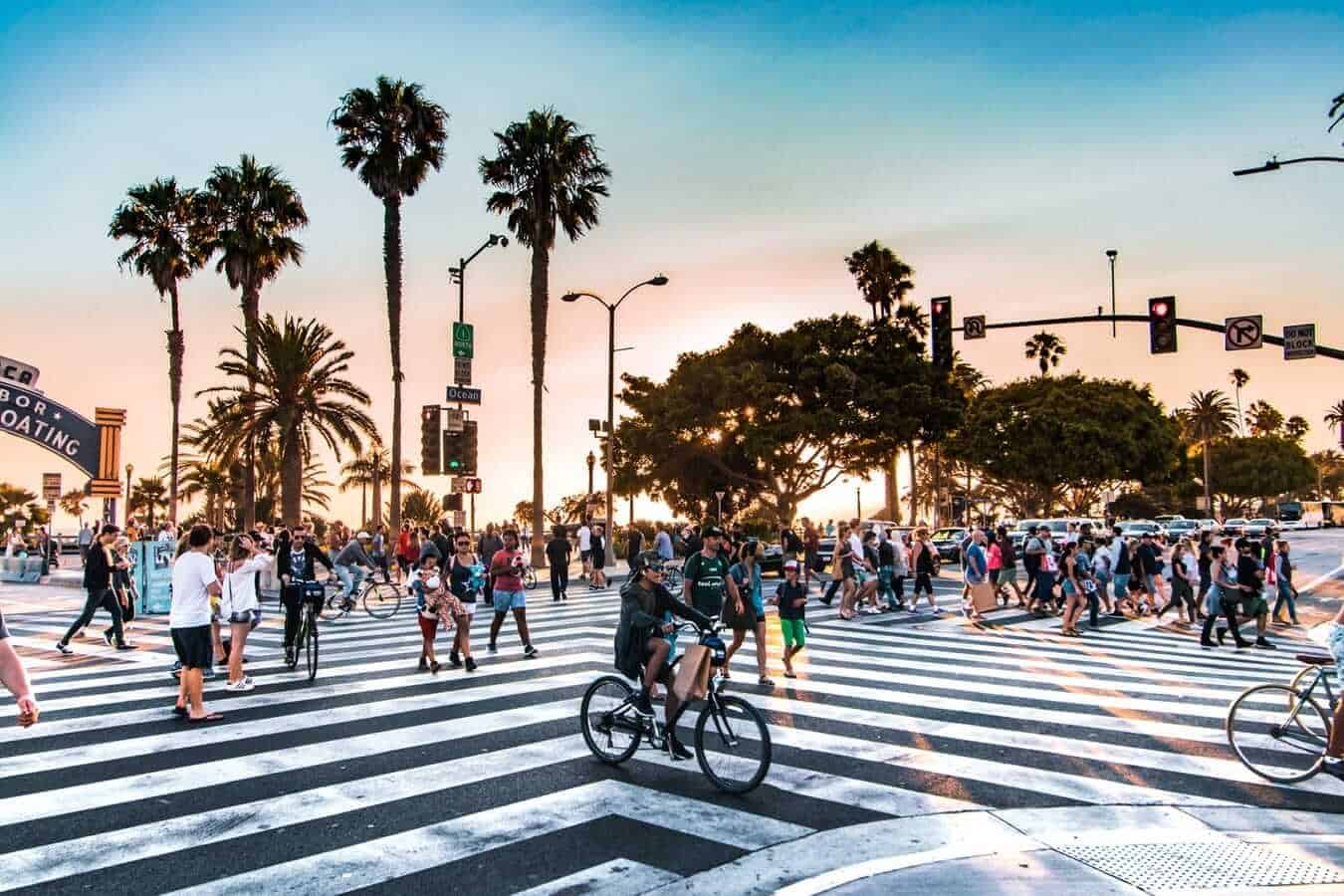 Locality: Beverly Hills
Home to many Hollywood stars this locality is extremely expensive and also possesses the most expensive shopping street called the Rodeo Drive.  Visit the Greystone Mansion if you wish to have a luxurious park experience with a beautiful house at the back end. Visit Melrose Avenue, known for shopping, dining and entertainment experiences in Los Angeles which starts at Santa Monica Boulevard, at the border between Beverly Hills and West Hollywood. Definitely, have a stop at the Los Angeles County Museum of Art located on Wilshire Boulevard in the Miracle Mile vicinity of Los Angeles. The museum has a beautiful entrance known as the Public Art "Urban Light", a very famous filming location.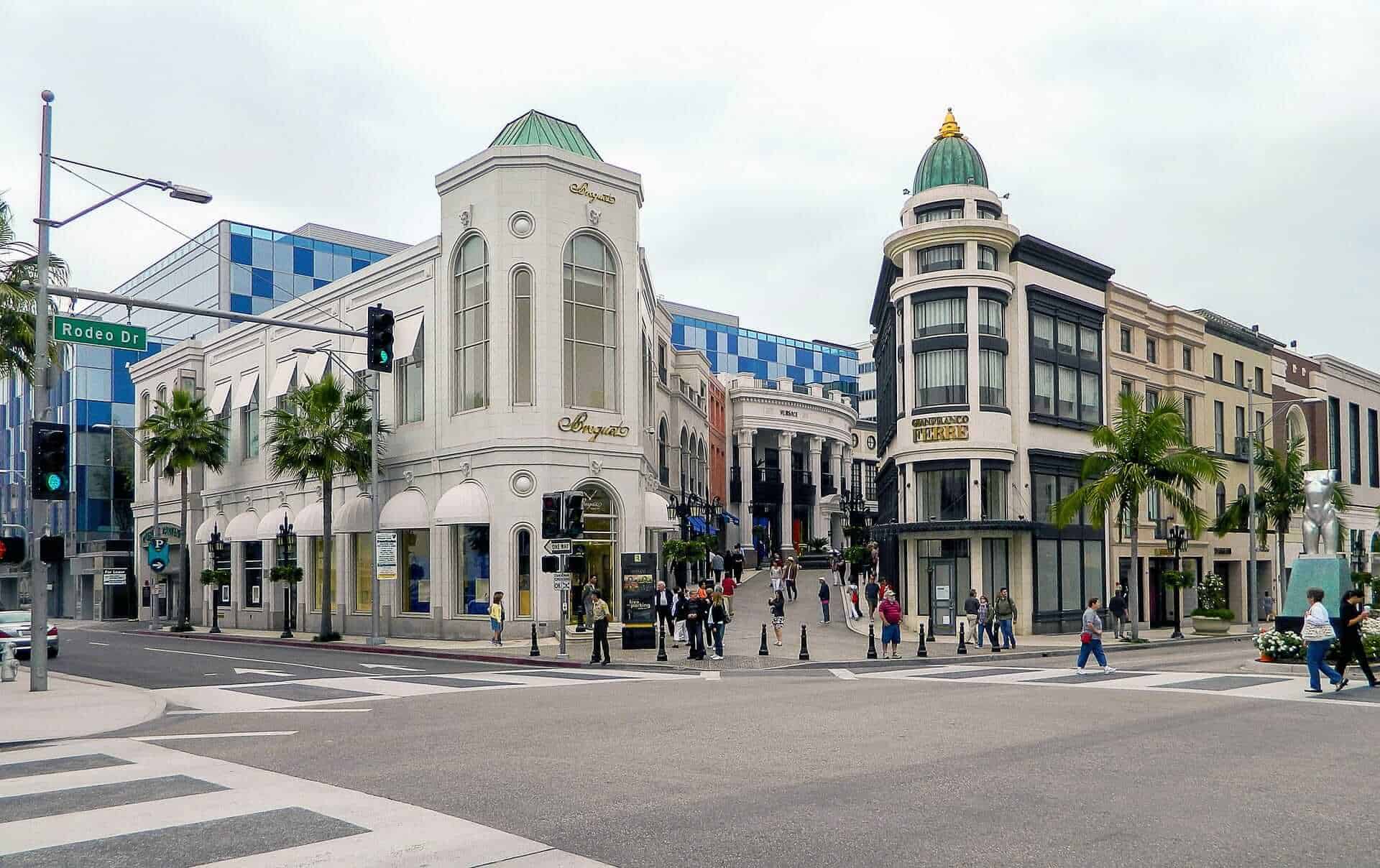 Locality: Van Nuys
Do make a stop at the Japanese garden for its serene environment amidst the chaos. It has an area of a 6 and 1/2 width that features three gardens in one, a dry Zen meditation garden, a "wet-strolling" garden, and a tea garden. Lake Balboa Park can be an awesome destination for you if you decide to have a casual stroll in front of a lake. Other attractions include Woodley Park, San Fernando Govt. Center, Sepulveda Basin wildlife reserve, etc.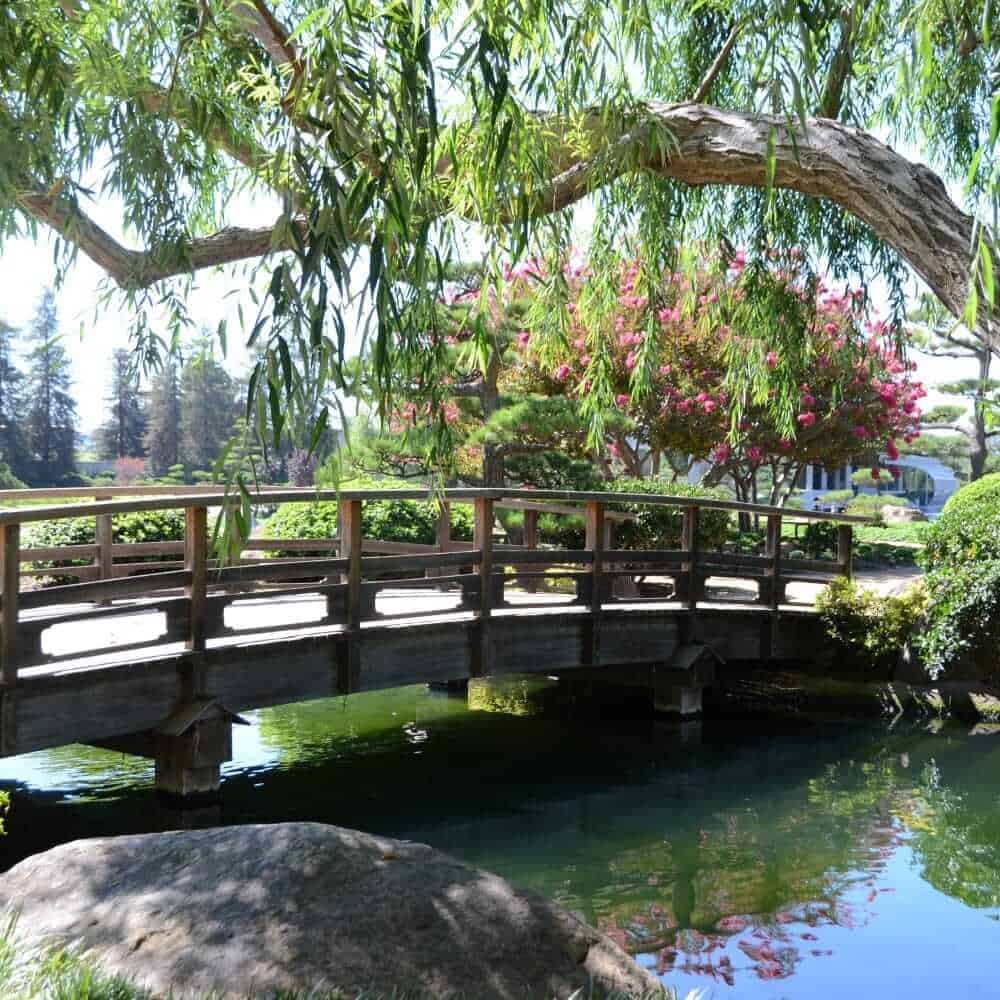 Locality: Long Beach
Have a tour of long beach, Queen Mary, a luxury ocean liner now permanently docked at the Long Beach City. Rumor has it, the place is haunted which means you may enjoy more if you choose to have a nighttime tour.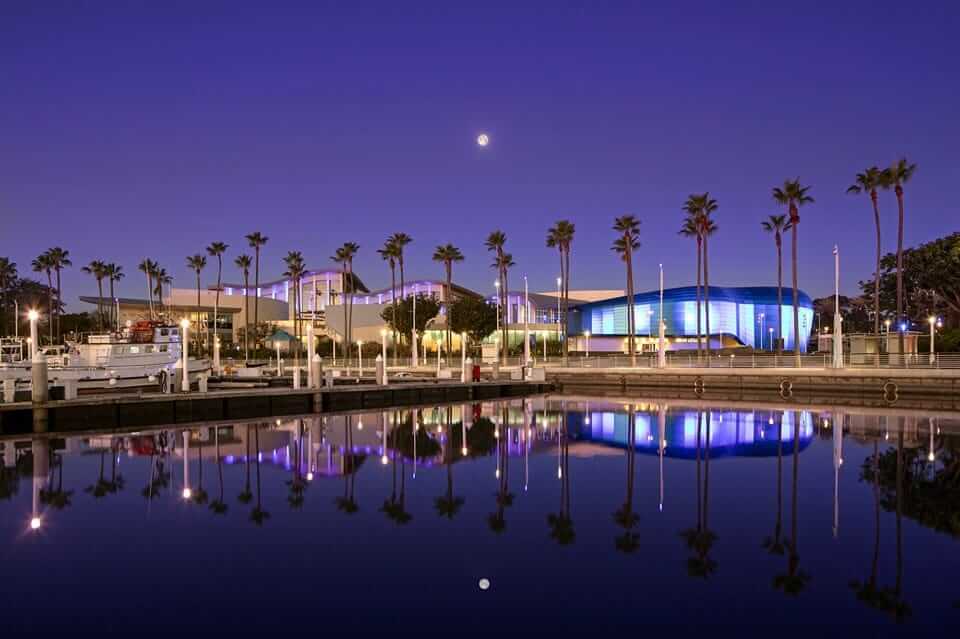 Don't miss the Aquarium of the Pacific with 2,000 pacific coast creatures including penguins, sea otters, puffins, sea lions, and seals. Last but not least, Los Angeles houses a variety of coastal area and cozy beaches. Long Beach is one of the most significant names among all. I am sure you would not like to miss the opportunity to get sandy.
Although it wasn't a thorough tour, I have tried to piece together the good places. Apart from the ones mentioned above, try to have a stop at the Venice Canals, Runyon Canyon Park LA, The J Paul Getty Museum and countless beaches including Malibu Surfrider beach, Santa Monica beach, Manhattan beach etc.
9.2) Where to go from LA 
Anaheim
Okay, even if you do not have much time in hand, do something for your kids or simply reminisce your own childhood by visiting Anaheim Disneyland park. This was built under the careful watch of Walt Disney himself. It has 8 theme parks, each with their specific scent. Catch an Ice hockey match at the Honda Center or take on some ride based challenges with your family at Adventure City. If you wish to have a casual walk while shopping, Anaheim Gardenwalk is your place.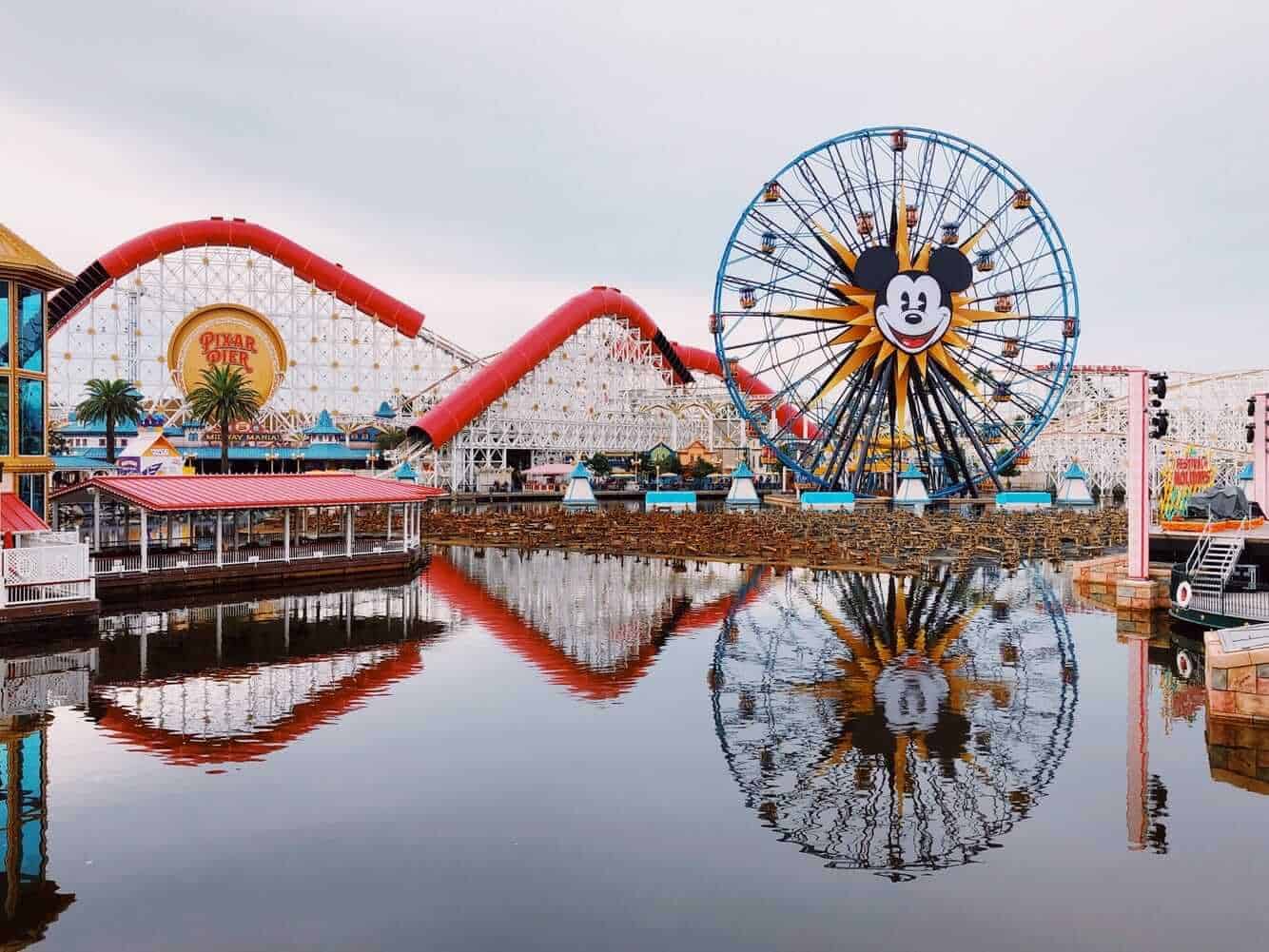 San Diego
The most peaceful city I have ever encountered in my life. Make sure to visit the colossal aircraft carrier at the USS Midway Museum. If nature is your thing then you might want to enjoy your walk-of-solitude in Balboa Park. Also, it is famous for housing World's' best zoo with 650 species. You can buy a figurine of your favorite animal from the San Diego Zoo. My personal favorite is the Seaport village, near to the San Diego Convention center and Marriott Marquis. Here you will get a ton of shops of candies, jewelry, dresses, etc. Also if you enjoy having a nightlife, Gaslamp Quarter can be your thing. A comics fanatic? You can always join the July Comic-Con San Diego (the biggest comic con in the world) at the San Diego Convention Center.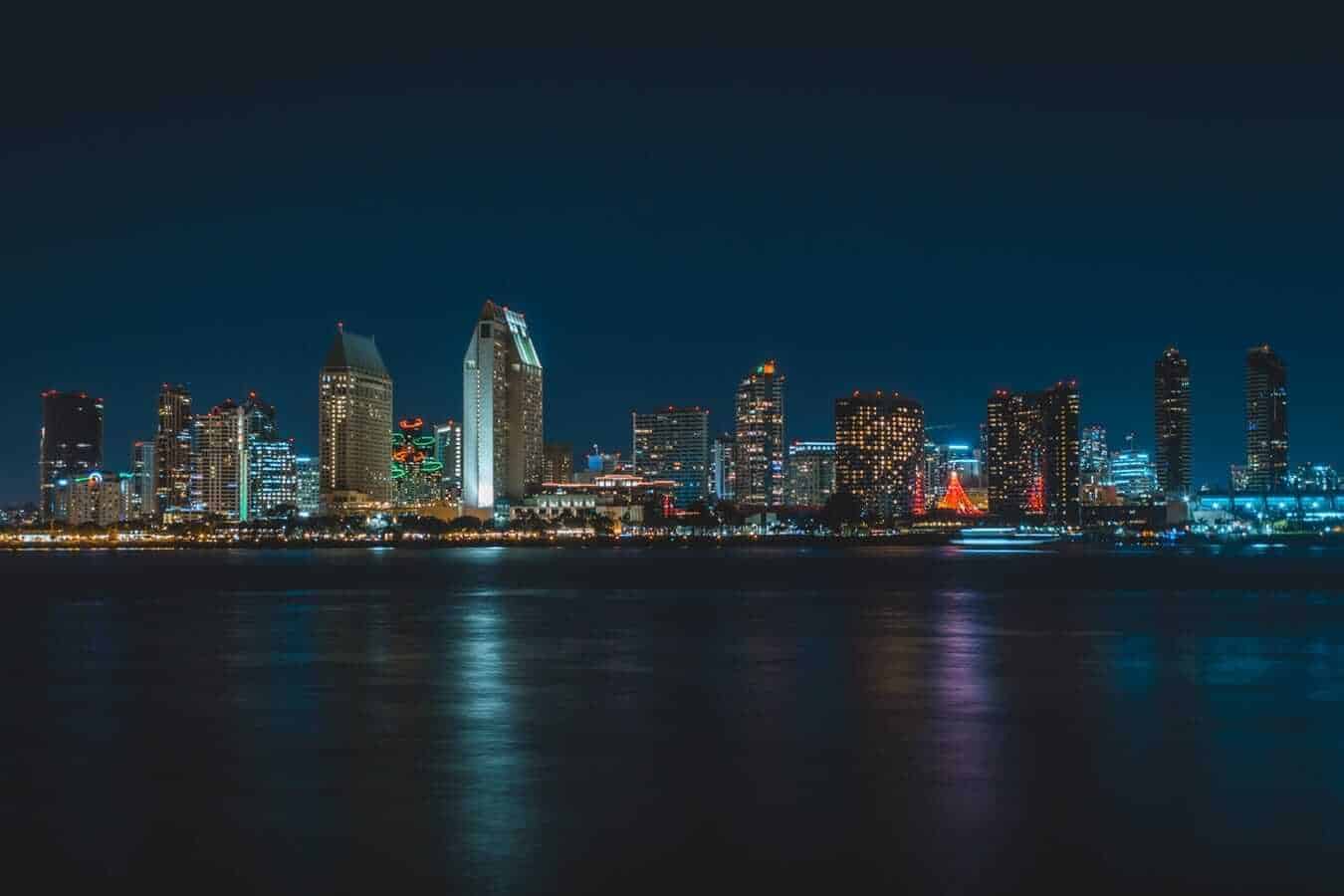 San Francisco
Do I even have to give an introduction? It's "the" San Francisco, the nearest cosmopolitan metropolitan to "the" Silicon Valley. Well if you are there, what should you start your journey with? Ans is the Golden Gate Bridge. Connecting San Francisco and Marin County, this monument is the symbol of San Francisco. If you are a science person or simply traveling with kids, you should take your family to the California Academy of Sciences. This place offers many interesting sites including an aquarium, a planetarium, a natural history museum, and even a rainforest. San Francisco's cable cars are one of its kind and chances are you have already seen them in the movie. Hop on it and enjoy a full ride around the city.
9.3) Los Angeles travel sample itinerary (3-day and 5-day plan)
Days
7:30 am – 9:00 am
10:00 am – 12:00 pm
1:00 pm – 3:00 pm
3:30 pm – 5:00 pm
6:00 pm – 9:30 pm
10:00 pm – 11:00 pm
Day 1

Transfer to Hotel

Tour the Warner Bros. Studios

Hike to Hollywood sign ( three trails available *)

Visit Griffith Observatory

Stroll Down the Hollywood Walk of Fame and Catch a movie at El Capitan Theatre

Dinner and Transfer to Hotel

Day 2

Spend the entire day at Universal Studios

Catch a show at the TCL Chinese theater

Dinner and transfer to Hotel

Day 3

Get sandy at Santa Monica Pier

Go sightseeing in Beverly Hills, catch a glimpse of Rodeo Drive, walk through Union Station

Transfer to Anaheim

Day 4

Go crazy in Anaheim Disneyland park

Catch some actions in Honda Center

Go to San Diego

Day 5

Morning walk in Seaport Village

Visit San Diego Zoo!

Stop at USS Midway Museum

Transfer to LA airport or Visit San Diego Old town

Transfer to San Diego airport
*Available trails include The Mt. Hollywood Trail (Easy and popular), The Canyon Drive Trail (Moderate) and The Cahuenga Peak Hike (Difficult)
10) Fulfill your culinary fantasies during Los Angeles travel

10.1) Foods to gobble
If you are a foodie, this section is dedicated to you. I believe you can't do justice to a place without having a taste of its native dishes. There are plenty of handsome restaurants and beautiful bars available across the city. Although I can't really be distinct like an LA native, I can surely suggest some pieces.
Dodger Dog
If you are a Hot Dog fan, this can be really a fun treat for you. This is prepared by Los Angeles Dodgers, the Major League Baseball franchise and they actually make this and sell them in the Dodger stadium. Dipped in Ketchup, the major ingredient of this food product is Hot Dog and Hot Dog Buns.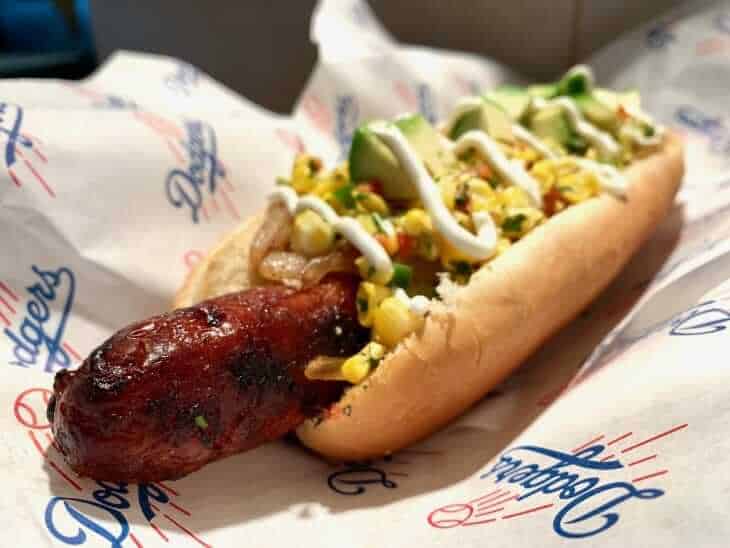 Sweet Potato Tacos
If you are already acquainted with Tacos this treat might be a little different for you. Still, for them who don't know, a taco is Mexican food made of a corn or wheat tortilla folded or rolled around a filling. Sweet Potato Tacos is an LA version of simple tacos. You would get them in Guerilla Tacos Restaurant.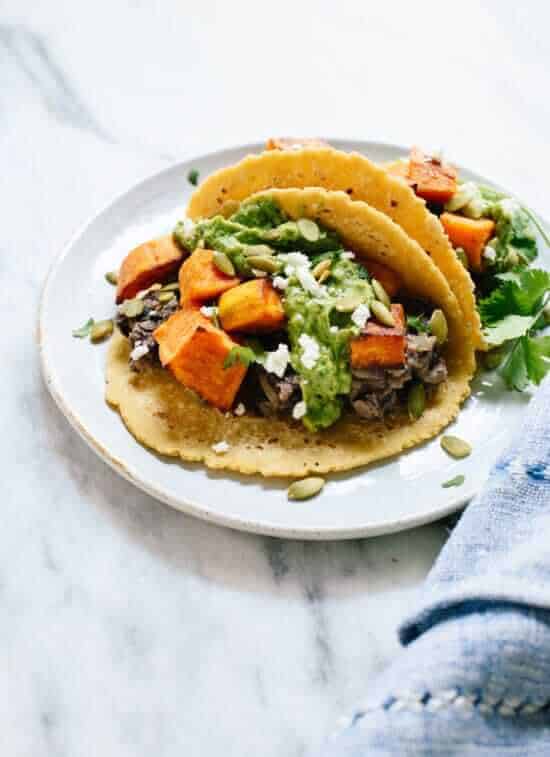 The LA woman Pizza
Although Pizza is Italian cuisine, this one seems to wear its own colors of LA. This is a special dish prepared by Jon and Vinny's restaurant.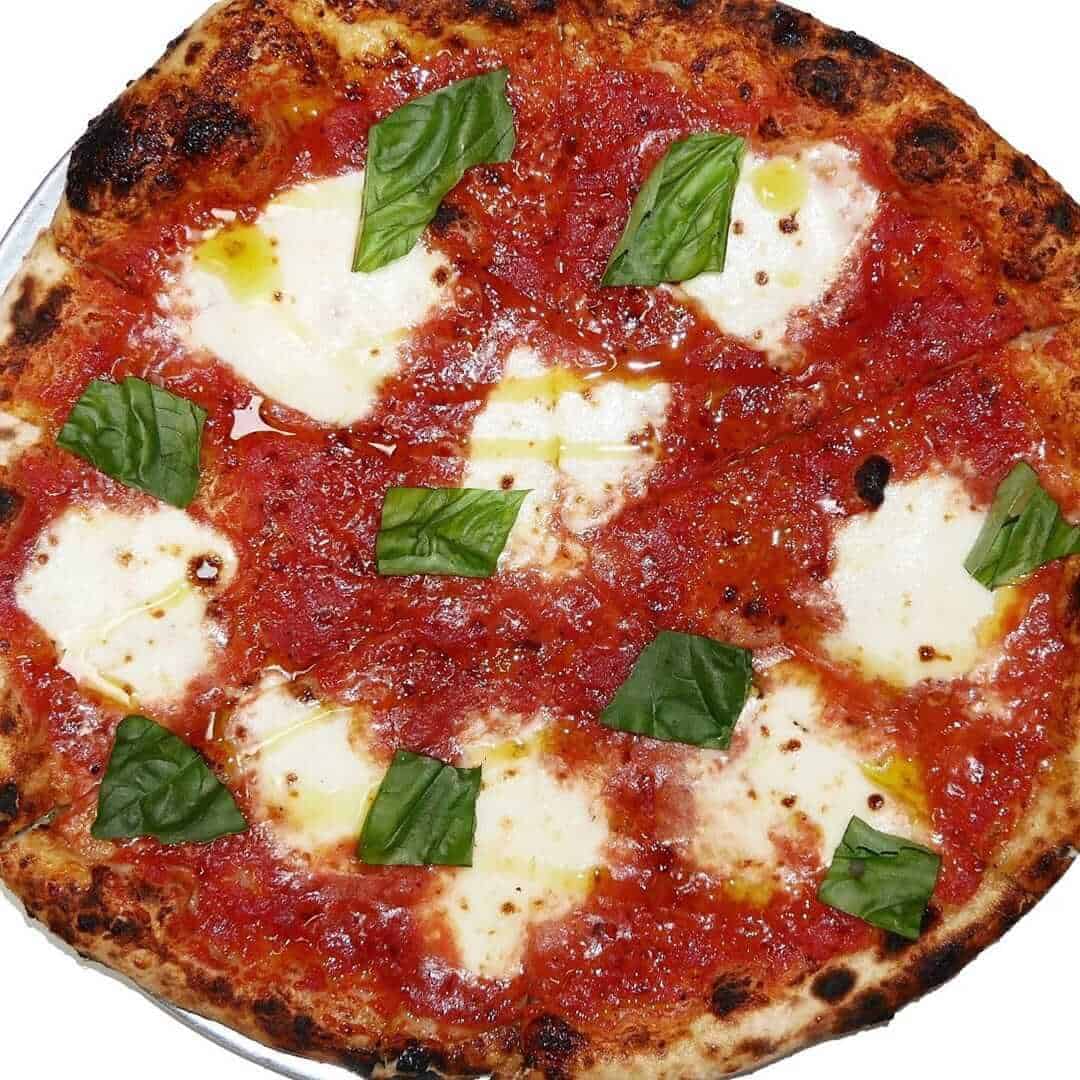 Other food options include Carne Tacos, Fennel Sausage Pizza, The Ten-Pound pancakes, Plane Cake Donuts, etc. If you are a vegetarian like me, Un Solo Sol, a local food joint might just turn into your favorite restaurant ever. The menu includes Potato Taquitos, Quinoa Tabbouleh, Cholay, and vegetarian dishes.
If you like a sweet dish, LA will never disappoint you. Some of the coolest options include Ice Cream Sandwich at Diddy Riese, Green Tea Matcha Latte at Urth Caffe, Macarons at Bottega Louie, Seasonal Strawberry Donut at The Donut Man, Red Velvet Froyo at The Yogurt Stop and many more.
10.2) Local Eateries 
El Taurino: Pricier, fancier Mexican food renderings prevail in California – most versions of which one can't go too wrong with. However, a taste of El Taurino shows one what Mexican cuisine is really about. A rough joint where partygoers can be seen munching in the after hours or indulging in a surefire hangover cure, El Taurino is always bustling.
Korean-Mexican mixed eateries: In true reflection of L.A.'s diversity, ethnic food transformations are always trending. As neither Latinos nor Korean-Americans are a minority in California (as L.A.'s biggest American K-town presence attests to), it's only natural for the Korean-Mexican taco fusions to have struck big. Roy Choi is the renown for his iconic taco trucks and now his brick-and-mortar, Kogi Taqueria.
Koreatown is teeming with barbecue joints (short-handedly referred to as K-bbq) – enjoyable not merely for a meal but the whole experience (usually accompanied by soju, the green-bottled alcoholic drink Koreans love with their meat). While its most meat-grilling restaurants are satisfactory, Kang Ho-Dong Baekjeong and Eight Korean BBQ cater well towards non-Koreans both in terms of taste and service.
Check also this list of best vegetarian restaurants in Los Angeles for more ideas.
10.3) Information on Bars
If you are active in terms of alcohol consumption, the city has a kingdom to offer you. 71Above touts a breathtaking view of Malibu to Laguna Hills, along with the Los Angeles basin and the surrounding mountain ranges. If we are talking about bars with a view BonaVista Lounge, Broken Shaker, E.P. & L.P. Perch, The rooftop at the standard stand magnificent. If you are looking for some pet-friendly bars and breweries, Angel City Brewery, Highland Park Brewery, Resident, The Morrison, The Fat Dog, and Idle Hour bars worth mentioning.
11) Festivities 
Trust me, there's no end to this list. Something's always happening in the land of entertainment. However, for your sake ( and also for my next visit ) I have tried to enlist the best ones.
Rose Parade and Rose Bowl Game
Native to Pasadena, Los Angeles County this one is a rose based parade that takes place on January 1st or January 2nd (in case Jan 1 is a Sunday) at 8:00 am. Organized by Pasadena Tournament of Roses Association, the parade includes flower-covered floats, marching bands, and equestrian units. The parade is followed in the afternoon by the Rose Bowl, one of the major bowl games in college football.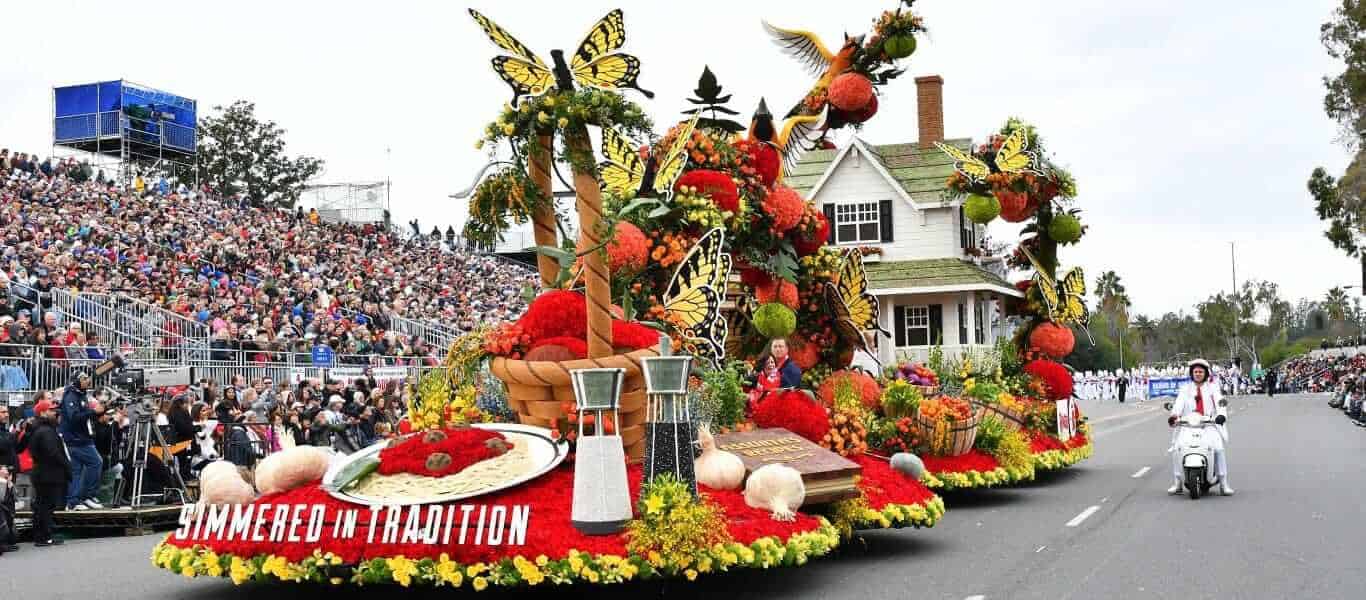 Academy Awards celebration
Ring any bell? Popularly known as Oscars, the most celebrated event in the world of entertainment happens here folks! Given annually by the Academy of Motion Picture Arts and Sciences, the event attracts thousands of people across the world.
An extremely popular event of Southern California, if you attend this be ready to get everything "strawberry". You will get some fantastic dishes including strawberry pizza, chocolate dipped strawberries, deep-fried strawberries, berry kabobs, strawberry tamales, strawberry beer, and many other munchilicious delicacies. Apart from food, there are plenty of other events such as musical entertainments, arts and crafts and Strawberryland for kids.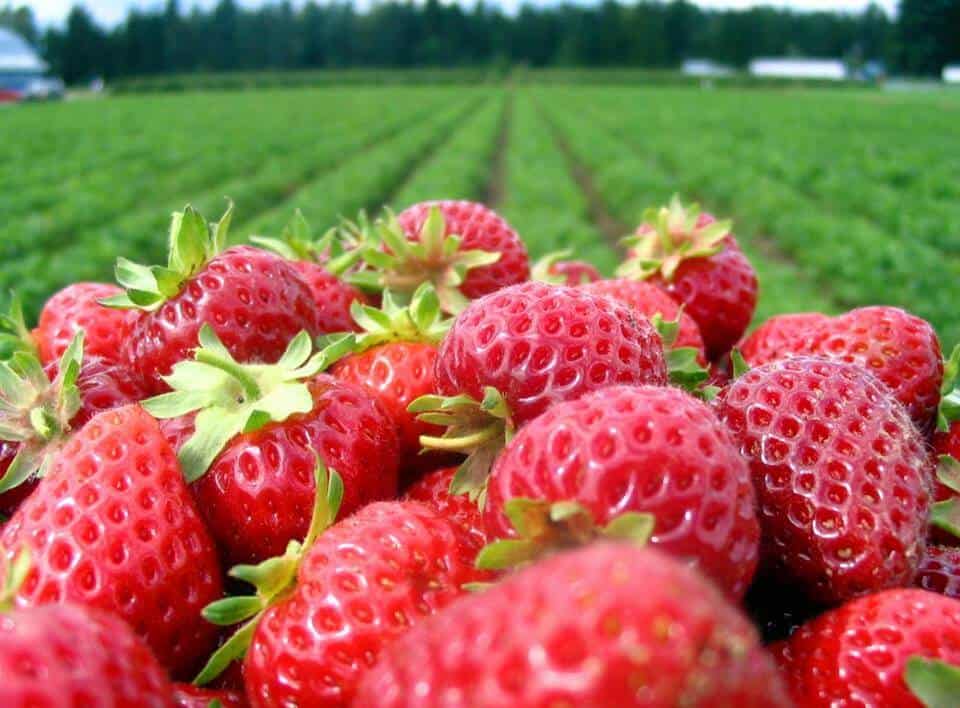 The oldest and largest Oktoberfest in Southern California, this event attracts more than Lac visitors every year.  This event holds a wild scent of German-made stuff including bands from Germany, sing-a-longs, a yodeling competition and even fun contests like pretzel-eating and beer stein-holding, as well as an abundance of traditional German food and delicious German beers. There are Sunday events for families too. Although it started in Munich with a Bavarian marriage, LA holds a Californicated version of the event.
Initially organized by UCLA students, this one is LA's LGBTQ film festival. With a motto to protect LGBTQ stories, this event exhibits hundreds of films and videos and showcase special film receptions, discussion panels, and family programs. They are quite serious about the job they do, so be assured that you would have an experience of a lifetime.
12) Los Angeles travel with kids

If you are on a family trip with your kids, some places can be really interesting for you than others (I mean, for the kids). LA is diverse by blood and the place is hell rich. It possesses some of the great art museums and yes, Hollywood of course! The best part, it's the treasure trove for your toddlers. Don't believe me? Let me help you with some of the cozy places for kids.
A natural free space within the city can be a great escape for you and the kids. There are some cool places to visit in Descanso Gardens including Boddy House, Stuart Haaga Gallery, Enchanted Railroad and it's all grassy. Full of lily ponds, roses, and leafy trees this place can offer your toddlers the freedom they miss at home. Oh! And don't miss the daily story times.
This space is an awesome interactive playground for kids. One will not only get access to indoor imagination workshop, an ant colony climbing structure, and an interactive greenhouse but also some outdoor activities like Arroyo Adventure and Galvin Physics Forest. You know how it goes with kids. Since it is made for bringing out their little creative devils from shells,  bring a change of clothes, towel, and water shoes.
Let's just say it's the best theatre for kids. Situated on Hollywood Boulevard, the theater was established in 1926. Now it's a good place for families wanting to spend some quality time. Apart from  "Tiny Tot Tuesdays" for parents with toddlers, the theater also adds something extra to any film experience. "Expect to see Disney cast members, live singing, and the delighted faces of children as streamers and confetti fall from the ceiling."
I can't stress enough the goodness of Anaheim Disneyland Park and Griffith Observatory (already explained in earlier sections), especially for kids. So, if you haven't visited them, make them your priority.
13) Los Angeles travel for disabled people
Although the environment of LA is not for everyone it has certainly one of the most accessible facilities for disabled travelers. Most of the tourist attractions offer complimentary wheelchairs (sand wheelchairs if a beach is nearby) while audio shows and copies of show scripts are available for people in need. There are also disability guide books available for using amusement park rides of Six Flags Magic Mountain. If you need more information on transports for disabled people, check out this contact page of Metrolink, MTA or other access services. You will also get plenty of hotels with handicap-accessible features including Beverly Wilshire – A Four Seasons hotel, The London West Hollywood, The Beverly Hilton, Hotel Angeleno, The Belamar Hotel, etc.
14) Shopping during Los Angeles travel

Finally, we are here! I am not sure if I will be able to do justice with this section 'cause I am not at all a shopaholic. This section is really hard for me and I hope you will be able to bear with it. First off, LA's a rich city. So, if you expect to get everything under your budget, chances are you're looking in the wrong place. Sometimes you may have to window shop instead of what passes as a real shopping but there will be places to satisfy your spree. Advice? Keep calm and shop!
The Grove, LA
This is the one-stop shopping destination for people having a thing for clothing, cosmetics, and accessories. If you run out of breath, you are welcome to dine at a gourmet restaurant or catch a film (thousands spread across the area).
The fanciest shopping street ever, this one's a hang out destination for celebrities. If you are brand-aware, then this might be your place. Know that this epitome of luxury, fashion, and entertainment is situated in Beverly Hills which makes it more lucrative in nature and needless to say, exceptionally expensive.
Robertson Blvd
Another shopping destination for celebrities and enthusiasts alike. This one has a good collection of Men's and Women's clothing. Also, beauty companies Kiehl's, MAC, RobertsonBlvd Medspa exist in it.
Santee Alley
This place is for all the cheap shopping in LA. Keep your haggling skills sharp 'cause this is the place where you would try your soul out before claiming your products. It has a queue of shops dedicated to beautiful apparels, accessories, footwear, and cosmetic supplies.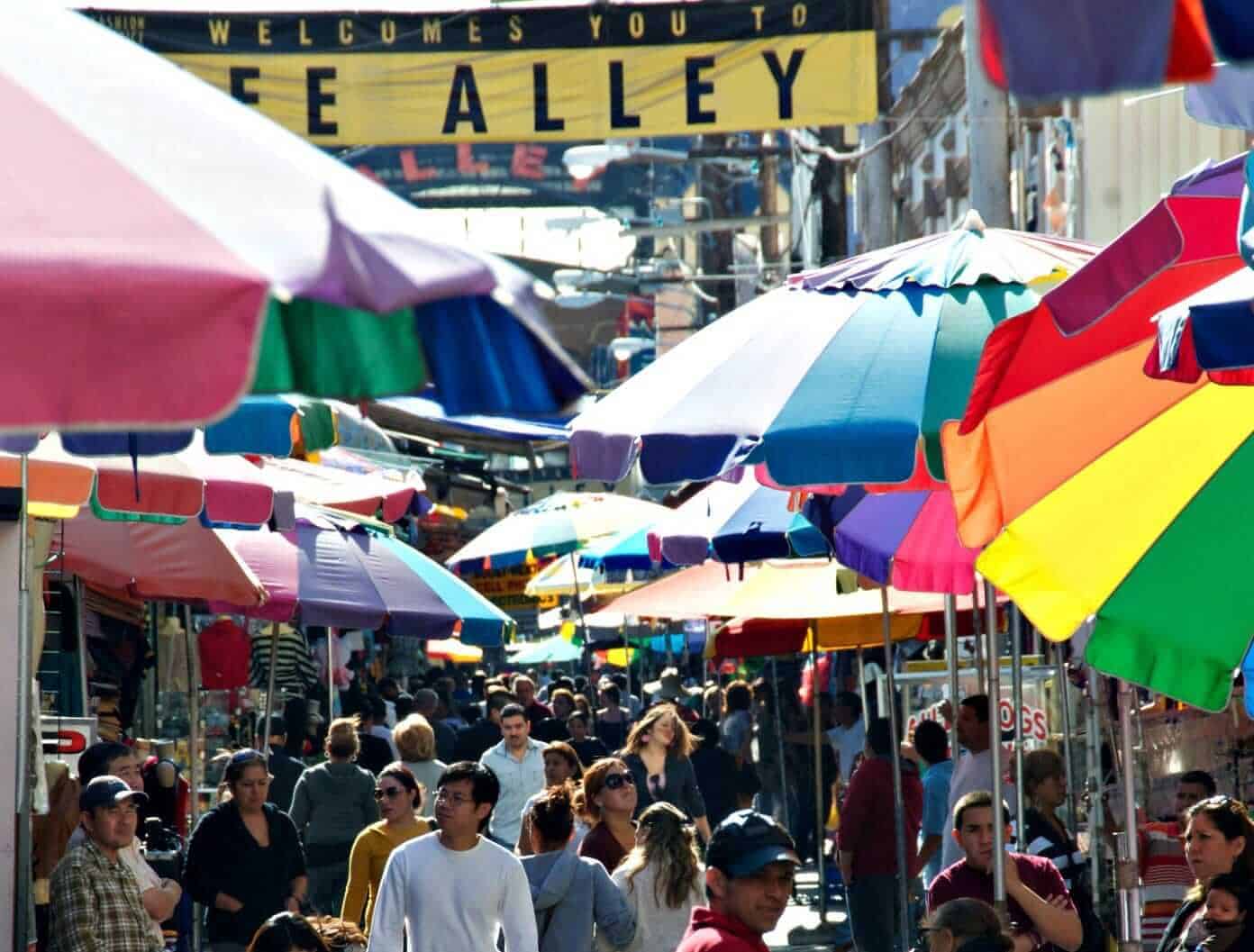 This one's a very famous outdoor shopping place especially for people who want to experience a mall like setting. You will get plenty of outdoor stores and restaurants. This includes most of the known names and some are affordable too.
15) Be cautious of travel scams 
Seriously travel scams can also be of various types and you should be aware of these new trends. While travel scams are pretty common in the USA, LA has recently gained popularity for being a notorious city in terms of hosting tourists. So, what are they?
15.1) Fake Airbnb rental scam
The importance of Airbnb is growing especially for frugal travelers since cracking an Airbnb deal is much easier than booking a hotel room. However fake deals surrounding Airbnbs are on the rise too. An advertisement will show you a magnificent deal for say a large studio room at an unimaginably low price. Once you tap on a link listed with the property it takes you to a different website and asks you to wire transfer the money. Stay away from it. These are very famous travel scams.
15.2) Fake Tour guide scam
You will get someone offering you a great discount on open-air bus tours. They would promise to give you tours that run from the homes of the rich and famous, to driving tours of the movie studios of Hollywood. However, don't fall for it. Often they will charge way extra and there's no way for you to get it back.
15.3) Fake amusement park tickets
Yes, it's the most common type of cheating you would encounter in Southern California. How to avoid? Never buy amusement park tickets from online auction or Craigslist. Chances are, they will be long gone with your money before you realize the ticket you have just purchased has zero value.
15.4) The "Discovered in Hollywood" scam
There was a time when hopeful artists used to flock around Hollywood in hopes of meeting a famous star or an executive who would supposedly give them a big break. Now, the situation has changed. You might be approached by a fake "talent scout", who would assure that you have what it takes to be in the movies. Once you say "yes" they will either ask you to deposit a huge amount up front or direct you to a fake "casting call" where you will be asked to perform uncomfortable things. Firmly decline and walk away from such scams.
15.5) The "Chinese Blessing" scam
This one is prevalent worldwide and, trust me, you will see this even in LA, especially if you have a plan to be at Chinatown. What's more? This scam comes in varieties. Sometimes one may ask you to keep a relic that is supposed to bring you luck (actually it's nothing but a cheap souvenir). Another kind will take you to a place where they would put something in your bag and ask you to not open it for a long time. Don't fall for this one, chances are they have already taken out some important belongings even before you have realized it. For more info take a look at our Hong Kong guide.
16) Knowledge Zone 
16.1) Places for Geeks
If you are feeling bored in a new city and you are in the hunt for a place to unleash your geek side, don't look anymore. I have just the right place for you and I am not running a commercial. Visit 82, if you are looking for some classic arcade games coupled with cheap drinks and pinball machines. This place is amazing and recommended by LA natives. There's another in Glendale called Game Haus and this place is a hub of board games. You can really try out one from their 1600 collection and you won't regret it at all. There are other places like Button Mash in Eco Park and Blipsy in Western Ave.
16.2) If you like comics
Well if you are a comic book geek (just like me) you should head to this place called House of Secrets. The walls and ceilings are also plastered with comic books and what you are going to see up front is a library (of course, you got to pay, I mean size wise). They have both new and old issues but what's more interesting? Their buying scheme. Yes! You can sell your comics here too. I know I am too late, but I have to mention Meltdown Comics because once they had the biggest and brightest presence in LA. Now the shop is permanently closed but they might have an online presence. There are other shops like Comics Factory, Earth-2 Comics, Golden Apple that you may find interesting.
16.3) If you are a bookworm
Book Soup is the place to start with. They have a giant outdoor newsstand that sets it apart from other book stores. You will get over 60,000 titles, including the arts, controversial non-fiction, and literary non-fiction. Oh, and it's quite famous. You can head to The Last Bookstore, it has a 22,000 sq. ft. space and home to more than 250,000 new and used books, records and more. Other places include Children's Book World, Counterpoint Records, and Books, Iliad Book Shop, Small World Books, etc.
17) What if you are thinking long term? 
So, what if you fall in love with LA? You might want to overstay and that can be a big problem, though it doesn't have to be. I will discuss two different types of situations out of many.
17.1) If you wish to study in LA
If you are interested in higher studies you may wish to pursue your undergraduate, graduate, doctoral or postdoctoral degrees from two of the best Universities of LA including University of California, Los Angeles and University of Southern California. There are certain criteria that you must meet including SAT (for undergrads), GRE (for postgrads), TOEFL or IELTS (for English proficiency) and other criteria in accordance with your program. There are plenty of research opportunities as well and guess what? I will be going to USC this fall, 2019! (maybe I will be able to update the guide afterward). There are other amazing schools including Caltech, UC Irvine, Pepperdine University in greater LA area that you must see also!
17.2) If you wish to do business
Starting a business in the USA is no easy task. Learning American communication is one thing but the moment you get into filing your Employer Identification Number or choosing a state for your registered office, things can get really confusing. You might want to grab an L-1 or E-2 visa for your new venture. Plus, there are plenty of business ideas on which you can work including tourism services. For a comprehensive list, check out this website.
18) Short on Money during Los Angeles travel? Read this 
18.1) Cheap living techniques for tourists
Couchsurf it. If you are traveling alone or with one, it's the best option. Why? Number 1, you are paying nothing. Number 2, chances are you are going to build some good memories. Locals do help and they let you crash in for some time. If you are out of cash, this is a safer yet adventurous option than some shady guesthouses.
18.2) Cheap / Free food
Okay, I am going to name a place where you will get some free food but try it out if only you can't afford to pay at all. There are even other ways like carrying some ready to eat meals from home for eg. noodles (I brought two 12 set packs of Maggi noodles), biscuits, cakes, chips, etc. I know these are not healthy options but it can manage your trip pretty well. If you still can't manage it, you can look at this website. They have enlisted the contacts of charitable organizations who offer free food. There's also a detailed guide by ToughNickel. A general tip, if you are looking for free food events or giveaway events, you may consider Eventbrite to be your best buddy.
19) Emergency?
19.1) Hospitals 
Ugh! The worst part of LA and the USA. I am talking about their humongous medical bills but that's a different story, right? In all cases, you must avoid any kind of system or event that can turn into an accident. As they say, "prevention is better than the cure". However if such situations occur where you need to consult a doctor or head to a hospital (only if it's emergency) there are three best hospitals in LA including UCLA Medical Center, Cedars-Sinai Medical Center and Keck Hospital of USC. Other than that, if you are looking for a cheaper option you may visit this website. Just know that foreign visitors will not get free treatment.
19.2) Drug Policies 
Never forget to document anything you're carrying along, even if it falls under the over-the-counter drugs category. If you have a prescription, chances are you will not be facing a bad moment at the airport. If you are in urgent need of an over the counter drug, you may take help from a university student (if you have a friend). Students get access to many free products including over-the-counter drugs and health products including condoms.
19.3) Women Safety 
It is reasonable to be concerned, as L.A. is reputed to be a dangerous city. However, its crime and dangers are tucked away for the most part. From the nice areas which are anywhere outside of south central L.A., one rarely feels unsafe. Just be sure not to walk around Koreatown at night, but that becomes self-explanatory once one sees what K-town is and feels like.
From my own experience, I would suggest anyone refrain from wandering around at late night hours. Situations turn grim as everything turns dark. Although you would see police choppers from time to time, it's best to avoid this time frame especially if you are alone. Just for your information, California has the strictest gun laws out of all US states but that never means you will not take care of yourself at all times. We also wrote tips for women safety while traveling to France, India, and Spain. Feel free to give a read. If you are in trouble and in need of emergency services do not hesitate to contact 911 also if your situation demands call the Rape Hotline number 626-793-3385
19.4) Embassy houses 
For emergency purposes, you must know where to knock and for your convenience, I am going to add this wiki article. This gives a detailed account of all consulate offices in LA.
19.5) Important numbers 
911

: Life and Death Emergencies

1-877-ASK-LAPD:

Non-Emergency Information Line

213-385-2202:

Legal Aid

1-877-A-THREAT:

Terrorist Threat
A detailed list of all emergency services can be found on this website.
20) LGBTQ+ friendly La La Land 
The LGBTQ+ community in Los Angeles has a very strong foundation. Heritage value is one thing (the history dates back to '60s counterculture movements) but it has significantly shaped the entertainment industry over the years. The entire environment is quite friendly and shows a very natural response to gay people. They get it, it's normal. In fact, there are dedicated neighborhoods to celebrate the different shades of life. One of them would be the City of West Hollywood. This place has 25 gay bars, 26 gay shops, and 69 gay-friendly restaurants and many other services as well. The 40% of its population is gay which makes it the gayest city of the country. There are other gay 'hoods including Silver Lake, Mt. Washington and Los Feliz. Join, The Los Angeles LGBT Center for a year-long celebration and wholesome events as they celebrate 50 years of Queer in 2019.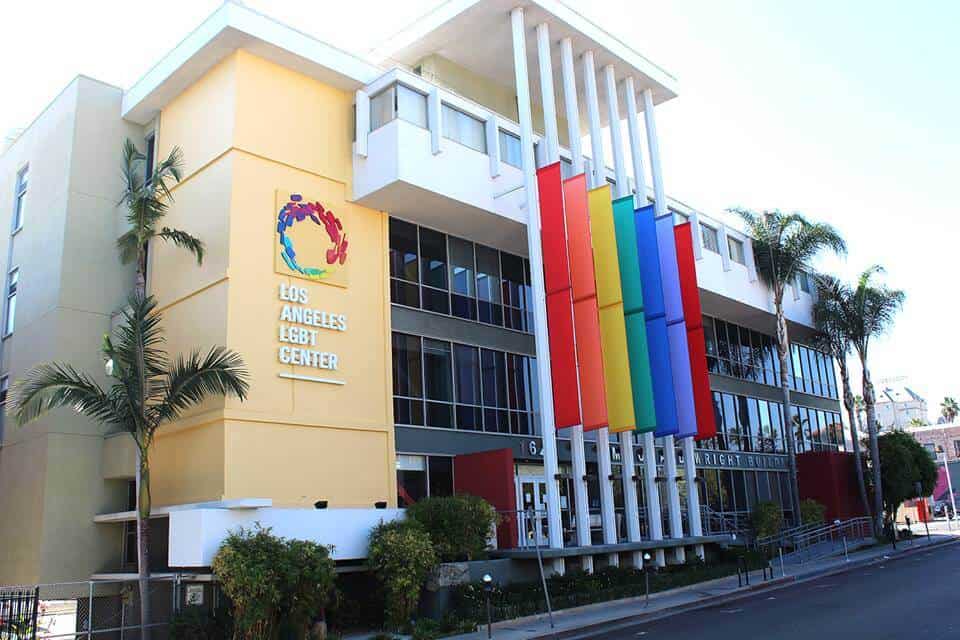 21) Helpful apps for convenient Los Angeles travel
21.1) Find yourself an inn
Hotel Tonight:

A good android and iOS app for you to find cheap hotels. Whether you are looking for an expensive, mid-range or cheap accommodation, chances are you will find them cheaper in Hotel Tonight. When rooms don't get filled they pass some good deals to Hotel Tonight. You may save quite a bucks if you book 'em from this app.

Zillow:

This is a popular real estate app for you to buy, rent or sell properties. If you are thinking of extending your stay this app might be a very good choice for you.
21.2)
Things to do in LA app
The Discover LA app:

I would recommend this one to every traveler for its curated list of everything that's happening in LA. There's a reason why, this app promotes LA as the "

premier site for leisure travel, meetings, and conventions as the City's official tourism marketing organization." Do you need a perfect spot for your date? This app will save you. Feeling an urge to go camping? Again, your answer is The Discover LA app.

Apps for Museums and other attractions: Universal Studio official app, Disneyland app, Getty360 app

will be convenient for efficient travel to Universal Studio, Disney land, and Getty Museum.

Today Tix: If you are planning to get theater tickets for an upcoming show, this app is again a big savior.
21.3) Food in LA
Resy:

Apart from some known names like Yelp and Open Table this one is also used by many restaurants for reservations.

Caviar:

If you are too tired to go outside, order your food online using Caviar.
21.4) Transportation and parking:
Waze:

This app is even used by the natives for its

real-time voice-directed navigation that can save you from the traffic big time.

Transit: If you would like to take public transport, Transit is going to come very handy.
Park Me:

Very important app for people with an intention to self-drive.
21.5) Misc
Dark Sky:

You have to use this app if you are in LA. They provide

local weather forecasts with impeccable accuracy.

Early Warning: Worried for earthquakes in California, use this app.
Mr. Porter:

An LA dedicated online shopping app.
Now you're ready to have the time of your life in LA!
Read about other destination and travel guides from the Talk Travel App team