Cherry Blossoms! The mention of this very flower is sure to bring a smile on many of your faces! Also called Sakura in Japanese, these flowers are a symbol of spring. Since they are widely distributed in the northern temperate zones and is the national flower of Japan, many people have the common notion that it can be found only in Japan and its neighboring countries!
Viola! That's certainly not true. It is found in different countries and the United States is one of them..! If you are a sakura lover who lives in the US, this article is for you!! You can rejoice and appreciate the alluring beauty of these cute little flowers.
Between the months of February-April, the US is glowing pink and welcoming spring with open branches of Sakura trees. Why wait to find out the 10 best places in the US to relish the beauty of cherry blossoms!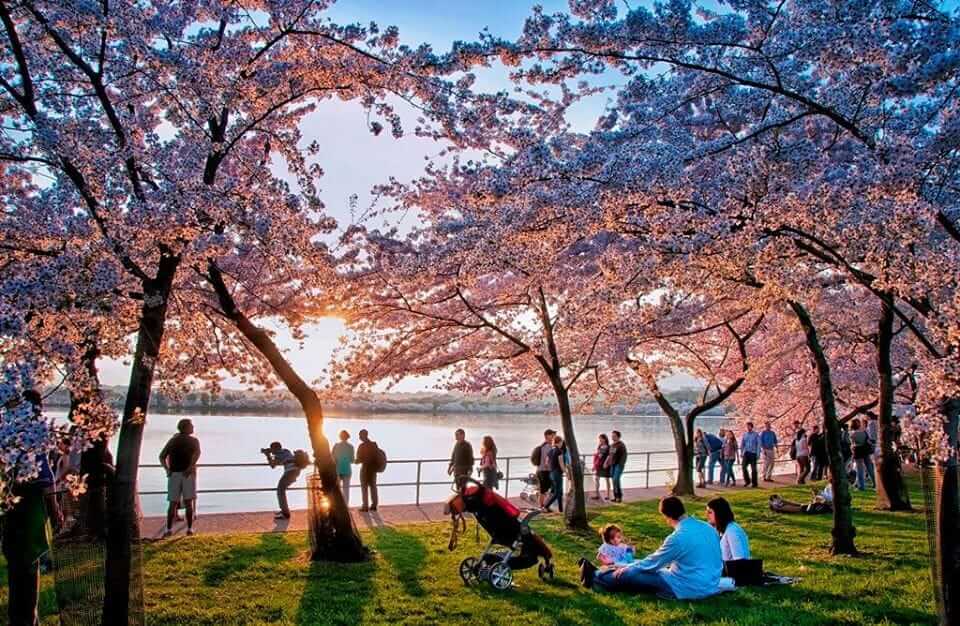 1) Washington, DC
Washington city is one of the most popular places where sakura trees can be spotted. The best time to visit this place to relish the sight of these pink flowers is between mid-March and late April.
The National Cherry Blossom Festival is hosted in March and attracts many lovers of cherry blossoms. The most admired place to see the cherry blossoms is at Tidal Basin. To avoid crowds, you could take an early morning stroll at this place to start off your day with a great note or you can visit it at evenings to blow off some steam after a busy day.
Besides the National Cherry Blossom Festival, there are other exciting events and fundraisers going on all-long.
Such core events are:
Pink Tie Party
Smithsonian American Art Museum Cherry Blossom Celebration
Japanese Fashion Family Day
Annual Cherry Blossom Freedom Walk
Cherry Blossom Night at Audi Field
Sakura Matsuri – Japanese Street Festival
Sakura Sunday
Dates: March 20 to April 12, 2020
Ticket price: $20 each for the general Parade route and $30 each for the telecast area.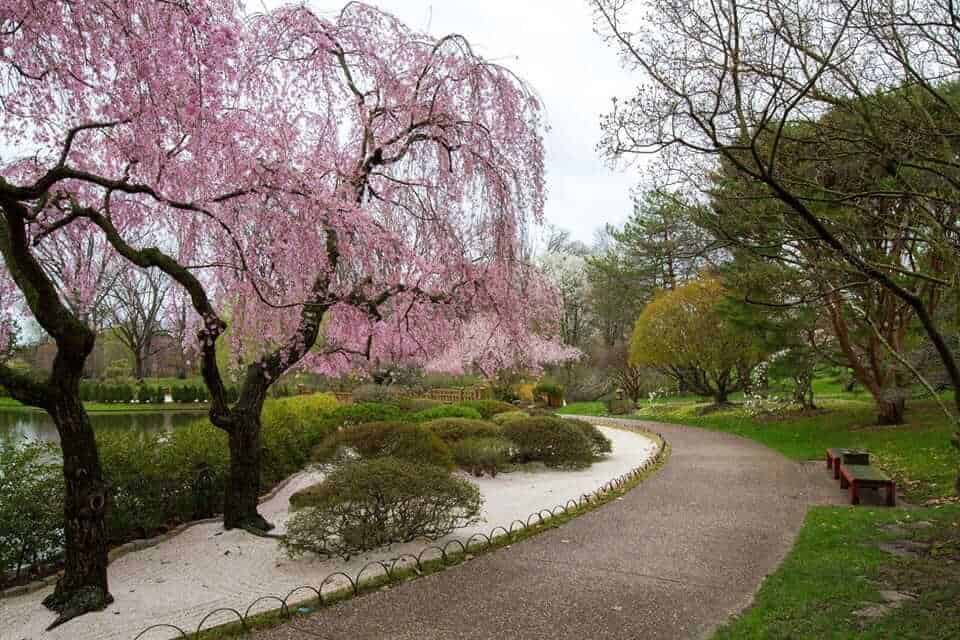 2) St Louis, MO
Missouri Botanical Garden is home to diverse varieties of plants, trees, flowers, and many other botanical wonders. Cherry blossoms are one of them. This area is bursting with white and pink blooms each year from early March to mid-April. There are over 40 specimens of Yoshino cherry throughout the Japanese Garden. You can enjoy their fragrant white blossoms throughout April. Look for the North American native wild black cherry. The most dramatic flowering cherry in their collection is the weeping Higan cherry, which produces sweeping branches covered with rosy flowers. Enjoy a special after-hours opportunity to take in the Garden's flowering azaleas, irises, and more.
Walking the Missouri Botanical Garden between the last two weeks of March through the first week of April will surely wipe away the gloomy memories
Ticket price: $20 each for Garden Members and $25 each for Non-Members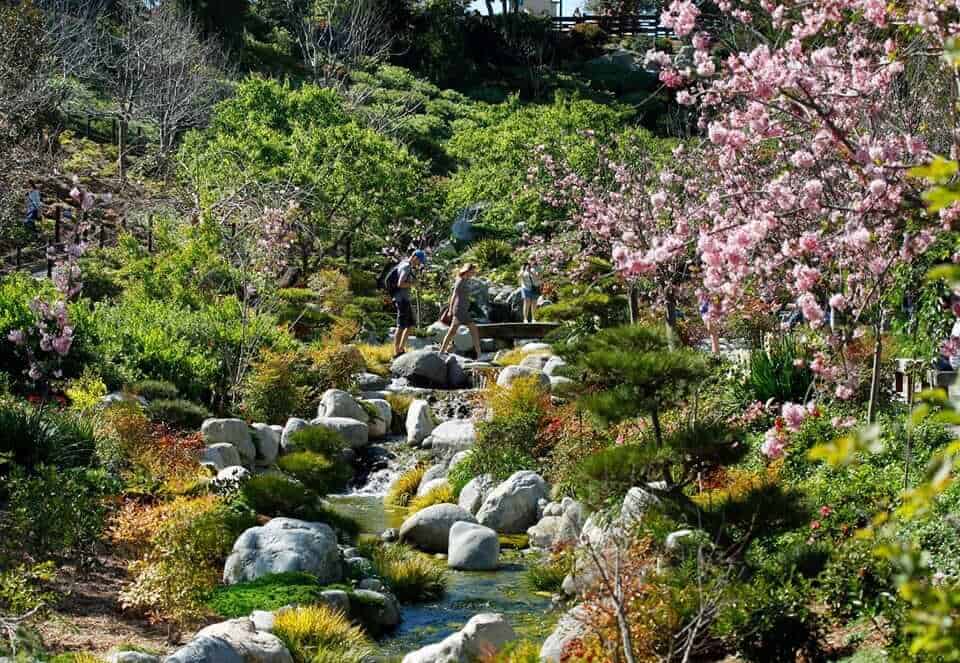 3) San Diego, CA
The Japanese Friendship Garden, located in Balboa, is THE place to visit to enjoy the spectacular blossoming of sakura trees. This garden represents the friendship between San Diego and its sister city Yokohama, Japan. It celebrated a Japanese tradition-hanami where the visitors can relax back and revel in the splendor of cherry blossom trees.
A Cherry Blossom Week is hosted here to celebrate and rejoice the spring. This festival includes various special daily programs. People of all ages, from all backgrounds, can visit this place to have their eyes delighted by the alluring beauty of Cherry Blossom flowers. This garden includes a bonsai exhibit, a moon-viewing deck, beautiful black pine trees, azaleas and ornamental plants such as camellias, magnolia, wisteria and cherry blossom trees, and the largest and oldest bronze Kannon statue in the USA.
Dates: 16-22 March 2020
Ticket price: $ 12 – Adults (18+)
$ 10 – Students, Seniors (65+),
Active Duty Military (Must show ID)
Children aged 6 and younger are free.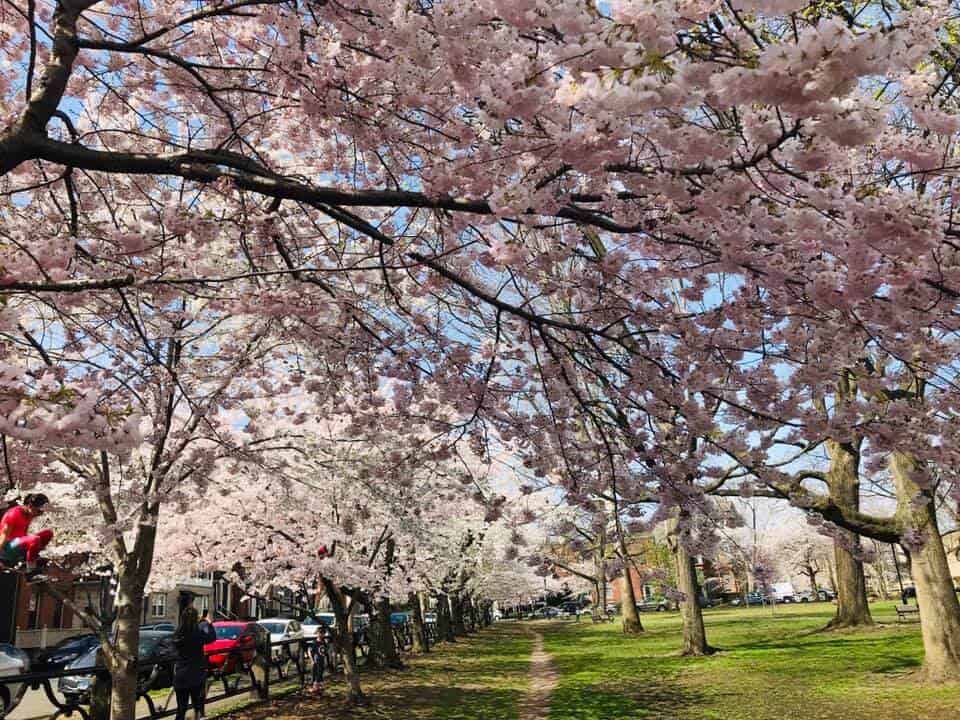 4) New Haven, CT
Just like Washington and San Diego, even New Haven hosts an Annual Cherry Blossom Festival in the mid of April. It is just as beautiful as anywhere to savor the loveliness of Sakura flowers. The reason behind the celebration of this fest is that 73 cherry blossom trees were planted in 1973 by the New Haven Historic Commission in cooperation with New Haven Parks Department. Various fun activities such as live music, arts and craft, children's area, pet-related interested and a great range of food and display tables await its visitors. If you are around Connecticut in the month of April, do not forget to drop by New Haven to watch the pretty pink flowers.
Dates: April 19, 2020
5) Brooklyn, NY
If you are a cherry blossom fan (or not!) and planning a trip to New York city somewhere between March and April, make sure 'Visiting Brooklyn' is on your to-do list.
You can delight in watching the flowering cherry trees in the parks and neighborhoods of Brooklyn. Similar to Missouri's Botanical Garden, Brooklyn Botanical Garden is famous for its celebration of the arrival of cherry blossom season. There are about 26 species and cultivars of cherry blossoms represented in Brooklyn Botanic Garden's Flowering Cherry Collection
It hosts a month-long celebration in the month of April, called Hanami in Japanese. There is another popular weekend-long Cherry Blossom Festival, which in Japanese is called Sakura Matsuri. It is quite popular and has numerous events that celebrate the tradition of Japanese culture.
Dates: 25-26 April 2020
Ticket price: Early bird tickets $30 each(Limited quantity available)
Adults: $40
Students (12+ with ID): $35
Seniors (65+ with ID): $35
Children under 12 with ticket-holder: Free (ticket required)
BBG Members: Free (ticket required)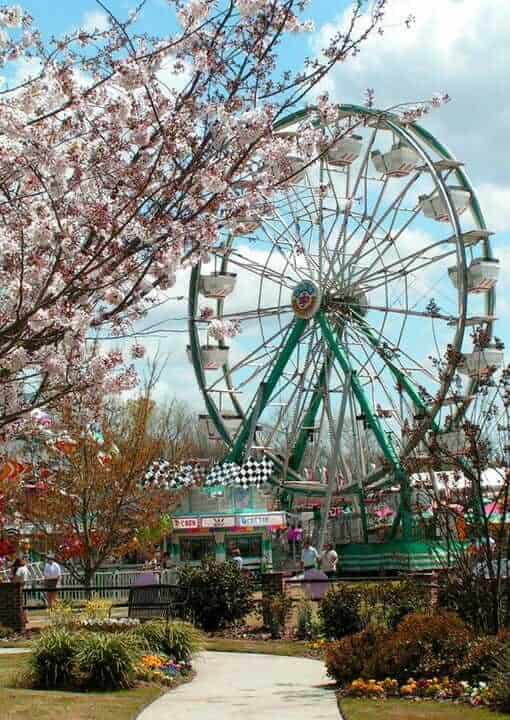 6) Macon, GA
In or around Georgia? Love Sakura? Then mark your calendars in mid-March to take pleasure in watching the pink flowers bloom. There are plenty of places in Georgia to see the cherry blossoms, a few of them are:
Conyers Cherry Blossom Festival
This festival is not as big as the ones in Washington or San Diego, but it is still cute and adorable to witness. It runs at the Georgia International Park. You are sure to enjoy a multicultural experience at this festival which hosts hundreds of art and craft booths, children's activities and food joints.
Dates: 20-22 March 2020
Ticket price:
Admission is Free with $5 daily parking
Weekend parking passes are available for $8
Tour Buses: $8 daily fee
International Cherry Blossom Festival, Macon
Each spring, the city of Macon is filled with the joy of the annual International Cherry Blossom Festival. This festival runs between last March and early April. As far as your eyes can wander, you will see something pink. There are fun activities and interest-related areas everywhere, throughout this festival for everyone. From a parade to the blossoming trees, there's something for everyone. The best part is that the admission to most of the events is free!
Dates: 27 March – 5 April, 2020
Ticket price:
For 'Pasta on Popular' event: $75 each
For 'Fiesta Ball' event: $100 each
Sometime you could visit the Waddell Barnes Botanical Gardens in Macon as well to look at its varieties of weeping and upright cherry trees in the cherry grove.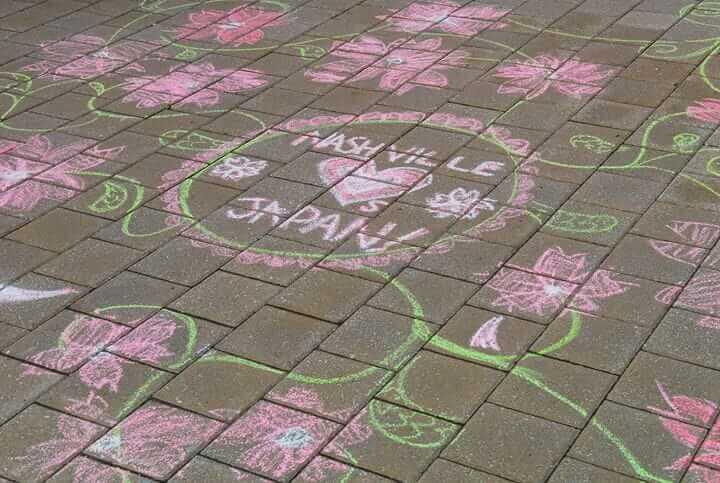 7) Nashville, TN
When the cherry blossoms trees bloom, it means the cold and freezing winter is finally over and the joyous season of spring has overtaken Nashville. The Japan-America Society of Tennessee set out to plant a thousand trees throughout the city and thus Nashville reached its goal of planting 1,000 cherry blossom trees in 2018. This makes it one of the prime places in the US to visit to watch the exquisite cherry blossom trees. They host a national cherry blossom festival like the other few cities in the US. Martial art performances, musical acts, pet parades, and many more events are hosted at this festival to entertain its guests.
Dates: April 4, 2020
Ticket price: Free to the public!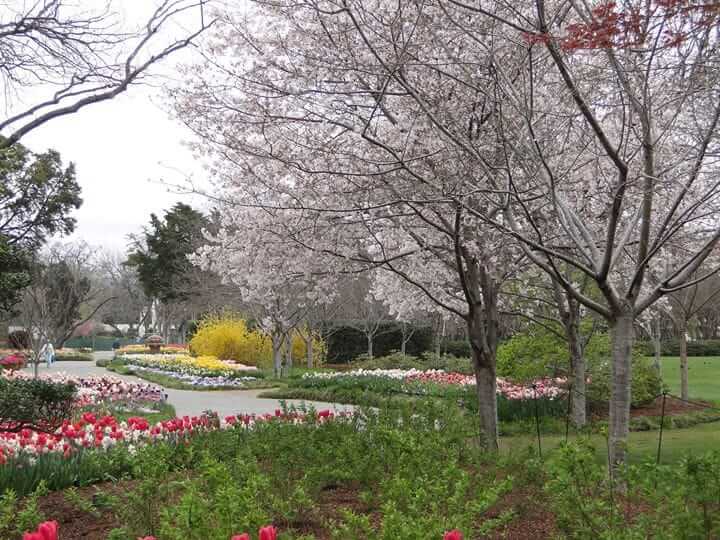 8) Dallas, TX
Like we mentioned earlier, there is absolutely no need to fly all the way to Japan or even Washington DC to see the incredible display of cherry blossoms in the spring. It's mostly in the northern parts of the state where you'll find these beautiful trees in bloom. Head for Dallas to visit their world-class arboretum, where you'll find the foaming beauty of pastel pink and white cherry blossoms.
While most other cities in the United States celebrate annual festivals of cherry blossoms season, Dallas celebrates 'Dallas Blooms'. It is an event which takes place between late February to early weeks of April. It has assorted activities such as wine tastings, tours of the garden with master gardeners, international foods on different weeks, face-painting, and many more.
You can bring your loved ones here to relish the joy of seeing cherry blossoms in the Pecan Grove. Plan a journey soon to see the cherry blossoms in the Lone Star State.
Dates: 29 February-12 April 2020
Ticket price: $17/adult, $14/senior age 65+ and $12/child age 2-12. The Children's Adventure Garden is an additional $3 and parking is $15 or $10 if purchased online.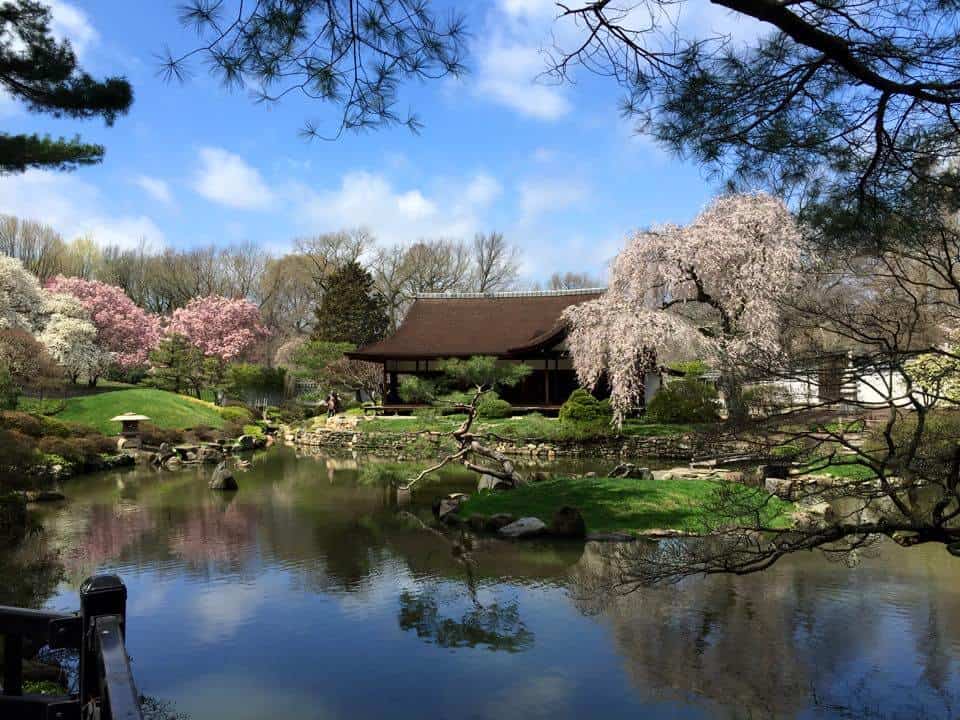 9) Philadelphia, PA
Spring is starting shortly and that means we will get to see the cherry blossom trees soon! Philadelphia's peak cherry tree bloom is expected to take place in the mid of April. During the same time, you will witness the annual Subaru Cherry Blossom Festival hosted by the Japan America Society of Greater Philadelphia. According to the locals and travel guides, one of the best spots to see the blooms is Shofuso Japanese House & Garden in Fairmount Park. It also hosts the annual fest mentioned.
Another popular spot to view the beautiful blooms is on Kelly Drive near the Please Touch Museum and by Belmont Plateau.
Mark your calendars now to not miss seeing the charming and fluffy pink flowers.
Dates: 4-5 April 2020
Ticket price: Early Bird and Advanced single day & two day tickets available online: $12-$25
Children 12 & under are admitted free (no tickets necessary)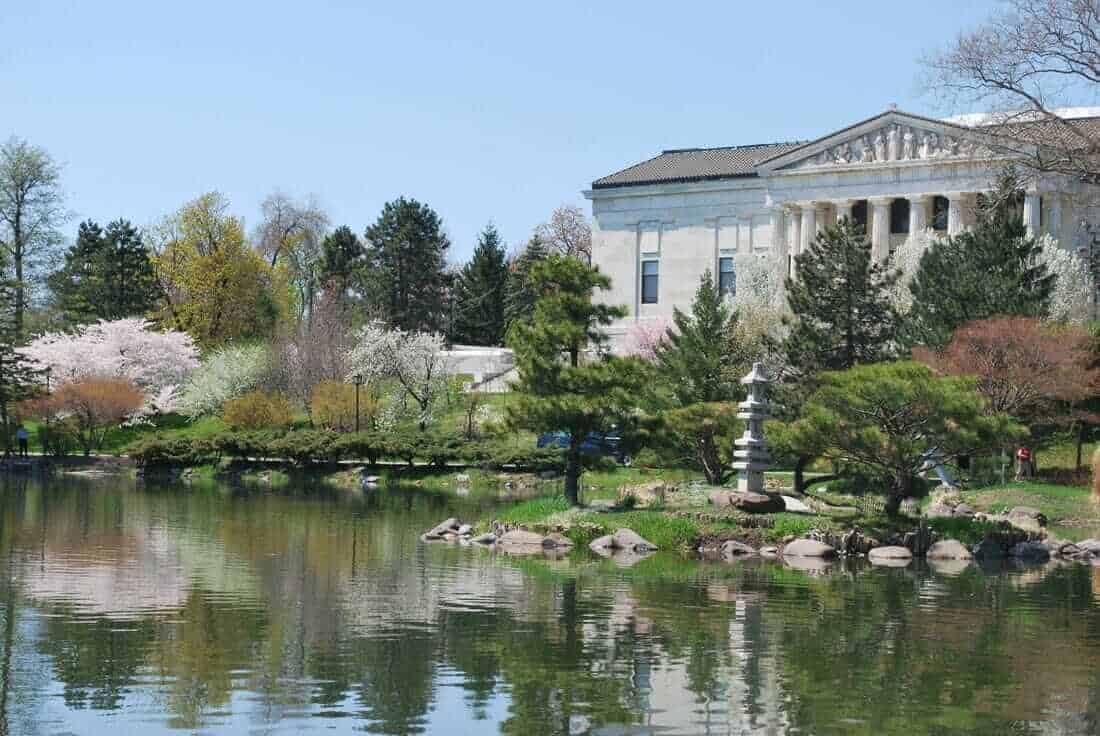 10) Buffalo, NY
Why drive all the way to Washington DC to be a part of its annual festival while Buffalo itself hosts an International Cherry Blossom Festival?
Other cities host their annual cherry blossom carnivals in the months of March and April, Buffalo's Cherry Blossom festival happens in early May. The Buffalo Olmsted Parks Conservancy, The Buffalo History Museum, Friends of the Japanese Garden, and Music is Art partner to host a celebration of the spring season and cherry blossoms with activities for all ages. The cool activities hosted by them include the exposition of Japanese Pavillon, a fundraiser for the Blossoms, Musical acts, Japanese Cultural Display, Pink boat rides among many others. There shall be open bars, hors d'oeuvres, food trucks to make your stomach happy while our eyes are enjoying the beauty of the cherry blossoms. The blossoming Japanese Garden in Delaware Park will surely paint the spring sky pink for a family fun weekend.
Dates: 29 April-3 May 2020
Fundraising party: $40 per person and $70 per couple(2019 prices)
We hope we turned your smile upside down by letting you know the locations in the States to watch the magnificent yet adorable cherry blossoms. The Sakura fan inside you is swelling with joy at the mention of these simple yet illustrious accounts of information.
If you liked this, you might also want to see the top places to see cherry blossoms in Europe. We are happy to have made all these data available to you under one roof. Keep visiting our website for more such interesting informative articles!