Hey all! Hope you had a good time reading our previous article Top 10 places to see cherry blossoms in the US. But, you are in Europe and not in the States!? Oh, that's alright, we have it figured out for you – The top 10 places to see cherry blossoms in the Europe. Let the reading and swooning begin!
1) London, United Kingdom
London has quite a few amazing spots which let you watch the blossoms in amaze.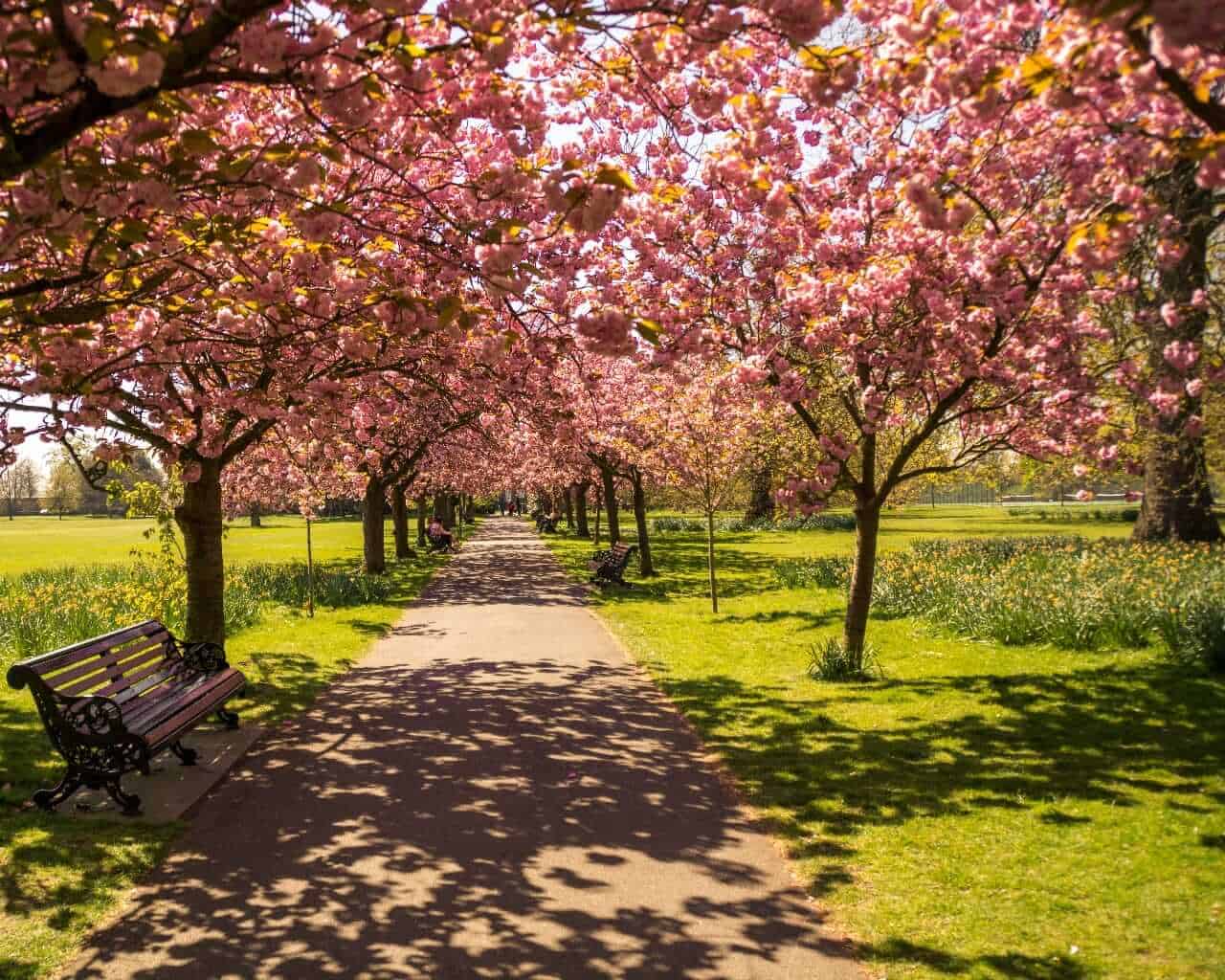 Greenwich Park-It is the oldest enclosed Royal Park in London which was formerly a hunting ground for Henry VIII. The branches of the sakura tree create a candyfloss arch that looks just beautiful. This place can be ideal to be lost in the pink wonderland!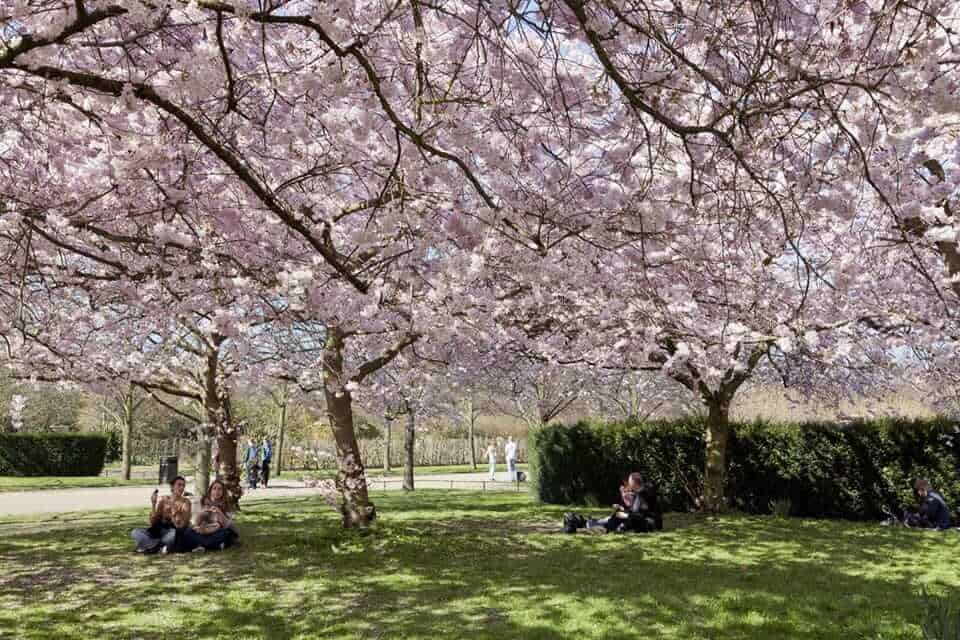 Regent's Park– Walk through the Chester Road entrance to be astonished by tall white cherry blossoms which welcomes you dearly. Head to the south end of Avenue Gardens where you can find the cute pretty pinkies smiling at you.
Kew's Garden-Take a stroll in its 'Cherry Walk' starting at the Rose Garden to find yourself in a Sakura heaven. The Japanese cherries are lined up to make you feel you're in Japan amidst the thousands of cherry blossoms.
There are quite other places such as Kensington Gardens, Alexandra Palace, Kyoto Garden which are notably alluring.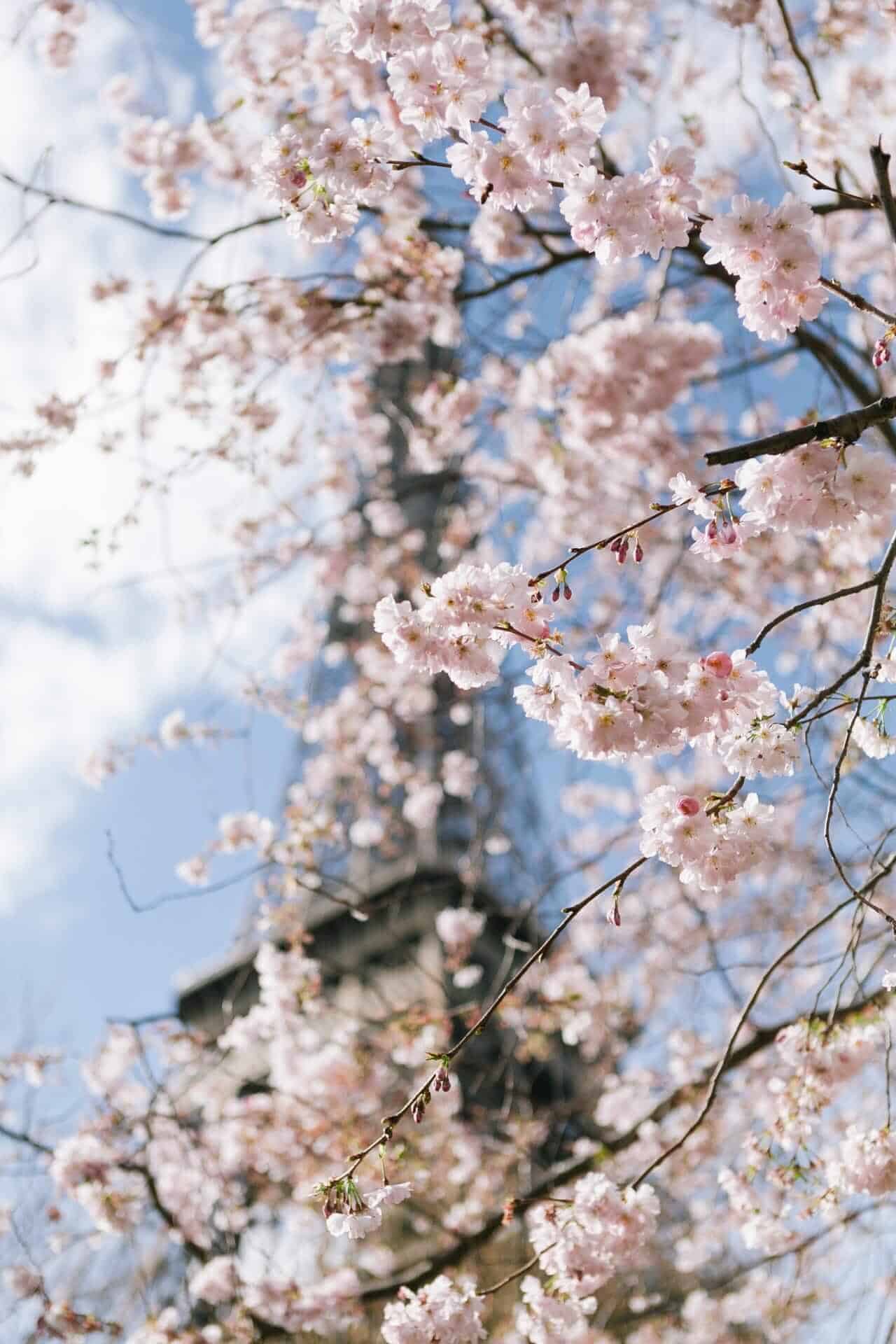 2) Paris, France
The Eiffel Tower in Paris is not only a romantic getaway but also an amazing spot to see the cherries. The Champ de Mars is close by to the great tower where the sakura trees are spread randomly which makes the chaos even more attractive! You can catch the beautiful sight starting from late March to early April.
If you love Shakespeare and books, head straight to Shakespeare and Co. bookstore. The famous bookshop has a cherry tree that blossoms in the mid of April making a lovely scene to watch while reading some books.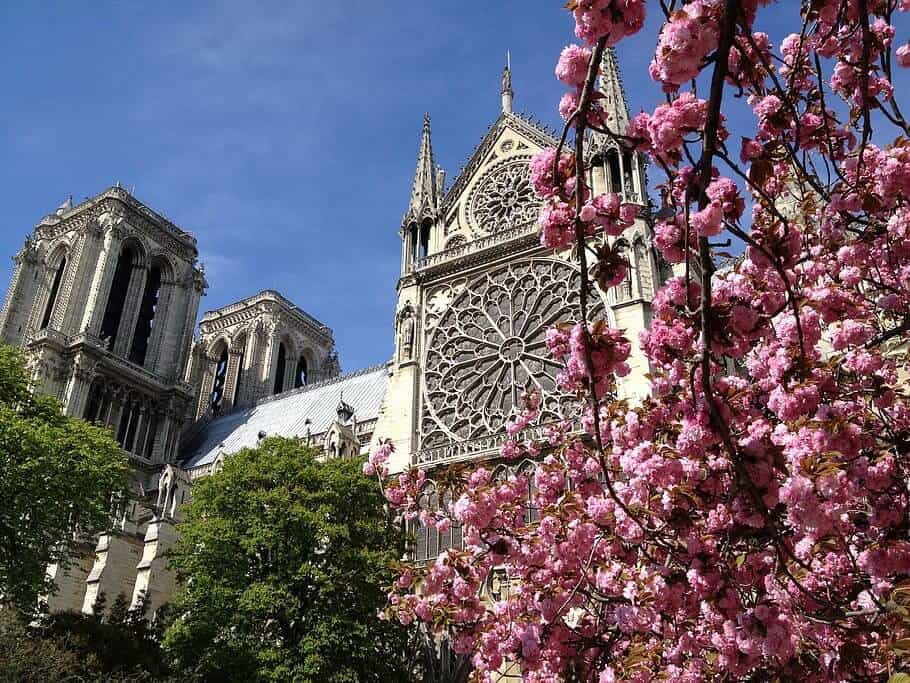 Places like Petit Palais, Square Gabriel Pierné, Jardin des Plantes, Jardin Tino Rossi, Parc de Sceaux and few others offer equally charming sights of the pink blossoms.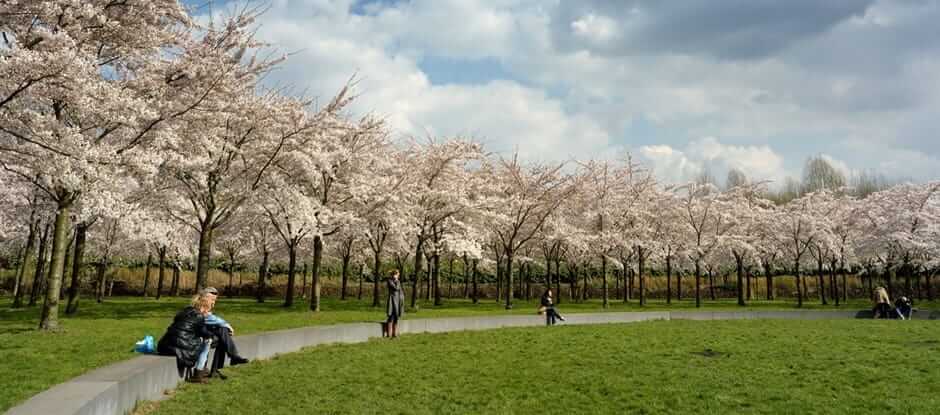 3) Amsterdam, the Netherlands
The best place to see cherry blossoms in Amsterdam is Kersenbloesempark in Amsterdamse Bos, aka Amsterdam Woods. It is home to over 400 Sakura trees which were planted in the year 2000. The trees were gifted by the Japanese Women's Club(JWC). This place celebrates a special cherry blossom festival once the flowers bloom each year. This park can be a perfect place for a picnic with your family while you enjoy the beauty of the cherry blossoms.
Head to Westerpark or Museumplein or Hortus Botanicus to see more of the pink side of Amsterdam.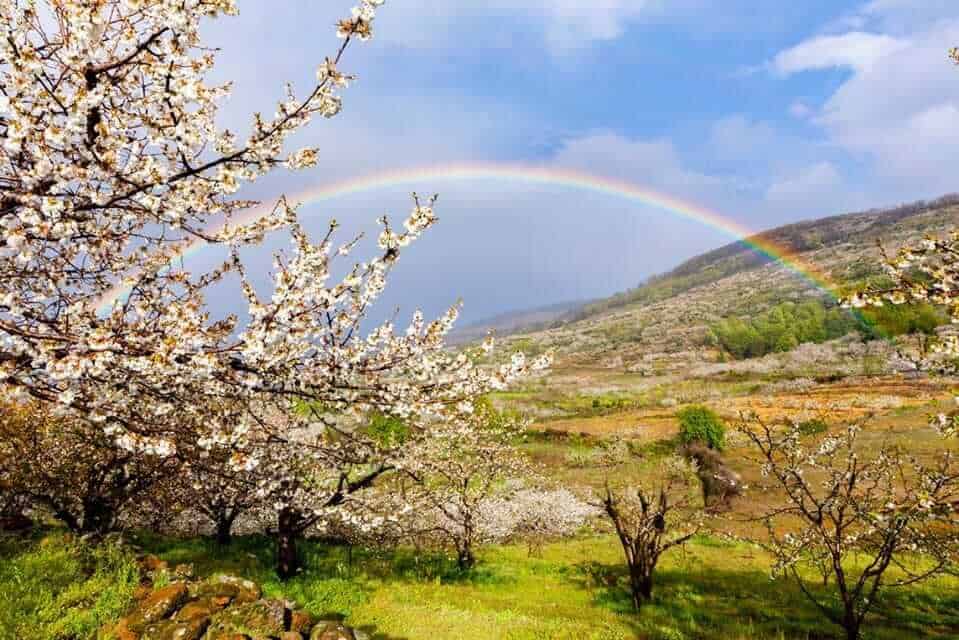 4) Jerte Valley, Spain
The most famous and popular place in Spain to see the cherry blossoms is the Valle del Jerte. It is a valley full of over 1.5 million cherry trees in Cáceres in the province of Extremadura in western Spain. There are plenty of events that take place here to celebrate the pink spring. Between the 27th of March to 4th April 2020, an event named 'Fiesta del Cerezo en Flor' is celebrated. A number of cultural activities are organized which is nice to be at.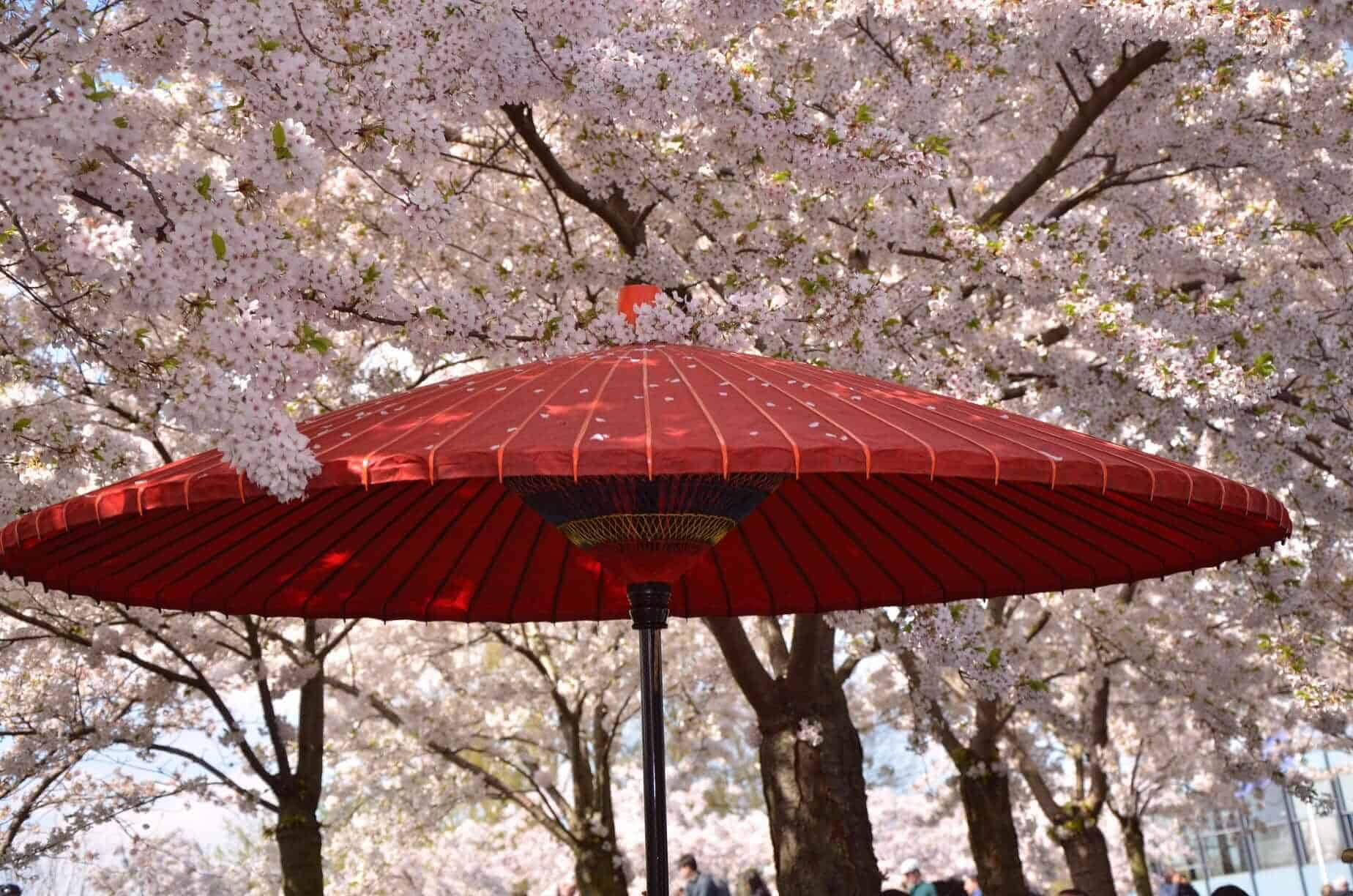 5) Copenhagen, Denmark
The most popular spot in Copenhagen is Bispebjerg Cemetry. An early morning stroll or a visit on weekdays to this place is the least busy. Drop by here to indulge yourself in the beauty of the sakura flowers.
Another such wonderful place is Langelinie Park which is on the water! The scene here during the spring is just picture perfect. The annual Copenhagen Sakura Festival will be held here on 18th and 19th April 2020. It features some Japanese cultural events such as traditional dancing and Haiku recitals.
Taking a walk in Copenhagen's botanical gardens is equally stunning !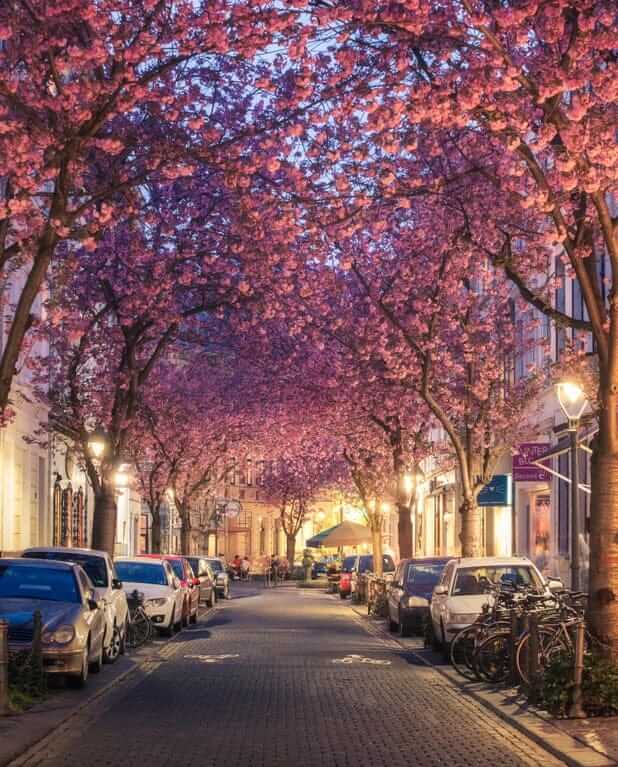 6) Bonn, Germany
One can find cherry blossoms in the Nordstadt neighborhood where you also can find the famous Beethoven house. In the '80s Japanese cherry blossom trees were planted in Herstrasse. It is also called the 'Cherry Blossom Avenue'. Indoor seatings and outdoor terraces here let you stay and relax up here. Sit below a cherry blossom while the spring breeze blows across your face and all your troubles seem to be gone!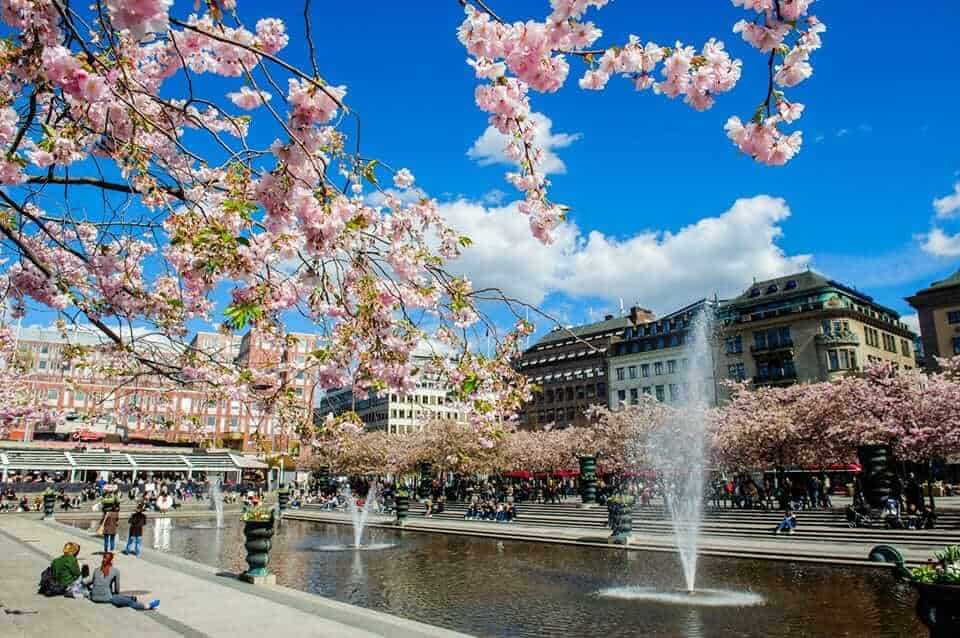 7) Stockholm, Sweden
The most beautiful and pretty cherry blossoms are found in a grand park called Kungsträdgården. This King's Garden is famous nation-wide for its magnificent display of the Sakura flowers. The annual Japanese festival is held here in mid-April. The festival features traditional Japanese culture. A lot of bonsai, kimono origami stalls are put up and manga exhibitions are to visit in this glorious fest of central Stockholm.
Gothenberg, being Sweden's second-biggest city, also has a lot to offer when it comes to the blossoms. One can visit the city's botanical garden, Botaniska Trädgården, where you can see the best of Sakura in Sweden! They also host a Hanami picnic, Japanese style!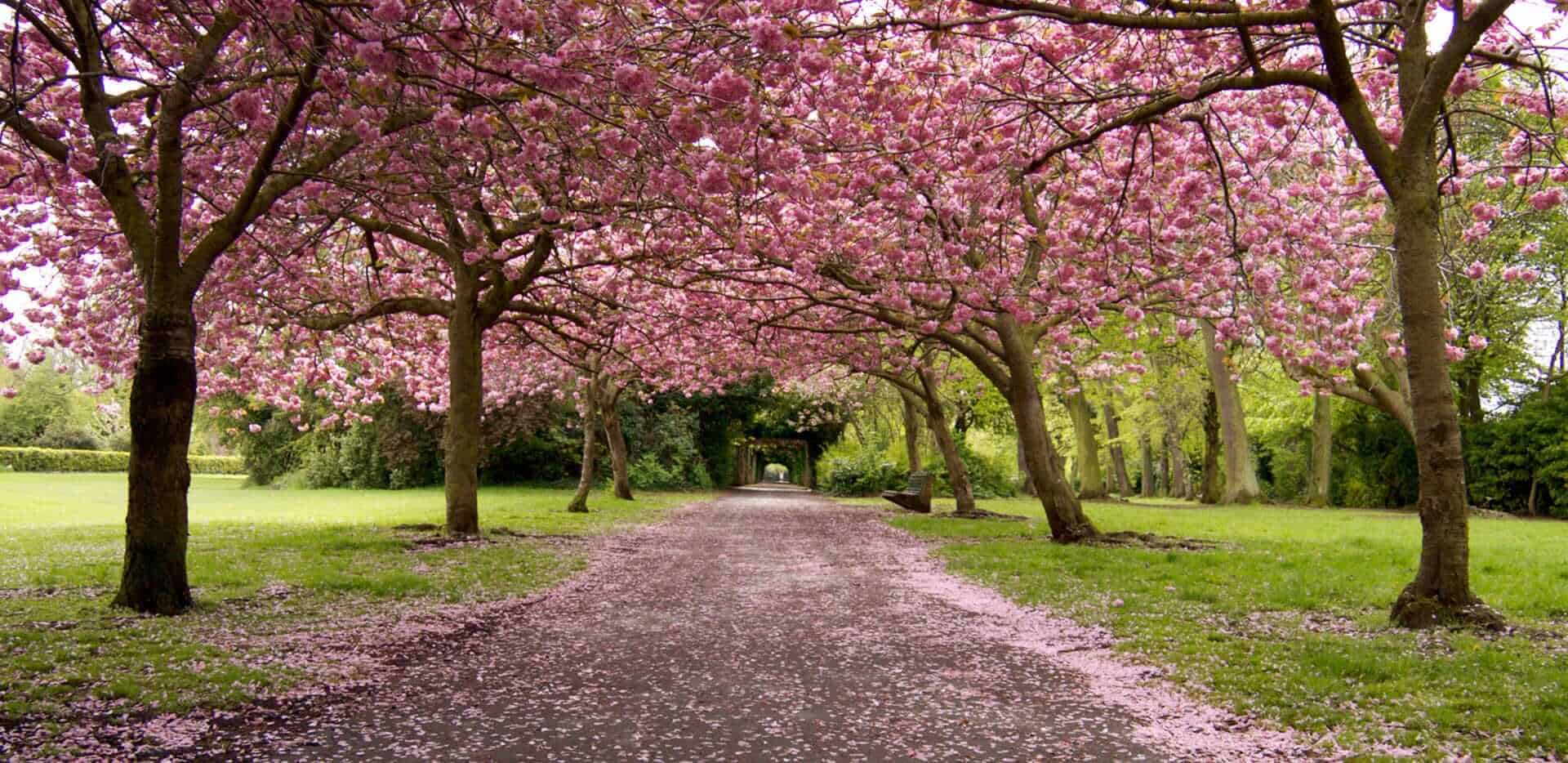 8) Dublin, Ireland
Long ago, St Stephen's Green was just a grazing land. But today, it houses varieties of flowers such as weeping willows, tulips and cherry blossoms. This is THE best place in Dublin to go to if you want to see the cherry blossoms. You can plan a picnic here in mid-April when the blossoms are its peak.
Off the city radius, is Herbert Park which has a high density of cherry blossom flowers. This location is not as popular as St Stephen's Park, but it surely is stunning and elegant in its own ways. Taking that road and traveling that extra mile is sure going to treat to your eyes with the beauty of pink fluffy blossoms.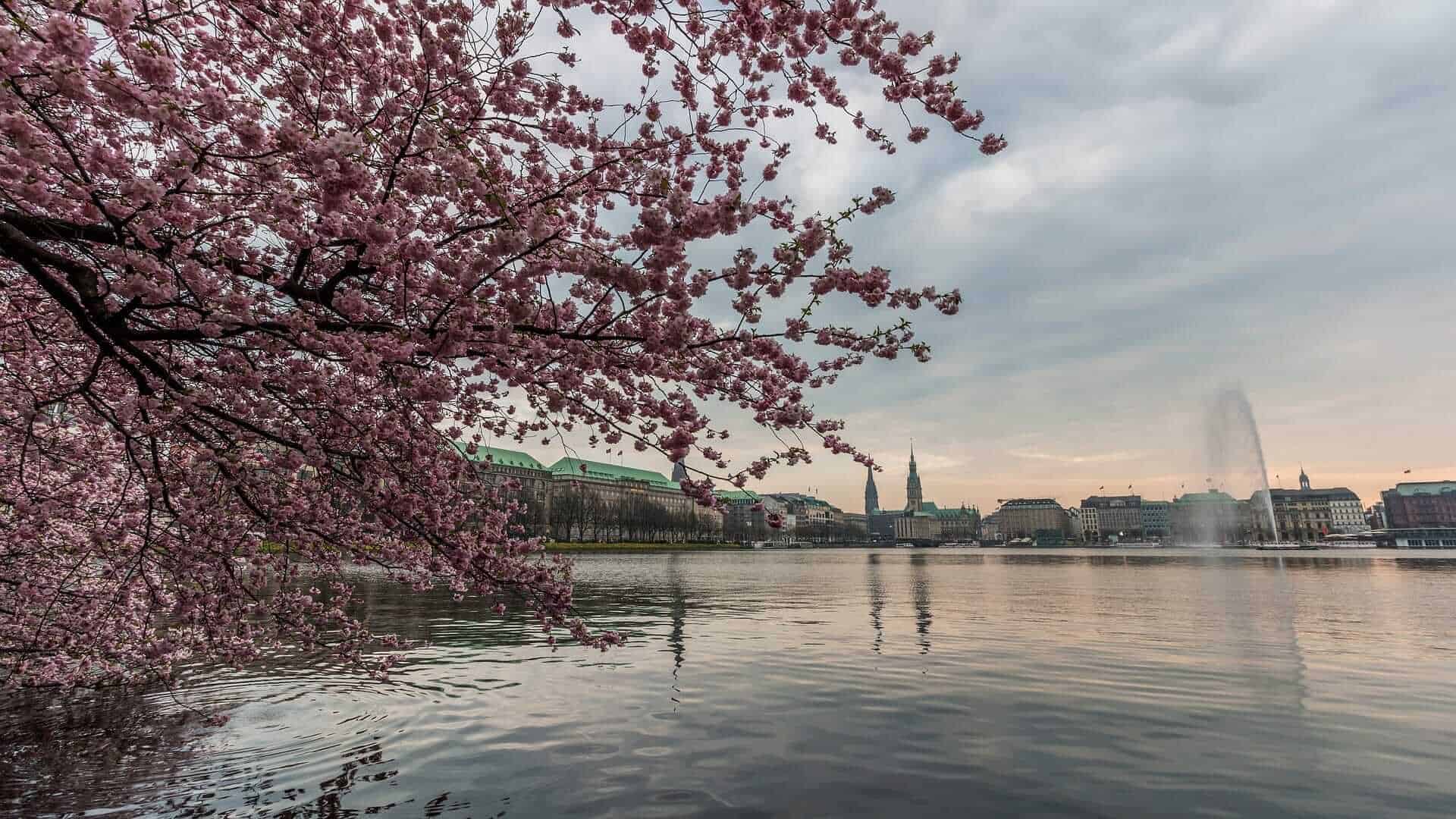 9) Hamburg, Germany
The city of Hamburg turns pink for spring. A Japanese community gifted Sakura trees to the city and ever since 1968, the yearly cherry blossom festival is celebrated. This upholds the special relationship between the two communities.
To find the pink clouds lined up, Alsterpark is the place you would wanna go to. Japanisches Kirschblütenfest displays dazzling fireworks at night and it is sure a great sight to watch. This year, the cherry blossom festival fireworks are scheduled on the 29th of May 2020, and the entrance is absolutely free!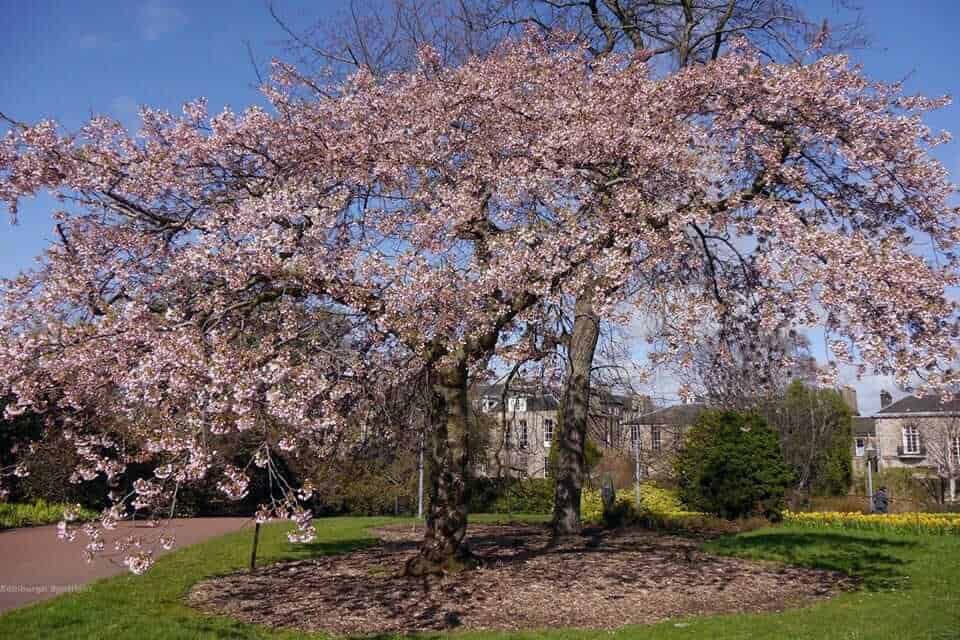 10) Edinburg, Scotland
Last, but not the least, Edinburgh is one of the best places around the globe to see cherry blossoms! You could just take a walk or go out on a picnic in The Meadows or any public park in Edinburgh and be lost in the magical floral walks. The scent of cherry blossoms will make your heart light and the pink-colored flowers, your eyes! You might as well head to The Royal Botanic Gardens or St Andrews Park to chase more of the Sakura flowers.
That is all for now. Plan your trips to the cities in Europe which are home to Sakura trees, in the spring accordingly. Be it with your loved one, or with family or you alone, these cherry blossom destinations in Europe are sure to be one of the most vivid memories etched in your heart forever. Who knew we had so many exquisite places outside Japan to see the pink flowers, aye?