Home » Travel Tips » 7 best holiday destinations to welcome the New Year 2019
2018 passed by in a jiffy, well, almost. We are just a few weeks away from the New Year 2019. Like every other new year, we all look forward to new beginnings and build new dreams to achieve.
Why spend the New Year's Eve in known surroundings? Break the monotony and go on a vacation! Bring in the New Year 2019 at a destination away from home and experience the thrill in a completely new setting.
We have compiled this list where you can holiday and also welcome the New Year 2019. These recommendations are of places which celebrates the New Year a tad bit different than the rest of the world.
New Zealand
The islands of Samoa and Kiribati are the first ones in the world to welcome the New Year owing to their location in the time zone. They are laidback beach destinations and have a simple festive experience.
The next destination to celebrate it first with loud celebration and a  spectacular display of firework is at Wellington, the Kiwi capital. Go to Whairepo Lagoon (Frank Kitts Park lagoon), find a nice spot and get ready to bring in the New Year with great music, food, and fireworks.
Australia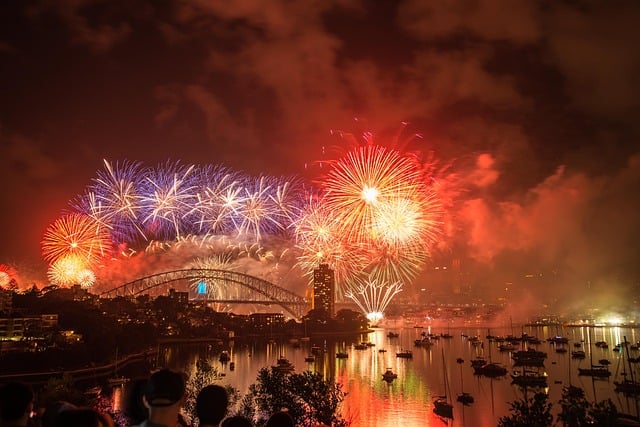 The largest country in Oceania steals the world's attention every New Year for the best firework displays ever at Sydney Harbor. Same with Melbourne where there is a pyrotechnic show and the whole city converts into a giant party.
Thailand
Bangkok
The Thai capital is considered as one of the best places in the world to celebrate the countdown to the New Year. There are two places where the countdown is projected on giant screens. There will be a sea of people who will join the chorus as the clock ticks closer to 12.
Central World, the unbelievably huge mall and the open air mall called Asiatique should be on your list of places if you want to count 10, 9, 8, 7, 6, 5, 4, 3, 2, 1… Happy New Year!  😀
Pic courtesy: Johnny Armaos
If you want a quieter experience, hop on a boat and go on a river cruise down the Chao Phraya river. You will drift past illuminated landmarks like Wat Arun, Grand Palace, and Rama VIII bridge. A romantic experience indeed with your loved one. The firework display beside the river illuminating Wat Arun should not be missed when you are here.
The night doesn't end there if you want to party all night long then head to Royal City Avenue. This street has the best nightclubs and discos hosting international DJs to whip up good music for revelers like you.
Chiang Mai
For a more closer to the heart experience, go to Chiang Mai. This mountain town is steeped in history and boasts of more than 300 Buddhist temples.
Pic courtesy: Korawee Ratchapakdee
A popular way and an enchantingly beautiful way to bring in the New Year is by releasing floating lanterns into the air at the stroke of 12. The whole place glows golden orange as hundreds of lanterns are released in one go by many locals and tourists.
On beaches like Patong and Railey Beach on Phuket and Krabi respectively have an enormous display of fireworks. At the exact moment when the New Year sets in, the pyrotechnic display lights up the entire beach like a huge party.
Not to forget the countless nightclubs on Bangla Road in Phuket and Ao Nang beach in Krabi to party all night.
Huis Ten Bosch in Nagasaki, Universal Studios in Osaka, and Tokyo Bay put up an arresting firework show for everybody to enjoy.
Hatsumode
When you are in Tokyo, participate in a local ritual called hatsumode. In this practice, Japanese visit shrines in large numbers to ring the temple bell and say a silent prayer wishing for good luck in the coming New Year.
Join this humble festivity by visiting any of these shrines: Meiji-jingu Shrine, Yasukuni-jinja Shrine, and Asakusa-jinja Shrine are a few recommended ones. Expect a long queue of people waiting for their turn.
Joya no kane
Another interesting ritual called joya no kane which is ringing a larger than life metallic bell 108 times. It is believed that this practice wards off human suffering and purifies the mind and soul of humans. Go to Buddhist shrines like Zozoji near Tokyo Tower and Sensoji at Asakusa to have this authentic experience.
India
Indians have their own traditional calendar that they follow to celebrate the New Year. Even the Chinese for that matter celebrate their New Year as per local customs in the month of February every year which coincides with the Lunar New Year.
All the metro cities in India arrange parties in hotels, nightclubs or discos with the DJ spinning music all night long to welcome New Year 2019.
Destinations in India who are going to give you a memorable time apart from the usual visit to a pub or a hotel are:
Pune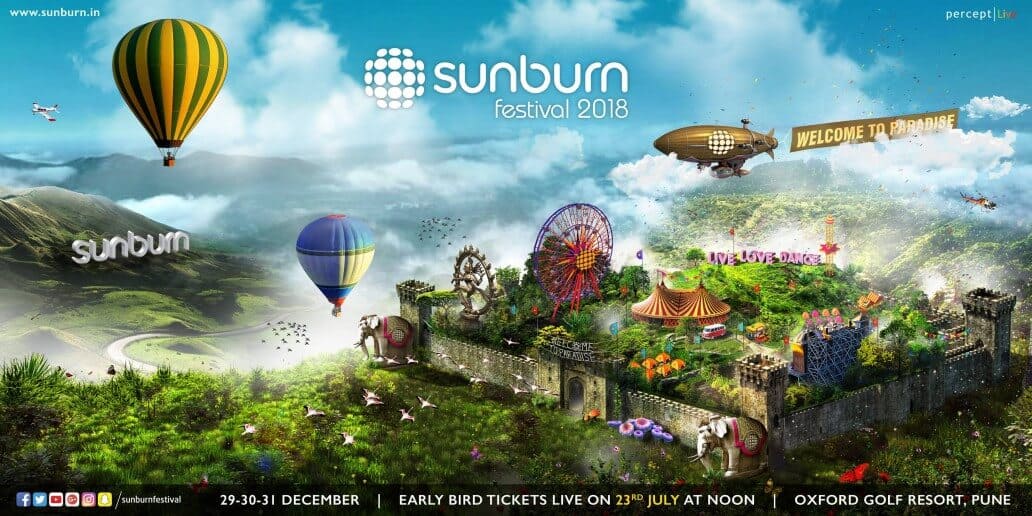 Asia's biggest dance music festival called the Sunburn Festival takes place in Pune. If you are a fan of EDM, then the international line up of DJs here are going to keep you on your feet all night long for three nights straight. There are national and international artists from all genres of music playing this year.
It begins on 29th December and goes on until 31st December. What are you waiting for? Book your tickets here, right now!
Have a look at this cool video to see how Pune rocked the scene in 2017.
Goa is synonymous with parties. Beaches like Baga, Calangute, Palolem, and Anjuna among others have beach parties for revelers. You can release paper lanterns here when the clock strikes 12 to bring in the New Year 2019.
Cochin
The coastal capital of Kerala holds festivities throughout the week starting from December 25, 2018, until January 1, 2019, called the Cochin Carnival. The origin of this style of celebration can be traced to Portuguese New Year celebrations during the colonial days.
The celebration is flagged off by The Ceremony of Peace at the War Memorial followed by the hoisting of the Carnival Flag at the Vasco da Gama Square. The fiesta comprises street parades, music, folk dancing, colorful costumes, great food and lots of fun.
It is a visual spectacle to see the burning down of a 35 ft effigy of an old man called Pappanji on New Year's Eve. The blazing fire paints the place red among a sea of people.
Philipines
Filipinos have a unique approach to celebrate the New Year. Friends and families gather on New Year's Eve and have a midnight meal together known as Media Noche.
In the Philippines, it is a tradition to buy 12 different fruits to celebrate New Year. They believe that it will bring good luck or they will have a sweet and prosperous time for the entire year. The fruit has to perfectly round as the shape symbolizes money. And each fruit is dedicated to the 12 months of the year.
There are dedicated blogs to help people with suggestions in buying that perfect sweet and round fruit. Here, read this blog which neatly explains which fruit you can buy for the New Year 2019.
Keep watching out this space as we will compile more places to this list. We hope these locations inspire you to make your travel plans for the upcoming New Year 2019.
Do write to us, in case you have any questions and we at Talk Travel are happy to help. If you need any help in building a travel itinerary or you have any other query, download our free TalkTravel App. It is available for download on your Android or iOS device. You can download the TalkTravel App for free and reach out to the local expert without any additional cost. You are free to ask any doubt before or during your travel and our local expert will be ready to assist you.
We wish you a safe and happy travel!