Home » India » Kerala Tour – Through God's Own Country
Kerala's intoxicating beauty is world renowned. It is as if the Gods themselves ascended on this strip of coastal land in Southern India and blessed the land. Vast swathes of plantations, forests, coastal land, and the famed backwaters of Kerala is waiting to beckon you.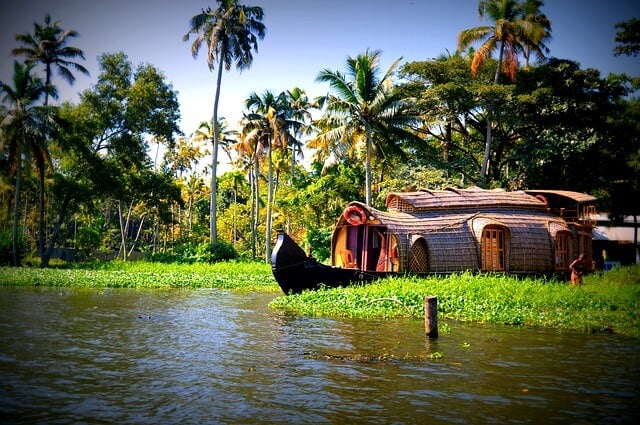 Even before Kerala appeared in the tourism radar, this coastal region was on the maps of every European colonizer, thanks to the spice trade. There is a long list of features which are unique that can be attributed to Kerala. The Kathakali dance form, Malabar cuisine, simplicity in temple architecture, and more make it a land to be seen, felt, and cherished.
Take a Kerala tour to experience this fabled land and take home memories for life. Here is a list of prominent cities that you have to visit in Kerala.
Cochin
Also called as Kochi, this port city is known as the queen of the Arabian Sea. There is a huge natural harbor and backwaters that are rugged, bustling with fishermen and the locals.
Places to visit in Cochin
Fort Kochi
You can sense the strong Portuguese influence in this part of Kochi. The perfectly lined streets, the cathedral, and colonial buildings will remind you of a bygone era.
Chinese fishing nets are iconic to Fort Kochi. Pic courtesy: beetle_0042000
Rent a bicycle
Fort Kochi is a flat surface and the roads are lined with trees. Best explored on foot or rent a bicycle in any of the stores and have a great time.
Fort Kochi Beach
A great place to contemplate the sunset every evening. You will see a lot of families taking a stroll. Youngsters playing cricket or beach volleyball is a common sight.
Chinese fishing nets
The Chinese fishing nets that you frequently see in travel brochures from Kerala are found in Fort Kochi. You can see fishermen lowering the net into the water and let the fish gather. Meanwhile, they engross themselves in their daily banter with friends. They raise the net after a while to see the catch for the day. Subsequently, the fish are immediately sold in the open-air market just a few meters from the nets.
Pic courtesy: Steve Kaiser
Tourists can choose whichever fish they want. Mullet, red snapper, milkfish, pearl spot, and kingfish are common. In addition, there are different varieties of prawns, including much demanded Indian white shrimp on sale.
Choose the one that you want and head to a string of restaurants less than 10 m away from the market. Furthermore, the chef in the restaurant will cook the fish the way you want. Feast on this fresh meal under the cool shade of trees and the gently blowing sea breeze is an added touch.
Kathakali
Your Kerala tour is incomplete if you do not savor a passionate Kathakali performance at the Kerala Kathakali Centre. It is not only a spectacular display of dance moves on stage but every detail of the run-up to this show is showcased.
The best is the make-up stage which is the demonstration of face painting. Each color used on the face defines the character in the play, be it good or bad, man or woman. This is followed by an explanation of the various eye movements, facial expressions, hand gestures, and the meaning behind each such subtle movement.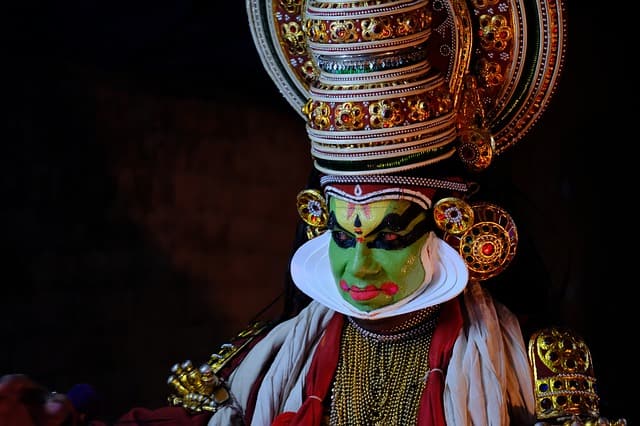 The Kathakali performance is truly enthralling and the music is live. Meanwhile, the rhythmic beating of drums, the passionate delivery of dialogue and the dance itself is going to leave you spellbound.
In addition, there are equally riveting shows of martial arts, classical music, and dance.
St. Francis Church
Pic courtesy: Padmanabhan R
Built in 1503, it is the oldest European church in India. The famous Portuguese explorer Vasco da Gama was buried here but his remains were later moved to Lisbon.
Mattancherry Palace
Pic courtesy: Ashok s p
Popularly known as the Dutch Palace, this palace lacks the opulence and elements of luxury that are usually associated with royalty. The Palace was built and gifted by the Portuguese as a present to the king of Cochin around 1555. The interiors project a homely feeling and don't forget to appreciate the murals that adorn the walls here.
Paradesi Synagogue
Constructed in 1567, it is the oldest active synagogue in the Commonwealth of Nations.
Chottanikkara Temple
Dedicated to the Goddess Lakshmi, this deeply venerated temple is thronged by devotees and tourists every day. Visit the temple early in the day to avoid the crowds. Most importantly, please be respectful to the place and wear appropriate clothing.
Munnar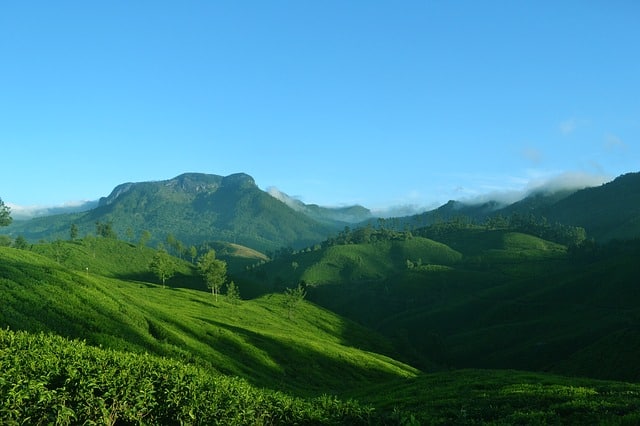 This hill station is nothing but a sea of emerald green hills that extend all around you until the horizon meets the sky. Moreover, acres of forested area and plantations paint this place green. Pleasant to the eye and calm on the nerves, Munnar is a soulful place to visit. Consequently, this is one of India's favorite honeymoon destinations.
Places to visit in Munnar
Eravikulam National Park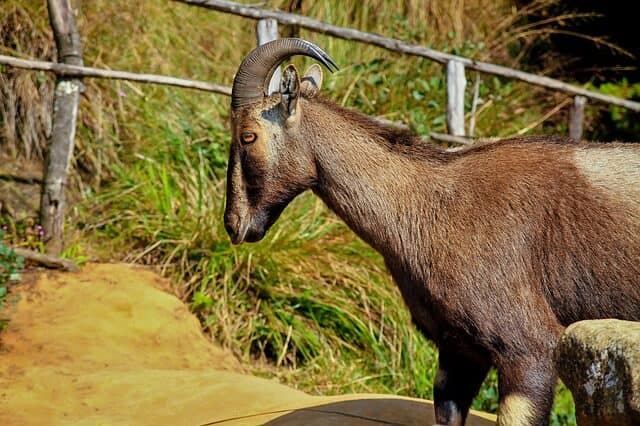 This protected area is the natural habitat for the endangered mountain goat, the Nilgiri tahr.
Anamudi Peak
At 2,695 m is the Anamudi Peak. The view from the top of the peak is enviable. You must certainly go on a hiking trip to scale this peak as there are a lot of nature trails for the thrill seekers.
Waterfalls in Munnar
A view of Attukad Waterfalls. Pic courtesy: Sudarshan P
In addition, Munnar is peppered with many cascades hidden in its mountains like the Lakkam Waterfalls, Nayamakad Waterfall, and Attukad Waterfall. Each waterfall has its own charm and definitely inviting.
Mattupetty Dam
https://flic.kr/p/GrkYi3
Pic courtesy: Riyas Abdul Lathief
Just 13 km away from Anamudi Peak is Mattupetty Dam. The dam nestled in the mountains conserves water to generate hydroelectricity.
Pothamedu View Point
There is no dearth for viewpoints which provide uninterrupted views of the landscape in Munnar. Another hilltop to visit is the Pothamedu View Point where you can see tea plantation and the valley beneath you. Be sure to carry warm clothing as the mist high up in the air will give you the chills.
Kannan Devan Hills Plantation (KDHP) Tea Museum
Pic courtesy: Jean-Pierre Dalbéra
Munnar is all about tea. This museum is also called as Tata Tea Museum. Learn about the history of tea production, processing, and packaging here. In addition, you can also learn about a wide variety of teas and shop at their store.
KFDC Floriculture Centre
For some pleasant family time and to take a stroll on a lazy afternoon, head to the government-run garden full of flowers and plants. If you love gardening, then you should not miss this place.
Thekkady
Hidden deep in the Western Ghats of Kerala is another gem of a place called Thekkady.
Pic courtesy: Chandrasekar S
It is synonymous with Periyar Wildlife Sanctuary, abode to elephants and tigers in their natural habitats. Other wildlife that thrive here are bison, gaur, sambar, wild pig, types of squirrel, tahr, and lion-tailed macaque to name a few. In addition, there is a long list of reptiles, amphibians, plants, and fish native to this region.
Elephant Junction
Shower tender love and care to the gentle beasts and get to interact with them from close quarters at Elephant Junction. You get to ride the elephants, feed them, and also give them a good scrub in a pool of water. Above all, it is a heartwarming experience to spend time with the elephants where they are treated ethically and loved endlessly. Check out their website for more info.
Other places of interest in Thekkady
Chellarkovil is a stream of water cascading at a great height from the edge of a mountain.
Also, Murikkady is an ideal picnic spot 5 km away from Thekkady. This place is famous for the plantation of various spices like coffee, pepper, and cardamom.
Alleppey
Just 53 km from Kochi is the celebrated backwaters of Alleppey. The boathouses on the backwaters of Alleppey or Allepuzha, as called by the locals need no introduction.
Boathouse tourism is one of the most sought-after tours in Kerala, especially among couples. You could opt for staying in the boast amidst the waters, and you could take rides to the islands and nearby places.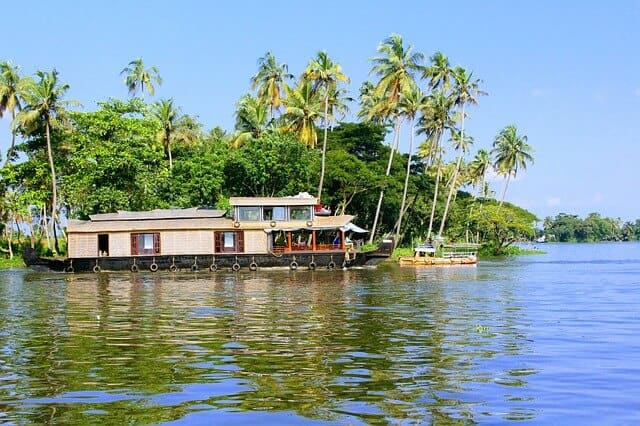 Hop on one of these floating luxuries and wander around in the tranquil network of canals. You will cruise past little villages where kids wave at you, ladies going by their daily chores and acres of coconut groves that flank the canal.
Other places to visit in Alleppey
Vembanad
Pic courtesy: Chris Bonfield
This is considered as the longest lake in India as it stretches along the Kerala coastline for a whopping 96 km. Indulge in activities like bird watching, boating for hours together, fishing, and put your photography skills to use here.
Marari Beach
White sand beach lined with coconut trees just 11 km from Alappuzha town. A very pristine and spotless beach. Go there during dusk to witness a dramatic sunset.
Alappuzha Beach
There is the iconic pier that extends into the sea which is 150 years old on this beach. Nothing better than spending time on the beach for a relaxed time. For a good time, scale the Alappuzha Lighthouse to get panoramic views of the sea and land.
Krishnapuram Palace
Pic courtesy: Ourvoyager Limited
Make a quick visit to the palace cum museum in Kayamkulam. The architecture is what this makes this place stand apart from the other opulent palaces of India.
Sloping brownish-red roofs laid with ribbed tiles is the typical style followed. Kerala receives heavy rainfall owing its location between the sea and the mountains. As a result, important monuments and most houses in Kerala have slanting roofs to protect the house from incessant rainfall.
Pic courtesy: ullas nair
The palace is a treasure trove of paintings, artifacts made of wood, stone, metal, and inscriptions. However, the core attraction here is the Gajendra Moksham mural which is 3 m high. The mural depicts a scene from the mythology and is vibrantly colored. It is also the largest mural in all of Kerala.
Kovalam
A popular beach town in Thiruvananthapuram, at the southernmost tip of Kerala.
Beaches in Kovalam
It is a 17 km long coastline which is divided into three beaches by natural rocky outcrops. The three beaches are Lighthouse beach, Hawa beach, and Samudra beach.
As a result, there is a lot of sea facing resorts that line the beaches here. View as many sunsets as you wish from the comfort of your room. Likewise, have a continuous stream of ocean breeze even if you are away from the beach.
Pic courtesy: Pramod Kanakath
Lighthouse beach is the most visited by tourists. It is a black sand beach lined with beach shacks selling snacks and beverages.
Vellayani Lake
Pic coutesy: Thejas Panarkandy
This freshwater lake is a celebration of the eyes. This secluded place is set in a pristine location. This is to say, isolation has its advantages as you will find plenty of birds in this area. You will find locals engaged in their daily fishing activities. Visit this place for an offbeat experience.
For more information on other places to visit in Kerala, check out this Kerala Travel Guide compiled by Talk Travel App.
Hope this guide gave you a brief introduction to what Kerala can offer to curious travelers like you in all these cities. To sum up, no words, pictures, or videos can do justice to what you can see on your own in God's Own Country.
Do write to us, in case you have any questions and we at Talk Travel are happy to help. If you need any help in building a travel itinerary or you have any other query, download our free TalkTravel App. It is available for download on your Android or iOS device. You can download the TalkTravel App for free and reach out to the local expert without any additional cost. You are free to ask any doubt before or during your travel and our local expert will be ready to assist you.
We wish you a safe and happy travel!