Home » Destination Guides » 18 offbeat things to do in Japan
Japan is a favorite travel destination for a lot of travelers. It has modern cities with an impressive skyline, a rich heritage, strong flavors in its cuisine, unique dressing sense, and community activities. Talk Travel App compiled a list of quirky or offbeat things to do in Japan so that you can include them in your itinerary when you are traveling at each of the below-mentioned locations.
1) Firstly, go to a Sumo Stable where rikishis do their morning practice
Pic courtesy: Adrian in Bangkok
Japan's national sport is Sumo and when you are in Tokyo visit a Sumo Stable. Here you will get to see the rikishis dressed in their traditional attire practicing in front of a crowd. You will get a deeper understanding of this style of wrestling, the techniques, and the sumo rituals. Sign up with Voyagin for this true Japanese experience.
2) Asimo at the Tokyo Museum in Odaiba
Pic courtesy: Takahiro Horiguchi
Above all, Japan is a leader in the field of robotics. Though the prospect of a robot might seem scary to a lot of people, there is one human-like robot which is everybody's favorite, Asimo. Head to Miraikan, The National Museum of Emerging Science and Innovation and be in awe of all the technology and advancement in science and engineering put on display. Do not forget the Asimo demonstration at any cost.
3) Sougenji Kappa-Dera Temple
It is a shrine dedicated to the fictitious Japanese water-goblins that used to trouble the residents in the area. Legend has it that these 'kappas' were known to grab humans especially kids and drown them in bridges. As a result, the residents in this region were plagued by these kappas and built a small kappa-temple to appease them.
4) Meguro Parasitological Museum
The quirkiest museum, I can say. For someone like me who suffers from entomophobia, I would not dare step into this museum. It is a private collection of parasites and the science of parasitology. Consequently, this not so famous place has now become a tourist hotspot to see weird creatures that are put on display.
5) Dress up like a local and get a photoshoot done
Pic courtesy: yina goh
Yumenoya in Asakusa 
Offering: Kimono/Yukata rental and assistance to dress up
Cost: Around USD 50
Location: Yumenoya Kimono Rental at Asakusa, Japan
Directions: Take the Asakusa Metro Line from Takaracho Station (near Tokyo Station) until Asakusa Station.
After getting out of the Asakusa Station, ask for directions to the nearest McDonalds. Over there, request the staff to help you with directions to Yumenoya Kimono Rental which is two streets away.
6) Soak in a traditional Japanese hot spring
Pic courtesy: bellphoto.hk
Japanese hot springs are called onsens. Go to Thermae-Yu in Tokyo to experience this totally calming experience. Perfect to calm those frayed nerves after a long intercontinental flight, for example. They have great reviews from thousands of international travelers. In other words, there is no reason to not visit this place. 
7) For art enthusiasts
Pic courtesy: Morihisa
Pigment is a place for art aficionados. There are pigments of a range of colors that are on display. The whole place is made of bamboo and these pigments are used in traditional painting methods. You can buy pigments and brushes. In conclusion, the whole experience is very intimate and you will be amazed at the variety of hues that are displayed here.
Kyoto
1) Yokai Street
Just a random street but full of monsters of various shapes and color on display outside shops. These monsters are inspired by local folklore. Imagination runs wild when it comes to bringing fictitious creatures alive in Japan.
2) Sanjūsangen-dō
Pic courtesy: Trounette
Built in 1266, this Tendai Buddhist temple houses 1001 gold-leafed cypress wood statues of Kannon, the Buddhist goddess of mercy, each with a unique face. In short, this is a must-visit place in Kyoto.
3) Yasui Kompira-gu Shrine
If you are stuck in a bad relationship and/or seeking a new partner, then crawl through the hole in the middle of this stone covered with slips of paper. Those slips feature the wishes of those who've passed through the hole that runs through the middle of the stone.
4) Otagi Nenbutsu-ji
Pic courtesy: bethom33
This off-the-beaten-path Buddhist temple nestled atop a hill is surrounded by more than 1,000 striking stone sculptures.
5) Samurai Experience
Offering: Kimono/ yukata rental with assistance for dressing up,  and samurai sword technique training session for 45 minutes. A photography session is included too.
Cost: Around USD 100
Check out this tour conducted by Viator for more information.
Osaka
1) Bunraku Theater
Pic courtesy: TigTab
This is a Japanese traditional puppet theater in which half-life-size dolls act out a story with background narration.
2) Momofuku Ando Instant Ramen Museum
It is a museum dedicated to instant noodles and Cup Noodles. You genuinely get to make your own from flour and even create a package. They also give you a bag, let you keep the bandana, and a manufactured pack to compare. They offer instructions in English too so it isn't confusing at all for English speakers.
3) Capsule Hotel
Pic courtesy: @fotochap
This experience is not for claustrophobics. These futuristic pod hotels which have comfortable bedding can fit the only person inside it. It can be compared to a hostel, where instead of sleeping in a bunk bed you are in a small box. Meant for cheap and basic accommodation for guests, you need to have this one-of-a-kind experience.
4) Chapel Goedele
This 14th-century European chapel with its unique architecture sticks out of the grey concrete block of a Japanese hotel.
Hakone
1) Owakudani Black Eggs
Pic courtesy: inkdesigner
At the mountain town of Hakone, take the tram up to reach the hot springs. Buy a few eggs from a local shop and boil them in the hot spring. Due to the hot sulfur spring, the outer shell of the egg turns black. The taste of the egg is the same, it is just the shell which is black in color.
Local tradition holds that for each black egg eaten, seven years is added to one's life. However, some say that eating more than two is not recommended. 
2) Take a glass-blowing class at Hakone Craft House at the bottom end of Gora Park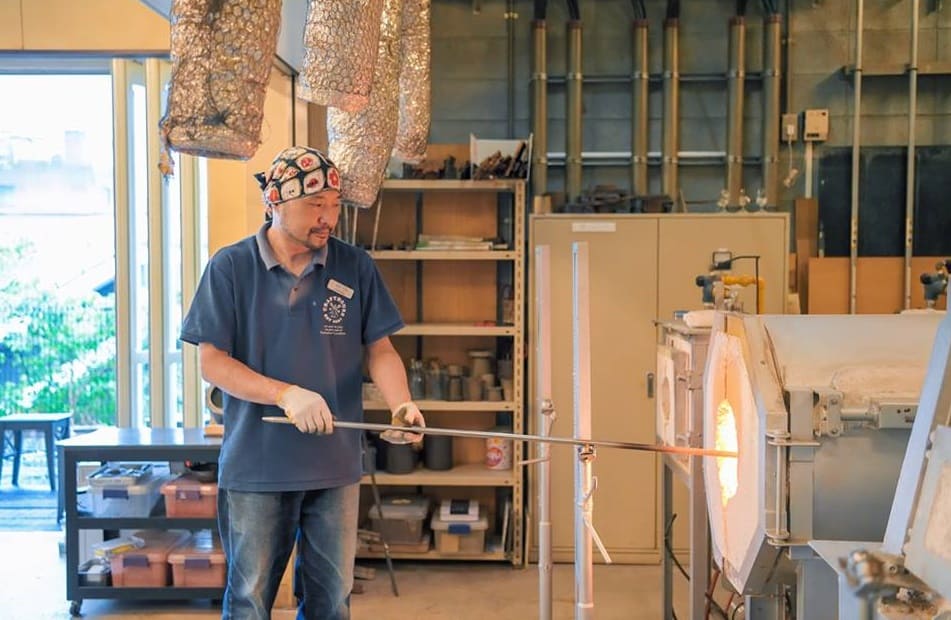 Japanese are passionate artists. Be it ikebana or origami, they are lauded for their attention to detail. At the Hakone Craft House, you need not to be an artist to create a masterpiece. The art of making artifacts from scratch out of molten glass is popular here.
There are more offbeat experiences in Japan apart from this list! There is so much more in this island nation than what meets the eye. Every nook and corner or a missed turn on a street can open up a plethora of experiences. Do share with us any of your interesting experiences when you traveled in Japan.
We hope this quick read on the offbeat things to do in Japan helped you in making your travel itinerary. And if you're looking for more offbeat inspiration, check these unique Asian destinations.
We wish you a safe and happy travel!
For more places to visit, check our destination guides.