Home » India » Complete travel guide for Mahabaleshwar Trip
Mahabaleshwar, a beautiful hill station in the forested Western Ghats of Satara, Maharashtra in India, is a green paradise and nature lover's haven.
It features several scenic spots and elevated viewing points, such as Arthur's Seat, Elephant's head point. West of the place is centuries-old Pratapgad Fort, perched atop a mountain spur. Many waterfalls, rivers and a lake dot the charming landscape where nature has splashed its bounty freely.
The sunrise and sunsets from vantage points here are truly breathtaking. And the strawberries (GI status) grown in the region are pretty famous too.
So if you are planning to travel to this wonderful hill station of Mahabaleshwar the following guide will come in handy for all the travel information
Sit back and enjoy our travel guide for Mahabaleshwar! Happy Travels!
1) Weather in Mahabaleshwar
The calm and peaceful Mahabaleshwar located at an altitude of 1438 meters, is blessed with a cool and pleasant climate. However, it does get cold and windy at times. Light rainfall is experienced almost every month of the year but it also has its fair share of sunlight and warmth.
The ideal time to visit the place is between the months of October to February.
Summers: During the summer months of late March to June, the region experiences moderately high temperatures ranging between 15- 35 degrees Celsius. This can be a good time for a family holiday as the place is full of activities and outdoor adventures. Plus you can escape the scorching heat prevalent in the rest of the country during this time.
Monsoon: During the months July – September moderate to heavy rains are experienced in the region. Though it is lush green and beautiful outside, most outdoor activities are restricted during these months.
Winters: During the winter months of November- February, the weather remains pleasant with average temperatures ranging from 10-24 degrees Celsius. This is the best time to visit the region as there is scenic beauty all around, good weather plus outdoor adventure activities, like mountain trekking and rope climbing aplenty.
2) Reaching Mahabaleshwar
2.1) From Mumbai
Mumbai to Mahabaleshwar distance is about 250 km by road. It would take about 6 hours to reach Mahabaleshwar from Mumbai (via Mumbai-Pune Expressway and NH 4 route).
Regular State Transport buses travel from Mumbai. Many private tour operators provide regular, luxury, AC, Volvo buses to Mahabaleshwar. There is a good frequency of Satara to Mahabaleshwar bus by State transport MSRTC buses. Alternatively, you can hire taxis or cabs as well.
2.2) From Pune
Distance from Pune to Mahabaleshwar is 120 km. by road. It would take around 4 hours to reach the place. Many State transport and private buses ply on the route with good frequency.
You can also hire taxis and cabs, or drive your car. The cabs charge according to the per kilometer rate.
Many travelers also prefer biking for exploring the lush green surroundings and fresh breezes on the way.
2.3) By Train
Though trains are not a preferred mode of transportation, since the hill station doesn't have a station of its own; considerable options are available.
Wathar railway station, located about 64 km away from Mahabaleshwar, is the closest railhead. Several trains run from Pune and Mumbai to Wathar.
2.4) By Air
The airport closest to Mahabaleshwar is Pune International Airport, situated at a distance of about 130 km from here. After reaching the airport, you can avail bus or taxi services to reach Mahabaleshwar by road.
3) Attractions of Mahabaleshwar
Now, the part you were waiting for in our travel guide for Mahabaleshwar: the attractions!
3.1) Arthur's Seat point
Arthur's seat also known as Queen of all points is a viewpoint of the huge table standing on a natural pillar. From here one can glimpse the most mesmerizing and fascinating views of the dense valleys of Brahma-Arayana (lush green plateau) and the deep Savitri gorge.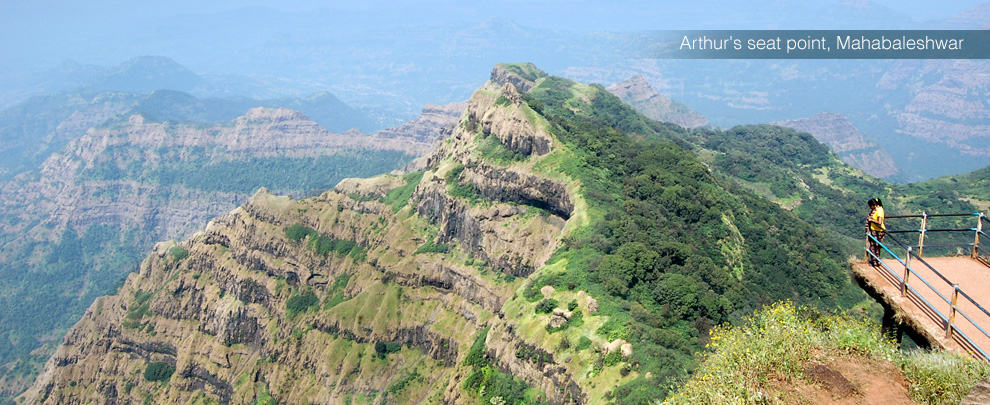 Located at a height of 1340 m., the attraction comprises of 6 points in total, Arthur's Seat Point, Echo Point, Hunter Point, Tiger Spring Point, Window Point, and Malcolm Point. From here visitors can get an enchanting view of the Mahabaleshwar Range including Pratapgad, Koleshwar, Raireshwar, and Chandragad.
No wonder it is one of the most popular viewpoints known for its dramatic grand canyon like views. Arthur Seat is also famous for floating of light objects. For instance, if you throw a light thing like a cold drink cap in the valley, it will come up again due to air pressure.
Arthur Seat is also the only point that clearly demonstrates the geological contrast between the Konkan and the Deccan territories of the region.
3.2) Venna Lake
Venna lake is a manmade lake formerly built by Shri Appasaheb Maharaja of Satara in the year 1942. Surrounded by thick green foliage of trees and picturesque environs the lake is one of the famous tourist spots in Mahabaleshwar.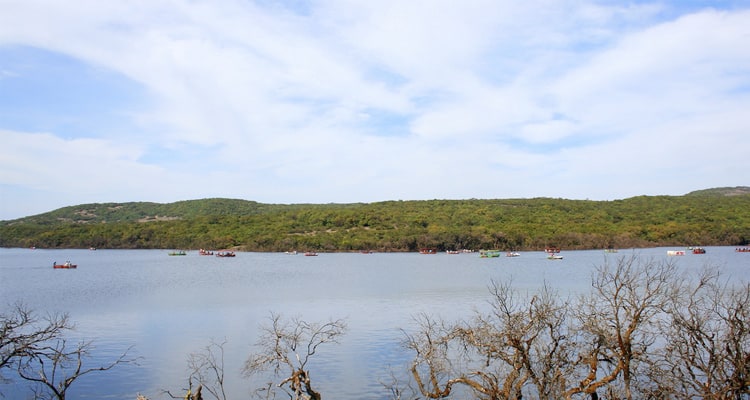 Visitors can enjoy a classic horse ride along the waterfront and indulge in a variety of sumptuous local delicacies and farm produce offered at the many small food stalls on site. Rides for children on merry-go-round and toy trains are also available.
Chhatrapati Pratapsihn Garden is present on the banks of the lake. The spot is ideal for photography and boating is provided on the lake. You can opt for either row boating or paddle boating; however, the boating club is open only until sunset.
3.3) Elephant's Head Point
Elephant's head point and Kate Point are picturesque viewpoints of Mahabaleshwar. The viewpoint is so named since the overhanging cliffs here resemble the head of an elephant and its trunk.
Kate's Point area has 3 points in total; Kate's Point, Echo Point, and Needle Hole Point or Elephant's Head Point.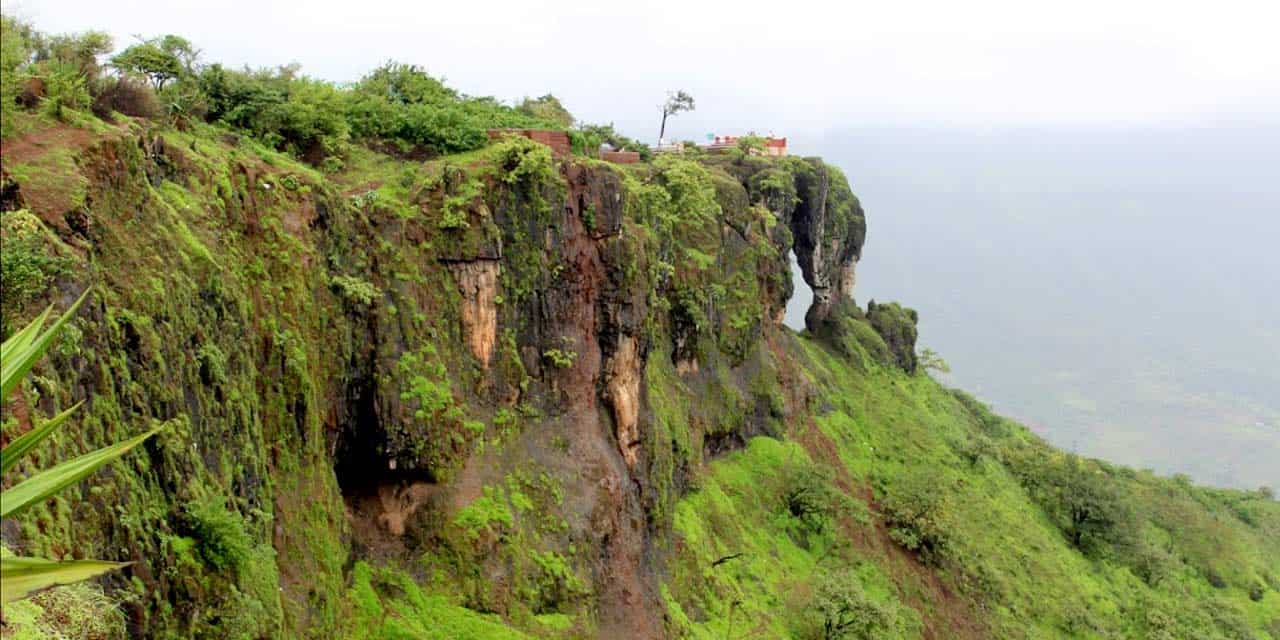 From this viewpoint, visitors can get a view of the Sahyadri mountain range and a panoramic view of the humongous fort of Pratapgarh surrounded by Kova Valley on one side and Savitri Valley on the other side. The greenery around is splendid and nature is at its best here. A must-go.
3.4) Lingmala Waterfalls
Lingmala waterfalls situated at an altitude of approx. 1300 m, is formed by Venna River. The waterfall is situated on the road while traveling from Mahabaleshwar to Panchgani.
One has to take a left turn on a narrow road from the signboard indicating the waterfall then drive for around 10 minutes to reach the entrance of the falls. From the gate, there's a walk of 1.5 km to reach the smaller waterfall and 2.5 km to reach the main waterfall.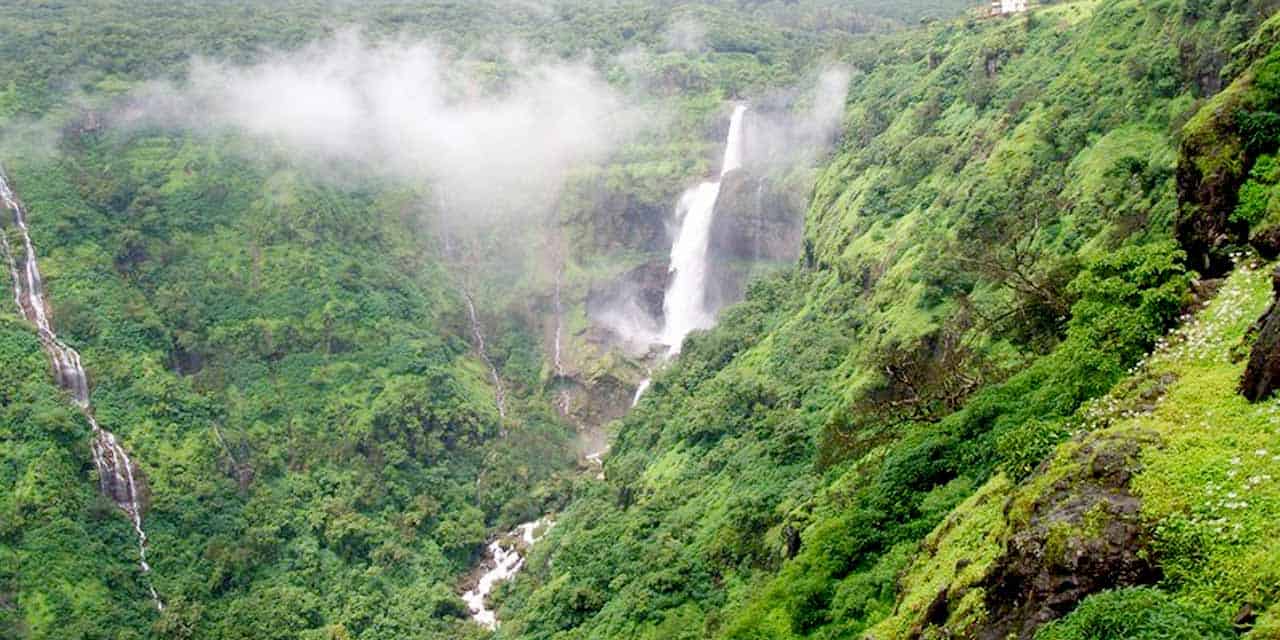 There are a lot of stairs en route to the lower deck. It a bit of a trek but the views are totally worth it.
You can also visit Dhobi Waterfall and Chinaman's waterfall. These are quite nearby the Lingmala Waterfalls.
3.5) Wilson Point
Also known as the sunrise point, Wilson's Point is the highest point in Mahabaleshwar. Situated at an altitude of 1439 m, from here one can experience the beautiful sunrise with panoramic views.
The viewpoint is a vast plateau with three watching towers, each at different spots. They provide an awe-inspiring vista of Mahabaleshwar and the surrounding area.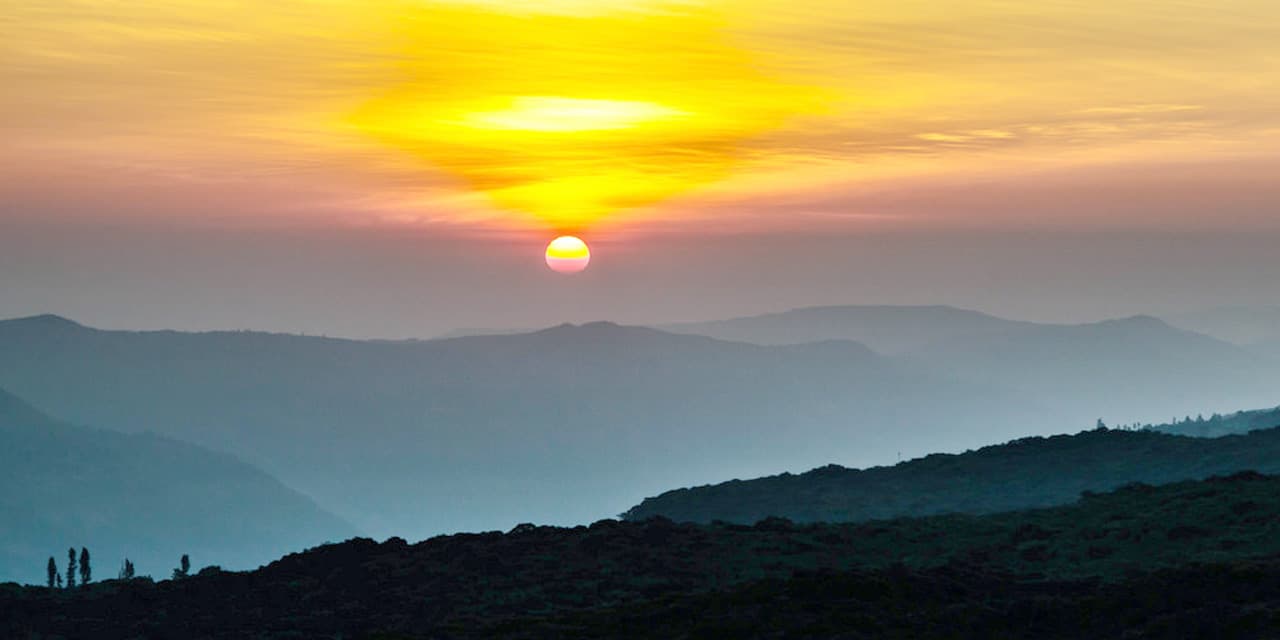 This is also the only point in Mahabaleshwar from where both beautiful sunrise and sunsets can be seen.
4) Activities to do in Mahabaleshwar
And, no travel guide for Mahabaleshwar would be complete without a guide on the activities you can do there!
4.1) Jungle trek in Tapola
Tapola is often dubbed as mini Kashmir of state. No wonder it is famous for its bountiful greenery, dense forest area, and picturesque beauty. The place also has many water sport adventures.
At Shivsagar Lake, visitors can indulge in various activities like water scooter riding, swimming, and even kayaking.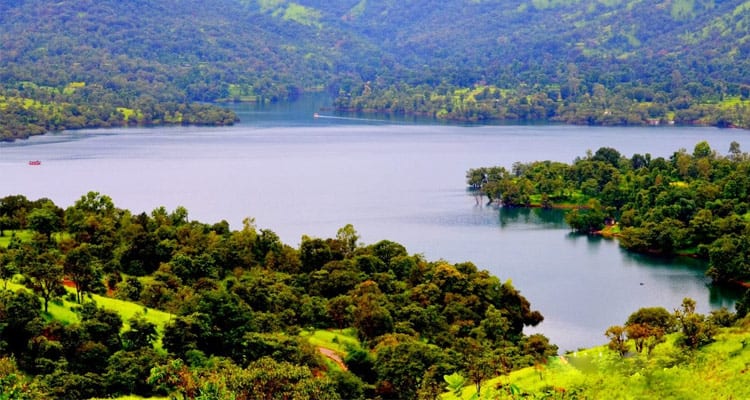 Many unknown forts lie in the dense forest around the lake in Tapola like Vasota and Jaygad, which make for an adventure in their own right. So Jungle treks, especially the trek to Vasota Fort is a thrilling activity and is fast gaining traction amongst tourists. The scenery around and the forest nearby is serene and magnificent.
4.2) Indulge in some adventure like rock climbing
There is no dearth of adrenaline-pumping activities to partake in at this beautiful hill station.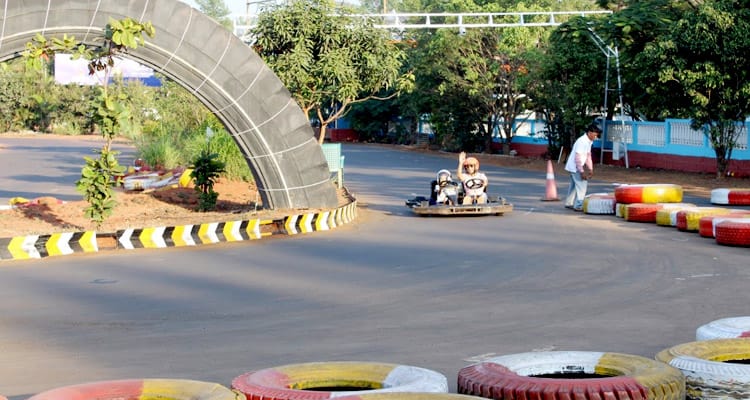 Visitors can enjoy rock climbing, ziplining, Go-karting and much more at Velocity Entertainmentz. They provide the country's only professional Go-Kart track on a mountain.
4.3) Birdwatch at Babington Point
Situated at an altitude of 1294 m above sea level Babington Point is nature lovers' paradise. Wildlife enthusiasts and birdwatchers flock the place since its thick lush greenery lures in various kinds of animals and birds.
The winding pathways leading up to the point provide ample possibilities of spotting and admiring the different species of flora and avifauna. Its serene tranquil environs are soothing and emanate a sense of peace and calm.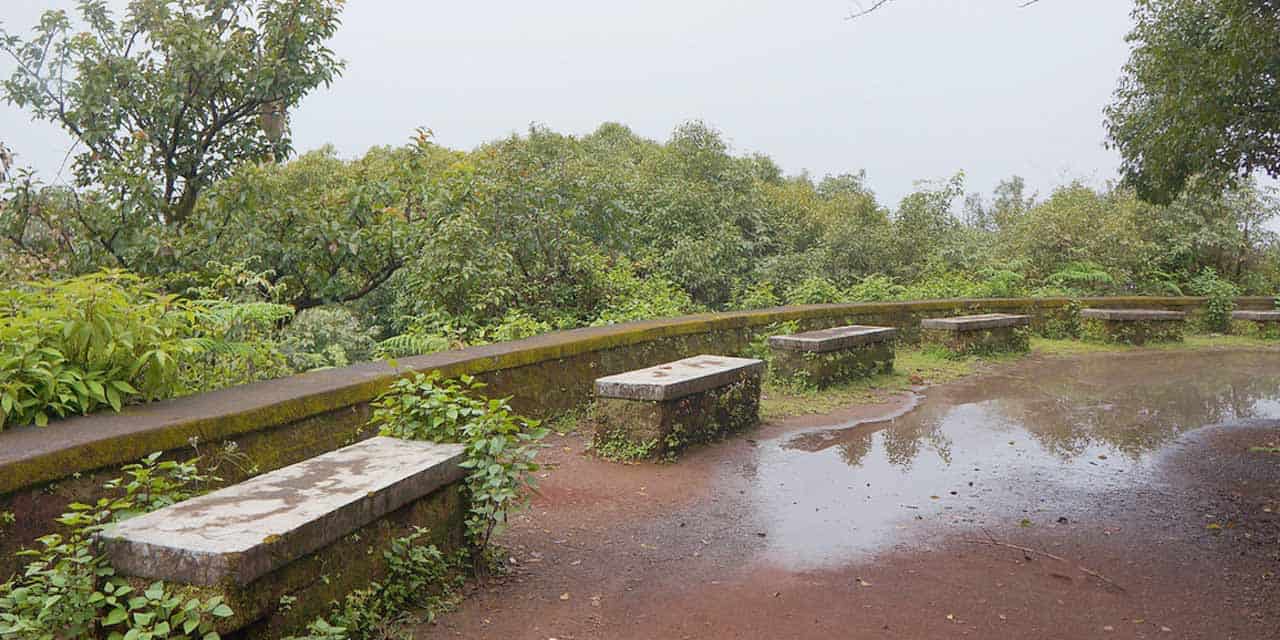 Babington Point is a fantastic place to visit during monsoons when the chance of spotting its winged visitors is the highest.
4.4) Enjoy a treat of Strawberry and cream at Mapro Gardens
Mapro gardens, an abbreviated form of Mahabaleshwar Products, are known for their strawberry produce. On the premises, you'll find a small nursery full of beautiful flowers and plants, various counters selling different Mapro products, a restaurant, and children's play area along with a chocolate factory.
Visitors can indulge in a special treat of strawberry with whipped cream here and buy a variety of Mapro products like syrups, sauces, jelly, chocolates, mocktail mixtures, etc.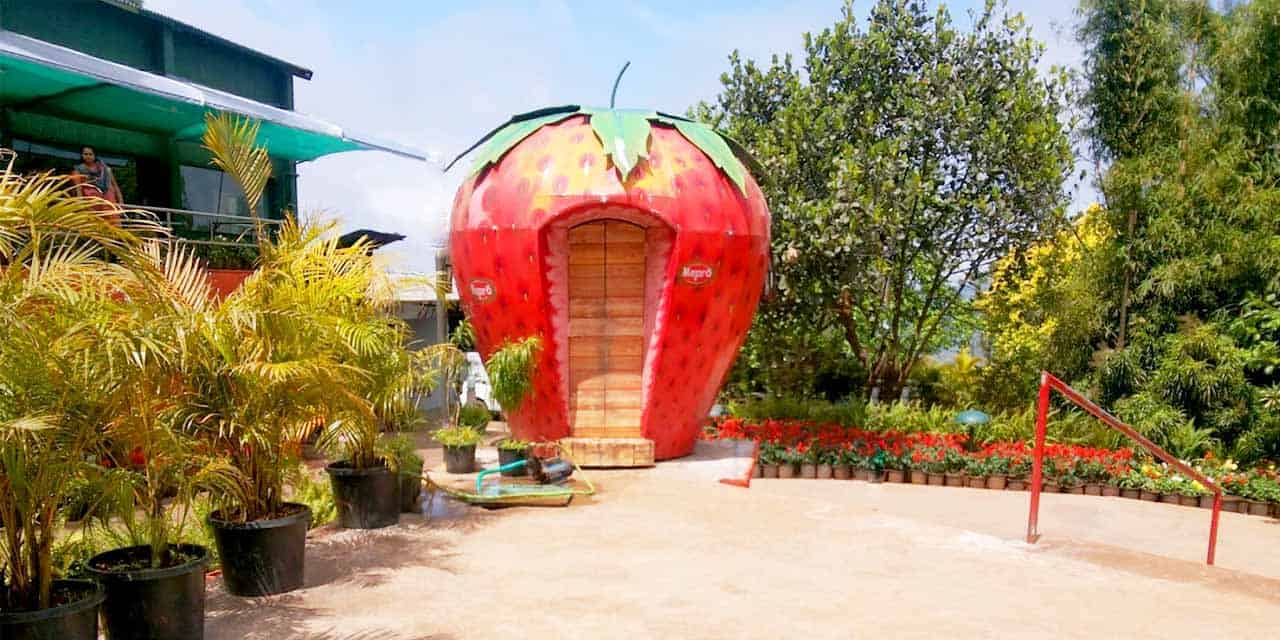 Every year a Strawberry Festival is also organized in the month of March/April during the Easter weekend. The local strawberry farmers open their farms to the visitors and the garden offers free strawberries to the tourists.
It also showcases innovative strawberry-based products such as strawberry pizza, strawberry bhel, chocolate-dipped strawberries, and strawberry sandwiches among others. We had to include this activity in our travel guide for Mahabaleshwar!
4.5) Trek the Pratapgarh fort
Pratapgarh fort is located at a distance of 24 km from Mahabaleshwar. The large hill-fort lies at an altitude of 1080 m and is built on a spur. Maratha king Shivaji Maharaj had commissioned the construction of this fort which was completed in 1656. It is still fairly in good condition and much of the fortifications are still intact.
There are four lakes within the fort, a watchtower just beside the main entrance (Mahadarwaza), a Bhavani goddess temple at the top of the fort, and a cultural library showcasing the heritage of the fort.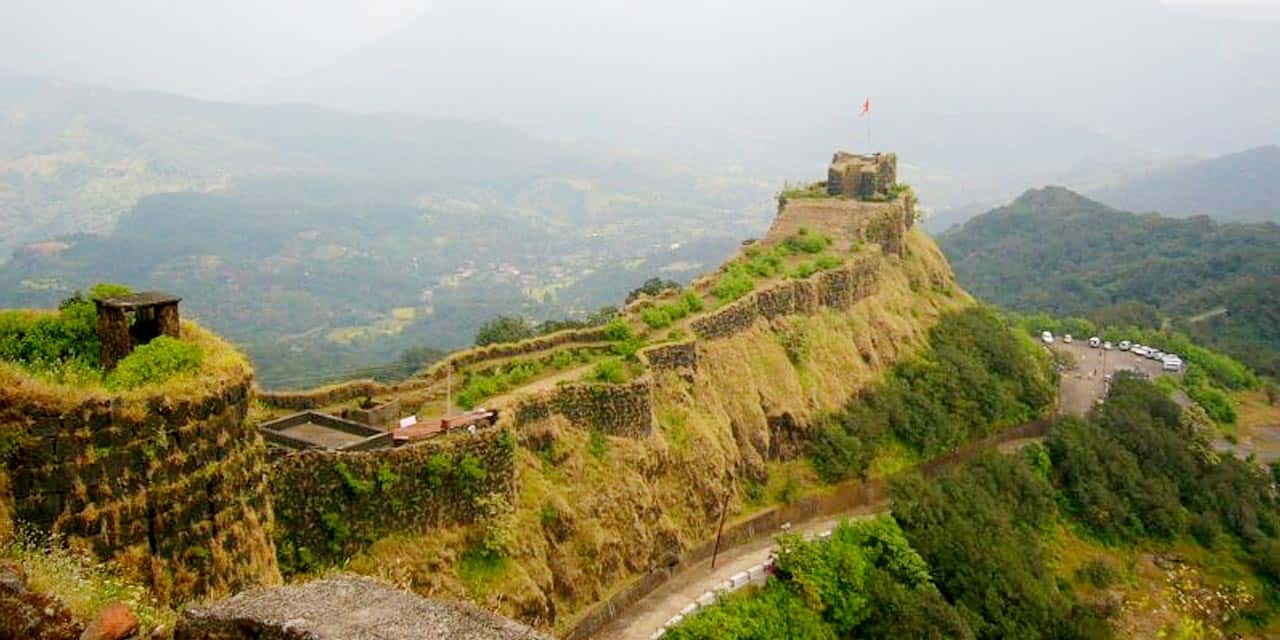 There is also a statue here of Shivaji Maharaj in his full glory, installed about 60 years ago. The handicrafts center on the way to Pratapgarh from the base village draws in many visitors too.
So have you been to this fascinating hill-station yet? Did you find our travel guide for Mahabaleshwar useful? Do share your views in the comments below 🙂