Home » India » 6 steps to follow to get an Indian tourist visa
Visiting India on a vacation will surely give you a one-of-a-kind experience. The culture, cuisine, architecture, and history varies from one state to another. All these together will give you a myriad of experiences to remember. The Indian tourist visa is provided solely for the purpose of recreation, sightseeing, casual visit to meet friends or relatives only.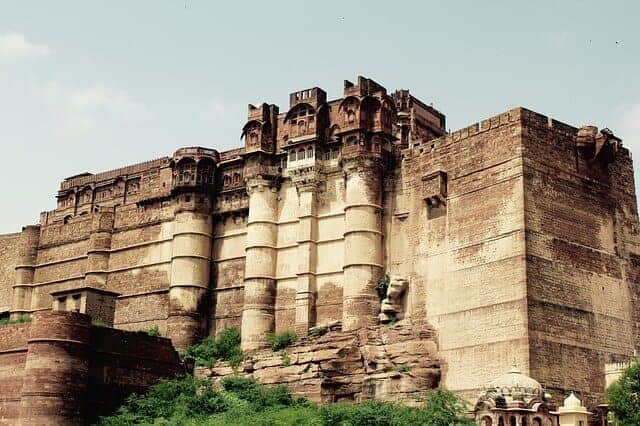 Read this Talk Travel App guide to read the steps involved in getting the Indian tourist visa.
Step 1 to obtain Indian tourist visa:
Choose the best place to travel from a list of destinations in India. Check out our Talk Travel App travel guides for inspiration.
Step 2 to obtain Indian tourist visa:
Let us look at the type of entries allowed based on the nationality of the tourists visiting India
Visa type
Validity
Eligible countries
Complete freedom of movement to India
No time limit
Nepal and Bhutan
Visa-free entry for visitors having Persons of Indian Origin card
No time limit
Afghanistan, Bangladesh, Bhutan, China, Nepal, Pakistan, Sri Lanka
Visa-free entry
90 days only
Maldives
Visa on arrival
30 days only
Japan
e-Visa
60 days only
North America, South America, Australia, Europe except Belarus, few countries in Southern Africa, most countries in Asia

Check out the list of countries mentioned on the official Indian Government website

Visa required (obtained from the Embassy or the Consulate of India in their respective countries)
Depends
Bangladesh, Middle East, Afghanistan, Turkmenistan, Belarus, North Korea, North and Central African nations
Government clearance required for any type of visit
Depends
Pakistan
*The details mentioned in this table is valid as of August 2018.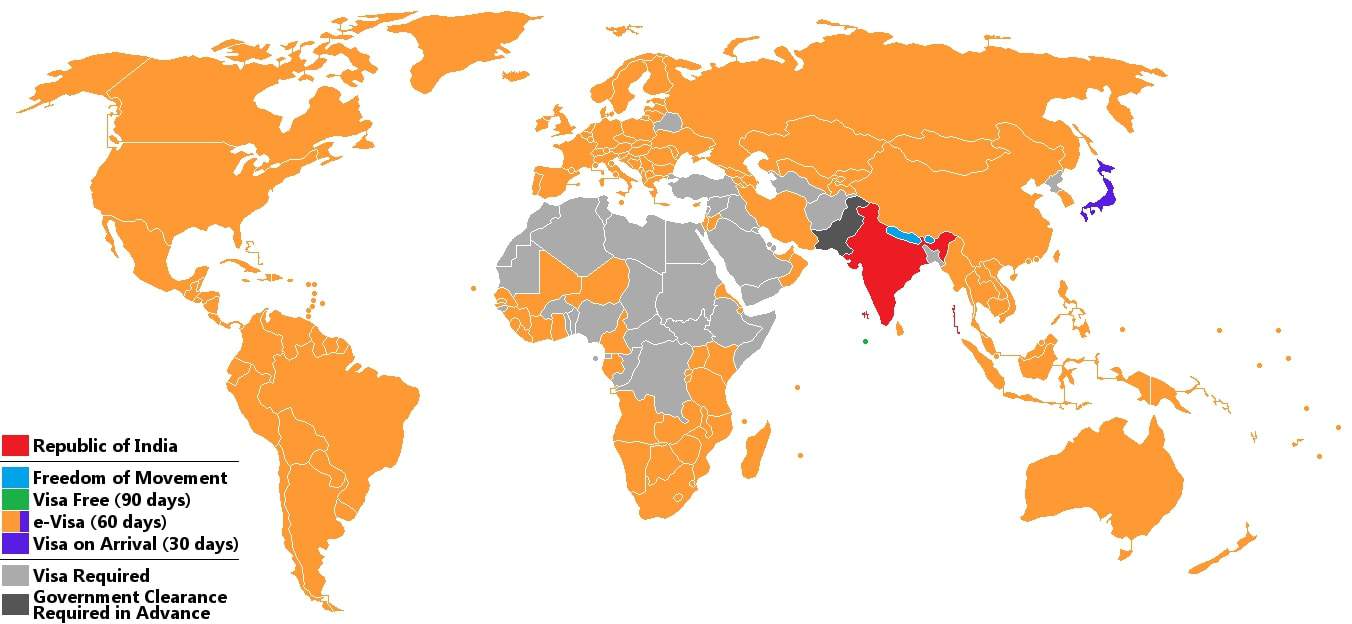 Step 3 to obtain Indian tourist visa:
Keep all your documents ready
Your passport should have at least six months validity from the date of arrival in India
The passport should have at least two blank pages for stamping by the Immigration Officer.
International travelers should have a return ticket or onward journey ticket.
All tourists should have sufficient money to spend during his/her stay in India.
Nationals of Yellow Fever affected countries or travelers arriving from these countries must carry 'Yellow Fever Vaccination Card' at the time of arrival in India, otherwise they may be quarantined for 6 days upon arrival in India. Check out page 23 of the WHO International Travel and Health Guideline June 2018 to see if you need a yellow fever vaccination before arriving in India.
Step 4 to obtain Indian tourist visa:
To apply for the Indian tourist e-visa, visit the Government of India website with address indianvisaonline.gov.in
Applying for an e-tourist visa doesn't require the help of any agency. A tourist can apply for an e-visa on his/her own with the help of the internet. The process is very simple and straight-forward.
Fill the e-visa application online. A pop-up will appear requesting you to keep a recent colored photograph (dimensions 2in X 2in) size less than 1MB ready for upload. It will also request for a scanned copy of your Passport page containing personal particulars. Check out the specifications in detail here.
How much does it cost to get an Indian tourist visa?
Fill all the necessary details and pay the visa processing fee online. Visa fee ranging between USD 0 – 100 will have to be paid depending on your nationality.
After paying the visa processing fee, you will receive an acknowledgment email. Record and keep the application ID handy to check the status of your visa.
Step 5 to obtain Indian tourist visa:
Check your visa status here. Once you get your visa, you will receive an email. Take a print out of the acknowledgment and carry it with you at all times during your travel in India.
Applicant should carry a copy of Electronic Travel Authorization (ETA) along with him/her at the time of travel. Please confirm that your ETA status is shown as 'GRANTED' on this website prior to the commencement of your journey.
Biometric details of the applicant will be mandatorily captured at Immigration on arrival in India. The validity of e-Visa will be 60 days from the date of arrival in India. Double entry is permitted on e-Tourist Visa and e-Business Visa.
If you are a citizen of the USA, check out this detailed guide to apply for a tourist visa.
An e-visa guarantees only 60 days of travel. If you do need to extend your visa due to any exigency, you should contact the Foreigners' Regional Registration Office in Delhi. Exingencies include medical emergencies or theft of passport just before the tourist planned to leave the country (at the end of their visa).
How long does it take to get an Indian tourist visa?
It totally depends on the type of tourist visa you will be arriving on.
The 60-day e-Tourist visa applicants can apply a minimum of four and a maximum of 30 days before they are due to travel.
Other tourist visa types need to apply at least a month or two ahead of the date of their travel, to be on the safer side.
Step 6 to obtain Indian tourist visa by approaching the Embassy:
If you are not eligible for an e-visa, then you must apply for an Indian tourist visa at the nearest Indian Embassy or Consulate General.
What documents are needed to apply for an Indian tourist visa?
You will require all the documents as mentioned above like a valid passport, photographs, address proof, and more. The Embassy will give you the list of documents that you will need to furnish to obtain a visa.
There are many private visa processing companies in many countries these days who can help you obtain an Indian tourist visa. They will charge an additional fee along with the visa processing fee. This is a more comfortable approach but please be careful about all your original documents.
We hope the steps mentioned in this list will help you apply for an Indian tourist visa.
Do write to us, in case you have any questions and we at Talk Travel App are happy to help. If you need any help in building a travel itinerary or you have any other query, download our free TalkTravel App. It is available for download on your Android or iOS device. You can download the Talk Travel App for free and reach out to the local expert without any additional cost. You are free to ask any doubt before or during your travel and our local expert will be ready to assist you.
We wish you a safe and happy travel!