Home » India » Complete guide to Bodh Gaya trip – How and what to do?
The birthplace of Buddhism, Bodh Gaya is the most important pilgrimage destination for Buddhists from around the world. This is the very village, now in the Bihar state of India, where Siddhartha attained enlightenment under a Bodhi tree and transformed into "Buddha". That very Bodhi tree has been embarked by the Mahabodhi Temple complex, which remains the major attraction for pilgrimages and tourists from around the world.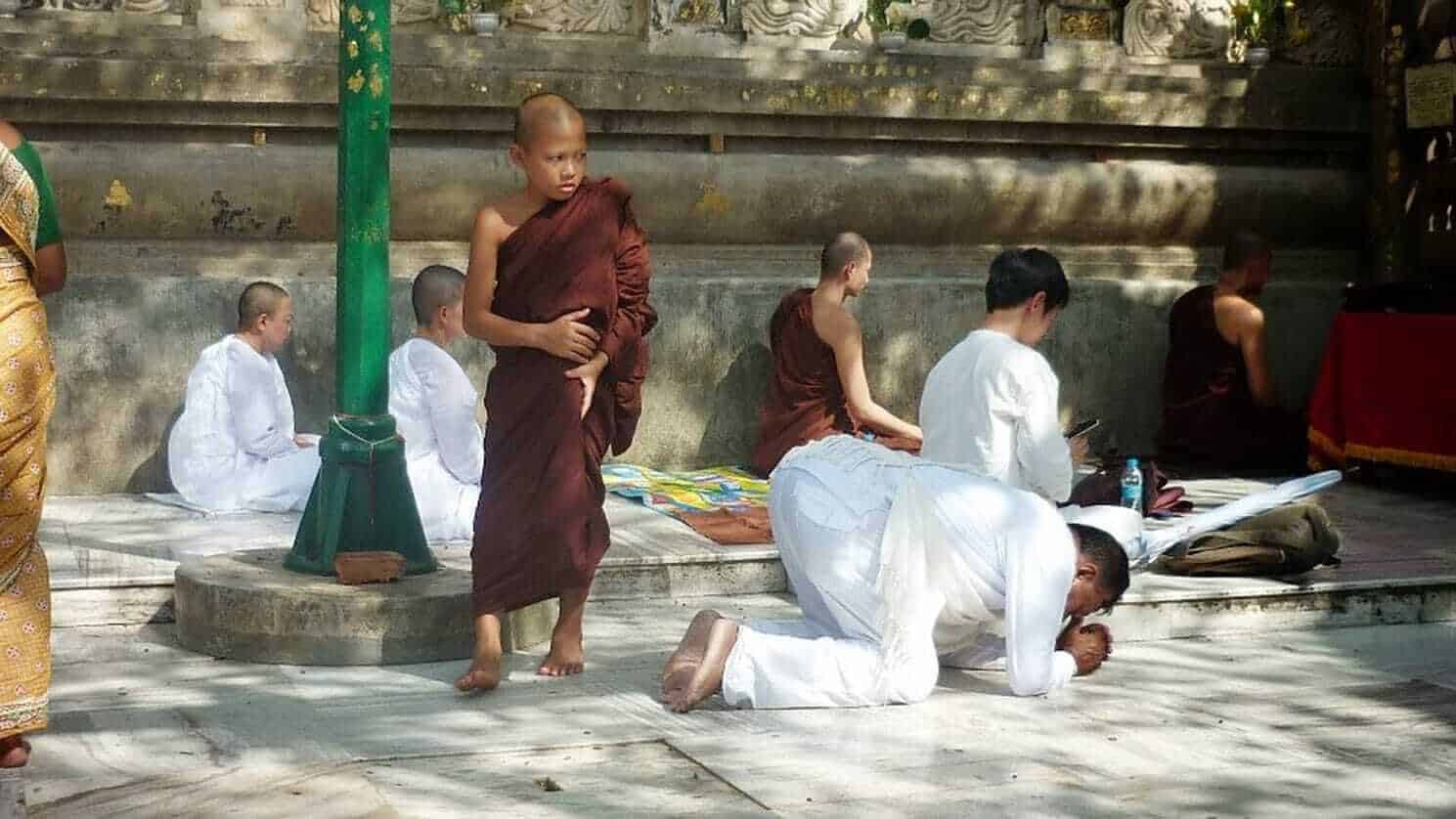 However, the whole village is now an abode to an endless array of small monasteries and temples, built by foreign Buddhist communities in their individual styles. This unique amalgamation of religion, diverse culture and interesting activities happening all throughout the year attracts devotees, backpackers as well as tourists from all around the world to Bodh Gaya. Here is a quick tour guide for people planning a visit to this tranquil village.
1) Best time to Visit
Bodh Gaya attracts devotees all throughout the year. However, seeing from a traveler's point of view, you can plan your visit to this place between the months of October to March, when the temperatures are quite decent. If you love cold weather, anywhere in between November to January would be the best time for you to visit this peaceful village.
Avoid planning a trip during the monsoon season which usually lasts from July to late August. Heavy rains, high humidity levels with a warm weather would definitely ruin your trip. You should also avoid planning your trip during the summers from April to June. The temperatures in the region go extremely high, touching up to 45 degrees Celsius. However, devotees still flood in Bodh Gaya during the Buddha Jayanti celebration which occurs in April or May.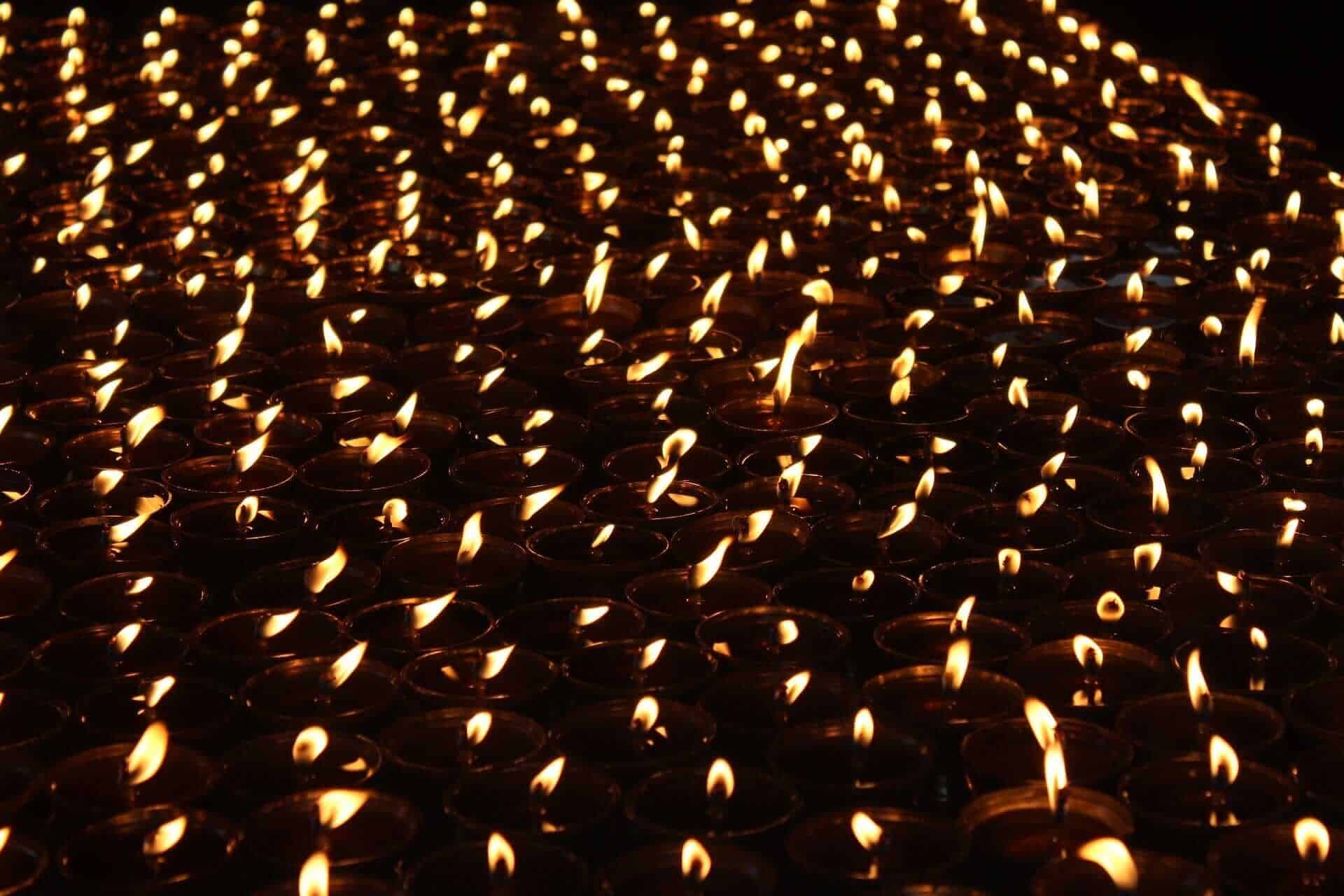 2) How to Reach?
By Air: The nearest airport to Bodh Gaya is the Gaya Airport, which is approximately 10 Kms from Bodh Gaya. However, there are very limited flights for this airport from major cities. You can also take a flight to Jay Prakash Narayan International Airport (Patna Airport) which is 110 kms. from the village and get onto a bus or a private cab from there to reach Bodh Gaya.
By Train: The nearest train station from Bodh Gaya is the Gaya Railway Station. You can hop on a bus or hire a personal or shared auto rickshaw (3-wheeler) from there to reach Bodh Gaya. The Gaya Railway Station has good connectivity with New Delhi, Kolkata, Patna, Puri, Varanasi, and other major cities of Bihar.
By Bus: There is a frequent bus service connecting Bodh Gaya with Patna. There are some private bus operators also who connect the village with Varanasi, Nalanda, Kolkata, and Bhutan.
3) Must Visit Places in Bodh Gaya: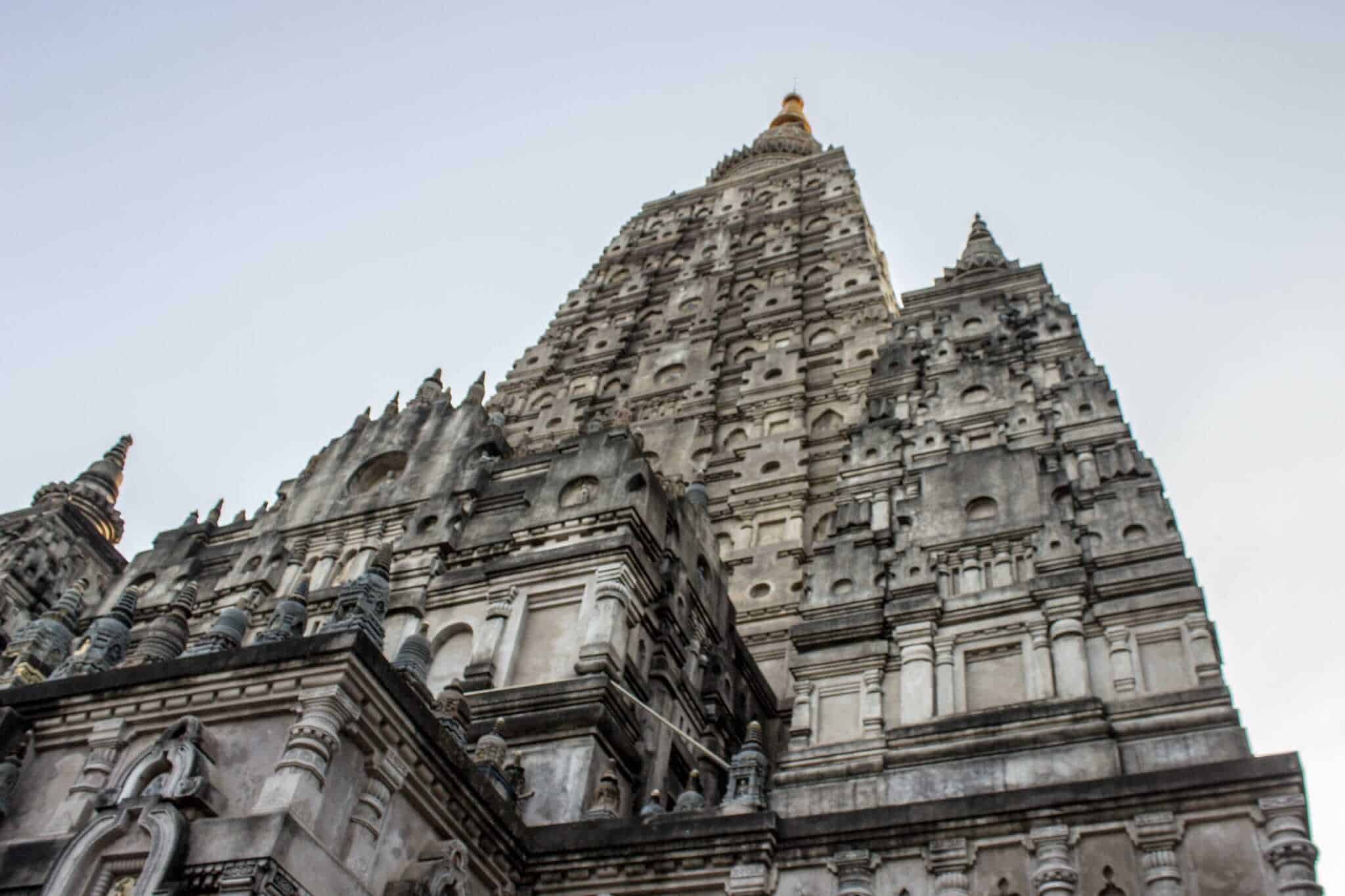 Mahabodhi Temple: The major attraction of Bodh Gaya, a UNESCO World Heritage Site, Mahabodhi Temple is the home to the Bodhi Tree under which Lord Buddha attained enlightenment. This very temple attracts millions of Buddhist and Hindu devotees from India as well as abroad, all throughout the year.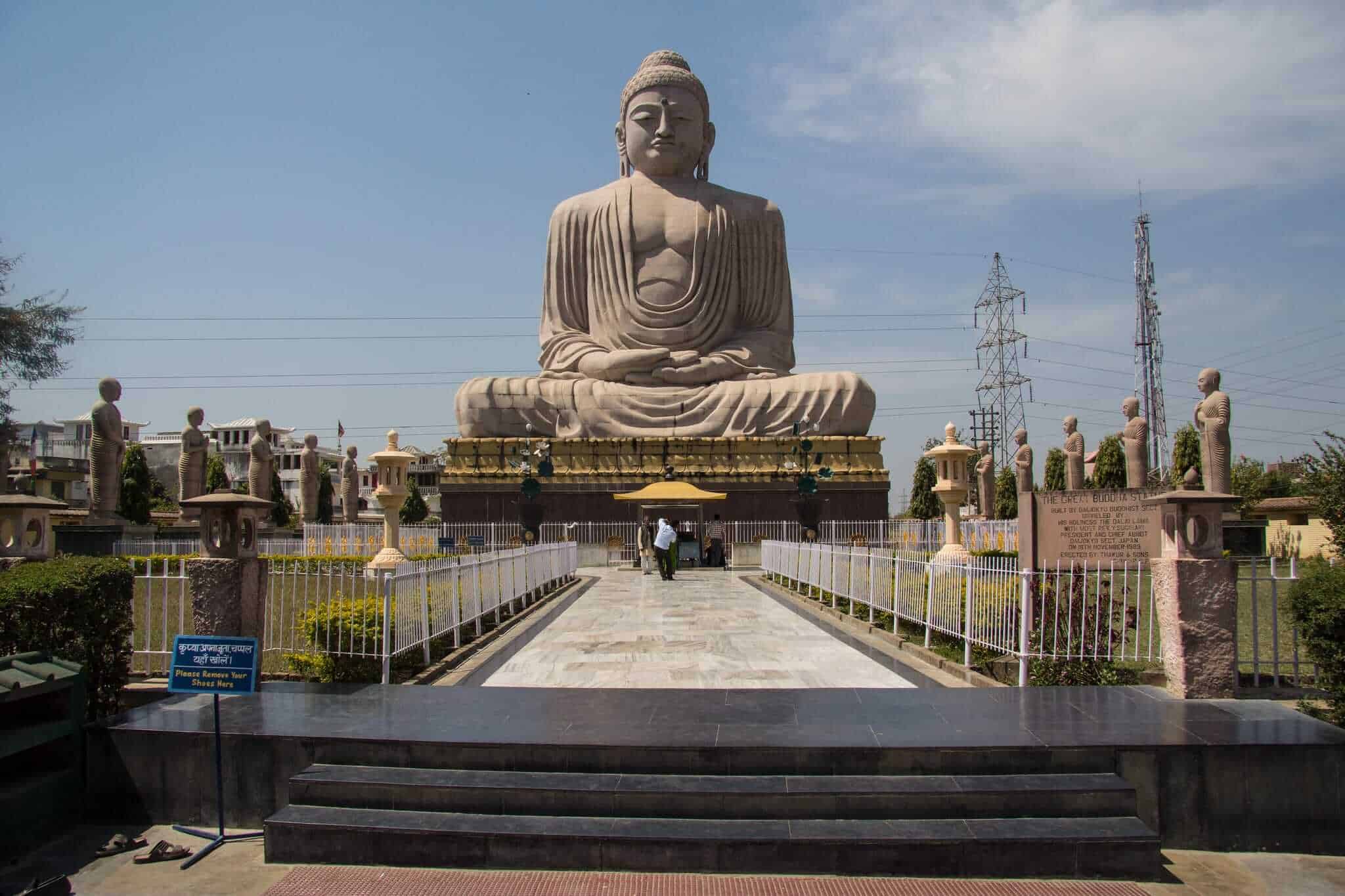 Great Buddha Statue: Sitting 80 feet high, this giant Buddha statue, inaugurated in 1989, is another major attraction for tourists in Bodh Gaya. Built in Sandstone and Red Granite, this huge statue took 7 years to be constructed and was inaugurated by the 14th Dalai Lama.
Thai Monastery: One of the most magnificent monasteries in the whole of Bodh Gaya, the Thai Monastery is famous for its 25 meters high Budha statue, sitting in the main prayer hall with intricately carved interiors. The monastery is also a perfect example of a traditional Thai building.
Metta Buddharam Temple: Another Thai temple in Bodh Gaya, Metta Buddharam Temple is famous for its unique outer architectural shell made of stainless steel and mirror mosaics. A perfect place to meditate in solace and enjoy its beautiful surroundings.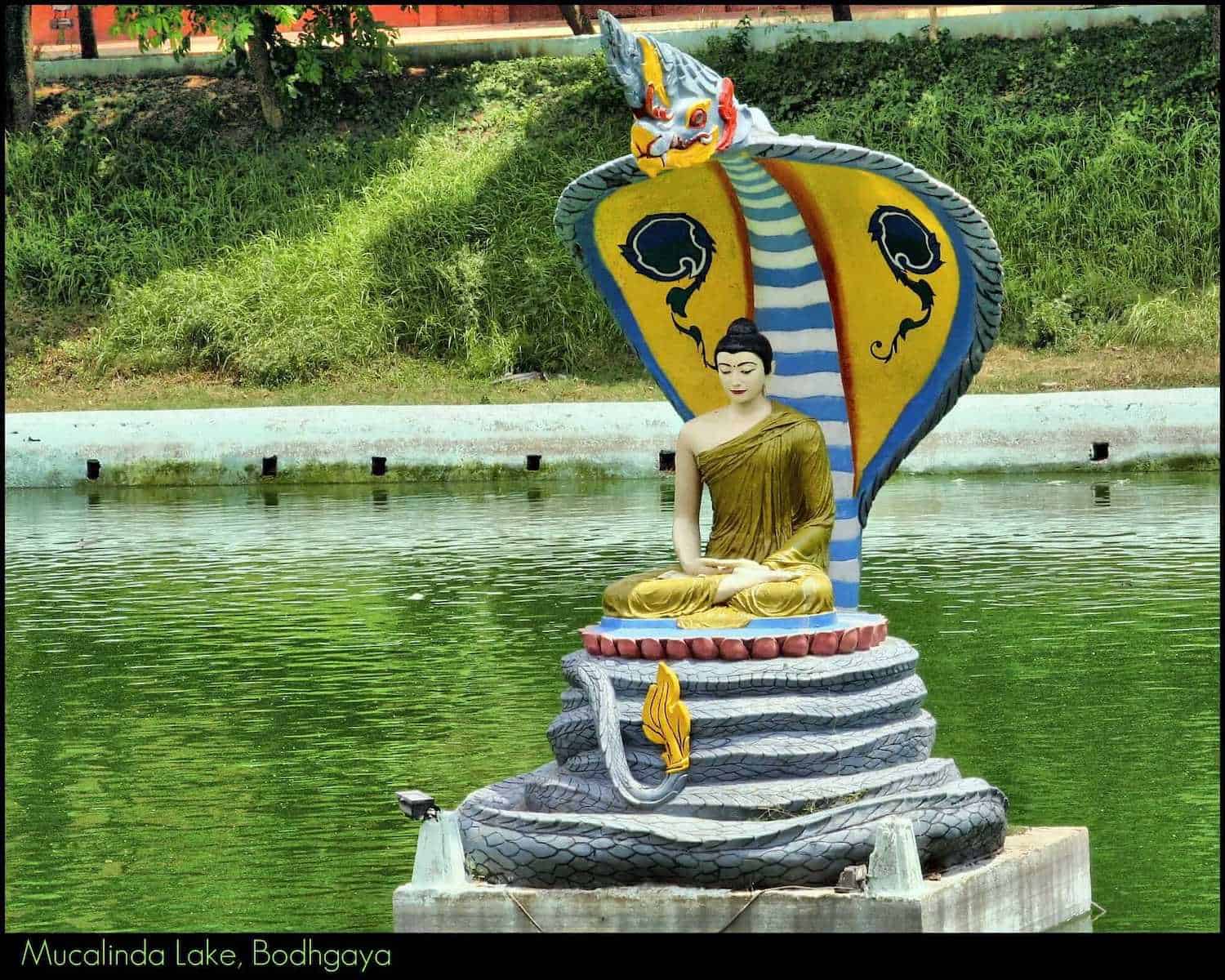 Muchalinda Lake: Situated just next to the Mahabodhi Temple complex, there are a lot of stories connected with Buddha regarding the lake. You can also visit the lake to enjoy the early morning or evening breeze.
Dungeshwari Cave Temple: Buddha is believed to have spent 5 years meditating in the caves of Dungadeshwari before moving to Bodh Gaya, where the cave temple is now situated. There are a lot of interesting stories connecting with these caves for you to explore. The caves are situated approximately 12 kms. from the main village.
Archaeological Museum: Along with being a Buddhist Pilgrimage, Gaya has also been home to several great dynasties. The Archaeological Museum of Gaya would take you to a tour of the history of this culturally rich town. It is a must visit for history and culture enthusiasts.
A few other places that you can add on to your list are Indosan Nippan Japanese Temple, Sujatha Temple, and the Royal Bhutan Monastery.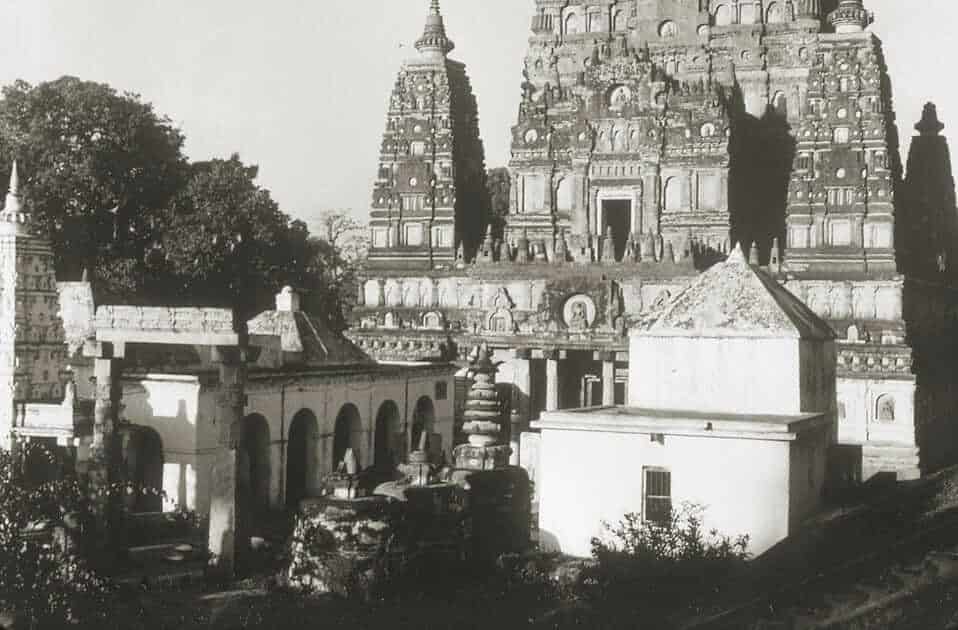 4) Places to Stay:
There are a lot of hotels and guest houses situated in the nearby vicinity of the major tourist attraction. However, if you are on a tight budget, or wish to experience the true essence of this beautiful place, it is highly recommended to stay at one of the monasteries or meditation retreats.
However, advance bookings shall not be possible in monasteries. You shall have to try out your luck. You can also try to get a stay in one of the Bhutanese monasteries which have rooms in a gardenesque setting. If you are specifically visiting Bodh Gaya for meditative purposes, you can make a booking with one of the medication institutes, which shall be inclusive of your stay.
5) Places to Eat:
You will find all types of restaurants in Bodh Gaya, serving from local delicacies to international cuisines. Some of the must try eateries in Bodh Gaya are as mentioned below:
Mohammad Restaurant: For Tibetan, Thai, Chinese as well as Indian Buddhist cuisines.
Hari Om International Café: From locally famous litti chokha to pancakes, this restaurant has something for everyone to offer.
Sian Thai: For an eclectic Thai experience
Sewak Hotel: A Dhaba style restaurant, this eatery is famous for its pocket friendly servings of Indian snacks, sweets, and thalis (meals).
Be Happy Café: Craving for a delicious pizza or saucy pasta? This Italian restaurant is an answer to all your Italian food or coffee cravings.
Bodh Gaya is packed with good eateries, and apart from the above mentioned places, you will find a whole lot of other restaurants, cafes, as well as roadside shacks serving pocket friendly yet delicious food.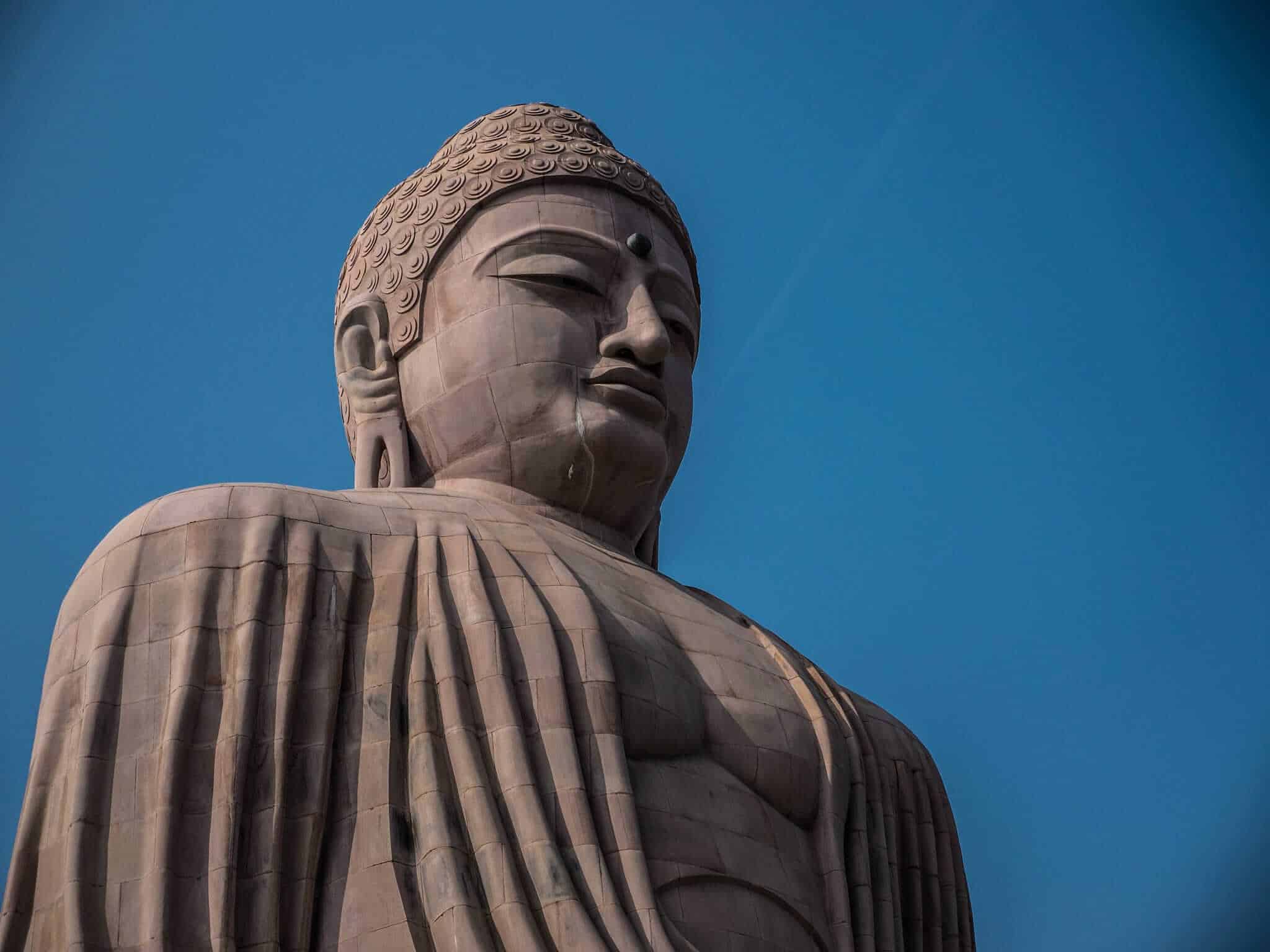 6) Travel and Safety Tips:
Electricity supply can be an issue in Bodh Gaya, therefore, do not forget to carry along a power bank and a flashlight along with you.
Most of the temples and monasteries expect visitors to take off their shoes and wear loose fitting clothes. Do respect the instructions of the religious places.
Bodh Gaya is not that huge, therefore it can be easily explored by foot or with a bicycle.
If you are a foreigner and traveling with kids, locals may get thrilled to get photographed with you and your kids; however, you can always politely decline.
Bodh Gaya is considered to be quite a safe place for travelers, however, always try to get your taxi/commute pre-booked with your hotel/ travel agent to save time as well as to ensure your safety.
Do not get in a feud with a local over prices or anything else. Just politely decline and move ahead.