Home » France »
Whoever said money can't buy happiness simply didn't know where to go shopping! It seems the quote isn't far from reality. There is a little bit of magic found in buying something new. It is instant gratification, almost like a quick fix. More so if you happen to be in one of the shopping mecca's and fashion capitals' of the world, Paris!
So here's a list to take care of all your shopping cravings in the City of Lights. We'll make sure you don't get lost in the diversity of shopping options (that are also maybe some of the best in France). With this list you'll get the best of deals which are easy on your pockets as well. Enjoy!
For luxury brands
The Faubourg Saint-Honoré district, part of the Louvre-Tuileries neighborhood, houses the flagship renowned designers such as Versace, Hermes, and Yves Saint Laurent with many trendy concept stores and boutiques.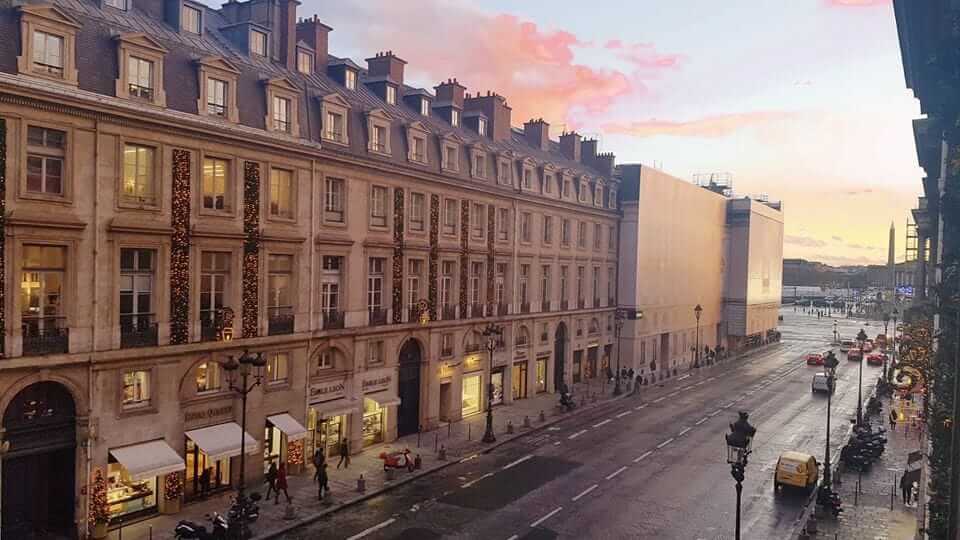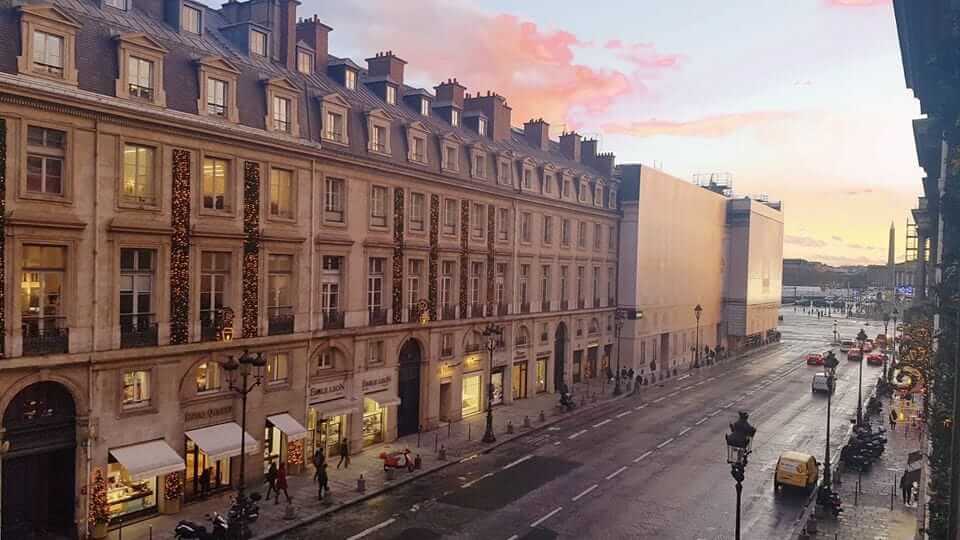 Belle-Epoque department stores
The grand Belle-Epoque department stores are another option to shop for almost everything from top designer collections (men and women), gourmet food shopping to home design, jewelry, and other consumer articles. Le Printemps and Les Galeries Lafayette located along Boulevard Haussmann serve the purpose.
The recently opened departmental store of Le Centre Beaugrenelle with over a hundred stores and restaurant hosts brands such as Guerlain, Zadig et Voltaire, Eleven Paris, and Ladurée. This seems to be fast becoming the new address for contemporary chic shopping in the city. You can also check neighboring Rue de Passy (16th arrondissement) for posh, fancy shopping options.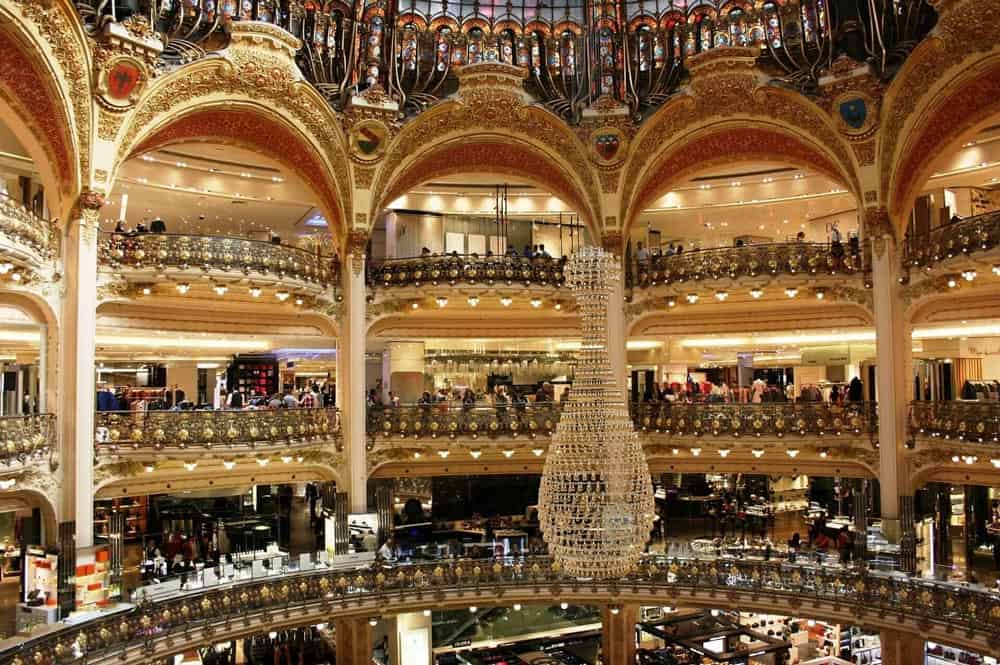 You can also visit Le Bon Marché at the metro station Sèvre-Babylone (metro line 10 and 12) for experiencing luxe à la française.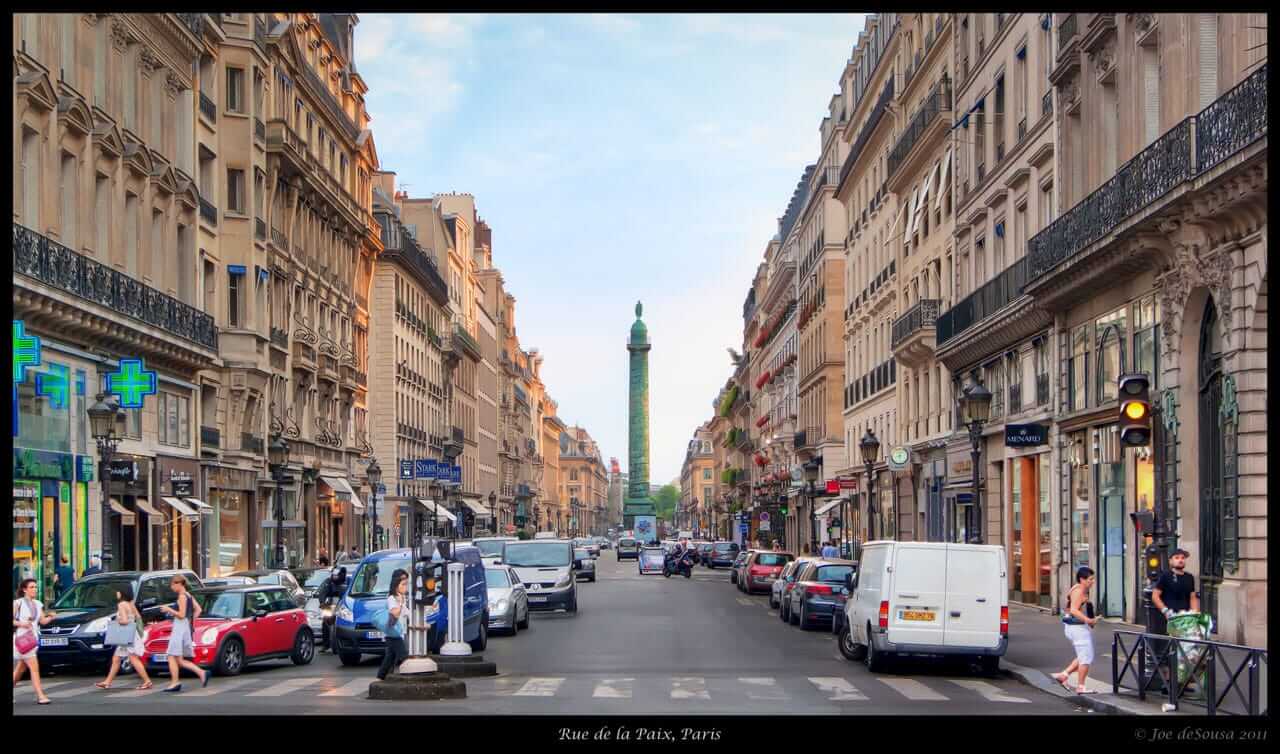 Rue de la Paix is another address for pure luxury shopping with various reputable French brands, best international labels, jewelry, watch stores, extravagant boutiques, and hotels dotting its street lanes.

Avenue Montaigne and Avenue des Champs-Elysées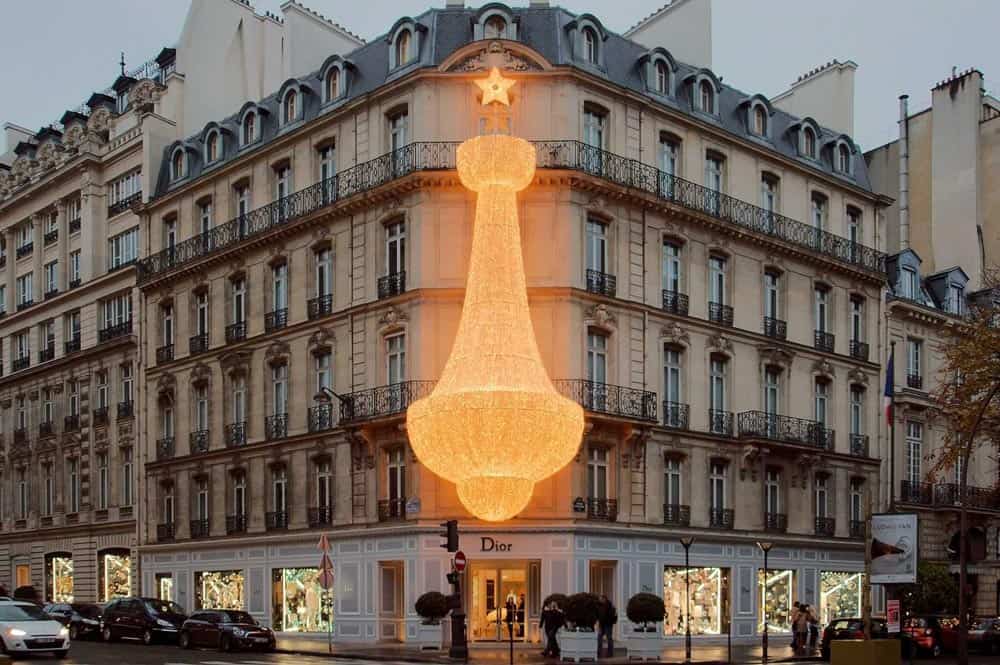 Not to forget the capitals' most coveted fashion locations: Avenue Montaigne and Avenue des Champs-Elysées. Avenue Montaigne hosts some of the most chic-fashion stores. You'll find legendary designers like Chanel and Dior lining the street with their flagship boutiques. The Champs-Elysées too features luxury names as Louis Vuitton, Givenchy and trendy global chains like Zara.
Le Forum des Halles
At metro Les Halles is a humongous underground mall: Le Forum des Halles. This is where global chain stores reign.
Boulevard Saint Germain
At the iconic boulevard Saint Germain, you are likely to run into French celebrities. The place hosts a panoply of high-end boutiques and flagship stores such as BOSS store, Burberry, the Kooples, Ralph Lauren, Sonia Rykiel, Etro, Karl Lagerfeld, Zadig and Voltaire etc.
La Vallée Village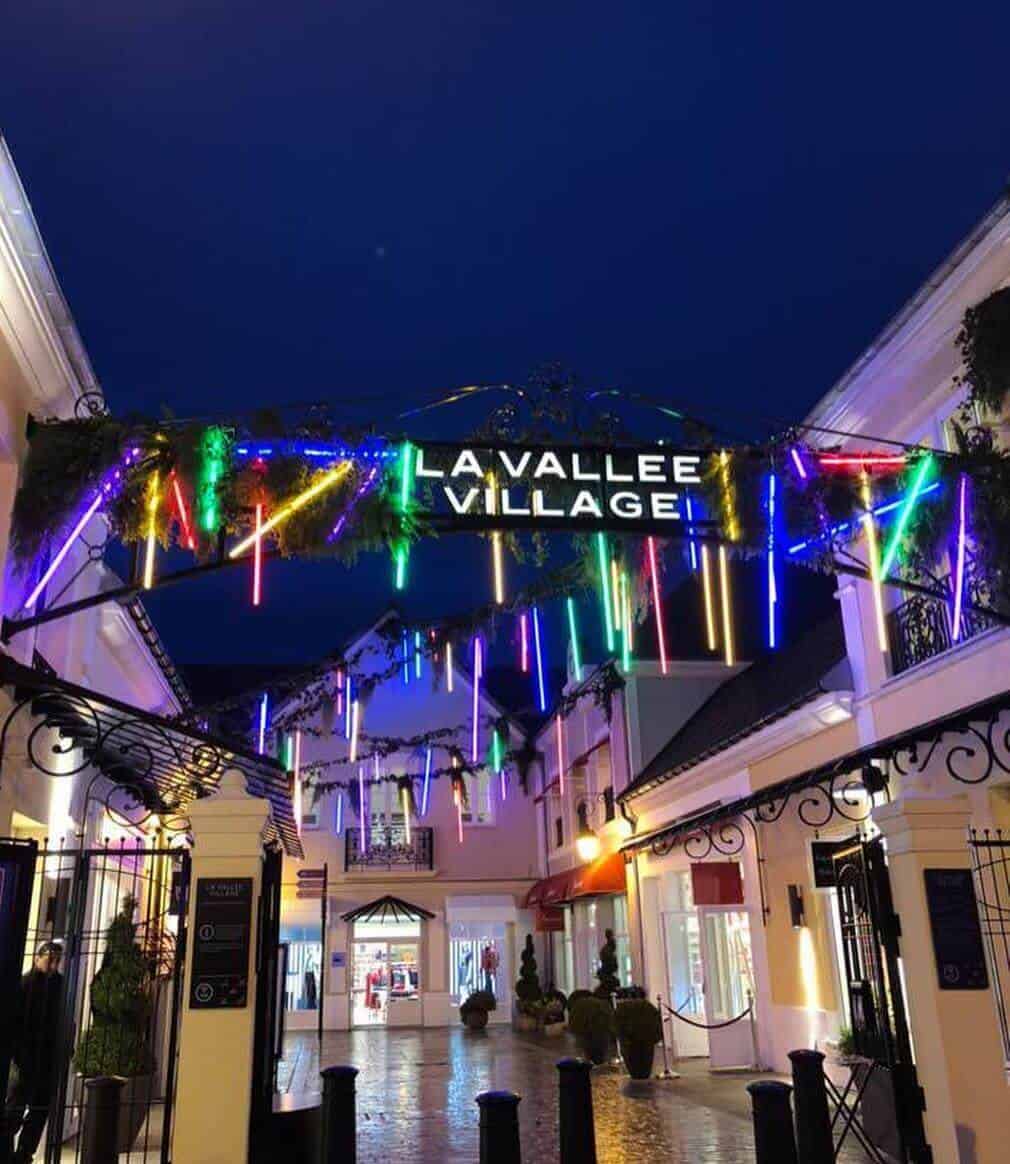 A little away from Paris (about 35 minutes east of Paris) is La Vallée Village hosting more than 120 prestigious brands offering their stylish products from previous seasons' collections at prices reduced by a minimum of 33% and often more, seven days a week. It gives a luxury outlet shopping experience. The brands include Armani, Coach, Furla, Jimmy Choo, Kenzo, Michael Kors, Paul Smith, Sandro, Sonia Rykiel, Tod's, Superdry, Zadig and Voltaire and many more.
Other places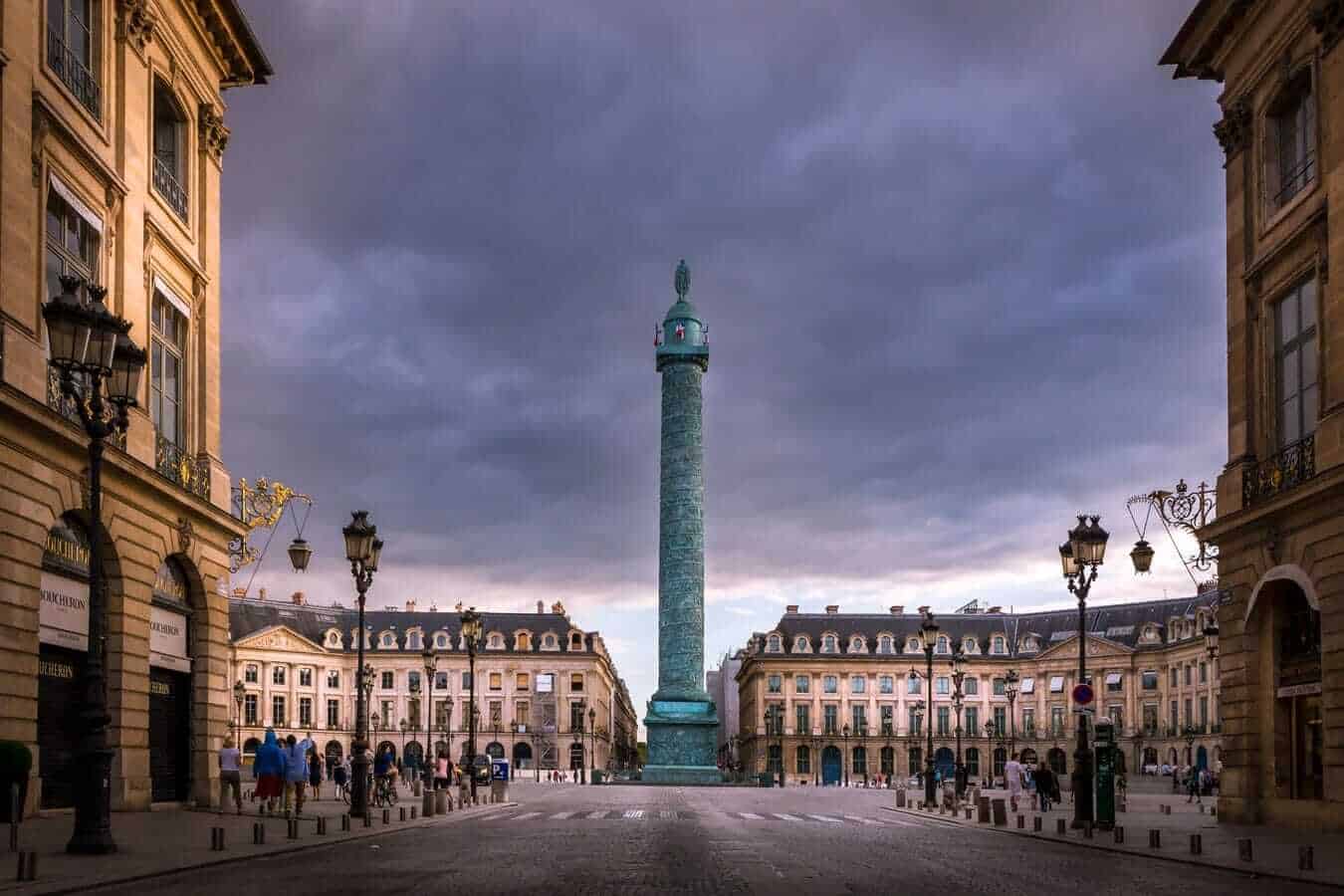 Luxurious jewelry, watches, and accessories can be shopped at Place Vendome, while for luxury perfume brands visit Guerlain (boutiques in the Marais and the Champs-Elysées neighborhood), Fragonard and Serge Lutens at Les Salons du Palais Royal.
Budget spree
Le Marais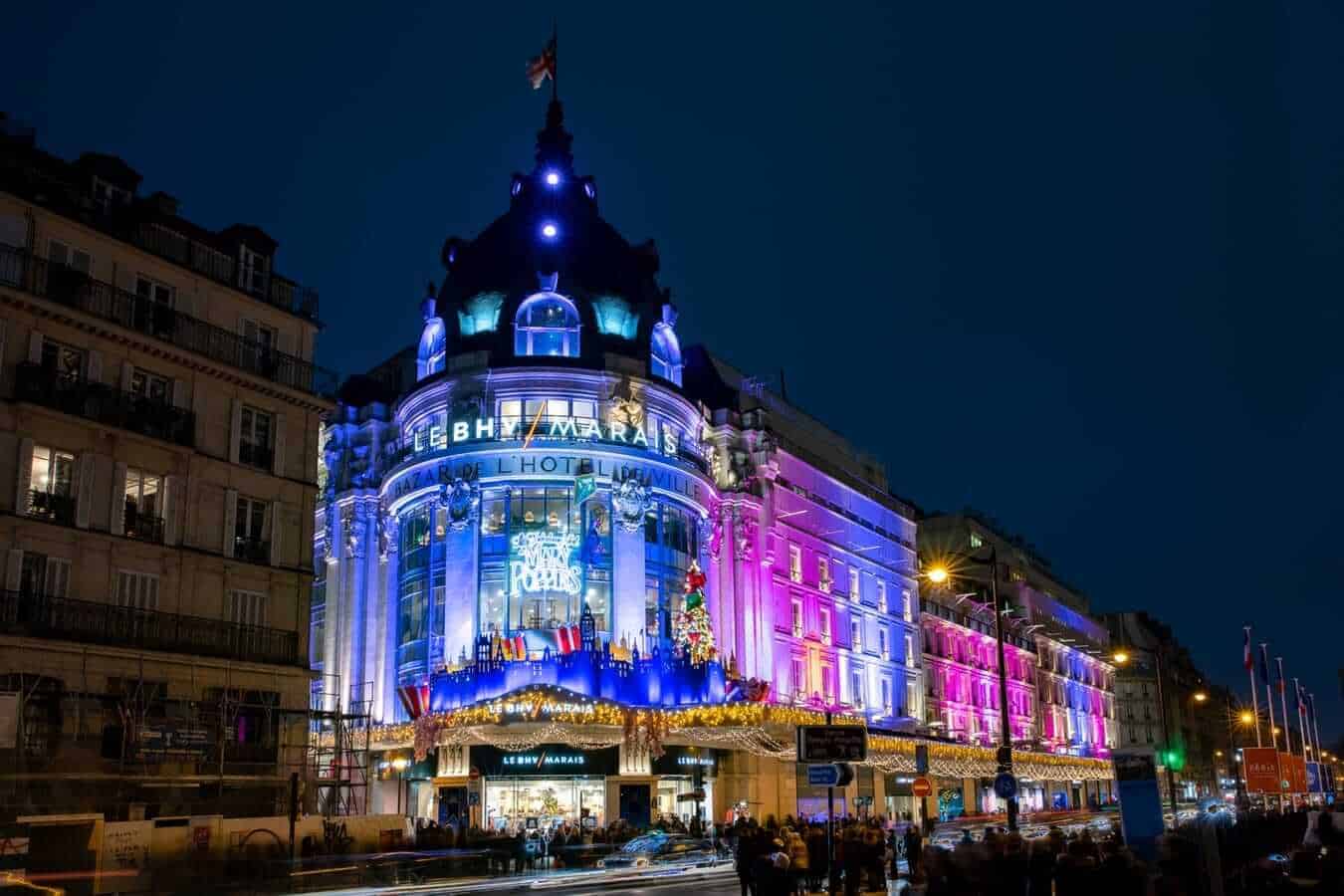 This is undoubtedly the neighborhood specific of Parisian fashion. The place has an eclectic mix of creator shops, art shops, luxurious stores run by owners and the 'friperies' (the second-hand clothing shops). The shops here are open on Sundays. The Marais suits the middle-high class budgets. The top fashion stores here- Le BHV Marais(one of the oldest department store of Paris), Merci (trendiest concept store), Maje (classy and comfy), Sandro stock, Les Petites, Karen Millen, Antoine & Lili etc.
Kilo Shop, a vintage store, lets you buy depending on the weight of the clothes, final price depends on that. You can find vintage treasures here from perfectly worn-in jeans from the '80s to dreamy band tees. Pieces are categorized by colors.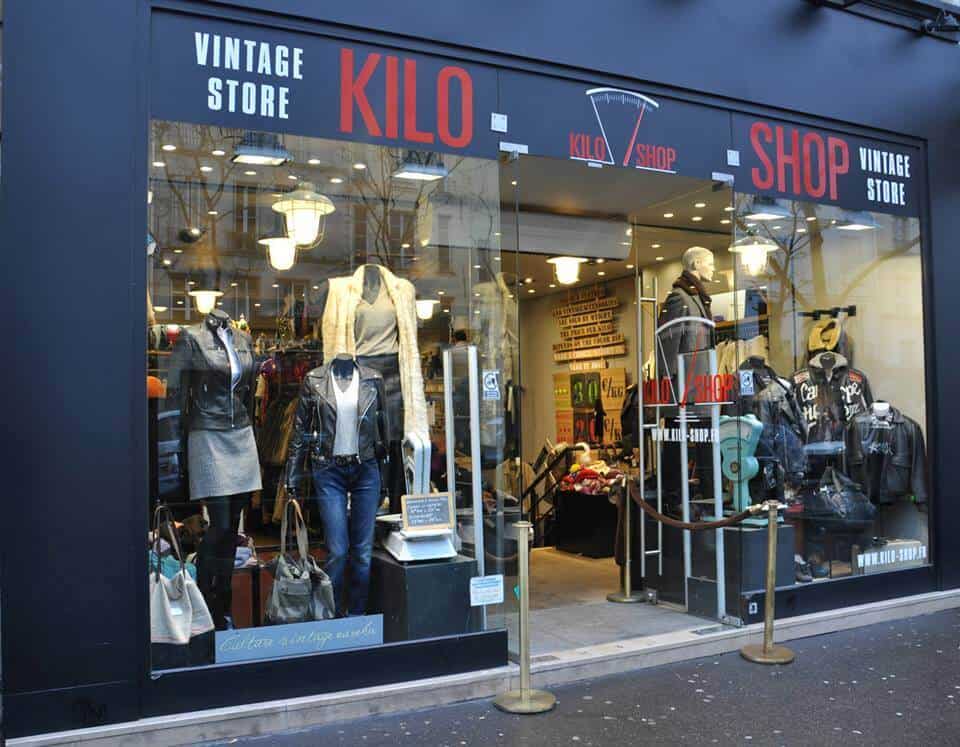 L'Habilleur is a designer discount shop in Marais that specializes in Indie brands ranging from Roberto Collina to Henrik Vibskov. If you are indeed lucky sifting through the racks you might chance upon a Gaultier dress at aupto 50% off the original price.
Montmartre
Spree, a designer concept store located in Montmartre is a good place to shop particularly during the sale season in the city (January/July) for branded clothing, accessories and shoes.
If you are willing to forgo glamorous and classy in favour of affordable and cheap, Tati, is a great option. Claudie Pierlot stock (laidback French chic) on 6 Rue de Marseille, Bel Air stock (designer trend-led modern) at 22 Rue Beaurepaire and A.P.C Surplus on Rue André del Sarte are other good alternatives to explore offering upto 40-50% off on the items.
At the legendary Mouton à Cinq Pattes, a vintage lover's heaven you can find a huge stock of past season's designer collections at a fraction of the price. Explore the lanes of bustling Rue de Rennes, housing French chain stores as Kookaï and the cobbled streets of Montmartre for funky jewellery and stylish yet affordable boutiques.
For some lively street shopping containing some reasonable fashion coupled with latest designer labels head over to Rue du Commerce. It has everything one could possibly want. Treat yourself to some hot chocolate after, at one of the many boulangeries and cafés in the area.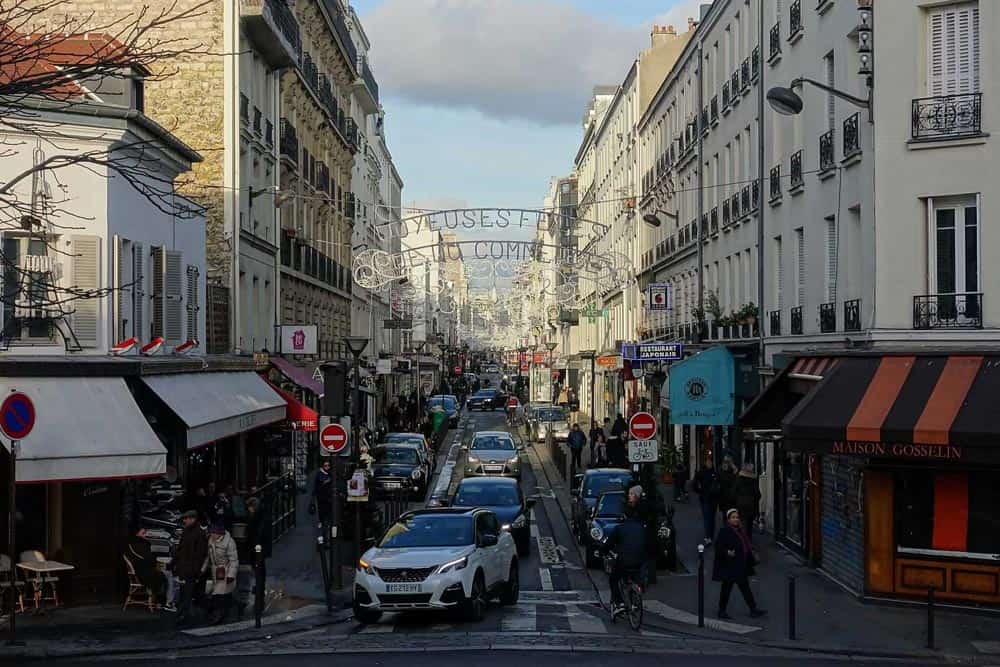 Flea markets
St Ouen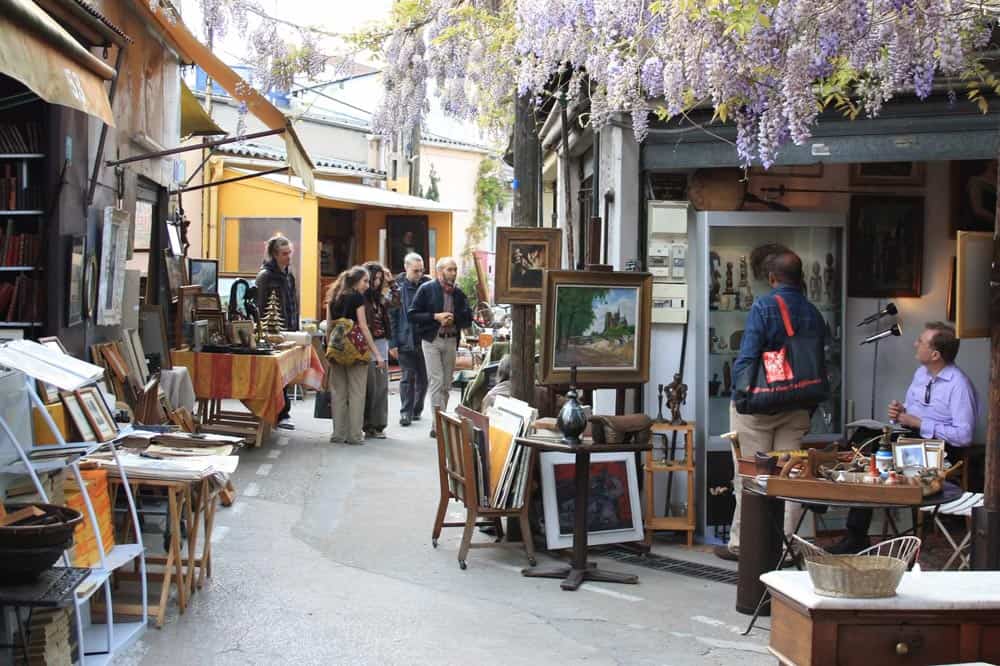 These are a real paradise for bargain seekers. Be ready to be pleasantly surprised and approach the markets with an element of spontaneity. You can head to St Ouen Flea market composed of about 15 different markets and over 1,700 second-hand and antique dealers hosting everything from art decor, precious antiques, imported items to old furniture, faience, bronzes, records clothing, rare books, and other unusual objects. New trends as apartment decorations and concept stores can also be found here.
Porte de Vanves
The Porte de Vanves flea market sells all sorts of antiques, furniture, paintings, books, second-hand clothing and everything in between but it is much smaller than St Ouen.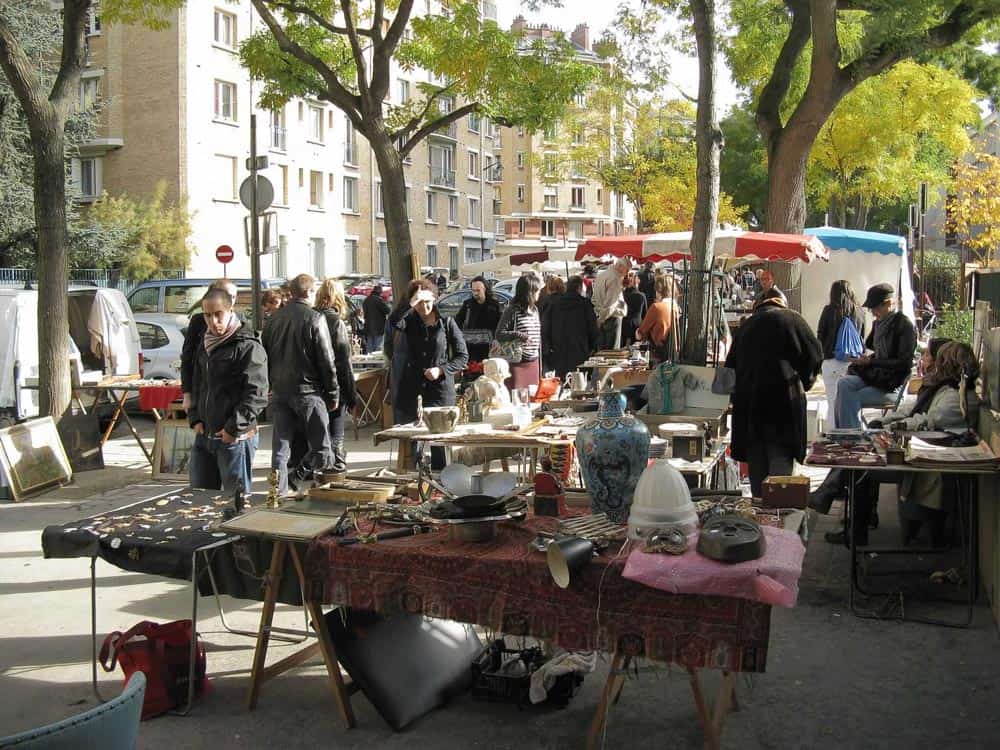 Montreuil
Montreuil flea market has on offer vintage things, clothes, appliances, a range of Do-it-yourselfers with all kinds of bike or car parts as well. For trinkets, cheap clothes, Parisian souvenirs and electronics you can visit Porte de Cligancourt flea market (between 18th arrondissement and the northern suburb of St Ouen). Marché du Livre Ancien et d'Occasion is the Book market.
For Souvenirs

Boutique Souvenirs Les Galeries Lafayette
Every sojourner would want to take a little bit of Paris back home with them.  Souvenirs hence become the best choice, whether it is meant as a gift or just for a keepsake. You can visit Boutique Souvenirs Les Galeries Lafayette at Boulevard Haussmann. Here you can shop for souvenirs of great monuments of Paris in all shapes and sizes: an Eiffel Tower key ring, an Arc de Triomphe mug, magnets and pens along with a range of whimsical items, original La Poste bag, and accessory lines.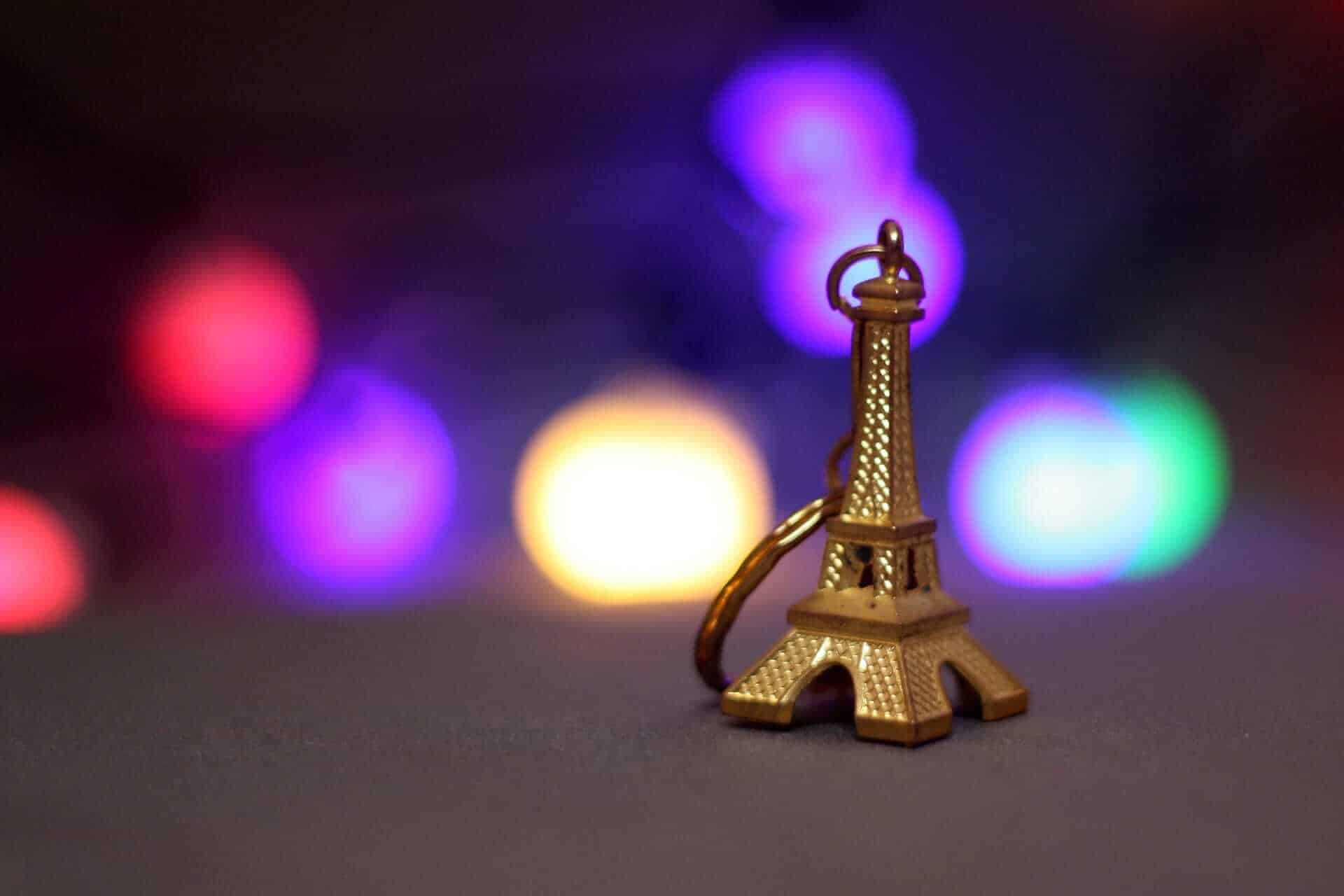 Les Parisettes
Les Parisettes on Rue Gramme caters to quality and trendy souvenirs and gifts for families and friends as- snow globes, stationery, decorative objects and kitchenware, jewellery etc. Visit Laure Selignac for Antiques, souvenirs, jewellery, haute jewelry/luxury, accessories. For gifts to your lil ones you can visit Wanderworld and Bring France Home. These stores also have an option of delivering the order to your hotel/destination.
Where will you be shopping next?