Home » France »
Oh, Paris! If you're reading this you're probably planning to go there soon (or someday!). Paris is a city full of life and a lot of activities for you to enjoy. If you're looking for things to do in Paris, check this. We've made a list of our favorite 64 things to do in Paris. Some of them are non-touristy things to do in Paris for you to check out. Fasten your seat belt, here we go!
1. Meet the Eiffel Tower
It doesn't matter if you go up or not, this is something you HAVE to see in Paris! If you're going up, remember to buy tickets beforehand. If not, you can go to the Trocadero and watch the light show offered every night in the Eiffel Tower. This is one of the top things to do in Paris.
2. Walk the Cimetière du Père-Lachais
A beautiful and calm place. It's not too crowded and you can find the tombs of Balzac, Apollinaire, Chopin, Molière, Edith Piaf and Oscar Wilde.
3. Shop in the original Parisian shopping malls: the Paris Passage
Passage des Panoramas in Paris
This is where Parisians used to shop long ago. You'll find boutiques, bookstores, antique shops and cafés all with skylight arcades, probably one of the best non-touristy things to do in Paris. Our favorites: Galerie Vivienne, Passage des Panoramas, Galerie Véro-Dodat, and Passage Colbert.
4. See a Monet, Van Gogh and Renoir at the Musée d'Orsay
This was an old station converted in Museum to house one of the most extraordinary and largest collections of Impressionist and Post-Impressionist art. You can also check out an Art Noveau collection and some 19-th century sculptures.
5. Be amazed by the Sainte-Chapelle
It's one of the most impressive churches you'll see. It's a medieval chapel with gothic category and 13th-century stained glass windows. Don't miss this spot!
6. Climb the 284 steps to the top of the Arc de Triomphe
It's worth it, we swear! The views from the top are amazing and later on, when you go down you can go to the Unknown Soldier grave that's in the center of the arch.
7. Get sun-soaked in Paris' plages
If you're looking for fun things to do in Paris with kids, check this out. Get to Paris during the summer and enjoy the pop-up beaches around the city. You can enjoy water sports or just hang out there and relax. It's also a great activity to go with children.
8. Get lost in the Louvre
Get in line to see the Mona Lisa in person.
A must-see thing to do in Paris. Go and see the Mona Lisa, the Venus de Milo, and even Egyptian mummies. Enjoy a snack at the Café Mollien and get ready for more.
9. Feel cool at the Palais de Tokyo
You'll feel 90% cooler just by being there, this is one of the cool things to do in Paris. This hip and lively museum of modern and contemporary art was reopened in 2016 after a full renovation of their collection.
10. Get inspired at the Musée National Rodin
Here you can find Rodin's most known statues: The Thinker, The Gates, and Balzac. You can also take a look at his works at the Hôtel Biron and have ice cream in the garden of the museum while you see more of Rodin's statues.
11. Feel clandestine at secret speakeasies
If you're looking for unique things to do in Paris check out some of the most popular places in Paris: secret nightclubs and lounges hid around the city. Our recommendations: Experimental Cocktail Club, Le Ballroom du Beef Club, Moonshiner, Le Très Particulier, and Le Lavomatic.
12. Blush at Le Crazy Horse
Experience an erotic show in this place where Dita Von Teese performed for a while. If you're going take into consideration that this place has no restaurant so take your precautions. One of the unusual things to do in Paris.
13. Get medieval at the Musée de Cluny
If you're interested in medieval art this is your place. You'll find a great selection of this kind of art and also unicorn tapestries and Roman Baths. The Musée de Cluny is located in the Latin Quarter.
14. Eat pork at any time at Au Pied de Cochon
The lights of this place haven't been turned off since 1947. Enjoy every part of the pig you can think of at any time because this place serves food around the clock. Everything is pork-themed and it's an experience you can't miss!
15. Walk Le Promenade Plantée
The Promenade Plantée(also known as Coulée Verte), is an elevated railway that was turned into a park. This is the first elevated promenade inspiring others in places like New York.
16. Stun at La Conciergerie
It can look like a fairytale castle but during the French Revolution, it was a prison for those condemned to the guillotine (including Marie Antoinette!). There are mock prison cells but it mostly attracts medieval architecture buffs.
17. Relax at the Jardin des Tuileries
It separates the Louvre from the Place de la Concorde. This garden is perfect for a relaxing walk or to simply have a picnic. There are statues, ponds, a Ferris wheel, and an old-fashioned carousel. If you go there from June to August you'll find a carnival with rides, games, and food.
18. Feel royal at the Château de Versailles
Imagine having a hunting lodge like Versailles…
An unmissable place to get soaked into extravagance. Explore one of the most sumptuously clad château in the world and get lost in the terraces, parterres, and amazing fountains.
19. Get comfy at the Eiffel Tower Apartment
This was Gustave Eiffel's secret personal apartment and it's perched on the third level of the tower. The space is really cozy, quiet and small and it's decorated with almost all of the original furnishings.
20. Enjoy masterpieces at Musée Picasso
Walk into bright and spacious exhibition rooms to admire works of art like La Celestina or the Portrait of Marie-Thérèse Walter by Picasso. Located in the Hôtel Salé, you can also enjoy the historic Marais area while going to this museum.
21. Explore the Centre Pompidou
A giant calendar in the Centre Pompidou
The unique architecture of the Centre Pompidou is just an excuse to visit this place. Go to its Public Information Library, to the IRCAM and amaze at the largest museum of modern art in Europe: the Musée National d'Art Moderne. Also, visit the Stravinsky fountain while there.
22. Splash wine on your shirt at Chez Georges
Chez Georges is an institution since 1952 and it's a true Parisian brasserie. Located in the heart of Saint-Germain-des-Prés, you may have to get in line to get inside but don't worry, chances are you'll make friends while waiting.
23. Watch Paris from Sacré-Coeur
Climb the steps to go to this church and enjoy one of the best views of Paris from there. This is also one of the best free activities you can do around Paris. And while you're there, explore Montmartre, one of the most authentic Parisian neighborhoods in the City of Lights.
24. Watch the glass-roofed hall of the Grand Palais
This place was built for the Exposition Universelle in 1900. The fair attracted almost 50 million people and it was the work of three different architects. Nowadays you can amaze at the splendorous glass-roofed hall. The Grand Palais will be used for the fencing and taekwondo for the Olympic Summer Games that will be held in France in 2024.
25. Drink a hot chocolate at Angelina
26. Eat all the cheese you can at Fromagerie Quatrehomme
Go to one of their two boutiques, either in Montmartre or near Jardin de Luxembourg. Buy some Beaufort, Comté or goat's cheese and eat it like a local sitting on a park's bench.
27. Buy designer items at Merci & Colette (or maybe just go window shopping)
At Colette you can get designer pieces, tech accessories, books and jewelry, and at Merci you'll find designer fashion labels, beauty goods, and even flowers. After you go shopping (or not) you can have a coffee at one of the three cafés this places house.
28. Feel like Hemingway at Jardin du Luxembourg
This garden is featured several times in "A Moveable Feast," Hemingway's memoir about his years as a struggling journalist and writer in Paris during the 1920s. The garden also has a lot of activities for children and beautiful landscapes you can get lost in.
29. Shop at flea markets
Go to the most famous one: Clignancourt. This flea market is huge and it has space for more than 3,000 merchants. 180,000 people visit it EACH weekend. Prepare to spend the whole day there. If you want to go to a less chaotic place head down to Marché aux Puces de la Porte de Vanves.
30. Look at the works of art at the Petit Palais
It was also built for the 1900 World Fair and although it0s a bit overshadowed by the Grand Palais, it houses great works of art. An interesting fact is that the building is entirely naturally lit. If you want to enjoy it more, have a coffee or cake in the garden around it.
31. Shop street sweets and feel like a kid again
We know Paris has amazing chocolatiers everywhere but there's something alluring about buying candies on the stalls near the Odeon metro stop on the left bank. They're also great places to take pics if you're into that kind of stuff.
32. Find the philosopher's stone at the Musée National du Moyen Age – Thermes de Cluny
You can't actually find the philosopher's stone here but you can find the epitaph of Nicolas Flamel along with hundreds of intriguing medieval objects and see the Lady and the Unicorn tapestries. You can also learn about the frigadariums, antique Roman cold baths.
33. Get frightened at the Catacombs
The spookiest Paris attraction. Walk through the tunnels that are lined with femurs and skulls of deceased Parisians. These were created 18 meters underground in the 18th century to stop the disease from spreading in the inner-city cemeteries. There's no other experience like this.
34. Learn all about the Islamic Arab world at the Institut du Monde Arabe
A high-tech building with Arab influences, the Insitute du Monde Arabe is a journey that starts with Classical-era finds and leads you into the present day, without forgetting early Islamic dynasties. The windows are inspired by the screens of Moorish palaces but also contract and expand according to the amount of sunlight.
35. Get romantic at the Temple Romantique
This structure, also known as the Temple of Love, is located on an island in the middle of Lac Daumesnil in the Bois de Vincennes… the largest public park in the city. It's the twin of another temple in the Parc des Buttes-Chaumont but it's lesser-known so it's less frequented. If you're looking for romantic things to do in Paris, look no more!
36. Read and drink some wine at La Belle Hortense
A hip spot in the Marais. Full of bottles and books of many kinds, this place is a literary escape from the busy streets of the neighborhood. Get a bottle of wine and have delicious food all while you read something.
37. Dance tango on the Seine
Go to the amphitheaters that line the Seine in the 5th arrondissement and watch how many dance enthusiasts gather in the evenings to tanto until the twilight. If you're feeling like trying, go ahead and tango. One of the great things to do in Paris at night.
38. Bike around Paris in a Vélib
Going around on a bike in Paris is cheap and fun!
Vélib is a bike hire scheme that has over 20,000 bikes available 24 hours a day at 1,500 stations across the city. Biking around Paris is a great idea to explore the city and make some exercise at the same time. If you're only visiting you can get a pass for 1 or 7 days, check all the information about it here.
39. Enjoy Notre Dame
One of the first Gothic cathedrals, Notre Dame de Paris, is a place you can't miss in Paris. If you're going, get there early to avoid long lines and big crowds. Get some photos of the gargoyles and the stained glass windows.
40. Dance your heart out at the Batofar
Hear some of the best DJs, see live bands and party in this converted fireman's boat docked below the Bibliothèque Nationale de France. The Batofar also offers art expos and amazing dishes like the duck with potato gratin. A really fun thing to do in Paris!
41. Have a slice at Pink Flamingo Pizza
A kitschy and cute place, the Pink Flamingo Pizza, is located nearby the Canal Saint-Martin where you can wait while your pizza is made. When you order your pizza you get a pink balloon, don't lose it, the pizza delivery boy will use it to locate you and deliver your pizza. And if you're on a budget, check these cheap, authentic eats in Paris.
42. Wait in line for a bite at L'As du Fallafel
You can either eat your food in the street or pay a little more to have it inside the place (we recommend that!). Get the falafel special while you discover why the slogan of the place is "often imitated, never equaled." Get to Rue des Rosiers to watch the long lines of people waiting for their order. Or, if you're vegetarian, check our list of the best vegetarian restaurants in Paris and enjoy any of them!
43. Try different cuisines at La Marché des Enfants Rouges
This is the oldest covered market in Paris and it's located in the Marais. If you love diverse cuisines go there. You can find Japanese, Moroccan, Lebanese, French Caribbeans and many more here. Read all about it here. It's also one of the cheapest things you can do in Paris!
44. Sherlock Holmes your way through the city in the Paris treasure hunt
A quirky and unique way to discover Paris. Foxie is an app you can download in your smartphone to access to connected treasure hunts. There are different courses that you can follow… it's so much fun! Find more information on the official website of Foxie.
45. Watch the sunset in the Seine
It doesn't matter how you watch it, the mood will be all romantic and surreal. You can book a cruise with a romantic dinner to watch it or simply go to one of the bridges that cross the river. This is a moment you'll never forget.
And you can also stay there until it gets dark. You only have to promise one thing: don't fall in love.
46. Feel like an intellectual at Café de Flore and Les Deux Magots
A quintessentially French experience. The Café de Flore was once the place where people like Picasso and Jean-Paul Sartre went to have a coffee. Right across the street, you can find Les Deux Magots where Simone de Beauvoir and Ernest Hemingway used to go. This is also a great place to go people-watching.
47. Smell flowers at the Jardin des Plantes
Louis XIII's doctor began this project as the royal medicinal garden in 1626. This is Paris' botanical garden and it has more than 10,000 species. It also has a small zoo and the Grande Galerie de l'Evolution.
48. Feel like a local at Le Baron Rouge
A place to go when you're not looking for anything fancy. Le Baron Rouge is the perfect place to relax while you drink non-fancy wine and small bites. If you wanna feel like a true local you can bring your own glass bottle and fill it with wine from the barrels of the place.
49. Watch a movie at the Cinémathèque Française
The building was designed by Frank Gehry so it's worth a visit. The Cinémathèque Française is both a museum and a theater and it has one of the most impressive film archives in the world. There are daily movie screenings and if you're a film buff, you must go!
50. Enjoy a movie at the Open Air Cinema
It's also free! Go to the Cinéma en Plein Air that runs each summer in the Parc de la Villette. They have a great selection of movies (this year you can watch La La Land in the karaoke version!) and there'll be nothing like enjoying the French summer this way.
51. Pet Salis the cat at the Musée de Montmartre
This museum has a great collection of Le Chat Noir artwork. Au Chat Noir was a renowned cabaret at Montmartre and the name of its founder was Salis. Now the museum is the house of a cat named after him. You can also enjoy the gardens around it that were the inspiration for no other than Renoir.
52. Eat a crepe at Breizh Café
Did you even go to Paris if you didn't eat a crepe? Well, we've got a solution for that. Go to Breizh Café and enjoy the best crepes in town. Choose any of them, they're all good.
53. See where Napoleon Bonaparte is buried at Les Invalides
The building was created by Louis XIV in the 17th Century and it as a wellness center for wounded or unwell soldiers. Nowadays the building is also a hospital and home for the retired military but also a church and house of multiple museums. You can also see the tomb of Napoleon I, which is sculpted from a block of red quartzite.
54. Eat a freshly baked bread at Du Pain et des Idées
This is one of the best bakeries in Paris. If you're a foodie this is a necessary stop on your trip. Try the chocolate and pistachio "snail" (or escargot if you're feeling French already), you'll remember it for the rest of your life.
55. Get a photo at Rue Crémieux
If you love sharing your trips on Instagram this place will look beautiful there. Go to the 12th arrondissement and escape from the chaos of the city. This pedestrian street is full of color with flower-lined sidewalks.
56. Go to a concert at Le Grand Rex
This 1930s Art Deco cinema has been used for many movie premieres and it has a spectacular presence. Le Grand Rex is not only an attraction for its films and concerts but also for its impressive presence and Mediterranean-inspired decor.
57. Go celebrity sighting at L'Avenue
Ok, maybe you won't go to eat at this place but if you want to see famous people like Rihanna or Beyoncé, this is a place you have to go to. Head down to Avenue Montaigne and maybe stay for a drink (maaaaybe).
58. Have "the Usual" at the bar of L'Hotel
This hotel was the residence of Oscar Wilde in the late 1800s, he lived there until his death. Each room is unique at L'Hotel and it also has a gourmet restaurant. If you just want to go for a drink order "the Usual", an effervescent cocktail with champagne, violet liqueur and a bit of lime.
59. Eat a macaron at Ladurée
Feel super French while having some delicious macarons and drinking some tea. Ladurée has many locations around the world but this is their flagship location and in a true Parisian place: the Champs Élysées.
60. Take a picture at Pont Alexandre III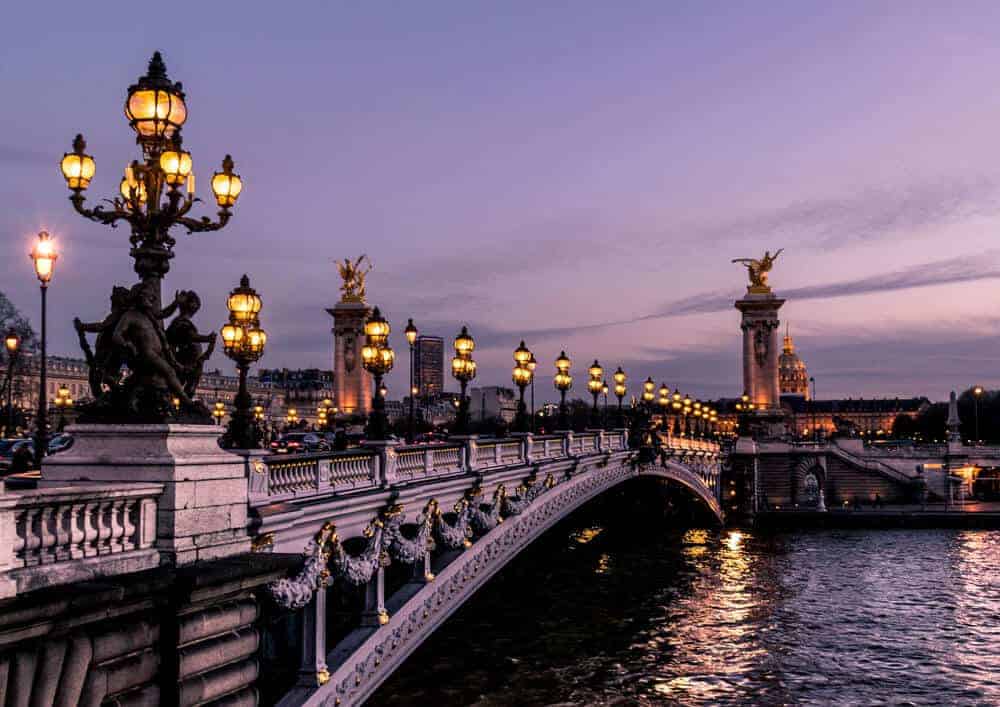 The Pont Alexandre III connects the Champs Élysées area to the Eiffel Tower so it's one of the most iconic places in Paris. The bridge is decorated with a golden-accented arch and the lampposts around it have statues. You can't have a more Parisian photo!
61. Think about love at Le mur des Je T'aime
If you're looking for a place to declare your love, this is it. The "Love Wall" in Montmartre is made of more than 600 tiles with the words "I Love You" written 1,000 times in over 300 languages. Can Paris get any more romantic than this?
62. Go to an event at Shakespeare and Co.
This place is both a library and a place for aspiring writers to stay in (for free!). It has a quirky vibe and a lot of reading/writing-related events. It also has a café and you can check their events here.
63. Pay your respects to Degas at Montmartre Cemetery
Officially known as the Cimetière du Nord, this cemetery in the 18th arrondissement was constructed in the early 19th century. This is the final resting place of some of the most famous people that worked in the Montmartre area like Edgar Degas, Alexandre Dumas, and Émile Zola.
64. Walk the Champs-Élysées
1.9 kilometers of high-end shops, theatres, and cafés. This is a street that connects the Place de la Concorde with the Place Charles de Gaulle. In the first Place, you can watch the Obelisk of Luxor and in the second one the Arc de Triomphe.
These are the best things to do in Paris! Which of these did you put on your bucket list? Let us know in the comments!