Home » France »

Ernest Hemingway once famously said:
"If you are lucky enough to have lived in Paris as a young man, then wherever you go for the rest of your life, it stays with you, for all of Paris is a moveable feast."
The City of Lights is a feast for all of one's senses. The European cityscape has been a center, fashion, gastronomy, and culture since centuries. Everything from its crisscrossing boulevards and ultra-modern designer boutiques to its monuments and unique cafe culture are exquisite.
So if you happen to visit the magnificent City of Love, let only the beauty overwhelm you, NOT the price of the food. In this list, we got you covered with the best cheap eats in Paris! We give you a list of good-value food at attractive prices, not compromising on the quality as well. Enjoy!
Quick Tips
Bakeries and Sandwich shops

spread all over the city are a good option to eat on the go. You can also try Bistros and Cafes (but outside of the busy lunch hours). These can save you precious time around the tourist areas, while also going easy on your pocket.
If you're

a student

, producing your card at University refectories (known as 'restos U') located near the major university campuses in Paris can get you a full meal for €3.15. The International Student card is also accepted, a meal ticket will be handed to you at the restaurant reception, though it may work out to be a little more expensive. Check details here: 

Crous

.

A free meal at a Bar or a Resto: 

Some joints in Paris offer light refreshments for no more than the price of a drink. Also, a handful of neighborhood establishments offer a free snack or a free meal (usually Couscous) to consumers who pay for beverages. Check out

Le Culture Rapide 20

th

, Lockwood (73 Rue d'Aboukir),

Le Grenier

,

Tribal Cafe

.

Fixed price lunch and dinner

menus can be a good option to have a solid eat out in Paris. It usually consists of three courses like starters, main course, and dessert. Try Le Bouillon Chartier.

Crepes:

 You can find these all over the city for as less as €3. They make for a good breakfast or a quick snack option. Street vendors and some restaurants sell these. Go for Nutella-banana-Grand Marnier crepe. Try

Briezh Cafe

, Boulangerie Artisanale (15 Rue du Château-des-Rentiers, Paris), and places around the Montparnasse neighborhood, for example.
Make sure you double check the

opening times

and other details (only serve lunch, closed on weekends, open late, etc) of the restaurants beforehand to save that last minute hassles.
Cheap eats in Paris
Le Bouillon Chartier

: 

The dining place is over a hundred years old founded in 1896. The significance of Bouillon Chartier is the prices. For example, you can get entrees under ten euros, the main course 6-12 euros, and end with dessert for less than 7 euros. 

The menu is simple and traditional. Wine prices are affordable as well (some at €11). Don't be surprised to see big queues outside, they move pretty fast though.
Bistrot Victoires: The place offers French and European cuisines with 10/11 euros for a dish. You can also get dessert for 5 euros or salads for 8. A wine glass can cost 3 euros. It was also awarded TripAdvisor's Certificate of excellence.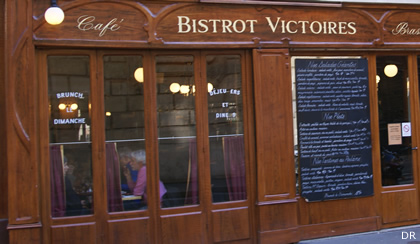 Chez Gladines:

The restaurant serves traditional food of the Basque region such as the Cassoulet basque, the Escalope Montagnard, and duck with Roquefort cream sauce. 

The portions are generous with an informal setting. Its dishes are not exactly fine cuisine but totally worth the price.
Fermier Gourmet

(185 Rue du Temple, 75003 Paris): The place serves Barbeque, steak, Burgers and French cuisines at reasonable prices. 

Truly offers fantastic food at great value. It also holds TripAdvisor's Certificate of Excellence for 2018.
Au Pied de Fouet

(3, rue Saint Benoit, 75006, Paris): Serves home-made style traditional French and European cuisines. It scores big on authenticity and affordability. 

The main course costs around €13. The place is perfect to feel like a true Parisian.
Kosher Middle Eastern
L'as Du Fallafel: The restaurant is pretty famous for its mouth-watering falafel sandwiches. It attracts foodies from all over the globe! The standard falafel sandwich would cost you €6.50 and the shawarma sandwich €9. There is a takeaway option too. This is one of the 14 foods you have to try in Paris.
Asian
Pho Banh Cuon 14 

(129, Avenue de Choisy, 75013 Paris): The restaurant is the 'Pho soup temple' of Paris. The Tonkinese soup is made from rice noodles and beef, a large bowl of which is served for around €8.60. 

While a bottle of beer costs €3.70. Really hard to beat the deal. You might encounter a line since the place is buzzing with locals and tourists.
Higuma:

 The place is super busy! It offers popular Japanese food such as ramen, sobas, and gyozas. Ramen is around 

€

8 and a meal (ramen + side) goes for about €10-€12. One of the cheapest eats in Paris.
Tien Hiang:

 This restaurant is a 'Vegan's paradise'. The food is amazing (even hardcore non-vegans swear by its taste), the service is quick with a lot of choices at the cost of ~€7-10 per dish.
African
Le Djoliba

(6 Rue Blondel, 75003 Paris): A good place to try food from Senegal, Côte d'Ivoire, Mali, and Guinea. 

The portion sizes come in decent quantities with affordable prices (€9-15). Try Grilled tilapia with a side of athiéké.
Burgers and Pizzas
Joe Burgers

(49 Rue Descartes, 75005 Paris): The burgers are really fantastic and cooked to perfection. They have Halal burger options too. Makes for a good quick lunch option and all for € 8.5-9 with fries.
Hank Burgers:

 They serve vegan burgers with gluten-free options. There are different fillings and sauces so it never gets boring and is always tasty. Costs range from €8-13 (burger + fries + beverage).
Pizza Julia

(43 Rue de Charenton, 75012 Paris): This petite pizzeria boasts of having received almost 40 different awards and for a good reason. 

They serve some of the best delicious pizza in Paris at a cheap price (€11-€16 ) and with a free drink (on check-in at Yelp). It doesn't get better than this, right? The quantity is big enough to split.
Racina

(43 rue Descartes, 75005 Paris): Provides Sicilian food, a great selection of Pizzas, pasta and salads at a reasonable cost (€5-€18).
And for some more options…
Also, check the list of the best vegetarian restaurants in Paris, you'll surely find something!
Hope you have a delightful trip! Bon, voyage!