Home » Destination Guides »
The capital of Chile is one of the most culturally and artistically rich cities in South America. We have prepared a small guide to help you enjoy and explore Santiago like a local.
Tourist Attractions during Santiago travel
Costanera Center with the background of Andes
1. Enjoy the city view on the rooftop of Costanera Center.
2. Visit the central points at the city center that are Plaza de Armas, Cerro Santa Lucía, and Cerro San Cristóbal
Palacio de la Moneda
(Image courtesy: natalislangstgo.blogspot.fr)
3. Go to La Moneda Palace / Palacio de La Moneda to witness the center of Chilean politics. To learn more about its historical significance you can take a tour during the weekdays. The Centro Cultural Palacio de La Moneda also houses great cultural and art exhibitions.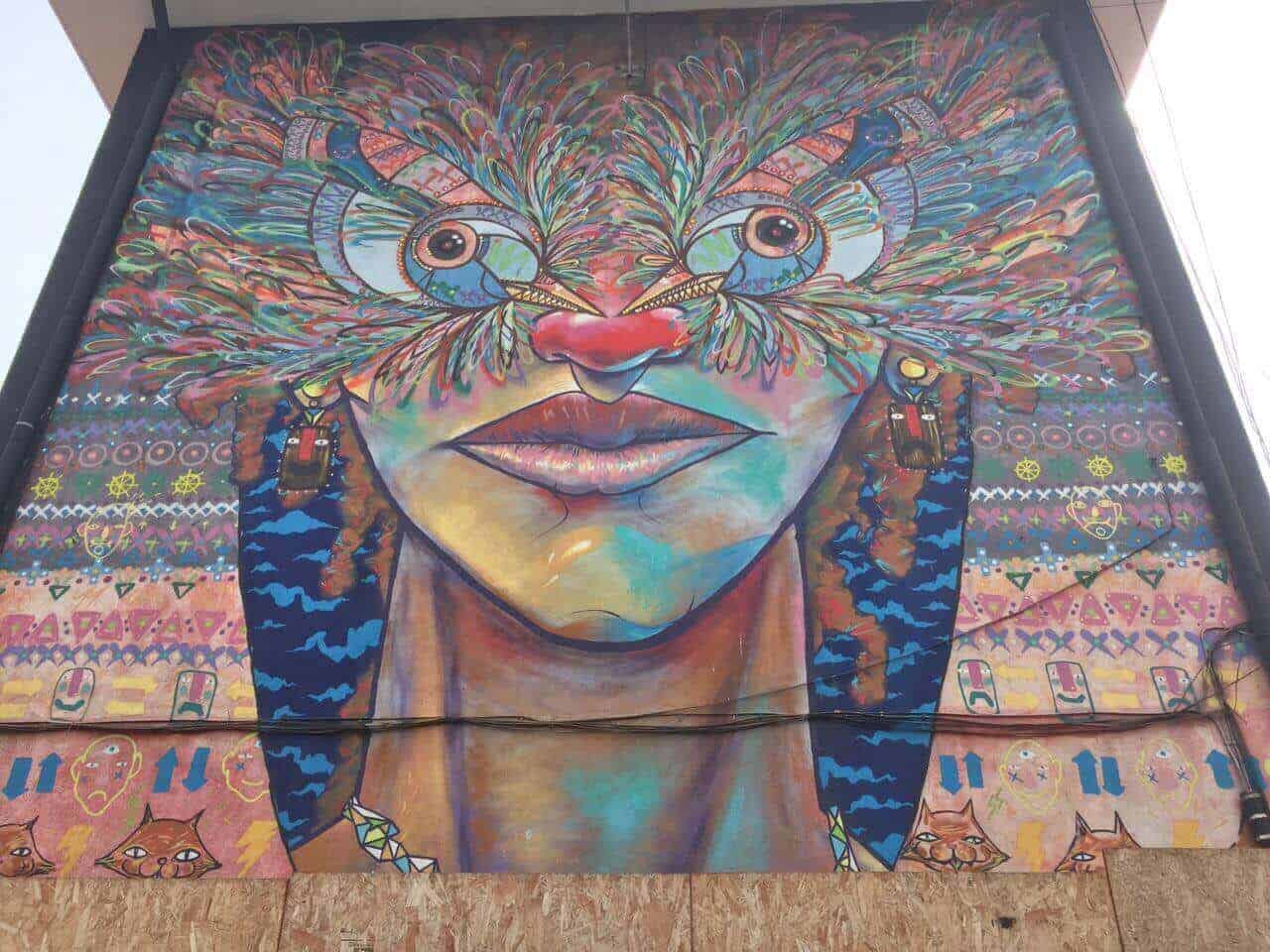 Museo al Cielo Libre – Santiago Travel
(Image courtesy: disfrutasantiago.cl)4. Museo al Cielo Libre in San Miguel is an open air museum. Murals run up buildings for a long stretch. In artsy Santiago-style, this dedication to street artists is a must-stop for graffiti lovers.
5. Speaking of art, don't miss out on some of Santiago's art museums like Museo Bellas Artes, Museo de Arte Contemporáneo and Museo Ralli.
Authentic Eateries
A huge flea market where you can go on weekends to have cheap and satisfying food. You can find numerous options to eat there.
For traditional Chilean food at a great price (if you're into pork, try the pernil).
Liguria – Santiago Travel
(Image courtesy: mqltv.com)
Might be as local as one could get. This is a place very well-known by locals and it has almost no tourists. Liguria serves local, classic Chilean food as well as a variety of alcoholic drinks. It is great for meeting with friends.
4. Del Beto
For high-quality Chilean food. You can check all the information about the place here.
5. El Fogón del Gaucho
For meat-specialized plates.
Also, if you're a vegetarian, check our list of the 10 best vegetarian restaurants in Santiago.
Local Experiences
1. La Vega Central Market (a.k.a. Feria Mapocho) is the main produce market in the city. Only a few things can get as local as a couple of hours at this market.
Barrio Lastarria
2. Bellavista & Barrio Lastarria are the best neighborhoods to immerse into the cultural and artistic energy of Santiago. They are great spots for people-watching and also to appreciate the city views in the hills of Santa Lucía and San Cristóbal. Also, check out these specific recommendations for exploring Barrio Lastarria.
3. If you're a history geek visit Cementerio General, which houses many iconic figures of Chile.
4. Have you heard of Chilean wine? Well, then you must visit the Vineyards Viña Cousiño or the Concha y Toro.
5. Barrios Brasil and Yungay are traditional neighborhoods offering historic sites and architectural wonder.
Expectations vs. Realities
People in Santiago de Chile
Santiago is one of the safest cities in South America. Hence, traveling there is pretty relaxed. You may have some preconceived ideas about South America such as corrupt police or violent robberies. Opposite to these ideas, Santiago is a really safe city (also if you're a woman traveling solo). Major facilities like hospitals and roads are clean and well kept. Also, consider that Santiago is a great place to travel with the family, especially if you have kids.
Learn basic Spanish phrases to get around. Santiago is a big city but sadly, English won't get you anywhere.
Transportation during Santiago travel
Follow these tips to avoid taxi scams. Uber is also widely used in Chile so you can make your life easier by taking one. Another surprisingly convenient alternative is the local public transportation. These or local buses can even take you out for convenient day trips.
Destinations worth venturing out to
Chilean geography offers a great variety: from nature-filled beaches and National Parks to mountains and cities. Due to their proximity to Santiago, these are some places you can travel from the capital city.
Valpraiso – Chile
Valparaiso is another big city in Chile, 116 km from Santiago. Here's a cheap, reliable bus company for the ride. Some of its notable landmarks are:
1. Museo a Cielo Abierto that showcases unique graffiti and street art.
2. Fishing Caleta and Quintay that are fishing villages near one another which offer delicious seafood (remember that Chilean cuisine has many seafood bases).
Naturesque attractions
1. Palmas de Ocoa is a beautiful park with a great reserve of the Chilean Palm.
Cajón del Maipo. (Image courtesy: chile.travel)
2. Cerro Carpa, Pochoco, Provincia, Cajón del Maipo, and the Farellones area have mountains great for hiking and that have ski resorts.
Sewell. (Image courtesy: revistaenfoque.cl)
Bonus tip: Sewell is a Unesco-declared copper mine town turned ghost town. It's also called the city of stairs because it's elevated 21,000 m above the sea level. Santiago is only 150 km away from Sewell and it's also next to "Los Andes."
Planning to travel to Santiago? You can use Talk Travel App and directly talk to a local to help you with your travel planning. Have a much more enjoyable experience during your Santiago travel using Talk Travel!
Have any suggestions? Hit the comment section and we'll happily add them to our guide!
Happy traveling 🙂
Read about other destination and travel guides from the Talk Travel App team.