Home » Destination Guides »
Bucket-lists of wandering souls come in different forms and wishes, but one thing which is sure to feature on every single one of them without exception is witnessing of Aurora Borealis commonly referred to as Aurora Borealis. The spellbinding symphony of celestial lights is one of nature's greatest spectacles on Earth. Phillip Pullman described them best in the Subtle Knife:
The sight filled the northern sky; the immensity of it was scarcely conceivable. As if from Heaven itself, great curtains of delicate light hung and trembled.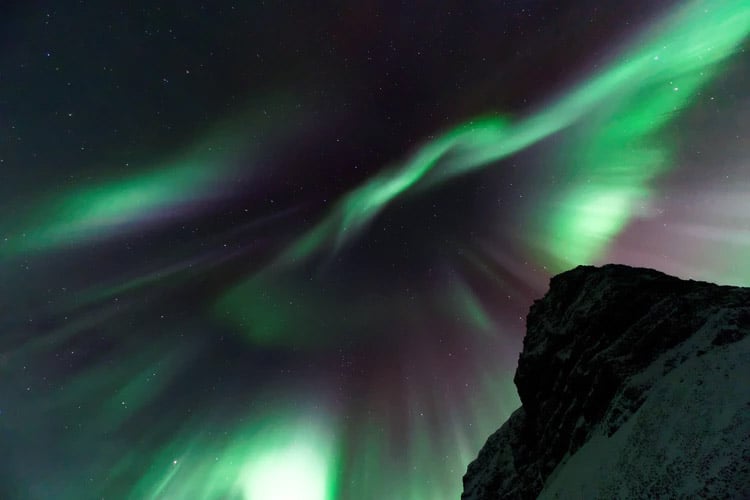 So here's a lowdown for your visit to one of the most beautiful phenomenon on our planet- the Northern Lights.
Where are they found
These other-worldly fireworks occur when the charged particles streaming from the sun aka solar winds collide with molecules high up in Earth's atmosphere, exciting these molecules and causing them to glow. Earth's magnetic field lines channel these solar particles toward the planet's north and south magnetic poles (different from geographic North and South poles). Since the magnetic pole has been moving for millennia and more, exact latitudes of the phenomenon also vary making the witnessing of the Lights unpredictable. They are highly influenced by solar activity, and clarity of the skies with the darkness of the surrounding environment are essential prerequisites for their visibility.
Locations
The celestial display is best viewed under the 'Aurora oval'. This is the area with the highest probability of seeing the northern lights, covering the geographical regions of Alaska, northern parts of Canada, the southern half of Greenland, Iceland, Northern Norway, Sweden, Finland and the western half of the Russian north (Kola Peninsula of Murmansk Oblast). Given the natural factors influencing the formation and visibility of Northern lights along with their unpredictability, there is no guarantee that you will be able to witness them even after being present at the best locations. However with the right planning, tweaks and a bit of luck you can definitely increase the probability stakes in your favor.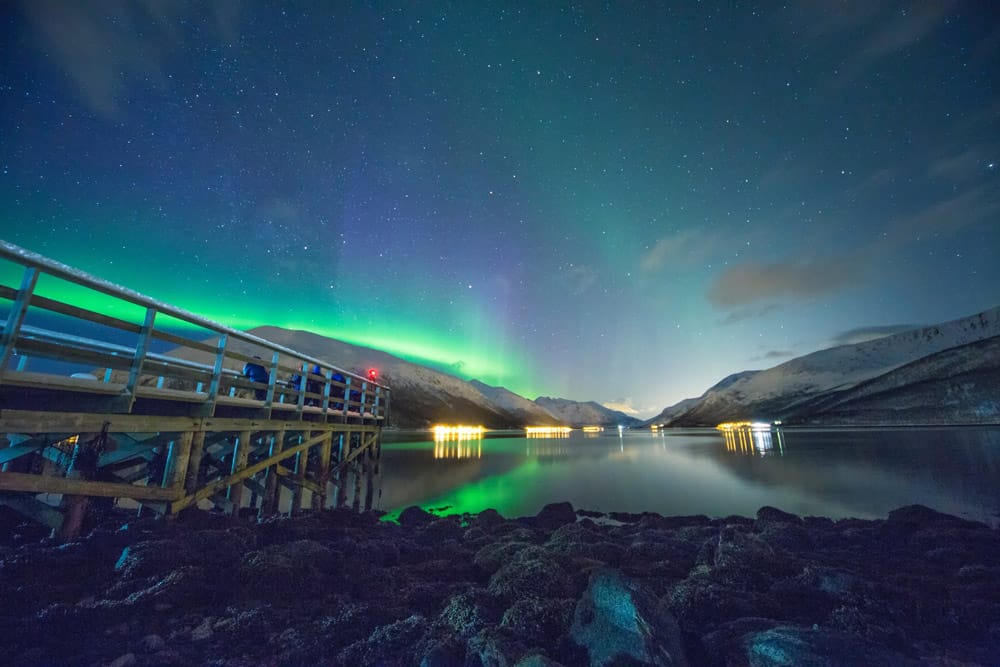 What time
Usually, night-time gives the highest possibility of witnessing the lights, between 6 pm to 4 am. However, this is no hard and fast rule and is just a guideline since polar auroras can be visible as early as 4 pm too. The time from 10 pm until 1 am witnesses several solar flares, hence this can be the best bet for witnessing the flickering magnificent display of Lights.
Near equinoxes, in March and September, the Earth's magnetic field enables more number of solar particles to interact with the atmosphere, creating aurora seasons. Hence this can be the perfect period to witness the Lights.
Observing Sites
Iceland 
–
Reykjavík
The capital and largest city of Iceland and the surrounding areas offer a stunning display of the Northern lights in the winter time. Much is dependent still on the external factors like clouds, darkness, clear skies and if there is solar storm hitting earth etc.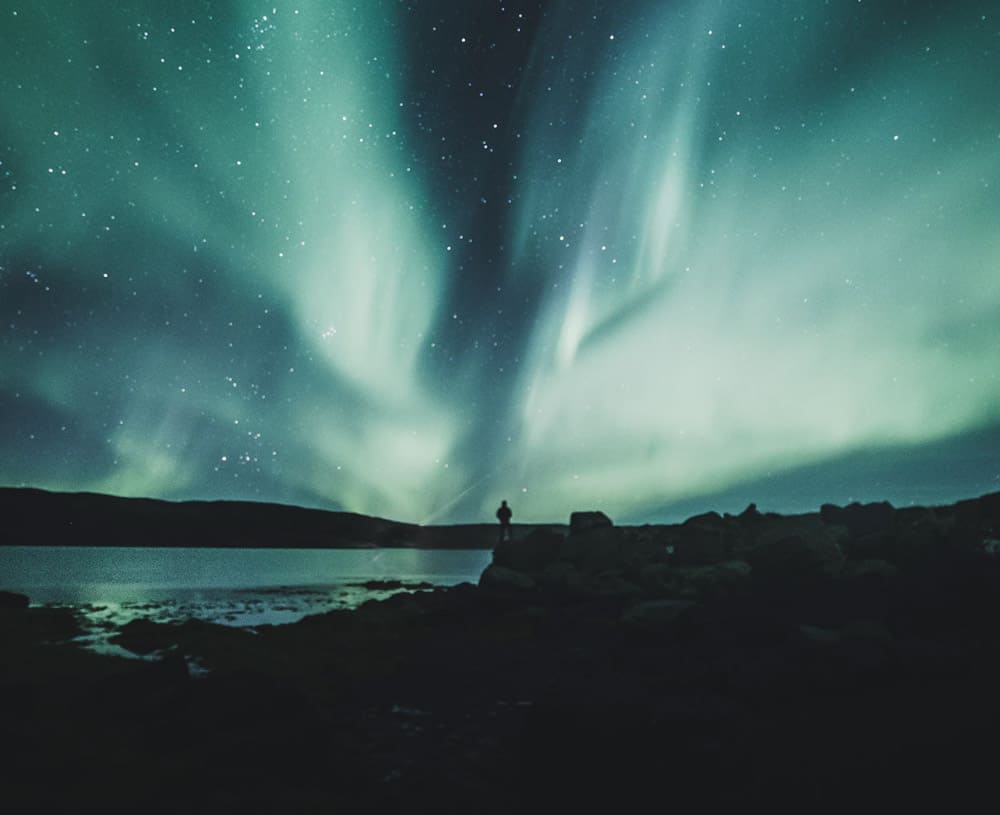 The Grotta Lighthouse on a small island at the far western end of the peninsula is a popular viewing spot. Kirkjufell Mountain on the west coast also offers a magnificent view.
Aurora Reykjavik/Northern Lights Centre is a museum which explains the cultural significance of the Aurora Borealis in different cultures, the detailed scientific mechanism for the phenomenon, along with various simulations, videos, and slideshows of the Aurora borealis.
When to visit
September-October and February-March. Lights are most likely to show up at night-times after 8 pm to maybe 2-3am in the morning.
How to reach
Keflavík International Airport (Icelandic: Keflavíkurflugvöllur) is Iceland's main international airport and is located 50 km southwest of Reykjavík, in Keflavik town. Many nonstop international flights operate from the USA, Canada, UK etc. Reykjavík Airport operates domestic flights.
Bus services are available from West Iceland, South Iceland and Akureyri to Reykjavík. Several Cruise Liners also sail to Iceland. Cruise Iceland is a website run by several companies that service cruise liners in the country.
Norway 
–
Tromsø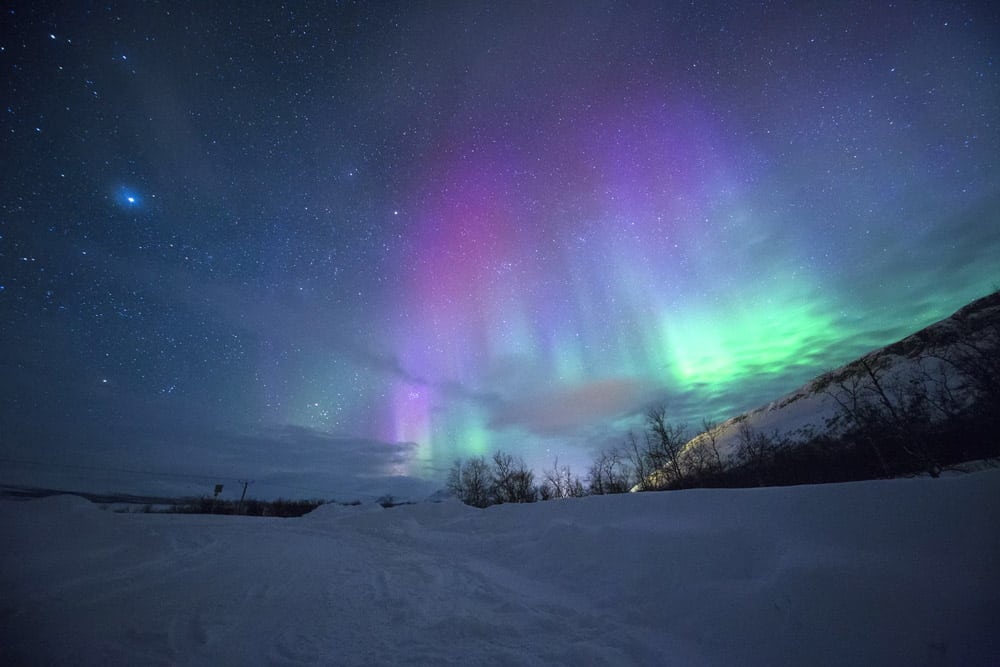 The largest urban in Northern Norway about 217 miles from Arctic circle is one of the best places to view the spectacular Northern Lights in winter.
When to visit
December to late March are the best times. December/January are good for atmospheric visits in the dark since December onwards the weather is drier and favors the visibility of the Lights. Tromsø is within the aurora belt mostly between 6 pm and midnight, occasionally between 4 pm and 2 am.
How to reach
It is one of the most easily accessible locations which can be reached by Plane, Bus or boat. All international and domestic flights land at the modern Langnes Airport. Going through London may be the cheapest option to reach Tromso. Northern lights months of Jan-February also offer the availability of cheap tickets to the city. Check these Avinor web pages for updated information on timetables to/from Tromsø.
There is no train facility all the way to Tromsø. A bus has to be boarded from the railheads in Fauske, Narvik or Rovaniemi. The city can be reached by car since all the roads are in good condition from Oslo (1700 km), from Sweden and Finland (about 4 hours drive), from Baltics (six hours drive) and from Russia, Finnmark. The Hurtigruten ships stop in Tromsø. Cruise boats for all parts of Europe and North America also moor in Tromsø.
Tourist Information website provides all the details of transportations, organized tours and northern lights chases.
Skibotn, a two-hour drive from Tromsø in Northern Norway also provides good chances of viewing the Auroras owing to its extremely dry climate. Other places include the village of Ersfjordbotn, 12 miles from Tromsø, the Lofoten Islands and the far northern towns of Alta, Nordkapp, and Kirkenes.
Greenland 
–
Kangerlussuaq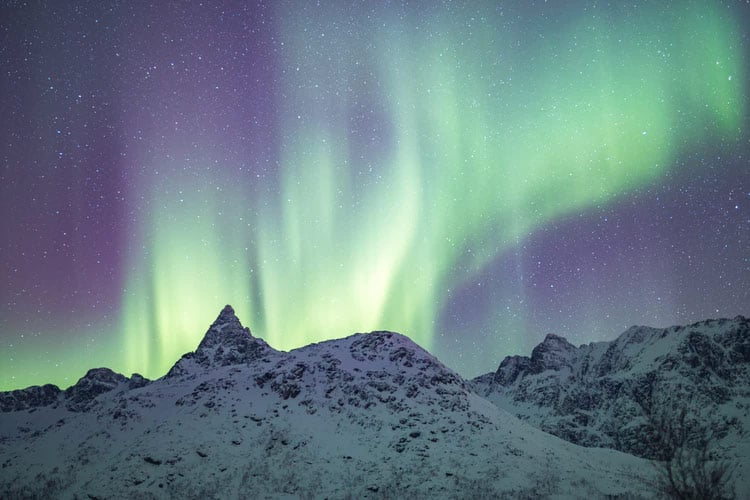 On the west coast of Greenland presents more than ninety percent chance of viewing the Auroras given its location under the area known for strong auroral activity and stable weather conditions. Please note that there is no hospital in Kangerlussuaq.
While lighter injuries can be treated at the local clinic, serious medical emergencies may require evacuation by air, hence it is advisable to be careful while hiking or traveling. Also, there is no foreign currency exchange in Kangerlussuaq.
When to visit
Winter months of November to March. January is the best time to view the majestic Lights here. Night time is favorable, between 10 pm – 2 am.
How to reach
Ground transportation is very limited. Air Greenland operates international flights. Air Greenland is the only company flying between Kangerlussuaq and other domestic destinations. There's a weekly coastal ferry connection between Nuuk, Kangerlussuaq and Uummannaq.
Alaska 
–
Fairbanks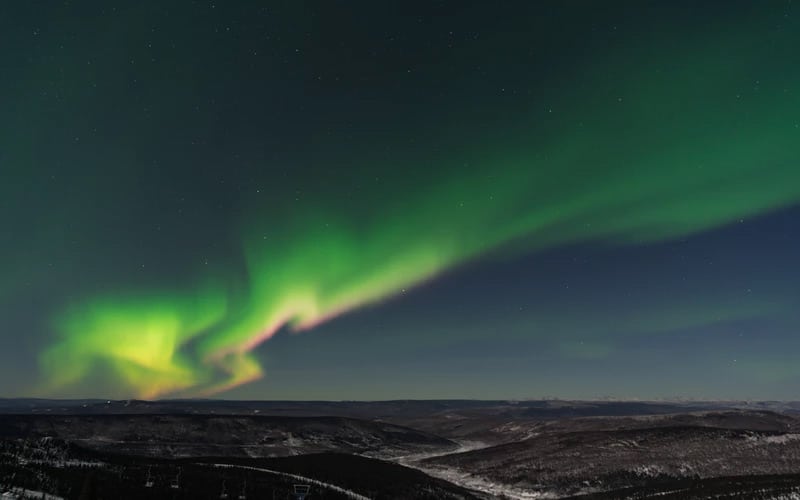 The second largest city of Alaska lies in Interior Alaska about 1488 miles from Alaskan Highway. It is the best places in the United States for beholding the Northern Lights being placed under the 'Aurora Oval'.
Many tours and sites cater to tourists for the sightings in the town. It also has its own forecast system for the purpose. Front desks of accommodations' are usually gracious enough to offer a wake-up call if the aurora appears.
The University of Alaska Fairbanks also maintains an Aurora Alert website.
When to visit
Late August to mid-April. The intensity of the Aurora varies from night to night, with the best displays happening in the late evening to the early hours of the morning (11:30 p.m.–3:30 a.m. with the peak at 1:30 a.m).
How to reach
Fairbanks International Airport serves both remote destinations in Alaska's interior and international cities. Direct flights are available from Anchorage, Barrow, and Seattle in the USA.
Drive by car from Anchorage takes around 7 to 8 hours but can be totally worth it given the breath-taking beautiful views along the way. Alaska railroad offers a daily rail service between Anchorage and Fairbanks, stopping in Denali National Park and other spots along the way.
Other places frequented by visitors for aurora viewing in Alaska are Brooks range about 200 miles north of Fairbanks, Denali National Park, Nome, Coldfoot and Healy.
Canada 
–
Yellowknife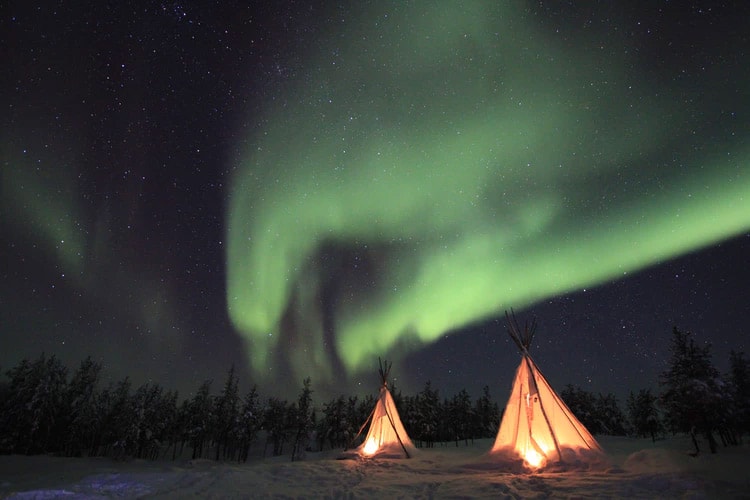 The capital of Northwest territories of Canada proffers about 90 percent success rate of viewing the Auroras. Various tourist companies in the town offer different ways of seeing the Lights such as a snowmobile, sled dog expedition, photography workshops, tractor rides etc.
There's also an Aurora Village in Yellowknife offering not just Aurora sighting packages but also a variety of other tours for daytime activities.
Other popular viewing spots in the country include Wood Buffalo, Jasper National Park, Whitehorse town in Yukon and Lake Athapapuskow, Manitoba. The northern latitude and low light pollution levels of Canada make it one of the great places for sightings of Aurora.
When to visit
Mid-August to late April. For Wood Buffalo, early August to early May. Night times are best for visualizing the Lights.
How to reach
Daily scheduled passenger flights connect Yellowknife with Southern Canada, there are seasonal services to Vancouver in British Columbia. No passenger or cargo railway services are available in Yellowknife. It is accessible by car year-round. The city is also accessible via Bus services available almost six days a week.
Northern Sweden and Finland 
–
Jukkasjärvi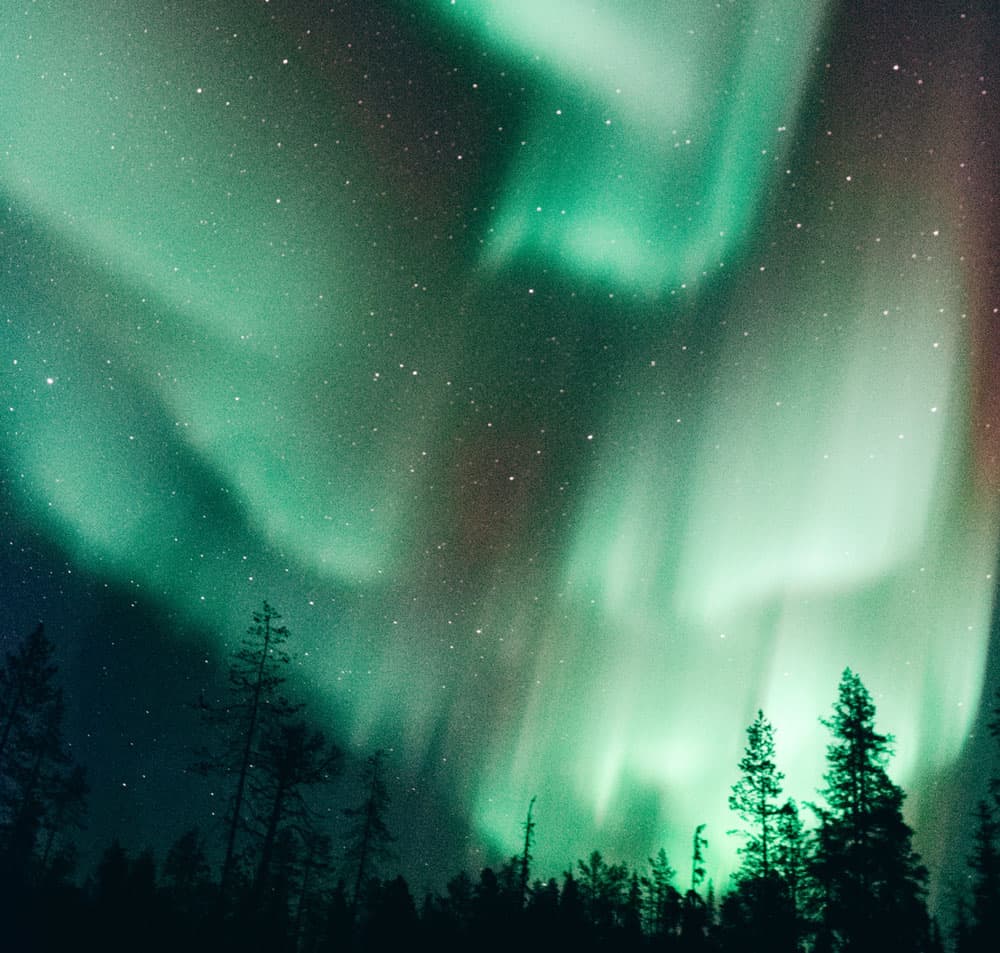 A small town in northern Sweden and the site for the world-famous Ice Hotel features excellent viewing infrastructure for Aurora sightings. Sweden's northernmost Kiruna town serves as a gateway for surrounding spots with Aurora viewing. A short drive from this town serves the purpose. Kiruna also offers Nordic Light tour packages.
Another place to spot Auroras is- Abisko (driest place in Sweden with clear nights). It can be reached by an overnight train from Stockholm.
When to visit
Mid- September to late March are the best months to visit. Cold dark nights provide good sightings of the Lights.
How to reach
Stockholm's Arlanda airport has direct flights to Kiruna. Night trains operate from Göteborg and Stockholm. The travel time from Stockholm is about 17 hours. Jukkasjärvi is about 17 km outside Kiruna. It can be reached either by car (TaxiKiruna) or bus (Länstrafiken Norrbottens bus 501) in about 20-30 minutes via E10.
In Finnish Lapland, Rovaniemi acts a gateway place to nearby regions from where one can spot Auroras. At wintertime, auroras are seen on most nights if the sky is clear. Several tour operators in the town offer northern lights tourism packages.
Utsjoki, in the northernmost municipality of Finland and EU also provides the northern lights experience.

How to reach
Rovaniemi Airport located eight km north of the city center is the largest airport in northern Finland. Most of the flights go south to Helsinki, but it also features a limited number of international flights mostly to North Russian destinations like Murmansk.
Train and bus services operate from Helsinki. The journey from Helsinki via train takes 9–12 hours while bus takes 14 hours.
Tips
Northern lights are unpredictable in nature like the weather. So the best you can do is to maximize your chances by right planning, check Aurora forecasts (

app available on iPhone

), enjoy the destination and leave the rest to fate.

Northern lights almost always start from the direction North. So ensure you know which direction is North when heading out (even if you already are at northern destinations).

The weather in Arctic changes in the blink of an eye with snow, hail, rain all making an appearance in the span of a day. Make sure you have packed accordingly.

It just has to be dark to see the Northern Lights not necessarily cold. They have been reported to be visible during August or early April in comfortable temperatures.

Do consult weather websites like 

WeatherSpark

 or 

The Weather Channel 

to find the averages for both temperature and precipitation when planning your trip. The space weather influencing the formation of Auroras can be checked

here

.

Clicking pictures of the Northern lights is really difficult, however, a tripod with a fast lens, fast film and a camera supporting manual exposure improve the chances of taking good pictures.
Female solo travel
The traveling experience for female solo travelers will be very safe for the entire Aurora zone since most of it falls in Scandinavian and Finnish and Canadian territories all of which are the world's safest places to travel. There are hardly any reporting of serious crimes and the local culture is really hospitable and helpful. Hence safety will be the last thing to be worried about.
Also, read our guides for women traveling solo so you get more ideas on how to feel safer.
Traveling with children
There is a lot of waiting around involved, not to mention the cold and staying up past bedtime. However the upsides include- snowshoeing, building igloos, sledding down snowy slopes and of getting to meet Santa. The older the children the better they can enjoy. Check out this guide for more comprehensive information regarding the subject.
Hope this guide helped you with all the information you need to go Aurora hunting and strike off that one important item from your bucket list. And, if you're a fan of everything happening in the skies, we would also suggest to check out some stargazing destinations.
Happy travels!