Home » Destination Guides »
This travel destination sitting amidst the deep forests of Cambodia Siam Reap province needs no introduction. Out of the many majestic surviving temples and associated structures in an area of almost 400 square miles, Angkor Wat is the most famed. The UNESCO's World Heritage site is a landmark in itself (top landmark in the world by TripAdvisor for three consecutive years) and it occupies a place of pride on the Cambodian national flag.
Angkor Archaeological Park contains the magnificent remains of the different capitals of the Khmer Empire, from the 9th to the 15th century whose rulers controlled vast tracts of South-east Asia from Burma (Myanmar) to Vietnam. Almost like a lost city in itself, the area consists of scores of temples, hydraulic structures (basins, dikes, reservoirs, canals) as well as communication routes reminiscent of an exceptional civilization of the past.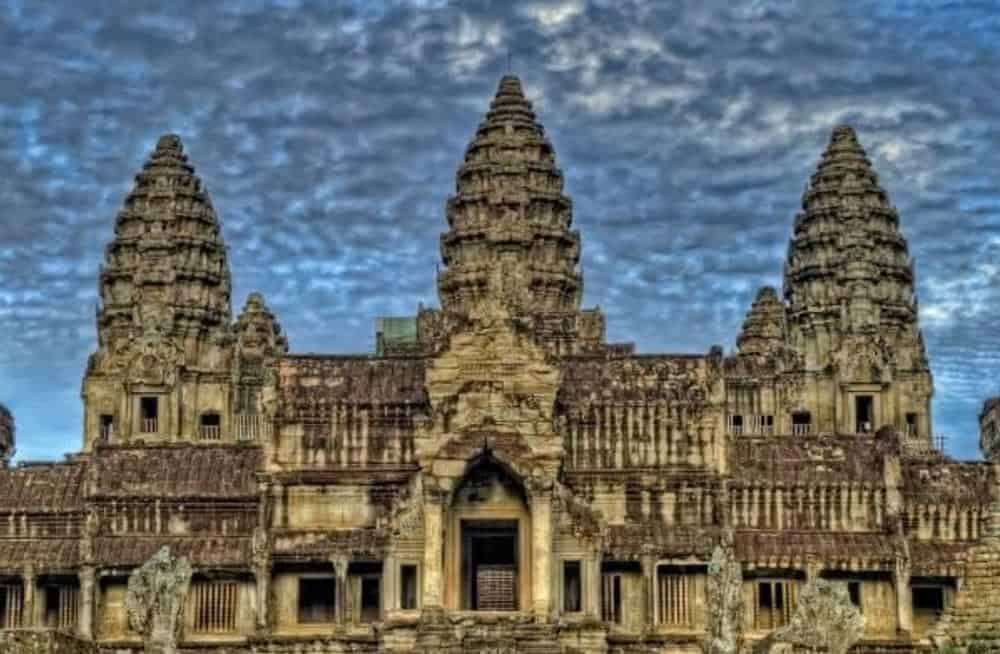 The 12th-century temple-mountain was built as a spiritual abode of Hindu god Vishnu, a prime example of an architectural masterpiece depicting artistic excellence. Its ancient walls tell stories of the grandeur of Cambodian legend and history; parts of which also portray scenes of daily lives. It thus acts as a precious gateway into the past for our present times.
The mesmerizing first rays of the sunrise over the temple, the intricately carved structures, the giant carved faces, bas-reliefs, the famous tree roots that seem to choke the stone and many more of such awe-inspiring features lure millions of visitors every year to Angkor Wat. So next time you pack your bags let this must-see wonders of South-east Asia make it to your wander-list err wanderlust goings.
How to reach
By airplane
The town of Siam Reap acts as a gateway to Angkor. A twenty minutes car or motorbike ride from the town takes to Angkor from central Siam Reap province. Siam Reap International airport, the second largest airport in Cambodia, hosts many international flights from almost all destinations in South-east Asia as Singapore, Bangkok, South Korea, Philippines, Hong Kong, Vietnam, and China. Domestic services are also available from Phnom Penh, Sihanoukville. You can obtain a visa when you get to the airport.
By Bus
International and domestic both the bus services are available. Nattakan Bus Company operates a direct bus from Bangkok to Siam Reap for $28 including pick up from the hotel. Other services include Mekong Express from Bangkok, Ho Chi Minh ($18-$25) cities and bus services from Laos (Pakse, Don Det US$ 30-35). Domestic buses are available from Phnom Penh ($7-$15 ), Sihanoukville (13$), Battambang ($3-$4), Poipet ($3.75), Kampot ($7-$9), Banteay Meanchey etc.
Online tickets can be purchased via direct websites as BookMeBus and CamboTicket.com,  12go.asia, www.baolau.com. This Tripadvisor link is useful for the information on each bus company.  It's best to avoid the 'budget' operators since they often require you to change the buses at the border and take longer journey times.
By Train
Some visitors prefer overland travel to fly for rich travel experiences and pleasant sights on the way. Within the country, there's a service between Phnom Penh and Poipet. It takes about 15 hours. The train from Phnom Penh to Poipet costs $7 (free until December 2018).
Internationally, a morning train from Bangkok to Aranyaprathet leaves twice a day costing only 48฿ ($1.60) in 3rd class. It is cheap, comfortable with a pleasant breeze blowing in through the windows. Alighting at the Aranyaprathet station, a tuk-tuk takes ten minutes to reach the Cambodian border ($2-$3). The border town of Poipet is not exactly a backpackers' delight since it is notorious for being a 'hustle-central' for scam artists who see easy prey in the visitors. Beware of the scammers here, especially ones who claim to be from a governmental organization. Have information beforehand with details on procedures to avoid scams. A reasonable transport by taxi to Siem Reap should cost around $25 (2.5-3 hours). Shared taxis are available as well.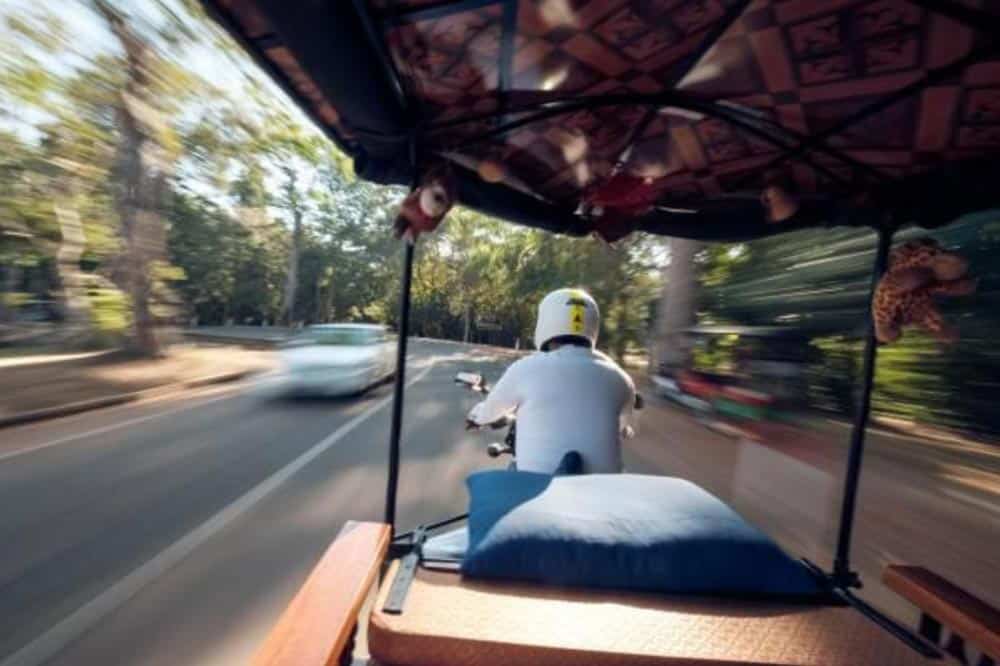 By Boat
This is a bit of a time-consuming option from Phnom Penh or Battambang ($20-$25). However, you get to glimpse Cambodian river life, floating houses, working fishermen with a bit of sun-tan along the way.
In Phnom Penh, the speedboat leaves from the riverboat dock at the northern end of Sisowath Quay, in central Phnom Penh. In Siem Reap, the ferry arrives/departs from the boat dock at the Chong Kneas floating village, some 11 km (6.8 miles) south of Siem Reap itself.
Reaching from Chong Kneas to central Siem Reap is easy as well. As you board on Phnom Penh boat dock you can book a tuk-tuk into Siem Reap, for $1 per person, beforehand. They will take your name. On arrival at the Chong Kneas boat dock, a tuk-tuk driver will be holding a card with your name on and takes you into central Siem Reap in about 15-20 minutes.
The journey costs around $35 by speedboat from Phnom Penh to Siam Reap and takes around 5-6 hours.
By Helicopters
Chartered Helicops can go nearly anywhere in the country and can easily seat 5-6 people. The companies offering the services are- Helicopters Cambodia and Helistar Cambodia. Costs from Battambang are US$1600/helicopter and from Phnom Penh US$4700/helicopter.
Best time to visit
Peak season is December and January since the weather conditions are most kind and favorable then. Months from November to February sees a steady footfall of visitors since March to May is unbearably hot and June to October is the rainy season of Monsoon when roads leading to the site and the outlying temples easily turn into swamps of mud.
If you prefer a quiet exploration of the place it is best to avoid the peak months of tourists' frenzy and visit instead in September and October when the site is quietest.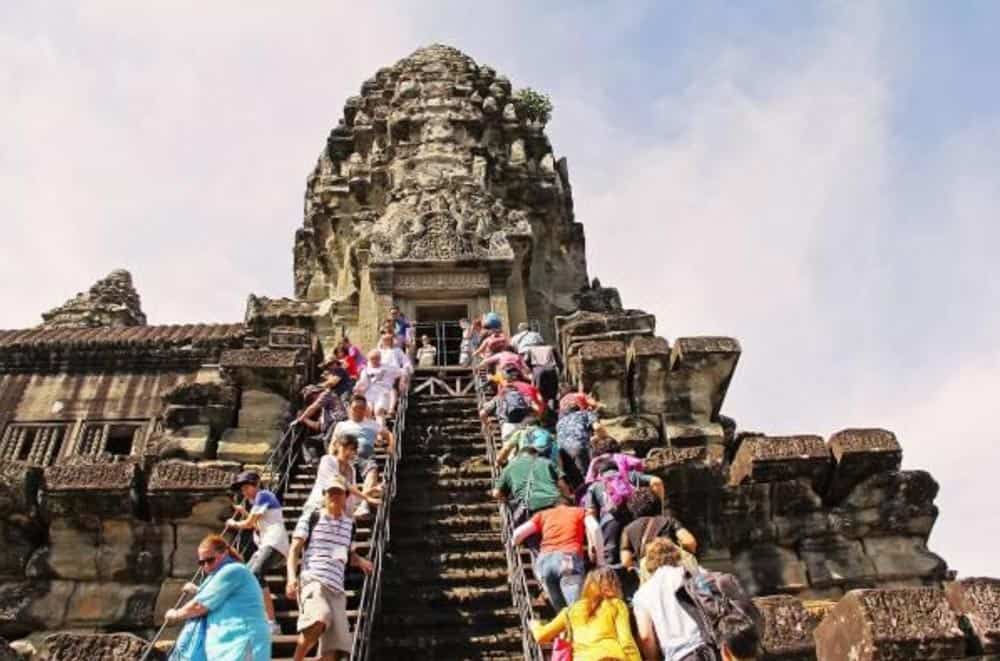 Angkor Wat hosts marvelous sunrises and sunsets. Hence make your way here early in the morning, explore other ruins in the morning and return again later in the afternoon. Since there is no artificial lightning around, the best view you can have of all sites in Angkor is during the day.
Where to stay
You can't camp in Angkor so Siam Reap town acts as a tourist hub to offer accommodation and facilities.
Siam Reap provides an array of options from upscale hotels to backpacker hostels with other alternatives such as guesthouses, French villas, home stays (at nearby villages), and wood huts.
Almost all accommodations offer basic facilities as hot water showers, cable TV, internet and airport or bus pickup. You can check more details here.
Getting around
Tour buses are available to take you around but cater mostly to the main tourist attractions often leaving out the secondary ones. Cost is around USD 25-70/day including driver and guide.
Cars with drivers and a licensed English speaking guide can be hired for $45-50 USD per day.
Guesthouses arrange Motorbikes with drivers for about USD6-8/day. You have to have a license and wear a grey vest with a number when traveling within the confines of the Angkor park. If you want to, you can rent a motorbike for 10-15 USD a day. It is advisable to carry a map in such a case.
Tuk-tuks with space for one or two travelers charge USD12 for the main Angkor temples, and more for outlying temples. The hotel can arrange these. If you want to see the sunrise, you'll have to pay an extra of $3 since the driver has to start the tour at 05:00 instead of 08:00.
Bikes are available for renting from Siem Reap at USD1 per day. It is about 6km from the city to Angkor Wat. Make sure to stop by Visitors Centre since it is the only place where you can buy passes. Guided bicycle tours are available too (check KKO tours, Angkor Wat Temple Visits).
Also available are horse carriages, elephant rides, electric cars, hot air balloon flights (tethered one 20 USD) within the park from specific points.
Passes and Guides
You can't buy the passes to enter Angkor at the front gate, but 7 km away at the ticket counter. It operates from 5:00 AM- 6:00 PM in low season and 5:00 AM – 6:30 PM in high season for 1-day (USD37), 3-day (more than USD60, valid for 10 days, seven-day ticket USD72 valid for a month).
The passes are non-transferrable. Make sure to buy passes from official Apsara Authority counters. Services of Guides can be procured at USD20 a day and are available for most major languages.
Some miscellaneous tips
Make sure you wear respectful clothing: covered shoulders with a top with sleeves and no shorts. The sites are revered and holy for Cambodians and the dress code is strictly enforced at the top level of Angkor Wat, and the Phnom Bakheng temple-mountain.

Do not fall victim to the touts who ask you for paying extra money to access the third (top) level inside the main temple. Your day pass already grants you access to all the public areas inside the park including this.

Politely decline all the offers of buying/taking incense and pleas of donations for the upkeep of the temple, inside the temple premises. None of these are genuine.

Temple maps are not really useful unless you track and check yourself for every turn. There are no navigation signs inside the temples. You can get books beforehand like Ancient Angkor guidebook by Michael Freeman (this is available in the place). You can refer to

Temple of a Thousand Faces

 by John Shors as well.

Carry a torch if you are visiting the sites at sunrise or sundown since no lighting facilities are available.

Uppermost levels of some temples have very steep climbs, so it is best to avoid them if you have vertigo or aren't very sure of keeping your footing well.

Make sure to keep yourself hydrated and carry a sunblock cream with you.

Khmer New Year is in early April. Around this time the hotel prices can increase owing to celebrations and some businesses might remain closed

.

Cambodia is still listed as one of the least developed countries so expect scams and touts around, in for making a quick buck. Stay alert at all times and do your homework well to avoid getting scammed. That said don't let undue suspicion ruin your trip.
The Temples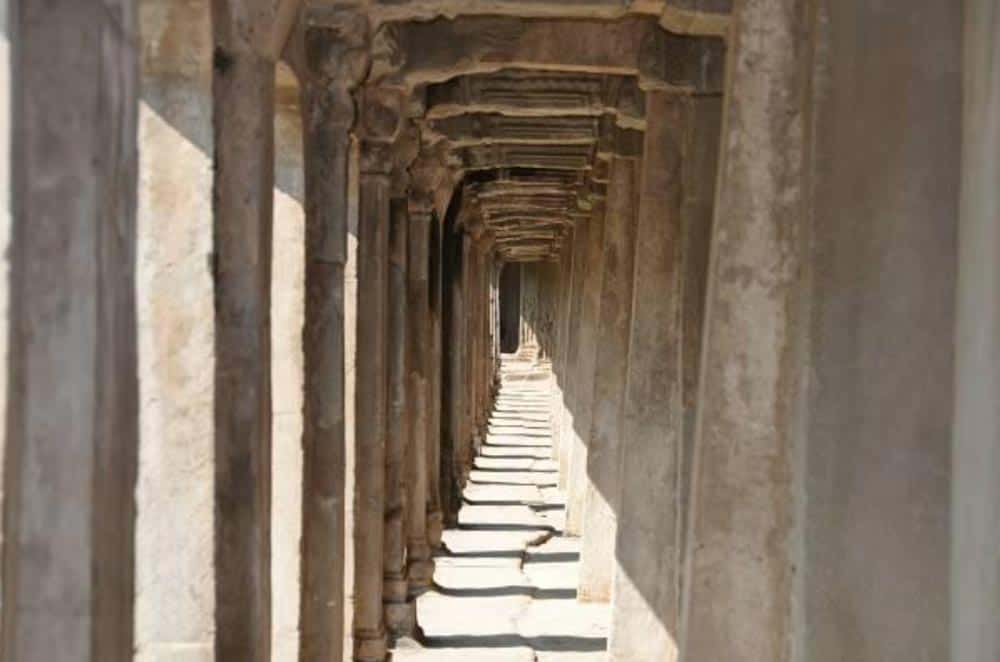 These comprise mainly four groups- Angkor Wat and Angkor Thom, Little circuit, Big circuit, Roluos group and the outlying temples located over more than 20 km away from Angkor Wat.
Early Angkor Wat temples were built as Hindu temples but eventually, they were converted to Mahayana Buddhism around c.1200. Around this time, the new capital city of Angkor Thom including Bayon, Ta Prohm, and many other Buddhist structures were constructed. Hence the site's much like an alternating mix of Buddhist and Hindu features and motifs.
Angkor Wat
Built in the first half of 12th century by King Suryavarman II, Angkor Wat with its grandeur and awe-inspiring beauty remains one of the finest monuments in the world. This is largest of the Khmer monuments served as an abode of worship of Lord Vishnu and also a mausoleum for the King after death.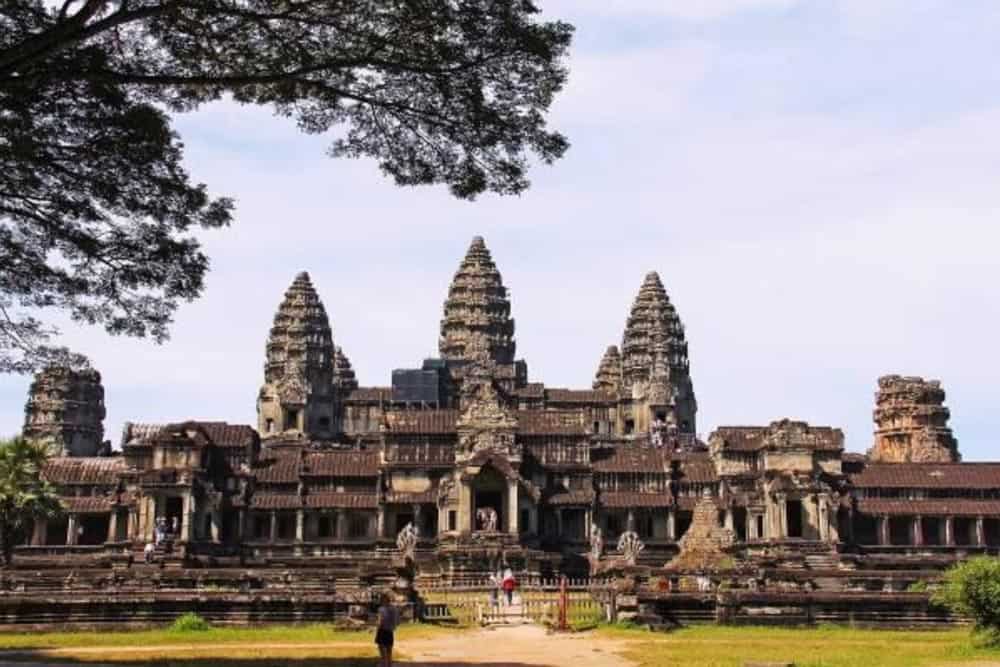 The temple follows a rather unconventional orientation in facing west to conform to the symbolism between the setting sun and death.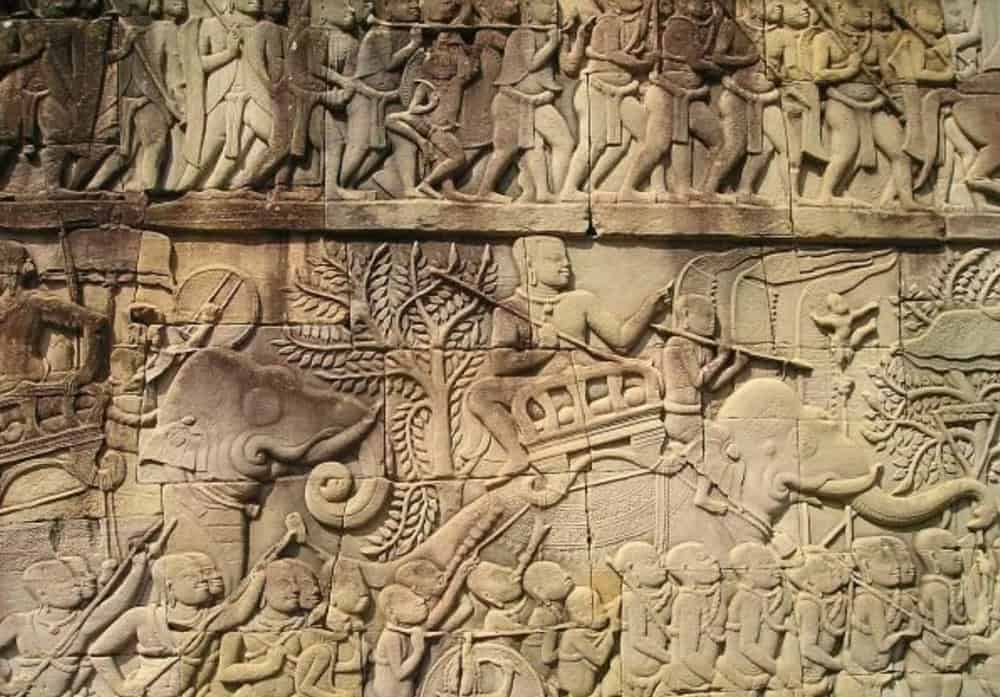 There are three tiers to the structure. Entering through the west entrance, you can get a glimpse of five towering gopuras (representing the five peaks of Mount Meru), splendid sight of temple reflected in the water and the famous bas-reliefs (to be viewed from left to right) depicting scenes from various mythological stories and historic events as Ramayana and Mahabharata, Samudramanthan, etc.
Angkor Thom
Built in the latter part of 12th century by King Jayavarman VII the magnificent structures are difficult to miss given the giant stone carved faces adorning the towers of Bayon.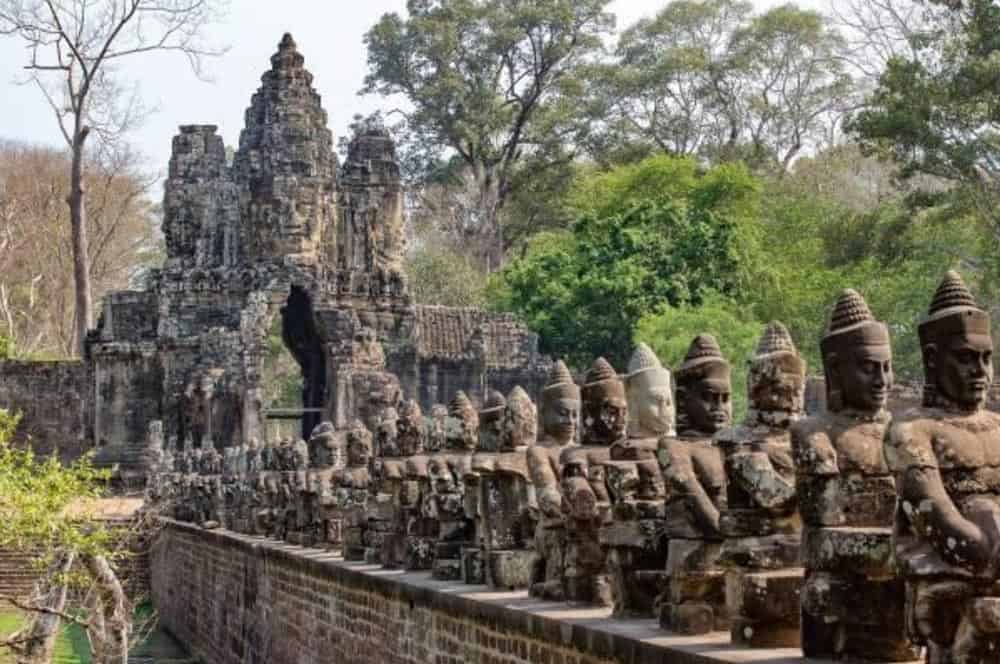 The identity of these faces still remains a mystery to the scholars. They are speculated to be the combination of Mahayana Buddhism's Bodhisattvas and the King himself.
The giant structures amount to a total of 216 faces on 54 towers with four faces each. Along with these, there is more than a kilometer of bas-relief features for view in Bayon.
Entering from the east you will find three levels or galleries- the outer gallery portrays scenes from everyday life and historical events, the second one is devoted to mythical stories and figures while the third one houses the famous giant faces.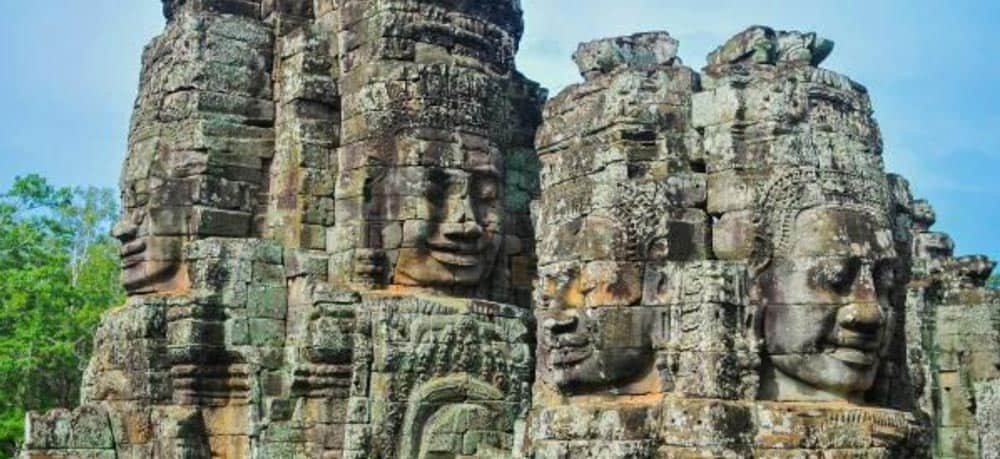 Baphuon is another grandest of structures of Angkor. It supposedly represents Mount Meru, a sacred mythical mount in Hinduism. The later additions include a reclining Buddha on the western face in the 16th century when the region converted to Buddhism.
It is estimated that Angkor Thom was once a thriving city of about a million. The ancient city holds other places of interest as well- the terrace of the leper king, the five entrance gates, Elephant terrace and Phnom Bakheng (the first temple-mountain constructed in Angkor, a popular site for sunsets).
Little Circuit
Includes major sites to the east of Angkor Thom. Exiting Angkor Thom by the Victory Gate you can tour the following in the clockwise order:
Ta Keo: Built by Jayavarman V this is a largely incomplete and unpretentious temple with little decorations.
Ta Prohm: The site is an undisputed capital of Kingdom of trees. Fig, banyan and kapok trees spread their gigantic roots over stones, creating a stunning display of intertwined wood and human craft. The center of the monument is reached by a series of towers connected with passages.
An assortment of friezes of pendants, scrolls, figures in niches with reliefs and three-square galleries adorn the space which seems to be held perpetually captive in the stranglehold of trees. Enter the monument from West entrance and leave from the East.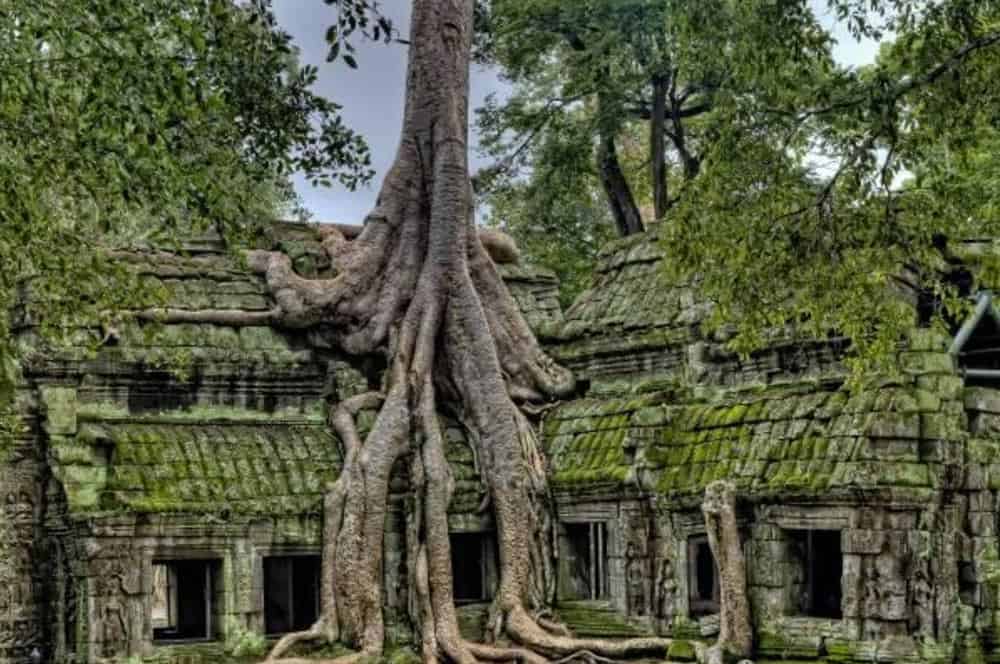 Banteay Kdei (monastic complex), Sras Srang (terrace with a pond) and Prasat Kravan (dedicated to Lord Vishnu with interior bas-reliefs) complete the Little circuit.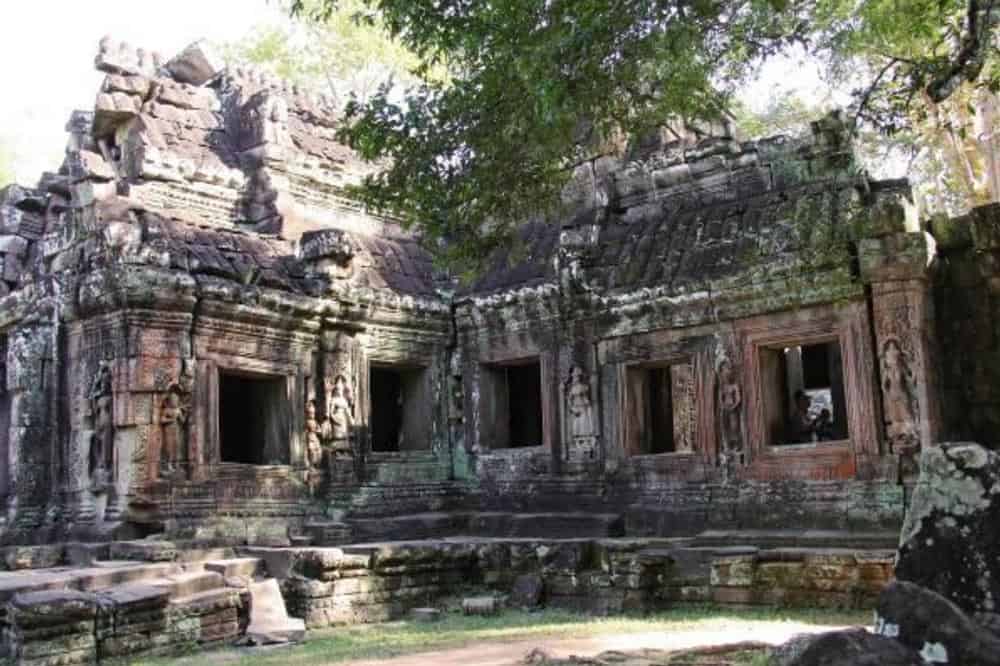 Big Circuit
Includes sites on the north and Far East of Angkor.
Preah Khan– It lies 3 km away from Angkor Thom and served as the first capital of King Jayavarman VII before the completion of Angkor Wat. The site hosts some of the best carvings in stone.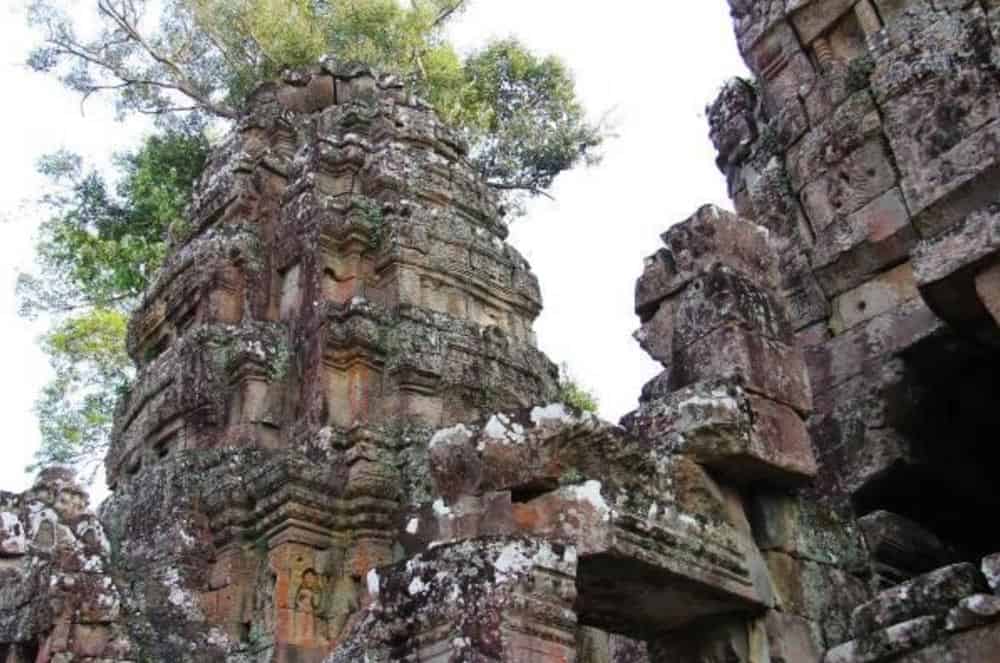 Neak Pean, Ta Som, East Mebon (resembles Angkor wat in miniature form with three-stories and five towers, known for massive elephant statues), Pre Rup (gives good sunset views with a glimpse of Cambodian countryside) are some of the other structures to look for in the Big circuit.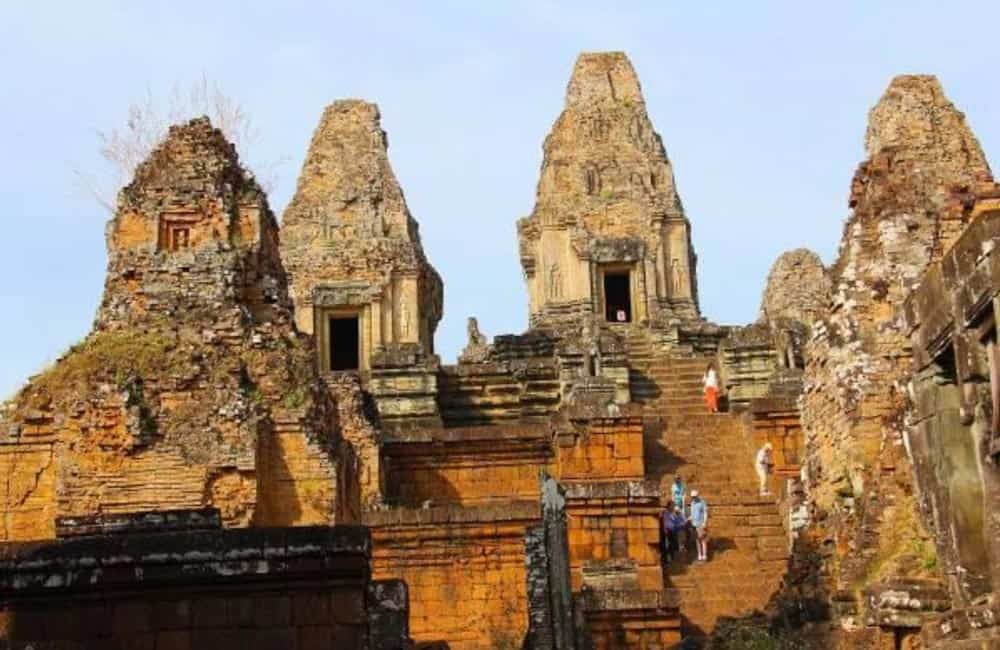 Roluos group: These comprise of ruins from the ancient capital of Hariharalaya (late 9th century), predating the existence of Angkor itself. Temples include Preah Ko (the first temple to be built), Lolei and Bakong (five-terraced mountain temple style).
Outlying temples: These lay at some distance away from Angkor Wat and may require half a day trip of their own. The distances vary from 35-80 km. nonetheless, all are worth a visit.
Banteay Srei located about 37km north of Angkor is a red colored shrine known for its elaborate carvings.
Kbal Spean a site known also as the Valley of a thousand lingas lies 13 km north of Banteay Srei. The path is littered with creeping vines and unlabelled carvings along a river leading to a small waterfall.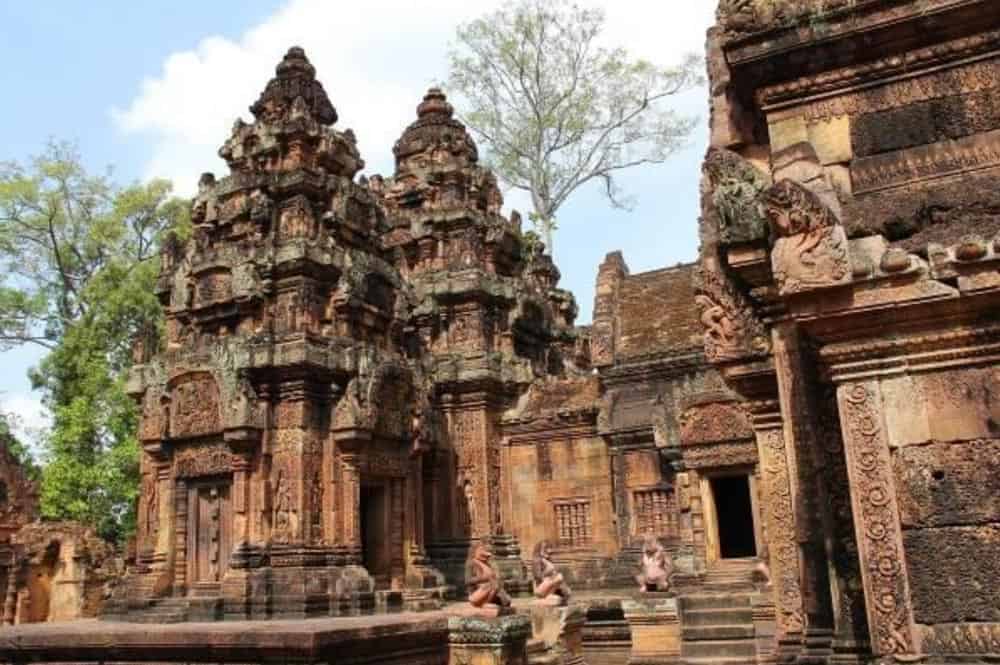 Beng Mealea, about 80 km of Siam Reap resembles Ta Prohm in the fact that this site too has been left undisturbed by human activity, to nature. The entry fee is $5.
Phnom Krom is a hilltop temple over the Tonle Sap lake about 12 km from southwest Seam Reap. The fantastic view from the hilltop makes the climb worthwhile.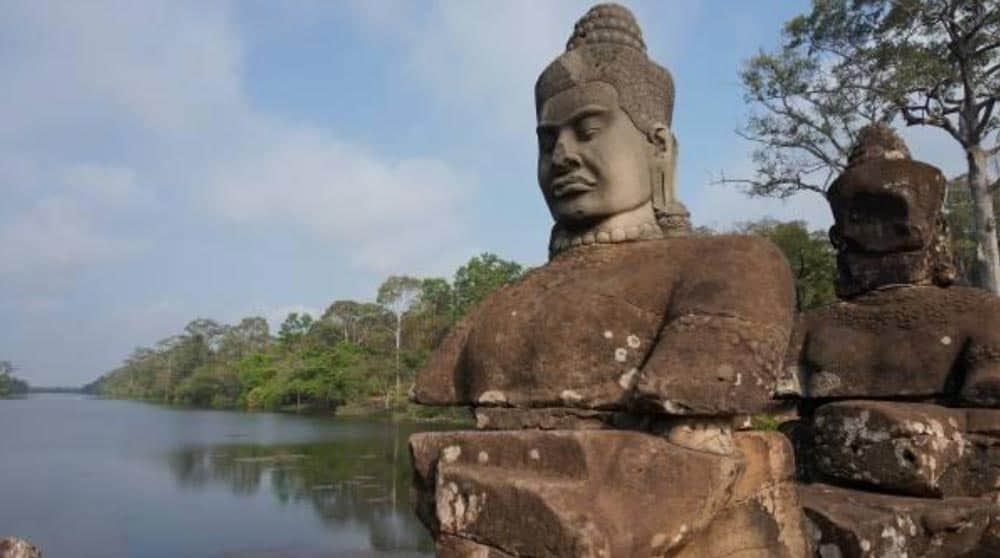 Guide for solo female travelers
Safety IS an issue and it isn't very advisable for women to travel alone. A disturbing number of assaults and rapes continue to happen especially after dark in some of the more secluded temples. However, with a bit of prior research, alertness, and caution the trip can still be made worthwhile.
Also, check our guides for women traveling solo around the world.
There's a lot to explore at Angkor, but it can get a bit overwhelming for kids with all the history, architecture and religion themes. All adults and children over 12 must have a pass with photo ID printed which is carried at all times around the complex. For children under 12, the visit is free.
An annual Angkor Wat Bike4Kids Event is organized as a charitable cycle adventure around the ruins of Angkor Wat on the first weekend of December each year. You can check out more about traveling with kids at this blog post.
Hope you enjoy your visit to this quintessential must-see adventure of Cambodia. Happy travels.
Do write to us, in case you have any questions and we at Talk Travel are happy to help. If you need any help in building a travel itinerary or you have any other query, download our free TalkTravel App. It is available for download on your Android or iOS device. You can download the TalkTravel App for free and reach out to the local expert without any additional cost. You are free to ask any doubt before or during your travel and our local expert will be ready to assist you.
We wish you a safe and happy travel!