Home » Destination Guides » Destination? Hong Kong!
Nǐ hǎo, shìjiè, behold Hong Kong!

What's the first thing that comes in your mind when somebody says they have been to Hong Kong? One of the most beautiful skylines you'll ever see? A cuisine you'll never forget? Culture? Shopping? Yes. It is all of that but much more.
It's the Asian version of New York, pal, so you have to bear with those giant concrete towers but it reeks of culture and spreads love to everyone that arrives. If an age-ridden temple beside a cloud-piercing building doesn't surprise you, then a woman, clad in a pien-fu or the ch'ang-p'ao with another, draped in a crop top and shorts, definitely will. It's where ancient and modern blend in. 
Fantasizing a culinary delicacy? Try a bowl of snake soup. Need a rest from the crowd? Head to a park, present within the boundaries of the city and enjoy your time among exotic birds, turtles, and koi fishes. If you think you have covered the major attractions, think again, make sure you have completed some of the treasure troves including Sai Kung Peninsula, Tai Long Wan, and Lantau island.
Well, people, we plan to offer you a virtual "worldly" tour and answer some (trying for most) of your questions about the city's culture, policies, and tourist attractions through this Hong Kong travel guide. If you have any question don't hesitate to write in the comments sections below or write to us on our Facebook, Twitter, Instagram, or at [email protected].
1) Take Away points for Hong Kong travel

Hong Kong ATMs are the best tools to offer you the most profitable exchange rate for foreign currencies
The Hong Kong dollars are pegged to the United States Dollars and the rate is fixed at US$ 1 = HK$ 7.8
Google Translate does not have Cantonese so use Cantodict, SayHi Translate, iTranslate Voice  instead
The best timeframe to visit Hong Kong lasts from October to December
Buy an Octopus card to move around
Eat at Cha Chaan Tang for the best authentic Hong Kongese experience
Definitely visit Chungking Mansions. It's a must for all
Shop at Temple Street night market.  You will never forget the experience
Stay far away from the likes of Herbal Medicine scams
By heart this for any emergency, police hotline number +852 2527 7177
2) Preparing for Hong Kong travel

2.1) Finance and currency information: manage your money
You might not completely understand Hong Kong's status as a special administrative region of the People's republic of China (wait, what?) but you have to absorb that their currency, Hong Kong Dollars, is certainly different from Chinese Renminbi or Yuan. Large supermarkets and colossal store chains may accept Chinese currency (they generally display a sign if they do), but the rest and majority of the stores, restaurants and transport facilities will ask for HKD. 
Since 1983, Hong Kong dollars have been pegged with the United States dollar, the exchange rate is always maintained at HK$ 7.80 to $1 USD. This has certain advantages, especially for US travelers. You can always know if you are getting the best rates. However, if you have some other currencies you are advised to keep a close look on the deal you're getting. Suppose you have euros. Exchange directly from euro to HKD, not necessary to first exchange it to USD and then convert it to HKD. Convert directly from Euro to HKD, sometimes the rate can be slightly better. Always make sure to check and bargain until you're satisfied (if possible). It's also always a good practice to exchange your money before you land in Hong Kong.
If you are a tech and crypto finance fanatic, you probably already know that the Hong Kong market is very open to Bitcoins. You can always try to buy Bitcoins in Hong Kong via manually exchanging with someone as banks are generally against it.
2.2) Best methods to exchange money in Hong Kong
a) A local bank ATM in Hong Kong
This is often the best method to exchange your currencies as it comes with the least hidden charges. ATMs are widespread in Hong Kong. Try Citibank ATM, Standard Chartered Bank ATM, HSBC bank ATM locator tools to find the nearest ATMs.
b) Your bank
If you have an account in both a public sector bank like Germany Public Bank, Germany; Caisse des Depots et Consignations, France; Bank of North Dakota, USA; or the State bank of India, India; and a private sector bank like ICICI Bank, Goldman Sachs, J.P. Morgan, or Morgan Stanley; try to use the public sector bank for the money exchange purposes. Private banks tend to burn a deep hole in pockets!
c) Money changers in Hong Kong
This one offers better than Airport money changers rate. Some of the known money exchange institutions in Central District include Ngau Kee Money Changer, Travelex, Berlin Company Exchange, UAE Exchange, Shing Kee Money Exchange. Causeway Bay is one of the other busiest shopping areas in Hong Kong. Here, you can exchange money in Professional Foreign Currency Exchange, City Foreign Exchange, G.Y.N. Money exchange.
2.3) The daily budget idea for Hong Kong travel

| | | | |
| --- | --- | --- | --- |
| | Budget option in USD | Mid-range option in USD | High range option in USD |
| Accommodation | $23-58 if you stay in a guest house and dorm rooms | $58-140 if you choose a hostel or a budget hotel | $300 if you choose a boutique or four-star hotel |
| Dining | $5-20 if you take rice noodles, wonton noodles, cart noodles, and stir-fried beef noodles, meal options start from $7 | $40 if you take Chinese food with three dishes | $100 if you wish to have a fine dining experience from a reputed restaurant |
| Transportation | Bus, tram, ferry charges $0.33-2 | $3-5 for every 2 km by Taxi | Tesla Model S executive class airport transfer takes $125 from a Hong Kong car service |
| Total* | Max. $80 | $185 and above | $525> |
*The budget is an estimate of cost per daily (CPD)
*Use XE converter for an accurate conversion
2.4) Important things to know about Hong Kong travel

Visa information:

People from most of the countries can enter Hong Kong without a visa however there are special permissions needed for some countries. Check yours

here

These items are not allowed in Hong Kong:

There are certain items that should not be found in your possession. These include bullets, tear spray, flick knives, stun guns, knuckle dusters, and extendable batons

Get a local sim card:

Find a local sim card

here

. This can unlock a ton of benefits including getting a cab at your service. You can either choose a 5-day pass of HK$88 for 3 GB or an 8-day pass of HK$118 for 8 GB

Can I use my electrical equipment in Hong Kong? The standard electrical voltage is 220 volts AC, 50 Hz. Some places have outlets for 100 volts but if they don't, you'll need a transformer. Almost all of the electrical outlets take a three-pronged UK-style plug. Buy an adaptor so you can charge your phone, camera, or whatever you want.
2.5) Language: speak Cantonese, at least a few words make a difference
Unlike Mandarin in mainland China, people here converse in Cantonese. What's the difference? Technically, it's huge. Cantonese consists of 9 different tones whereas Mandarin has only 4. It's often easy for someone to learn Mandarin if he already knows Cantonese however it's difficult to do it the other way round. You can still manage if you do not know a single word in Cantonese because English is widely spoken here. People living in Hong Kong and Macau speak Cantonese and it can be overwhelming for someone with no knowledge of Chinese languages whatsoever.
What to do? Google, take a note here, does not have a separate Cantonese translation section available on Google Translator. Instead, you can use Cantodict, SayHi Translate, iTranslate Voice in your aid. What's more interesting is even though Google services are blocked in Mainland China, Hong Kong has no such restriction on this.
Get acquainted with some Cantonese slangs
Greetings

Thanks!: ng goy (or goi?) (say "sai" if you  mean "very much")
Praise someone: lek ( say "nei hou lek" if you mean "you are good")
Excuse me/please: asking for something: ng-goi (say "mmm-goy")
Thank you: when accepting a gift: doh-je (say "door-chair")
You are welcome: ng-sai-hak-hei (say "mmm-sai-hak-hey")
Good morning: jou-sen (say "joe-san")
Good night: jou-tau (say "joe-towe")
Goodbye: joi-gin (say  "joy-gee-n")

Shopping

Foreigner: gwai lo
Good luck: jūk néih hóuwahn
Do you speak English?: neih sīkm̀hsīk góng yìngmán a?
How much: gei-do-chin (say "gay-do-chin")
How much (for a fresh product at a wet market): Dim-mai-ah
Too expensive: hou-gwai-ah (say ho-gwai-ah)
Can it be cheaper: Pehng-D-laa (say pang-d-la)

Numbers

One: yat
Two: yee
Three: saam
Four: say
Five: mm
Six: lok
Seven: chet
Eight: baat
Nine: gow
Ten: sup
Some more can be found here.
2.6) Movies and Books to see before Hong Kong travel

Argue with us and we bet we will prove that the best way to know about a city apart from visiting it is by watching movies or reading books. People say that a mind can run faster than light. So, there's no harm in imagining a great scene with your favorites stars and Chinese mercenaries against a backdrop of Hong Kong. If you are someone like me, you could simply start with Batman: The Dark Knight. The team went to Hong Kong, especially to shoot the scene where caped crusader captures mob accountant Lau. Lau's office was actually located at IFC2 Building at 8 Finance Street on the waterfront of Hong Kong's Central District. It's the second tallest building in the city.
Bruce Lee is one of the favorite names of every Hong Kong film fanatic. Watching Enter the Dragon, a classic in its own rights can make you understand why. Watch Die Another Day (2002) and find out what's odd about the Hong Kong skyline shown in the movie. Did Pierce Brosnan really go there to shoot the Bond movie? The Killer (1989), Chungking Express (1994), Police Story (1985), and Contagion (2011) can be a great source of information for you from a myriad of perspectives.
As far as books are concerned you can start with Ghetto at the Center of the World by Gordon Matthews, a book that unfurls the mysteries behind Chungking Mansions, the most diverse place to be in the planet. Other options include Kowloon Tong by Paul Theroux and Hong Kong State of Mind by Jason Y. Ng, L Po Ng.
2.7) Be aware of travel scams
Oh yes! It's a pain. You will have frequent experiences of scams especially if you are not cautious. So, we would like to provide you with a list of what fraudulent activities you should expect.
a) Bait and Switch
A very common practice to switch your purchased product with an old or faulty one. Once you have made the purchase, the shop owner may shift to the back of the shop with an excuse to pack your product or something silly. Don't fall for this one. Even if he does with good intent, double check your item before you leave the shop. If it's an electronic product or something that can have multiple inside instruments, open it or operate it again before you go away.
b) Herbal medicine scam
A man/lady will appear from nowhere and will try to sell some herbal medicines to you. Suddenly, another buyer (he/she is actually the seller's accomplice) will come and buy the product with an amount even higher than you could imagine. Don't fall for it, it's useless. They are simply trying to make an impression that the product is valuable whereas, in truth, it's purely a scam. Avoid it.
c) Bad aura/spiritual blessing scam
Similar to the herbal scam someone will approach you and say "you have a bad aura" (something extremely superstitious). Don't believe them even if you are a religious person and even if they show "results". Simply turn down the offer.
d) Art scammers
Someone will ask for money if you accidentally set foot on a piece of art drawn on public roads. So at all cost, notice, when you walk.
e) Fake beggars
Begging is strictly illegal in Hong Kong. However, some people, as part of criminal syndicates come over to Hong Kong from China on an L visa to beg. Firmly decline their requests.
In general, maintain your own safety by staying cautious. This video put some light on the same topic.
3) Best time to visit
The best time to visit Hong Kong is from October to December, you'll find ambient temperature which will let you enjoy the city. During September, typhoon smashes the city, so at all cost, avoid this month. If you land in Hong Kong's International Airport, have patience because your flight may be subject to delays due to strong winds. If you need more details on weather, make AccuWeather your new partner. Oh and definitely, adjust your watch as per the HKT, (GMT + 8 hrs) and there's no Daylight Saving Time.
| | | | | |
| --- | --- | --- | --- | --- |
| Months | Min. Temp in °C | Max. Temp in °C | Avg. Rainfall in mm | Avg. Sunshine in hours |
| Summer (May, June, July) | 24 | 31 | 200-250 | 6-7 |
| Fall (August, September) | 25 | 31 | 250 > | 6-7 |
| Autumn (October, November) | 19 | 28 | < 50 | 6 |
| Winter (December, January, February) | 14 | 19 | < 50 | 4 |
| Spring (March, April) | 17 | 25 | 50-150 | 5-6 |
4) Getting there and getting around
Buy a flight ticket to Hong Kong International Airport (HKG), there are many direct flights from almost every place in the world so you won't have to worry about it. If you're on a budget, fly to Shenzhen International Airport (SZX) or Macau International Airport (MFM) instead. Flights to these cities are often cheaper and from both of them, you can take a ferry to get to Hong Kong.
4.1) Getting around
As always, using public transportation is a good idea to explore the city. Get an Octopus Card (Bat Dat Toong in Cantonese) to move around. The Octopus Card is a contactless debit card that you can use not only for public transportation but also, to buy things in supermarkets, restaurants, museums, vending machines, and more. Octopus Card works for MTR, bus, ferry, public light bus, coach, and tram. The card costs HK$39 (around 5 USD).
Nota Bene: the Octopus card is for personal use, so if you're traveling in a group, each of you must buy a card.
a) MTR (Mass transit railway)
The fastest way to get around but more expensive, it has 5 underground lines, 3 suburban rail lines, the Airport Express, and a network of tram lines. The cost depends on the place you're going. You can check how much a ticket would be here. The lines you'll probably use as a tourist are the Tsuen Wan Line (red), the Island Line (blue), and the Tung Chung Line (orange).
Important: don't eat, drink, or smoke in the MTR, offenders can get a fine.
b) Tram or Ding Ding
It has 6 main routes running between Kennedy Town and Shau Kei Wan daily, the cost of an adult ticket is of HK$2.60 or you can buy a 4-day pass for HK$34 and a monthly pass for $220. It's a cheap and great way to sightsee. Check the routes and schedules here.
c) Peak Tram
A funicular that runs from Garden Road Admiralty to Victoria Peak. It's a great way to get excellent views of the harbor and skyscrapers of Hong Kong. Check the prices of the tickets here.
d) Bus
There are 3 types of buses in Hong Kong: double-decker buses, that cover practically all of Hong Kong; van-sized light buses, red and green, avoid these if you're not comfortable speaking Cantonese since you have to ask the driver to stop; and MTR feeder buses.
e) Ferry
The ferry offers great views of the city and it's a must do in Hong Kong! There are fast and slow ferries (slow ones are cheaper). Have a boat tour of the Hong Kong UNESCO global geopark. On weekdays ferry service will charge you 2.7 HK$ whereas fares increase during Sundays and holidays by $1. For a more touristy ferry, check the Star Ferry's fares and timetables here.
f) Taxis
They're clean, cheap, and efficient. You'll find 3 colors: blue, red, and gree. Read this information to know fares and differences between them.
5) Places to stay in
Hong Kong has options for every budget, but keep in mind that Hong Kong may not be as cheap as the rest of Asia. You may find dorm beds for 15 to 20 USD, a room for 34 to 50 USD, or a double room for 50 to 60 USD, but don't expect anything fancy or big. You can find cheap places on Nathan Road between Tsim Sha Tsui and Mong Kok, and Paterson Street. Also, check the Hong Kong Youth Hostel Association website. There, you can find cheap (between 12 and 40 USD), safe options for accommodation.
Nota Bene: check that the place you're staying in is actually a guesthouse and not a love hotel, since sometimes that may be the case.
If you're willing to spend a little more, you can find Airbnbs or hotel rooms for 90 USD a night. Four-star hotels are also available starting at 200 USD the night, or five-star hotel rooms starting at 250 USD the night.
5.1) Chungking Mansions
A popular place you'll find if you Google for accommodation in Hong Kong is Chungking Mansions. This is a building that houses shops, restaurants, and cheap guesthouses. Commonly known as Hong Kong's most jovial ghetto, this place is a hodgepodge of "Pakistani phone stall operators, Chinese guesthouse workers, Nepalese heroin addicts, Indonesian sex workers, traders, and asylum seekers from all over Asia and Africa". (taken from Gordon Mathews' introduction on Ghetto at the Center of the World: Chungking Mansions, Hong Kong).
Although this looks like a single concrete building, it possesses a diverse culture since most of the living families are foreigners. More than 10 thousand people enter and exit the mansion and it is infamous for incubating shady businesses. However, in contrast to that, the first two floors are dedicated to shops selling clothes, computers, and boxes of cheap electronics such as mobile phones. In fact, 70% of the entire building is secured with 330 CCTV cameras. Thus, it's not a place for everyone but it's a safe accommodation for adventurous people. However, even if you do not wish to stay, you can always visit this building.
6) Must visit during Hong Kong travel

6.1) Places to see in Hong Kong
a) Victoria Peak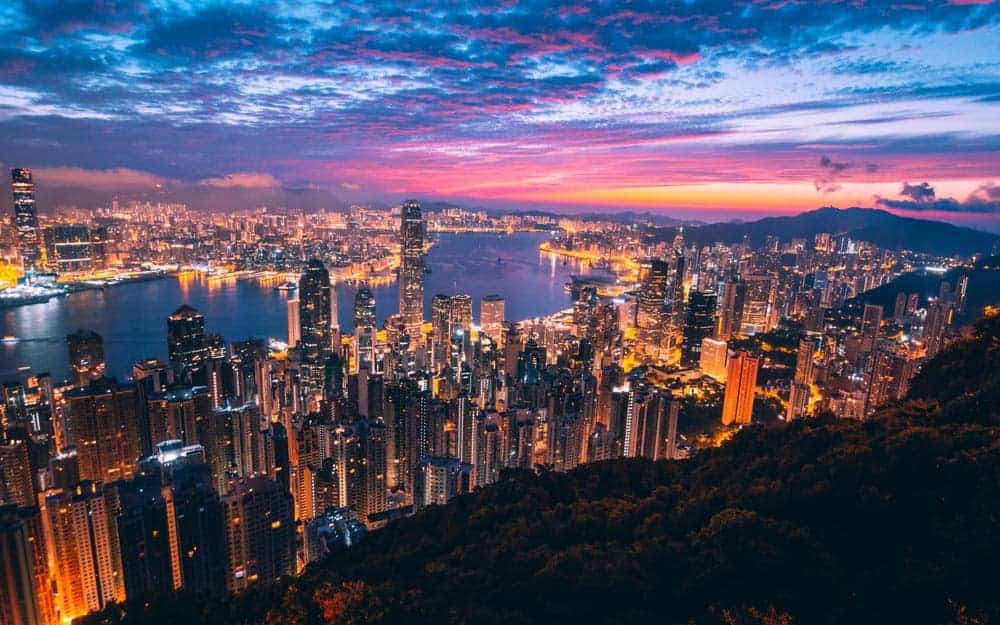 Locals call it The Peak but also can be named as Mount Austin. It's the highest mountain on the island, so it has a great view of the city. The Peak Tram can get you there.
b) Victoria Harbour
A popular place to have great views of the city, it separates Hong Kong Island in the south from the mainland in the north. Both locals and tourists gather in this zone, especially during the annual fireworks displays.
c) Wong Tai Sin Temple
Dedicated to the Great Immortal Wong, or Wong Tai Sin, this 18,000 sq.m. Taoist temple is famous because it has answered many prayers. You'll never forget the smell of the incense sticks, carried by hundreds of devotees.
d) Tsim Sha Tsui
Here, you'll find the Tsim Sha Tsui Promenade where you can enjoy Hong Kong's skyline. There's also the Avenue of Stars (something like the Hollywood Walk of Fame but with statues); Hong Kong's Cultural Center; the Clock Tower, one of Hong Kong's best-known landmarks; the Hong Kong Museum of History; and the Hong Kong Science Museum.
e) Central
The liveliest zone of the city. In Central, you'll find malls, luxury hotels, nightclubs, pubs, and trendy restaurants and bars. Visit Lan Kwai Fong and SoHo for the best party atmosphere. In Central, you'll be able to visit the Zoological and Botanical Gardens of Hong Kong.
f) Lantau Island
The largest island in Hong Kong. If you like hiking go to Lantau Peak, where you can watch amazing sunrises. You can also visit Po Lin Monastery and watch how the bronze Tian Tan Buddha of 34m sits on a hilltop. Also, take the Ngong Ping 360 that can get you from downtown Tung Chung and Ngong Ping with great views.
g) Lamma Island
The creative and hipster types go to this island full of indie boutiques, craft stores, and cafes to get inspired. Head down to Hung Shing Yeh Beach, or go eating seafood to Sok Kwu Wan.
h) Peak Tower
Close to the summit of Victoria Peak, you'll find this leisure and shopping complex with a really unique shape. There are gift shops, a terrace, and attractions like Ripley's Believe it or Not!, Odditorium and Madame Tussauds Hong Kong.
i) Repulse Bay
A great contrast with the busy vibe of Hong Kong's downtown area. This beach has a cove and upscale apartments surrounding it. The sand is soft and the Tin Hau Temple is also there, so don't forget to visit.
j) Sky100
An observation deck on the 100th floor of the International Commerce Center. There are interactive touch screens that offer facts, tips, and itineraries for tourists. From Sky100 you can have views of Hong Kong, Victoria Harbour, Kowloon, and Tai Mo Shan.
6.2) Biodiversity in Hong Kong
If you are a nature lover and excited to know, learn and see the spectrum of biodiversity in Hong Kong, you will not get disappointed. The country houses as many as 1,000 animal species, including over 230 species of butterflies, 120 species of dragonflies, 200 species of freshwater fishes, 100 species of amphibians and reptiles, 550 species of birds, 50 species of mammals. The Environmental Protection Department is protecting many country parks and marine parks, the best are these ones.

Taking 1400 hectares this place has the biggest water reserve in Hong Kong. If you decide to visit nature, this should be on your list. To the west of Shing Mun reservoir, there's a huge area dedicated to flowering plants. As far as flora and fauna reservation is concerned, you will find various kinds of trees and animals including the rare Grantham's camellia. Also, you will get to see the distribution of Chinese red pine, slash pine, Brisbane box, paperbark tree, and Taiwan acacia. Among animals, macaques, styan squirrels, wild boars, Chinese pangolins, common muntjacs, and the Hong Kong newt can be seen.
b) Kam Shan Country park
Surrounding another big and old water reserve Kowloon and 3 other reserves, this park is famous for housing two different types of macaques. In this country park, you will get to see a long and narrow stretch of a low ridge that extends all the way to Shing Mun Valley. You will also notice World War II ruins. It also houses different types of birds such as the black kite, crested goshawk, common kingfisher, common tailorbird, great coucal, house swift, and Rufous-backed shrike.
c) Tai Tam Country park
Built around 4 reservoirs, this place has historic value. Although its diversity, the country park is generally known for the Taiwan acacia and slash pine. Among floral plants, you will be able to see the Hong Kong Gordonia, and rhododendrons, which bloom in winter and spring, respectively.
d) Marine parks
There are a number of Marine parks present in Hong Kong among which Hoi Ha Wan Marine Park, Yan Chau Tong Marine Park, Sha Chau and Lung Kwu Chau Marine Park, Tung Ping Chau Marine Park, The Brothers Marine Park, Cape D'Aguilar Marine Reserve are worthy mentions.
Expect an assembly of different species of mangroves, a large coral community and other marine species such as jellyfish, black coral, cowries, tubeworms, crabs, sea urchins, and sea cucumbers.
6.3) Shopping
Amidst the unending chaos and noise, you will find queues of busy markets that certainly have its own charm. You will not only get your hands on unique souvenirs and cheap use-daily products but also absorb the scent of Hong Kongese culture. Ready to take all in by visiting the following markets.
a) Ladies' market
Situated near the Mong Kok area this place is always buzzing with a sweaty crowd and culture. Looking for some cheap goods? Button up 'cause you need to win here by depending on your haggling skills. This place is awesome for imitation fashion goods, cheap clothes and quirky accessories. However don't think it's for ladies only, you can also find men's clothes, toys, and electronics products. Also, you will find a bunch of restaurants and eateries around the area to help your appetite.
b) Yau Ma Tei Jade street and market
If you wish to carry your luck longevity, fortune, and purity (or simply interested in it) try this market, famous for selling jade ornaments. Each store has a variety of jade collection and if you simply stroll through the street, you will get the hint of Hong Kongese fascination with this stone. 
c) Yuen Po Street Bird garden
This is the place where you can buy a bird pet. The collection includes local varieties as well as foreign breeds. Many birds are placed together which can be an uncomfortable experience to watch. However, you will always have the option to release them in the right area. You will also get insect foods and spacious cages (in different shapes and sizes).
d) Goldfish market
Interestingly, Hong Kong actually possesses one such market where all the shops fetch extremely handsome money by only selling goldfish. In Cantonese culture, this fish is an important feng shui element that invites good fortune. So, people here buy many of them of several varieties. The problem is, if you are traveling to Hong Kong from a foreign country, it would be difficult to fly with livestock (technically you could, better to check with the airline but whether the fish will stay alive is a big question). Hmm, bad luck, but only sauntering through the market will reveal a new color of Hong Kong to you.
e) Apliu Street Electronics market
If your geek side is calling you, go visit the cheapest electronics market of Hong Kong on Apliu Street. Here you can get new and second-hand products at the best price available. What will you get? Cameras, computer accessories, laptops, phones, watches, and many other cool gadgets. You should also pay a visit to the Golden Computer Arcade (Sham Shui Po) for other cheap and fancy tech products. Don't buy until you have seen them all.
6.4) Day trips from Hong Kong
A tricky choice indeed, however, we have come up with a list of places you can choose from.
a) Macau
You can easily plan a 1 day trip to Macau from Hong Kong since Macau is connected to Hong Kong by sea. Ferry rides can take around 60 minutes and yeah! You are off to a new destination. This is an autonomous region on the south coast of China and one of the coolest places you can ever visit.
Have fun at Seac Pai Van Park with cuddly pandas, get sandy at Hac Sa Beach or simply, go on a Macanese food adventure at Taipa Village and shop as much as you want in Senado squares. If you are feeling adventurous, try bungee jumping from 233 meters tall Macau Tower. Also, this is known as the "Gambling capital of the world" which buys its reputation for housing many great casinos including Venetian Casino Resort, City of Dreams Macau, The Sands Macau, Wynn Macau, and Grand Lisboa Macau. Whatever you do, make sure you enjoy it.
If you have more time, 2 days in Macau can be perfect to visit the most important places… and even do some gambling!
b) Guilin, China
Best known for its picturesque limestone karst hills, the area is extremely beautiful for a boating trip. At its center, there are 2 lakes, Shanhu (Cedar) and Ronghu (Banyan) and it is popular for having fragrant sweet osmanthus trees in its land. It also has a deep significance in Chinese history. If you want something soothing in terms of scenic beauty, pay a visit to this place.
c) Taiwan
If you are willing to travel via flight, this could be a 2-hour journey from Hong Kong. Start with Taipei 101, one time the tallest building in the world. Visit National Palace Museum, Taroko Gorge and national park, Yushan national park, Alishan scenic mountain area, Sun Moon Lake, Rainbow Village, Penghu, and Kenting street.
d) Guangzhou, China
Go via a train which takes 50 minutes from Hong Kong and it's a place packed with things to do and see. You can pay a visit to Chimelong Tourist Resort, Canton tower, Shamian Island, Guangdong Museum, Chen Clan Academy, Guangxiao temple, and South China botanical garden.
7) Hong Kong sample itineraries
If you want some ideas on how you could arrange your activities during your holiday in Hong Kong, check these sample itineraries we created for you. Note that if you have more than 5 days to stay in Hong Kong, a good idea is to take a day trip to any of the destinations we've already mentioned.
7.1) 3 Day Hong Kong travel itinerary
Day 1: start your day at Victoria Harbour. From there, walk to Tsim Sha Tsui. Just some blocks away you'll find Chungking Mansion! After that, head down to the harbor to take a ferry and get off at Central. Explore the zone and go to Peak Tower. Finally, go to Victoria Peak. By this time, you'll probably enjoy a great night view of the city.
Day 2: go to Tai Tam, then chill for some time at Repulse Bay. Finally, if you still have energy, go to Ocean Park for some adrenaline and fun!
Day 3: start off at Shing Mun Park. For more natural beauty go to Kam Shan Country Park and end your day shpping at the Temple Street Night Market.
7.2) 5 Day Hong Kong travel itinerary
Day 4: visit Wong Tai Sin Temple. Walk to the Goldfish Market and then, some blocks away, to the Jade Market. After that, you can visit Yau Ma Tei Theatre, which is super close. Finally, for a laid-back experience, go party at Lan Kwai Fong, in Central.
Day 5: Visit Lantau island. There, you can chill on its beaches, like Discovery Bay or you can enjoy Disneyland! Whatever your heart craves at the time.
8) Take care of your belly
8.1) Foods and deserts
If you are a foodie, go ahead and try some of the finest delicacies Hong Kong has to offer you. You can start with these:
Sweet and sour pork:

 Originating from Hong Kong and famously distributed across the world, this mouthwatering meat delicacy is served with orange sauce

Sichuan-style wontons:

 an oily soup filled with meat and vegetables

Roasted goose: If you like to try Cantonese traditional food, have a taste of roasted goose

available in Yung Kee and Yue Kee restaurants.

Wind sand chicken
Phoenix talons:

 these are chicken feet

Steamed shrimp dumplings
Fake shark fin soup
Rickshaw noodles
If you have a sweet tooth do not forget to eat Durian pancakes which simply melt in your mouth. Noticeably, Hong Kongese love to use mango in their deserts, so if you are not allergic to that please do not mind to devour mango sago pomelo and mango Cheung fun. These are just lovely.
8.2) Restaurants
There are various local fast food chains where you can buy meals for 3 or 4 USD. Mid-range restaurants offer meals for around 12 USD.  Goes without saying, there are high-end restaurants like Felix or Aqua where you'll pay around 200 USD for a complete meal.
A unique place you must visit in Hong Kong is the cha chaan teng or tea café. They have a very casual setting and tea/ coffee is central to the menu. The biggest difference with a mainstream restaurant is they provide cha/tea instead of water as soon as you seat. Prices in these places go around 2 and 3 USD for tea or coffee, 1 USD for a toast, and between 2 and 7 USD for a dish with meat and rice.
8.3) Street food/budget options
For budget travelers, street food is the best option. You only have to consider that most people in the food stalls don't speak English so point to what you want, use your fingers to express quantity and always smile, people are generally nice. If you are trying for the first time, start with Egg waffles and then continue your food journey with Curry fish balls, Pineapple buns, Grilled Squid Tentacles,  Egg tarts, Stinky Tofu, Fried Chestnuts. Here's a list of the best street food you should try and where to find it.
Wet markets are super popular, also. Here, you can find fresh ingredients (dry markets sell things like electronics or clothes) and cook your own food if you want to. For a truly local experience, head to the cooked food centers that are almost always in the wet markets. These are like food courts where locals eat cheap food. Most of the times, people don't speak English there.
8.4) Vegetarian dishes and restaurants in Hong Kong
I know, for vegetarians traveling can be hard sometimes since the options get really restricted but Hong Kong might not be as frustrating as you think. You can always go for:
Curry pumpkin stew with okra served with baguettes

from

Pure Veggie House

, a complete veg preparation for all vegetarians out there

If you love Indian style veg food you should try palak paneer

from

Grassroots Pantry

and

paneer tikka masala

from

Khana Khazana

Get ready to chow down some more Hong Kong flavors with

Shanghainese cold noodles, sesame and lemongrass ice bream Burgers,

and e

ggless tiramisu
8.5) Information on bars
The below-mentioned places are absolutely stunning if you prefer a drink with your friends. If you are looking for a cocktail mix, try Quinary, the king of cocktail servings, situated in Central (SoHo). Try Ping Pong 129 Gintoneria in Sheung Wan if you need a casual environment like a cafeteria. Among the others, our favorite includes Ned Kelly's Last Stand due to the unmatchable presence of Dixie jazz music. If you need some more names on your list try Mrs. Pound, Botanicals Bar at The Pawn, Geronimo's Shot Bar Hong Kong, Lily and Bloom, Salong De Ling, and Stockton.
8.6) Water
In theory, drinking tap water is safe but in practice, due to old pipes, it can be dangerous. If you want to avoid diarrhea or any other pain, just buy bottled water.
9) Festivals and Events to attend during Hong Kong travel

9.1) Festivities
a) Chinese New Year
Go to Sik Sik Yuen Wong Tai Sin Temple to get a blessing and watch the fireworks from Victoria Harbour. Before going, check on which day it will be celebrated since it's different every year. For 2019, the day was February 5th.
b) Spring Lantern Festival
It happens in February or early March, this festival is celebrated on the 15th day of the first month in the lunisolar Chinese calendar. It's the final day of the Chinese New Year celebrations. Because of its origins, it's said to be the Chinese Valentine's Day.

c) Hong Kong Sevens
One of the most popular sports events in Asia, the Hong Kong Sevens hosts the best rugby players in the world. There's a carnival atmosphere where 40 teams play in front of 120,000 of fans! Don't miss the concerts and festivals that are part of the Sevens.
d) Birthday of Tin Hau
Celebrated during the 23rd day of the third lunar month, this festival is dedicated to Tin Hau, the Goddess of the sea (the patron saint of the city). There's a gorgeous float parade in Yuen Long and rites in the different temples dedicated to Tin Hau.
e) Cheung Chau Bun Festival/Cheung Chau Da Jiu Festival
Held annually on the island of Cheung Chau, this week-long celebration is unique. There are many activities involving the festival: for 3 days the whole island goes vegetarian, children "float" in the hands of people through the lanes of the island, and the construction of bun towers. It occurs during April or May.
e) Hong Kong Winterfest
There are decorations around the city, light shows, and fireworks to celebrate the New Year. Across the city, there are special events, shopping markets, and even classic Christmas trees. Since the temperature is mild, it's a great way to spend the holidays.
9.2) Things you must do during Hong Kong travel

There are a ton of things that you can try, but if you have already exhausted the list of places you must visit, you need to plan some activities. We get it and we propose you try some of the following activities
a) Take Skip The line Hong Kong Ocean Park Tour
Best for families to attend together, Ocean Park is a place where you can really get close to animals. Try Polar Adventure, Marine World, Amazing Asian Animals, Aqua City, and Rain Forest locations for gathering some of the best memories. If you are up for a ride and ready to scream your heart out, you should go for Hair Raiser, Crazy Galleon, and Arctic Beast.
b) Test your luck at the Happy Valley Race Course
Yup! This is your chance to win your luck. Fetch yourself a Wednesday night ticket because it hosts 8 horse races and theme based party events. Themes range from Bollywood, Oktoberfest and Rio Carnival. Dress accordingly and, who knows, you may win a giveaway.
c) Lose your feet to rocking tunes at The Wanch
Okay, this is crazy but it has been playing the host to bands, every night without fail, since 1987. The event is free to attend and you will get some cheap beer options.  
9.3) Enjoy your nightlife
Not everybody takes this seriously but every travel journey must contain a night out in which you are supposed to let go of your boundaries. We certainly believe in it but make sure you have someone to pick you up and do not ever get sick! How to make sure? If you are traveling solo you should always remember when and where to stop. Always carry some over-the-counter medicines and yes, if you are planning to let go of worries it's always good to have someone with you. You can try out some of the recommended activities.
a) Party hard at Lan Kwai Fong
This is the most famous nightlife spot of Hong Kong and like any other place, this starts to breathe after the sun goes down. It is generally packed with after-work drinkers and party animals. You can always try to blend in but make sure you are ready for it. This place gets a complete makeover on events like Halloween and New Year's Eve.
b) Get a night out at the Yau Ma Tei Theatre
The only surviving pre-war cinema is now home to traditional Cantonese opera shows. If you would rather spend the night by doing something peaceful, this place is tailored for you. Enjoy the peaceful shows with signature red, white and black face paint, embezzled costumes, falsettos, gongs, dazzling theatricals. Oh, and there's an old fruit market just beside the theatre. Don't miss its fresh collection.
c) Get lost in Hong Kong Night Cruise
If you want to be left alone or just want to chill out with your special one, you should try this activity. You will surely get a serene experience watching "symphony of lights" across the Victoria Harbour. Plus there are some good free drinks available, don't shy away from them.
d) Shop at Temple Street Night Market
Situated in Kowloon, this place is for anyone who loves to do something productive even in the late hours. The market sets up at 18:00 when the sun goes down and keeps getting busier as the hours fly by. Looking for cheap clothes, household items, open-air stall foods, pirated CDs, DVDs, and electronics products? You are in the dome.
10) LGBTQ+ friendly Hong Kong
Although Hong Kong possesses many qualities of a westernized lifestyle, for years it has followed a strict outlook towards sexuality. However, the situation started to change from the year 2000 and now it has one of the biggest LGBT friendly societies. If you wish to visit an LGBTQ+ friendly bar you can go to T:ME Bar, LINQ, Zoo, and FLM. Also, catch a glimpse of Pink Season, an international diversity and inclusion (centered around LGBTQ+) festival carried out by the Pink Alliance.
11) Traveling with kids to Hong Kong? Look here
If you are traveling with your kids, your journey probably follows a different track. Make sure they are having a comfortable experience, especially on flights. There are plenty of destinations that the kids will love and among them, our favorites are the following.
There's no introduction needed for Disneyland but don't miss this one. If you are traveling with kids, this will be the most exhilarating space for them to explore and enjoy. Take them to all the seven lands including Adventureland, Grizzly Gulch, Mystic Point, Toy Story Land, Fantasyland, Tomorrowland, and Main Street. Each land is packed with mysteries, myths, Disney characters, and never-ending fun. Not only your kids but also you will love them. Plus it has a handsome number of dining places and lodging options. What's more? The accommodation is pet-friendly.
b) Hong Kong Science Museum
Trust us, this becomes a major part in your kids' upbringing. Whenever you travel with your kids, make sure that you are visiting at least one nearby museum. This one has a sum of 500 exhibits including extinct animal species, robotics, and virtual reality. The most amazing of all is the 22 feet tall energy machine which shows energy conversion in an action-packed kinematical sculpture.
c) Pink Dolphin Watching
Go and get out to see the aquatic animals, especially the pink dolphins in their natural habitat around Victoria Harbor and the South China Sea. The lives of these beautiful animals were threatened due to heavy dumping of wastes. However, the situation is improving and you can also take part in this activity by helping raise money for cleaning the water bodies in a timely manner.
12) Traveling to Hong Kong for differently abled people
Hong Kong is one of the most friendly places for differently abled people. Tourists have reported that due to its friendly transportation systems, shopping venues and highlights, tourists are likely to return and recommend the place to others. In terms of accessibility, this has the best facilities in the world. Transportation wise they offer multiple options such as "Easy Access Bus" (EAB), a safe, comfortable and accessible transport to both local and overseas wheelchair users. There is also accessible hire cars, Rehabus (with ordinary seats and special seating arrangement for wheelchair users) and helpful public transport options. In almost every tourist attraction, you can find public toilets with features to help differently abled people. Also, you can bring a disability assistance dog, but for that, you have to ask for permission. Nevertheless, this is one of the best places for tourists with special requirements.
13) Knowledge Zone
Are you a nerd who just can't live without exploring the hidden gems of a place? If you really wish to enjoy history, science, technology and measure how much they have developed in the last decade, you should head to the following places. These places are a great source of information. Plus, they will give your brain a different thrill that you generally do not experience from physical exercises.
13.1) Internet cafes
You can try I-One near Causeway Bay. This place offers decent gaming options and comes with free Wi-Fi. If you wish to play PUBG and have some snacks, you should head there. Disclaimer: don't bother to answer your nature's call there as the restrooms can be absolute health hazards. Located near the Tai Po Market, there's one more named GNet and this is comparatively much cleaner. You can also get full meal options and the charge of using a computer for an hour is only HK$ 7.
13.2) Libraries and bookstores
If you are a book-person, Hong Kong has something for you. You might not wanna spend your time in one of Hong Kong's public libraries but if you're there for a longer time, you can submit this form and get yourself a library card for using the facilities. They have dozens of collections on books, manuscripts, photographs and more. Have a stop at some of the finest book shops of Hong Kong including Bleak House Books, Book B, Books & Co, Bookazine – Landmark Prince's, Eslite Bookstore, Kelly and Walsh, Kubrick Bookshop Cafe, Lok Man rare books, and Sino center.
13.3) Museums
If history and heritage is a big part of your travel, do not chuck out Hong Kong Museum of History and Hong Kong Heritage Museum from the list. Not only a witness to 400 million years of history, but this place is also packed with some of the coolest artifacts. Similar to the Museum of History, the Heritage Museum is a place situated near the Shing Mun River, protects traditional Chinese arts and Cantonese opera. However, our absolute favorite is the Hong Kong Space Museum near Tsim Sha Tsui with an egg-shaped dome for exhibiting documentaries in its space theater. Watch other gadgetry and learn a bit of rocket science from the Hall of Space Science and the Hall of Astronomy.
14) Geek out in Hong Kong: what to do if you're thinking long term?
Apart from the language barrier, this place might be heaven for anyone considering serious businesses like education and jobs. For job finders, try to have an offer from the employer before you apply for your visa. If you get an offer while you are there, you have to immediately apply for a work visa. The visa interview is rumored to be lenient.
14.1) Study programs in Hong Kong
For an undergrad degree, make sure you have already completed your secondary school and earned satisfactory results in school leaving examinations. Check with your university of interest if you need to give the SAT or other examinations. If you are not a native English speaker you may have to give TOEFL or IELTS examinations. Undergraduate degrees are of 4 years whereas postgraduate degrees are of 2 years, and Ph.D. degrees are of 5 years (around).
14.2) Business prospects in Hong Kong
If you're looking for business opportunities in Hong Kong you can try these options. Working in a business consulting firm is a good idea because not everyone understands the intricacies of establishing a company. You can jump in and help companies as a business consultant. Travel agencies are also one of the most successful ventures in Hong Kong. However, one of the most interesting ones is Product Sourcing Agent Administrations in which you will be the mediator to establish a successful connection between small business in Hong Kong and your customers. Since China is famous for its cheap goods, this can be an extremely successful business idea.
15) Short on money during Hong Kong travel? Money saving hacks
If you are a frugal traveler you might wanna read this. Here are also some other money-saving tips.
Get the Hong Kong Pass: this is a pass you can buy for 2, 3 or 4 days. It includes entry to some of the most important places in Hong Kong like the Ocean Park, and the Peak Sky Observation Terrace. It also includes discounts at different restaurants and other attractions. Check the full list of benefits here and the costs here.
Free activities: visit places with no entry fees. There are many monasteries that you can access for free like Chi Lin Nunnery, Po Lin Monastery, Tin Hau temple, the 10000 Buddhas Temple in Sha Tin, and Wong Tai Sin temple. Another place you can't miss is Victoria Harbour. The Symphony of Lights show is free. The markets are also another activity you can do for free (if you don't buy anything) that will give you a great idea of Hong Kongese life.
Accommodation: if you want to save money, definitely stay at Chungking or Mirador mansions, not the cleanest but definitely cheap. Here, you can haggle and also, you don't have to make reservations.
Food and drinks: these might get pricey, especially if you're going on a night out. If you're definitely on a budget, avoid bars and clubs, where the food and drinks will be very expensive. If you're an adventurous traveler, go for street food or cheap places around town. Take into consideration that these places might not have English menus. To find these cheap, local places head down to the areas of Yau Ma Tei, Jordan, and Sam Shui Po.
Transportation: before taking any bus, plan your days. Hong Kong can be pretty walkable but if you want to get to other places like Tung Chung, you'll need to take public transportation. Do get an Octopus card, that way you can take the MTR. Buses are cheaper, but as we've stated before, they might not be very tourist friendly. If you're traveling with someone else, taxis are also very cheap if you split the cost of it.
15.1) Free resources
Wi-Fi.HK: 

This app allows you to find free WiFi hotspot locations nearby.  

Water for Free:

 Save your money and energy by finding nearby water fountains and filling your reusable bottles.
16) In case of emergencies…
16.1) Hospitals
We hope that you will not have the need to use this section. However, for the best treatments, go to Hong Kong Sanatorium and Hospital (Happy Valley) or St Teresa's Hospital (Prince Edward Road in Kowloon). If you face an emergency you should call 999 and the professionals will take the patient to a nearby public hospital. Sometimes the wait can be really long and tedious, so, if you just wanna double up everything you can always just go to the clinic, based on your situation.
16.2) Drug policies
Most of the prescription drugs are also treated the same way in Hong Kong apart from some exceptions such as contraception pills. Many other countries need to see a prescription before handing over one but Hong Kong follows a different strategy. Try to buy from a public pharmacy store as it charges less. Also if you wish to know whether a specific medicine is available in Hong Kong or not you can simply search through the website and make sure. If you are traveling with your medicines, make sure to carry an English prescription of both the prescribed medicines and over-the-counter ones.
16.3) Women safety
Hong Kong is a multicultural city, also it's one of the safest cities in the world. When traveling solo as a woman just be aware of everything (as you would in any other situation) and take the precautions you take when at home. Although there's no special dress code, you might get unwanted looks if you're showing too much skin.
If you're out drinking, always have your drink and belongings in sight. Make sure you are not giving anyone an opportunity to spike your drink. For more tips, read this one by Sassy Hong Kong. We also wrote tips for women safety while traveling to France, India, and Spain. Feel free to give a read.
If you are in trouble and in need of emergency services do not hesitate to contact police hotline number +852 2527 7177.
16.4) Embassy houses
Although Hong Kong does not host embassies, there are 121 consulates and representations in Hong Kong. Know your one from this.
16.5) Important numbers
999: Emergency (police, ambulance, fire services)
2508 1234: Hong Kong Tourism Board visitor hotline
2181 8888: Hong Kong International Airport
17) Helpful apps for safe Hng Kong travel
These apps are going to be your lifesavers in various situations. Keep them installed before you march to your favorite destination. We are not bragging but if this article seems helpful it's always advisable to save the webpage. You never know when you go out of a coverage area. Also, the following applications can save you from a lot of hassles.
17.1) Transport
Uber Hong Kong: 

If you really wish to use the cab service of a company that sounds similar, you can trust Uber, as you probably know this name more than others.

Traffic Hong Kong:

This app allows one to access traffic cameras from a list of available ones and you can check the real-time condition of a road

Citymapper: 

The most useful of all, this one allows you to get a curated map of your destination with proper public transport options

HK Taxi: 

With the help of this, you can go to your destination by simply putting your pick up point and contact no. The nearby driver will contact you

GoGovan: 

Calling van is really easy via using this app

MTR Mobile: 

If you are thinking of using MTR transport service, you can easily plan your entire trip using this application
17.2) Food & Drink delivery
Foodpanda & Deliveroo: 

These two apps are worth trying if you wish to eat in your home. Since both of them are quite known names you can put your faith on these two.

Chillers: It's Hong Kong's on-demand cold beverage supply service! Try it for yourself. We hope, you enjoyed reading our Hong Kong travel guide and that it hells you have a beautiful time in Hong Kong. If you have any question don't hesitate to write in the comments sections below or write to us on our Facebook, Twitter, Instagram, or at [email protected].
We hope this guide was a worthwhile read for you and helps you in having a great time in Hong Kong. If you have any question don't hesitate to write in the comments sections below or write to us on our Facebook, Twitter, Instagram, or at [email protected].
Read about other destination and travel guides from the Talk Travel App team