Home » Destination Guides »
'Land of the Eternal Blue Sky' is truly a fitting epithet for the beautiful land of Mongolia. Wide-open meadows under cloudless skies are characteristic of the Mongolian landscape. As vast as the land is, so are the adventures that can experience here. So, finding the best ones to spend your time and money on, can be quite a task. How about we make it easier? Here are some unmissable experiences to indulge in Mongolia that will give you memories for a lifetime.
1. See The Unique Wildlife
Just as Mongolia's landscape looks straight out of a fable, so do its native fauna. Mongolians believe in being one with nature and extend this philosophy to wildlife conservation. You can spot hordes of wild horses, camels, or reindeer running free depending on which part of the country you are in. Here is a unique way to get an up-close and personal experience with the stunning wildlife in Mongolia.
Reindeer tribe of Darkhad Valley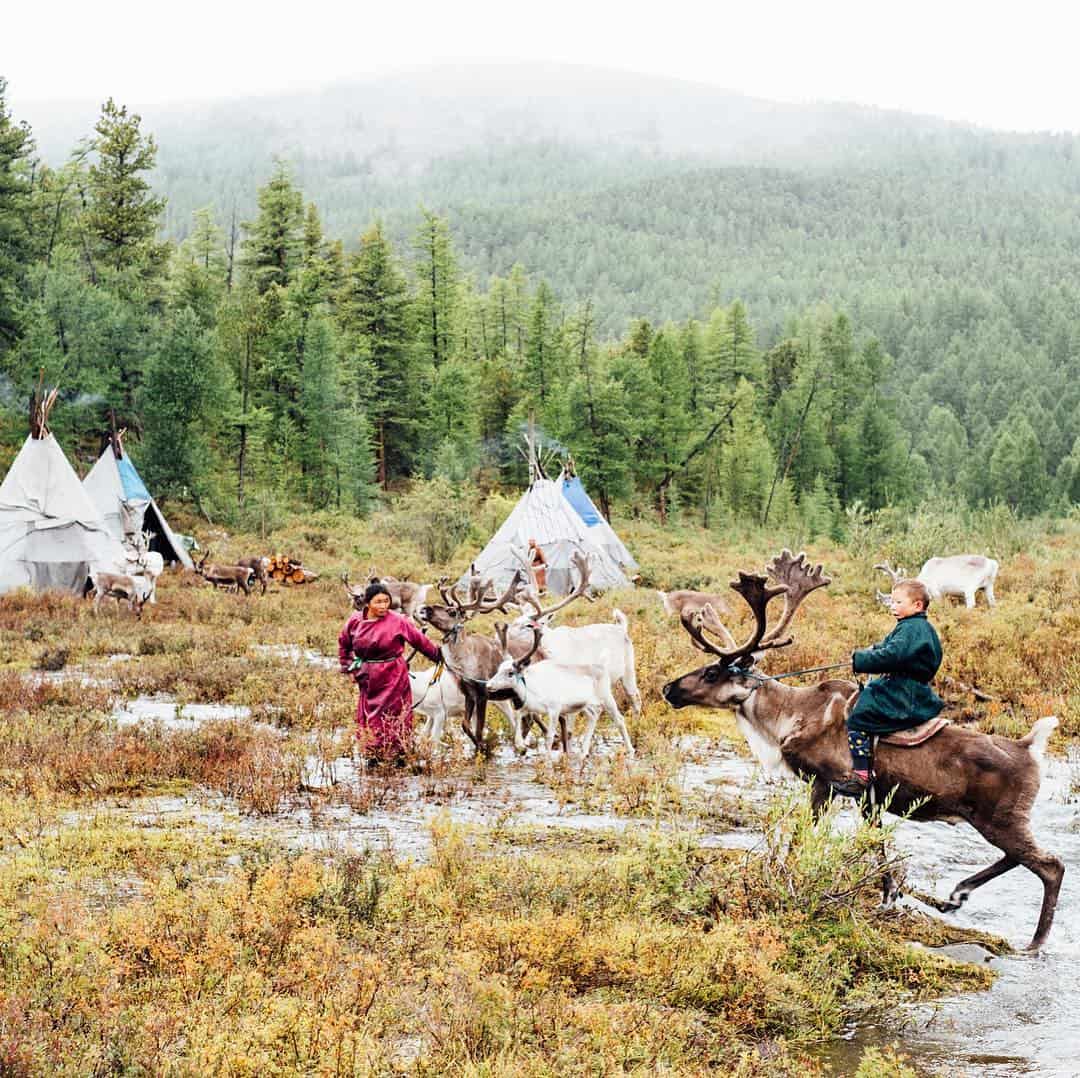 This will be a rather long (nearly 3 days on the road) and bumpy ride, for which you will have to hire an experienced driver and local guide. You will be travelling to Tsagaannuur village where you can book a local host through your guide/travel agent. After a short stay, you will set on horseback to see the Tsaatan, the reindeer tribe of Mongolia. This by no means will be a cheap or easy trip. But everything spent in money and effort will seem worthwhile when you get to mingle with wild Mongolian reindeers and the wonderful people who raise them as their own.
Cost: USD 85 per person per day (will vary according to the group-size and amenities)
Route: From Mörön (~766km from Ulaanbaatar) to Tsagaannuur village
Food: traditional Mongolian food as available with the local hosts; if you have special dietary needs, make arrangements beforehand as there are no shops after Tsagaannuur.
Advice: Do bring gifts for the host family, like toiletries or ration supplies (no need for anything fancy but the choice is yours). Definitely avoid tobacco products or alcohol as gifts. As for the reindeers, they love salt! So you know what to carry to be best friends with them.
2. Horseback Riding With The Locals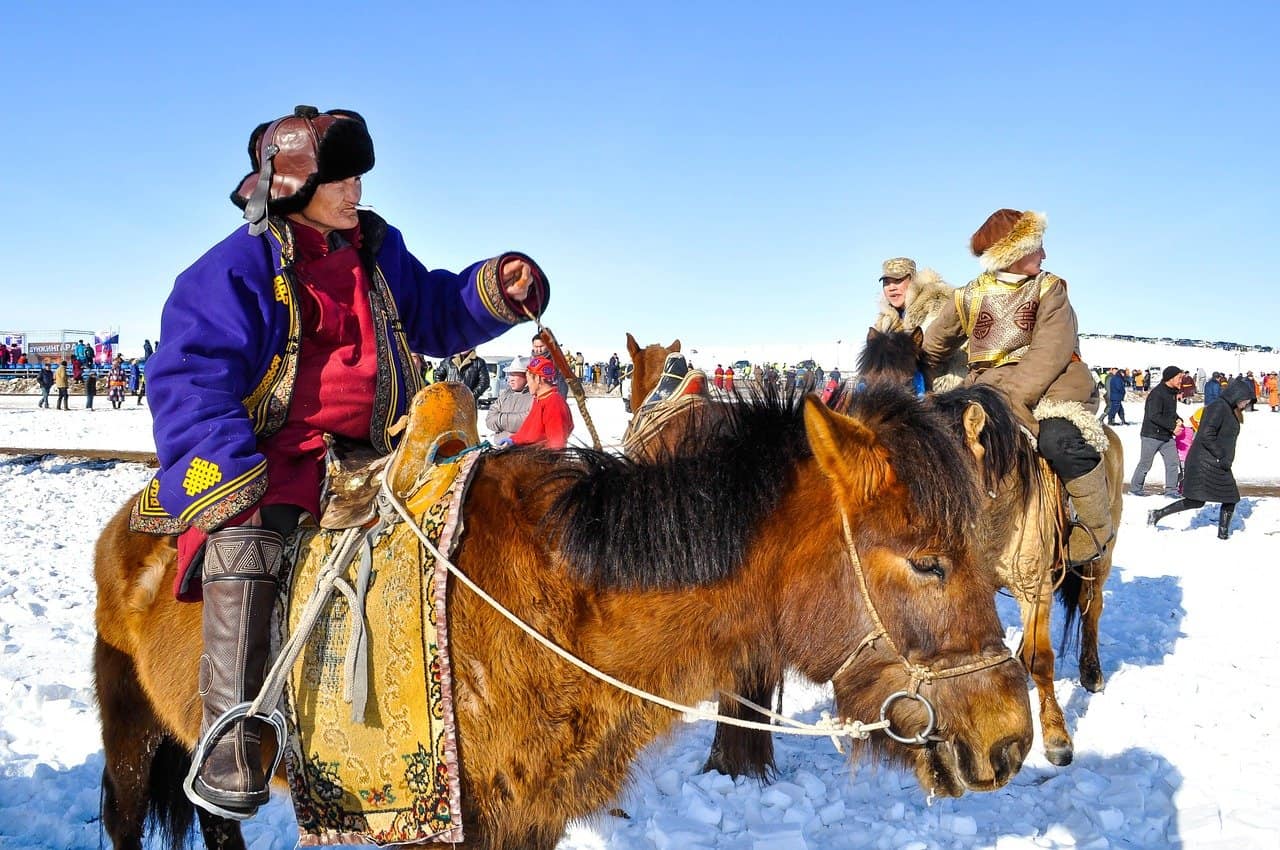 Exploring the Mongolian countryside on horseback will be an unparalleled experience. You will be galloping away in the wilderness with no other soul in sight, except the people you set out with. Horses are essential to the Mongolian way of life and you will come to appreciate this wonderful relationship between man and beast as most city folk will never experience it in their lifetime.
But before you get pumped for this adventure, there are some essentials to keep in mind:
You have the option to buy horses to take on a horseriding trip to the countryside. This will prove to be cheaper than renting them. You will need at least two—one for you and one your luggage.
Start by hiring a tour guide, with whom you will embark on this trip. They will get you in touch with locals to provide horses, and on request, will also arrange for accommodation with locals on reaching your destination.
While you can go horseback riding anywhere in Mongolia, Gun Galuut Nature Reserve comes as a highly recommended spot. It lies just outside Ulaanbaatar, so it is easy to get to via taxi that you can hire in the city. Here, you can find a local to go riding with and spend the night in a ger.
3. Festivities in Mongolia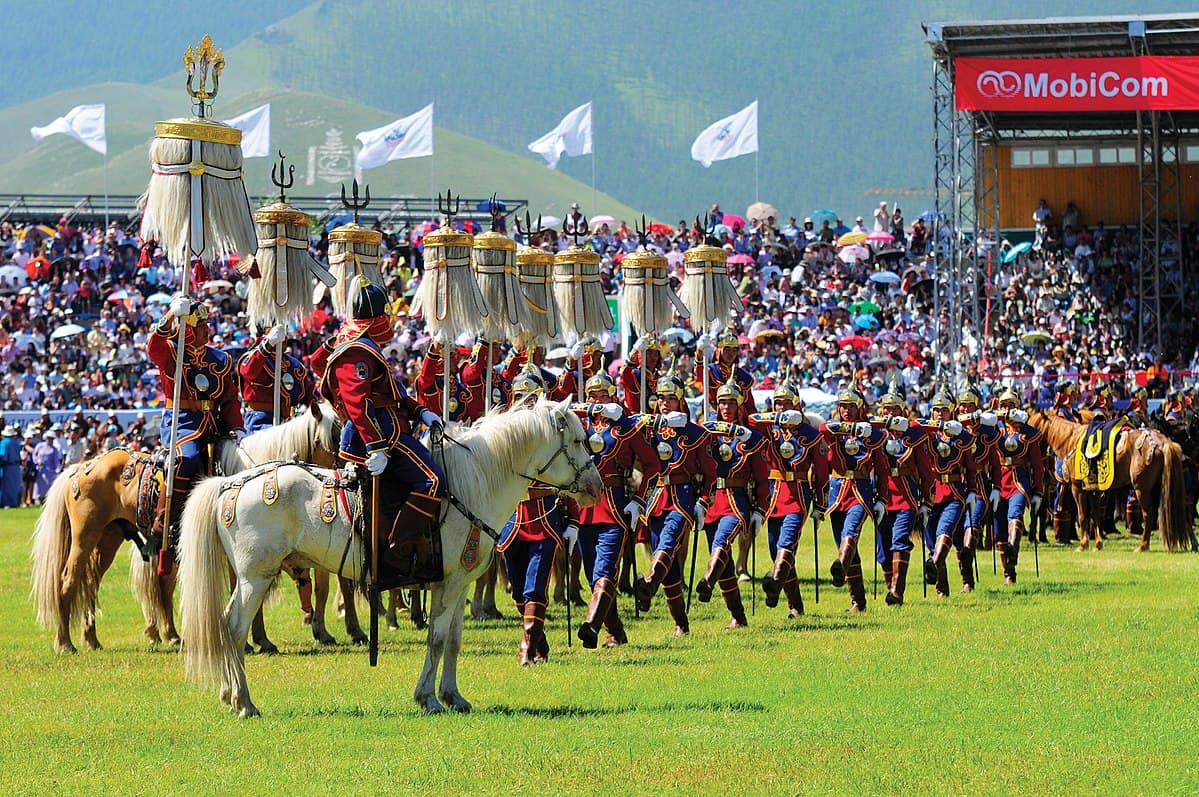 Naadam festival
Mongolia's biggest annual celebration, the Naadam festival is an occasion where the country comes alive with vibrant pageantry. It is held from 11-13 July every year, where the brightest display is the opening parade, which leads to 4 days of competitive sports in three categories— archery, horse-racing and wrestling. The celebration of these sports dates back to the days of the mighty Chenggis Khan, who called them the 'three games of man'.
Venue: Central Stadium in Ulaanbaatar
Time: The opening ceremony on day 1 typically starts from 11 am. So it is advisable to reach the venue well in advance and secure a good spot. After that, you can watch Mongolian wrestling in the same venue or go to one nearby for the archery event.
Price: Since this is the peak of tourist season in Mongolia, prices for everything, including accommodation, will be high. So book as much in advance as possible and be prepared to shell out a bit more when at the festival. Festival tickets are not available online, so you will have to book through a travel agent. They will roughly set you back by USD 25 but will cover attendance for opening as well as the closing ceremony.
Watching the otherwise monotone Mongolian countryside come alive with festivity is a heartening experience.
Olgii Eagle festival
Mongolia shares its borders on the west with Kazakhstan. So Kazakh influence on Mongolia's culture can be seen in the Western parts of the country. The Golden Eagle or Olgii Eagle festival celebrated here every October is an example of that shared heritage. The festival celebrates the unique tradition of hunting with eagles which helped ancestors survive and is a source of pride for the current generation. Eagles and their owners participate in a number of competitive events to win coveted titles.
Attractions: A small fair comes up to celebrate the festival where you will see locals decked in traditional fineries, selling local delicacies and crafts. This will be a great opportunity to mingle with, shop, taste and photograph Western Mongolia's authenticity.
Travel: Take a flight from Ulaanbaatar to Olgii on a local carrier. Once you reach, you can either book accommodation and transport separately or book an all-inclusive tour.
Dates: Each year, tourists set out from Ulaanbaatar towards the very end of September and spend the first week of October in Olgii to enjoy the festival.
Thousand Camels Festival
If you are visiting Mongolia in March, make sure you include a trip to the Gobi to see the incredible Thousand Camels Festival. You will have the chance of seeing the unique two-humped Bactrian camels in all their glory. The festival was started to encourage the livelihood of the local camel herders and celebrate the vibrant nomadic culture of the Gobi. While the event is celebrated as a fair spread over a few days, the main attraction is the camel race itself. The sight of nearly 1000-1200 camels hurtling down great sand dunes is a most exhilarating one!
Travel: The event takes place in Bulgan in South Gobi. The best way to get there is to book a taxi from Ulaanbaatar as the journey is for nearly 600 km. Another way is to book an all-inclusive tour that will take care of all your needs from getting there to coming back.
Accommodation: During winters, staying in local ger camps is not an option. Neither is it practical to travel all the way back to Ulaanbaatar. So your best accommodation option is to head to the provincial centre (100 km from Bulgan) and find a hotel there. You can also ask your travel guide/agent to book ahead so you are assured of a warm bed on arriving there.
4. Stay in a Traditional Ger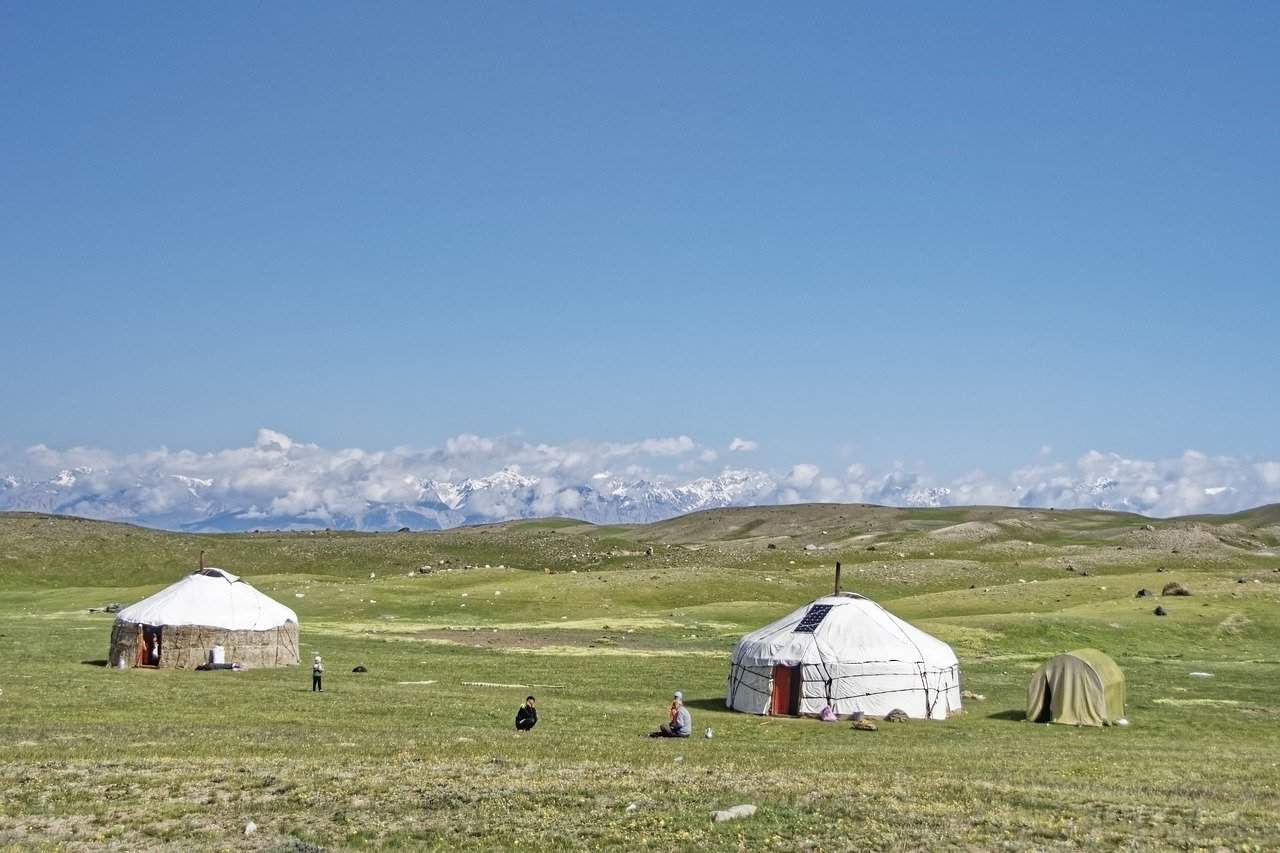 Spending a few days in a traditional ger or yurt, being guests to a welcoming local family and indulging in the local atmosphere, will be a most rewarding experience that you will have in Mongolia. There are several ways of going about this:
Pre-plan: you can book tourist ger well in advance through a travel agent. The upside to this is that tourist gers have basic amenities like flush toilets and running hot water, which feel like a luxury in the wilderness.
Wing It: If you are out trekking in nature or have just landed in Ulaanbaatar, you can strike up a conversation with a local and secure yourself an invite. If you are travelling to Terelj National Park, Gobi or White Lake, the locals will be more amenable to having you.
Make sure you follow the local etiquette when staying with a family in ger. Here are some useful pointers:
Don't outrightly reject any food/drink offered to you. Do at least sample and better still finish your portions.
It is courteous to take small gifts for the home family, like ration supplies or small groceries. Do not take alcohol or cigarettes as gifts.
Be prepared for the fact that your surroundings and amenities will be humble. Try to adapt and take along any specific things that you will need.
5. Quintessential Cuisine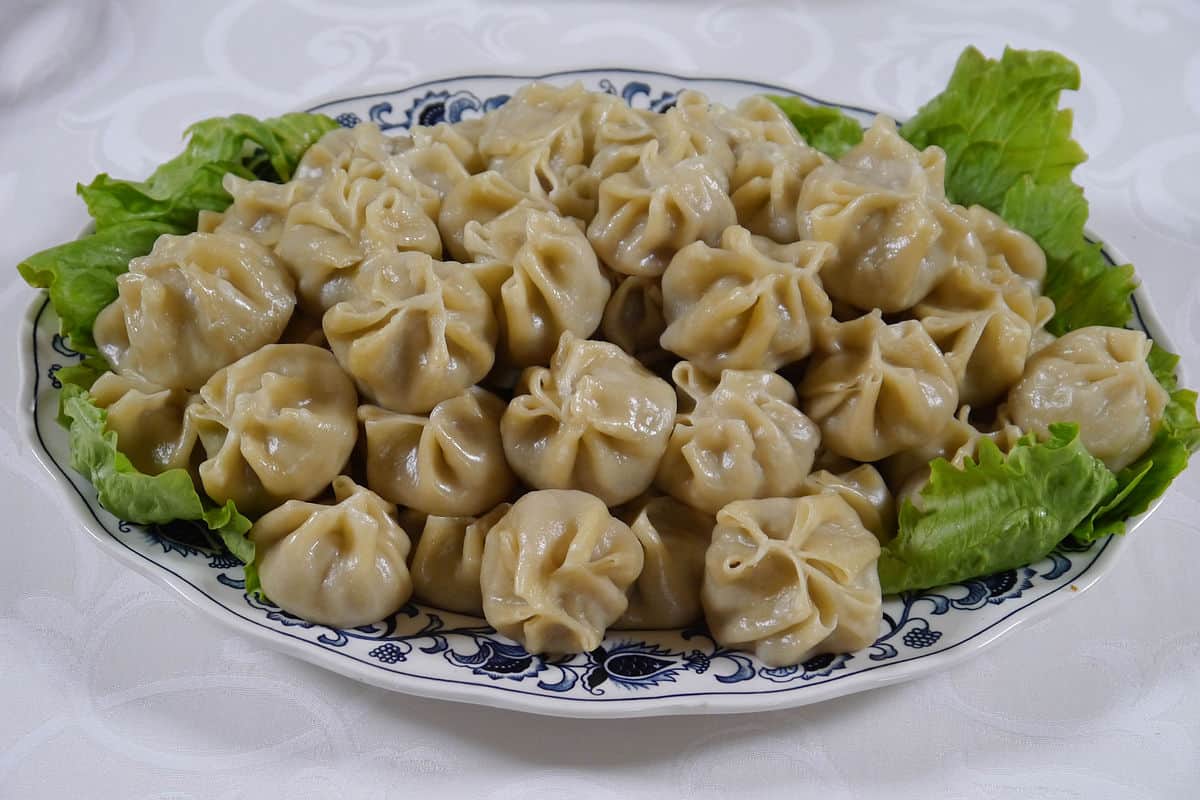 Due to the rough and arid terrain, Mongolia does not have a lot of native vegetation. So the cuisine here is not the most sophisticated and largely centres around meat. But the upside is that the meals are hearty and help you generate body heat, much-needed in the cold weather. Also, vegetarians need not worry as good research does yield some sumptuous options for them. Here are some quintessential Mongolian dishes that you should surely look out for when you are there:
Buuz Dumplings
If you are familiar with Tibetan momos or other kinds of filled dumplings made around Asia, buuz will be right up your alley. It is a steamed dumpling made by stuffing a meat mince in a thin wrapper. Usually, mutton (goat meat) is the meat of choice, but beef or other locally available meats may also be used. It is perfectly fine to eat buzz with ketchup or other condiments.
Barbeque Delicacies
Mongolians are big on barbeques and you will find lots of barbequed meat options all over the country, including herb-roasted mutton. One of the best spots to try some is Zochin Cafe in Ulaanbaatar. You will also find excellent buuz here.
Airag
A trip to Mongolia is anything but complete until you have tried its traditional Airag, which is fermented mare's milk. In fact, locals proudly call it their national drink! It has a 2% alcohol content is a must-have for all sorts of celebrations here. But it is not just the boozy quality that makes it a favourite. It is fortifying as it is a rich source of vitamins and minerals. Plus, the fermentation also removes the lactose content, so those with lactose intolerance can also consume it safely. If you stay with or visit a local family, you will most likely be offered a hearty bowl of Airag. Remember that returning the bowl outright or taking only a sip is considered rude. So it is best to chug it down.
 suutei tsai
This is a salty tea with milk that you will find as a staple with every meal. The flavour may take a little getting used to. But as they say 'when in Mongolia, do as the Mongolians do!'.
Apart from these, you will find a number of noodle, rice and meat dishes here which resemble those found in other South Asian countries. But the ones here tend to be far more humble in preparation and much heartier in portions. It is advisable to be more open to a new culinary experience here. And don't forget to start your meals with a heartfelt saikhan khool loorai! 
6. Best Treks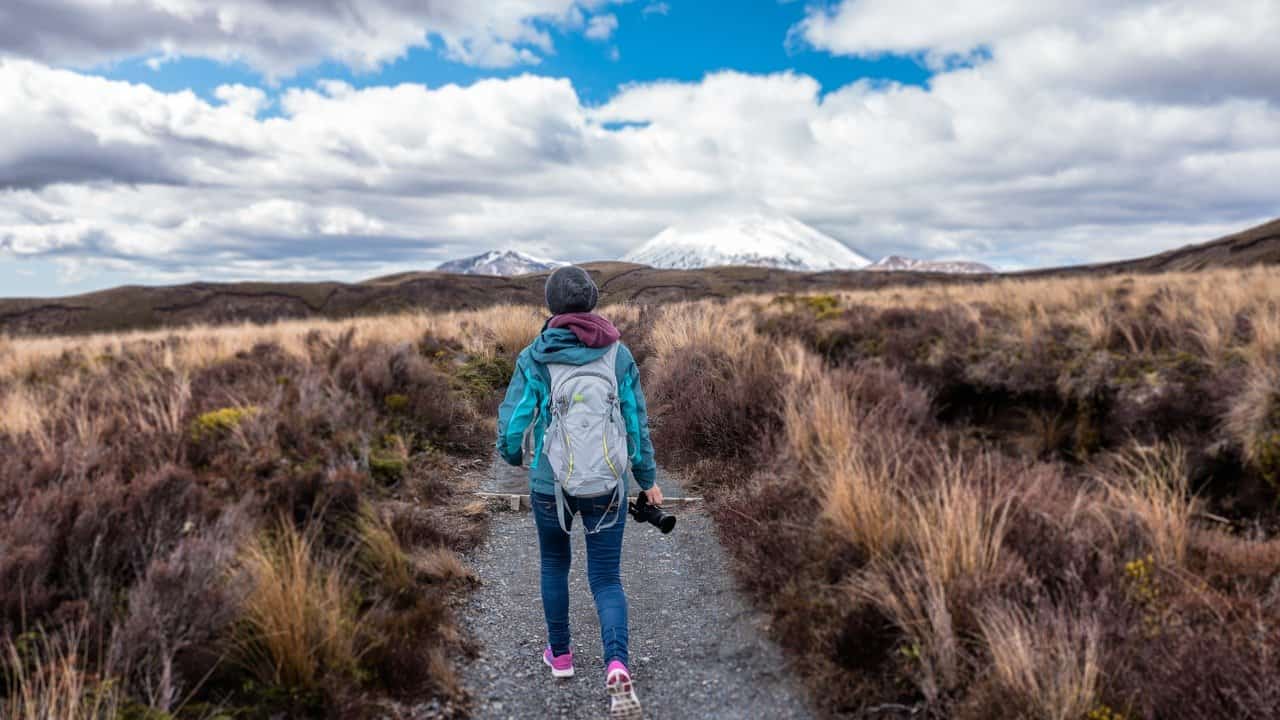 The breathtaking natural terrain of Mongolia spans forests, deserts, mountains, rivers, valleys, all interspersed with unique flora and fauna. If you wish to experience this beauty first-hand, plan leisurely hikes across different landscapes. Here are the top 3 treks that you won't find on most 'places to see' lists:
If you are new to trekking, this an easy one to start with. It is not as popular with tourists as Altai, so you can have a quite and more personalised trekking experience. The trail also has several spots that are ideal for camping, which is perfect considering that the trek can be anywhere between 6 and 16 days, depending on how far you are willing to go. But you will need an experienced guide because the path takes you through the wilderness with undefined paths. So you can book a 16-day tour that will kickstart the moment you arrive in Ulaanbaatar, so you can customise your trek by getting in touch with your travel agent.
If you are in Central Mongolia and looking for a more challenging trek route, this is the answer. Plan your trip for June-September to see the lakes, rivers and waterfalls in all their summer glory. The meadows around will be lush green and if you're lucky, you may chance upon some local fauna.  the Another upside is that the majestic Orkhon Waterfall will lie in your way and you can camp here to catch your breath with stunning scenery.
While you may write off Lake Khövsgöl as a 'touristy' spot, you will be surprised to know that the area around the lake is perfect for a trek and not frequented by most tourists. Since it lies in the reindeer-region of Mongolia, there is a high chance that you will be spot one or two wandering about on your way. If you are not up for a physically-demanding adventure, spots beside the lake are perfect campsites. You can set up your tent here and fish for dinner. In addition, you should know that Mongolia is like one giant campground. There are nearly no restrictions or fees levied, but etiquette regarding modesty, cleanliness and responsible camping should be followed. Camping out as close to nature as possible will be a truly unforgettable experience.
When setting out on any of these trekking trails, remember:
Due to the rough terrain and undefined paths, they are not suitable for smaller children.
Carry waterproof clothes and enough warm layers to protect yourself as the weather is always unpredictable in the wilderness.
Shoes are the one item that can make or break your trek experience. So make sure you invest in good waterproof, padded boots.
If you are going for the first time, it is highly advisable to engage a trekking guide.
Include these unique Mongolian experiences in your travel itinerary and your experience of the country is sure to be like no other! If you are looking for more places to see on your trip to Mongolia, check out some hidden gems here.