Hong Kong Travel Guide
Home » Destination Guides » Hong Kong Travel Guide
Oh, Hong Kong! One of the most beautiful skylines you'll ever see! A cuisine you'll never forget! Culture! Shopping! Everything you've dreamed of! Read all the information you need to know in this Hong Kong travel guide.
How to get there
Buy a flight ticket to Hong Kong International Airport (HKG), there are many direct flights from almost every place in the world so you won't have to worry about it. If you're on a budget, fly to Shenzhen International Airport (SZX) or Macau International Airport (MFM) instead. Flights to these cities are often cheaper and from both of them, you can take a ferry to get to Hong Kong.
Best time to visit
The best time to visit Hong Kong is from October to December, you'll find warm (but not so warm!) temperatures that'll let you enjoy the city. During September there are typhoons, so avoid this month, especially if you're arriving in Hong Kong's International Airport because it may be subject to delays due to strong winds.
Places to visit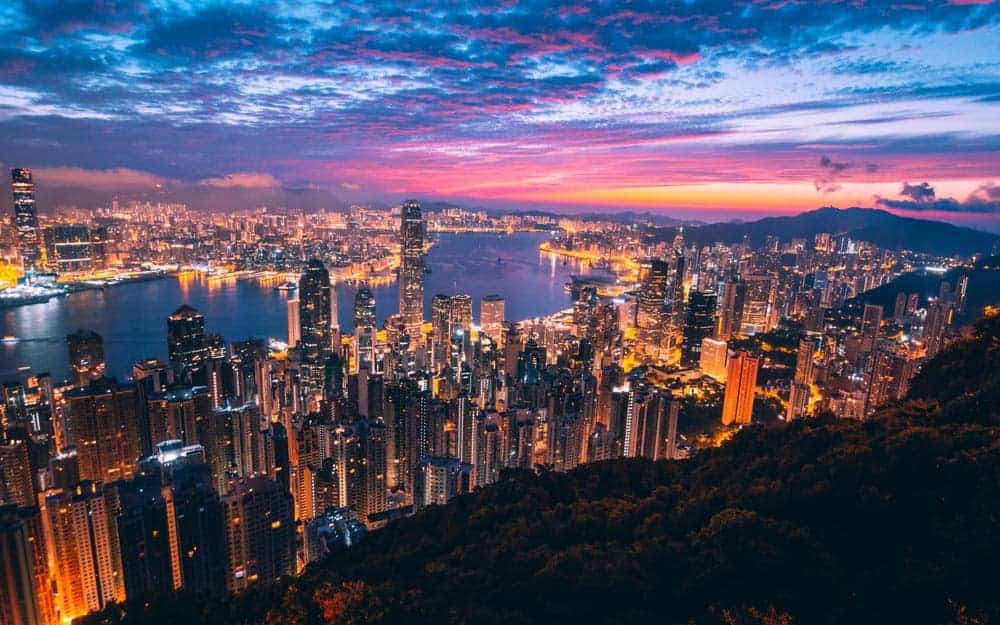 Victoria Peak
Locals call it The Peak but also can be named Mount Austin. It's the highest mountain on the island, so it has a great view of the city. The Peak Tram can get you there (more on that later).
Victoria Harbour
A popular place to have great views of the city, it separates Hong Kong Island in the south from the mainland in the north. Both locals and tourists gather in this zone, especially during the annual fireworks displays.
Wong Tai Sin Temple
Dedicated to the Great Immortal Wong, or Wong Tai Sin, this 18,000 m2 Taoist temple is famous because it has answered many prayers. You'll never forget the smell of the incense carried by hundreds of devotees.
Tsim Sha Tsui
Here, you'll find the Tsim Sha Tsui Promenade where you can enjoy Hong Kong's skyline. There's also the Avenue of Stars (something like the Hollywood Walk of Fame but with statues); Hong Kong's Cultural Center; the Clock Tower, one of Hong Kong's best-known landmarks; the Hong Kong Museum of History; and the Hong Kong Science Museum.
Central
The liveliest zone of the city. In Central, you'll find malls, luxury hotels, nightclubs, pubs, and trendy restaurants and bars. Visit Lan Kwai Fong and SoHo for the best party atmosphere. In Central, you'll be able to visit the Zoological and Botanical Gardens of Hong Kong.
Lantau Island
The largest island in Hong Kong. If you like hiking go to the Lantau Peak, where you can watch amazing sunrises. You can also visit Po Lin Monastery and watch the bronze Tian Tan Buddha of 34 m sits in a hilltop. Also, take the Ngong Ping 360 that can get you from downtown Tung Chung and Ngong Ping with great views.
Lamma Island
The creative and hipster types go to this island full of indie boutiques, craft stores, and cafes to get inspired. Head down to Hung Shing Yeh Beach, or go eating seafood to Sok Kwu Wan.
Peak Tower
Close to the summit of Victoria Peak, you'll find this leisure and shopping complex with a really unique shape. There are gift shops, a terrace, and attractions like Ripley's Believe it or Not! Odditorium and Madame Tussauds Hong Kong.
Repulse Bay
A great contrast with the busy vibe of Hong Kong's downtown area. This beach has a cove and upscale apartments surrounding it. The sand is soft and the Tin Hau Temple is also there, so don't forget to visit.
sky100
An observation deck on the 100th floor of the International Commerce Center. There are interactive touch screens that offer facts, tips, and itineraries for tourists. From sky100 you can have views of Hong Kong, Victoria Harbour, Kowloon, and Tai Mo Shan.
Places to eat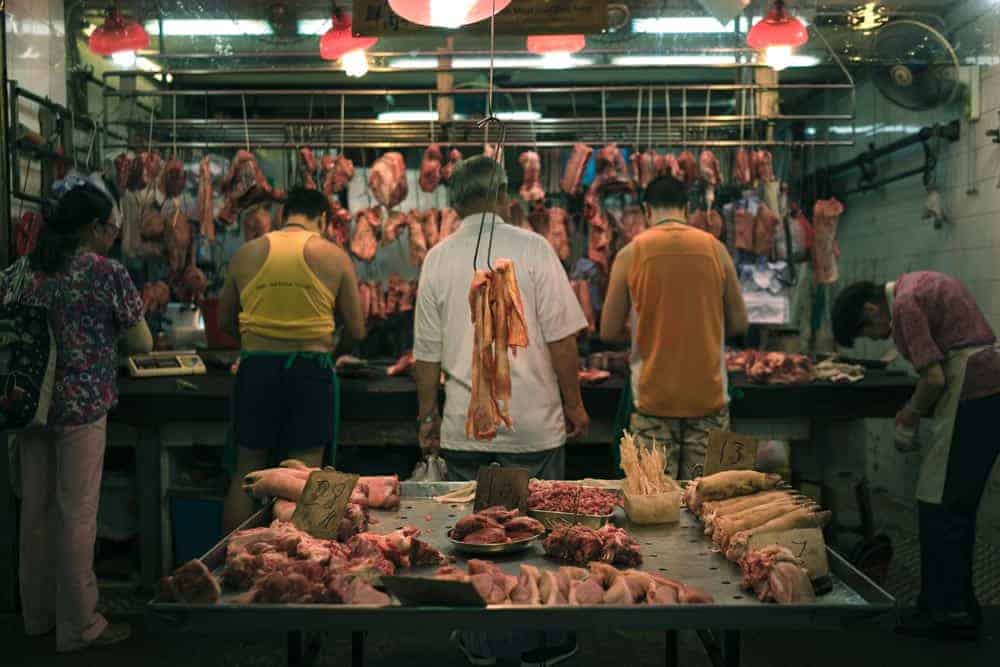 There are local fast food chains where you can buy meals for 3 or 4 USD. Mid-range restaurants offer meals for around 12 USD. And, of course, there are high-end restaurants like Felix or Aqua where you'll pay around 200 USD for a complete meal.
A unique place you must visit in Hong Kong is the cha chaan teng or tea café. Prices in these places go around 2 and 3 USD for tea or coffee, 1 USD for a toast, and between 2 and 7 USD for a dish with meat and rice.
For budget travelers, street food is the best option. You only have to consider that most people in the food stalls don't speak English so point to what you want, use your fingers to express quantity and always smile, people are generally nice. Here's a list of the best street food you should try and where to find it.
Wet markets are super popular, also. Here, you can find fresh ingredients (dry markets sell things like electronics or cloth) and cook your own food if you want to. For a truly local experience, head to the cooked food centers that are almost always in the wet markets. These are like food courts where locals eat cheap food. Most of the times, people don't speak English there.
Accommodation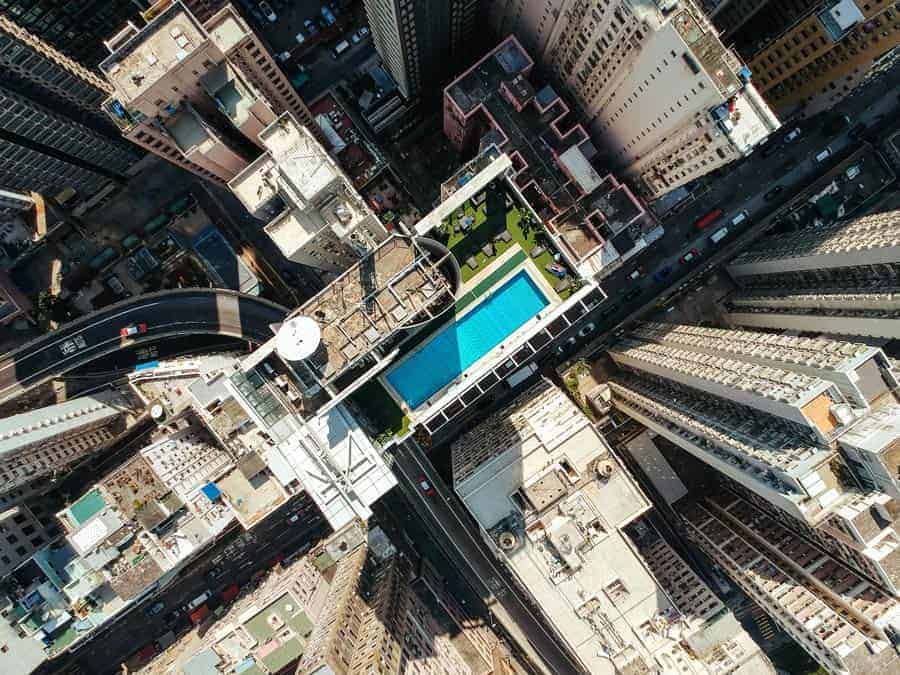 Hong Kong has options for every budget, but keep in mind that Hong Kong may not be as cheap as the rest of Asia.
You may find dorm beds for 15 to 20 USD, a room for 34 to 50 USD, or a double room for 50 to 60 USD, but don't expect anything fancy or big. You can find cheap places on Nathan Road between Tsim Sha Tsui and Mong Kok, and Paterson Street. Also, check the Hong Kong Youth Hostel Association's website. There, you can find cheap (between the 12 and 40 USD), safe options for accommodation.
Important: check that the place you're staying in is actually a guesthouse and not a love hotel, since sometimes that may be the case.
A popular place you'll find if you Google for accommodation in Hong Kong is Chungking Mansions. This is a building that houses shops, restaurants, and cheap guesthouses. It's not a place for everyone but it's a safe accommodation for adventurous people.
If you're willing to spend a little more, you can find Airbnbs or hotel rooms for 90 USD a night. Four-star hotels are also available starting at 200 USD the night, or five-star hotel rooms starting at 250 USD the night.
Getting around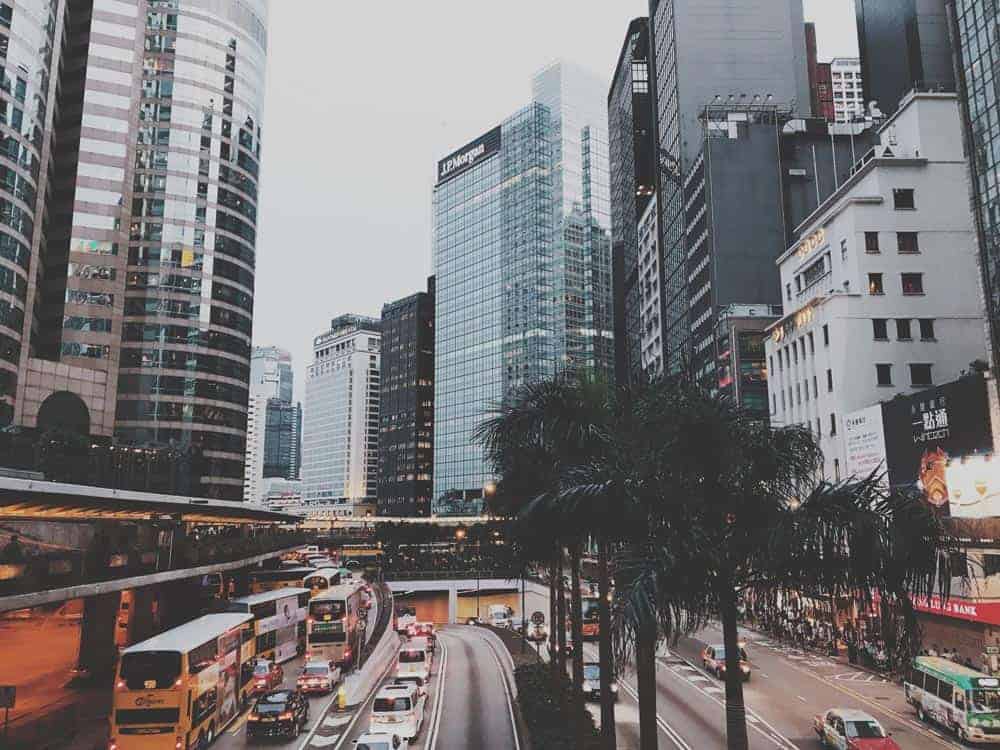 As always, using public transportation is a good idea to explore the city. Get an Octopus Card (Bat Dat Toong in Cantonese) to move around. The Octopus Card is a contactless debit card that you can use not only for public transportation but also, to buy things in supermarkets, restaurants, museums, vending machines, and more. Octopus Card works for MTR, bus, ferry, public light bus, coach, and tram. Check here where to get it and where you can use it. The card costs HK$39 (around 5 USD).
Note that the Octopus card is for personal use, so if you're traveling in a group, each of you must buy a card.
MTR (Mass transit railway)
The fastest way to get around but more expensive, it has 5 underground lines, 3 suburban rail lines, the Airport Express, and a network of tram lines. The cost depends on the place you're going. You can check how much a ticket would be here. The lines you'll probably use as a tourist are the Tsuen Wan Line (red), the Island Line (blue), and the Tung Chung Line (orange).
Important: don't eat, drink, or smoke in the MTR, offenders can get a fine.
Tram or Ding Ding
It has 6 main routes running between Kennedy Town and Shau Kei Wan daily, the cost of an adult ticket is of HK$2,60 or you can buy a 4-day pass for HK$220. It's a cheap and great way to sightsee. Check the routes and schedules here.
Peak Tram
A funicular that runs from Garden Road Admiralty to Victoria Peak. It's a great way to get excellent views of the harbor and skyscrapers of Hong Kong. Check the prices of the tickets here.
Bus
There are 3 types of buses in Hong Kong: double-decker buses, that cover practically all of Hong Kong; van-sized light buses, red and green, avoid these if you're not comfortable speaking Cantonese since you have to ask the driver to stop; and MTR feeder buses.
Ferry
The ferry offers great views of the city and it's a must do in Hong Kong! There are fast and slow ferries (slow ones are cheaper). Fares can also increase during Sundays and holidays. For a more touristy ferry, check the Star Ferry's fares and timetables here.
Taxis
They're clean, cheap, and efficient. You'll find 3 colors: blue, red, and gree. Read this information to know fares and differences between them.
Important events in Hong Kong
Chinese New Year
Go to Sik Sik Yuen Wong Tai Sin Temple to get a blessing and watch the fireworks from Victoria Harbour. Before going, check on which day will it be celebrated, since it's different every year. For 2019, the day will be February 5th.
Spring Lantern Festival
It happens in February or early March, this festival is celebrated on the 15th day of the first month in the lunisolar Chinese calendar. It's the final day of the Chinese New Year celebrations. Because of its origins, it's said to be the Chinese Valentine's Day.
Hong Kong Sevens
One of the most popular sports events in Asia, the Hong Kong Sevens hosts the best rugby players in the world. There's a carnival atmosphere where 40 teams play in front of 120,000 of fans! Don't miss the concerts and festivals that are part of the Sevens.
Birthday of Tin Hau
Celebrated during the 23rd day of the third lunar month, this festival is dedicated to Tin Hau, the Goddess of the sea (the patron saint of the city). There's a gorgeous float parade in Yuen Long and rites in the different temples dedicated to Tin Hau.
Cheung Chau Bun Festival / Cheung Chau Da Jiu Festival
Held annually in the island of Cheung Chau, this week-long celebration is unique. There are many activities involving the festival: for 3 days the whole island goes vegetarian, children "float" in the hands of people through the lanes of the island, and the construction of bun towers. It occurs during April or May.
Hong Kong Winterfest
There are decorations around the city, light shows, and fireworks to celebrate the New Year. Across the city, there are special events, shopping markets, and even classic Christmas trees. Since the temperature is mild, it's a great way to spend the holidays.
Female solo travel
Hong Kong is a multicultural city, also it's one of the safest cities in the world. When traveling solo as a woman just be aware of everything (as you would in any other situation) and take the precautions you take when at home. Although there's no special dress code, you might get unwanted looks if you're showing too much skin. If you're out drinking, always have your drink and belongings in sight. For more tips, read this guide by Sassy Hong Kong.
Useful phone numbers
999: Emergency (police, ambulance, fire services)
2508 1234: Hong Kong Tourism Board visitor hotline
2527 7177: Police hotline
Traveling with children
Hong Kong is a great city to visit with the whole family, there are tons of parks, museums, and activities that the whole family will enjoy. Of course, you can visit Disneyland Hong Kong, go to Ocean Park, and even visit some kid-friendly museums. For a list of activities, you can do with children in Hong Kong, visit this link.
And remember, you can also use Talk Travel App to plan your trips better and without stress! Download it for free for iOS or Android.