Home » Destination Guides » Ho Chi Minh City
Ho Chi Minh City travel guide will walk you through this Vietnamese city which is full of war relics, colonial buildings, and millions of motorbikes!
What is amazing about Ho Chi Minh City is how beautifully it balances modern high-rise towers with ancient temples (Đền) and pagodas (Chùa) within its city limits.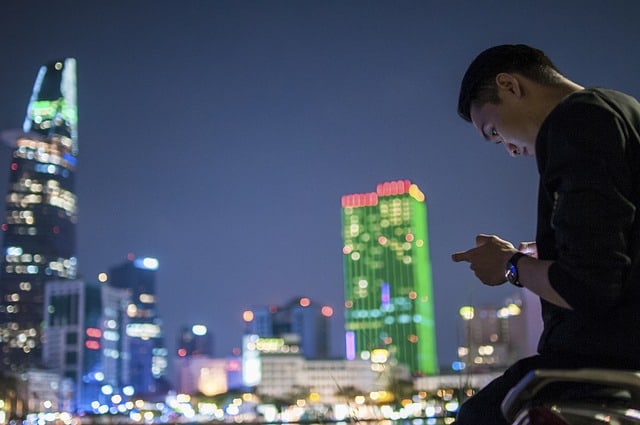 Vietnam is a great country to travel to for its unique culture, rich history, amazing food, variety in landscape, and the best of all, it is very affordable to travel for all budgets.
This city is also known by its former name, Saigon. To make things easy, Ho Chi Minh City is abbreviated as HCMC.
Ho Chi Minh City travel guide for the best time to visit
The best time to enjoy HCMC as a traveler is the dry season between December to April. The average temperature is between 21°C and 34°C. Since Vietnam has a tropical monsoon climate, it is warm almost throughout the year.
May to September is also a good time to go but it is the monsoon season, so expect showers. Pack the right clothing to avoid getting drenched in the rain.
The official currency in Vietnam is called the Vietnamese dong. In short, written as VND. 
How to reach Ho Chi Minh City?
The Tan Son Nhat International Airport receives flights from all over the world. The airport is located just eight kilometers from the city center. This is the best and the most convenient way of reaching HCMC.
If you are traveling from Hanoi or any other destination within Vietnam, then taking public transportation like a domestic flight, a train or a bus.
Mode of transport
Cost

(per person one-way)

Comments

Airport bus number 152

VND 5000 (<USD 1) +

VND 5000 (<USD 1) for your bag

Drop near Pham Ngu Lao Street (city center)

This bus runs until 6 pm only

Airport bus number 109 and 49

VND 20,000 (USD 1)

Drop near Pham Ngu Lao Street (city center)

These buses run from 5.30 am to 1.30 am the next day

Mai Linh or Vinasun taxi

VND 120,000 (USD 6) +

VND 10,000 (< USD 1)

Your ride to the city center is never more than USD 10

Stand in the queue outside the airport to take this taxi.

Ask the taxi driver to switch on the meter as soon as you enter.
The other taxis are pure scamsters.
Ho Chi Minh City travel guide to move around with the city
Mode of transport
Cost (per person one-way)
Comments

Rent a bicycle

Around VND 40,000 (USD 2)

Ask your hotel to suggest a shop nearby to rent a bicycle.

Vehicular traffic is high on the roads of HCMC, so be prepared to inhale all that exhaust and cycling in narrow spaces

Taxi

Rent Mai Linh, Vinasun, or Uber since these are more reliable

Motorbike

Prices start from VND 120,000-150,000 / day

(USD 5 – 7)

If you want to experience the motorbike craze in Vietnam, then go for it!

Rent a bike and be a part of the biking madness.

Always remember that, bike accidents are very common on the streets of HCMC, so please take utmost care of yourself.

Ask your hotel to suggest the best bike rental shop in that area.

Cyclo

VND 36,000 (USD 2)

Fun to hire a cycle rickshaw to experience the sights and sounds of the streets of HCMC.

Be careful of your belongings as thieves on motorbikes snatch your items and speed away.

Bus

Around VND 4,000 – 8,000 (< USD 1)

Identify them by the bright green paint.

They are cheap, safe and not very crowded (Maybe because half the population is riding bikes!)

On foot

Priceless!

Most of us love walking to have a deeper interaction with the place.

It is fun to walk here just like any other city in the world. But the biggest challenge, without any exaggeration is in crossing the road.

The streets are mostly crowded so please take care of your belongings.
Carry all landmark names, the hotel name and address in Vietnamese script. Seek the help of your tour guide or your hotel manager who knows Vietnamese. This will help you in communicating on the road as most taxi drivers do not speak English and it also helps in asking directions.
Streets full of mopeds is a way of life in HCMC. Pic courtesy: Alex L'aventurier,
Ho Chi Minh City travel guide to the best areas to stay in
Pham Ngu Lao and Bui Vien Street
You will find hotels and hostels which cater to budgets from backpacking to mid-range. Since this place is teeming with foreigners, there are good bars, nightclubs, and also massage parlors.
Ben Thanh Market area
This is the midpoint of HCMC. You are close to a lot of public transport options. You will find cheap to mid-range hotels here.
You can also try staying in homestays as HCMC is a very tourism-oriented city. Since there is a lot of profit in this industry, locals open their homes to travelers. A good way to learn about authentic Vietnamese lifestyle.
Dong Khoi
This is the upmarket area of HCMC, so if you are looking for luxury hotels, this the place to look for.
Ho Chi Minh City travel guide for the best places to visit
Cu Chi tunnels
Thousands of underground tunnels were built by the Communist guerilla troops in the late 1940s. The USA which was supporting the more liberal South Vietnam was relying heavily on aerial bombing. In order to survive and continue fighting the war, the Communists came up with this guerilla tactic.
Pic courtesy: bra3nnvin
It is a great place to visit to see what tough days Vietnam has faced throughout its history. Best to go early morning as the heat can sap your energy when you go inside the tunnel. It is going to be very hot so take cool water to drink and some insect spray.
Ben Thanh Market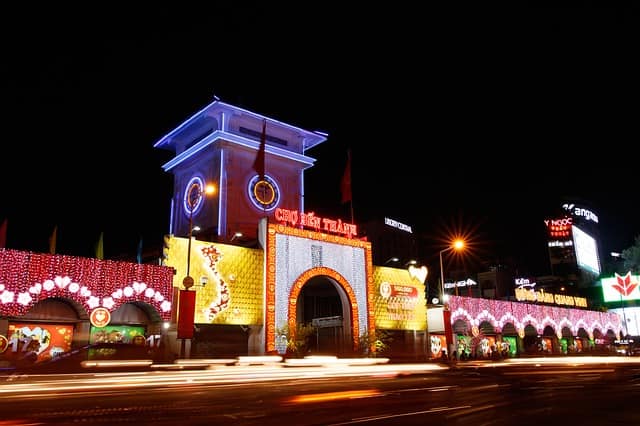 It's a huge marketplace located in the Cholon area of HCMC. This is the place to be to buy locally made clothes, handicrafts, spices, souvenirs, and great local food. Always bargain before purchasing anything.
Independence Palace / Reunification Palace
This important landmark was previously the home and workplace of the President of South Vietnam during the Vietnam War. The museum within the palace provides great historical background on the events of Vietnam's past and those that occurred in and around the Palace.
War Remnants Museum
The museum is filled with photographs of the various events in the Vietnam War. Definitely not a fun place to visit as this place is only a grim reminder of the pointless pursuit of a war. It is an eye-opening experience to see the atrocities of the war that ravaged this country for 20 years.
Saigon Notre-Dame Basilica
Classic French colonial relic in the located at the center of HCMC. The cathedral was constructed between 1863 and 1880. It is a well-known fact that all the building materials used in the Cathedral were imported from France. For example, the bricks on the outside wall were sourced from Toulouse.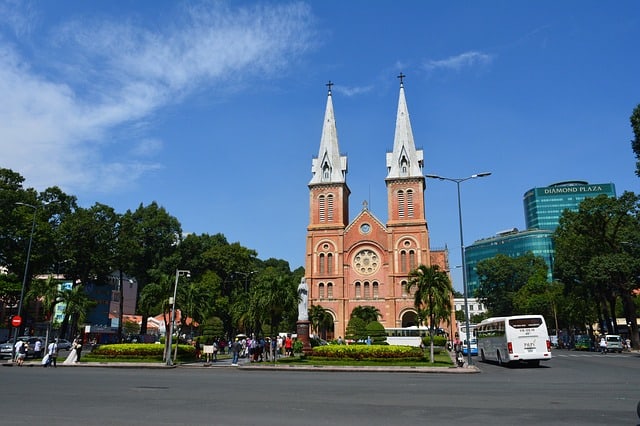 If you are in good health, I highly recommend taking the tour and walking up the tower. Try to visit this place when there is a Sunday mass at 9.30 am.
Saigon Central Post Office
Right opposite the Cathedral is the Central Post Office. It's the French colonial architecture that really stands out.
You can buy a postcard here and mail it back from to your friends and family as the Post Office is still functional.
Bitexco Financial Tower
This skyscraper was the tallest building in Vietnam until Keangnam Hanoi Landmark Tower took the title in 2011.
Pic courtesy: Kyanh-photo
The Saigon Skydeck on the 49th floor has an observation deck. You get the best panoramic views of HCMC here. Or, you can also go to Eon cafe upstairs and enjoy the views while you can sit, snack on something and sip on coffee.
Thien Hau Temple
Built in the 19th century, this Chinese temple is located in Chinatown on the busy Nguyen Trai Street. The temple is dedicated to the Chinese sea goddess Mazu. The intricate metal and woodworks are worthy of an applause.
Please dress appropriately if you intend to go inside the temple. Cover your legs and shoulders. Go exploring around the temple to see Chinese lanterns, food, herbs, and more.
Gia Long Palace
This is the Museum of Ho Chi Minh City. If you are a history buff, you should go inside the museum for as little as VND 15,000 (< USD 1) and an extra VND 20,000 (< USD 1) for your DSLR.
The street food area just behind the Palace across the road is a great place to eat if you are hungry.
Jade Emperor Pagoda
Pic courtesy: Johnny Loi
A Taoist pagoda dedicated to the Jade Emperor, one of the highest powers and deities in Taoism. As you as you enter this place of worship, all the hustle and bustle of the streets fade away, you will be welcomed by the smell of incense sticks and the sound of prayers. There are a lot of trees and pigeons within the temple complex.
Vinh Nghiem Pagoda
One of the city's most beautiful landmarks, this Buddhist pagoda is a must-visit. The highest structure in this pagoda is the 7-storeyed, 40 m high (130 ft) tower.
The Golden Dragon Water Puppet Theater
Pic courtesy: Joersch
This is the venue for traditional Vietnamese puppet shows performed in water, with live music! Great fun for kids and adults alike. The colorful puppets, the music, scripted dialogues, and the creative usage of water makes for an enthralling show.
Market hopping
A lot of travelers visit markets to learn about local Vietnamese lives, to closely observe what is sold in the market and more. There are a lot of wet markets in HCMC that you can visit, specifically during the day as fresh produce is sold. You will find a variety of seafood and meat that is sold here.
The best place to see the soaring skyline of HCMC
Cross the Thu Thiem Bridge or pass through the Saigon River Tunnel to go to the other side. Here, as directions for a street called Cay Bang. Bit of a city adventure to figure this place out but the views of the city skyline from across the river are rewarding.
Mekong Delta Tour
Pic courtesy: Robert Muckley
Go on a tour on a long-tailed boat through a vast maze of fishing villages, rivers, swamps, and islands in the Mekong Delta region in Southern Vietnam. Book a tour with any of the many companies to experience this. Check out all the tours from Get your Guide.
Important festivals in HCMC
Tet Festival or Tet Nguyen Dan (Vietnamese New Year)
Pic courtesy: Nam Le Nhut Hoang
Celebrated on a day in the month of January and February, all the locals get together with their families and welcome their Lunar New Year by visiting temples, light incense sticks and pray for good fortune.
Whale Festival
This festival is celebrated in the month of August to worship whales. Fishermen believe that whales help their boats and ships during high tides and safely help them reach the shore.
Tet Trung Thu / Mid-Autumn Festival
Celebrated in August or October, this occasion is to enjoy the successful reaping of rice and wheat with food offerings made in the honor of the moon. The best part of the festival is the thousands of paper lanterns that are lit along the streets and floating paper lanterns that are released into the sky. The one dish that is devoured in this festival is the mooncake.
Ho Chi Minh City travel guide for solo female travelers
It is totally safe for solo female travelers to waltz around HCMC. Take all the safety precautions you take at home to avoid getting into any untoward situation. Always take the Vinasun or Mai Linh cabs to travel. Taking an Uber is even better.
For some solo female travel inspiration, check out this blog by Melissa who traversed through Vietnam all alone.
Also, read our posts with tips for women traveling solo.
Ho Chi Minh City travel guide to holidaying with kids
Traveling in HCMC with kids is not a challenge at all. The traffic and the crowd might get to you at first but you will quickly get used to it. Be very careful about crossing the street as cars and motorbikes keep coming.
Check out this blog by Sally to find out how she had fun with her husband and her three kids over four days doing memorable activities together.
Ho Chi Minh City travel guide to avoid tourist traps
When you are at a restaurant if the waiter serves a plate of peanuts (though you did not ask for it) to snack on until your meal arrives, then return the plate. Because they will add this plate of peanuts to your final bill.

If you are provided an English only menu, it may probably mean that tourists are being charged differently. Ask for a Vietnamese menu (assuming you understand the language) or take the help of a local to help you in ordering.

Negotiate the price with the cycle rickshaw guy well in advance. Even if you do, they sometimes quote higher upon reaching the destination. To avoid this, write it on a piece of paper and get him to agree to it that you will pay only this and nothing more.

If you are planning to drink beer or such, always look for the seal before opening it. Sometimes, the beer is replaced with some cheaper version and sold for a higher price.

Have a hawk's eye when you are transacting with cash. They will give you lesser change while distracting you with unnecessary chit-chat.

This is for the men. Beware of well-dressed girls trying to chat up with you. They will try to invite you for a spa treatment or a massage and rob you once you enter.
There are many more scams which are neatly explained and they also suggest how to bail yourself out of bad situations in this blog from Travel Scams.
I hope this Ho Chi Minh City travel guide shared all the information that you would need to plan an itinerary in this dynamic East Asian City.
Want more inspiration for your next travels? Check all our destination guides.