Home » Destination Guides » 9 best Christmas markets in North America
The tradition of Christmas markets originated in Germany, as early as the 14th century during the four weeks of Advent. It later got replicated in other European and American countries as well.
Originally in the past, these Christmas markets only featured food and supplies for winter, but in contemporary times they resemble some fairytale were gifts and treats galore.
So grab some lebkuchen (German gingerbread) and glühwein (mulled wine) as you get ready to browse these awesome Christmas markets across Northern America
So as we countdown to Christmas ahead, these places are all sure to put you in a festive mood if you aren't already. Enjoy! Merry Christmas!
1) Chicago, USA
The Christkindl Christmas market in Chicago is one of the longest-running and largest Christmas markets anywhere in America. This Christmas fair is hosted in Daley Plaza and is visited by a million visitors every year.
The 16th-century Christkindlesmarkt in Nuremberg inspires the entire setting of this market.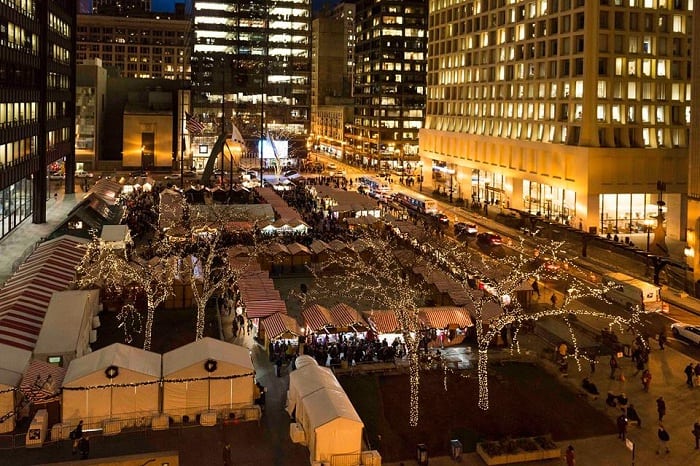 There's plenty of other mouth-watering German-inspired food and merchandise such as cuckoo clocks, table laces, ornaments, woodworking masterpieces along with other great gift and souvenir ideas. Children have the opportunity to participate in fun Kinder Club activities.
Book a "Stammtisch" table for you and your friends in a cozy hut and enjoy food and beverage package from one of the many amazing vendors. Or grab yourself a glass of gluhwein in a themed cup that changes its design every year.
The festive cheer of the season and wholesome fun is guaranteed at this place. Enjoy!
Christkindl Market, Chicago will be open from November 15th until December 24th 2019
2) New York, USA
The Bank of America Winter Village Christmas market at Bryant Park is one of the most beautiful and prettiest markets of New York City.
The holiday market features in about 150 custom-designed kiosks various items like artwork, home goods, beauty products, toys, handicrafts, unique apparel, jewelry, decorations and exquisite gifts alongside a wide selection of yum festive cuisine.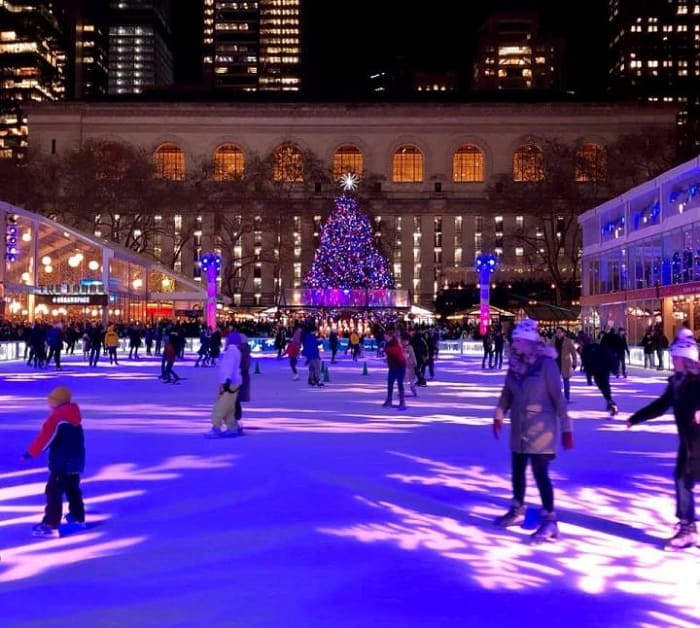 There are other fun activities. For example, morning with Santa, tricks and treats, bumper cars, winter fitness, broomball, Santa's corner, kids week, tree lighting, etc. Various workshops and cultural events are also hosted here.
An ice-rink at the center of the park offers the only free ice skating activity in the city. For this season you can plan ahead and reserve your skate time online.
All in all, it is a great place to immerse in the festive holiday spirit as the park transforms itself into a protean entertainment hub over the Christmas fair. Don't miss this one!
You can also check out these other Christmas markets in New York City- Canandaigua Christkindl Market at Granger Homestead and Carriage Museum, Columbus Circle Holiday Market at the entrance to Central Park and Union Square Holiday Market in central Manhattan.
Winter Village Christmas market, Bryant Park dates from October 31st 2019 – March 1st2020
3) Toronto, Canada
The European inspired Christmas market taking place in the Distillery District is one of the city's highly-anticipated holiday fairs in Canada.
Many quality vendors sell various items such as handmade ornaments, specialty holiday trinkets, Eastern European gifts as mouth-blown glass, wood carvings, enamel and cloth creations, stocking stuffers, Yumi candles and seasonal favorites like mulled wine, the Christmas Waffle bar, Tornado potato sticks, and poutine.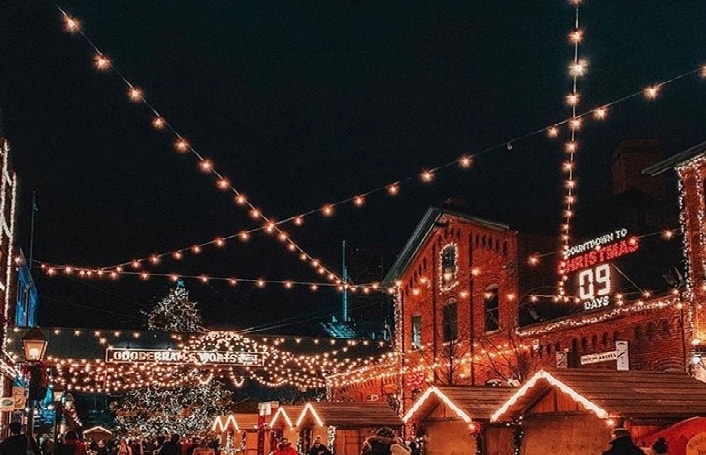 The major centerpiece of the market is its Ontario-grown balsam-fir covered with more than 30,000 lights and wrapped in about 1-kilometer of ribbon.
The other fun activities to indulge in include- riding the Ferris wheel, taking Distillery District walking tours, visit the Interac winter wonderland, the Santa House and the CIBC snowflake square or walk under the Heart of the Christmas' sculpture's arch and click a picture. This Christmas bonanza is definitely worthy of a visit.
Admission is charged on weekends beginning at 6 pm on Fridays. It is free during the week.
The Toronto Christmas Market will run from November 14th to Sunday, December 22nd, 2019. It remains closed on Mondays.
4) Maryland, USA
The Kris Kringle Christmas market in La Plata, Maryland has the best of the holiday season with shopping, gorgeous light displays, Santa Claus arrival, and beautiful Christmas tree decorations.
Modeled after the famous markets in Germany, this annual event at the fairgrounds offers holiday food, handmade crafts from local artists and crafters, children activities, shopping, music, and much more.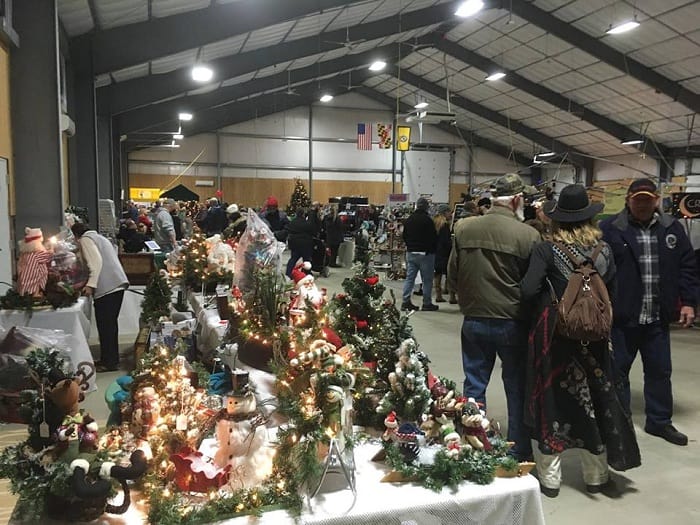 There will also be strolling carolers, live Christmas songs and music with a live nativity scene alongside delicious Christmas treats.
Fresh holiday decorations will available for purchase via local greens collected from local yards and fields. The market features dozens of vendors offering holiday-themed gift ideas, from ornaments, crafts to home décor.
Winter fireworks are also the highlight of the annual fair.
You can also visit these other Christmas markets in Maryland- Maryland Christmas Show at Frederick fairgrounds, Christmas village at Baltimore, Holiday Sugarloaf Crafts Festival at Gaithersburg and Christmas market at Towson.
Kris Kringle Christmas market, Maryland will be operational from December 13th until December 15th 2019.
5) Mexico City, Mexico
The bustling city is home to many vibrant Christmas markets. The top floor of Galerias Plaza de las Estrellas features more than 100 vendors selling handicrafts, decorative items, and textiles while an artisan market pops up in front of the Olympic Sports Centre during the holiday season.
The markets offer everything from artisan-made figurines, nativity scenes, ornaments and textiles to piñatas, and poinsettias.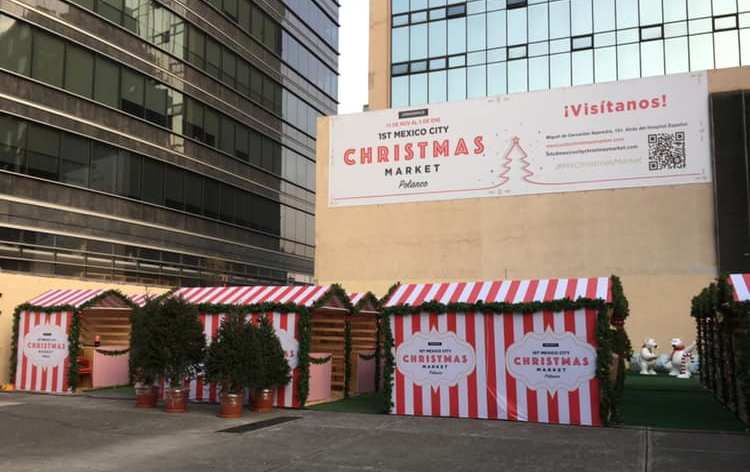 The street market outside of Jamaica Market offers many different items including nativity scenes, Christmas trees, and massive piñatas for the holiday party (posada).
Many of the city's permanent shopping bazaars as- Coyoacan, Lazaro Cardenas, Río Blanco also host festive Christmas marketplaces. You can get your Christmas shopping done here.
Don't forget to try champurrado (Mexican style hot chocolate) and Christmas ponche (warm, spiced punch with fresh fruit, with or without alcohol) while here.
6) Vancouver, Canada
A beloved holiday tradition for locals and visitors alike, the Vancouver Christmas Market features
more than 80 huts offering authentic German sweets, treats, and treasures. It also celebrates its 10th anniversary this season.
You can shop here for handcrafted gifts, unique glass ornaments, home décors along with sweet and savory delights. Or indulge in the festive fun-filled activities at Photo hut, winter deck, Wunderbar, Christmas Carousels, Kinder craft igloos, lovers' lane and much more.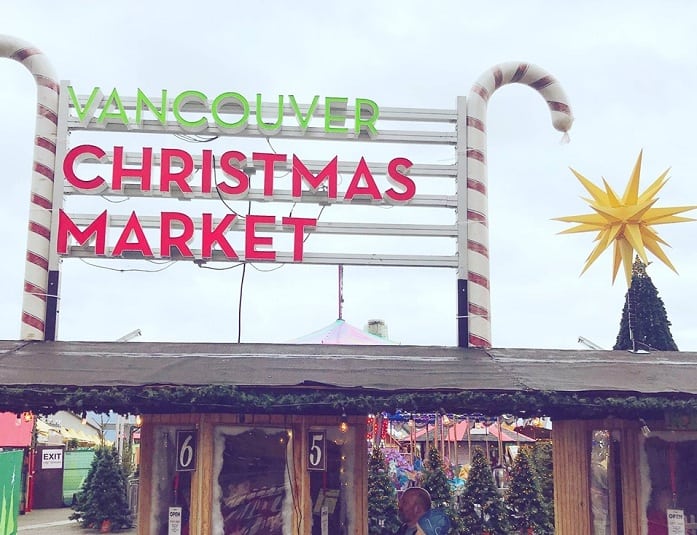 Don't miss relishing the celebratory Glühwein and Feuerzangenbowle standing 10 feet atop the market at the Christmas Pyramid, here.
Vancouver Christmas market will be operational from 20th November until 24th December 2019.
7) Washington, USA
The Downtown Christmas holiday market in the heart of Downtown D.C is a one-stop winter wonderland.
It brings experience one of the most spectacular outdoor shopping environments in the region featuring more than 150 regional artisans, crafters and boutique businesses of ethically-produced goods.
Diverse gift items, such as jewelry, pottery, paintings, and textiles will be offered by a range of exhibitors each day. The exhibitors are set to rotate so the selection of goods will vary daily.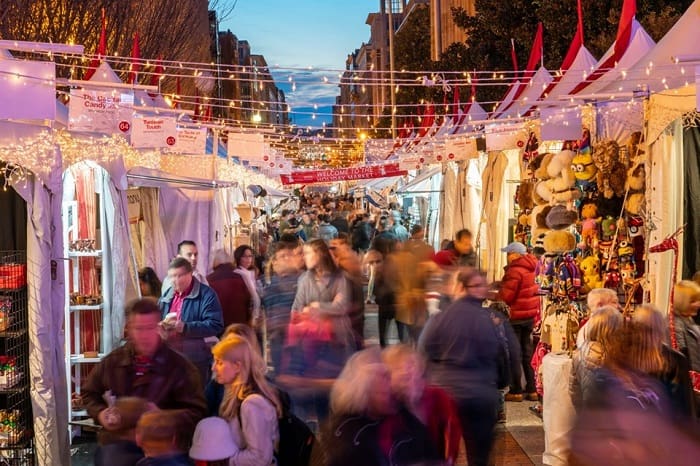 The market will also feature seasonal entertainment as live jazz and blues music, classic Christmas carols and other types of musical acts as gospel, folk, bluegrass, rock, etc. along with lip-smacking snacks and festive treats.
Don't miss the Peruvian empanadas, hot mulled cider and the authentic German gingerbreads here.
Downtown Holiday Market, Washington dates are from November 22nd until December 23rd 2019.
8) San Francisco, USA
The Great Dickens Christmas Fair is one of a kind event in the United States. The holiday adventure into Victorian London is an elaborate party with hundreds of costumed players performing and interacting with patrons in theatrically-lit music halls, pubs, dance floors, and Christmas shops.
Dozens of lamplit shops are filled to overflowing with Christmas gifts, such as Victorian reproductions, fine art, romantic clothing, glittering pewter, and dazzling jewelry.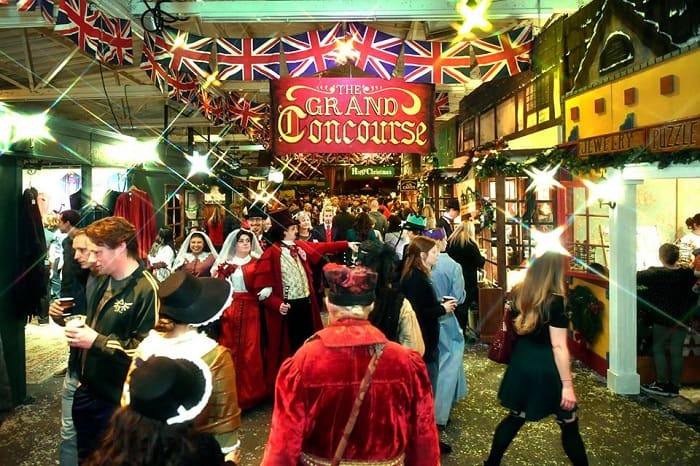 Enticing aromas of roasted chestnuts and hearty foods fill the air, bringing in the feeling of festive Xmas spirit.
Above all, this is a splendid English way to celebrate the holidays. For children, it especially features- Punch and Judy puppet shows, Victorian fairies, Father Christmas, interactive theatrical performances; games and holiday activities and Victorian arts and crafts.
There is a host of entertainment guaranteed at this place to make for a wholesome holiday experience. A worthy visit.
Charles Dickens' London Christmas market and fair, San Francisco dates are from 23rd November until 22nd December 2019.
9) Pennsylvania, USA
Christkindlmarkt in the Christmas City of Bethlehem has many times been recognized as one of the best holiday markets in the U.S.
The heart-warming extravaganza features more than 150 artisans selling their unique, handcrafted goods, thoughtful holiday gifts, delicious eats and drinks, the glassblowers of the ArtsQuest Glass Studio and much more.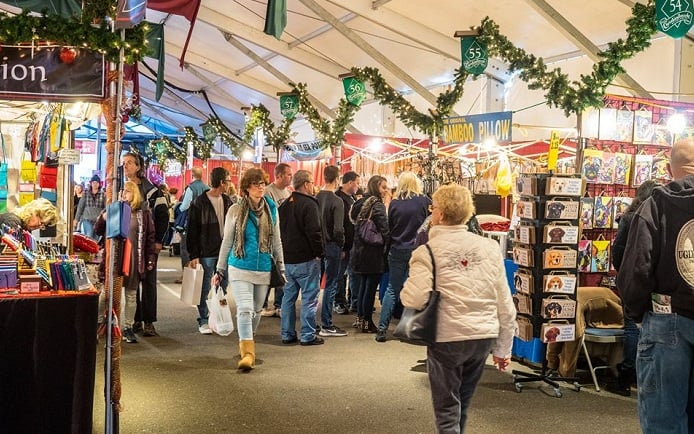 Käthe Wohlfahrt, from Germany, offers handmade ornaments, nutcrackers, and collectibles.
There are ice carving and glassblowing demonstrations, including the popular Hot Glass Experience Glass Ornament sessions. You can also sign up for a special breakfast with St. Nicholas.
New attractions here for season 2019 include- outdoor artisan huts, fire pits, and igloos in the Outdoor Village and pet photo sessions with St. Nicholas on Friday evenings Nov. 22 & Dec. 6, 2019.
You can also listen to live Christmas music at this fair! A must-visit this one.
Similarly, you can explore other places. Other Christmas markets to explore in Pennsylvania include- Mifflinburg Christkindl market, Peoples Gas Holiday Market at downtown Pittsburgh's Market Square and Christmas Village Philadelphia.
Christkindlmarkt, Bethlehem happens from November 22nd until December 22nd 2019.
So which of these Christmas markets are on your itinerary? Do let us know your views in the comments below:)