Home » Travel Tips » Top 10 Water Bottles For Traveling
You cannot take just any water bottle on your next trip to the mountains or even to the Louvre. Carrying your water bottle saves money, helps the environment, and gives you the freedom to get water from anywhere anytime. 
A travel-friendly water bottle is easier to carry, looks good, and has utility value beyond its price. We reckon that the best travel water bottles is not a great topic to discuss with friends before you head out, but that doesn't mean you shouldn't talk about it at all. To save you from all the discussion and research, we have gathered a list of the best travel water bottles. 
Best Water Bottles for Traveling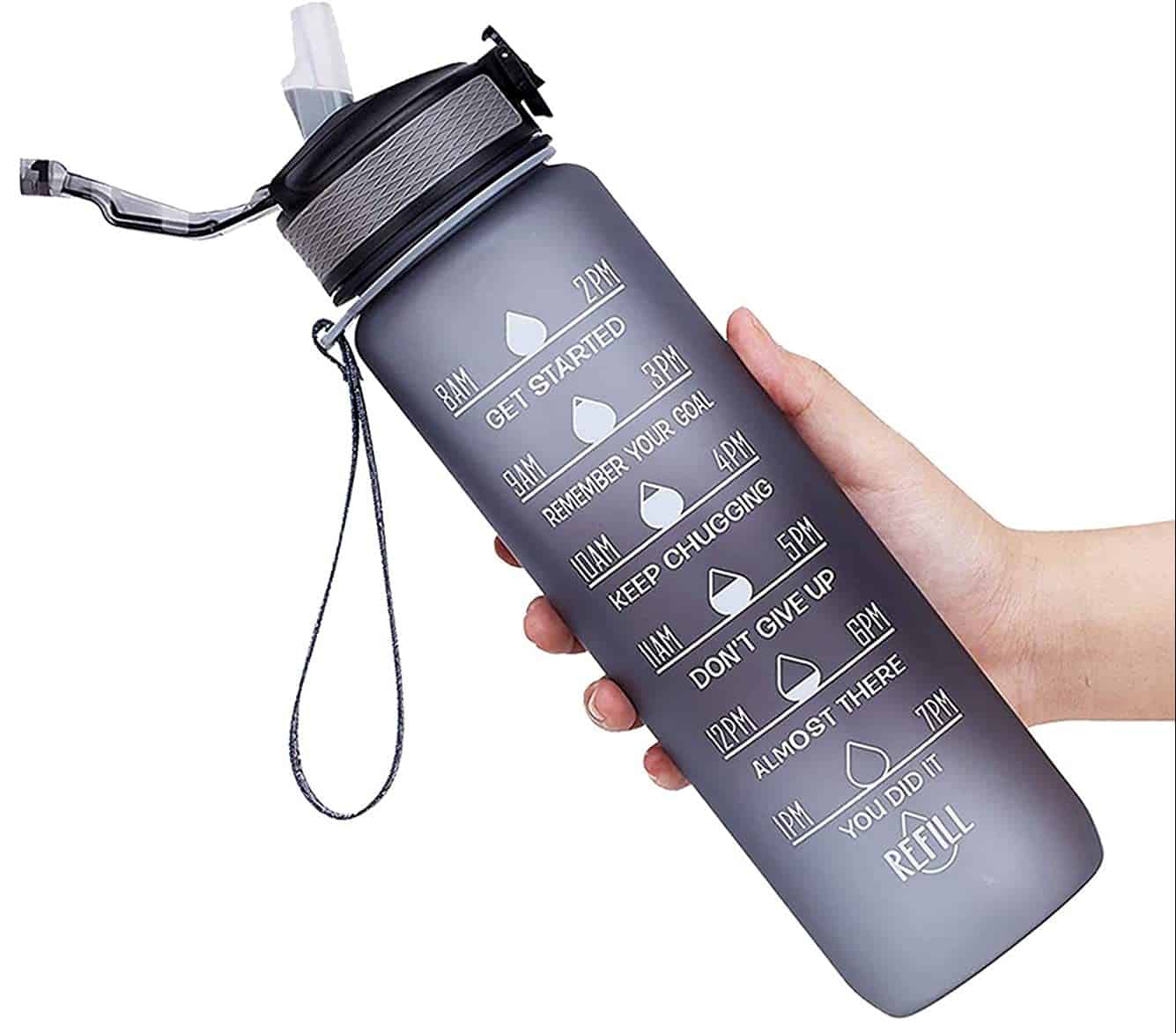 Price: $ 18.99
Drinking water may not be a fun activity, but this water bottle makes it a task by motivating you with the time markers and quotes. As a BPA-free plastic bottle, it's safe to carry around in any part of the world and get through customers easily. You will be using a functional water bottle designed to carry around easily, and it fits into the backpack perfectly. 
Pros:
Flip style top lid with secured lock. 

Leak-proof bottle cap with dust-proofing material. 

32 oz capacity saves you from frequent refills.
Cons:
The plastic used to make this is not toxin-free. 

The markings can peel after regular use.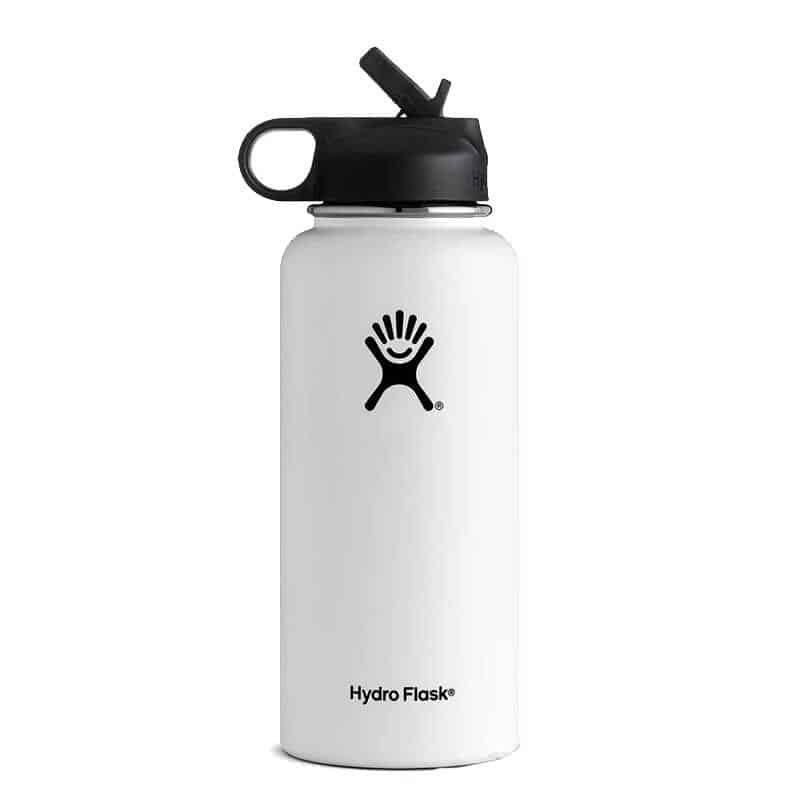 Price: $ 25.00 – $ 64.97
This is a stainless steel water bottle for traveling. It may be a bit heavier than others, but you'll get to drink cold water for 24 hours and hot water for at least 6 hours. It has a double insulation wall, and it's a BPA-free bottle. As the Hydro flask is made with pro-grade stainless steel, the steel won't transfer the flavors to the water inside the bottle. 
Pros:
Leak-proof lid won't spill water. 

Powdered color coat retains the bottle's finish. 

It comes with a lifetime warranty. 
Cons:
Sensitive lid breaks off easily after falling once. 

People have got a fake Hydroflask, so beware.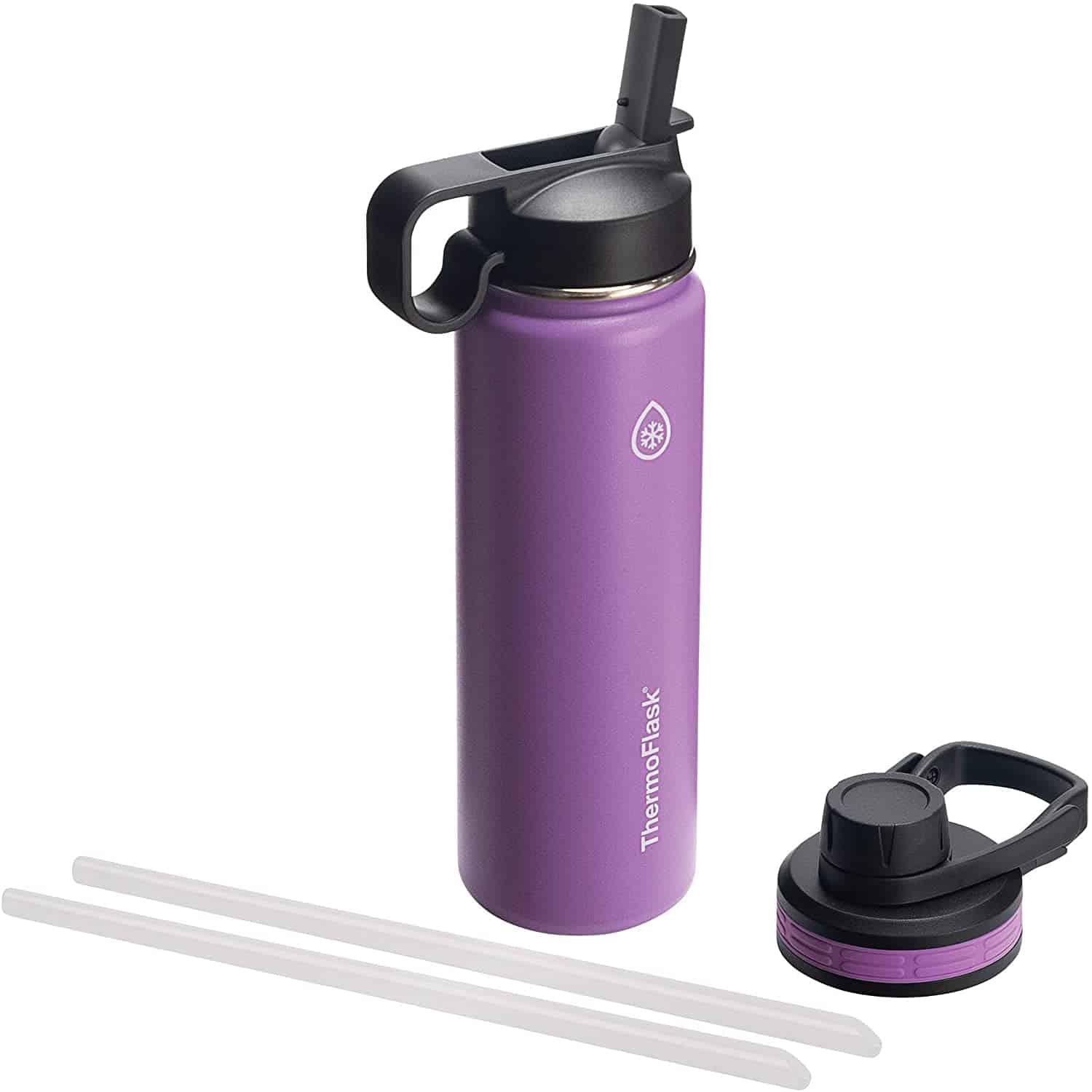 Price: $ 19.99
A product from the house of Thermoflask, this water bottle has vacuum insulation that helps keep water cold for 24 hours and hot for up to 12 hours. As the inside material is made from BPA-free stainless steel, the stored water will be safe and smell-free. The chug and straw lid makes it easier to drink water by using one hand, making this water bottle perfect to carry on your trip. 
Pros:
Bigger mouth makes it easy to put in ice and clean. 

Zero-moisture surface leaves no ring on the desk or water in the bag. 

Conveniently sized to fit in the backpack pocket. 
Cons:
The outer surface bends easily. 

The straw does not fit properly.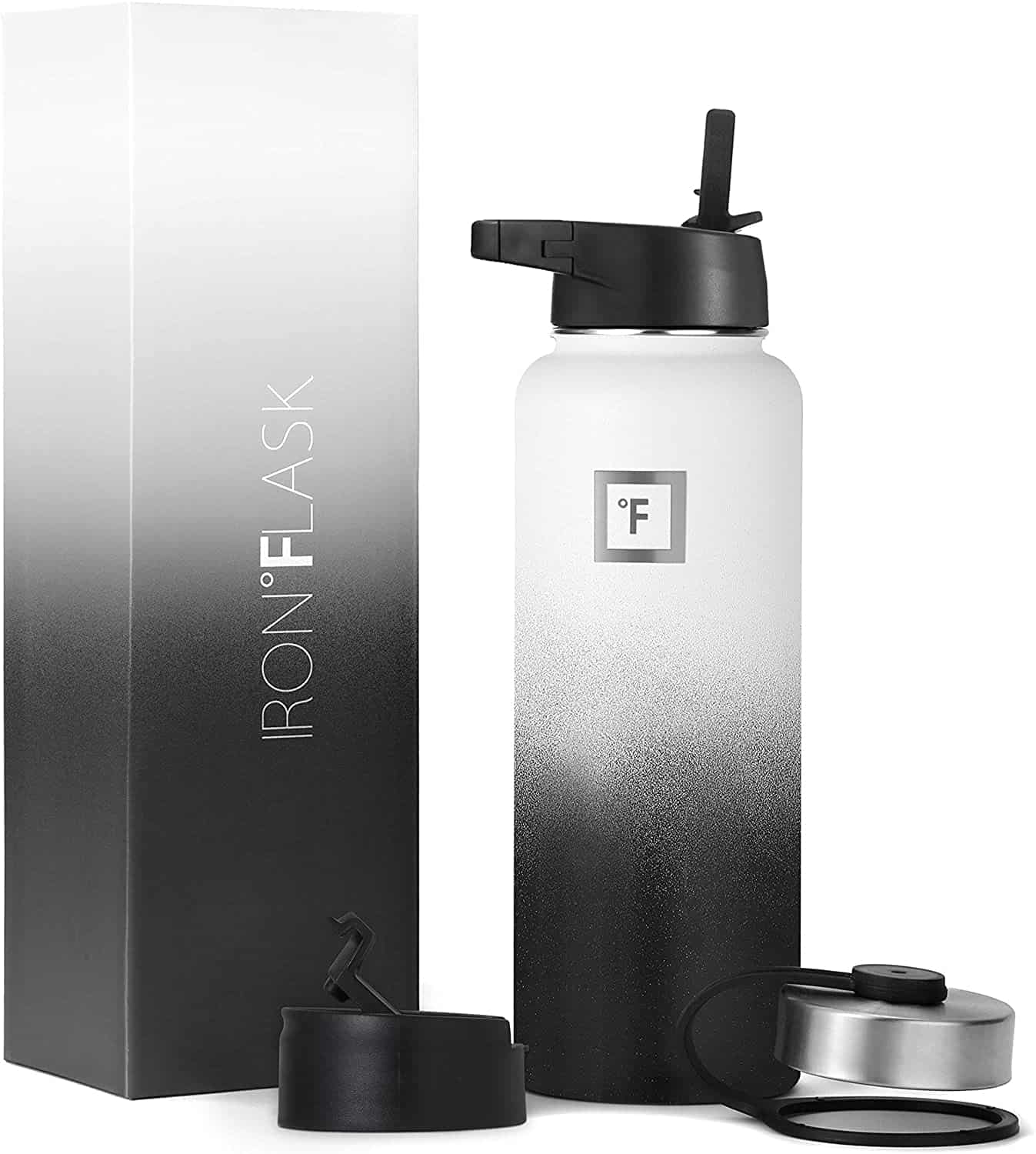 Price: $ 27.95
The Iron Flask is advertised and billed as a sports water bottle, which means that it is sturdy and enduring. The sturdy design makes this flask a perfect water bottle for travel. It has a double insulation layer, which keeps the water hot and cold inside for 12 hours and 24 hours, respectively. Plus, the bottle comes with three different lids, making it a suitable choice for multiple occasions and not just for traveling. 
Pros:
Made from 18/8 BPA-free stainless steel.

Available in multiple sizes and colors. 

It leaves no water moisture on the outside. 
Cons:
Complaints about water not remaining cold for long. 

The bottle's bottom surface gets rusted.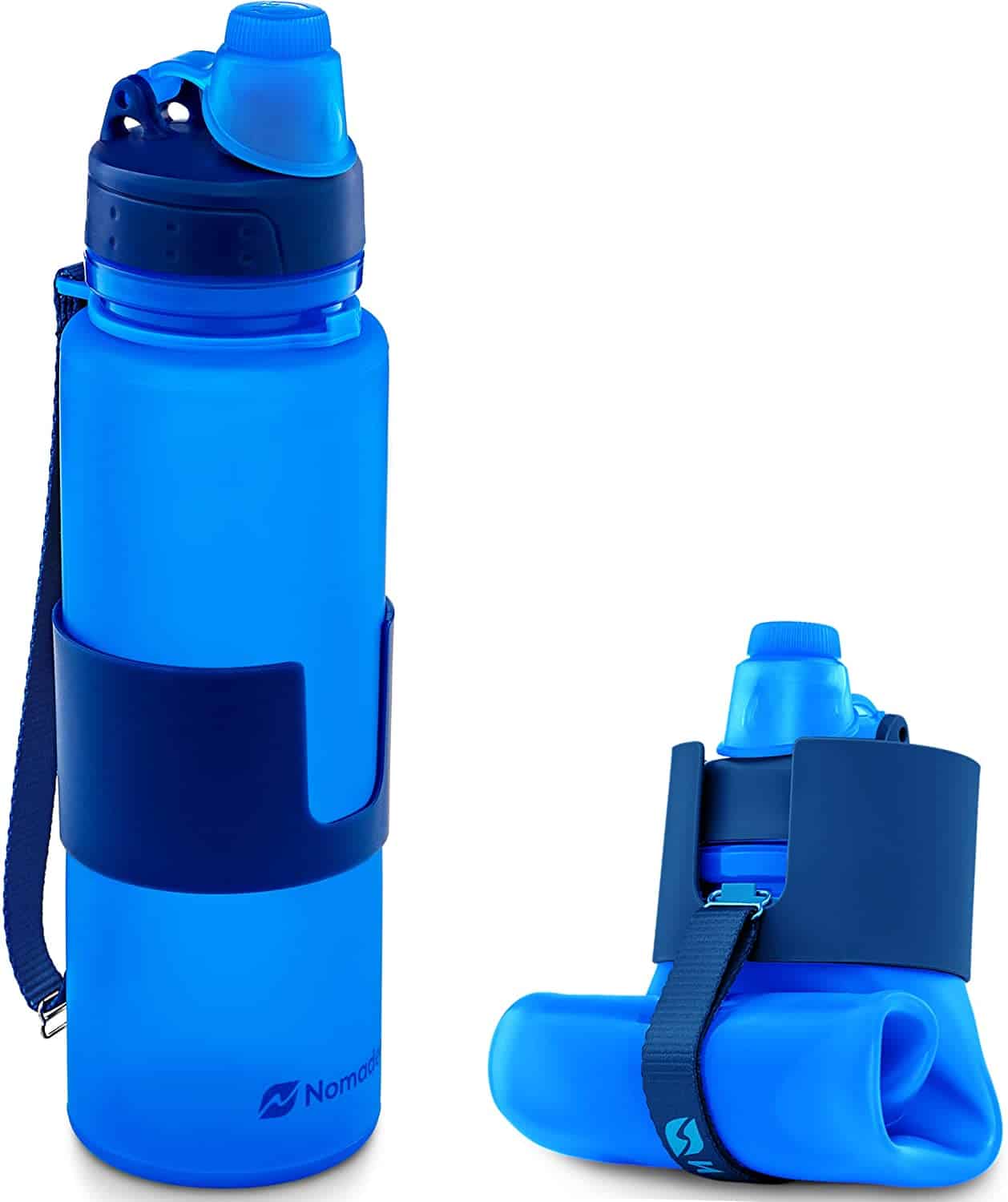 Price: $ 29.95
Collapsible water bottles are all the rage these days due to their many benefits, but most of all, it's a compact design. This one by Nomader is a portable and strongly built water bottle for traveling with a strap to hold it in place when compacted. The bottle is made up of food-grade materials and its BPA-free, contains no BPS, PVC, lead, and latex. After folding it down, an extra spout cover is added to prevent the lid from bending. 
Pros:
It boasts a patented leak-proof design and is freezer-safe. 

It has a grip sleeve for added comfort and tight holding. 

The bottle will stand straight when filled with water. 
Cons:
When cleaned with soap, it's taste and smell sticks to the inside material. 

Too many cleaning instructions are required to clean.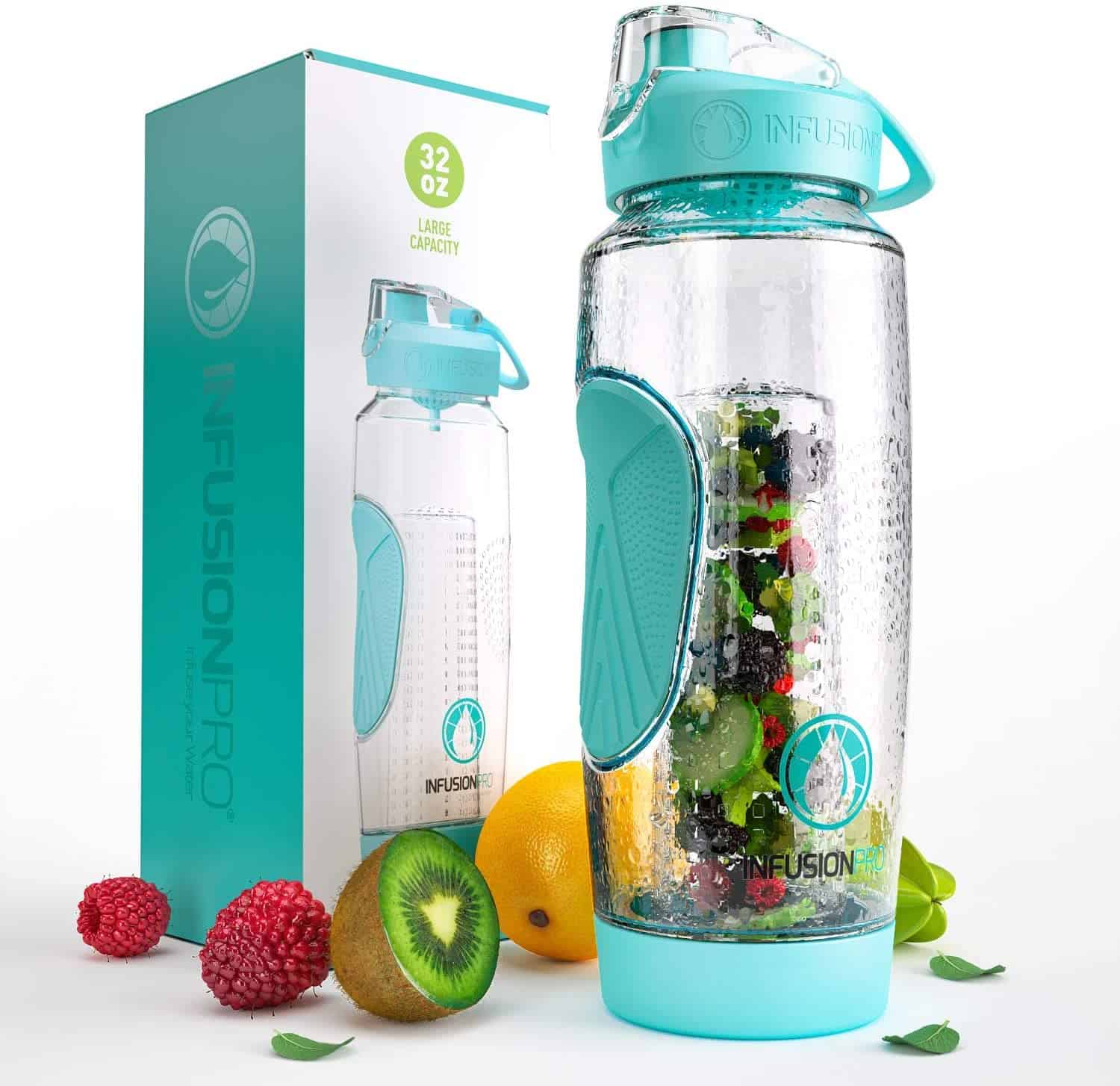 Price: $ 29.97
A water bottle with an infuser is the next best thing you can take on your trip and stay hydrated plus energized. The best part is that it has a bottom-loading infuser, which simplifies adding the required materials. You will also get a pulp screen to keep out the tiny bits of any food or condiment added to the infuser. It's a great water bottle for traveling, one that will keep the water refreshed and flavorsome throughout. 
Pros:
Made from BPA-free Tritan plastic with eco-friendly properties. 

The spout is easier to open and pour water from without spilling. 

Leak-proof design, and it has an easy-to-carry sport loop. 
Cons:
The bottle lid does not lock. 

Prone to grow mold on the ring sides. 
Price: $ 11.93
The Nalgene Tritan water bottle is great for those long hikes across the mountains, especially when you know that getting drinking water won't be easy. The water botte's design is leak-proof, it is made with BPA-free material, and it's a dishwasher-safe water bottle. 
Pros:
Impact-resistance indestructible design.

Bottle cap is looped in with a plastic string. 

Can store both hot and cold water without leaving a smell. 
Cons:
Complaints about deformed bottle mouth. 

It has #7 recyclable plastic, which is not BPA-free.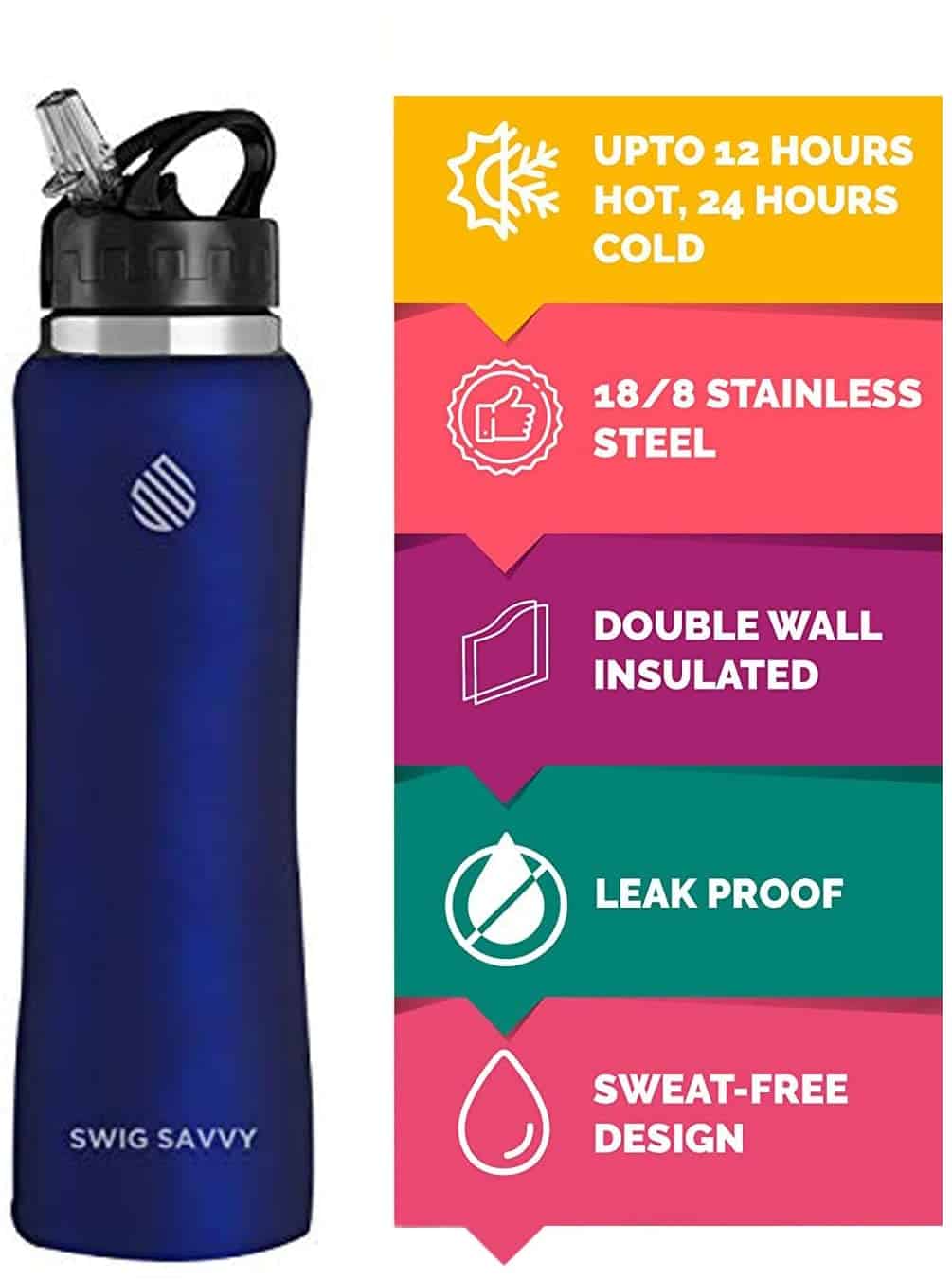 Price: $19.99
If you like to leave your bike's tire marks on the mountains, you need this water bottle on your backpack's side. Designed to be a sweat-free water bottle for traveling, it also boasts a leak-proof design and has double insurance walls to keep the water cold and hot. The water will stay cool for 24 hours and hot for up to 12 hours with an aluminum lining that further adds to the temperature maintenance. 
Pros:
18/8 stainless steel protects the bottle from dents due to accidental drops. 

Simple and practical design that makes drinking the water easy. 

A small circumference around the middle provides easy grip. 
Cons:
The straw inside the bottle falls out frequently. 

The bulged bottom design is not convenient for every sort of use.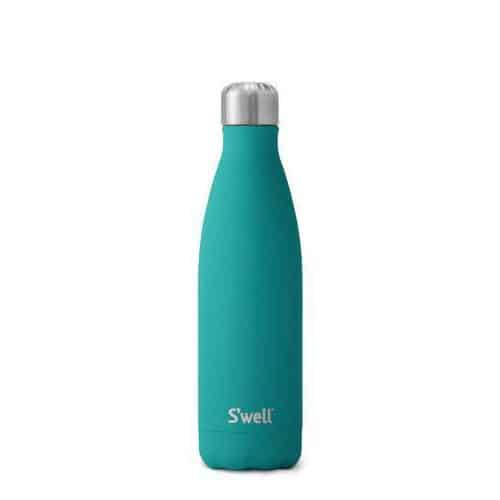 Price: $ 33.75
Another one of the insulated travel water bottles on the list, the S'Well water bottle for traveling, has three-layered insulation. This means that it can keep the water cold for up to 48 hours and hot for up to 24 hours. It has a wide opening, and the sturdy material used effectively protects the bottle from getting bends. 
Pros:
Free from condensation. 

Made with BPA-free material protecting you from toxins. 

Comes with unit Therma S'Well Technology.
Cons:
Issues with color fading. 

Green lines start to appear on the inside of the bottle.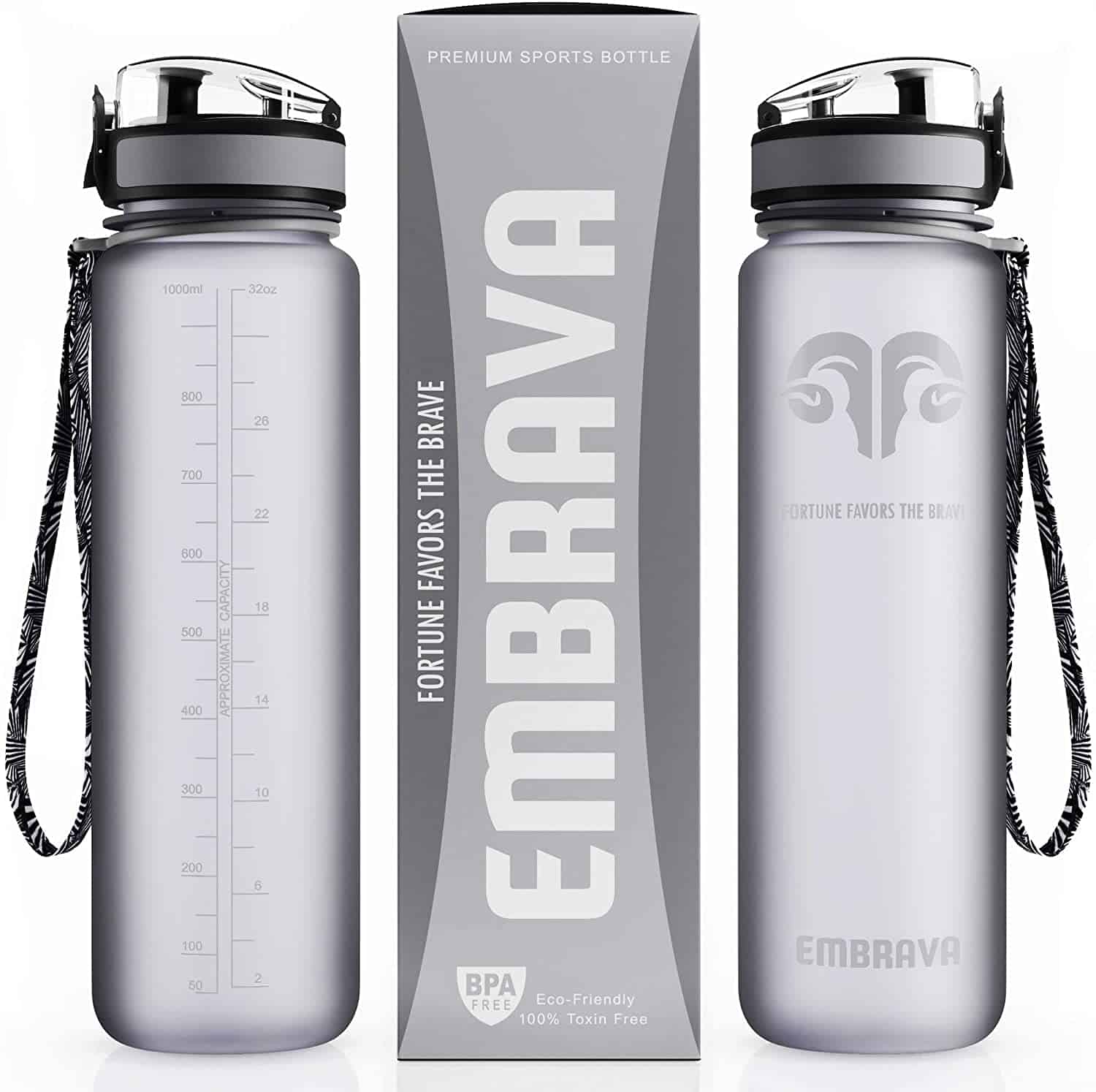 Price: $ 29.95
The Embrava sports water bottle is a better choice for traveling, especially if your adventures take to your mountain tops and deep caves. Built with BPA-free Tritan co-polyester, the bottle has a sturdy design, and the top lid comes off and gets on easily, with a single hand. 
Pros:
Shatter-resistant material keeps the bottle safe. 

Spill-proof bottle and leak-proof spout. 

Bigger lid mouth makes it easier to wash. 
Cons:
The spout button is loose and tends to fall out.

Does not remove the smell of any other liquid than water. 
Conclusion
There is no telling about the importance of keeping yourself hydrated during a trip. Having a travel water bottle means you need to look for a solid and strong bottle, which does not spill or leak. Plus, it must never have water droplets that usually come after water condensed. 
With these things in mind, we have created a list of the top 10 water bottles for traveling. All of the options above are available in multiple colors and will ensure that drinking water during your trip is as convenient and enjoying the journey.