Home » Travel Tips » Top 10 Summer Shoes for Women for Traveling
For every trip, a woman looks at her shoe closet to figure out what kind of shoes would be appropriate for traveling in the summer season. Most of the hot spots for travelers have various activities, including hiking, trekking, water sports, chic clubs, restaurants, and much more. And all these activities require a different pair of shoes.
So, here we are with a list of the top 10 summer shoes for women for traveling. With these shoes in your bag, you wouldn't have to think twice before trying to go on a new adventure. 
List of Top 10 Summer Shoes for Women for Traveling 
Here is the thing about most of the types of shoes made for women, they are adorable but don't have a practical value. So, we compared various types and brands of shoes and found the best ones among them. Let's take a look at them.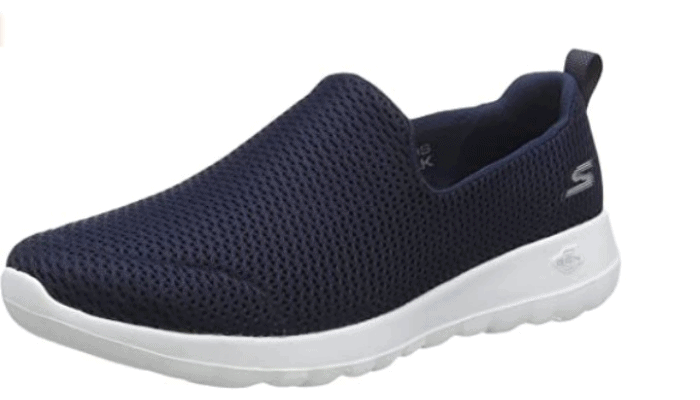 Price: $ 39.95 – $ 127.95
These lightweight, comfortable, and high-quality shoes are worth being on top of our list of top 10 summer shoes for women for travel. The Skechers Women Slip-Ons are a joy for women, and that's why they are the most popular walking shoes for travel. They have a breathable mesh upper, soft fabric lining, and padded collar with a synthetic sole. They are made to keep your feet happy while you are roaming around exploring the world. 
Pros
Available in 21 different colors 

Flexible fit 

Memory foam 
Cons 
The sole needs extensive care 

Too much cushioning may cause friction with heels.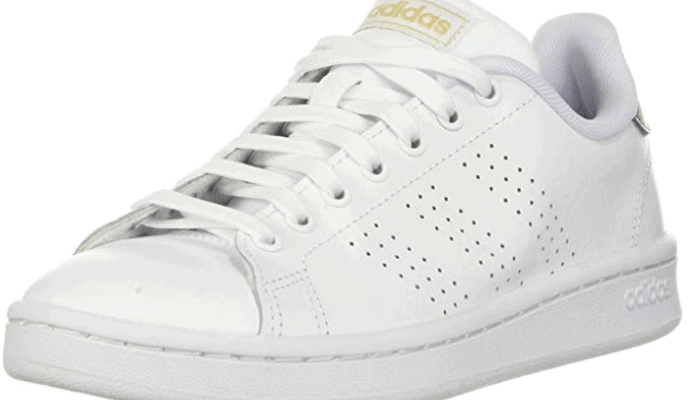 Price: $ 39.51 – $ 130.00
There is no doubt in saying that Adidas is a popular name in the market for making the perfect traveling shoes. They manufacture shoes that are functional, stylish, and have practical use. The Cloudfoam collection sets the right precedents when functionality and style come together and gives you a feeling like you are walking on clouds. These shoes will make sure that your feet don't hurt when you come back after spending the entire day on the roads. 
Pros
Stylish and comfortable 

It comes in all sizes and different designs 

Cushioned comfort sock liner
Cons 
Hard to keep white shoes clean. 

The insole may be super thick for some people.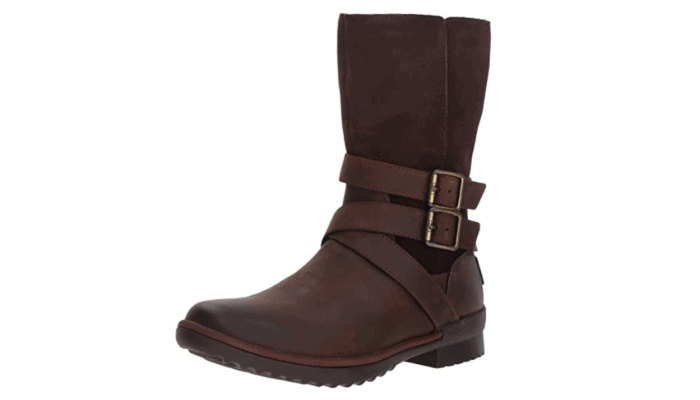 Price: $ 79.43 – $ 189.95
No matter what season, it is always worth the effort to pack a pair of stylish and comfortable boots when traveling. UGG is widely known for manufacturing waterproof boots, but they also make the best quality traveling shoes. The W Lorna Boot will perfect to wear when you are sightseeing. The soles are comfortable and supportive for all-day walking and standing. So, no matter where you travel, these boots must be on your list. 
Pros
Waterproof leather and seam-sealed construction 

Ugg pure wool to keep the feet warm and dry 

Super-stylish and a great fit 
Cons 
Very expensive 

More suitable for outdoor use
Price: $ 50.99
With their sporty look, ultra-light construction, and sleek design, these sneakers are perfect for travel. These summer shoes for women for travel will fit like they are specially made for you. They have a synthetic sole, Ortholite footbed, cushion soft technology, and smooth textile linings. All these features give them the perfect finish that women desire. 
Their accurate fit, versatility, support, and functionality will make you realize that you've found the best shoes for traveling in summer. 
Pros
Good fit 

Proper cushioning 

Shock-absorption feature 
Cons 
They may be a narrow fit for some people. 

The back is too high and stiff.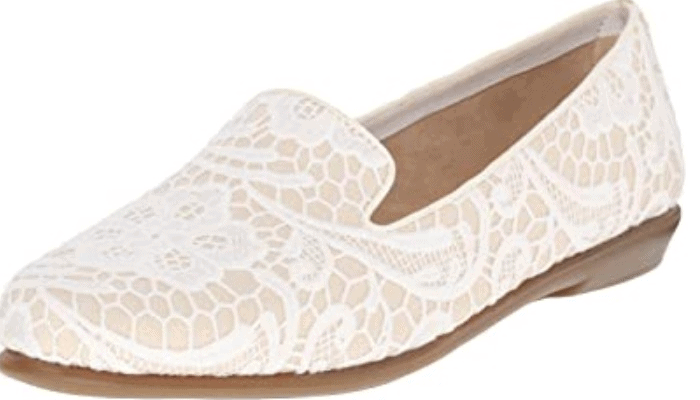 Price: $ 25.47 – $ 83.48
The list of summer shoes for women for traveling won't be complete without Aerosoles Betunia Loafer. Made up of 100% leather fabric and a synthetic sole, these loafers symbolize carefree sophistication and striking refinements. The lace design on these shoes gives them a chic vibe and comfort at the same time. 
As they are manufactured with solid and durable materials, you can use them for multiple trips. They come in 14 different styles and color combinations which are all eye-catching. Choose the one you like the most, and they will be an ideal fit for summer travel.  
Pros
Wide width with great style

Very comfortable;e 

Good quality 
Cons 
The price may be expensive for some designs. 

Longer use may cause some discomfort.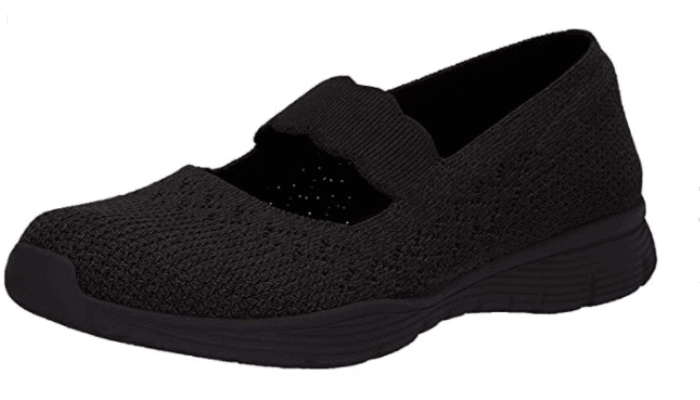 Price: $ 38.71 – $ 109.46
The imported textile and synthetic sole of these shoes will provide extra comfort during your travels. These shoes have air-cooled memory foam and a full-length cushioned removable comfort insole for maximum support. The outsole has flexible rubber traction and the midsole is lightweight with shock absorption technology that will come in handy during trekking and other adventurous activities.
Pros
Flexible and comfortable

Looks good with all kinds of outfits

Business casual design 

Arch support 
Cons
The shoes are a bit expensive.

You may have trouble picking the right size.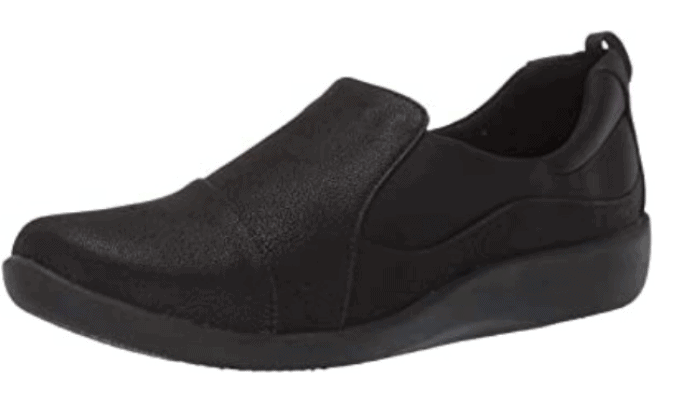 Price: $ 21.24 – $ 110.91
Made from 100% textile material, Clarks Women CloudSteppers loafers will make it easier for you to walk around and explore the new cities on your feet. These shoes have an ortholite footbed to provide maximum support to the feet. It has a soft fabric lining, a shock-absorbing outsole, and a removable cushion soft. 
Pros
Come in various sizes and color

Lightweight & easy going 
Cons
Ordinary shoe design. 

They may be a little bit expensive if you have big size feet.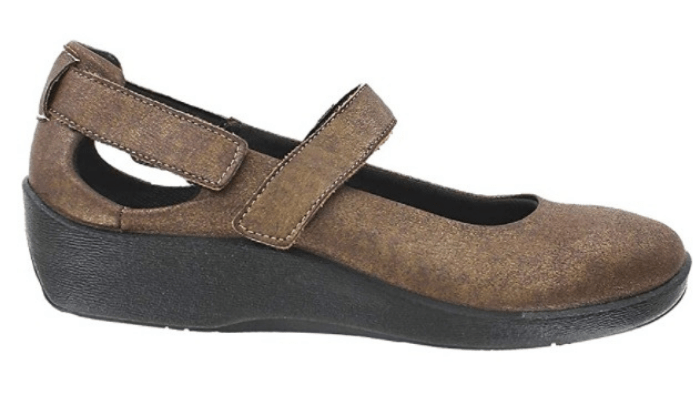 Price: $ 49.00 – $ 115.00
The Arcopedico shoes are great for travel and have everything that a woman may need in her summer traveling shoes. It has a polyurethane sole and a lytech upper that is comfortable and keeps the feet supported. The shoes have an adjustable loop back strap to ensure a secure fit. 
Pros
Dual arch support technology 

Washable and lightweight 

Breathable slip-on, ideal for all-day wear
Cons
Not many color options 

Not appropriate for adventure sports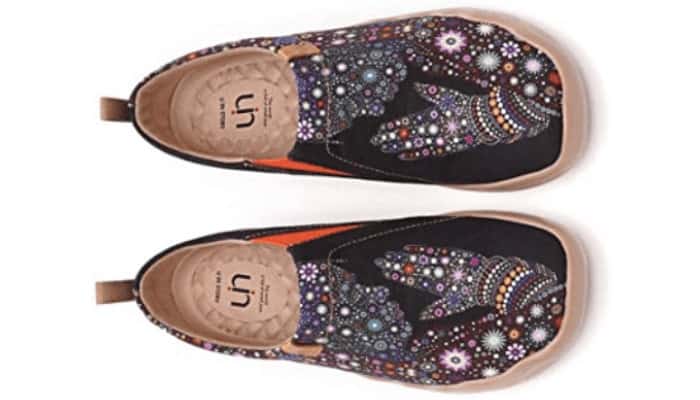 Price: $ 70
If you are a fan of popping colors and trendy shoes, then UIN shoes will be the perfect choice for you. They come in 34 different colors, each with its unique design and print so that you never run out of options. These slip-on shoes are comfortable and easy to take on and off. One special feature of UIN shoes is that they are environment friendly and not manufactured from fur or other elements from animals. 
Pros
Specially tailored for travelers as well as art enthusiasts

Represent a sense of simplicity, liveliness, and elegance

Soft and flexible insoles 

Bionic design and wide toe for maximum comfort
Cons
You may have a hard time picking your size. 

The shape may not be aesthetically appealing for everyone.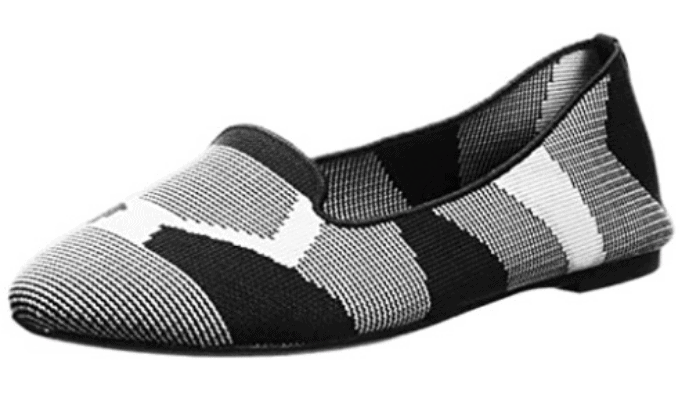 Price: $ 29.95 – $ 110.00
Skechers is a brand that designs, develops, and markets the best quality lifestyle footwear that is appealing for everyone. These shoes are a great addition to their line of high quality, diversified, and affordable products. These flat shoes have the Sketch-knit fabric upper design for flexibility. They will look beautiful, and you can wear them without any discomfort during traveling. 
Pros
Comfortable and breathable

Cute design 

Light and soft material

Flexible insole and outsole

Air-cooled memory foam  
Cons
Color options are limited

No arch support 

Not a good choice for trekking or similar activities
The Bottom Line 
When you explore the world of shoes, you will come across more than a thousand pairs of shoes that you find attractive. But when you are traveling, it is important to pay attention to the functionality as well. Most of the summer shoes for women for traveling are either stylish or only have comfort. So, we have found ten pairs of summer shoes that you can wear wherever you go without feeling uncomfortable or hurting your feet. All these shoes are available for purchase on Amazon. So, you only need to pick your phone and order the pair of shoes that you need.