Home » Travel Tips » Top 10 Suitcases for Traveling
Looking for a bag that will suit all your travel needs? Don't worry; your search has come to an end. We have gathered a list of suitcases for traveling that have functional design, quality material, customizable packing space, and efficiency for a smooth and hassle-free travel experience. Whether you are looking for a stylish suitcase or an innovatively designed duffel bag, or a multi-functional backpack, we have one bag for you. Take a look and pick the ones you like. 
List of Top 10 Suitcases for Traveling 
As there are several things to consider while buying the traveling suitcases, we have an ideal collection of luggage that will come in handy for all kinds of trips you plan. From carry-on bags to trolley bags, duffel bags to a tote bag, explore the list and buy the bags from Amazon Store directly.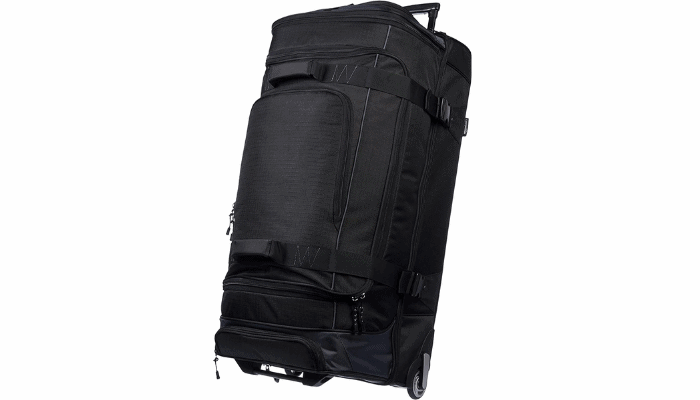 Price: $ 99.49
The Amazon Basics is a brand known for its highly rated and quality products at low prices. This rolling travel luggage is such a product that will come in handy whenever you want to travel light. With an interior capacity of 137 liters, this wheeled duffel is one of the best suitcases for travel. The upright telescopic handle and in-line wheels ensure smooth mobility that is worth every penny. 
Pros
Durable and sturdy design 

100% polyester top 

Easy organization 

Secure storage 
Cons 
The durability may differ according to its use. 

The bag may be oversized for short trips.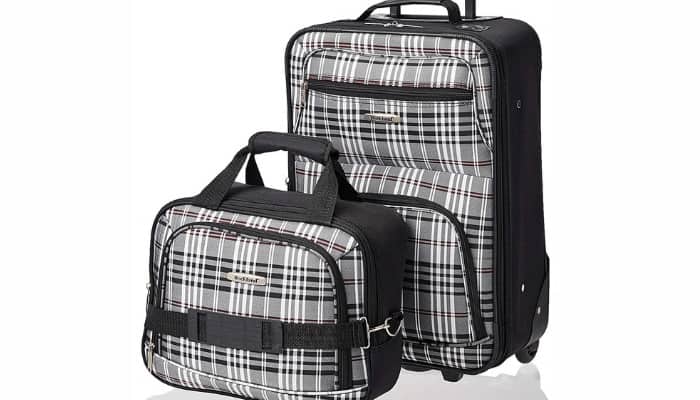 Price: $ 43.64
This expandable luggage set is made with a patented heavy-duty fabric. The Rockland luggage set is suitable for people who travel often. The heavy-duty polyester and PVC backing makes the material durable and versatile. It is packed with features like an inside retractable handle, in-line skate wheels, a comfort grip handle, stability bars at the bottom, secured pockets, locks, and keys. 
Pros
Push-button self-locking 

Durable and elegant imprinted lining 

Spacious compartment 

Available in a variety of colors
Cons 
The durability varies according to usability. 

The wheels make noise.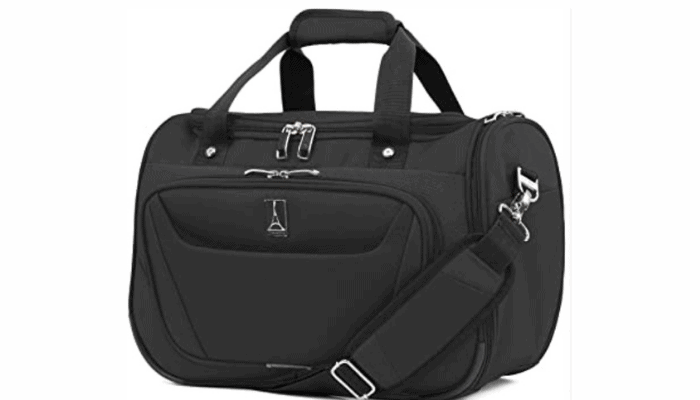 Price: $ 73.76
You need at least one small suitcase for traveling that you can keep next to you on flights. The Travelpro Maxlite is a carry-on tote bag that doesn't take much space and perfectly fits in the airplane compartments. You can even fit this bag under your seats. The polyester fabric with stain-resistant, water repellent coating and high tensile strength make the bag durable and valuable. 
Pros
Roomy interior to everything organized 

Water and stain-resistant coating 

Easy and comfortable to carry
Cons 
Limited lifetime coverage for the cost of repair 

It might not fit under the premium flight seats.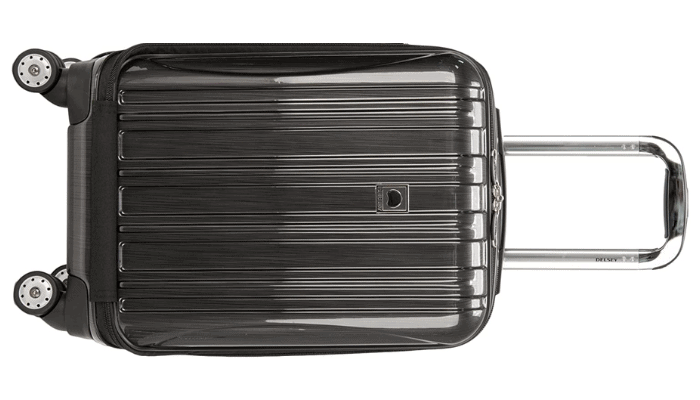 Price: $ 119.99
This trolley bag is available in different colors and sizes; this trolley bag is worth being on our list of top 10 suitcases for traveling. The bag has an easy-access front compartment with 2- zippered mesh pockets for computer accessories and last-minute items like books, passports, or tickets. It has superior maneuverability and large capacity with an expansion feature. Inside the bag, there are web straps and zippered dividers to keep the clothes secure and wrinkle-free. 
Pros
The bag also has a 2-piece set variant. 

Maximum comfort 

100% long-lasting polycarbonate material 

Scratch-resistant metallic finish 

Offers quality and convenience 
Cons 
Needs more care while utilization.

The TSA-compliant lock may cause issues.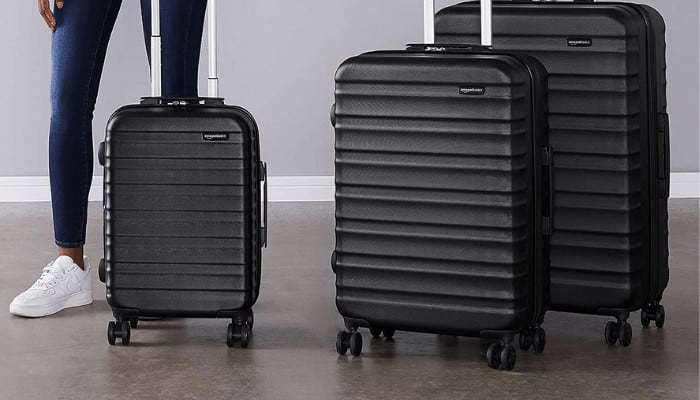 Price: $ 165.35
Ideal for family and long trips, it is one of the best suitcases for traveling across the globe. The three-piece set has the variable interior capacity to fit all kinds of things you like to carry during your trips. The capacity of the bags varies as 39 liters (21-inch), 69 liters (26-inch), and 105 liters (30-inch). Made up of extra-thick ABS, the bag has enhanced strength and durability. The 150D polyester interior organizer has 3-zippered pockets to make space for storage of smaller items too.  
Pros
Protective hard shell 

Scratch-resistant finish 

Fully-lined interior with divider

Double-spinner wheels for easy maneuvering 
Cons 
The handle and wheels need extra care. 

There is no lock-in any of the bags.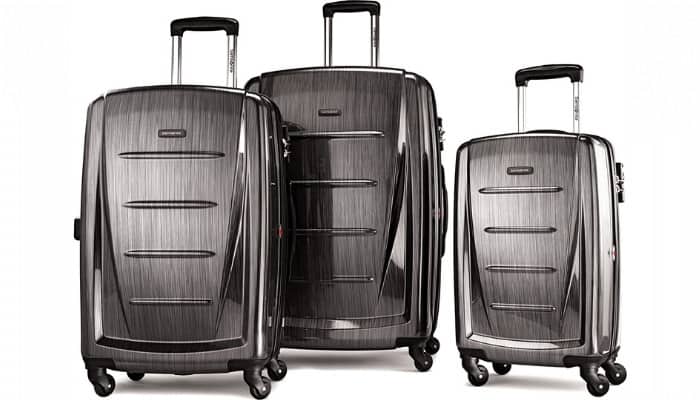 Price: $ 399
Samsonite is a brand that understands the various needs of travelers and manufactures ideal suitcases for traveling domestically as well as internationally. This 3-piece expandable luggage set is tested rigorously to meet the stringent standards of the customers. The bag is extremely lightweight and has a polycarbonate construction with sharp molded details for an elegant look. The 360-degree spinner wheels also make them super easy to carry. 
Pros
It comes with a 10-year warranty 

TSA compatible combination lock 

Push-button handle and comfortable grip 

Scratch and scuff resistant 

Functional and thoughtful design 
Cons 
The carry-on may not fit the guidelines for all airlines. 

The material catches dust and hairs.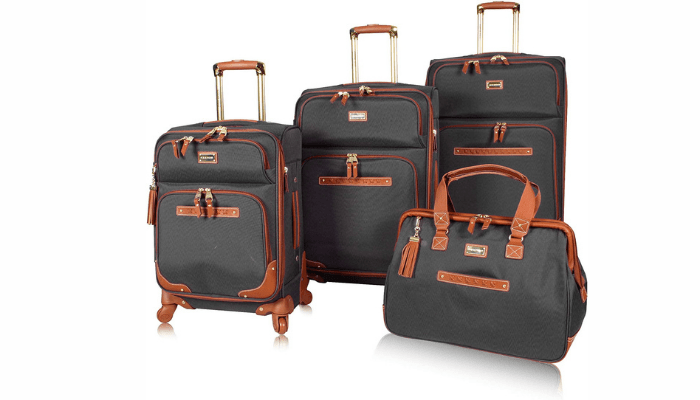 Price: $ 359.99
Made for long family trips, this Steve Madden luggage set is built for travel. The bags have a soft side design making them easier to collapse and fit into tight spaces. They are also lightweight so that you can adhere to airline weight restrictions and avoid extra charges. The delicate design, high-quality suitcase lining, and safe polyester fabric are some features that will make your travel comfortable and convenient. 
Pros
Wide-wheel positioning for better balance 

Case platform for added strength and stability

Five years manufacturer guarantee if defected

Available in a variety of colors 
Cons 
Slightly expensive 

Gliding or wheeling the bags is difficult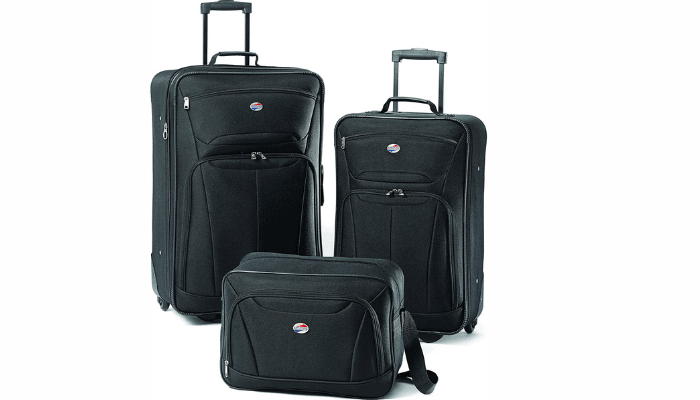 Price: $ 39.99
When it comes to making the list of top 10 suitcases for traveling, how can we miss American Tourister? The brand is popularly known for its quality products at reasonable prices. Hence, here is a three-piece set with two trolley bags and one tote bag. The bags have ultra-light-weight construction and reinforced corners to protect them against the harshest travel conditions. The bags roll upright so that you don't have to carry any weight on your shoulders. 
Pros
Smooth-rolling in-line skate wheels for better mobility

Interior and exterior pockets for proper organization 

Push-button locking handle

Smart sleeve on the boarding tote bag
Cons 
The interior is not lined.

The durability may differ according to use.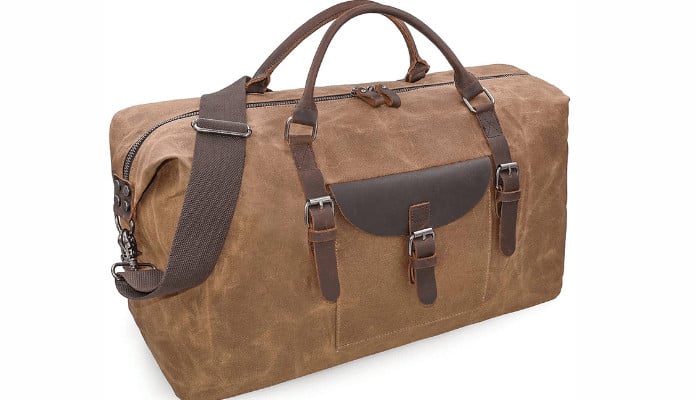 Price: $ 49.99
This carry-on handbag is one of the most stylish suitcases for traveling. It has premium quality genuine horse leather and a waterproof high-density canvas. No matter how many things you put in this duffel tote, it won't rip or tear. There is a large main compartment and several inner pockets for all your clothes and traveling necessities. The classic style is fit for both men and women, and the size is also suitable for a weekend getaway. 
Pros
Available in different colors

Rust-proof zinc-alloy hardware 

Easy and comfortable for use 

Waterproof waxed canvas 
Cons 
The bag needs to be placed in a ventilated space to get rid of the leather smell. 

The marks on the waxed canvas will disappear after some time.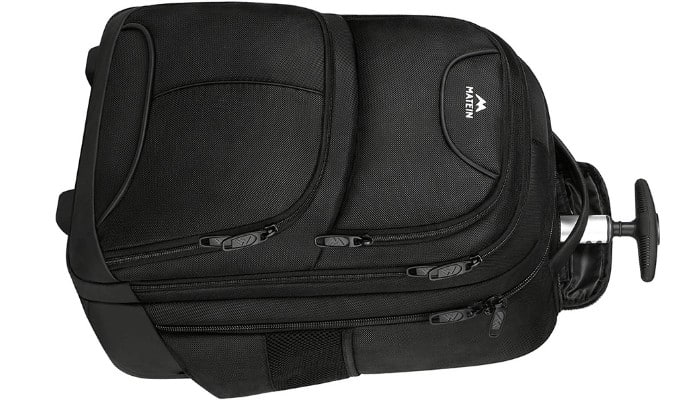 Price: $ 95.99
We included this carry-on trolley/backpack in our list of top 10 suitcases for traveling, so that young boys and girls have something to carry during their trips. Build more like a school rolling backpack; this bag has a compartment for a laptop and notebook. The main compartment has many pockets to keep your items organized and easier to find. The bag is built with durable material, and the wheels make them easier to carry. 
Pros
Water-resistant bottom panel and corner guards 

Protection against abrasion

Breathable and adjustable straps 

Lockable metal zippers for theft protection  
Cons 
The single bar handle may be difficult to control. 

Slightly expensive for a backpack.

Wearing on the back is not as comfortable as expected. 
Now you have the list of the top 10 suitcases for traveling. Get the ones you need and travel happily! Buying a suitcase should not become a hassle in your trip planning. That is why we have created a list of the best choices in the market for your travel plans. Therefore, choose according to the trip you are about to go on and enjoy!