Home » Destination Guides » The Quintessential Philippines Guide
If you are looking for a vacation to detox from your hurried city life, an island getaway is your answer. And thinking of exotic islands of breathtaking beauty, the Philippines is sure to top the list. The country is beautiful and it boasts of vibrant cultural life and varied traditions across the many cultural groups that live here. Therefore, the Philippines is not just a treat for the thrill-seeker. It also has a lot in store for the laidback backpacker looking to experience life in the Philippines.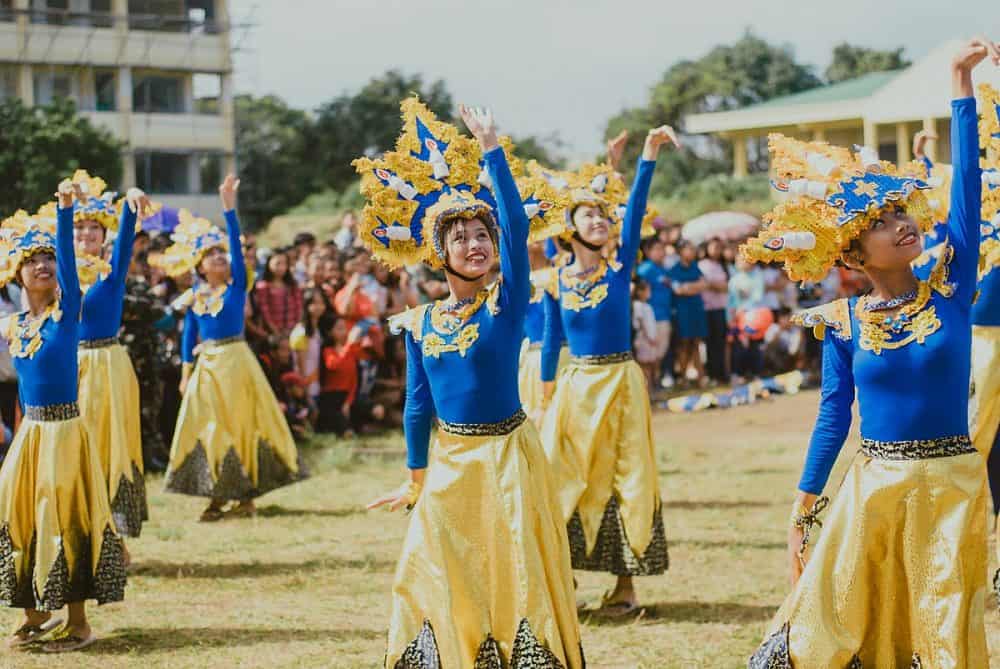 Dancers in traditional attire during the Sumilang Festival (Credits: Wikimedia Commons)
But there's only so much one can do with limits on time and budget. There is a lot to see and do across the several cities and islands. So you need 2 weeks at the least to experience the country. Here is a quintessential itinerary to give you a glimpse of the best that the Philippines has to offer, in a week.
Day 1: Landing in Manila/Cebu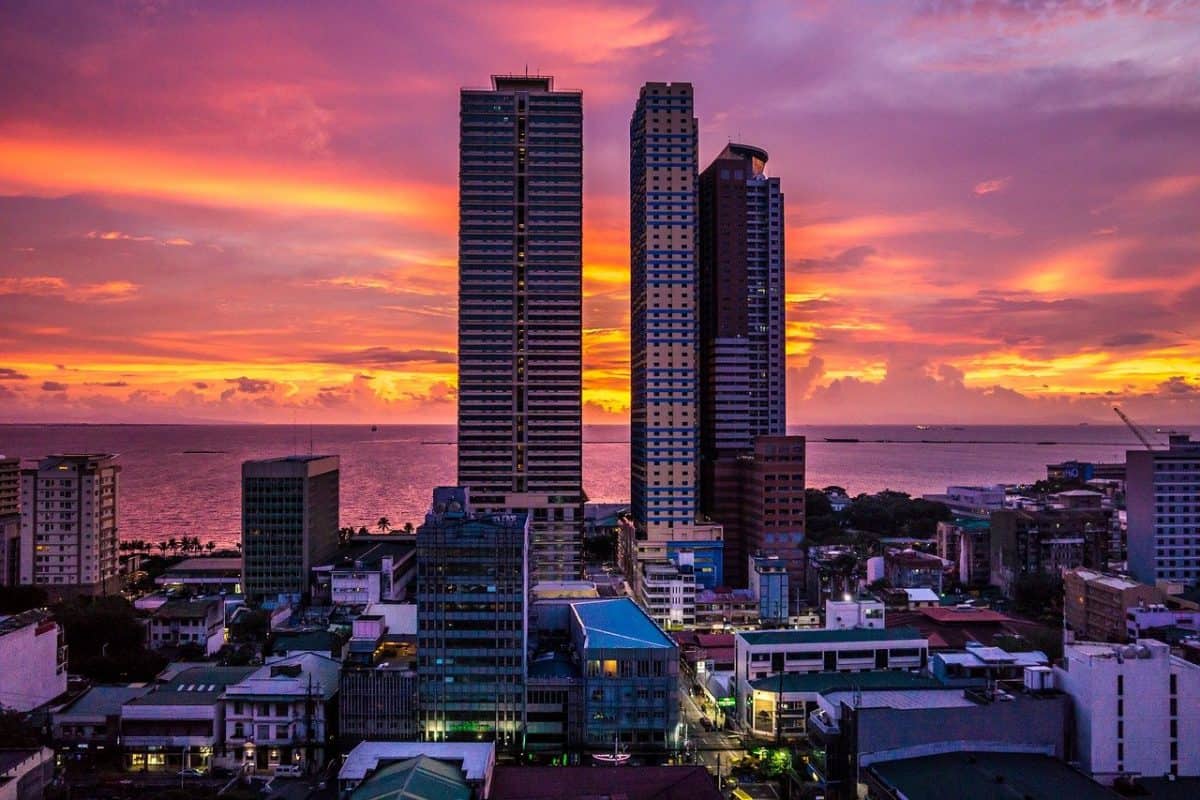 Manila is the capital of the country, while Cebu is the oldest city here. To help you choose your landing destination, here are a few pointers:
Manila

Pros

International flights from most European countries and also from the US, land here.
Best chance to get a glimpse of Metro Manila's vibrant urban life before embarking on a quieter journey to the islands.

Cons

The city is busier and far more crowded.

Cebu

Pros

Flight from almost all Asian countries land here; so if your international flight connects you to an Asian city, it may be a good option to land in Cebu instead of Manila.
Cebu is a lot more laid back and much less crowded. So if you want a relaxing environment to set the tone for your vacation, this is your stop.
Quicker and cheaper access to nearby islands

Cons

The city life is not as vibrant as Manila, even though Cebu is a fairly big city. So you will be missing out on experiencing a facet of the country.
If you land in Manila during the day, you can head for your accommodation to freshen up. And then set out to explore Fort Santiago, a Spanish fort that holds many stories of Philippines history. Or you can have a nap and a snack at the Rizal Park, named after poet and national hero, Jose Rizal.
Tip: Filipinos take Christmas very seriously; so much so that celebrations start as early as September! So if you are in Manila during Christmas, the University of Santo Tomas (UST)'s Paskuhan is a must-visit!
If you prefer to roam the city by night, you will be in for a treat! Manila has several bars, restaurants, and clubs that are ideal for winding down. Local markets and street food stops are also popular among tourists. You can find some amazing options here.
Cebu offers some of the most stunning trekking locations in the world. Here are some you can include in your itinerary if you want to spend a day in the city.
Day 2-3: Cebu/Manila to Bohol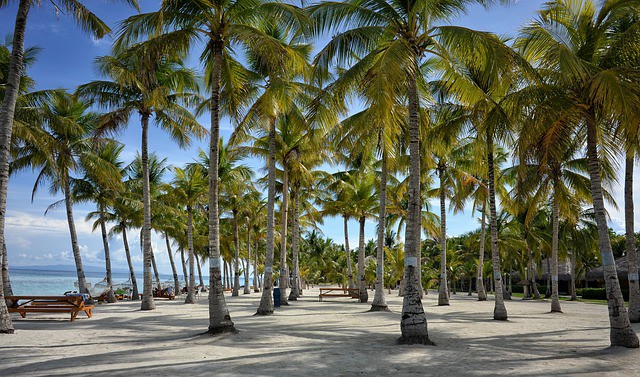 The next stop for most tourists is the resort island of Boracay, known best for typical laidback beach vacays. But you may want to ditch it for that very reason, that it is touristy. Instead, catch a flight from Manila to the Bohol (if you are in Cebu, you can also go by ferry). It is a stunning tropical location that is not on the radar for many travelers. So you will find the beaches a lot less crowded and a lot more pristine (maybe even the best in the country).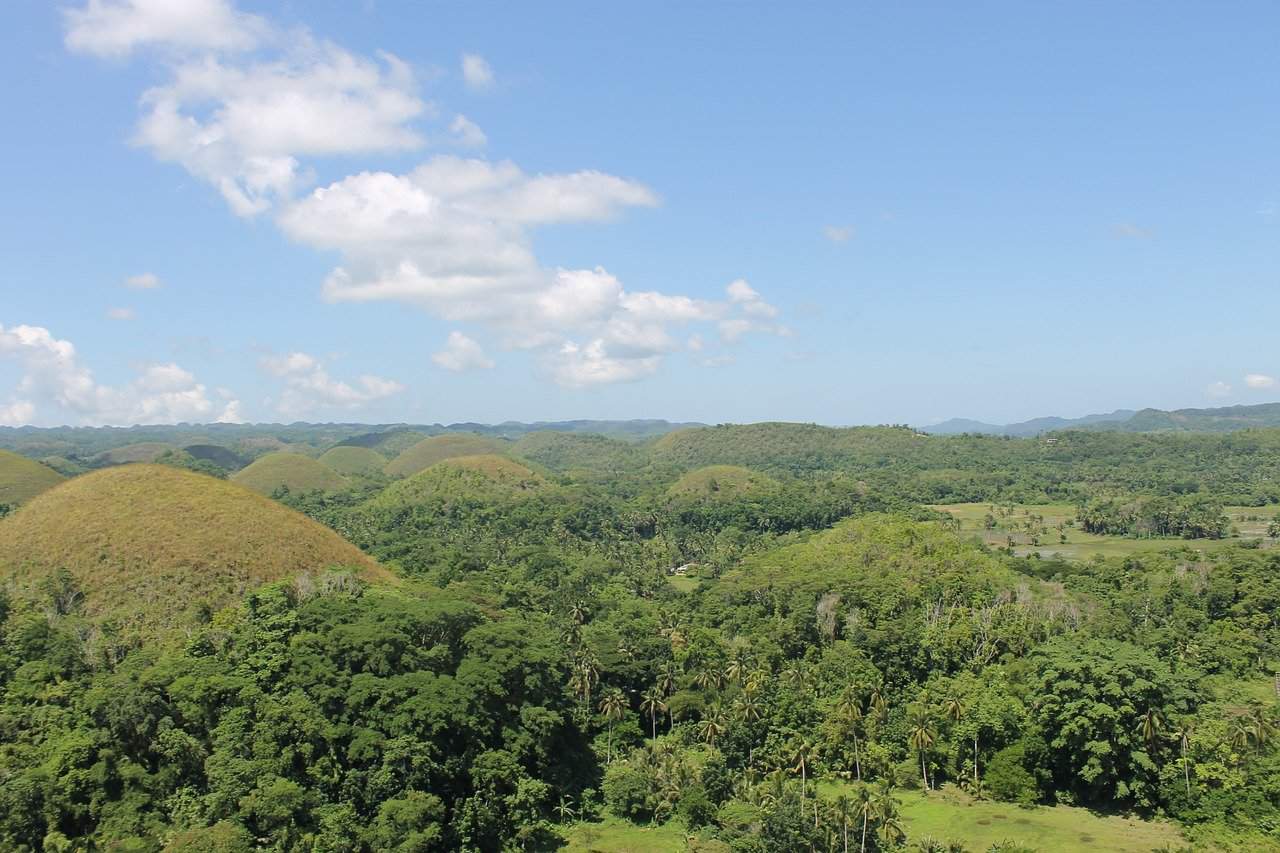 When you feel like you need a change from lazing on the beach, you can head to:
Chocolate Hills: The peculiar terrain of lush mound-like hills makes for great postcard pictures. They look true to their name during the dry season when the greenery fades and the mountains look brown.
Philippines Tarsier Sanctuary: Head here to meet the tiniest primates on the planet!
Underwater Adventures: From cave pools to diving with turtles, Bohol has it all! Choose your adventure from the many available here.
Day 4: Onward to Puerto Princesa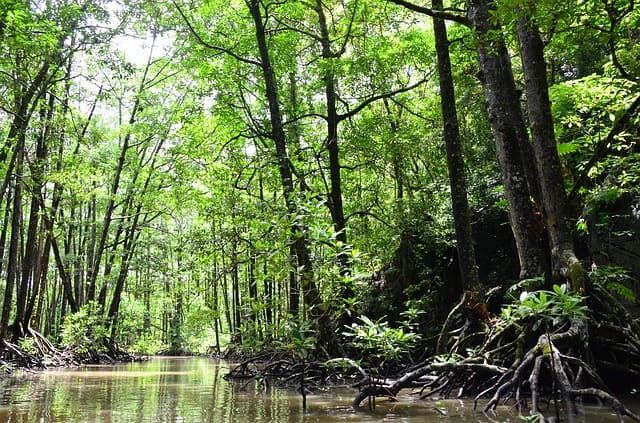 There is no direct mode of transport from Bohol to Palawan. So a good option will be to spend days 2 and 3 in Bohol. Then head back to either Manila or Cebu and catch an hour-long flight to Puerto Princesa, the capital of Palawan province.
The capital is most well-known for its Underground River and National Park. You can visit this UNESCO World Heritage Site by hopping on a paddleboat tour. This tour will take you through the breathtaking sights of caves, cliffs, and mangroves. If you are in luck, you may even spot local wildlife in its natural habitat! You can know more about this location here.
Day 5 and 6: Nacpan and Coron
Having ticked out the quintessential experiences in Puerto Princesa, head to Nacpan beach from there. It is relatively less crowded than the popular beaches in the Palawan area. So it will be the perfect spot to kick up your feet and enjoy the sun.
If you are fascinated by surfing but haven't tried it before, this is the perfect place to start! The small waves are ideal and easily surfable by beginners. When you are done with fun on the waves, head to one of the palm-thatched shacks for a snack of fresh seafood.
After spending a relaxing day here, take a 4-hour ferry to Coron. Here, an unparalleled shipwreck diving experience awaits you! Spot war-time vessels and marvel at the vibrant marine life thriving among them.
Day 7: Make Way To El Nido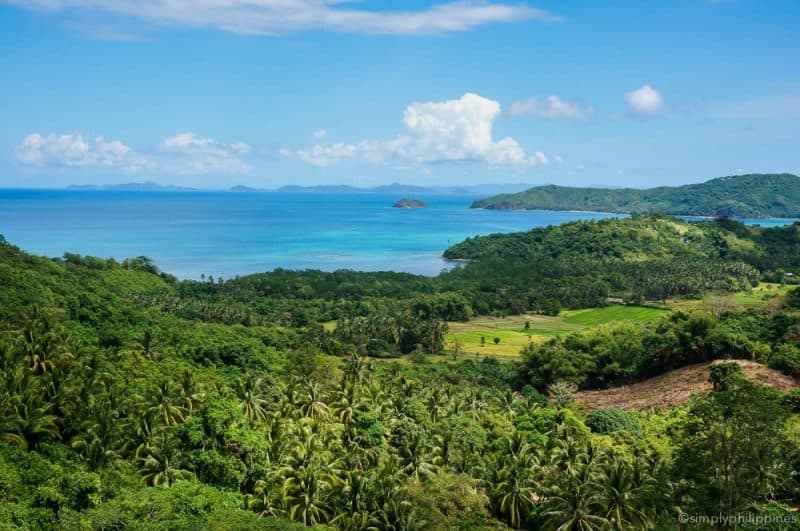 Traveling directly from Coron to El Nido is a long and tiresome journey. You will have to change modes of transport and lose precious time. But that doesn't mean you need to choose one between these two amazing experiences.
The quickest way is to travel back to Puerto Princesa from Coron on ferry. From Puerto Princesa,  rent a van (USD 12-14) for a 4-hour drive (you can find other options here) to reach El Nido.
This is one of the most well-known places in the Philippines. And rightfully so! Its stunning natural beauty has been made famous by postcards and bloggers. But if you are looking for an off-the-beaten-path location here, catch a bus or jeepney from Maligaya town to Sibaltan. The beaches here are perfect for kayaking and wind-surfing. So if you are looking for a location away from the tourist crowd, Sibaltan is it.
Here are some options that you can explore to maximize your adventures on El Nido island!
Day 8-10: Island Hopping Tours
Next day, you can head on the famous island hopping tours, divided into 4 routes: A, B, C, and D. It is not possible to combine two routes in a day if you want to enjoy them properly. So if you have limited time, here are some pointers to help you choose. Ideally, keep a day per route. Tourist consensus strongly suggests that Route A and C are unmissable.
At this point, you will be concluding your first week in the tropical paradise of the Philippines. Toast to that and call it a day to set out energized on the next leg of your adventure.
Day 11-14: Fly Back To Cebu
Having spent 10 marvelous days at some of the most stunning islands and beaches of the world, wind down in the city before heading back.
From El Nido, one flight operates per day and lands in Cebu 1 hour 40 minutes later. Spend the next four days appreciating the urban life of the Philippines.
Nightlife
Here are some of the best clubs and bars in the city
 Cebu IT Park, City Times Square in Mandaue(Liv Super Club), Banilad Town Center, Crossroads in Banilad are some of the hottest nightlife attractions
Food and Gastronomy
Here are some of the most unmissable restaurants in Cebu. They wonderfully combine the local flavors and ingredients to produce gourmet versions of authentic Filipino food.
You can find more information about what to try in Filipino cuisines here.
Attractions
Busay: This one is a small town, just outside of Cebu, famous for being the perfect romantic getaway. Luscious flower gardens, the coziness of a hill station, and a famous temple complex built as a memorial for love, all add to the romantic vibe of the place.
Kawasan Falls:  Located in Badian, these are arguably the most famous place in Cebu. So a trip here is a must!
Basilica del Santo Nino: If you are a believer, you must definitely make time to visit the Basilica as it is the oldest Catholic church in the Philippines. If you aren't one, you should still visit to marvel at the stupendous architecture of the place.
If the Philippines has your heart by the end and you want to stay longer, here is a detailed itinerary for three weeks to help you.
You can also find helpful tips and important information here to keep in mind if you are traveling to the Philippines for the first time.