Home » Destination Guides »
Scotland is hands down the most cultural, scenic and exquisite part of the United Kingdom. Geographically shaped as the crown of the larger country, it is flanked by water on both sides and is home to around 790 islands. While Scotland is famous for its highland castles, red-checked Kilts, Hobbit-like landscapes, and its bagpipes (that Ross never does justice to), it is worshipped for its Scotch Whisky. (Yes, the Scottish spell "whisky" without an "e.")
While many visit Scotland with the sole aim of going on a scotch-tasting tour, the others go to study at the famed Edinburgh University, or simply for hikes in some of the most green pastures they'll ever see. But nobody leaves Scotland without tasting their national drink – uisge-beatha ("water of life" in Gaelic) i.e., Scotch Whisky: a golden-light liquid that dances in your glass, a whiff off which can take you on a magic-carpet ride.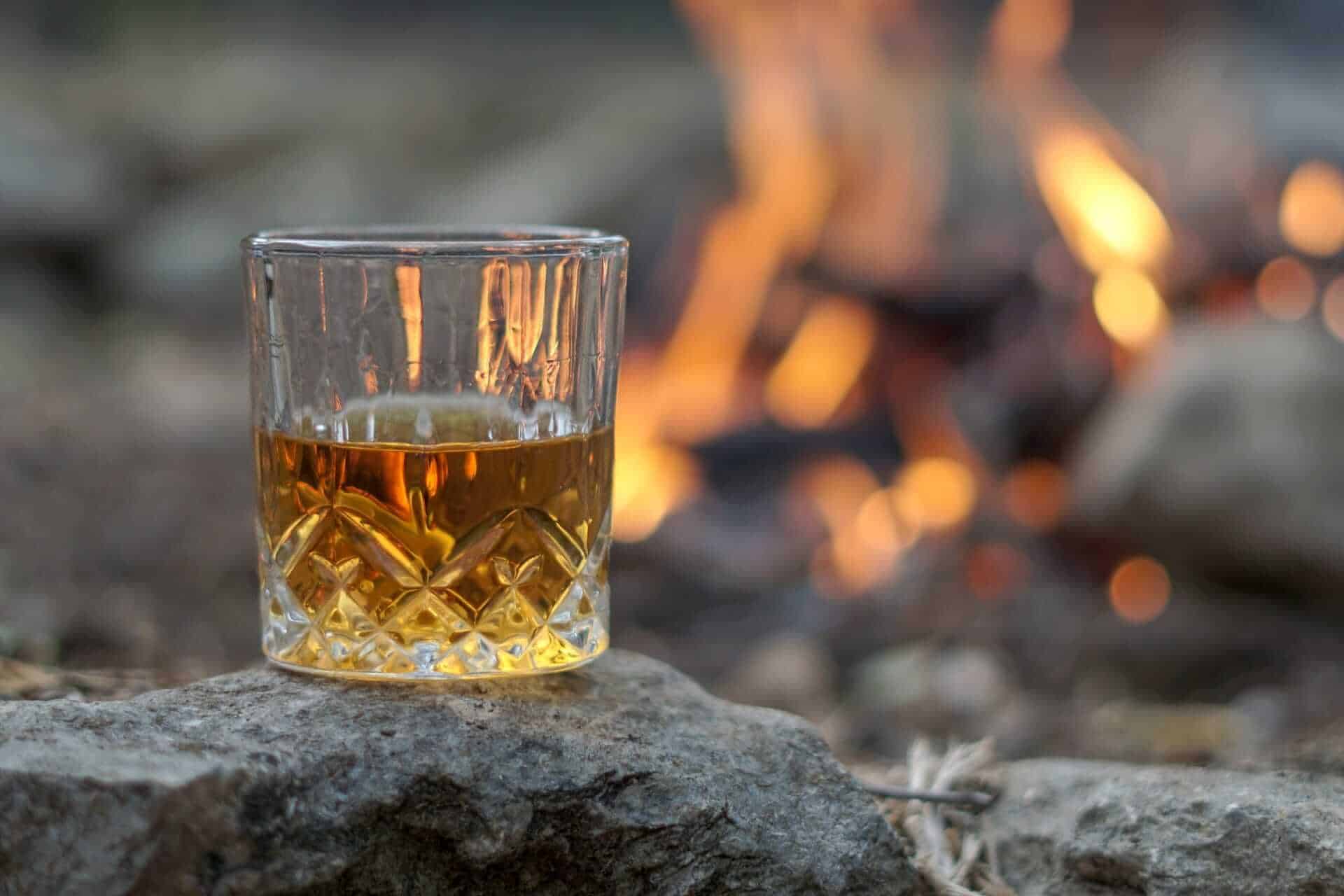 Nothing this potent can come easy, and predictably hence, every glass of Scotch has a long history behind it. Let's uncover the same, by first fully understanding – What is scotch whisky?
To be a glass of Scotch Whisky, you must,
– be born and brought up entirely in Scotland
– be malt whisky or grain whisky
– have aged for a minimum of 3 years in an oak barrel
– be distilled in a manner that is specified by regulations as stated in the UK's, "Scotch Whisky Regulations."
Wow! At this rate, it's almost easier to be human.
Ordering the perfect glass of Scotch for yourself is an art in itself. Hence, before you go scotch tasting, it is important to know what to expect. The following are the five distinct types of Scotch Whisky:-
Single Malt Scotch Whisky
As the name suggests the Single Malt Whisky is made from 100% malted barley and must be distilled at a single distillery. While they age for a minimum of three-years they must only be in oak casks that have a maximum capacity of 700 litres.
Single Grain Scotch Whisky
This type of whisky can be made from any cereal grain. They usually include a fair amount of barley mixed with another grain like wheat, corn and rye. They are called Single Grain Scotch Whisky, not because they have a single grain, but because they can only be distilled in a single distillery.
Blended Malt Scotch Whisky
When you curate a selection of Single Malt Scotch Whiskies that have been distilled in different distilleries, and blend them together, you get a Blended Malt Scotch Whisky.
Blended Grain Scotch Whisky
Similarly, when you blend together multiple Single Grain Scotch Whiskies that have been distilled at multiple distilleries, you get a Blended Grain Scotch Whisky.
Blended Scotch Whisky
To put it simply, the Blended Scotch Whisky could be a combination of most grain spirits, edible colouring, flavourings with high-quality single malt whisky (or whiskies.)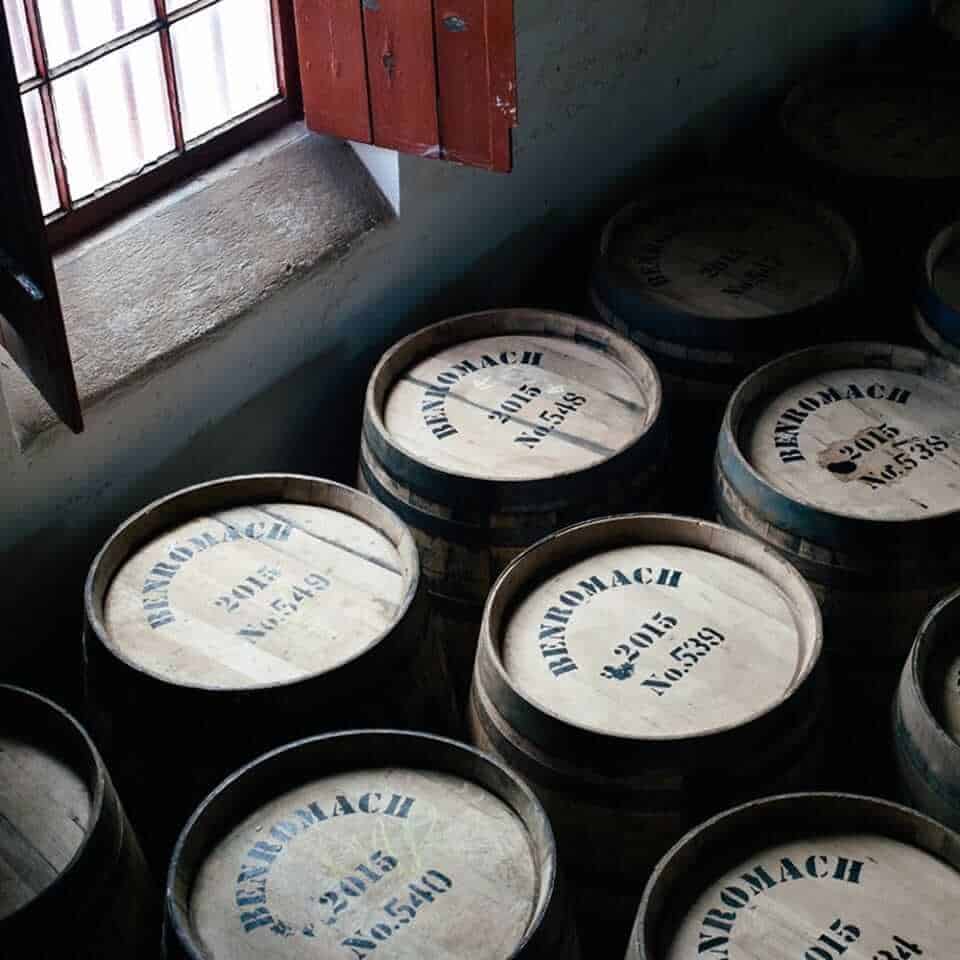 A skilled and professional distiller uses fresh and fat barley from the Scottish fields and buckets of water in its purest form from the highland springs and streams to brew a special spirit. This is then poured into oak barrels and left to mature for a minimum of three years, and in the case of single malt whiskies even longer. Whisky bottles that have labels like "Campbeltown," "Highland," "Lowland," "Islay" or "Speyside" signify that the spirit has been wholly made from scratch- in those areas of Scotland.
A trip down to all these regions with their fairy-like names stopping only for a taste of their golden-hued barley drink is every whisky drinker's dream come true. And if you have "visiting Scotland and tasting its spirits" in your bucket list, you have arrived at the right place. The following is detailed information on the top ten distilleries in Scotland.
Please Note: Having personally done a part of this trip myself, I highly recommend renting a car from Edinburgh Airport and driving down the following places that line themselves in a star-shaped loop. Not only do you save on shuttles and bus-tours, but also get to enjoy the sweeping views of the Scottish highlands at your own time and pace by stopping for picnics, staying in bothies, and enjoying some surreal hiking trails.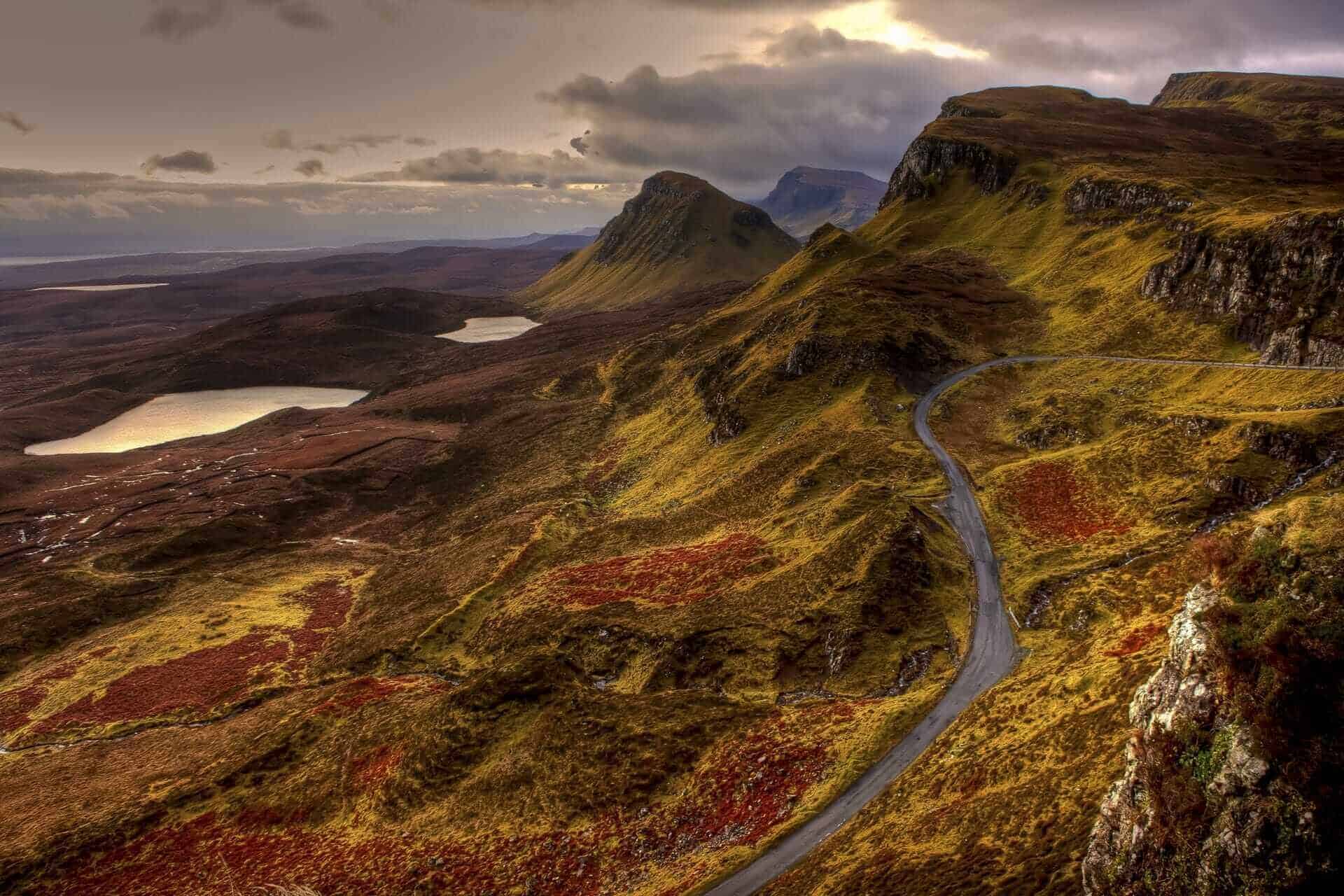 Secondly, Scotland is punctuated with several Michelen star restaurants in the most unexpected places. Interestingly the small family-run restaurants in every town also serve a delicious fare of their local food. Hence the food in Scotland must be enjoyed as much as their drinks, and so thorough research and bookings made in advance is highly recommended.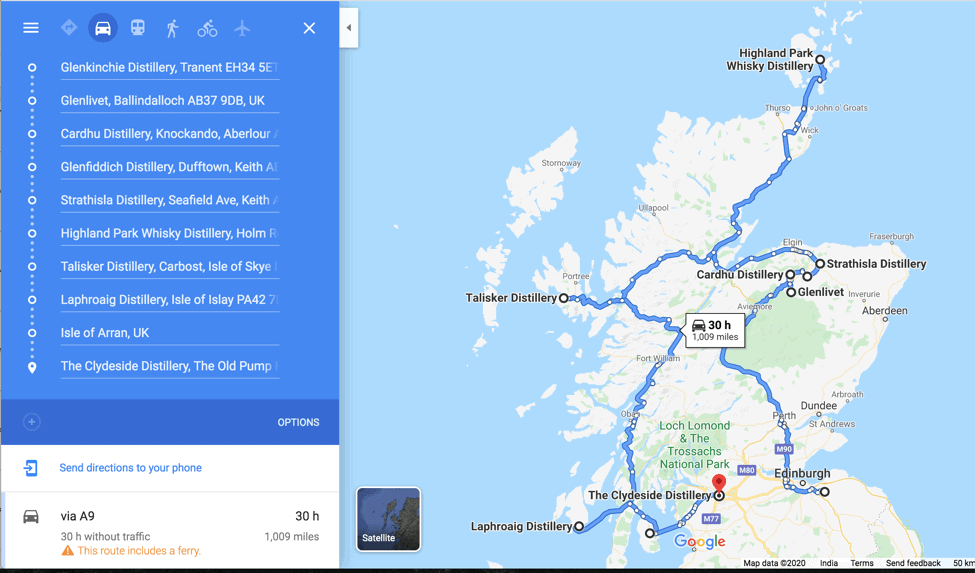 Lastly, as far as accommodation is concerned, getting in touch with Airbnb hosts is the best way to experience the Scottish culture first-hand. Most distillery towns are trailed with campsites, bothies and small inns which you could also just drive in to without prior booking if you are not traveling during peak season.
1. Glenkinchie
One of the closest single malt whisky distilleries from Edinburgh, Glenkinchie is the perfect place to start your scotch-tasting tour at. It is one of the six distilleries in the Lowland region of Scotland and is now owned by the British multinational alcoholic beverage company, Diageo. They offer four popular tours that range from £10 – £100 per person and include a complimentary tasting of the Glenkinchie Single Malt Whisky at their bar. To unleash your inner whisky sommelier, consider taking the fourth "Behind the Scenes" guided tour that allows you to witness parts of the distillery very few will have seen before you. Usually open from 10 am to 4 pm, one can make a day trip out of a visit to the Glenkinchie distillery. However, due to its proximity to the Scottish capital, it is highly frequented by tourists especially during the summer months. A booking of your tour well in advance is highly recommended.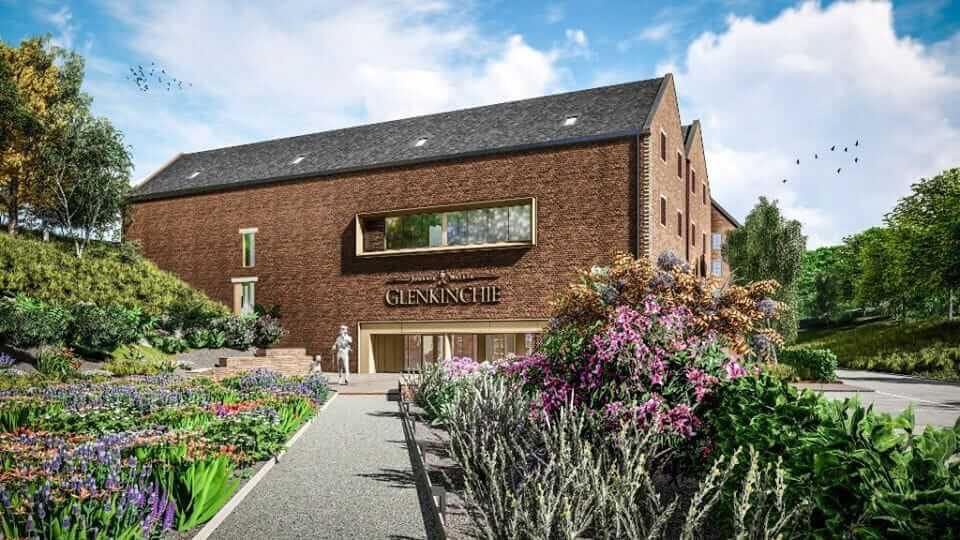 Ways to get there-
A beautiful 30 minute drive in a rented car, taxis or uber.
The 113 and 123 Shuttle buses take you to the distillery from central Edinburgh in under 2 hours.
Welcome to the distillery that probably goes down the history books of all Scottish Whisky. The Glenlivet was the first licensed distillery in the Highlands, and has been operational ever since its conception in 1842. If that is not reason enough for you to visit, you should know that the 12-year-old single malt distilled at Glenlivet is the most sold of its kind in the United States. Amongst five tours that range from £15 – £100 per person, the unique 1 hour 30 minute The Elements tasting tour priced at £30 has said to be most enjoyable since it includes a sneak-peek behind the scenes of the natural elements that lead to a good matured crop of barley. If you are driving up to The Glenlivet from Glenkinchie, you will cross the Cairngorms National Park which is a beautiful place to hike and pitch a tent for the night.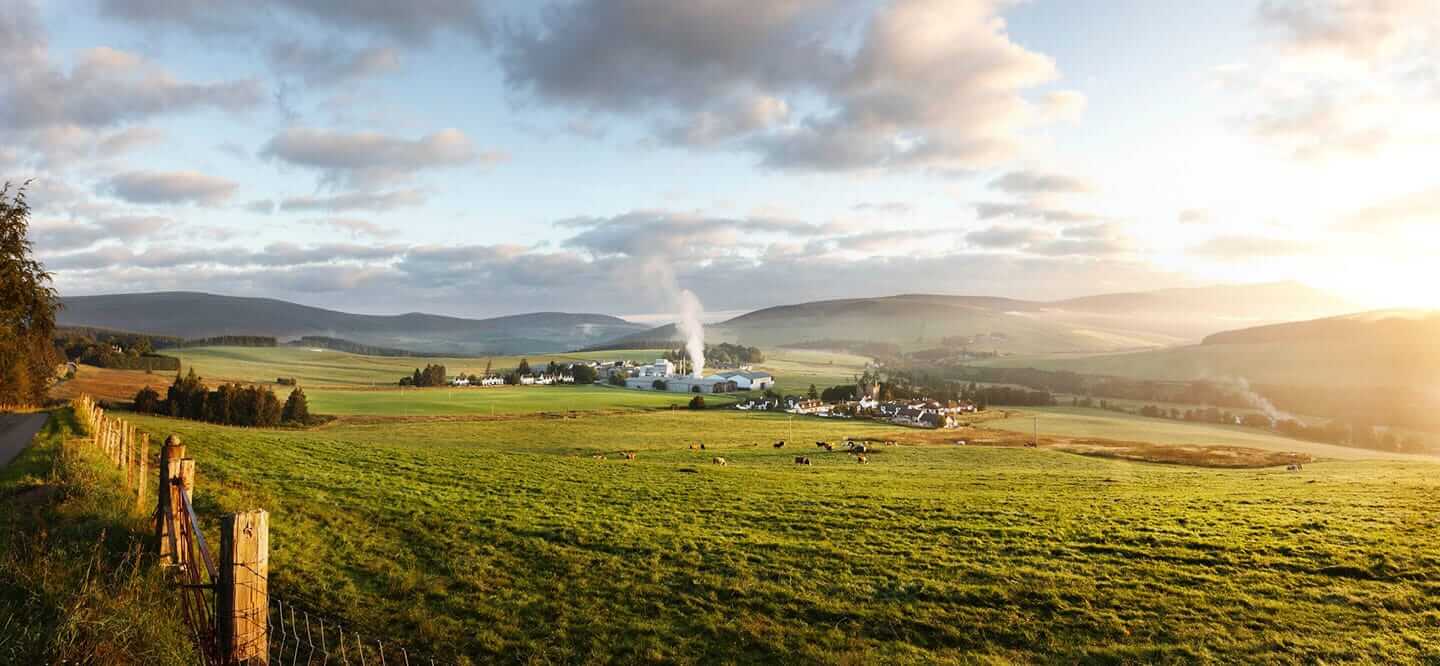 Ways to get there-
A smooth 3 hours 30 minute drive up from Glenkinchie if you decided to rent a car
A beautiful 4 hour 50 minute train from Central Edinburgh that also stops in Aviemore and Grantown-on-Spey
3. Cardhu
Founded by a whisky smuggler and run by his wife, the Cardhu distillery has a thrilling story of its birth. Now bought by Johnnie Walker, it is one of the most renowned distilleries in the Scottish highlands. Their Guess Dhu Tour priced at £12 per head is a fun 1 hour guided tour that involves guessing games and a chance to make it to their "Hall of Fame." If you are a connoisseur indulge in their Tutored Nosing & Tasting tour and book in advance to make sure you get the date and time that fits your travel schedule. For those of you who take a train from Edinburgh, I highly recommend you stop by Aberdeen – Scotland's third-most populous city nestled in the North-east.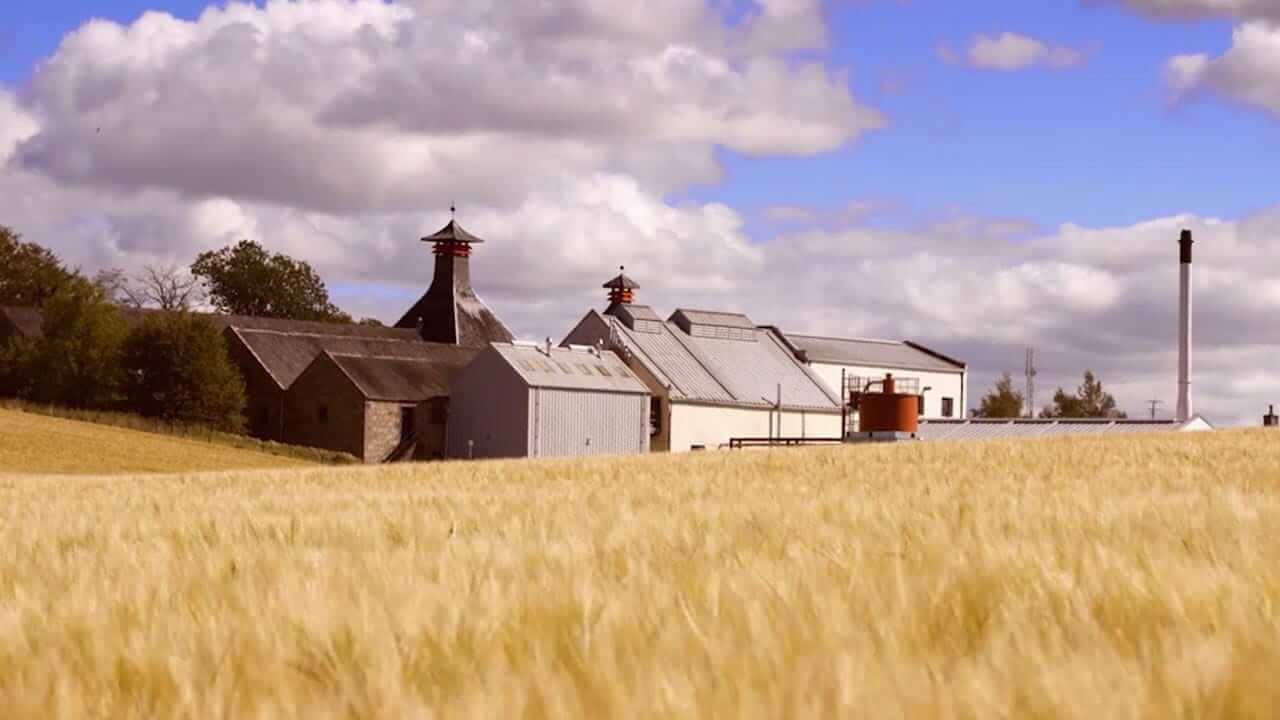 Ways to get there-
An easy 20 minute drive up from Glenlivet with a rented car or taxi.
A coastal 5 hour train ride from Edinburgh via Aberdeen
An enjoyable 2 hour train from Aberdeen.
4. Glenfiddich
Gaelic for "Valley of the Deer," Glenfiddich has an encapsulating aura due to its rich history as a distillery that was entirely built by hand by William Grant and his family in 1886. One of the few family-owned single malt distilleries, Glenfiddich is the World's Most Awarded Single Malt Scotch Whisky in contemporary times. Choose from four unique tours that give you an insight into the unique aspects of whisky making. Standardly priced from £15 – £100 per person, each ticket gives you the opportunity to witness an experience of a lifetime. An easy highlight is a meal at the Malt Barn Bar: the only place where one can try their Malt Barn collection of a 1958 whiskey that otherwise sells for £1000 a dram. The food served there is cooked by award-winning chefs who only use locally sourced, fresh and organic ingredients.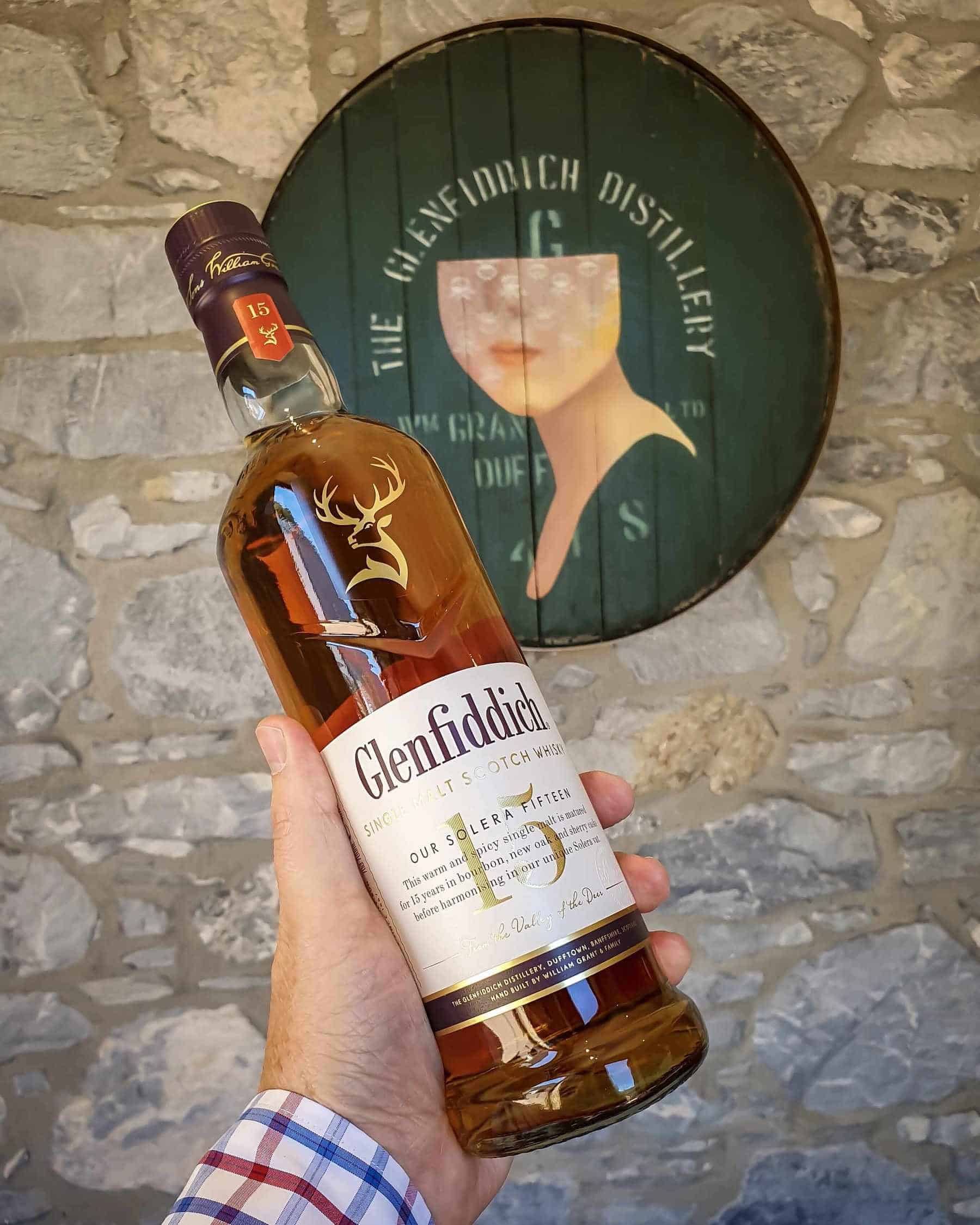 Ways to get there-
A sweet 18 minute drive east from Cardhu with a rented car or taxi.
A one-stop 1 hour train Aberdeen
5. Strathisla
Home of the Chivas Regal Scotch, the Strathisla distillery was founded in 1766 making it the oldest working distillery in the Scottish Highlands. Amongst the six different tours that Strathisla offers, the most popular one is the Chivas Blending Experience priced at £60 per person. In addition to an informative guided tour of the distillery, you get the once-in-a-lifetime opportunity to blend your own Chivas Regal mix after learning how the experts do it. Visit during the early hours to enjoy the view and snag a photograph of one of the prettiest distillery there is in the world today.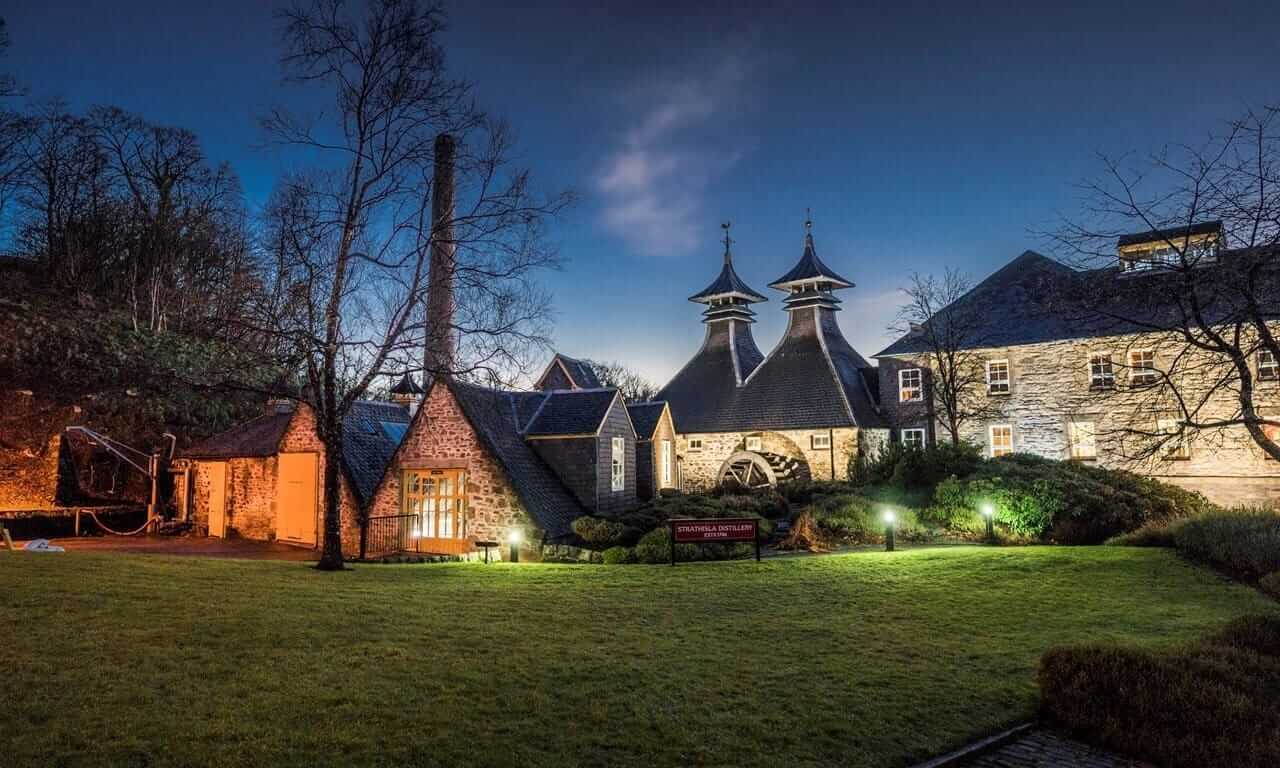 Ways to get there-
A quick 20 minute drive north-east from Glenfiddich or Dufftown with a rented car or taxi.
A 1 hour train or a 2 hour bus from Aberdeen
Every mile of the drive up to Highland Park is worth the taste of their award-winning single malt Scotch whisky made by the contemporary Vikings. Built in the beautiful sea-side town of Kirkwall (largest in Orkney), the Highland Park distillery offers 5 different scotch-tasting tours ranging from £15 – £325 per person. The Viking Soul Tour & Viking Heroes Tour allows you to enjoy a short film about Orkney and its Viking roots before you taste from two selected drams of the 12-year-old Viking Honour and/or the Hero Whiskies. Stay a night in Kirkwall to enjoy some of the best early morning seascapes of the Scottish Highlands whilst savouring lip-smacking food in some of the best restaurants in the area.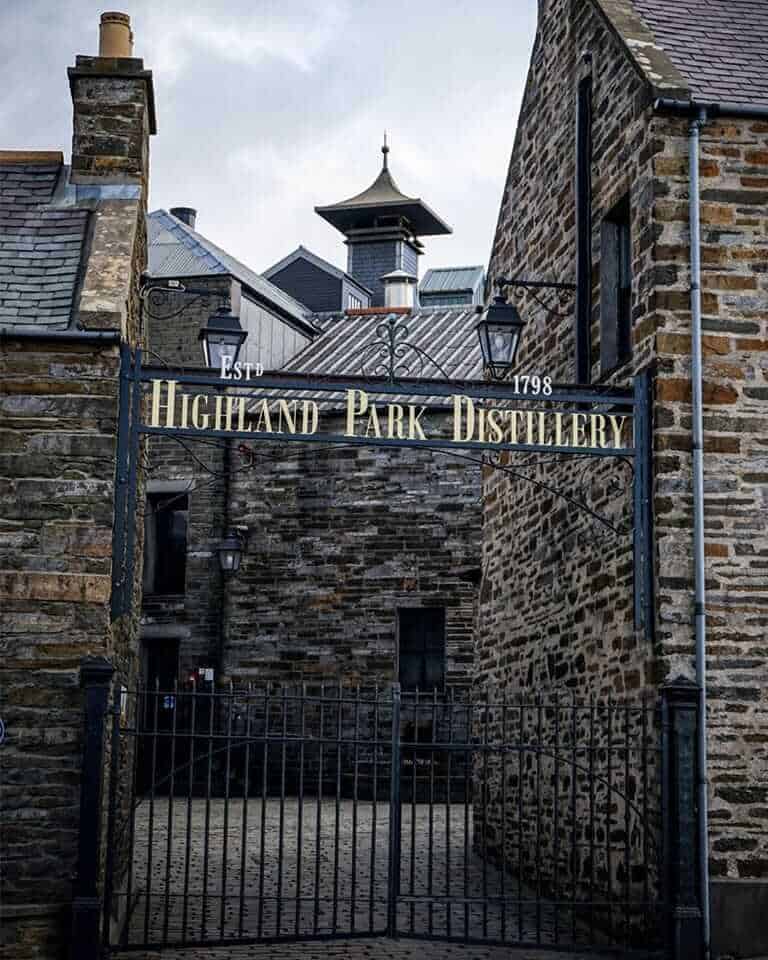 Ways to get there-
A 5 hour 30 minute coastal drive from Strathisla with a rented car.
A stunning 6 hour car ferry from Aberdeen
7. Talisker
The only working distillery on the fairy-grounds of the Isle of Skye, the Talisker distillery overlooks the Loch Harport – making it a perfect setting to enjoy some of their wholesome single Malts. Having personally visited Skye and Talkisker, I can assure you that both places will stay with you long after you leave them. Their classic tour of 45 minutes is priced at £10 and lets you have a sweet taste of their award-winning Talisker Single Malt Scotch Whisky. Consider driving down 20 minutes south to get a surreal view of the fairy pools in Glenbrittle – an easy highlight of your Scottish adventures.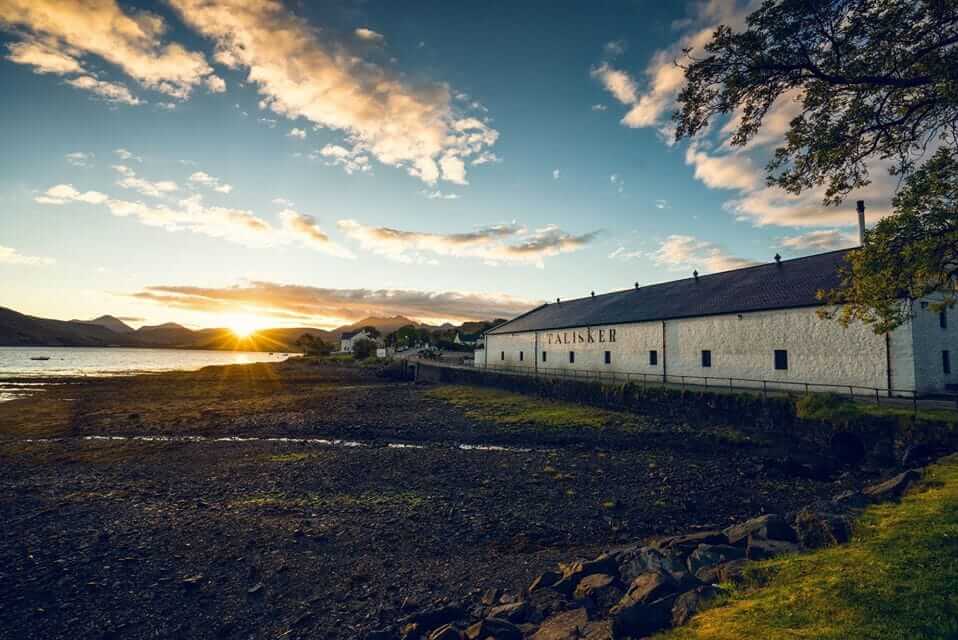 Ways to get there-
A 5 hour 30 minute inland drive down south from Highland Park with a rented car.
A 3 hour bus from Glasgow
A 4 hour 30 minute train from Glasgow
A 5 hour bus from Abardeen via Inverness
8. Laphroaig
Known as the Queen of the Herbrides, the famous Isle of Islay is home to the Laphroaig distillery. The community of passionate distillers at Laphroaig always welcome their visitors warmly with a dram of their finest whisky to start with. Each of their 4 tours are comprehensive and enjoyable and make every minute of your visit worth it. Their Water to Whisky Experience priced at £110 per person is one of their most in-demand tours since it includes a bottle of your favourite whisky cask in addition to stories and secrets of how they distill one of the most strongly flavoured scotch whiskies in the world.
Tucked away in the middle of nowhere, the Isle of Islay is further west from Land's End and more south from Edinburgh or Glasgow. If you decide to drive down from Talisker distillery, I encourage making a one-night stop at the Loch Lomond and the Trossachs National Park. Even though staying for months-at-end is not long enough for its natural beauty around the lakes, waking up after a camp-night to a view of mountains hanging upside down is an unforgettable experience (one I have personally witnessed and highly recommend.)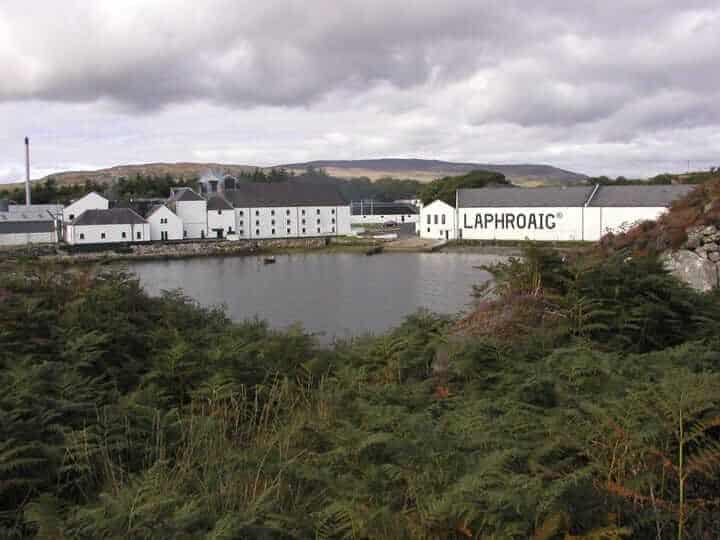 Ways to get there-
A 7 hour 30 minute inland drive and shuttle ferry from Talisker.
A 5 hour 30 minute drive and ferry from Loch Lomond National Park
A 5 hour drive and ferry from Glasgow
A 8 hour bus and ferry from Glasgow
9. Arran
Appropriately known as "Scotland in miniature," the surreal Isle of Arran is the perfect setting for a classic Arran distillery. Make a day-trip out of your visit to Arran for some scrumptious local food, stunning backdrops of blue and green, a quick view of golden eagles soaring past the hills, and a delightful tour of the Arran distillery. The basic 45 minute tour amongst the two others is reasonably priced at £8 per adult and includes a welcome dram of a 14 year old whisky with a taster of the popular Arran Gold Cream Liqueur.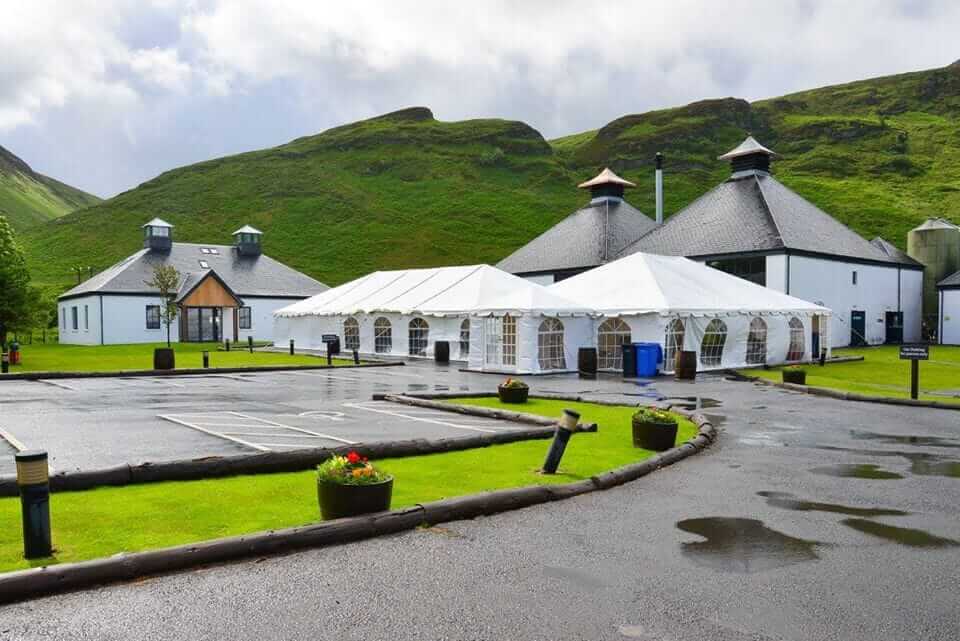 Ways to get there-
A cross-island 4 hour drive and shuttle ferry from Laphroaig.
A quick 2 hour 45 minute train and ferry from Glasgow.
10. Clydeside
There isn't a better way to end a scotch whisky tour than by relishing some Artisan chocolate with your liquid gold amidst the hustle of Glasgow. Yes, the 1 hour 30 minute Chocolate and Whisky Tour at Clydeside priced at £30 per adult is the highlight of every tourist visiting Glasgow. Having personally ended my visit to Scotland with a tasting tour at Clydeside I vouch for their magical new Clydeside Single Malt Scotch Whisky. Roam the streets of Glasgow, while being just a tiny bit inebriated after your tour and you'll feel the city's charm like never before.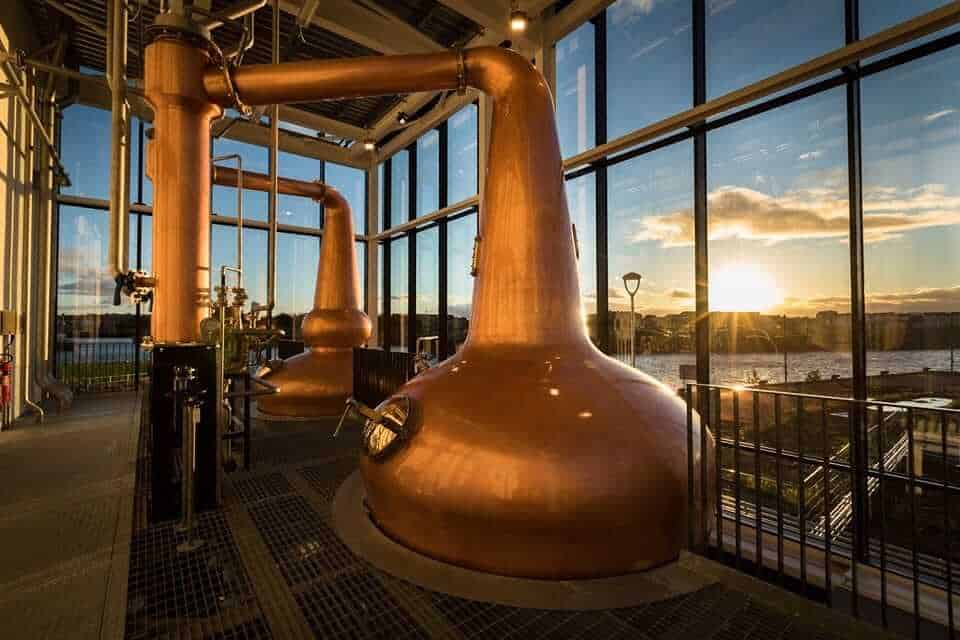 Ways to get there-
An enjoyable 2 hour 20 minute drive and shuttle ferry from the Isle of Arran
A quick 1 hour drive from Edinburgh via a rented car or taxi
A 50 minute train from central Edinburgh