Home » Destination Guides » How to Tour Bolivia's Salar de Uyuni
This article has been authored by Chhandasi Ganguly.
Stretching over 10,582 square kilometres, Salar de Uyuni contains approximately 10 billion tonnes of salt! It is the world's largest salt flat and formed as a result of evaporation of prehistoric lakes. Along with being one of the most beautiful places in South America, it brings income for Bolivia from three sources—tourism, salt harvesting, and lithium mining—and should be a must on your Bolivia itinerary.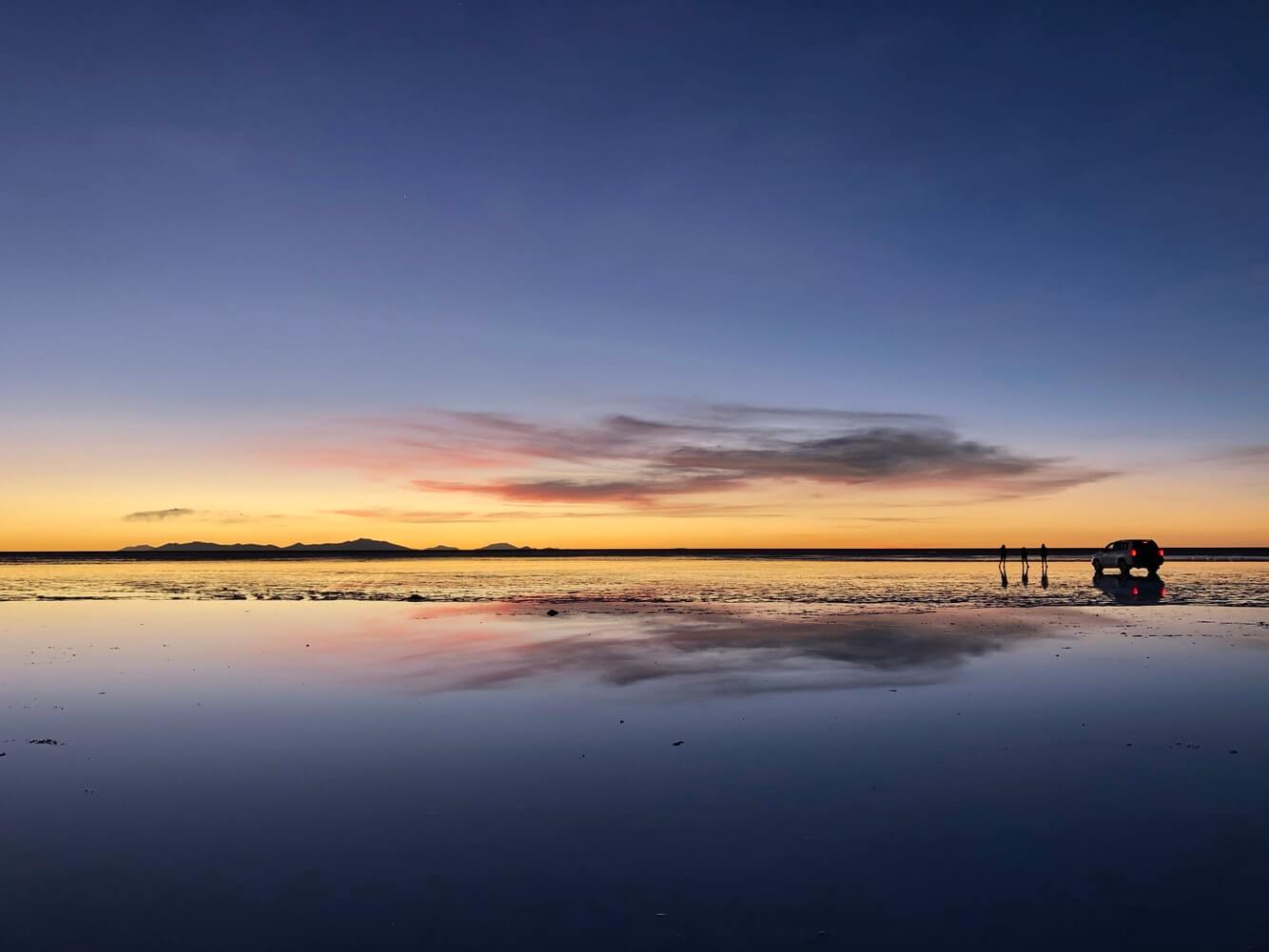 1) HOW TO REACH UYUNI
a) From Uyuni Airport
Located only 2.3 km away from the town of Uyuni, Uyuni Airport is the easiest option. You will find taxis waiting outside the airport to take you to the hotels in town. The price is usually fixed and displayed on a board near the taxi rank.
b) From La Paz
If you are flying in from another country, you are most likely to land in La Paz.
Flight: Amaszonas and Boliviana de Aviacion operate 2-3 flights per day between the two cities. The journey takes less than an hour. You must book way in advance to get cheap deals.
Bus: Overnight buses by numerous reputed bus companies ply the route and the journey takes about 9–10 hours.
Train: La Paz doesn't have a railway station. You will have to travel for around 4 hours via bus to Oruro and take a minivan or taxi to the station. Thereon, the train journey to Uyuni will take approximately 7 hours. The trains run only on four days—Tuesday, Wednesday, Friday and Saturday.
c) From Tupiza
This is the most convenient for tourists coming from Argentina.
Train: Trains run on Monday, Wednesday, Thursday and Saturday and take approximately 5–6 hours.
Bus: A direct bus journey lasts around 4 hours.
d) From San Pedro de Atacama, Chile
Those interested in both Salar de Uyuni and San Pedro de Atacama usually club the two together. Your Chile tour agency will drive you to the border and hand over the tour to a Bolivian operator.
Tickets Bolivia is a credible site to book trains and buses. You can also check the list for timings and prices to select the option that suits you the best.
Alternatively, you can book and start your tour from any of the above places. The tours either end in Uyuni for you to continue your journey ahead or bring you back to the original place.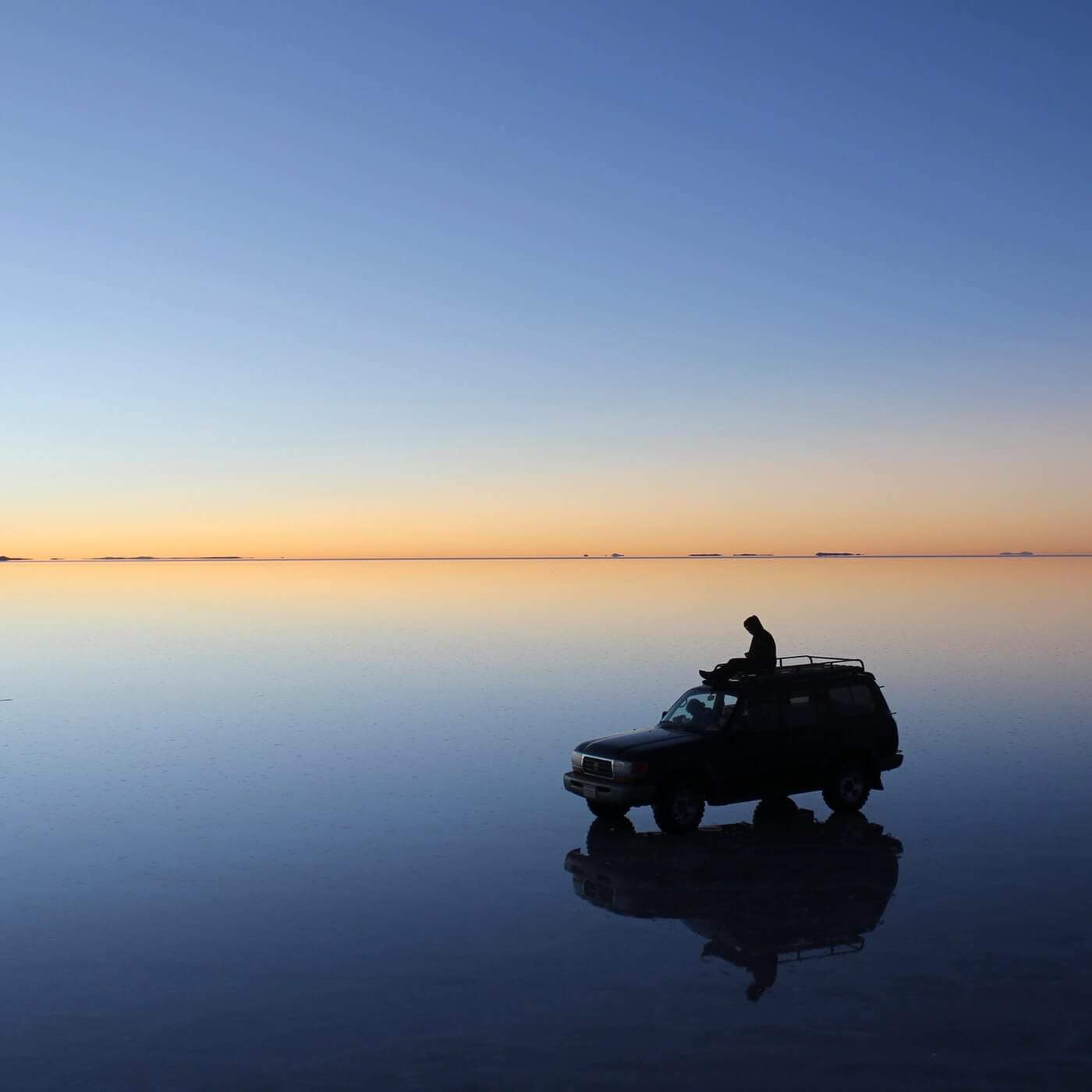 2) WHEN TO VISIT
Salar de Uyuni is magnificent throughout the year with each season offering its unique features. Deciding when to visit the salt flats mainly depends on what you want to get out of it.
June–August: This is the winter season and the flats stretch entirely dry and white. Salar de Uyuni gets bitter cold during this time and experiences no rain. The unending stretch provides the perfect canvas for creative photography by allowing you to play with perspective and depth of field.
September–November: The flats are still dry with occasional rains and the experience isn't very different from the previous months.
December–March: It is the rainy season and the most popular among tourists. When the rain hits the salt, it creates a shining glass-like smooth surface, making it ideal for reflection photography. At night, the stunning star-studded sky is reflected by the salt, creating a 360-degree immersive experience with one galaxy above and one below you. During peak monsoon, that is February, too much rain might melt the salt making many areas inaccessible.
April–May: Few tourists visit the flats during these months. Therefore, you can get cheap deals on tours and hotels. You can still spot a few areas with reflective surfaces with the help of a well-informed guide. If you are lucky, this period may be your chance at experiencing both the dry stretch and the reflective surface together.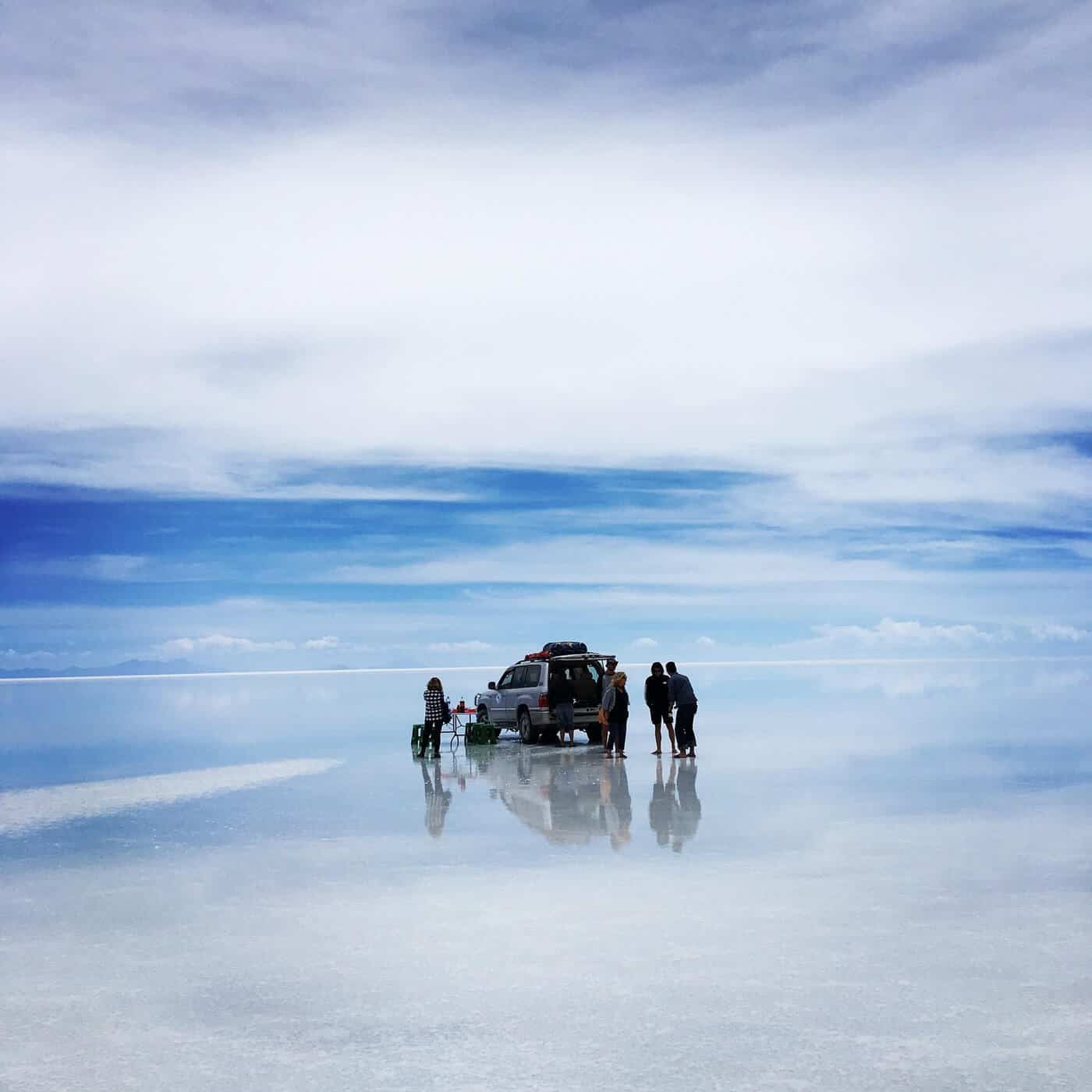 3) EXPECTED EXPENDITURE
Accommodation (usually includes breakfast)
| | | |
| --- | --- | --- |
| Hostel/Low-range hotel ($) | Mid-range hotel ($) | Luxurious/High-end hotel ($) |
| 11–25 | 32–77 | 90–130 |
*The above costs are estimated per day
Tour: This includes transport, meals, and all the tourist spots (except a few).
| | | |
| --- | --- | --- |
| One-day tour ($) | Three-day tour ($) | Four-day tour |
| 40–80 | 125–200 | This is usually only for the ones opting for a round trip from San Pedro de Atacama. The last day is used to make the journey back, for which the additional cost is around $70. |
*The above costs are for group tours, where you will be travelling in a standard 4X4 jeep. Private tours and/or tours with English-speaking guides (guides usually speak Spanish) will cost more. The costs include night accommodations during the tour. However, you will have to pay extra if you want nicer or private rooms.
| | |
| --- | --- |
| Spots not included in tour package cost | Entry fee (Bs) |
| Isla Incahuasi | 30 |
| Eduardo Avaroa National Park | 15 |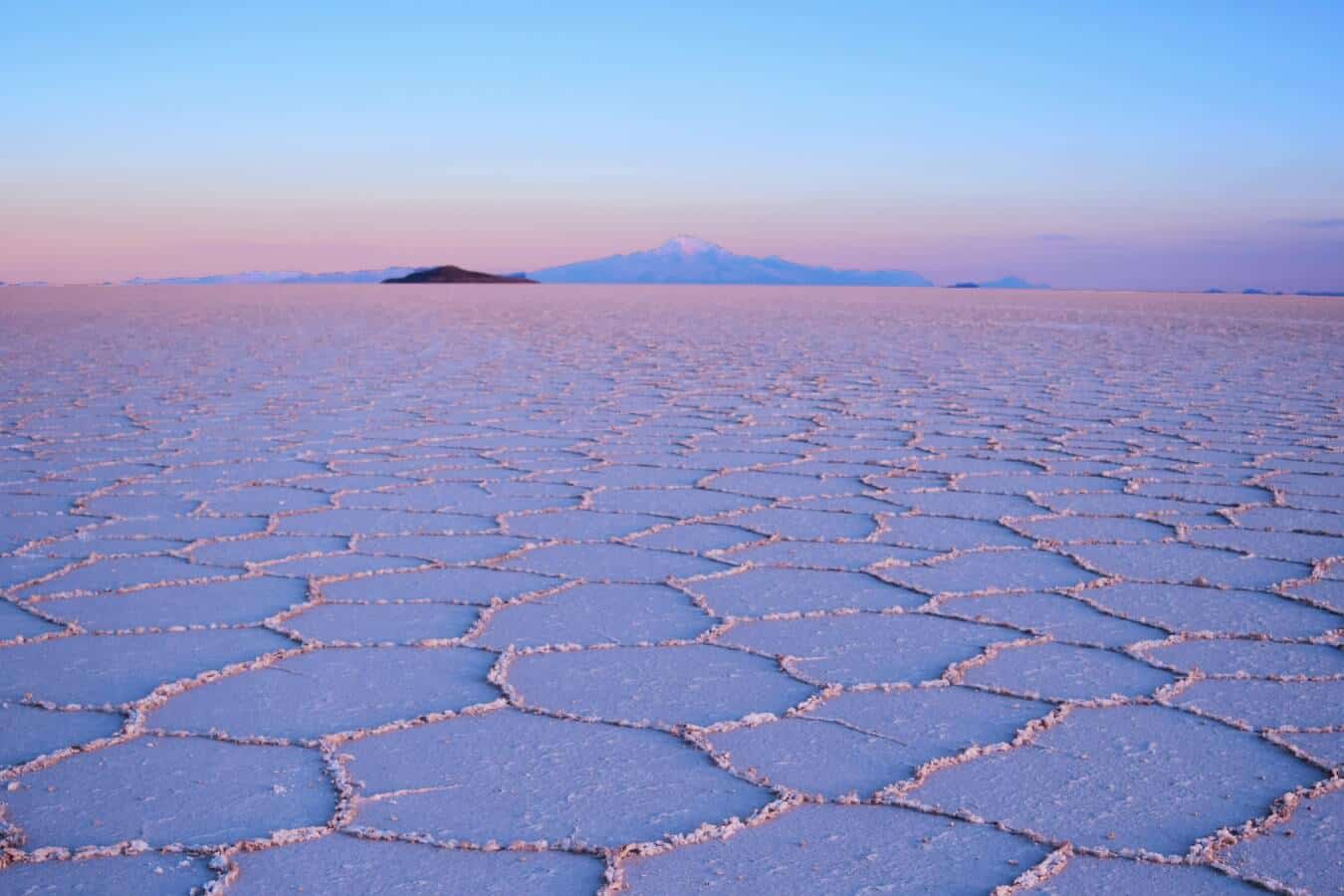 4) TOUR OPTIONS
a) One-day tour
One-day tours are available only from Uyuni, usually starting at 10:00 and going on till 17:00. You will spend the day on the vast stretch of nothingness, admiring its beauty and indulging in creative photography. The one-day tours also include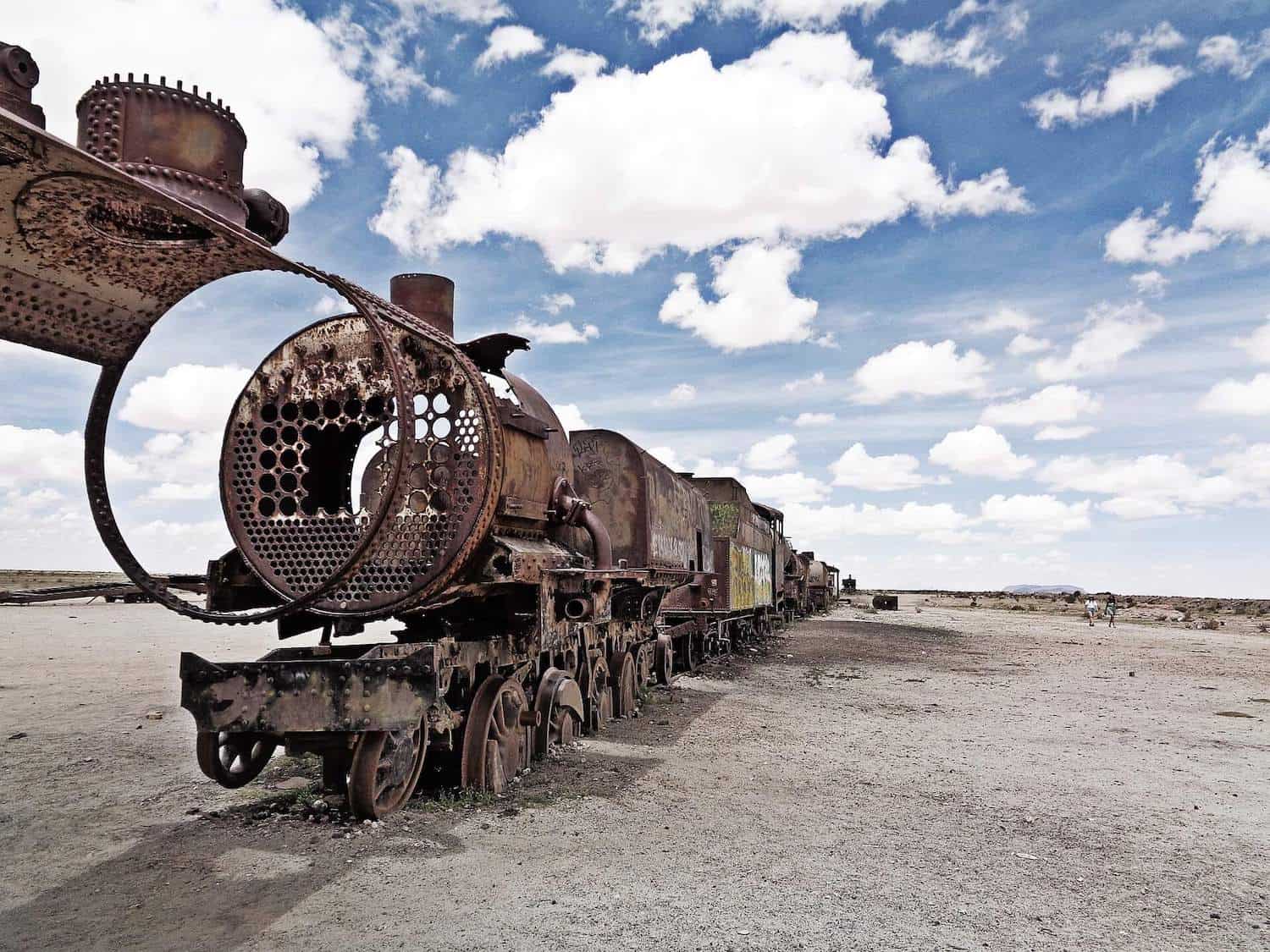 Train graveyard: Reaching here takes only a 5-minute drive from Uyuni. It is cluttered with old and rotting trains, yet provides for a photogenic setup.

Salt Hotel, Uyuni, Bolivia

Colchani: It is a salt production site. Here, you will experience the process of producing salt firsthand and also visit a salt hotel, which, as the name suggests, is made entirely of salt blocks.

Isla Incahuasi, Salar de Uyuni, Bolivia

Isla Incahuasi: You will see giant cacti up to 10m in height, coral rock formations, and a 360-degree view of the salt flats.
b) Three/Four-day tour
You have the flexibility of starting your trip from La Paz, Tupiza or San Pedro de Atacama. However, Uyuni remains the most popular. Also, you get to stay in one of the salt hotels, which is an experience in itself. In addition to the places covered in one-day tours, three/four-day tours include: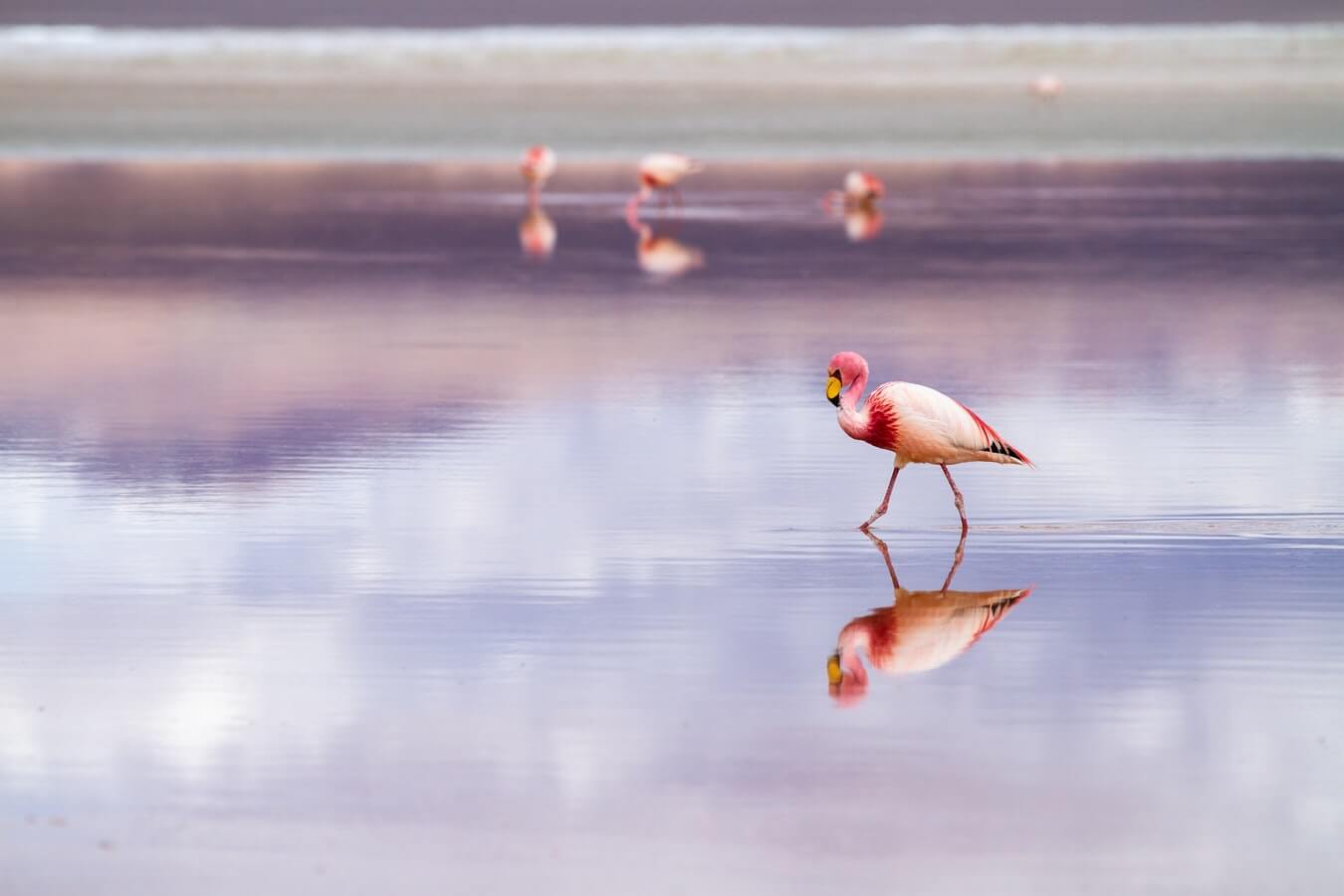 Lagoons: The way is dotted with several colourful lagoons. You can spot flamingos at a few of them for two or three months starting November.
Polques Hot Springs: You can have a peaceful bath in the thermal waters to re-energise yourself.
Árbol de Piedra: Also called the 'Stone Tree', it is an isolated rock formation with an uncanny resemblance to the shape of a tree.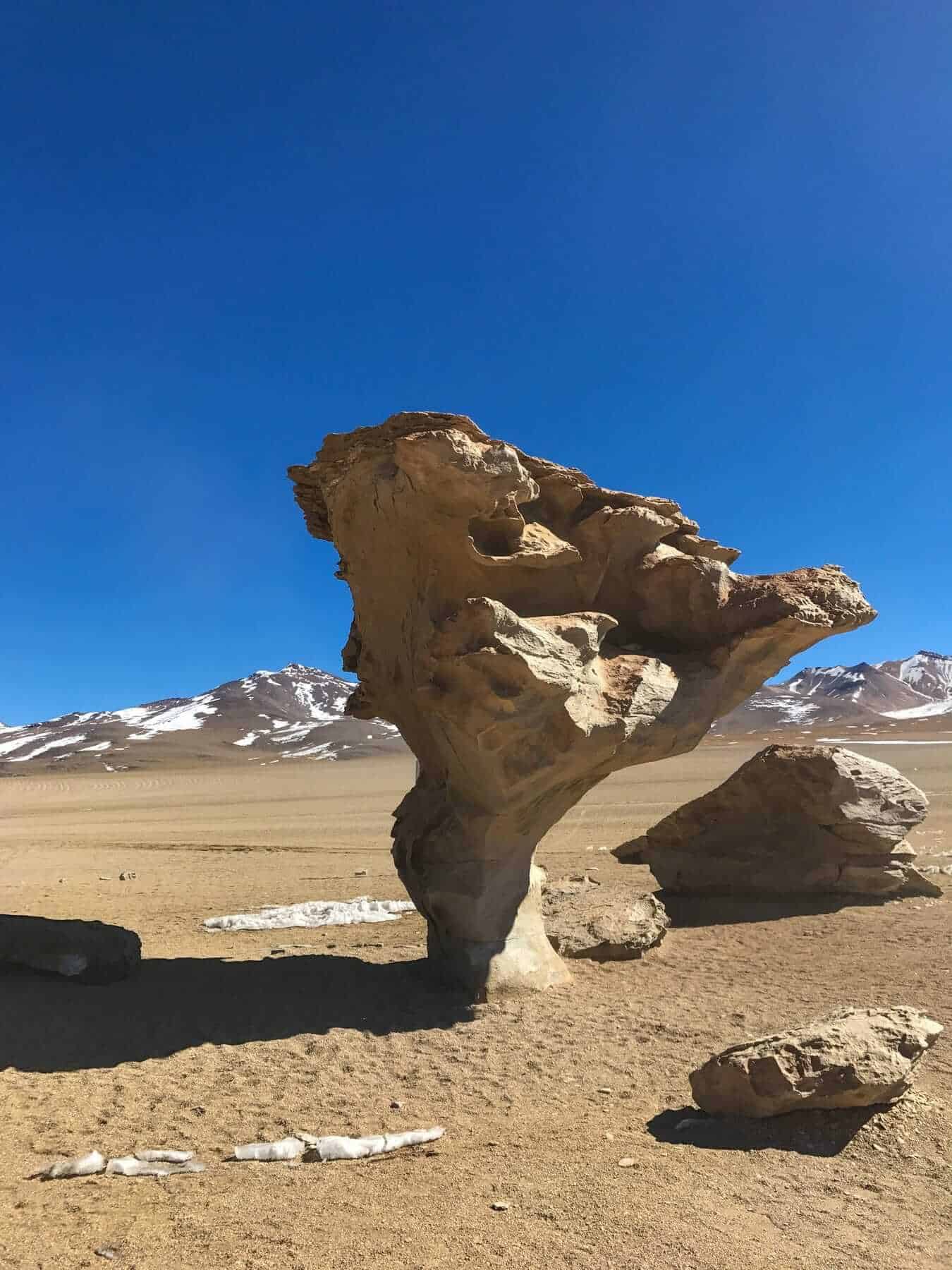 Valle de Rocas: You will see unusual rocks formed due to volcanic activity and wind erosion over the years.
Sol de Mañana geyser: The 4850m-high geyser basin is known for its bubbling mud pots and a thick aroma of sulphur. The steam from the geysers can reach a height of up to 15m.
Salvador Dalí Desert: The barren valley is named after the Spanish artist for its landscapes give an impression of his surrealist paintings.
San Cristóbal de Lípez: It is a small town dedicated to mining.
Chiguana Desert: It is covered in shrubs, sand, and ochre-coloured volcanic rocks. You can also spot llamas.

Dakar Rally, Salar de Uyuni, Bolivia
Visit the official website of Salar de Uyuni for more information on tourist spots, itineraries, and tour options for planning your trip.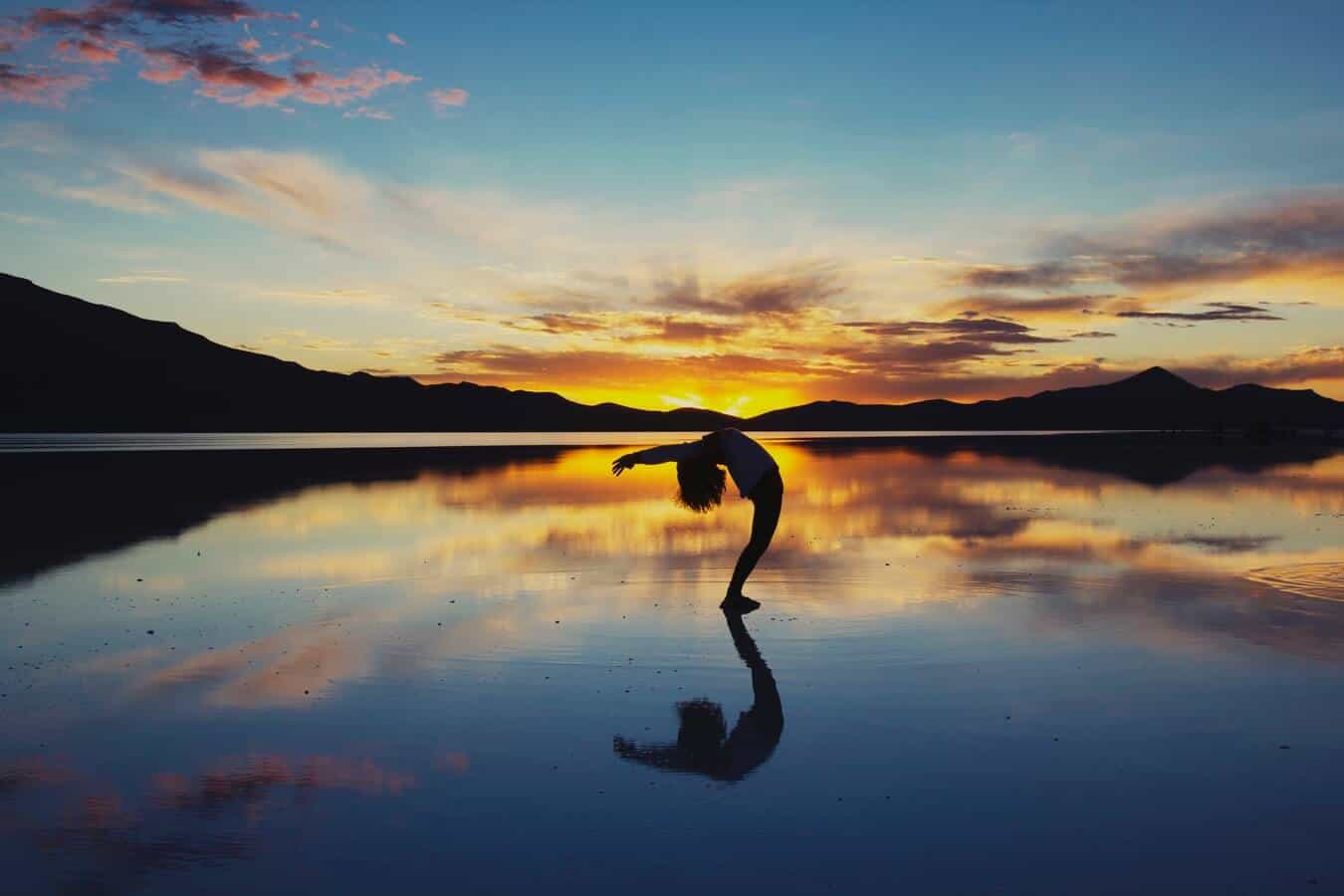 5) FEMALE SOLO TRAVEL
Bolivia isn't exactly the safest place for women. You must avoid travelling after dark, watch out for petty crimes, and select to travel only with reputable companies. You maybe whistled, shouted, and ogled at. Don't get rattled and be aware of your surroundings. You must keep an eye out for theft and robbery as solo travellers are the easiest targets. Most thieves use distraction instead of force. Therefore, don't let strangers with seemingly innocent excuses get too close to you. Keep your bags and cameras strapped around your body at all times in public places. Also, fake police scammers can demand to search you or ask for money. Be cautious and don't fall for their pretence.
In case of any emergency, dial 911. The number to reach the national police is 120.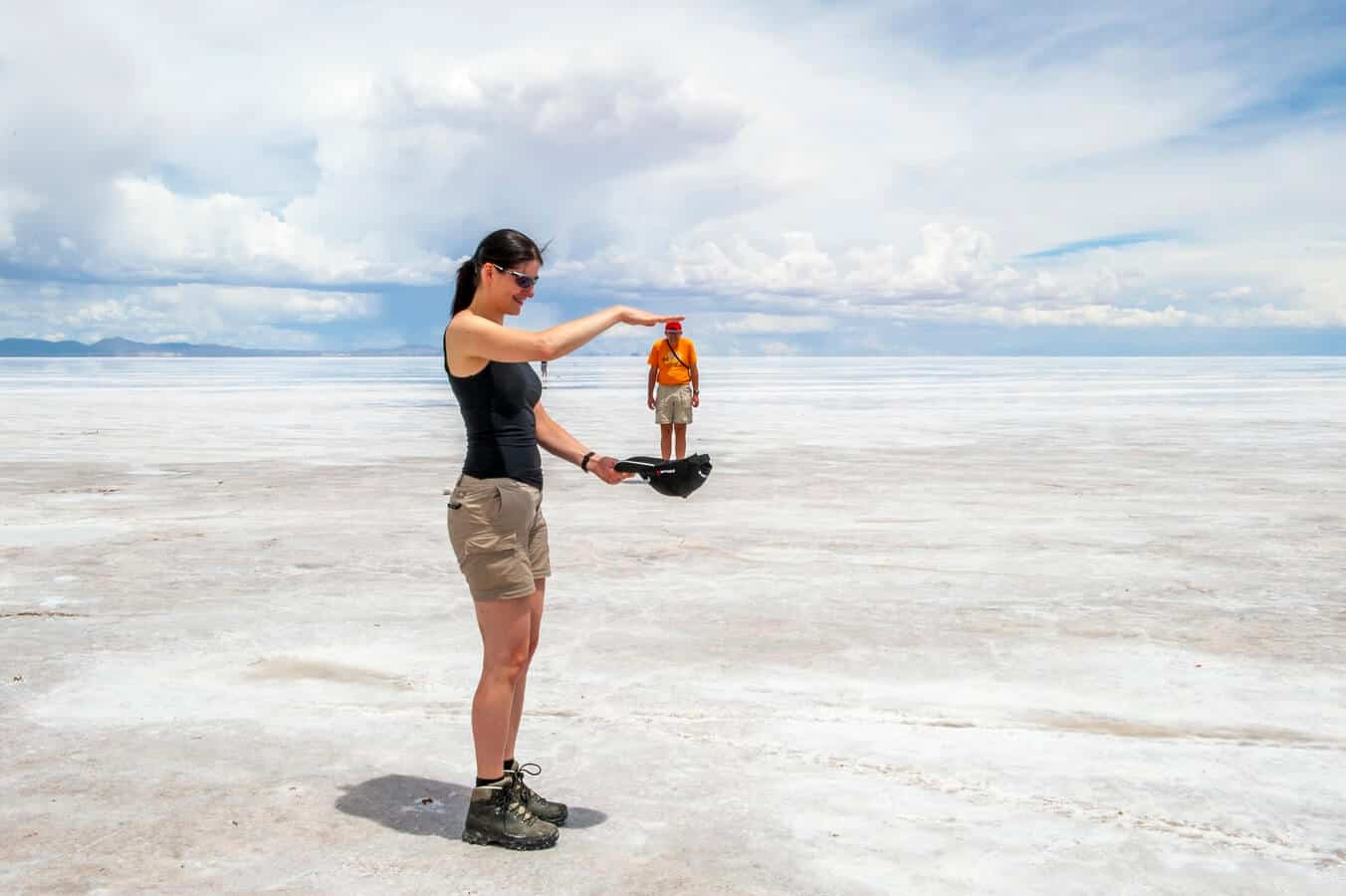 6) TRAVELLING WITH KIDS
There are a few precautions that you need to take while touring Salar de Uyuni, which become even more important for kids as they are usually more sensitive.
The jeep rides on the salt flats can get very bumpy which may be uncomfortable for children.
During the tour, you will be above 3600m and even 5000m on a day. Altitude sickness can set in for those not used to elevations. Therefore, keep your kids hydrated and avoid having heavy meals to prevent or manage the symptoms. Also, keep medicines handy.
During winters, the temperatures drop as low as -20 degree Celsius at night. Carry enough winter layers to keep your kids warm.
Reflection from the salt surfaces can increase the sun's brightness, causing damage to kids' sensitive eyes. Make sure to carry sunglasses for protection.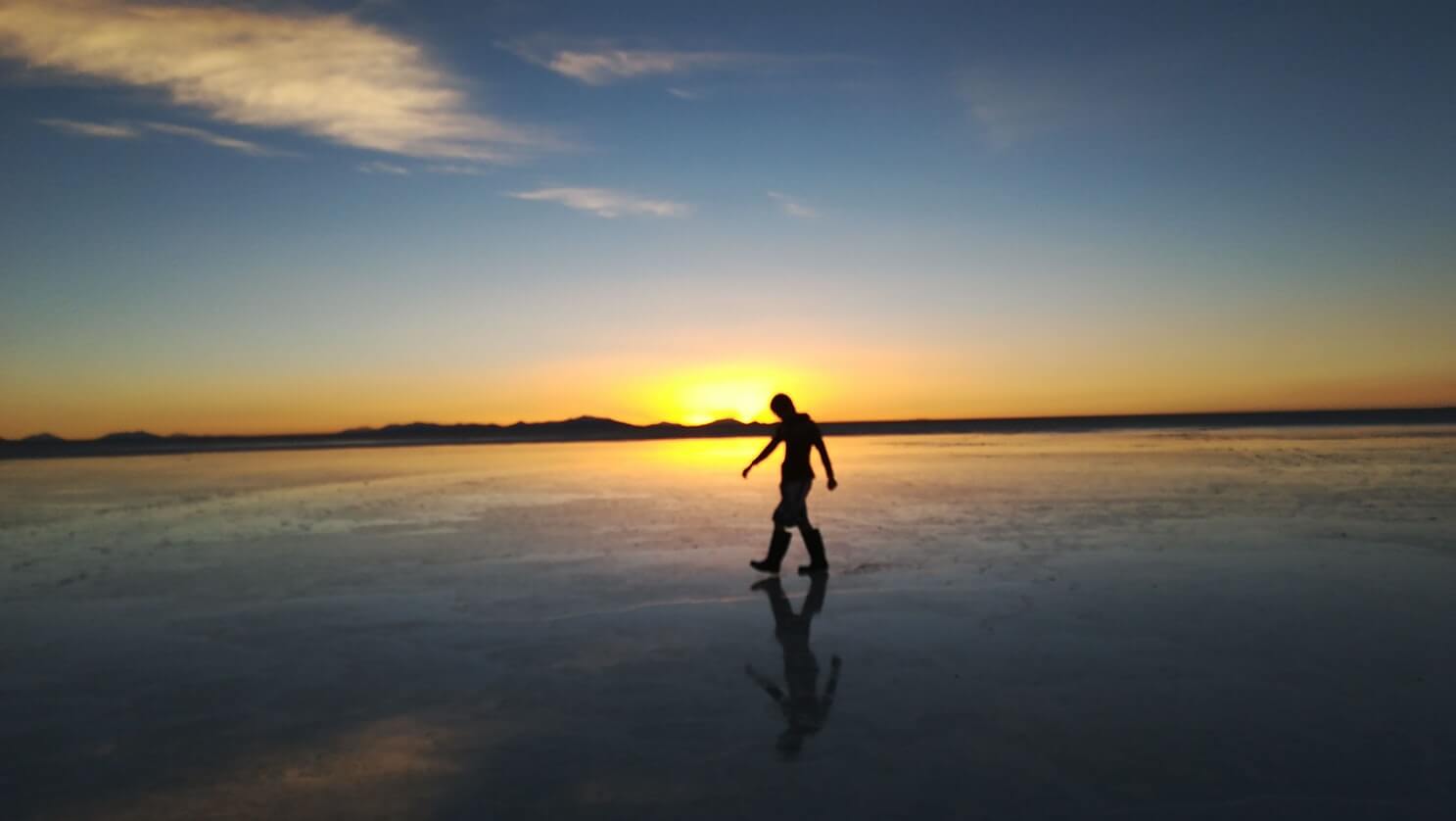 The Salar de Uyuni with its seemingly endless scenery of blue and white has become a popular spot for backpackers and tourists. The experience of this otherworldly nature will surely stay with you for long.
This article has been authored by Chhandasi Ganguly.