Home » Destination Guides »
Paros is a gorgeous island smack-dab in the middle of the Cyclades. Boasting 120 kilometres of coastline lined with stunning beaches, fertile valleys, serene landscapes, and dramatic rolling hills, Paros is a fun place to explore while holidaying in Greece.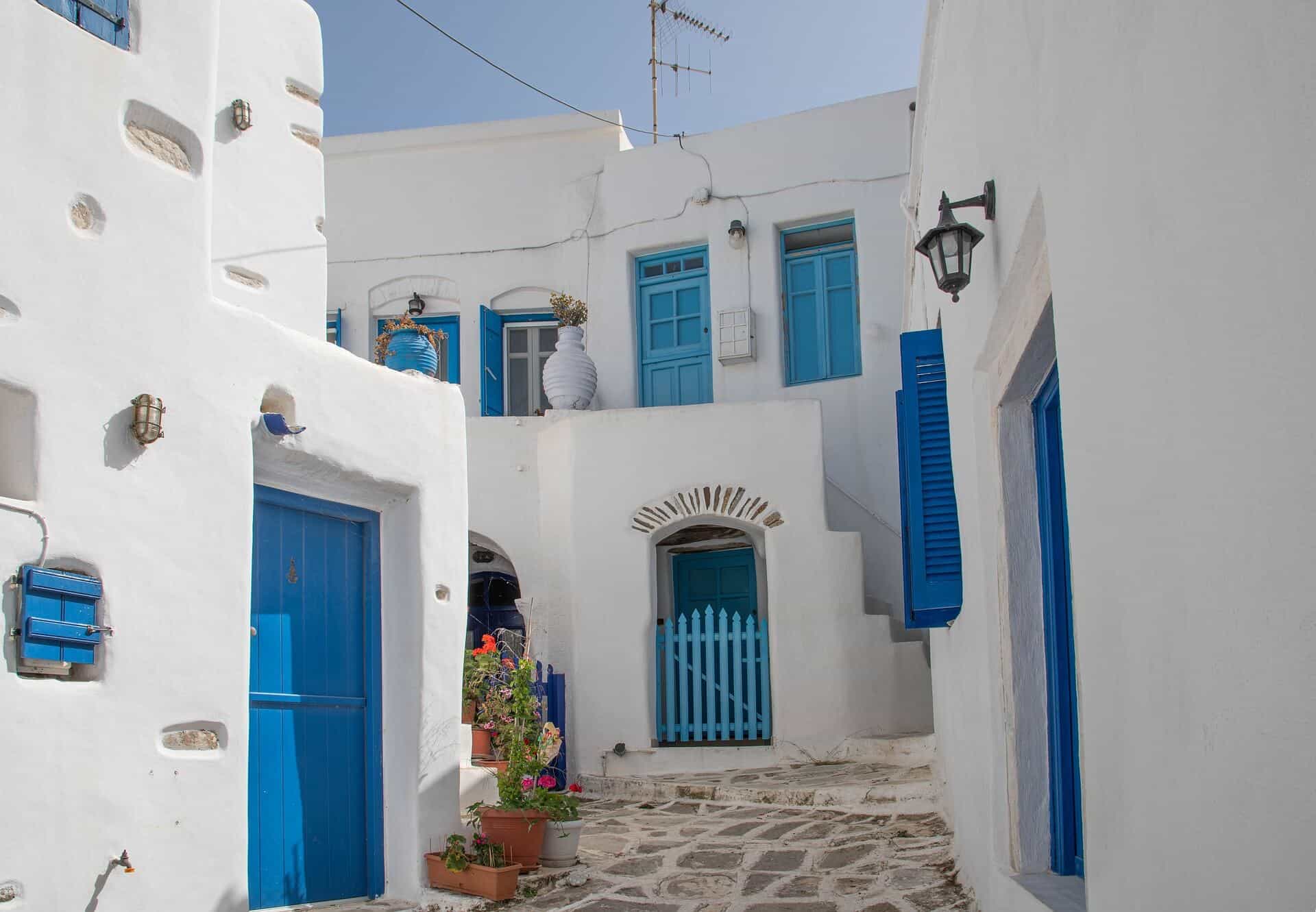 Aside from having a stunning landscape, the island is also home to small churches, ancient ruins and monuments, and picturesque towns and villages waiting for you to explore.
Here's your guide to the best places to visit on the island of Paros.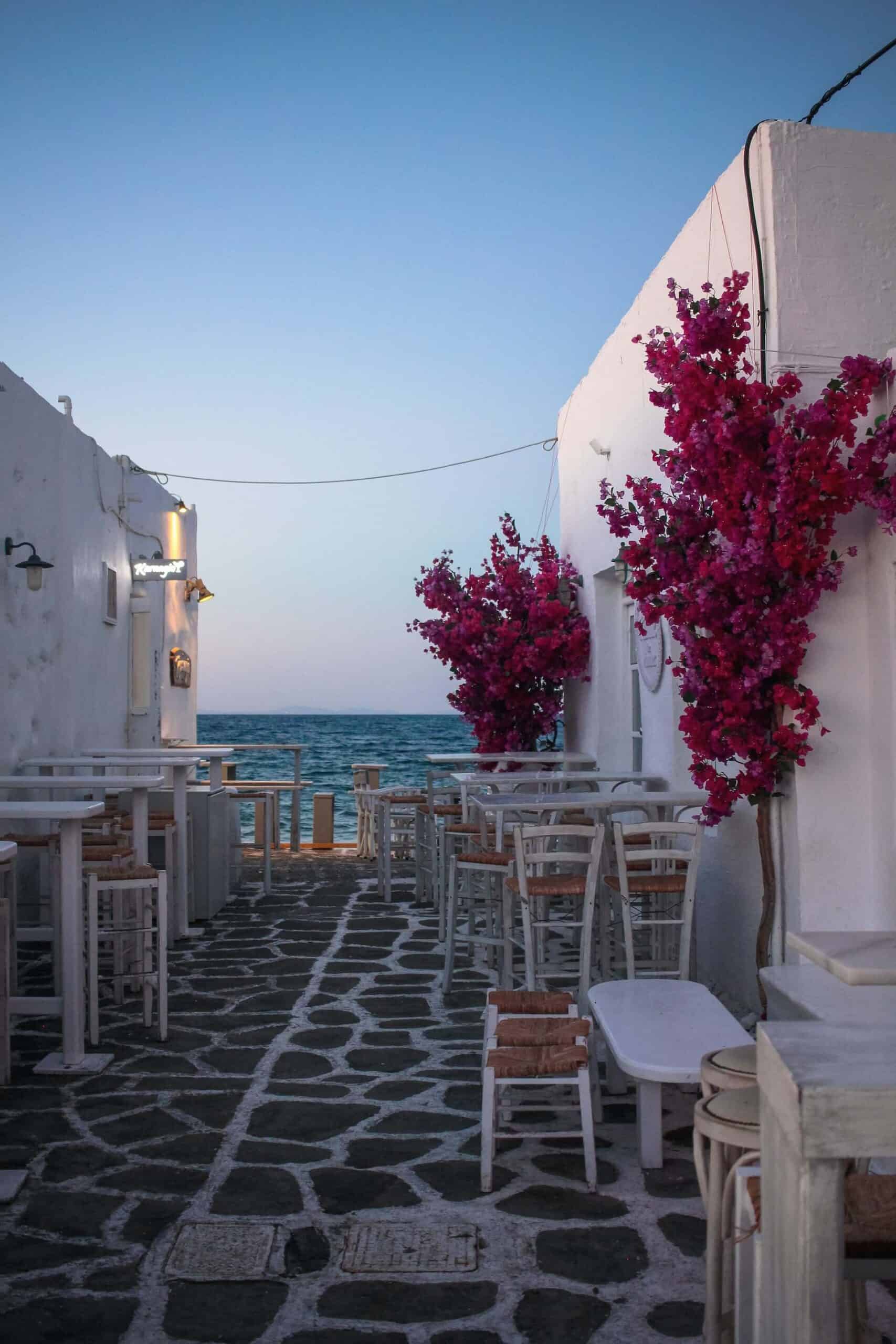 1. Naoussa
Paros is home to some of the most picturesque villages of Greece, including Naoussa, a quaint fishing village with cobbled laneways lined with Orthodox churches and Venetian mansions. It has so much to offer, including a lovely harbour, where you can marvel at small Cycladic fishing boats and fishermen going about their day's catch. 
Nestled in an idyllic bay in the island's northern section, Naoussa has managed to keep its authentic charm despite tourism development over recent years. As you stroll through the village, you'll find many beautiful churches, including the Church of the Assumption of the Virgin, standing proudly on the island's highest point.
To learn about the island's rich history, visit the Byzantine Museum housed in the Church of Agios Nikolaos. It features a fascinating exhibition of invaluable pieces, with some dating back to the early 13th Century. You'll also find some monuments built during the Byzantine era.
The best way to relax after sightseeing is to hang out at the beach. Naoussa has several golden beaches occupying its natural bay, including Kolymbithres Beach and Monastiri. You can reach these beaches by hiking through footpaths or taking a small fishing boat from the port.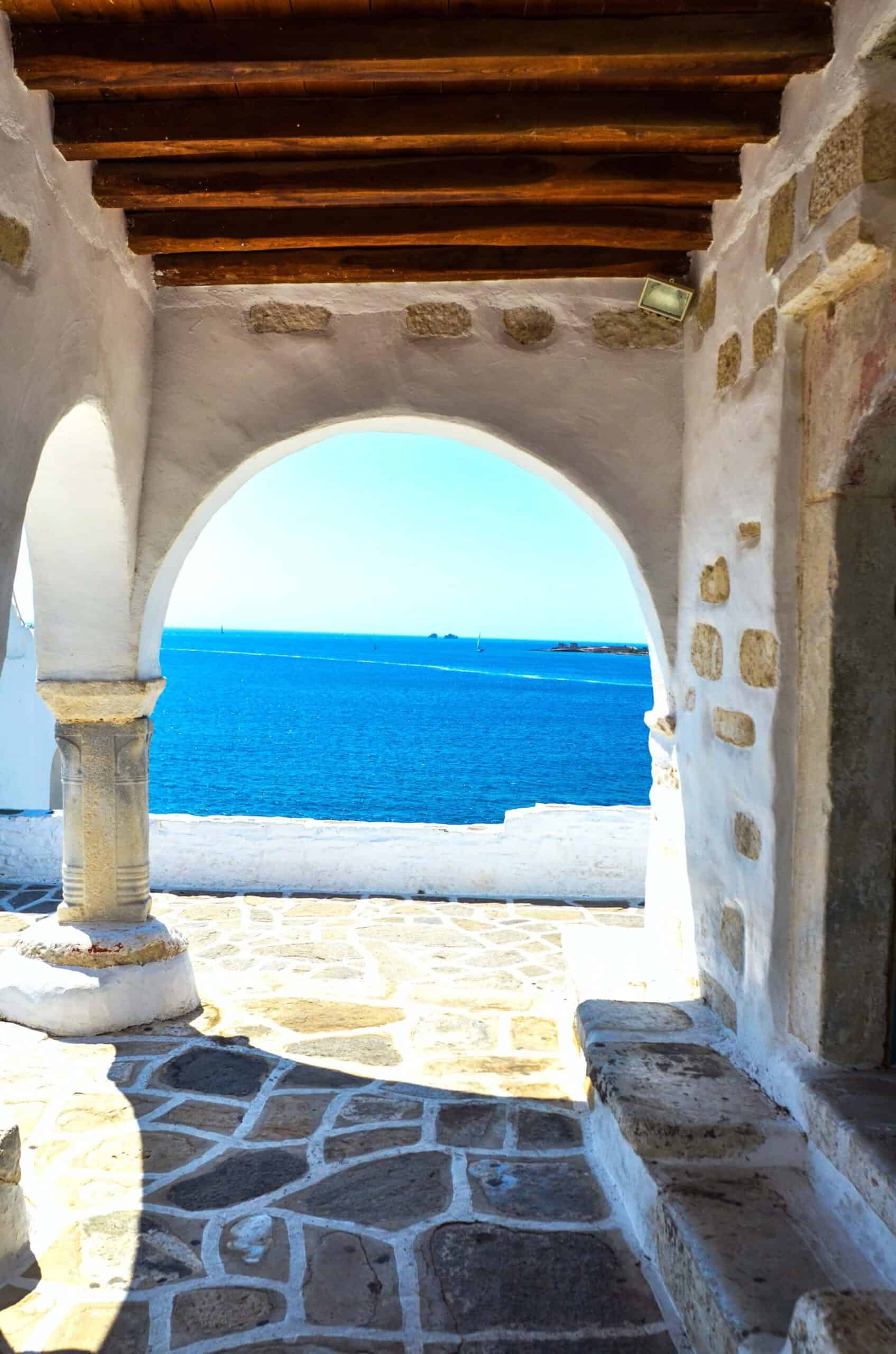 2. Parikia Village
Parikia is the capital of Paros, home to quaint churches, historic ruins, and picturesque whitewashed windmills. It lies on the western section of Paro, about a 15 min drive from Naoussa. The town has a lovely promenade home to fantastic oceanfront restaurants serving mouthwatering seafood.
Aside from being the main port town where everyone arrives, Parikia also makes for an excellent base on your holiday to Paros, as it's home to a wide variety of accommodations. Some of these are within walking distance of the most beautiful beaches of Paros. In addition, most of the island's sailing tours depart from its port.
For history lovers, you'll enjoy exploring the town's whitewashed narrow alleys, where you'll find charming Cycladic houses sandwiched between small boutique shops selling souvenirs and local handicrafts, allowing you to enjoy a bit of shopping while sightseeing.
Parikia is also home to many cosy cafes where you can rest between exploring. Order a cup of coffee to enjoy as you people-watch. If you're hungry, check out the restaurants lining the promenade and order the tastiest seafood dish and a glass of delectable Greek wine.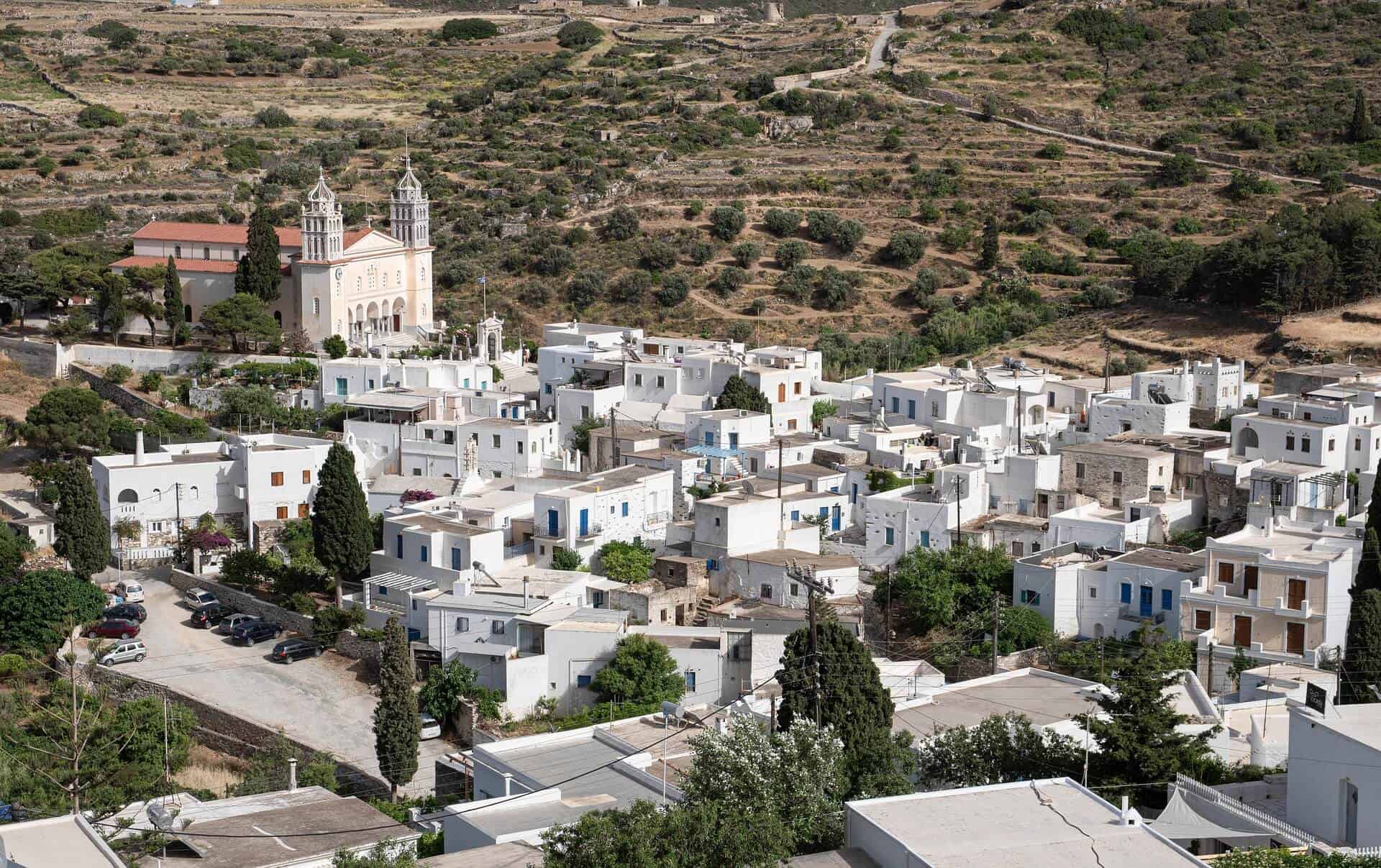 3. Lefkes Village
Surrounded by lush pine forests and olive groves set in the verdant hills of Paros, Lefkes is a charming Cycladic village with Neo-classical architecture and tavernas. It can make for an ideal base on your holiday to the island, as it's home to some luxury rentals with pools in Paros, offering the perfect place for exploring many beautiful places on the island.  
Lefkes is the perfect place for those who want to explore a traditional Greek village. Established in the 17th Century, Lefkes is also home to some historical sites, such as the Church of Agia Triada. Walk the town's ancient Byzantine Road, where you'll find beautiful alleys home to lovely cafes, including the historic Stratis bakery. 
In the lower valley of Lefkes, you'll find Prodromos and Marpissa, two delightful villages that are a joy to explore. Prodromos is home to whitewashed houses and quaint chapels. But the most iconic site in the area is the entrance archway linking the churches of St Nicolas and St. Spyridon, covered with a vaulted roof and belfry. Head to the town centre, where you'll find Kallitechniko, a famous taverna serving mouth-watering Parian dishes at reasonable prices.
4. Kolymbithres Beach
Paros is famous for its stunning beaches. But if you only have time to visit one beach in Paros, make it Kolymbithres Beach, which you'll find in the idyllic bay of Naoussa. It's a particularly stunning beach, thanks to the massive blocks of granite bordering it and sculpted into smooth shapes by the sea and wind over centuries. 
As one of the most beautiful beaches in Greece, Kolimbithres is a great place to relax, swim, and enjoy water sports. It has umbrellas and sun beds available for hire, and some water sports facilities. You will also find a few restaurants, tavernas, and beach bars along the road that leads to the beach.
The best way to get to Kolimbithres is by driving through the asphalted road of Paros towards the town of Naoussa. You can also take the local bus if you don't have a car. It's also possible to ride the small fishing boat that leaves from the port of Naoussa.
5. Piso Livadi
Piso Livadi is a small fishing port about 17 km south of Parikia. It used to be an idyllic little village transformed into a tourist town, attracting tourists for its stunning beach. 
The Piso Livadi beach has a more laidback vibe than the other beaches on the island, making it an ideal choice for those who want to enjoy tranquillity while on holiday. Despite that, you'll find a few cafes, restaurants, and shops in the area. The long, sandy beach is perfect for chilling out and working on your tan. It has crystal clear waters best suited for swimming and enjoying water sports, such as windsurfing.
If you want to enjoy a relaxing beach holiday in Paros, Piso Livadi can make for an ideal base. You'll find excellent lodgings in the area, including boutique hotels and guesthouses. When heading to the beach, it is best to bring a towel that you can place on the sand to lounge around since Piso Livadi doesn't have sun loungers.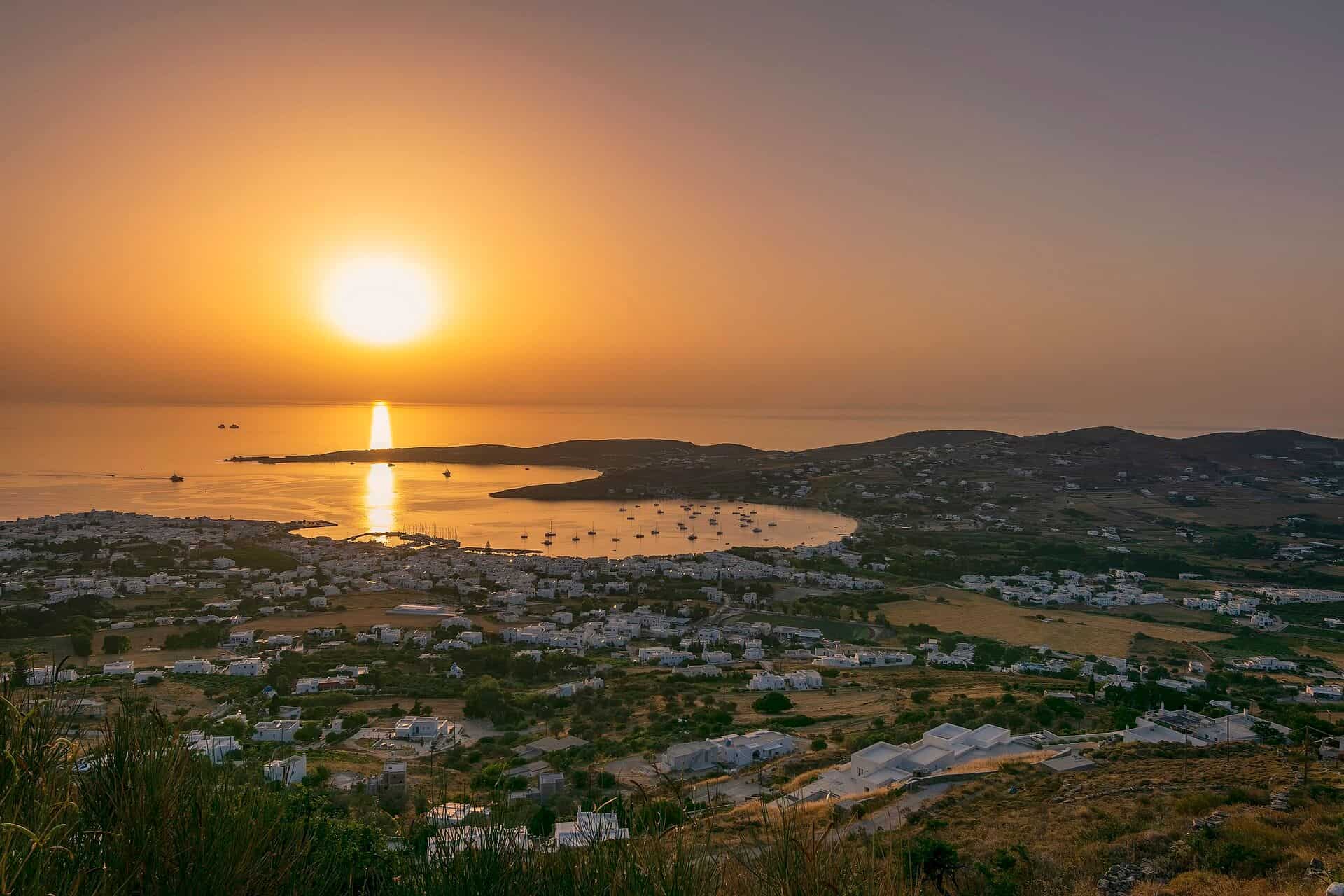 Hope you have a good time in Paros.
Let us know if there are any additions we should make here for the benefit of other readers.
Bon voyage !!!