Home » Destination Guides »

(This article has been authored by Nimisha Dutta)

Put on your hats and get on the path for a rich culinary exploration as soon as you land in Bangkok, to taste the best and irresistible Thai street food! Markets in Bangkok are heavily crowded with eating joints in huge numbers, full of discrete smells in abundance. The local street food is the major way of life in the capital and one cannot afford to miss trying the below listed legendary and tempting street food of Bangkok. Mind you, you can buy almost all of them with a change in your pocket.
With an estimate of more than 3,00,000 vendors on the streets, it is nearly impossible to list all the delicacies they have as offerings yet, we bring to you the top 10 must try dishes which you should surely not miss (prices as of May 2020)!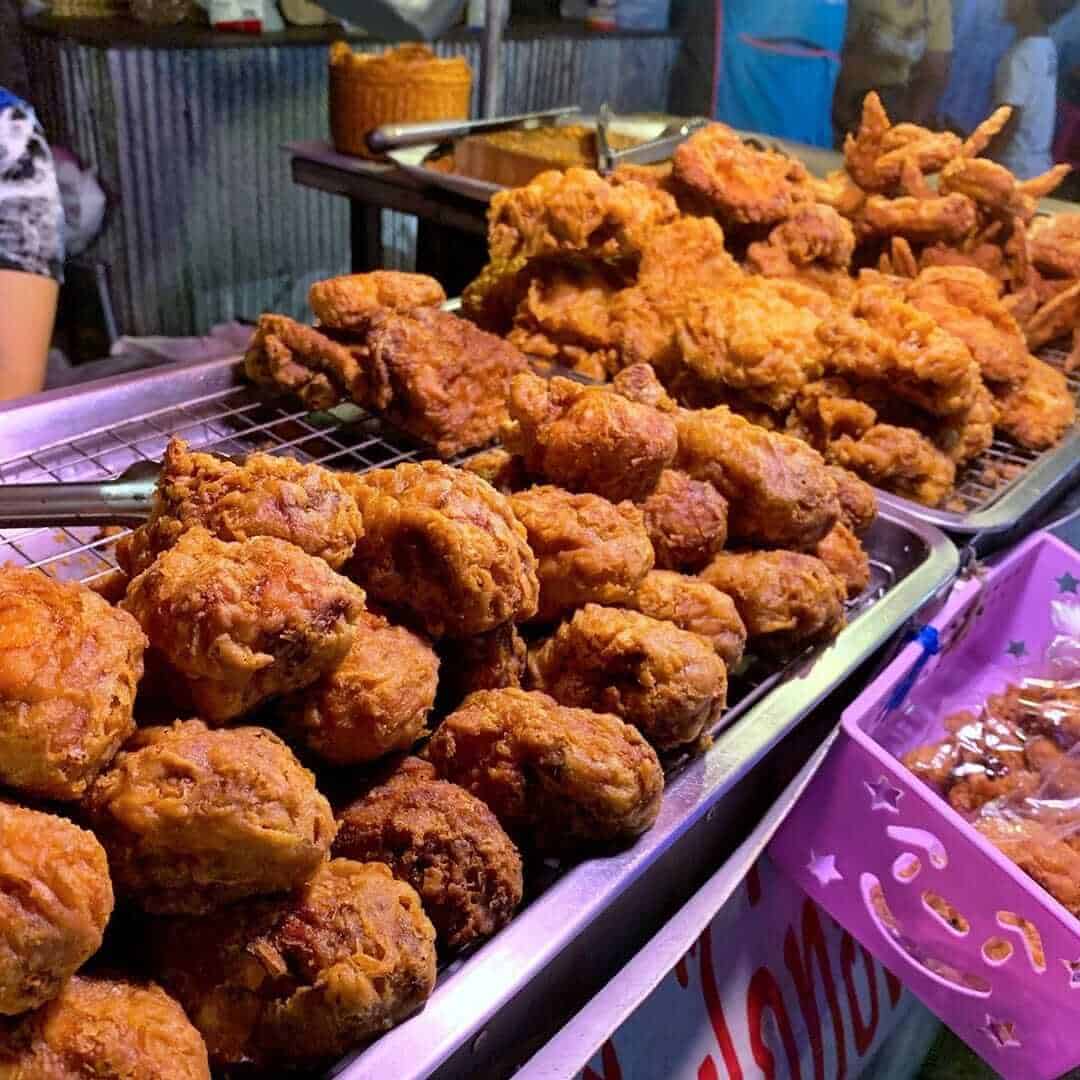 1. Gai Tod (Thai Fried Chicken)
Every country/ city of this world has its own version of Fried Chicken, and Bangkok is known for its own obsession with this crispy chicken recipe. This popular street food is adulated for its crispy skin and crackle at every bite and the tender flesh smeared with flavors of soy and fish sauce! The heavenly marinated drumsticks are lightly dipped in oil until light golden and enjoyed best when topped with crumble fried garlic and dipped in chili sauce. This is a mainstream dish and is easily available at any famous market/ along the streets, especially in the night.
Best place to try: Soi Polo
Timings: 7 am – 9 pm
Price: 100 Baht onwards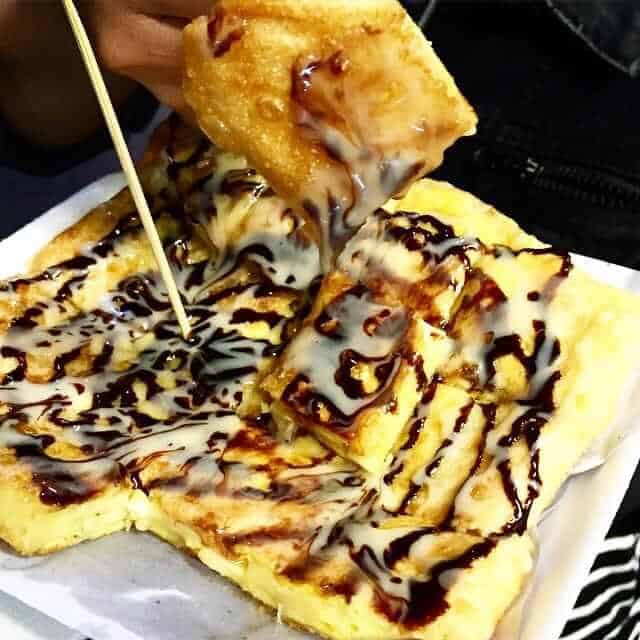 2. Roti Gluay (Fried Banana Pancakes)
This "not so Thai" dish is very popular amongst the locals and if you are a tourist do not miss this photo-worthy lip-smacking delicacy. At just about every corner of Bangkok, you will be mesmerized by watching the street vendors skillfully rolling the dough on a hot pan with bananas and eggs, frying it till the right kind of crunch. Usually it is topped with condensed milk but don't worry if you don't like it much. You can always ask for toppings from options such as nutella, chocolate, honey, sugar and coconut and relish this sweet affair.
Best places to try:
a)  Karim Roti Mataba
Timings: 10 am – 9 pm
Price: 100 Baht per person
b) Roti Bai Toei
Timings: 5:30 pm – 10 pm
Price: 20-45 Baht per person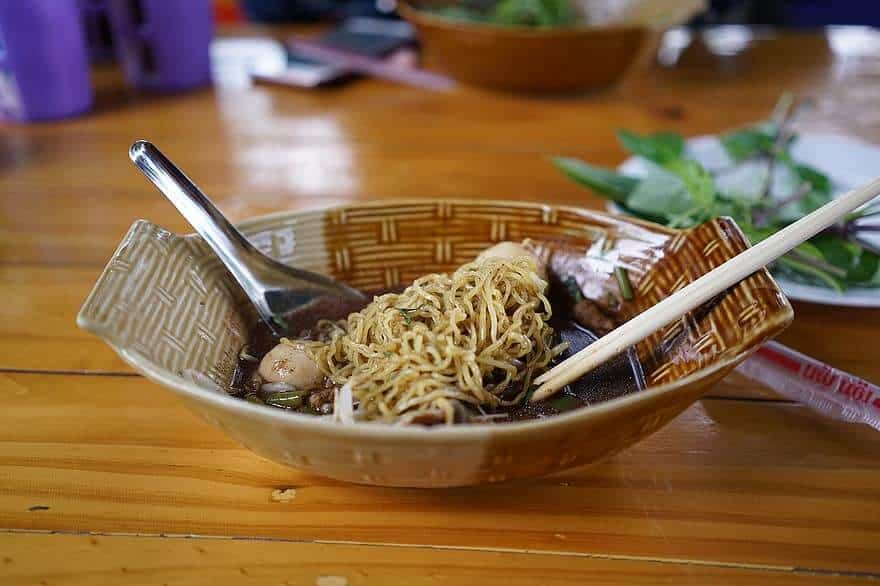 3. Guay Diow Rua (Boat Noodles)
Guay Diow Rua or Boat Noodles, as popularly known amongst the locals as well as the tourists, have a history to look upon. In the past, vendors sold this utterly scrumptious and easy on pocket dish on their boats alongside the canals. Back in the time when the vendors used to carry it in compact boats, to avoid spillage, the dish was served as a bite sized portion. The famous noodles are typically served all based on what the customer desires, rice vermicelli or yellow egg noodles, which can be clubbed with meat (pork, beef, fish balls) or tom yum soup, topped with herbs. Pro tip: don't be embarrassed for ordering more than a bowl. If you are, then look around and count the number of bowls in a stack at each table. Believe us, greater the number of bowls in your stack, greater is the probability of you winning free drinks as rewards!
Best places to try:
a)  Karim Roti Mataba
Timings: 10 am – 9 pm
Price: 100 Baht per person
a) Doy Kuay Teow Reua
Timings: 8 am – 5:30 pm
Price: 15 Baht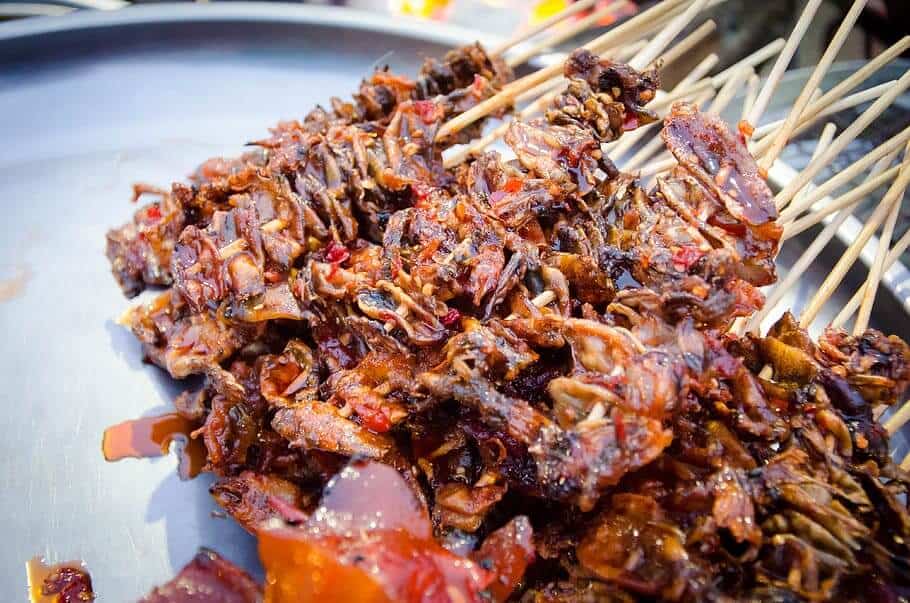 4. Moo Ping (Thai Grilled Pork)
Anywhere you go in Thailand, the aroma of Moo Ping will find its way to your nose and we are sure, you won't be able to resist its smell. Decoding, Moo simply means Pork and Ping means barbecued. The pork meat is nicely marinated and slathered in a soy-based sauce (which adds the extra punch of flavours) and then cooked with an authentic way of placing the pork skewers on hot charcoal to sizzle. Do not miss to ask for extra homemade chilli sauce, and ensure you consume it hot off the grill, the flavours are most alive then and it'll melt in your mouth! Also, to complete your treat, you can ask for the traditional sticky rice, they go pretty well with the succulent and tender meat.
Best places to try:
a) Moo Ping Hea Owen
Timings: 1:30 pm onwards
Price: 10 Baht per skewer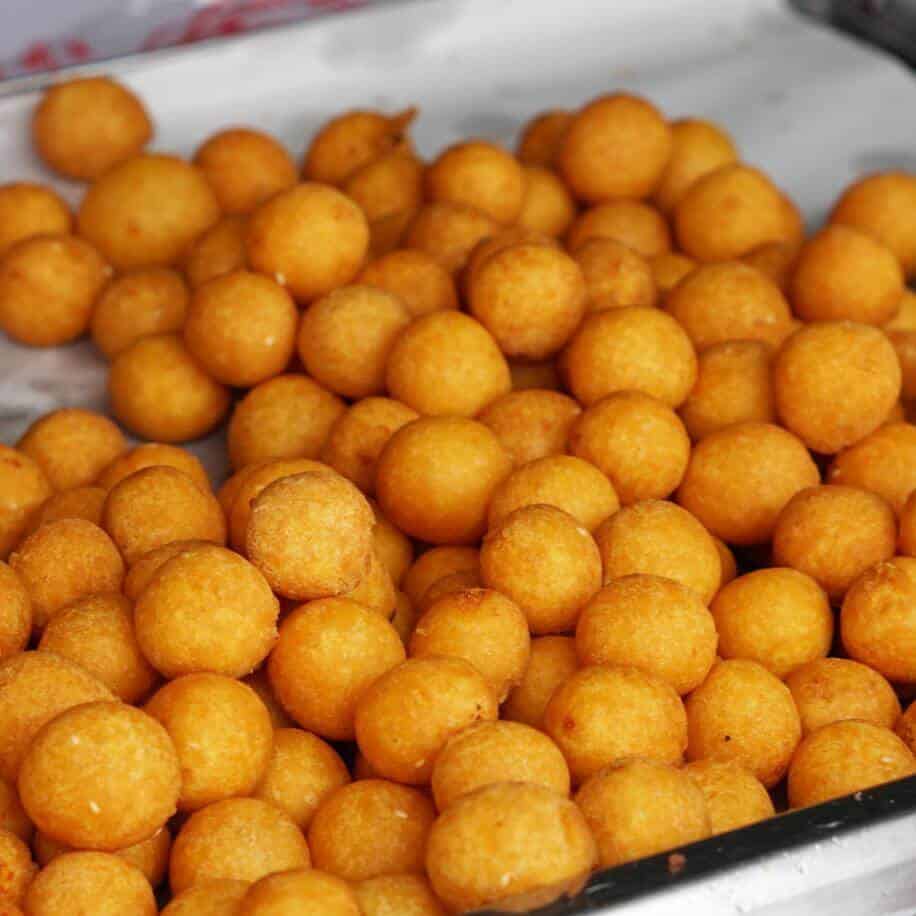 5. Kanom Kai Nok Krata (Sweet Potato Balls)
A bit uncommon to find on the streets of Bangkok, Kanom Kai Nok Krata is one of the most relished street delicacies. These moreish sweet potato balls are one of the few vegan offerings from Bangkok. Interestingly, "Kai Nok Krata" means quail eggs, and the dish is named so based on its resemblance in terms of its size and shape to quail eggs. But we assure you, the deep-fried sweet potato balls are vegan! It is primarily made from sweet potato which is then rolled in sugar and tapioca before it is deep fried. The resultant is a warm, puffy ball which is utterly crispy outside and moist and airy on the inside. Do not forget to stock them up when you find a Kanom Kai Nok Krata stall anywhere!
Best places to try:
a) Various stalls/kiosks in Bangkok ( Silom, Petchburi Road)
Price: 7-20 Baht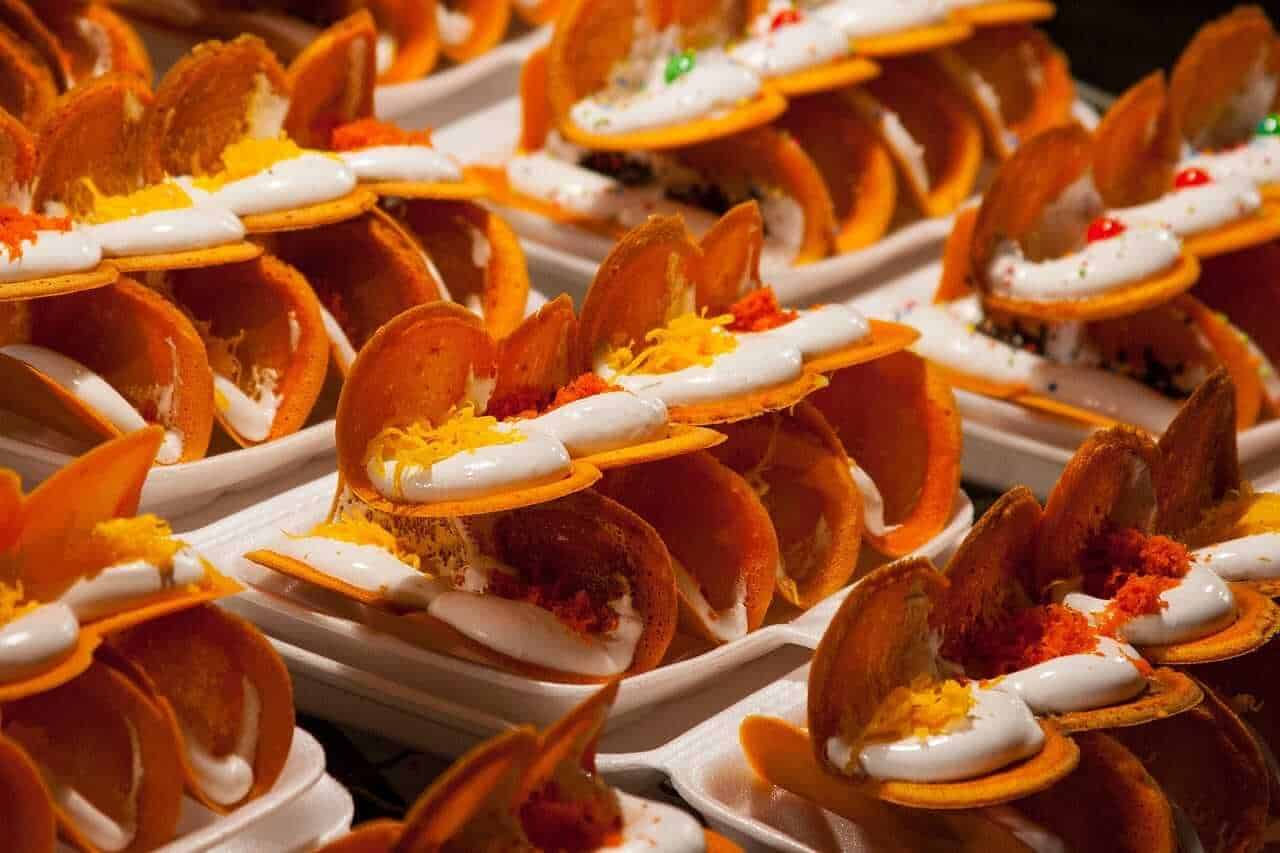 6. Khanom Buang (Thai Crispy Crepes)
As you cross the streets in Bangkok, get ready to be enticed by the lovely aroma of the traditional pancake like bite sized street delicacy. Khanom Buang are not easy to prepare, as easy it is to eat them and includes several steps yet, the vendors are masters at this art. A meringue like cream is spread generously on the crepe batter to create a marshmallowish texture. You can choose from the 2 types of toppings for your Khanom Buang, sweet and salty. For sweet Khanom Buang, toppings such as shredded coconut, foi thong goes the best. Savory Khanom Buang is loaded with chopped shrimp, egg and cilantro. Try when they are freshly made and we assure you, you'll fall in love with them!
Best places to try:
a) Famous Stall: 362 Yaowarat Road
Timings: Monday- 7:00 AM – 12:00 AM ;
Wednesday- Sunday: 7:00 PM – 12:00 AM (Tuesday closed)
Price: 15-30 Baht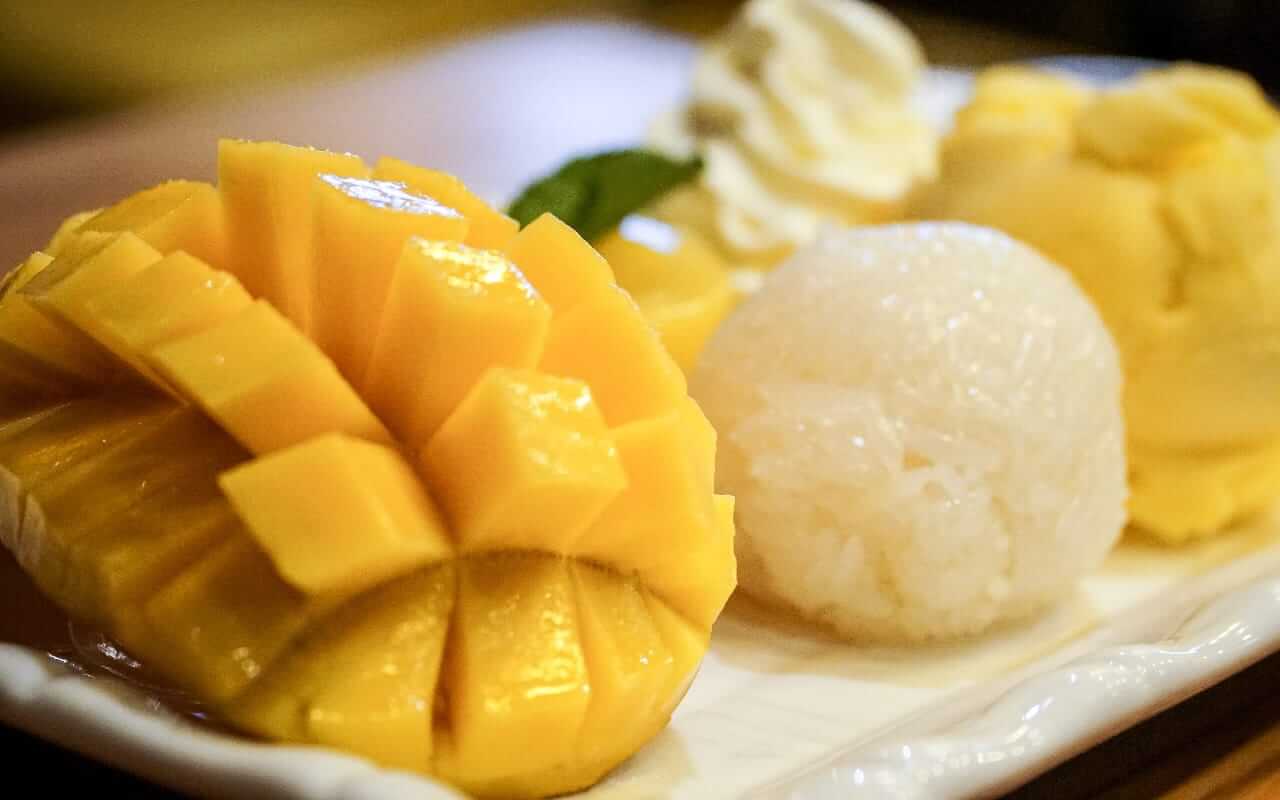 7. Khao Niao Mamuang (Mango Sticky Rice)
Mango sticky rice is one relished authentic Thai dessert and can be easily spotted at a lengths arm distance on the streets. Traditionally, the dish constitutes the glutinous sticky rice drenched in coconut cream and accompanied with fresh, tender and juicy mangoes. Interestingly, glutinous rice are totally gluten free and are named so due to their sticky/ gluey state. It is an unusual combination and usually unheard of, but trust us, this dessert, generally to be consumed warm, makes an addict out of you!
Best places to try:
a) Boon Sap Thai Dessert
Timings: 8am-6:30pm
Price: 20 Baht and up
a) Kor Panich Sticky Rice
Timings: 7am-6:30 pm
Price: 50-100 Baht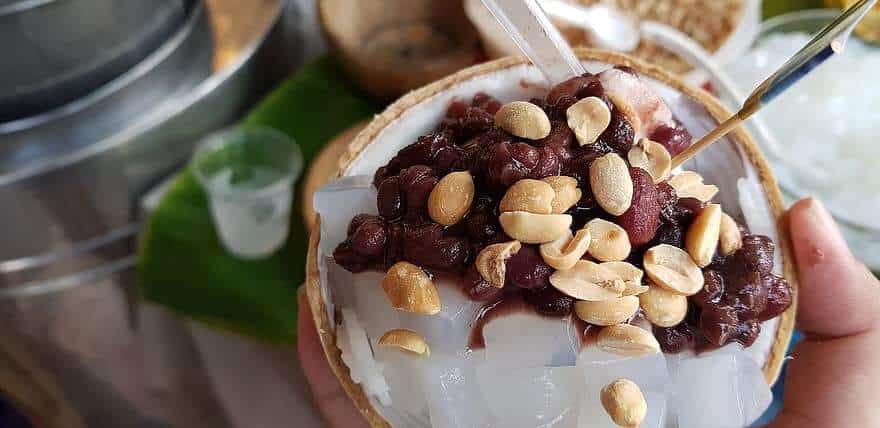 8. Thai Coconut Ice Cream
For warm and sunny days of the tropical region, Thai Coconut Ice Cream which is served in a traditional coconut husk is what you will need. What makes it even more rich and refreshing is the usage of coconut cream as a base and not the usual cow milk. To enhance the texture and taste, this mouth-watering Ice Cream is generously garnished with sweet jelly, shredded coconut, boiled corn kernels and peanut. For a delightful and unique experience, you can also savor Thai Coconut Ice Cream sandwiched in between pieces of bread.
Best places to try:
a) Natthaphon Coconut Ice Cream
Timings: 9 am – 5 pm; Sunday closed
Price: 10-20 Baht and up
a) Doy Kuay Teow Reua
Timings: 8 am – 5:30 pm
Price: 15 Baht
b) Chatuchak Market stalls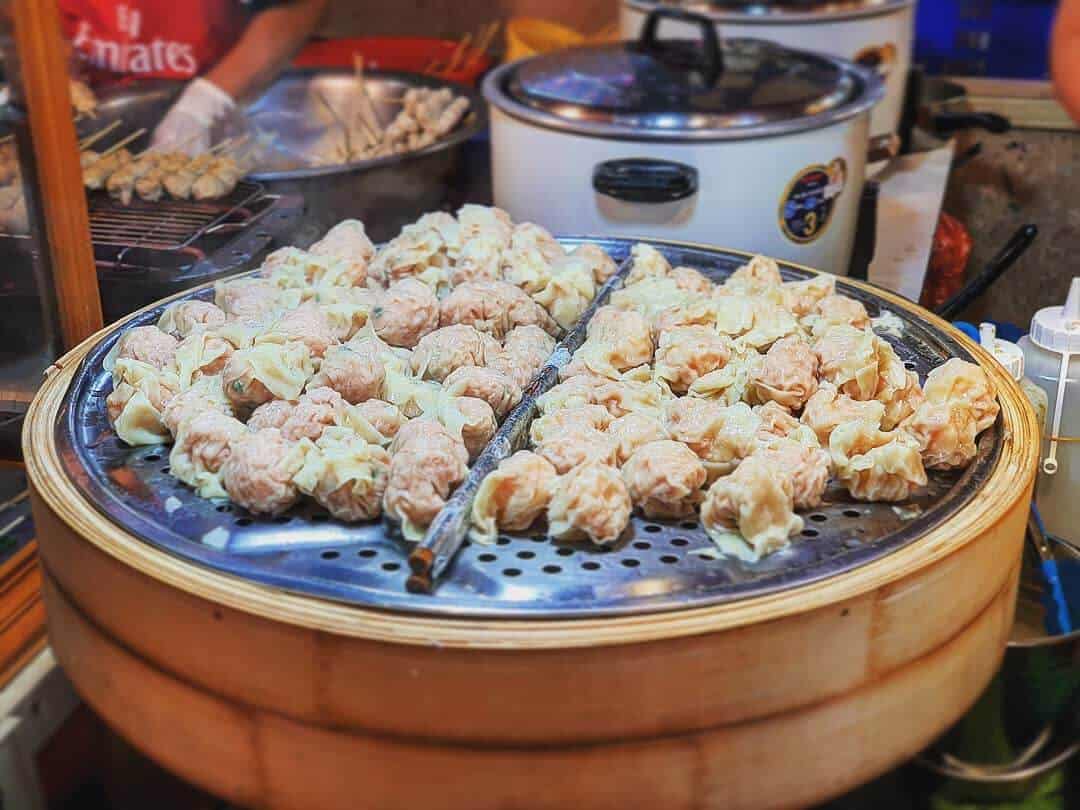 9. Kanom Jeeb (Pleated Dumplings)
Chinese style steamed dumplings are equally famous in the streets of Bangkok and can be found at countless noodle shops. Perfect for a mid day meal or an appetizer right before your lunch/dinner, these warm and soft dumplings, steamed on a portable steamer, have a variety of stuffing options to choose from. Ranging right from shrimps, mushrooms, pork, crab and water chestnuts to name a few, they are usually served with fried garlic and soy sauce.
Best places to try:
a) Hua Seng Hong
Timings: 9 am – 1 pm
Price: 50 Baht and up
a) Pae Sia Cart (Chua Hoi Khan: Plaeng Nam Road)
Timings: 11:30 am – 6 pm
Price: 10-20 Baht and up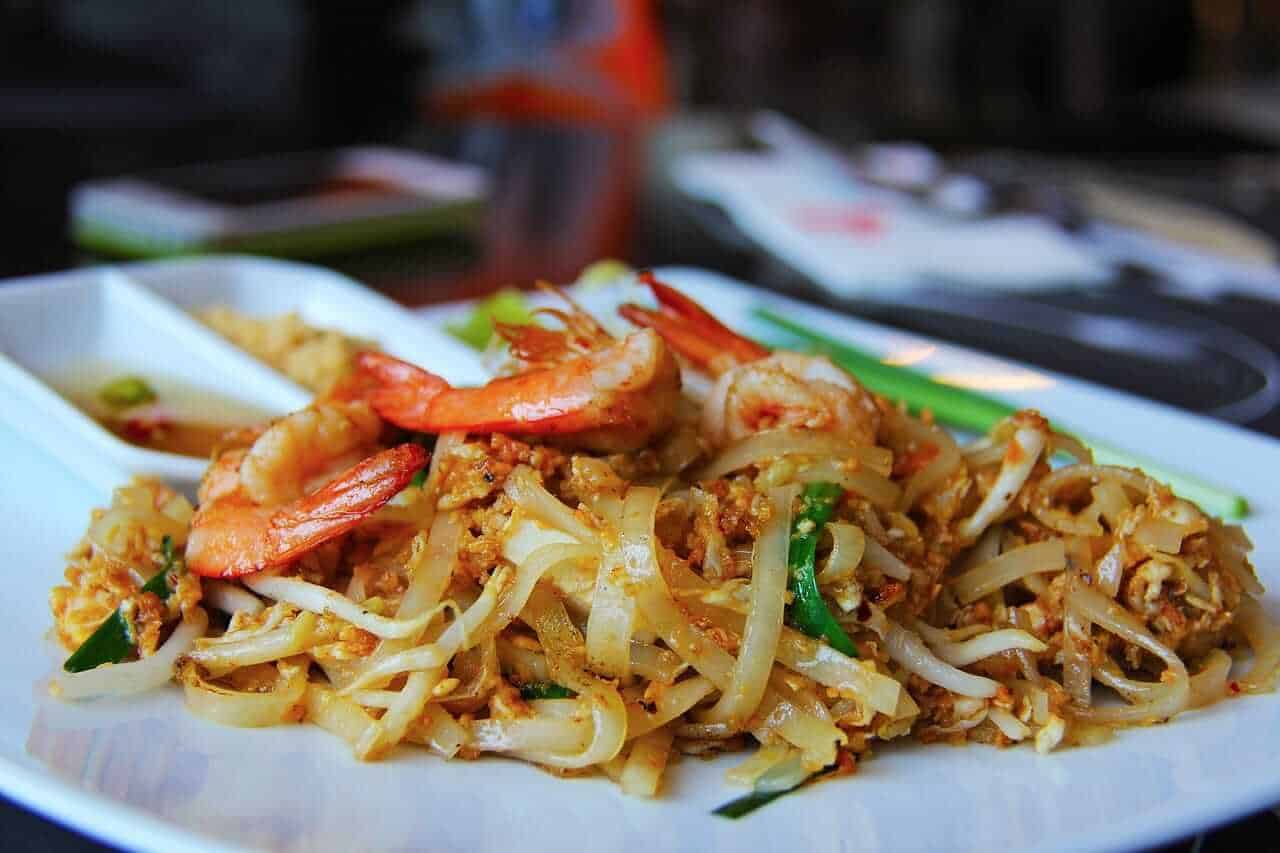 10. Thai Stir Fried Noodles (Pad Thai Noodles)
Pad Thai Noodles are accredited a global standard in the top South Asian food, yet it is a sin not to include it in this list. Afterall, is the National Stir-Fried Noodles of Thailand! This ubiquitous comfort food comes in 4 variants, sweet, spicy, salty and sour. Noodles are wok tossed and topped with eggs, bean sprouts, prawns, tofu and garnished with peanuts and lime, as colorful as it can be. This iconic dish has made its way to the menu of all top-notch restaurants, yet its authenticity lies in between the streets of Bangkok and is surely worth a try!
Best places to try:
a) Thipsamai Pad Thai
Timings: 5 am – 10 pm
Price: 60 Baht and up
b) Pad Thai Nana
Timings: 12 noon – 9 pm
Price: 40 Baht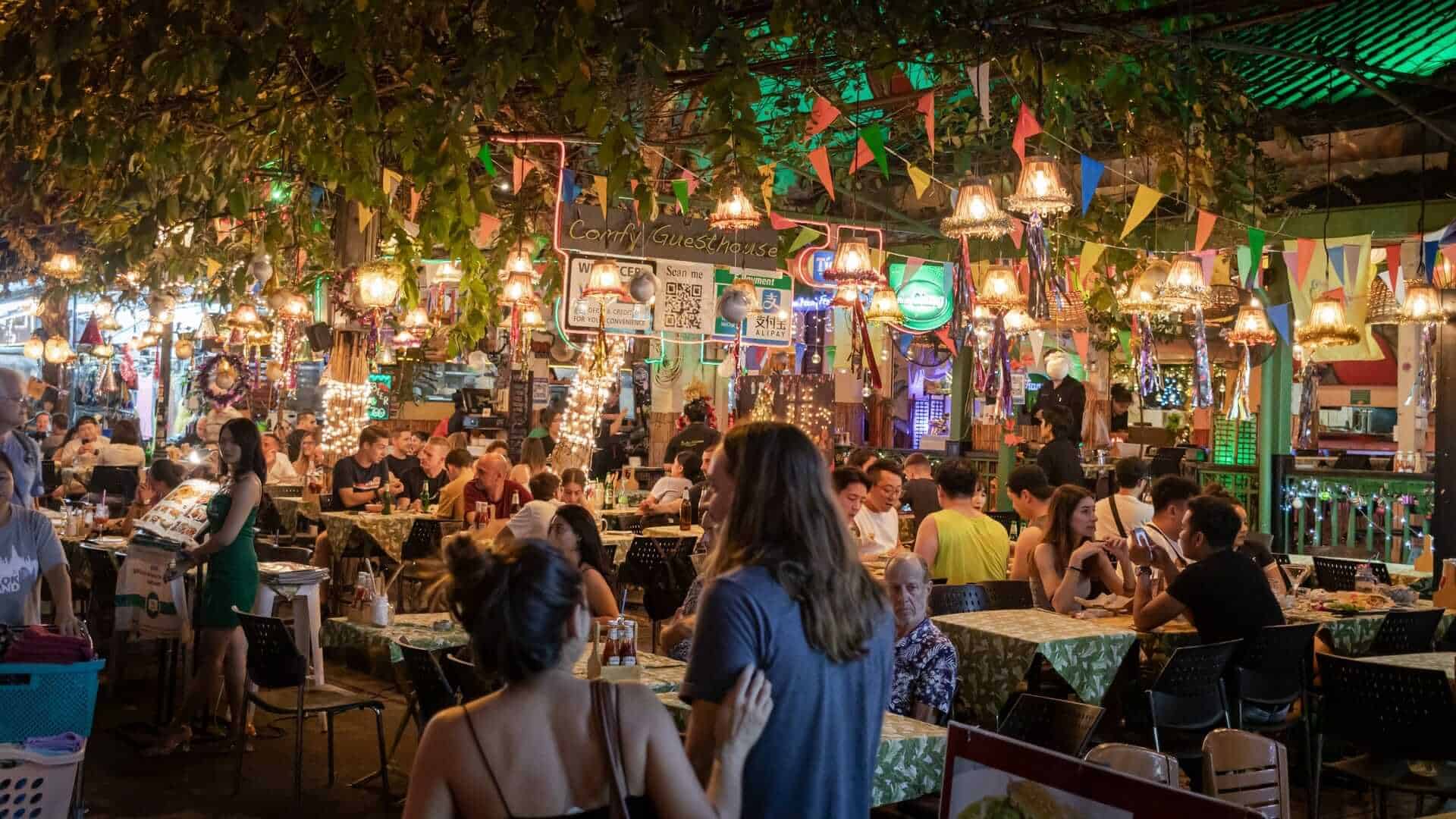 It is of utmost importance to ensure hygiene and product quality while you hop around trying street food in Bangkok, hence it is highly recommended to try on the very famous stalls/ kiosks only. Also, we recommend trying food which is freshly prepared in front of you.
Thai food can be extremely spicy and if you can't handle it, do request for a mild version of the dish. Though the majority of the vendors do speak and understand english, if in case they don't, point to the dishes on the menu while placing your order.
Street food in Bangkok is known to be heavy as it is usually deep fried in oil or heavily brushed with it. As far as you have a strong stomach, hop on. Just in case of a weak stomach, we suggest you intake small quantities.