Home » Destination Guides »
A lot of countries in the world have remained untouched from tourism, and Laos located in Southeast Asia, is one of such underrated countries, with a lot to offer to all the travellers. According to the legends, Laos is known to have the relic of Buddha's breastbone protected safely in the Luang monument and hence, holds high religious significance to Buddhists. Apart from this, Laos has some of the best hiking trails because the terrain is mountainous; hence, for all those trekking enthusiasts, Laos can be one of the best countries to consider for a visit.
Known for its brilliant French colonial architectural marvels, beautiful landscapes, Buddhist monasteries, and busy markets, Laos is an amazing country to visit.
1) How to reach Laos?
Wattay airport in Vientiane is the major airport, and well served by most prominent airlines.
If you are already in Thailand, one of the most affordable ways to travel to Laos is to board an overnight train from Bangkok to Vientiane. The cost per ticket per person varies between 35-40$, depending on your nationality. Thanaleng station in Bangkok is the place to get the visa to Laos.
Once you land in Laos, you can choose to travel around the attractions within the country via bicycle, boats, and public transport like buses. If you are looking for comfort then, you could also choose to hire a car and motorcycles as well.
2) Places to visit in Laos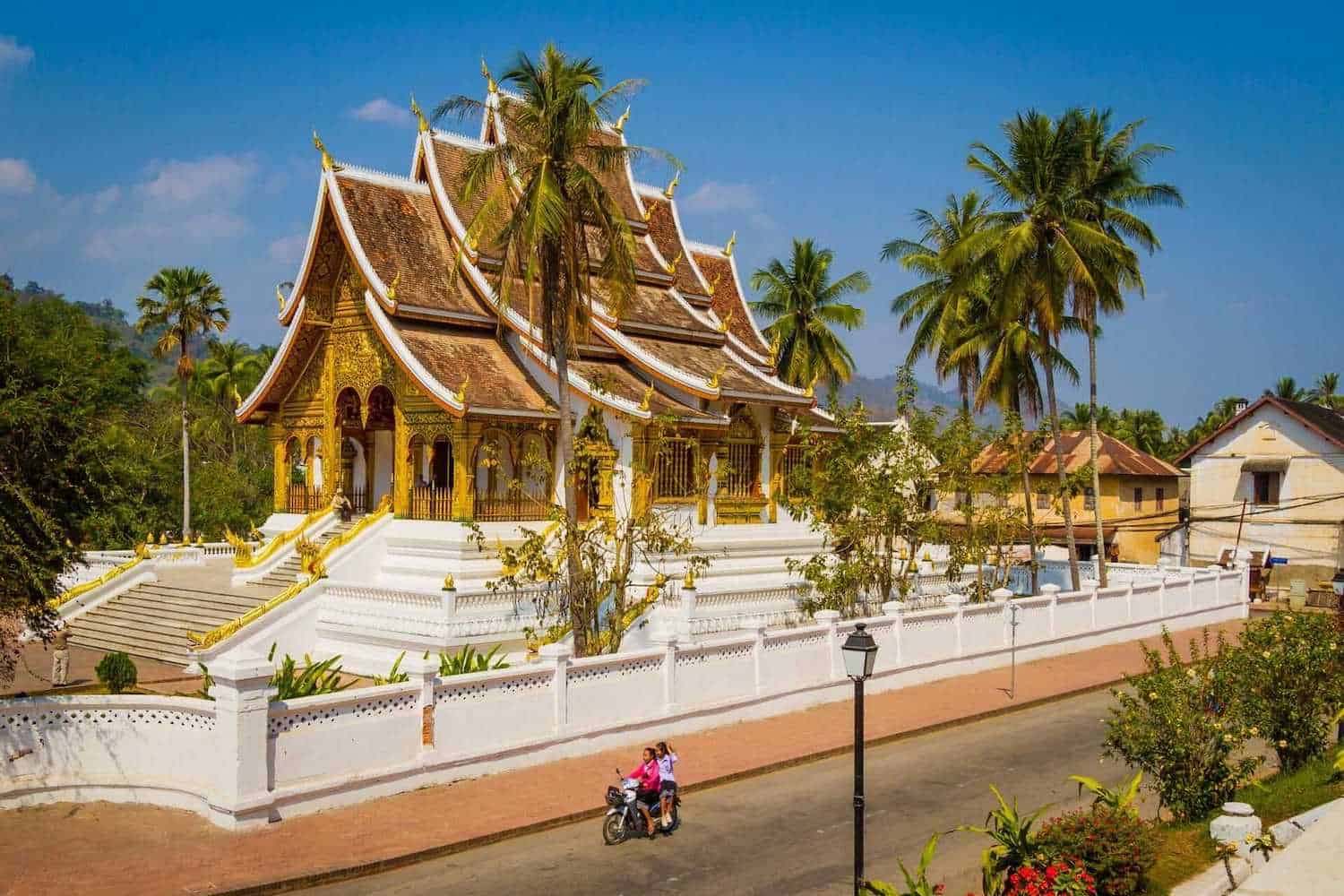 2a) Luang Prabang
The former Royal Capital city and designated as an UNESCO world heritage site in 1995,  Luang Prabang is one of the most prominent tourist destinations in Laos. Choose to hire a bicycle to roam around the places and explore the scenic countryside and the sweeping landscapes of the country. You may have to shell out $5-$10 on the bike rental charges. There are a lot of temples like Wat Phon Phao, Wat Aham, and Wat Mahathat. All these temples are dedicated to the Buddhist monks, and amongst all of them, the Wat Phon Phao is mind-blowing. This monastery is located amidst a dense jungle surrounded by lush greenery.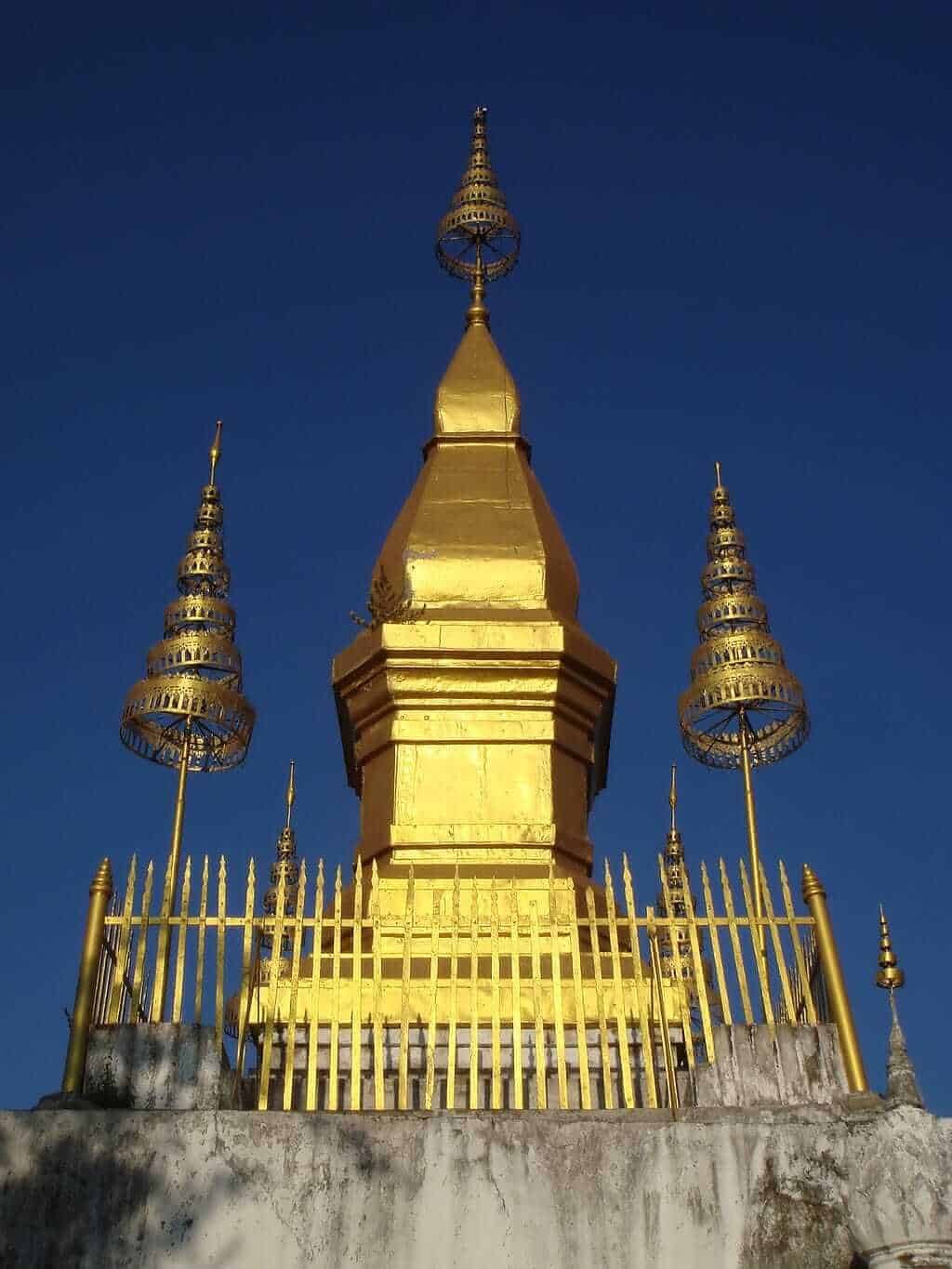 Hiking to That Chomsi, a place perfect for hiking in the late afternoons can be an ideal thing to do. Located right atop Mount Phousi, catching a glimpse of the beautiful Mekong River along with the stunning sunset at this place, is truly magical.
Explore the local restaurants like the Xieng Thong Phonsavahn Restaurant, Busari Heritage Luang Prabang, Khao Soi Wat Sen. Relish some of the best river fish dishes and minced meat soup. Explore the local markets for souvenirs and trinkets when in Luang Prabang.  The morning market that sells a plethora of food items is a must-visit. Sun-Cured Pork Naem, deep-fried mung bean coconut rice-cakes, Khao Piak Sen are some of the local dishes to try when you are here.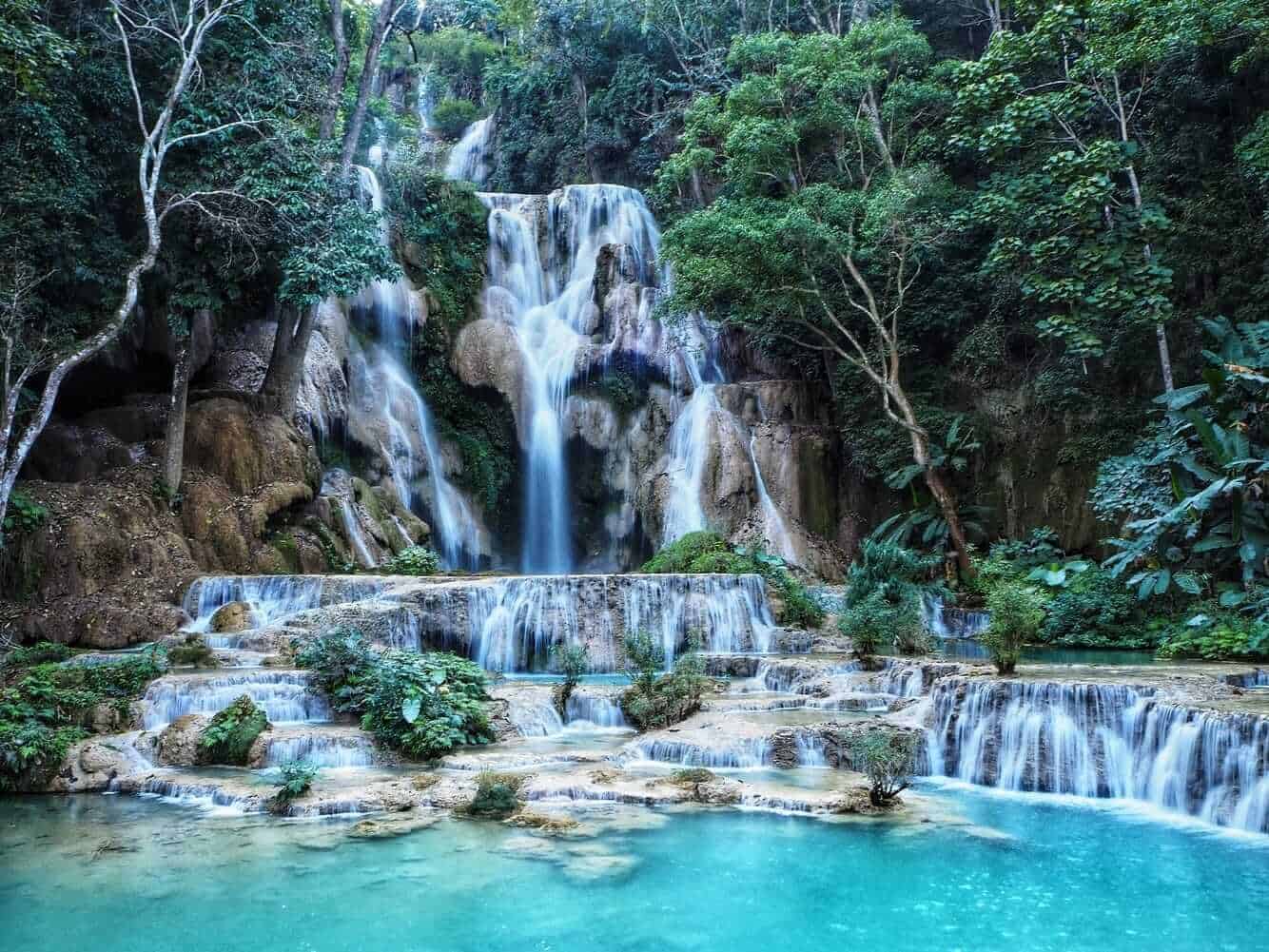 2b) Kuang Si
Wake up early in the morning and start your journey towards the Kuang Si Waterfall that is situated towards the south of Luang Prabang. Watching the gorgeous mountains in the backdrop with the sprawling paddy fields covering the earth with its different hues of green can be quite an exciting thing when you are traveling to Kuang Si Waterfall. Spend time swimming in the plunging waterfalls of Laos.
After complete rejuvenation, visit the Tat Kuang Si Bear Rescue Centre to see the Asiatic bears, an endangered species. These rescued animals are let out to roam freely in their natural habitat here.  Carpe Diem restaurant is one of the best eat-outs that you must certainly visit when you go to this waterfall. The frog legs and prawn ravioli are the best delicacies that you must try for sure. The perfect setting and ambiance of this place would make every bite of your food a very delightful one.
2c) Vientiane
Though it is busy, Vientiane can still leave you mesmerized. There are a lot of fantastic iconic landmarks that you can visit in Vientiane.
That Dam(Black Stupa)
The Black Stupa amongst the others is fascinating to visit. The locals say that a seven-headed serpent resided here to protect this gold-covered Stupa

Patuxai Victory Monument, Vientiane, Laos

Patuxai Victory Monument
The majestic monument is a brilliant piece of architecture. Found right at the center of the Vientiane, this monument is one of the major iconic landmarks of Laos that speaks about the glorious history of this nation.
Opening hours: Monday to Friday from 8 A.M. until 4:30 P.M., Saturday and Sunday from 8 A.M until 5 P.M.
Entrance fee:

Nil, 5000 kip if you want to climb up

Wat Ho Phra Kaew, Vientiane
Known for its religious significance, the Wat Ho Phra Kaew is one of the must-visit places in Laos. The temple has now been turned into a museum, and as per the legend; the name of the temple is derived from the Emerald Buddha.
Opening hours: 8 am until noon and from 1 pm until 4 pm every day
Entrance fee:

5,000 Kip per person

Wat Pha That Luang, Vientiane, Laos

Wat Pha That Luang
The Pha That Luang is one of the ancient monuments in Laos. The monument was founded in the 3rd century BC to preserve the breastbone relics of Lord Buddha.
Opening hours: 8 AM up to 12 PM in the noon and evenings of from 1 PM until 4 PM
Entrance fee:

5,000 Kip per person
All these places have a lot of cultural and historical significance.
Explore some of the lavish restaurants at Vientiane like That Dam Wine House, Kop Chai Deu, Villa Opera, and others. Some of the delicacies to try from these restaurants are ravioli with tomato and cream sauce, and tiramisu, various types of Pizzas, Rice Whiskey and different kinds of wines, etc. If you want to eat locally, you must try the delicacies like best duck laap, nǎem khào. You must also consider visiting the Bakery by Boris for their yummy French-style pastries. You can also go around the Ban Anou Night Market and binge on some rolls, fried food, croissants, hazelnut danishes, and all other local delicacies. This is one of the best places to go on a gastronomical tour and satiate your taste buds.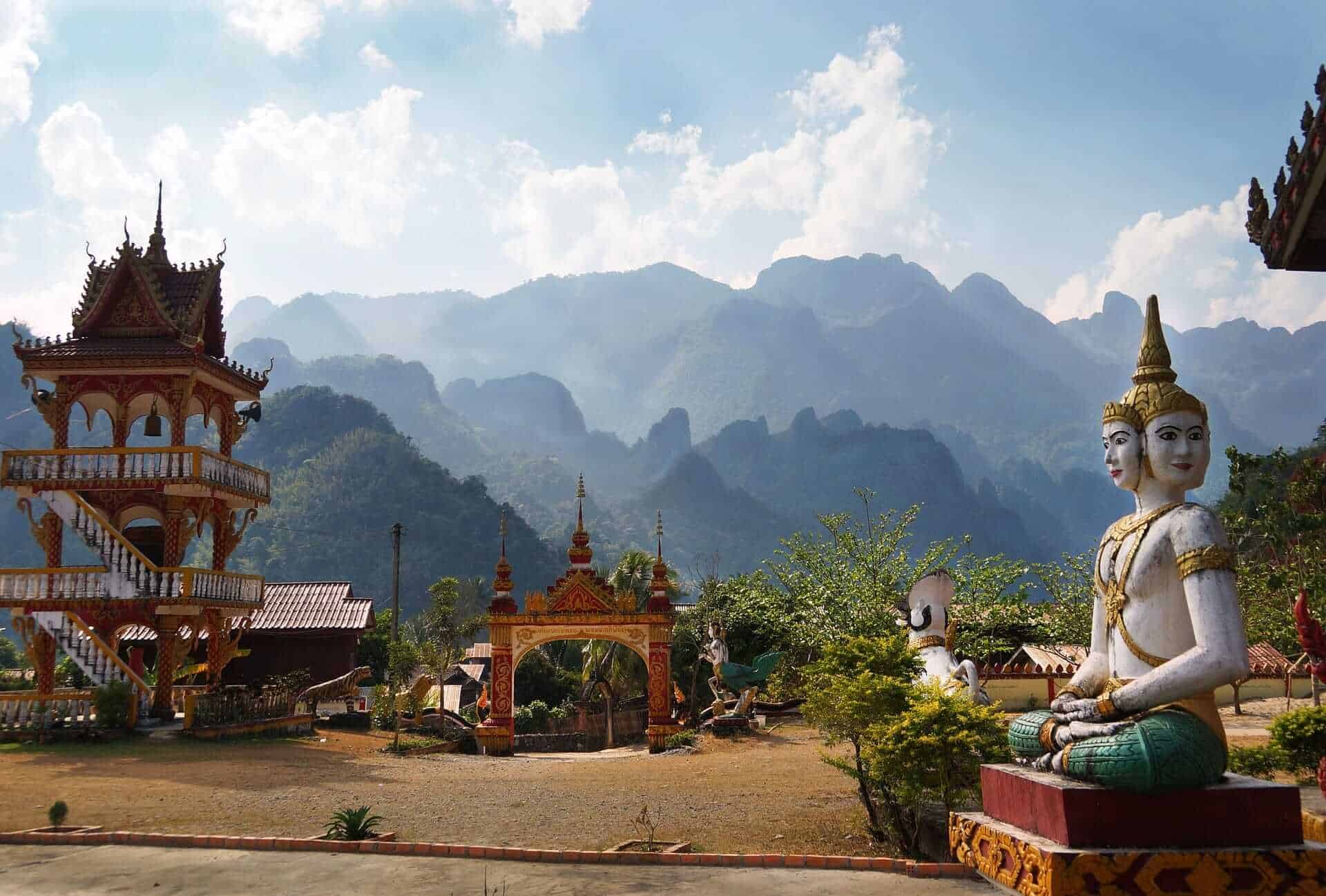 2d) Vang Vieng
For all the adventure junkies and nature lovers, Vang Vieng is a perfect place to go to in Laos. From Vientiane, it is a journey of around 3-4 hours approximately.   This place is well-connected by public transportation; hence, you can save quite a bit of money on the travel part.  Choose to travel by buses at the cost of $8-12/pp, and there are also a lot of mini-buses and private vans run by the local transport systems.
Try your hands at the adventurous activities like mountain biking, hiking, cycling, swimming, kayaking, etc.… at Vang Vieng. Try cave exploring at some of the finest caves like Tham Loup, Tham Nam, Tham Jung, etc. After all these adventurous activities, if you do not splurge on the grilled meat from the local vendors, you are going to miss something really serious during your trip.  Beeng moo, a delicacy made of pork meat, naam kow, and pork sausages, are some of the must-eat delicacies.
2e) Si Phan Don Islands
These are a group of pretty islands that are tucked safely in the bosom of Laos. Away from the hustle-bustle city life, Si Phan Don can help you make memories for a lifetime.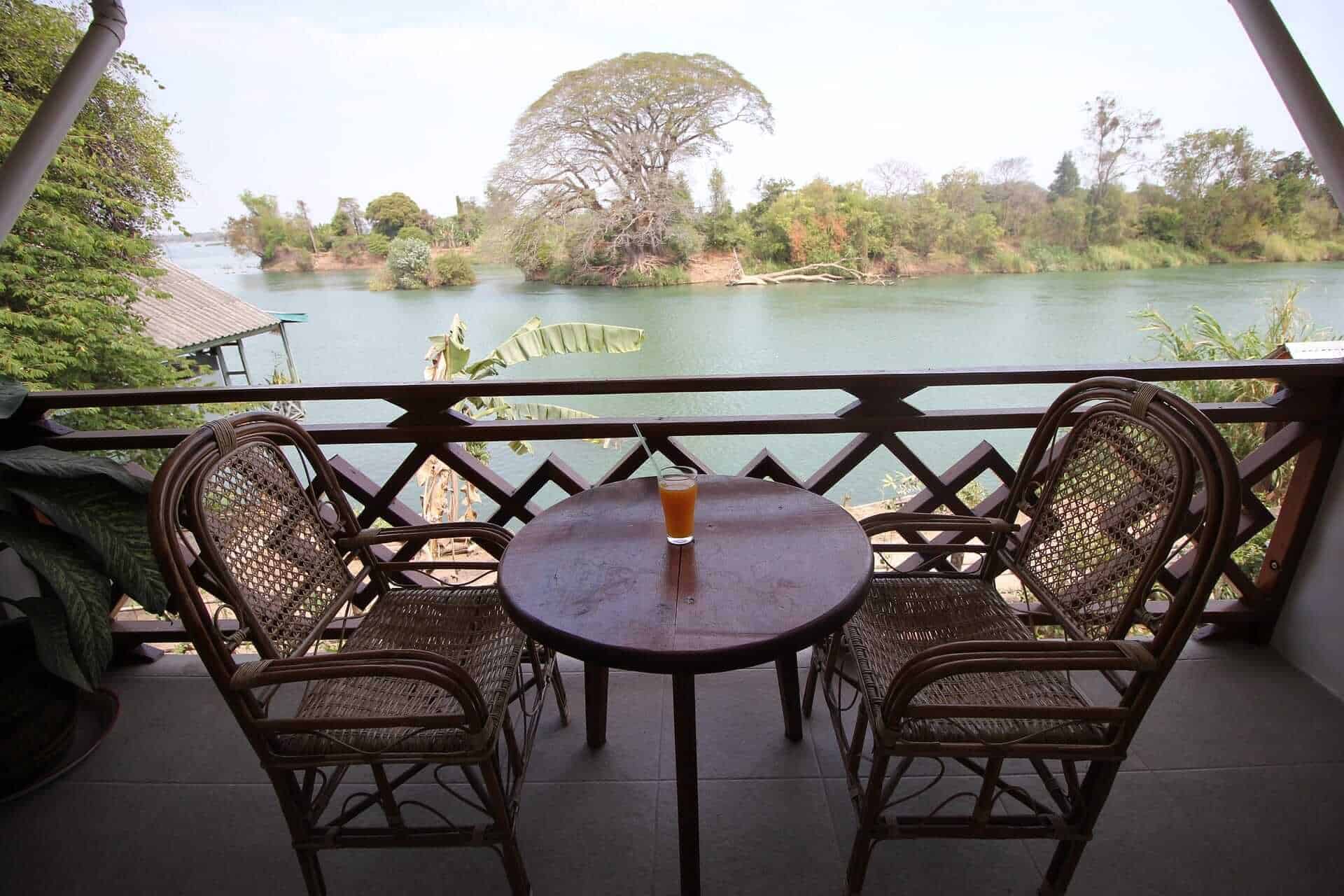 Take a tour to the Khon Pa Soi Falls, Wat Khon Tai, and spend time lazing on the shores of Xai Kong Nyai Beach. You could also choose to catch a glimpse of the Irawaddy dolphins at the Si Phan Don Islands. Also, today you must eat at the Datta Banana Leaf Restaurant where authentic Indian food is served on plantain leaves.
Choose to go by buses from Pakse that costs around 70,000 Kip. At times, the ferry cost would also be covered within this ticket. Songthaews, the local transport ply frequently from Ban Nakasang for 40,000 Kip regularly. You can also choose to take a bicycle at 5,000 Kip and go to the islands.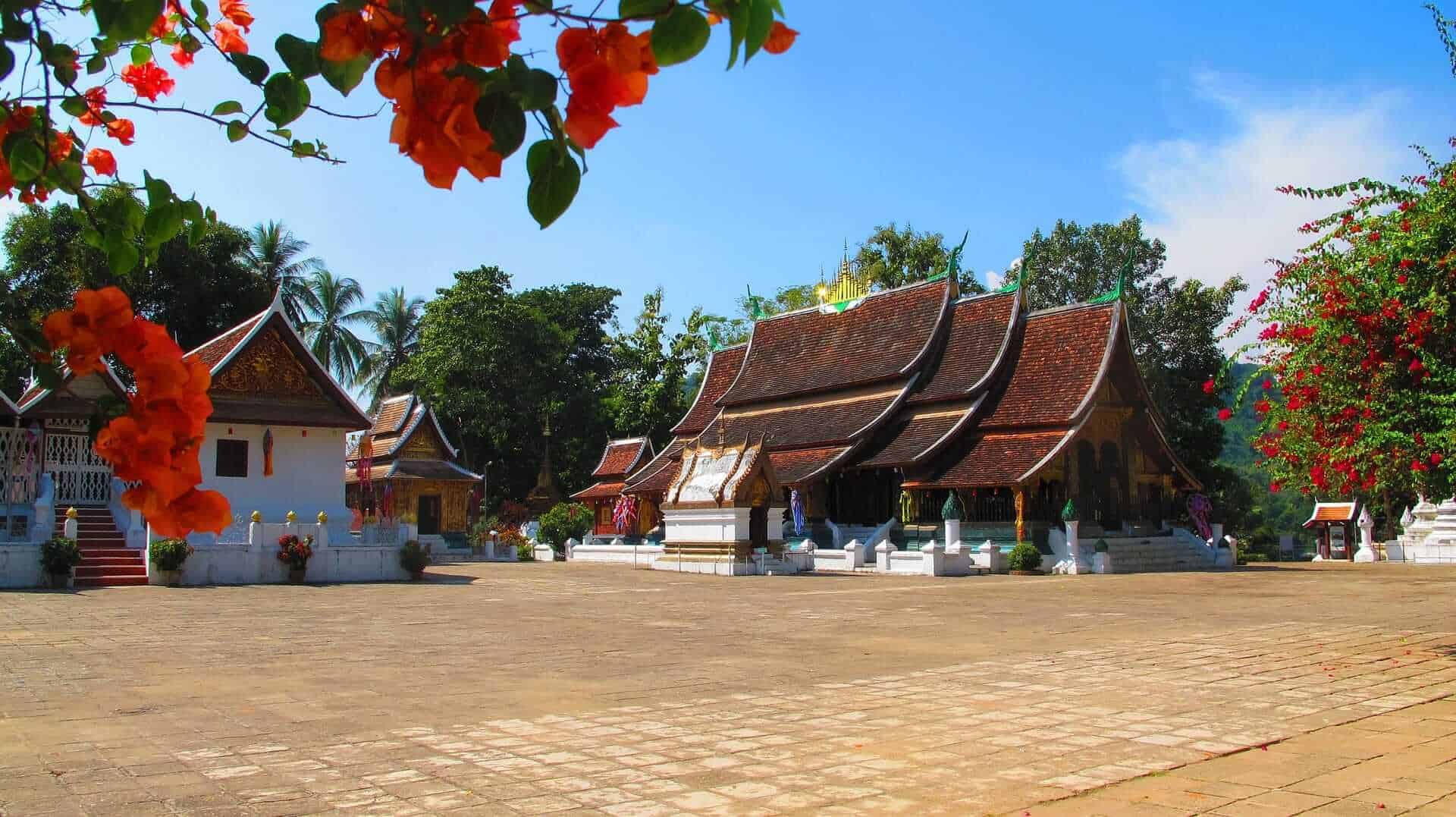 3) General safety travel tips while traveling in Laos
Getting vaccinations of Hepatitis, A, B, tuberculosis, and dengue fever are important.
Petty thefts happen everywhere, so you must be careful with your belongings. Make sure to keep all your valuables in a safe place.
Make sure to drink bottled water; water-borne diseases can be pretty dangerous. Also, you must know that Laos sells unpasteurized milk, so it is advisable to use milk powder instead of milk.
Make sure to eat food that is completely cooked, especially meat, fishes, and vegetables.
Eating street food can be really good, but make sure to eat them from places that are safe and hygiene.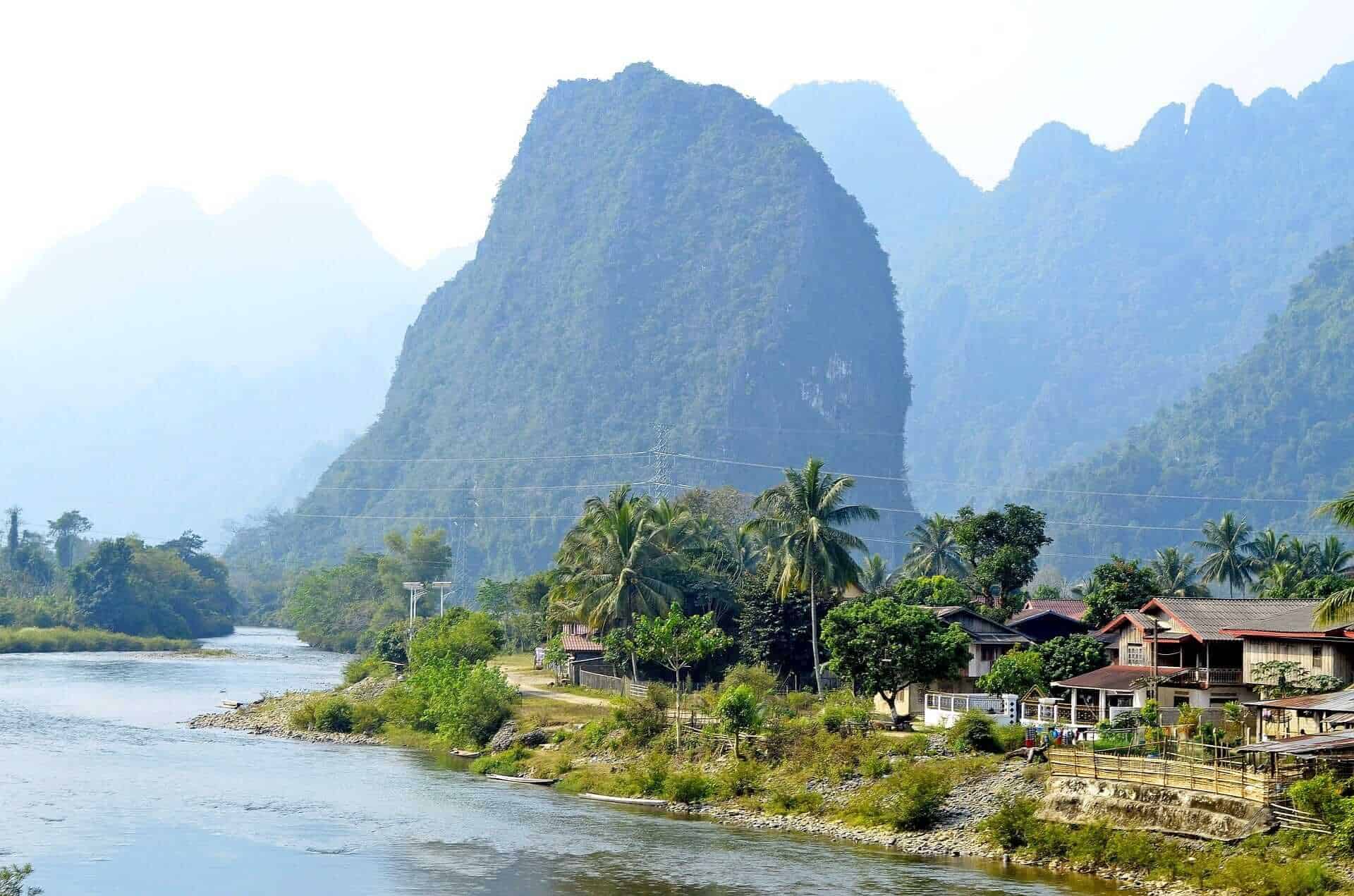 4) Travel tips for women in Laos
Laos is considered to be one of the safest countries for all kinds of travelers, especially for female travelers as well. It is a country where Buddhism culture is followed; hence, the locals are friendly towards travelers and tourists.
5) Accommodation and stay options
There are a lot of budget-friendly hotels, hostels for backpackers, cottages, and resorts in Laos. Hence, one does not have to worry about the stay options at all. Vientiane backpackers' hostel, Funky Monkey, Niny Backpacker hostel, is some of the best hostels. For a luxurious stay, one can choose to stay in Ban Pako Eco Lodge, Luang Say Residence, The River Resort near Champasak. For budget-friendly options, Magic Monkey Garden Bungalow, Vang Vieng Boutique hotel, and Sa Sa Lao are the best ones.
Laos, a landlocked country, can be the best country to travel for people who do not like much noise. This country offers a number of sight-seeing places of all genres for different kinds of travellers.